Metallic thread can add a touch of luxury and elegance to any sewing project. Whether you're embroidering a tablecloth for a special occasion or adding some sparkle to a simple skirt, a metallic thread can take your sewing project from ordinary to extraordinary.
But working with metallic thread can be tricky – if you don't know what you're doing, it's easy to wind up with tangled thread and ruined fabric. In this sewing tutorial, I will discuss everything you need to know about using metallic thread in your sewing and embroidery projects.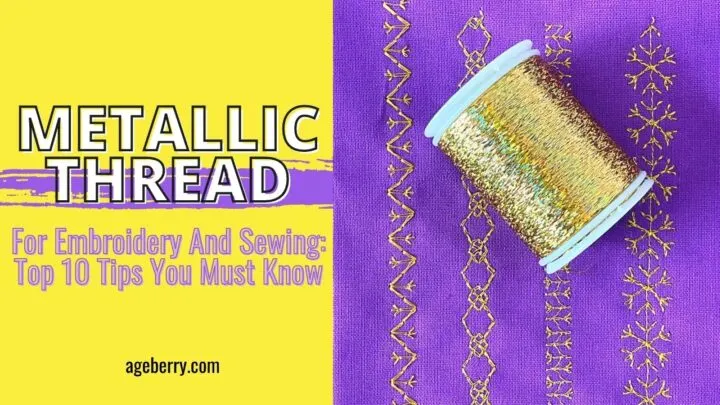 What is a Metallic Thread for Machine Embroidery?
Metallic thread is a type of thread used for decorative stitching on garments or home decor projects which provides a sparkling effect. It's often used in hand and machine embroidery. It can also be used in sewing and quilting.
There are two kinds of metallic embroidery thread available for use in a sewing or embroidery machine.
The first type is wrapped thread that has metallic filament wrapped around a base core thread (usually polyester, rayon, or nylon) which provides a sparkling effect. Most metallic threads are like this.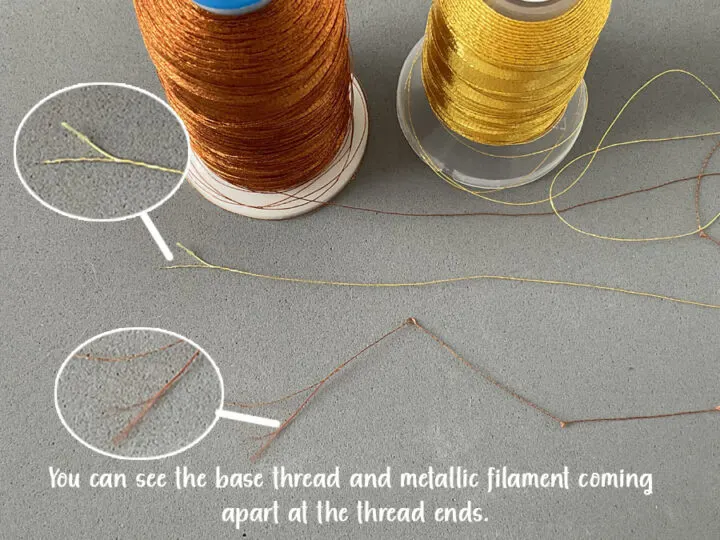 The second type does not have a base thread and instead looks like it's made entirely of foil and offers a more shimmering look.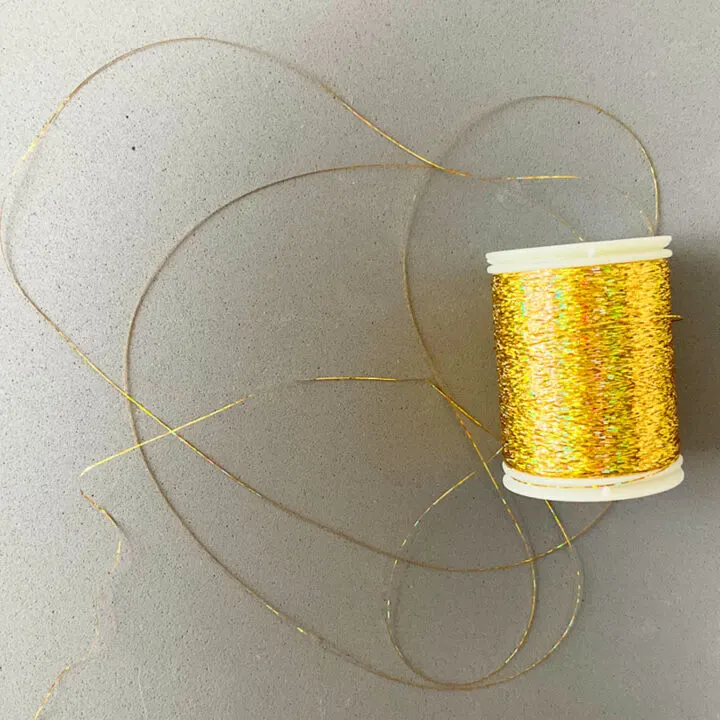 One of the best metallic threads of this second type is the holographic thread. If you're looking for a bit of extra pizzazz in your embroidery projects, a holographic thread is a great option. This type of thread is very shiny, thanks to the holographic foil it's made of. This foil reflects light in different ways, depending on the angle at which it is viewed. As a result, the holographic thread can give your embroidery a subtle rainbow effect.
Metallic threads are sold on small spools or on cones.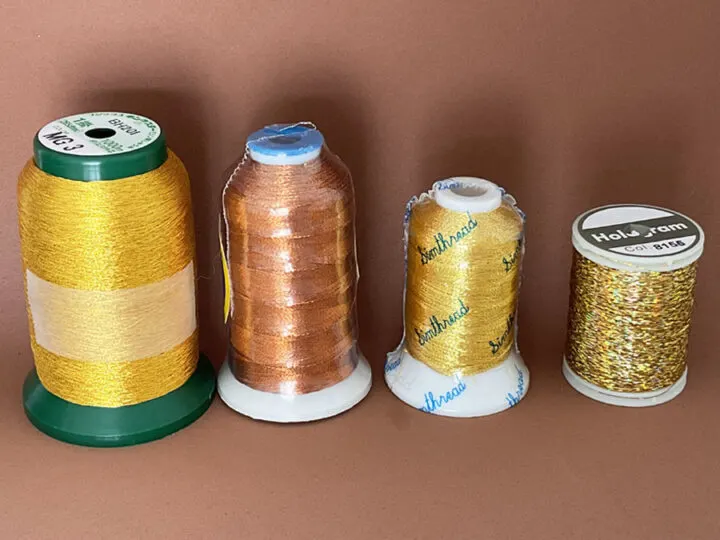 And if you look closely you will notice that thread is wound differently: some threads are stack wound (or parallel wound) and some are cross wound. Some spools have a base on which thread is wound, and some don't have it. It's important to place the thread correctly on the machine (see #4 below).
How to Use Metallic Embroidery Thread
The biggest problems you'll encounter when sewing with metallic thread are tangling and breaking. Because the threads are so thin and delicate, they are very susceptible to breakage or can easily become twisted and tangled. To avoid this, be sure to use the tips below.
Note: Some of the links on this page are affiliate links. This means I will receive a commission if you order a product through one of my links. I only recommend products I believe in and use myself.
#1. Use The Right Type Of Needle For Metallic Threads
When working with metallic thread, it's important to use the right type of needle, especially when embroidering at high speeds.
When you embroider, the thread is constantly rubbing against the metal surface of the needle. If the needle eye is very small it can cause the thread to break or fray, making it difficult to sew. So it's better to use a needle with a larger eye and also a deeper groove.
There are two main types of needles that can be used with metallic thread – a metallic needle designed specifically for working with metallic threads, or a topstitching needle. The larger eye on both needles allows the thread to go through with less friction.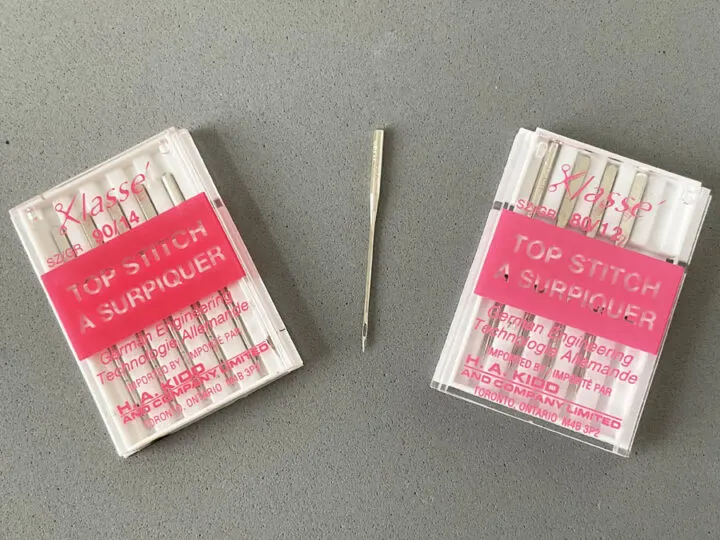 Metallic needles are specially designed to overcome problems with metallic threads. They have a polished eye (often coated with special material) that prevents friction and helps the thread flow smoothly and avoid shredding. In addition, the unique front groove also helps to reduce thread breakage.
You can try both needles and see what type you prefer (or better say, your sewing machine prefers), as one type may work better with a certain brand of metallic threads.
Regardless of which type of needle you use, it's important to change it frequently when working with metallic thread. This will prevent the needle from becoming dull and causing the thread to break. Old needles can get burrs and scratches that can catch the metallic filaments and cause breakage. Even the smallest burr can cause problems, so it's better to err on the side of caution.
If you find that the thread is breaking frequently, it's likely that you're using the wrong type of needle or that the needle is becoming dull.
#2. Sew Slower With Metallic Thread
Adjust your sewing machine to stitch at a slower speed. Stitching too quickly can put stress on the thread and cause it to break.
#3. Lower The Tension To Sew Or Embroider With Metallic Thread
Adjust your sewing machine's upper thread tension. I usually set it to 1 (instead of a regular 4). The metallic filaments are very thin and can easily break if they are subjected to too much tension. For this reason, it is important to use a loose top tension when working with metallic thread.
However, if the tension is too low, the thread might loop on the bobbin side and create an unsightly mess. Make necessary adjustments until the stitches are forming evenly on both the top and bottom of the fabric.
#4. Use A Vertical Spool Pin
Keeping the spool vertical helps to reduce the amount of twist in the filament metallic thread as it goes out from the spool, resulting in less tangled threads and fewer headaches for you.
Some machines come with both horizontal and vertical spool pin options, but if yours only has a horizontal spool pin, you can buy a special thread stand that has a vertical spool pin. Just make sure that the vertical spool pin is compatible with your particular model of sewing machine.
One of the problems with metallic thread is that fibers can easily become wrapped around the spool pin or other parts of a sewing machine. You can do a few things to avoid that.
First of all, try to use cones with a base.
Second, if your metallic thread is stack wound make sure that the thread is always unwound off the side of the spool and place metallic thread spools so that they run in a clockwise direction.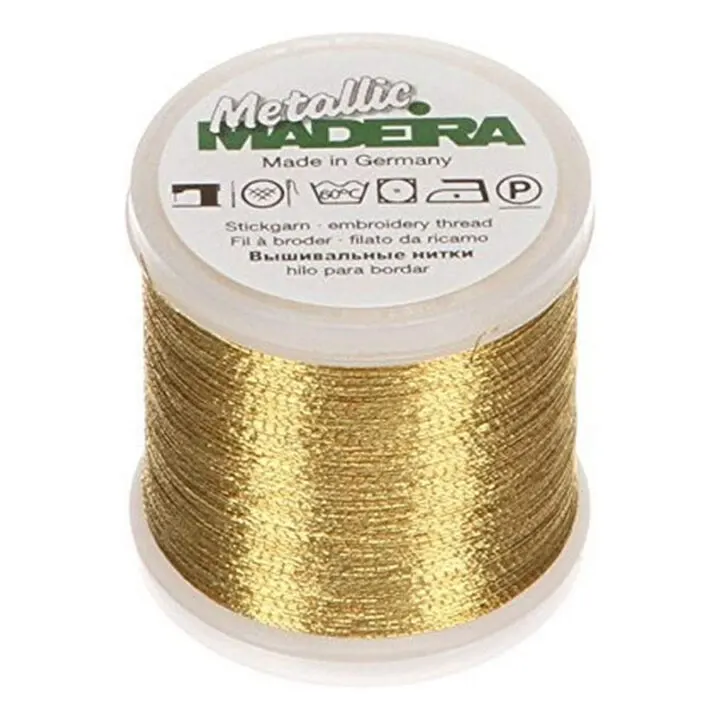 If you use cross-wound spools or cones, make sure that that thread unwinds over the top.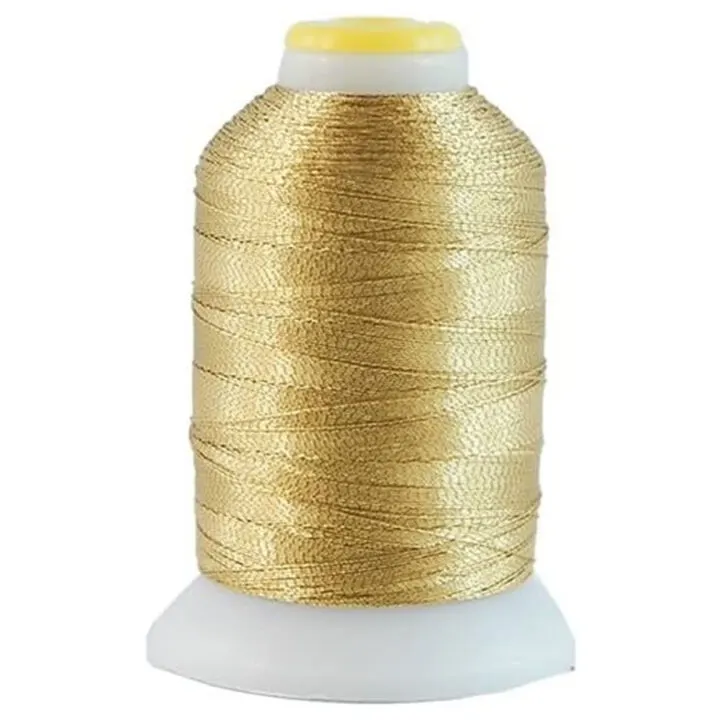 If you would like to know more about different types of threads check out my YouTube video Thread Secrets.
#5. Use Thread Net
A thread net is an essential tool for sewing with metallic thread. It's a small, round, elastic netting that helps to keep your thread spool neat. It helps to keep the thread from tangling and slipping off the spool.
To use a thread net, simply place it around the spool of thread. The net should be snug but not tight. This will help to keep the thread in place and prevent it from getting tangled. Thread nets are inexpensive and can be found at most sewing supply stores.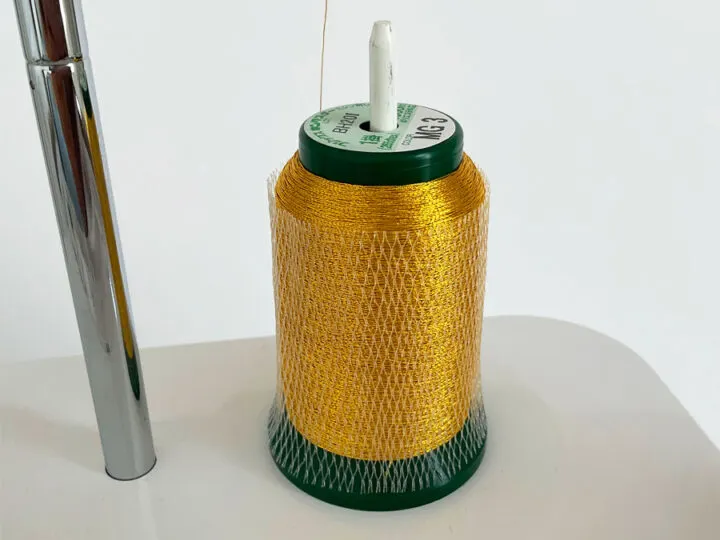 #6. Keep The Thread Ends Secured With A Piece Of Scotch Tape
After each use, it is important to return your metallic thread spool to its storage container. This will help to keep the thread from becoming tangled. To secure the end of the thread, simply wrap a piece of scotch tape around the end of the spool. This will keep the thread from unraveling and will make it easy to find the end of the thread the next time you need to use it.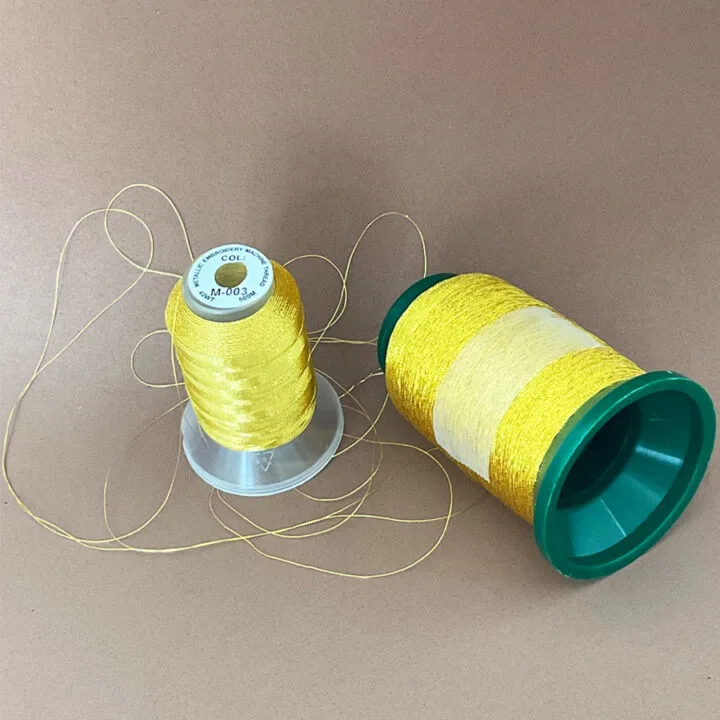 #7. Use Designs With Low Density
Select designs that have a low stitch density. These will have fewer stitches in a given area, making them easier to complete with metallic thread.
You can also use embroidery editing software to reduce the number of stitches and the overall size of the design. This is a great option if you're working with a design that you really love but that has too many stitches for your liking. With modern embroidery machines, you can easily reduce the stitch density of your embroidery designs to create the perfect project.
Also, avoid designs that have too many layers of stitches or too many stitches in one place. These designs can be difficult to stitch with metallic threads and can result in a less than professional-looking finished product. Instead, look for designs that have fewer layers and distribute the stitches evenly throughout the design. This will result in a cleaner-looking embroidery and will be much easier to stitch.
I like to use metallic thread for parts of a design, rather than the whole thing. That way, it's more of a highlight. It can really add some depth and dimension to a piece. If you're interested in trying metallic thread, I would recommend using it in smaller areas. That way, you can get a feel for how it works and how it looks before committing to a full design.
On my website, I have a tutorial that walks you through the process of making a silk robe without a pattern. To add an extra touch of elegance, I embroidered roses onto the robe using metallic thread for part of the design.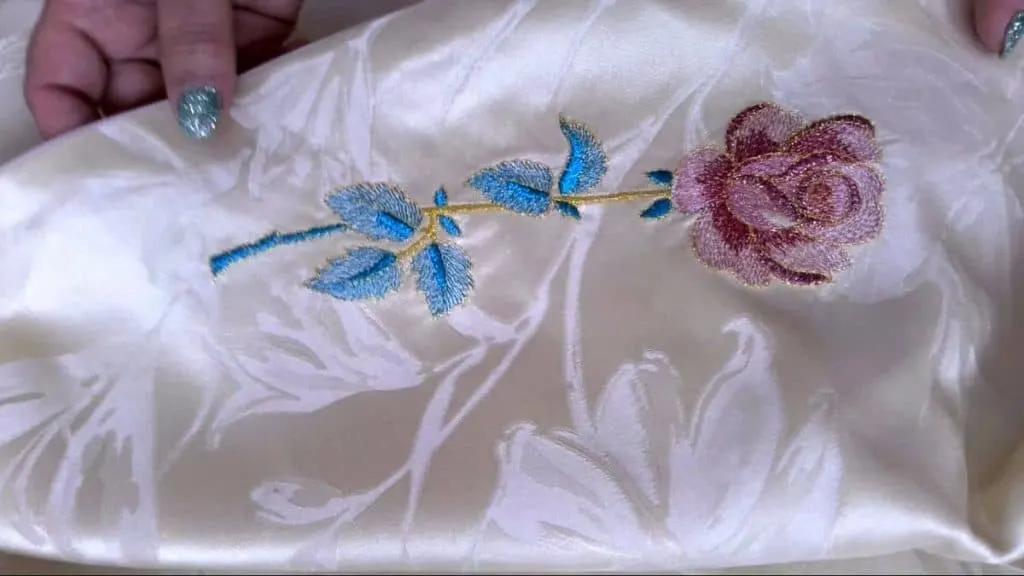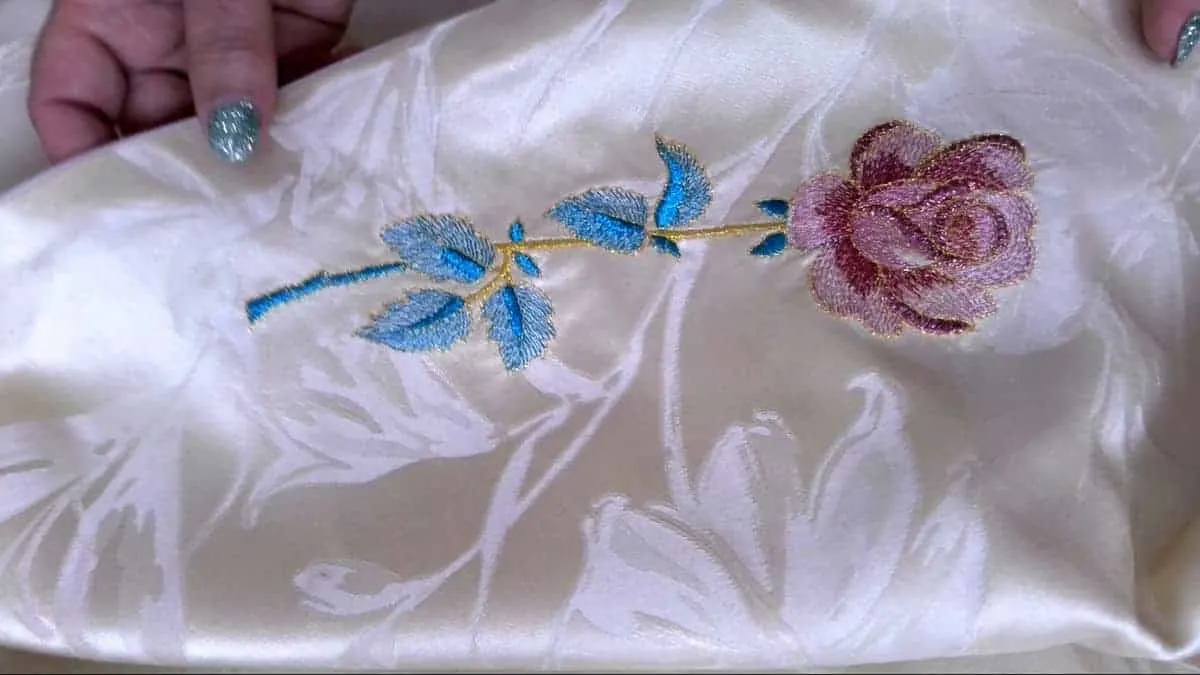 I love working with metallic thread. I used it to embroider a maple leaf on my DIY flannel scarf, and I was very pleased with the results. The thread added a bit of shimmer and interest to the scarf, and it was very easy to work with.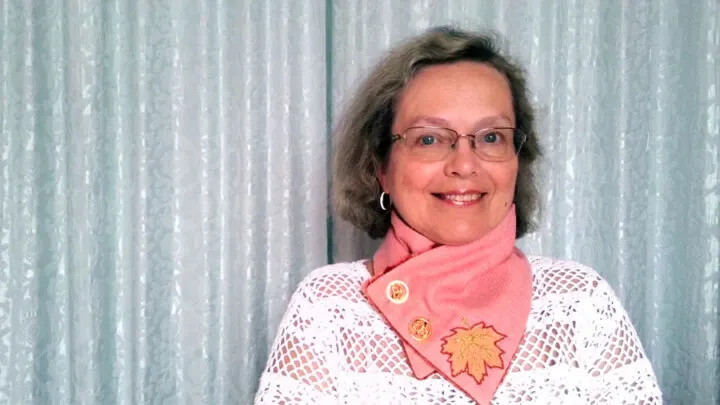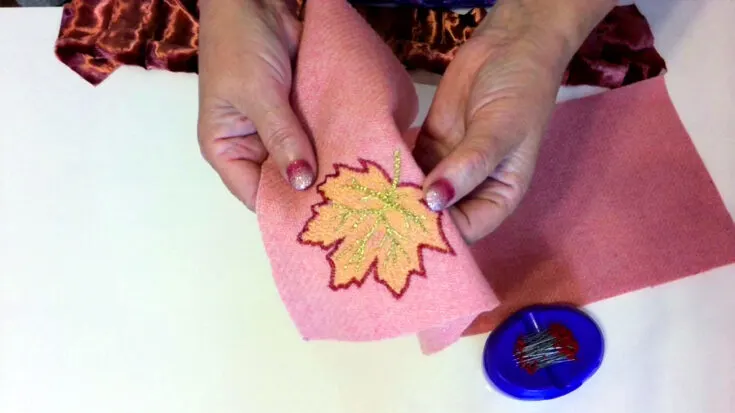 #8. Choose The Right Fabric And Stabilizer When Using Metallic Thread
Choosing the wrong fabric or stabilizer can lead to frustration and wasted time. When sewing with metallic thread, it's important to choose a fabric with a smooth surface and minimal nap. This will prevent the metallic thread from sinking into the fabric.
A smooth fabric will allow the metallic thread to glide smoothly through the sewing machine, reducing the risk of breakage. Quilting cotton is a good option, as is silk, linen, or organza.
Avoid using fabrics with a textured surface, such as corduroy, or fabrics with naps such as velvet as the metallic thread is likely to get caught in the fabric's nap. Also, avoid knit fabrics and stretchy woven fabrics.
In terms of a stabilizer, it's best to use a lightweight tear-away stabilizer. This will provide support for the delicate metallic thread without adding too much bulk.
#9. Use Very Thin Polyester Thread In The Bobbin
I recommend using a very fine thread in the bobbin when working with metallic thread in the needle. What weight thread is fine? Use 60W or even 80W polyester embroidery thread so it doesn't cause any bulk or tension issues, but still is strong enough to provide good support for the metallic thread.
#10. Test Your Settings Before Starting The Project
One of the things you might want to do before beginning any embroidery project is to test the metallic thread, needle, fabric, and design combination. Testing your embroidery machine settings before beginning a project is always the best way to ensure the best possible results.
But it's not always possible. In that case, you can set the machine using the tips above and just start the project, making a few stitches and seeing if something needs adjusting. If you run into any problems, make a note of what didn't work and adjust accordingly for future projects.
What Brands Sell Metallic Sewing Threads?
When it comes to metallic threads, not all are created equal. If you're going to be sewing or embroidering with metallic thread, you'll want to make sure that you're using a high-quality thread. Otherwise, you risk the thread breaking or shredding, which can ruin your project.
A high-quality metallic thread will be stronger and more durable, meaning that it's less likely to break or fray. In addition, a high-quality thread will have a smoother finish, which will give your project a more professional look.
There are many brands that sell metallic sewing threads. Some of the most popular include Madeira, Sulky, and Gutermann. These brands offer a variety of different weights and colors of metallic thread.
Madeira metallic threads
Madeira metallic threads are some of the best on the market, and well worth the investment. They are very shiny, smooth, easy to thread into the machine, and strong enough to stand up to some speed – as long as you don't try and go too fast. The resulting effect is a beautiful sparkly finish on the fabric.
Cheap metallic threads can be tempting, but they are often of poor quality and may snap easily or cause other problems. It's definitely worth buying a good-quality thread like Madeira. Madeira metallic threads can be used on high-speed sewing machines and you can also use these threads for hand embroidery.
Madeira metallic thread is available in a variety of colors, so you can find the perfect shade for your project.
The thread is parallel wound on a spool so keep this in mind when you thread your sewing machine – use a vertical thread stand.
Gutermann metallic threads
If you're looking for a high-quality metallic thread Gutermann thread is a great option.
Gutermann threads work well as top and bobbin thread, don't fray or separate from a non-metallic inner thread, and come in a great range of gorgeous colors. This is the first type of metallic thread with a base core thread and metallic filament wrapped around it. The thread is quite strong due to its special thread construction and gives an excellent sewing performance.
The thread is cross wound so use it on a telescopic pole thread stand.
Sulky metallic thread
If you're looking for an even more brilliant shine, try Sulky metallic thread. Sulky is a world-renowned manufacturer of high-quality embroidery threads, and their metallic thread does not disappoint.
It is great for sewing machines, sergers, and hand sewing because it does not fuzz, fray, or shrink. Small spools are perfect for most projects, but you may want larger spools of your most loved colors. The sulky metallic thread will add a touch of brilliance to any project.
In conclusion: With these tips in mind, you're ready to start sewing with metallic thread. Just remember to take your time, use the correct settings, and proper supplies. With a little practice, you'll be an expert at using this beautiful thread in no time.
What are some of your favorite ways to use metallic thread? Let me know in the comments below.
Did you like this tutorial? If you want to save it for future reference and use it later when you need this information on metallic thread, pin this image to your sewing board on Pinterest and follow me on Pinterest for more tips, tutorials, and inspiration.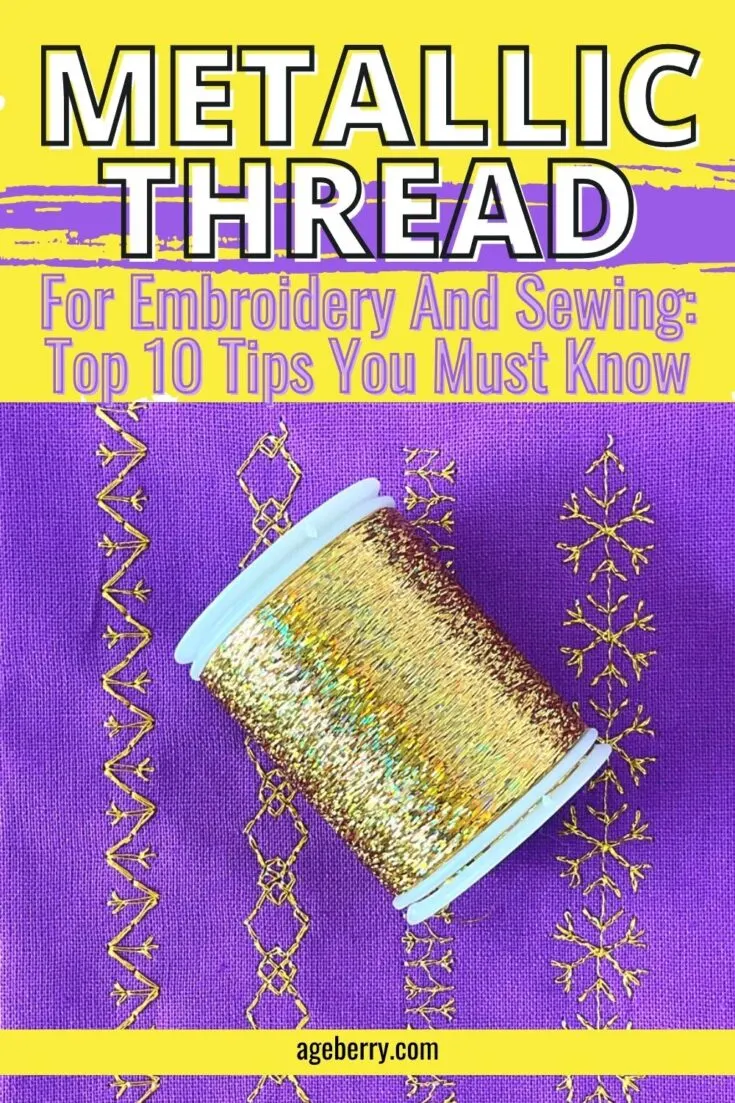 ---