In this sewing tutorial, I want to talk about sewing machine thread stands.
If you're an experienced sewist, you've seen the many ways thread is sold. You can buy thread on a spool, on a cone, on a vicone, on a cop, or even on a bobbin. However, the built-in thread holder on your sewing machine may not be compatible with the type of thread you want to use. Fortunately, there's a solution to this age-old problem. We call it a sewing machine thread stand or a sewing thread holder.
A sewing thread stand is usually a tool that's separate from your sewing machine. It's used to hold spools of thread in varying shapes and sizes. This is helpful because it allows you, the sewist, to use spools that are larger than your machine holds or that are shaped or wound differently than your machine supports.
When you purchase a thread stand for your sewing machine, you can use cones and spools of all shapes and sizes, and they'll run perfectly through your machine, regardless. Cones, vicones, and cops of thread are typically cheaper than small spools. They also last much longer, meaning fewer trips to the local quilt shop to stock up.
✅ Related tutorial: Sewing thread sizes – how to choose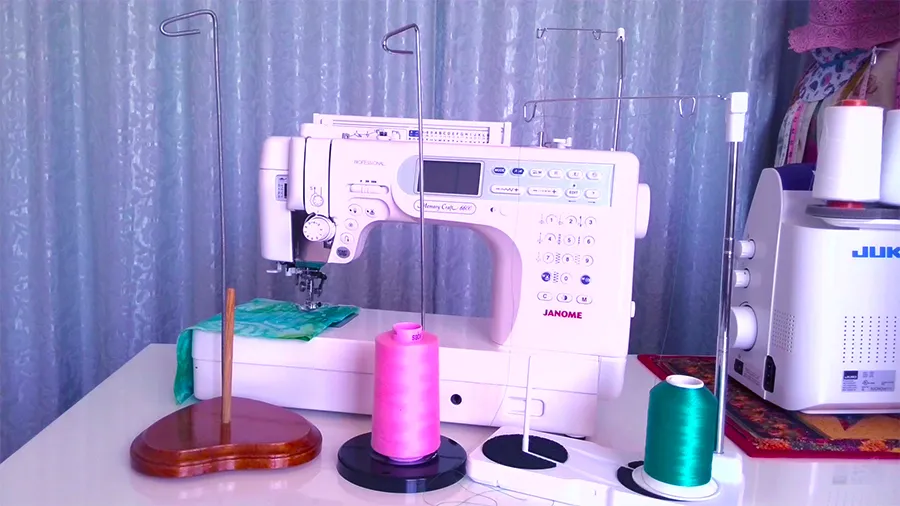 What Is a Thread Holder Called?
A thread holder for a sewing machine has many names. Whether you call it a spool holder, a sewing machine thread stand, a sewing thread spool holder, or a cone thread holder for your sewing machine, you're describing the same product: a device that positions the thread correctly. Some are built into your sewing machine. Others are stands you can purchase separately.
Why Do I Need a Thread Stand?
You need a thread spool holder for your sewing machine in order to sew. It positions the thread in such a way that it runs through the machine smoothly, without breaking, tangling, or knotting. Your sewing machine includes a built-in thread holder, but it usually limits the size of spool you're able to use.
This can cost you money because you're forced to buy only one size or shape of the spool. Cones are typically more cost-effective, but most domestic machines are not designed to hold cones of threads. Therefore, many sewists rely on a thread stand for their sewing machine.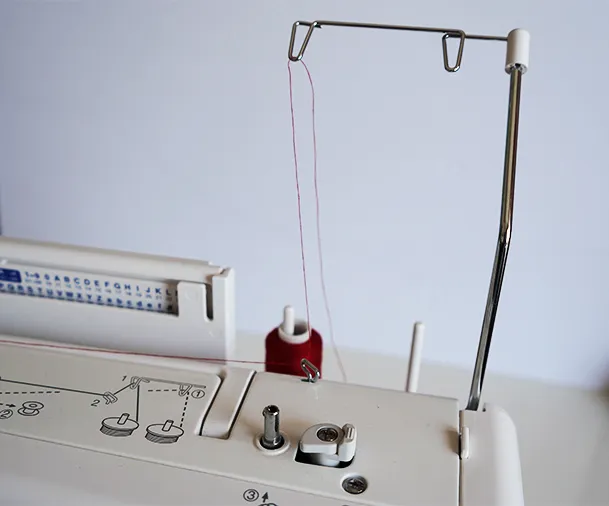 ✅ Related tutorial: The best sewing machine for advanced sewists
Which Part of the Machine Is the Thread Holder?
There's a thread holder on your sewing machine. It's usually positioned on the top of the machine and holds the thread spool in place either vertically or horizontally. Once the thread is on the holder, you're able to wind the thread through the machine correctly. We call this "threading" the machine, for obvious reasons.
If you're not sure which part of your sewing machine is designed to hold your thread, you'll find the answer in your manual. Usually, however, it's easy to spot. Look for a part on your machine that resembles a horizontal or vertical post. On some machines, the sewing thread spool holder is positionable to stand upright or to lay horizontal. The reason why is interesting.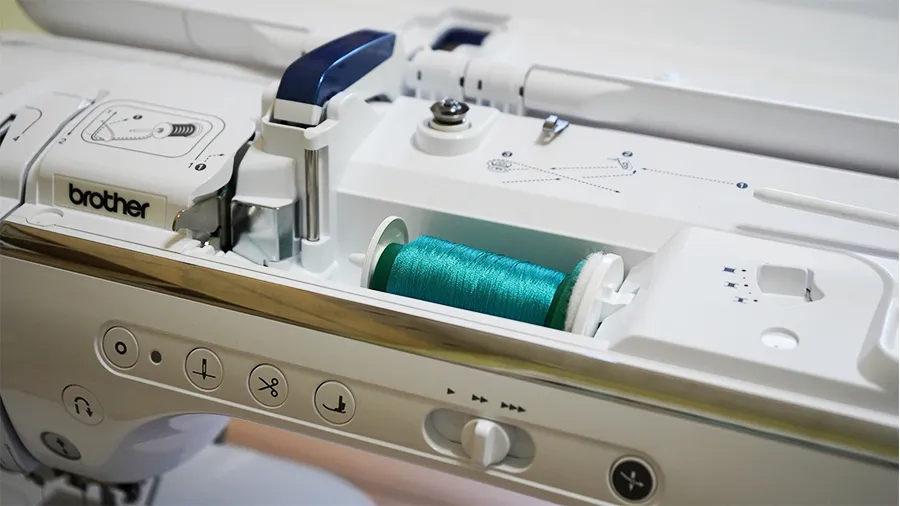 Why Are There Horizontal and Vertical Thread Holders on Sewing Machines?
The thread spool holder on your sewing machine is positionable to accommodate the different ways that thread is wound onto a spool. There are two main patterns used by major thread manufacturers. They include:
Cross-Wound
Stacked
Thread is designed to feed from each spool differently. Therefore, manufacturers recommend horizontal or vertical thread spool holders, accordingly.
Understanding Thread-Spool Patterns
Cross-wound thread creates an "X" pattern on the spool. You can easily spot a cross-wound spool simply by peering closely. With cross-wound threads, you can use a horizontal thread holder that lets the thread feed into the machine over the end of the spool or a vertical thread holder with an extended pole that allows the thread comes off the top of the cones.
In this case, the spool or cone is not moving – only the thread is unwinding. Both Gütermann and Aurifil manufacture threads that are cross-wound onto the spool.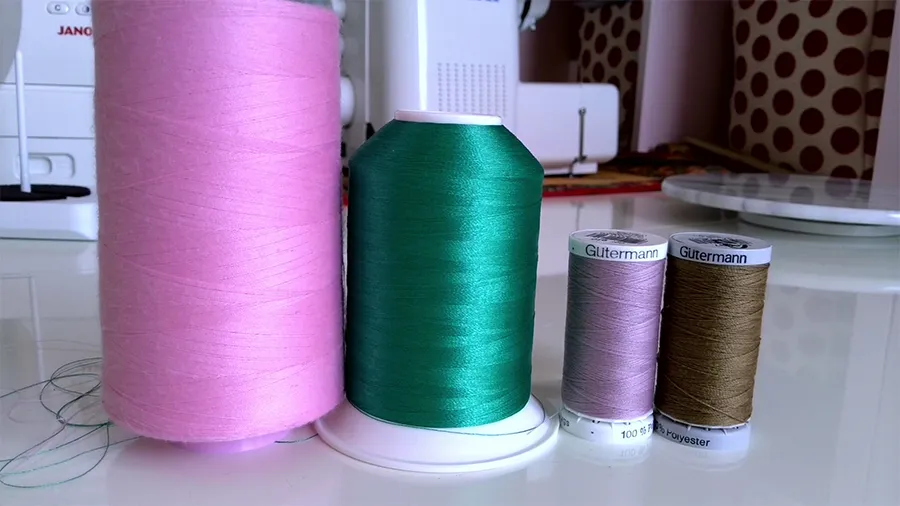 Stack-wound spools feature parallel lines of thread across the entire surface of the spool. This type of thread can be mounted on a vertical spool holder without an extended pole to feed from the side of the spool, and it's usually used on older or vintage sewing machines. The spool itself is supposed to rotate on this kind of machine.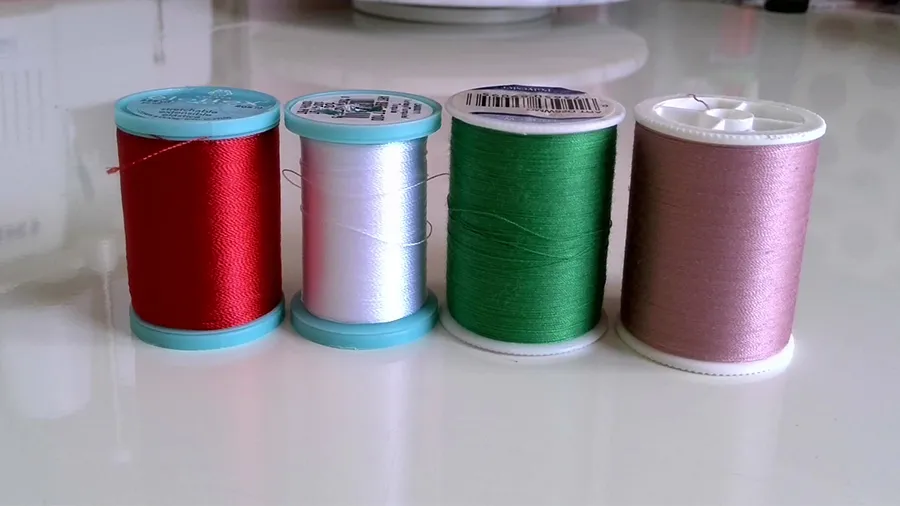 I found out that stack-wound spools are not very good for use with modern computerized machines (it doesn't even matter if the thread holder is vertical or horizontal) because the thread can catch and snag on the grooves at the end. This can cause the thread to grab or break during sewing.
Coats and Clark is a popular manufacturer of stacked spools. If you like to use this kind of thread you should use spool caps for smooth feeding of the thread to the machine.
It's important to understand which type of spool uses which directional orientation. If you try interchanging them, you may find your thread breaking frequently or that you have unsightly ruffles in your seams where the thread grabbed the end of the spool. The improper unwinding of a spool can also create unnecessary drag and rotation, and it can mess with your tension. All are frustrating incidents that can turn a relaxing day of sewing into a tense ordeal.
✅ Related tutorial: Sewing thread types and uses
Which Spool Holder Do I Use?
If your sewing machine features a movable thread spool holder, you'll want to position it according to the wind pattern on the spool you're currently using.
If your machine offers a fixed spool thread holder, you'll be limited to using only spools designed to fit it. This is when a thread stand becomes invaluable. Most thread stands to accommodate cross-wound and stacked thread. This gives you options beyond what your machine is designed to do.
If you're sewing on a vintage or straight-stitch machine, a thread holder for a Brother sewing machine or a thread holder for a Kenmore sewing machine could be your new best friend.
How Do I Choose the Right Thread Spool Holder for My Sewing Machine?
If you've decided to purchase a thread stand for your sewing machine, you'll be delighted at all it can do, including:
Gives you more choices on the type and size of spools you can use
Holding multiple spools at once, so one is always handy
Offering storage space for bobbins, pins, and other sewing notions
Enabling thread to glide through the machine more effortlessly
The right thread spool stands for your sewing machine and can help prevent frequent breakage of your thread and the annoyance of having to re-thread your machine in the middle of your project.
✅ Related tutorial: Stretch thread for sewing
What's the Best Sewing Machine Thread Stand to Buy?
We've analyzed the most popular brands of thread stands on the market, and we're happy to make a few recommendations for beginner sewists. Note, that almost all thread stands have an extended pole for the thread to go up before going to the machine.
Note: Some of the links on this page are affiliate links. This means I will receive a commission if you order a product through one of my links. I only recommend products I believe in and use myself.
Dritz 896 Cone Thread Holder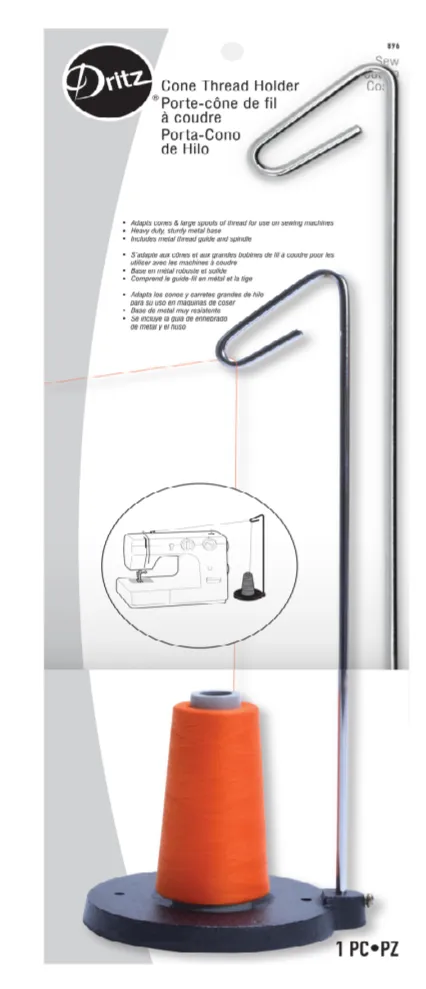 Dritz makes wonderful sewing notions and accessories that are highly affordable, and the 896 cone thread holder is an outstanding example. This thread stand is customized to enable the home sewist to use cone thread on any sewing machine. Aside from shaving significant dollars off the purchase of thread, it makes the whole process smooth and easy.
This thread stand for your sewing machine features a heavy metal base that prevents it from tipping, lifting, or sliding as you use it. Additionally, the stand is designed to feed thread vertically from the top of the cone, which makes for smooth threading and easy glide through your machine.
Eliminating the need for small spools, the Dritz 896 cone thread stand also reduces instances of thread breakage and tangling. It's available for an affordable price via Amazon at the link above and rates very high – almost 5 stars.
Superior Threads Holder Thread Stand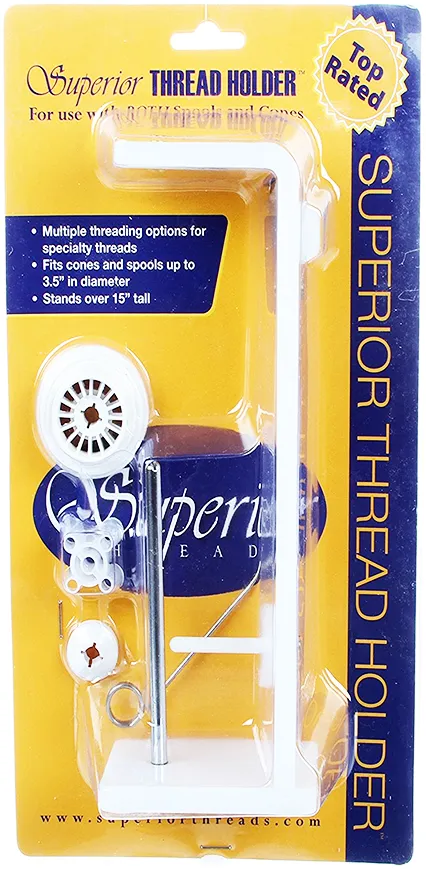 The Superior Threads Holder thread stand is made of plastic and lacks the weighted metal base that many users appreciate in the Dritz version. However, it's adaptable for use with cones, spools, and even bobbins. By repositioning the feed pin, you can use virtually any size or shape of thread spool available. Additionally, this thread holder takes thread through both a top hole and a swing arm, which prevents it from coming off the spool too quickly. Reviewers found this perk beneficial when using metallic threads and embroidering.
If you want the versatility of using all sizes, shapes, and wind patterns of thread spools and cones, the Superior Threads brand is a great, economical option. It's available on Amazon and has received around 4 ½ stars.
New Brothread Lightweight Thread Stand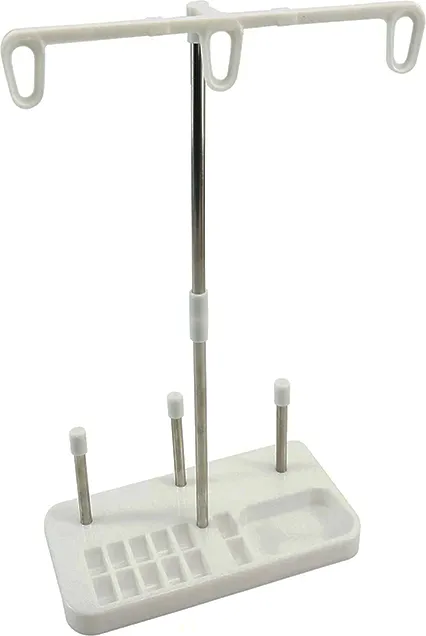 The New Brothread lightweight thread stand is perfect for the sewist who wants to use only large cones of thread. Designed to hold up to three cones at once, this thread stand features three separate eye holes that allow you to keep all cones ready to use at all times.
Though it's lightweight, keeping three cones on the base at all times helps improve this stand's performance. However, reviewers report that the wide spindles are too large to accommodate smaller spools. There is also no option for using a cross-wound thread.
For those who need storage, though, this little stand is highly helpful. With space to store three large cones, 12 pre-wound bobbins, and a cubby for pins and small notions, it's a cute and functional addition to your sewing table.
The Brothread stand scores around 4 ½ stars on Amazon.
Sew Tech 20-Spool Thread Stand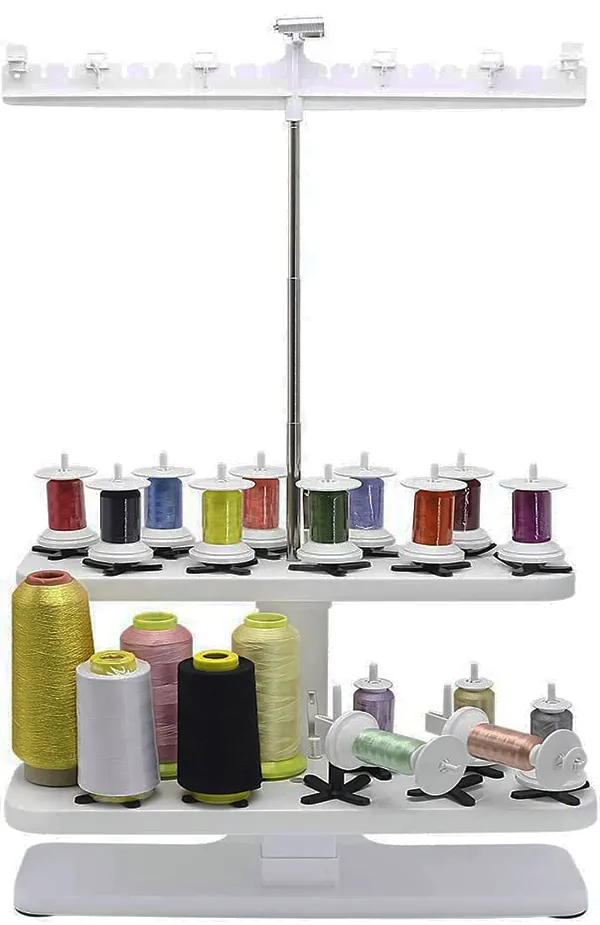 The Sew Tech version of a thread stand provides an innovative solution to storing up to 20 spools at the ready at all times.
Enabling sewists to use cones and spools of varying sizes, the Sew Tech thread stand allows spools and cones to feed from the top. You can keep various colors threaded through the top eye and ready to use 24/7. It also features an adjustable height to accommodate all sewing machines.
Bigger than other thread stands, the Sew Tech model will take up more room on your sewing table, but we think it's worth it for the extra storage and ease of use.
The Sew Tech 20-Spool thread stand sells on Amazon for a bit more than other basic versions, and it has achieved a 5-star rating.
Sew Tech Adjustable Cone Thread Stand Holder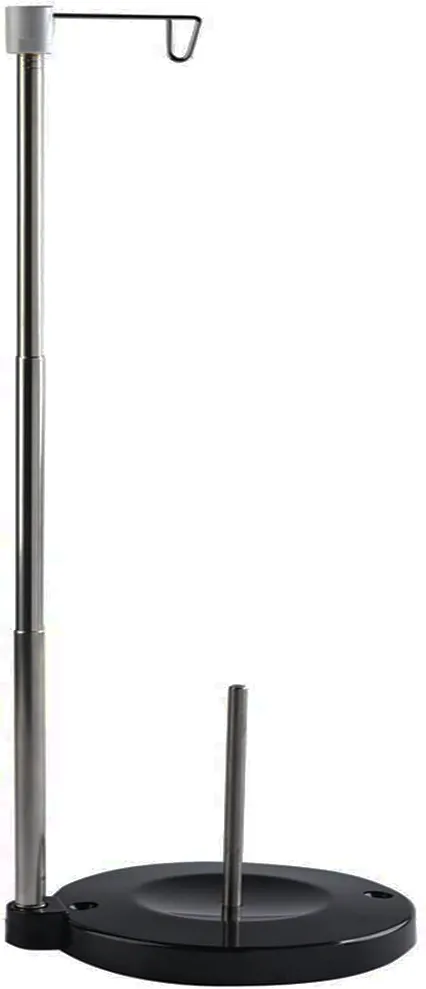 Also available from Sew Tech, the adjustable cone thread stand is designed for the minimalist sewist. Able to hold a single cone of thread, this thread holder features an adjustable-height arm to fit every sewing machine. Adjusts from 6.5 inches to 15.5 inches to accommodate tall machines such as Babylock and Bernina, and features a weighted base to prevent tipping.
The Sew Tech adjustable cone thread stand is a new product on Amazon and has earned a solid, 5-star rating.
Regardless of which thread stand you choose, you'll be amazed at how easily it enables your thread to move through your machine. Sewing and embroidery projects are easier to complete in less time when you have multiple colors of thread at the ready. And thread holders that feature extra storage for spools, bobbins, and small notions make it easy to organize your sewing space.
How to Make a Sewing Machine Thread Stand
Of course, if you're not ready to invest in a sewing machine large spool stand, you can always DIY one. How do you make a thread holder? All you need are a few basic supplies that are probably already scattered around the house.
Here is my handmade thread stand that my husband made 15 years ago when I couldn't buy it on Amazon.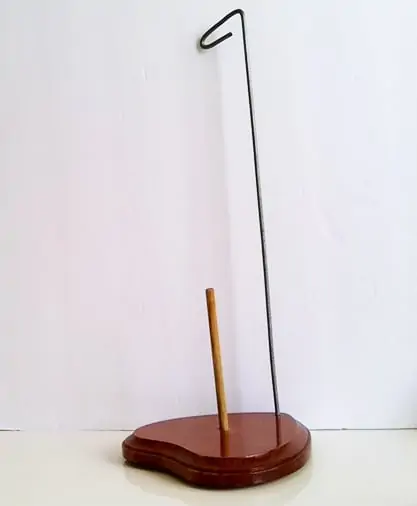 The goal is to engineer a device that pulls the thread off the top of the cone and allows it to move freely through your sewing machine without creating unnecessary drag or tension. We've compiled a few of our favorite, easy tutorials below:
Roundup: DIY Thread Stand for Sewing Machines
This tutorial from Notches Sewing makes it deceptively simple to fashion a large thread spool holder for your sewing machine from things like paper clips, coffee mugs, rulers, and metal straws. It's fascinating to watch, and the total cost spent ranges from zero to just a few dollars. If all you need is a simple way to get the thread to come off the cone in the right direction, this tutorial is for you.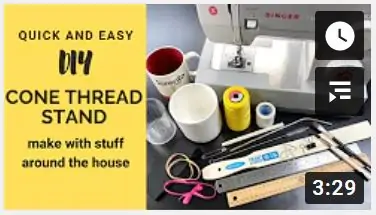 2. Our second sewing thread holder DIY is a video courtesy of SewVeryEasy. Using a candle holder, pieces cut from a wire coat hanger, a crocheted doily, and a little adhesive, you, too, can make a thread holder capable of holding a single cone of thread. The cost is nothing so long as you have these things readily available. As an aside, you'll need a pair of pliers and wire cutters on hand to craft this cone thread holder for your sewing machine.
3. Our third tutorial from You Make It Simple uses an old CD holder with a spindle to hold the cone of thread securely. Simply bend a large paper clip into a hook shape and use heavy-duty tape to adhere it to the back of your sewing machine, the higher the better. Drop your cone on the spindle and run the thread through the bent paperclip before threading it into your sewing machine.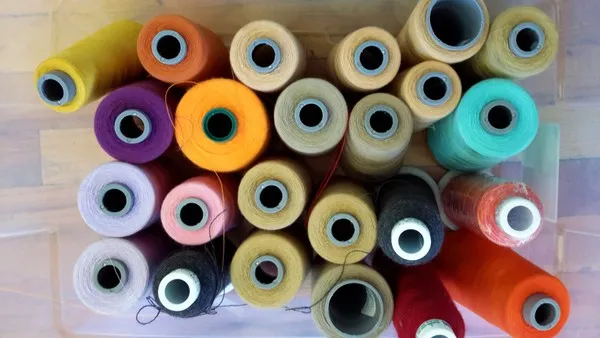 4. Sewing Machine Buffs offers a sort of round-up of their own in this easy-to-read post. This tutorial tells you how to make a sewing machine thread stand from multiple household objects, including a piece of wood and a plastic soda bottle.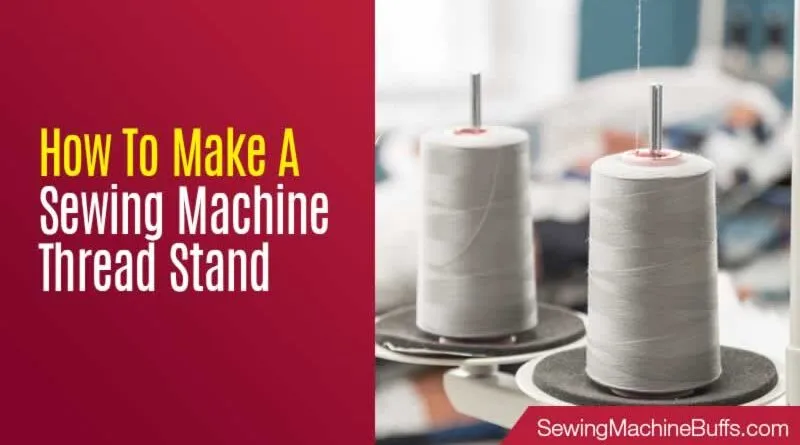 5. Or, you can go online to sites such as Etsy to find a thread stand like The Thready, that someone else has created with your comfort in mind. This type of thread holder is cute as well as functional, with space to store your sewing scissors, a ready-made pincushion, and a spindle to hold your cone of thread.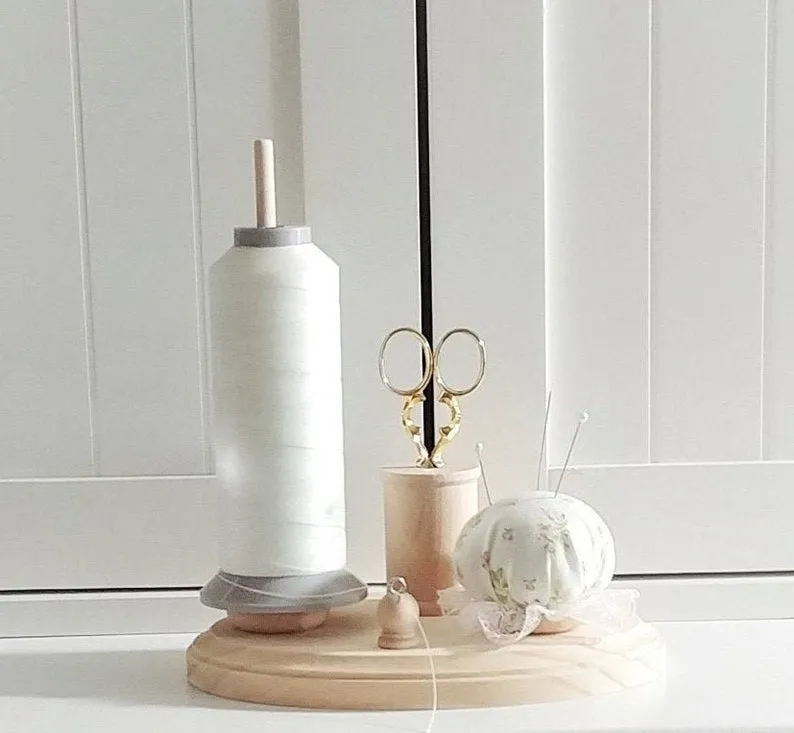 6. Last, for sewists whose machine only features a vertical thread holder, an Etsy seller has created this antique replica wooden spool holder that holds a single spool of thread. Handmade from rustic wood this thread stand is a beautiful addition to any sewing space.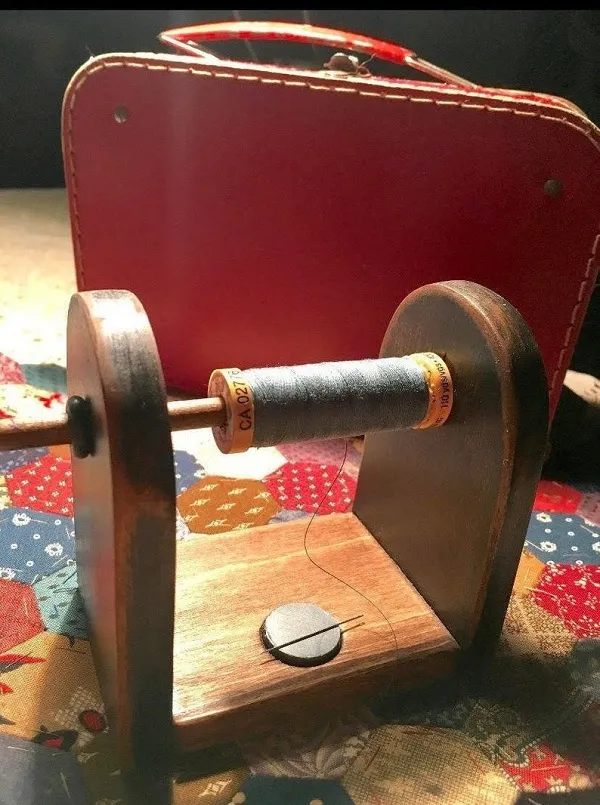 ---
---
If you experience frequent thread breakage or you're constantly forced to re-thread your needle and bobbin due to skipped or pulled stitches, a thread stands for your sewing machine could revolutionize your life. A thread stand for a sewing machine can improve the performance of even high-end workhorse machines.
We hope you've found this post helpful. If so, save this pin (see below) on your sewing board so you can come to this tutorial later when you need the information on the sewing machine thread stand, and follow me on Pinterest for more tips, tutorials, and inspiration! And if a sewing machine thread stand has changed the way you sew, we'd love to hear about it. Drop us a line in the comments.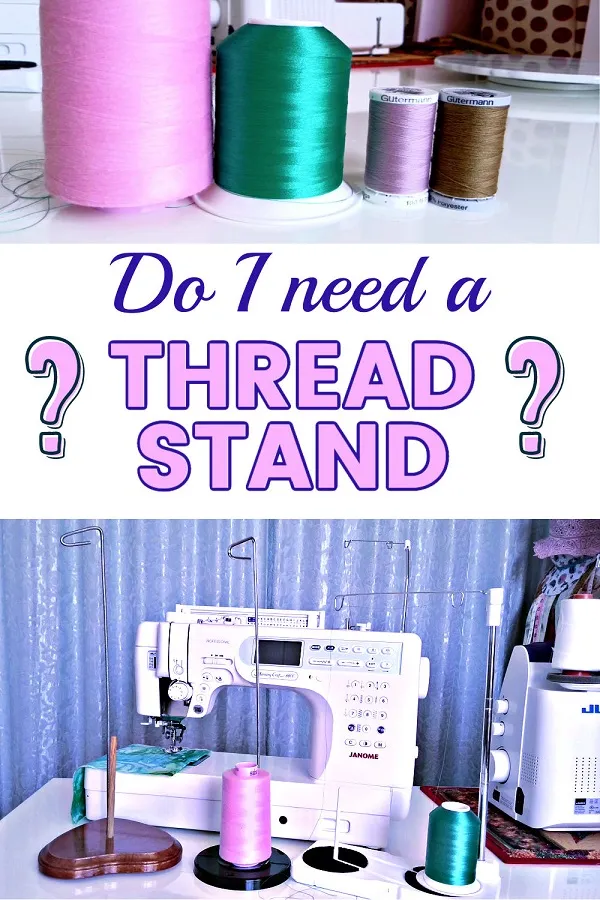 Useful Info – Sewing Machine Troubleshooting

If you own a sewing machine long enough, you're going to have to figure out how to troubleshoot your sewing machine at some point or another. While some sewing machine problems are preventable, others are inevitable. Learn how to troubleshoot your sewing machine with my printable PDF eBook. Whether you use a traditional sewing machine or a modern computerized one, work through this ebook before thinking about a replacement or going to a service center.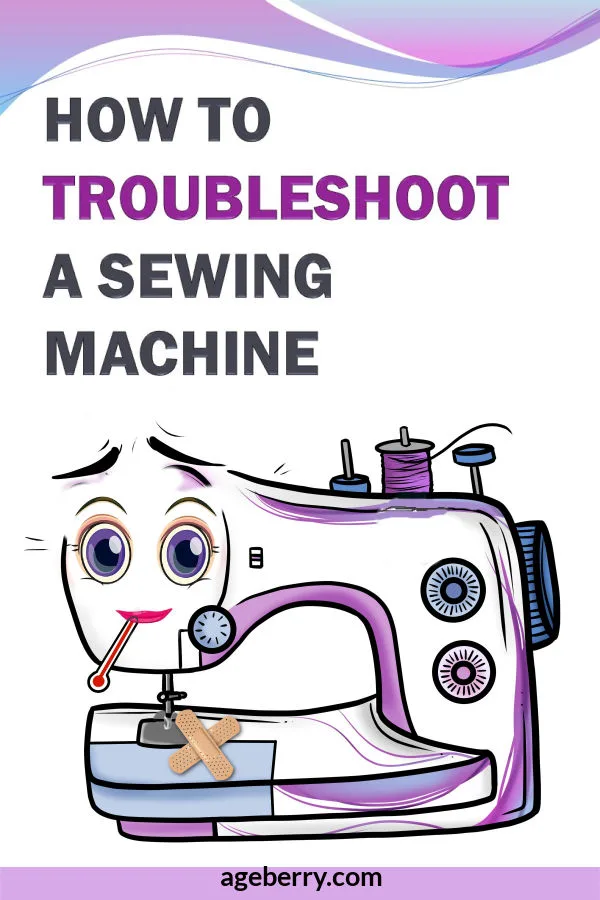 Like sewing tips? I have other popular tutorials on my site that might be interesting for you. Check them out below.
---