If you sew with stretch fabrics, you probably know firsthand how they stretch and can lose their shape over time, especially in specific seams. Learn about knit stay tape and how it helps prevent that to keep your knit garments looking amazing wear after wear.
Knit fabrics feel lovely to wear thanks to their soft texture and flowy drape. However, those same qualities that make knits feel wonderful as clothing create headaches for sewists trying to work with them (especially at first). Using special sewing tools such as stretch fabric needles, stretch thread, and stretch stitches help.
But sometimes, you need something a little extra to add stability and make your seams, well, seamless. That's where knit stay tape is helpful.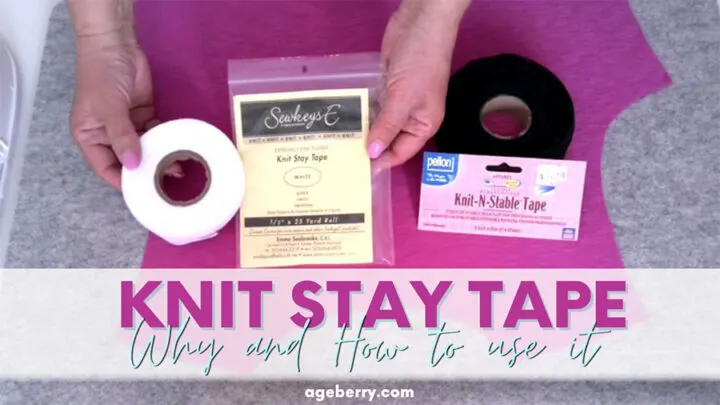 ✅ Related tutorial: How to sew knit fabric | 23 expert tips for beginners
What Is Knit Stay Tape And What Does It Do
Knit stay tape is a product used to stabilize various types of seams on stretchy knit fabric. It is a narrow strip of fabric that's sewn onto the garment.
The purpose of stay tape is to keep the seam from stretching out or becoming misshapen over time. Stay tape is particularly useful in shoulder seams and hems, as well as in areas where there is a lot of wear and tear (such as zippers).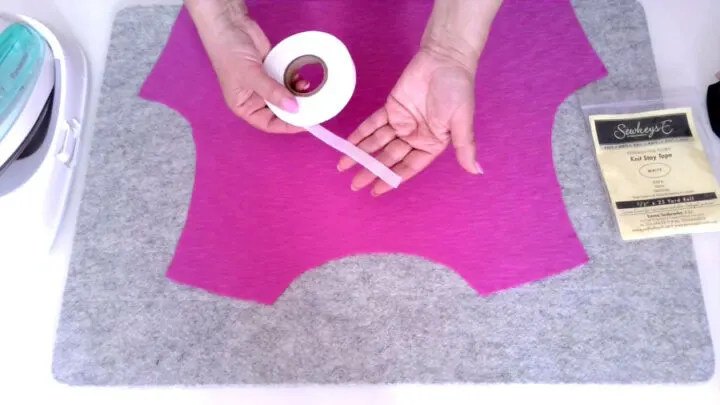 Knit stay tape is less likely to show through on lightweight fabrics (compared to regular fusible hem tapes).
It is usually made from strong synthetic fiber such as polyester or nylon.
Stay tape is available in different widths and can be found at most fabric stores. The most common (and useful) sizes are ½ inch and 1 inch.
All types of knit stay tape are fusible.
Knit Stay Tape used to be challenging to find, but now it's become more of a mainstay so it's easier to buy and it's always available on Amazon. You can buy it in 25-yard rolls and usually find it in white or black (and sometimes ivory).
Types Of Knit Stay Tapes
When selecting knit stay tapes, it is important to choose ones that match the thickness and drape of your fabric. By taking the time to choose the right knit stay tape, you can ensure that your next sewing project turns out looking great.
Note: Some of the links on this page are affiliate links. This means I will receive a commission if you order a product through one of my links. I only recommend products I believe in and use myself.
The most popular seems to be the SewKeysE knit stay tape. You can find it in different sizes and colors on Amazon.
SewKeysE 1/2-inch-wide fusible Extremely Fine knit stay tape
It's available in black and white. This stay tape is very lightweight, stretchy, and easily "cooperates" with a curved neckline, and because it's so fine, it's virtually invisible on the right side of the garment once applied. Use it for curved seams (like necklines, and armholes) and also for shoulder seams.
It provides just enough support to keep the fabric from stretching out of shape, without adding bulk or stiffness.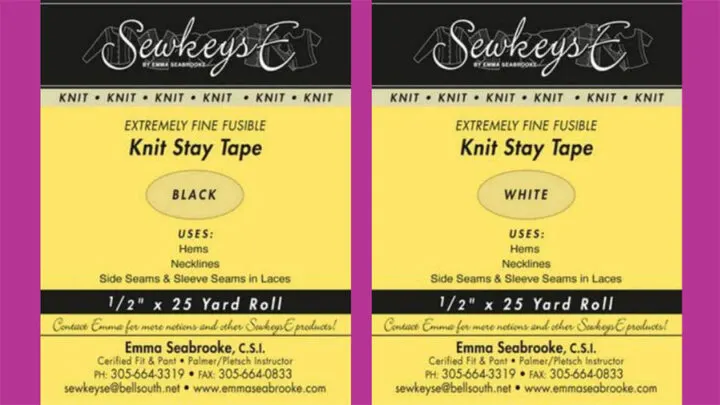 SewKeysE 1-inch-wide fusible Extremely Fine knit stay tape
It's also available in different colors – white, black and ivory.
A wider tape is used mostly for hemming knits and stabilizing knit edges for attaching a zipper.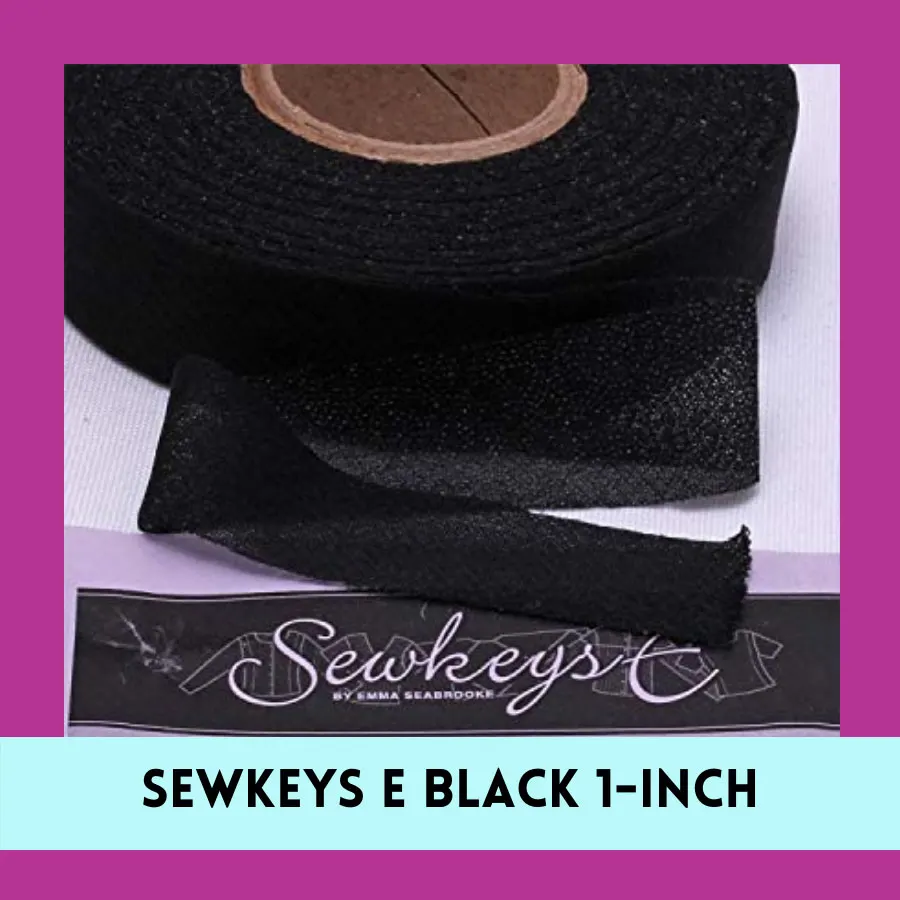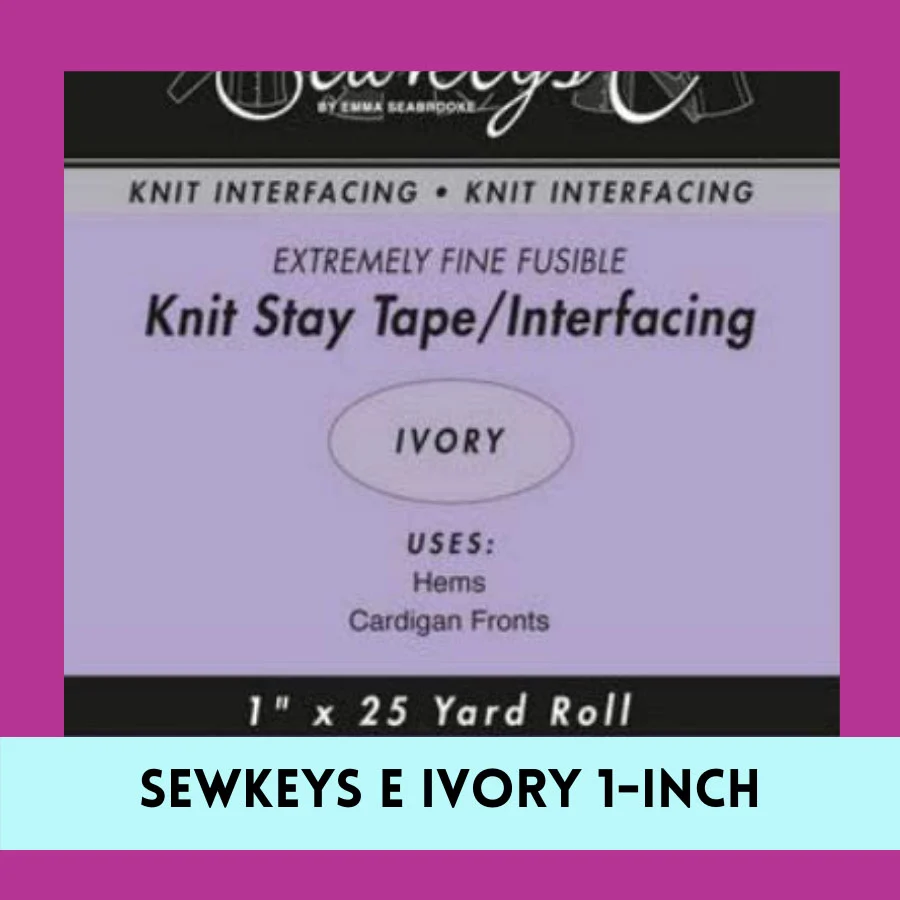 SewKeysE 1/2-inch-wide fusible More Than Extremely Fine knit stay tape
(black and white)
You noticed that it's MORE THAN EXTREMELY FINE! It is almost invisible but gives support to knit fabric without changing the hand.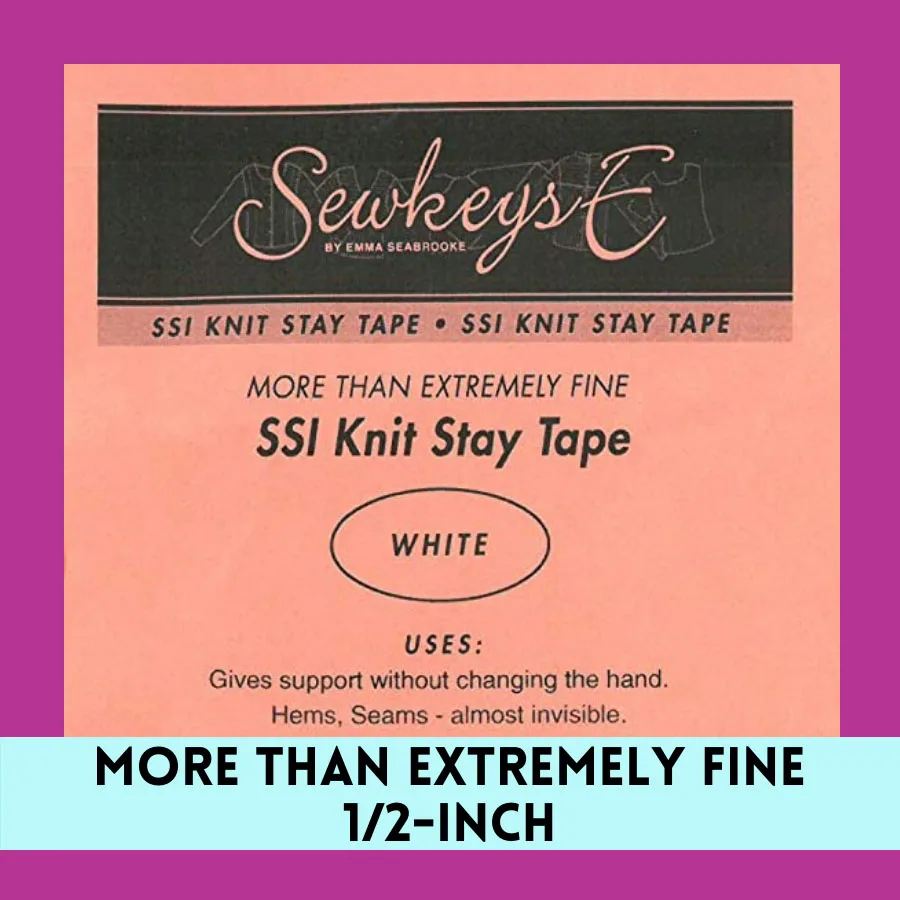 SewKeysE 1-inch-wide fusible More Than Extremely Fine knit stay tape
(black and white)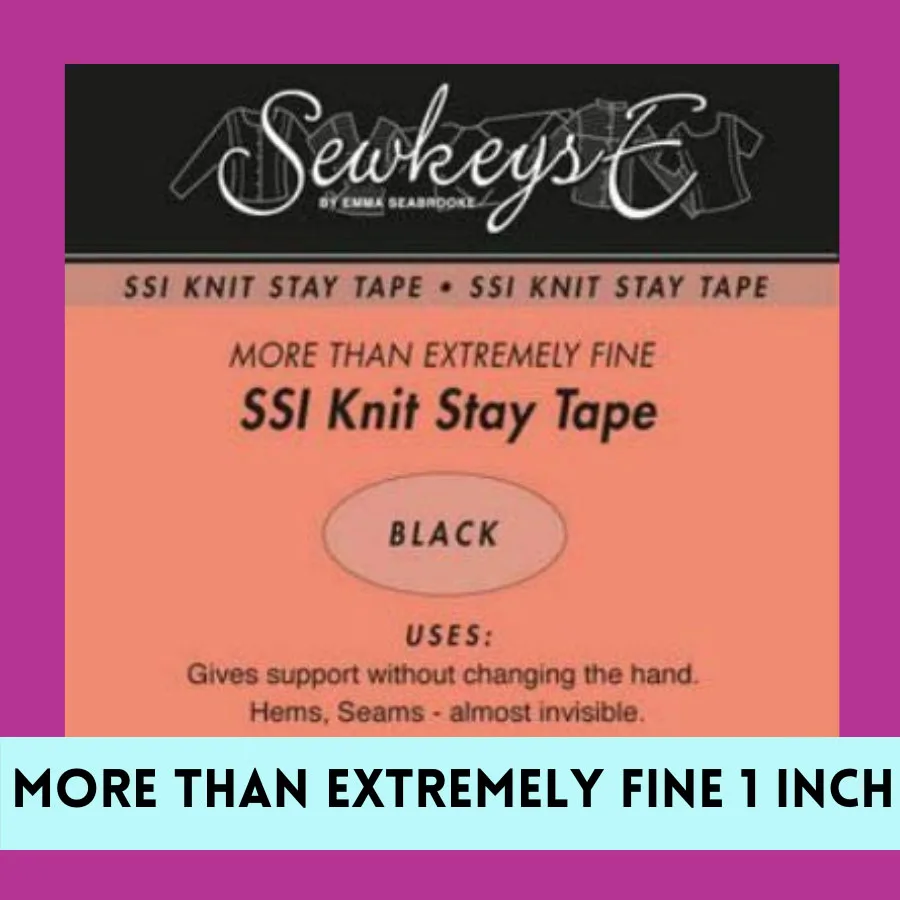 Pellon Knit Stay Tape
I also have Pellon knit stay tape, 1 inch wide, black. It works exactly the same as SewkeysE tape, I didn't notice any difference. I see that they call it Pellon Knit N Stable.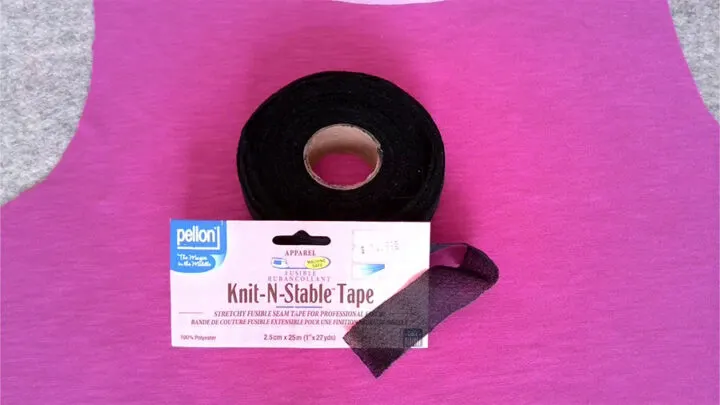 Benefits Of Using Knit Stay Tape
Stay tape makes working with knits much easier. I recommend using stay tape when sewing knit fabric for several reasons, because it:
Prevents stretching to make sewing easier and more accurate
Stabilizes shoulder seams to prevent dragging the seams down
Provides structure to curved seams such as necklines to help them keep their shape
Can increase support around zippers
Helps to sew hems of knit garments
Stay tape is a wonderful tool to add support and stabilization to a garment without restricting movement.
But it doesn't mean you must use it for any knit garment. Some types of knits like interlock knits are not very stretchy and have good recovery properties so shoulder stabilization might be unnecessary and you can use stay stitching around the neck and armholes instead of stay tape.
Types Of Stay Tapes For Knit Fabric
It's funny to say but knit stay tape and stay tape for knits are 2 different things because you can use woven stay tape and some other things to stabilize seams on knit garments: you can use clear elastic, twill tape, double-sided fusible tape, cut a piece of fusible interfacing, etc.
Read more about it in this article – STABILIZING SEAMS: THE PROS AND CONS OF STABILIZERS
How To Use Knit Stay Tape On Your Knit Fabric Projects
When applying stay tape, it's important to align the edges carefully and use a gentle pressing motion to avoid distorting the fabric.
The process for using knit stay tape is pretty simple. Here's a quick step-by-step guide.
Cut out your pattern pieces and lay them out.
Place the tape to the fabric's wrong side on the seamline, fusible side down.
Seal it with the heat of an iron.
Sew the seam.
Now that you know the basic process, let's go over some specifics based on where you want to use your knit stay tape.
How To Use Knit Stay Tape To Stabilize A Shoulder Seam
I think the shoulder seams are the most common seams to support with knit stay tape when using knit fabric. Stay tape adds stability to shoulder seams and helps to prevent them from stretching out of shape. Use ½ inch stay tape.
Here's the process:
1. Cut a piece of stay tape (the size of the seam). Place the front and back bodices right sides together.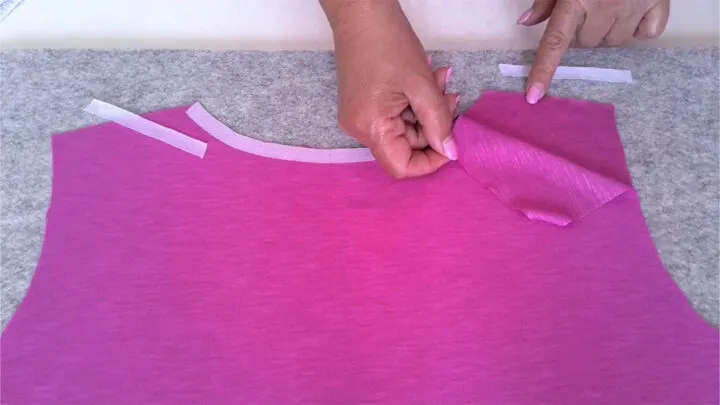 2. Place the stay tape on the shoulder of the front piece because you'll press the seam allowances toward the back (after you sew the shoulder seam) and you don't want to fold the stay tape – it should stay flat.
If your seam allowances are 1/4″ or 3/8″, align the edges of the tape and the fabric.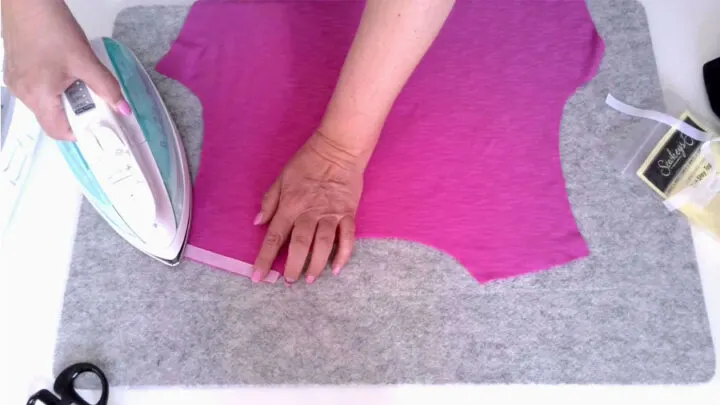 But if your seam allowances are 5/8″, then place the tape in such a way so that the shoulder seam is going in the middle of the tape.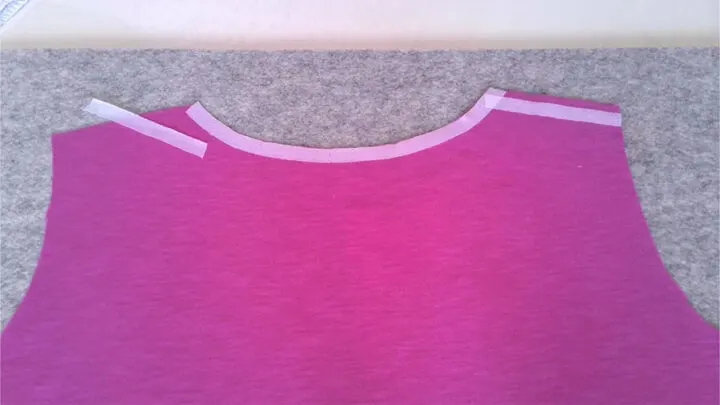 3. Iron the tape in place.
4. Sew the seam using a 4 thread 2 needle serger stitch or a stretch stitch of your sewing machine.
5. Cut off any excess tape.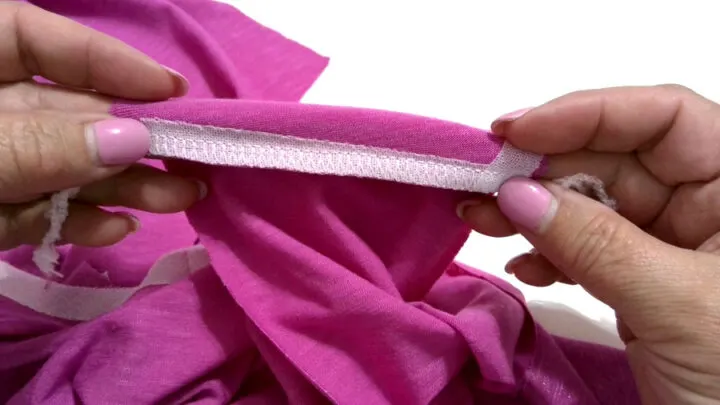 How To Add Knit Stay Tape To Curved Seams
Straight seams like shoulders are fairly straightforward. You just need to attach a piece of tape to the shoulder and trim it to the length of the seam, then press it on with your iron before sewing the seam.
However, working with curved seams, such as the neckline, might seem a little trickier. The good news is that it's not really challenging or complicated because knit stay tape is very stretchy and easily curves.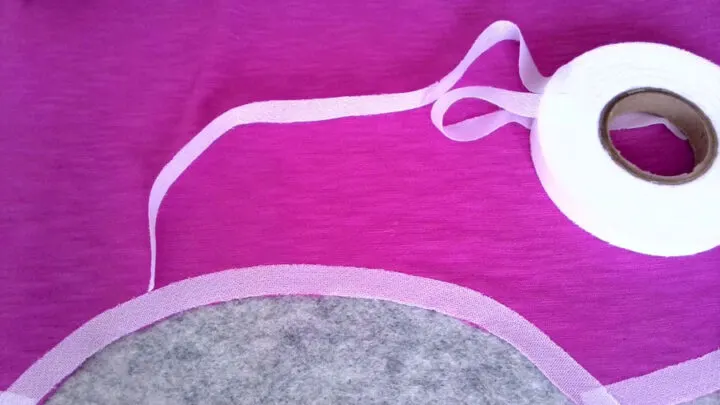 To add a strip of stay tape to a curved seam, you just need to use narrow knit stay tape (½ inch wide) and apply it a little at a time as you press it with an iron into place. Go slowly, and your tape will curve and adhere to the fabric as you move.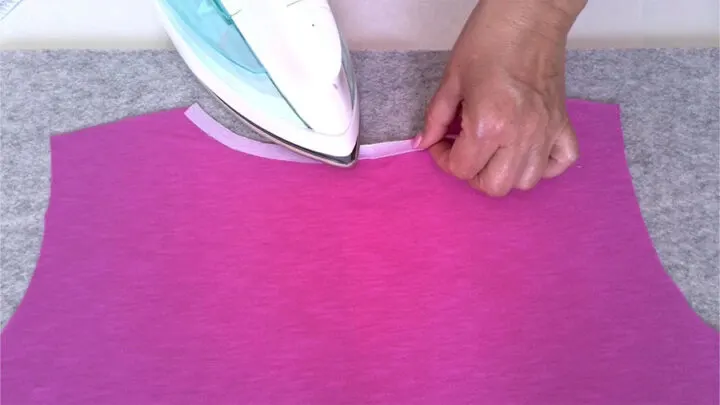 How To Use Stay Tape To Hem Knits
Stay tape makes hemming knits a bit faster and easier. Unlike woven fabric, knits don't fray. That means that you only need to fold the material at the hem once. Here's how to hem using knit stay tape:
Attach the tape across the hem of the wrong side of the fabric and press it in place. Leave at least a few millimeters between the tape and the fabric edge so the tape doesn't go out of the fabric.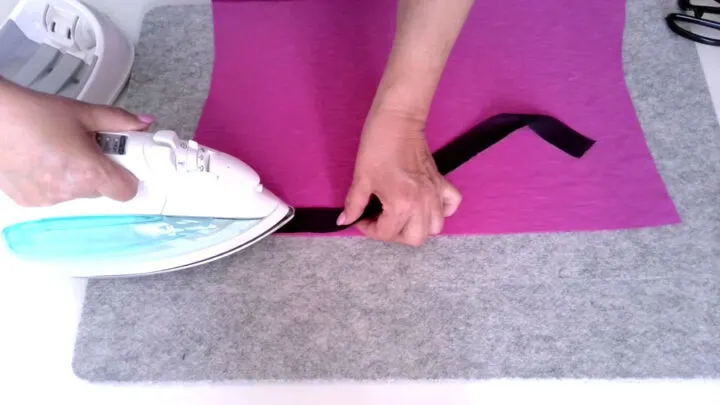 2. Fold up the hem and press it in place. The tape somewhat helps to fold up the fabric evenly along the hem.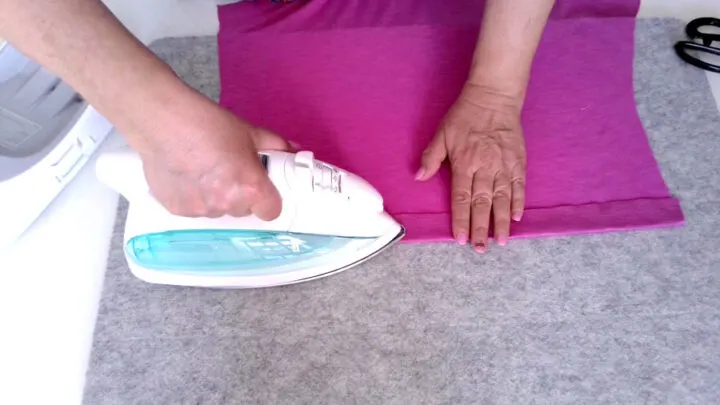 3. Baste the hem before stitching if you don't want the fluid knit fabric to pucker and fold while you sew the hem.
4. Sew the hem using a coverstitch machine, a twin needle, or a serger.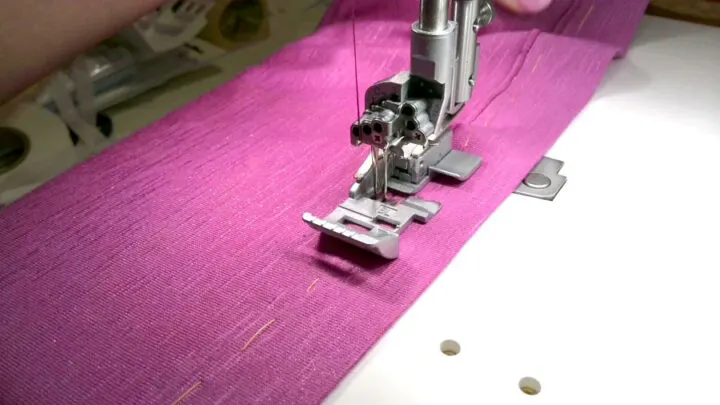 5. Finish the hem by giving it a good press to flatten it.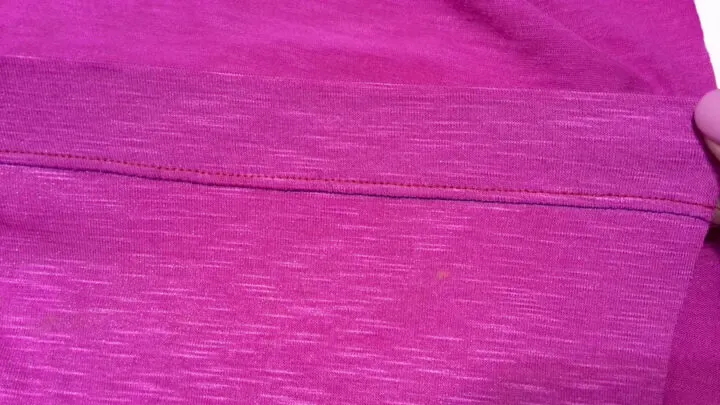 Most of the time it's better to use 1-inch wide tape for the hem.
How To Sew Zippers With Stay Tape
Most garments made from knit fabrics do not have zipper closures, unless they are hoodies. It is not common to attach zippers to knit clothes, but if you need to do it, use knit stay tape to stabilize the fabric before attaching the zipper. Simply fuse the tape to the wrong side of the fabric. This will help to prevent the fabric from stretching out of shape. Once the stay tape is in place, you can proceed with attaching the zipper according to your pattern instructions.
Troubleshooting: Tips For Common Problems
If you've never used knit stay tape before, you might be wondering a thing or two about how to use it most effectively. Here are a couple of common issues that readers have and some tips to help you.
Using Pressing Cloth
It might be good to use a pressing cloth over the knit stay tape especially if you work with delicate fabric that requires a lower iron temperature. But for the stay tape, you should use a higher temperature – like a wool setting. Moreover, the adhesive from the tape can sometimes make the iron dirty. This is because the tapes are usually very thin and the glue can seep through. To avoid this, you can use a pressing cloth.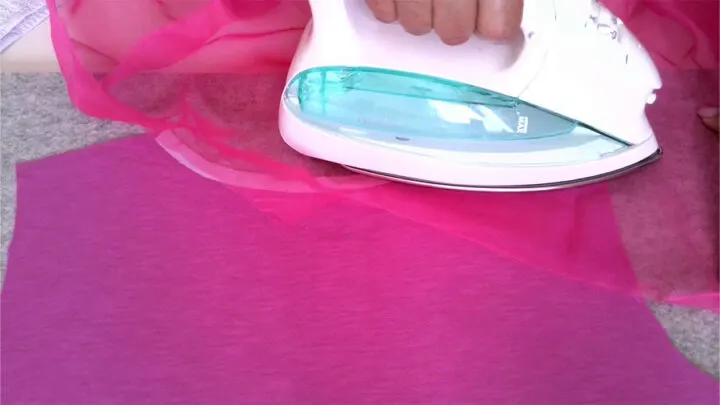 For shoulder seams, it's easy to use a pressing cloth, but I have a hard time using a pressing cloth for curved necklines. So I don't use it and it works fine. If the iron gets dirty with a bit of adhesive I have a very good product to clean it fast and effectively – Faultless iron cleaner.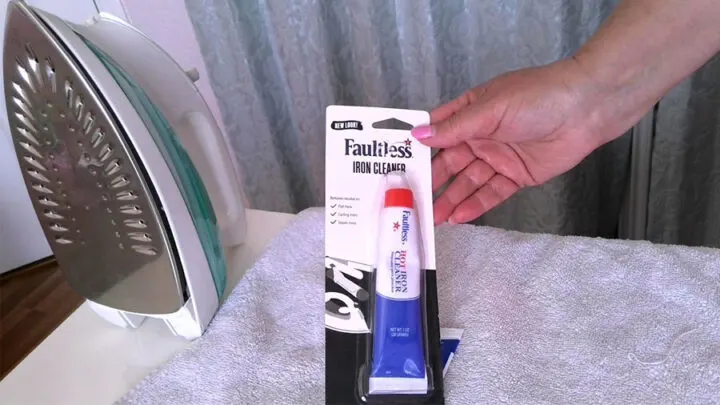 What To Use – Steam Iron Or No Steam?
I prefer to use with no steam if I don't use a pressing cloth. But if I use pressing cloth I use steam and a higher iron temperature.
Do I Stabilize All Knit Fabrics And All Types Of Projects From Knits?
Well, it's better to stabilize all very stretchy lightweight knits but heavier weight stable knits might not require using knit stay tape. And you can stabilize knit fabrics with different types of stay tapes.
Seam Puckering Without Basting
Knit stay tapes are not double-sided tapes so when you use them for hemming knits you should baste the hem before stitching so you don't have problems with puckering.
How To Find The Fusible Side
If the tape is black the adhesive side is pretty obvious – you can see glue dots on it. But if the tape is white it can be tricky to figure out which side is the adhesive side. Just use your fingers to feel which side is smooth and which side is "scratchy" with adhesive. The adhesive side will have a rougher texture due to the glue dots on it.
---
In conclusion: Knit stay tape is a great way to keep your knit fabrics from stretching out of shape when you sew them. In this guide, I've shown you what stay tape is, where to buy it, and how to use it. I hope you found this information helpful and are now ready to start using knit stay tape in your own sewing projects. Leave a comment below and let me know how your experience with stay tape was. Did this guide help clear up any questions you had about using stay tape? What projects are you most excited to try on?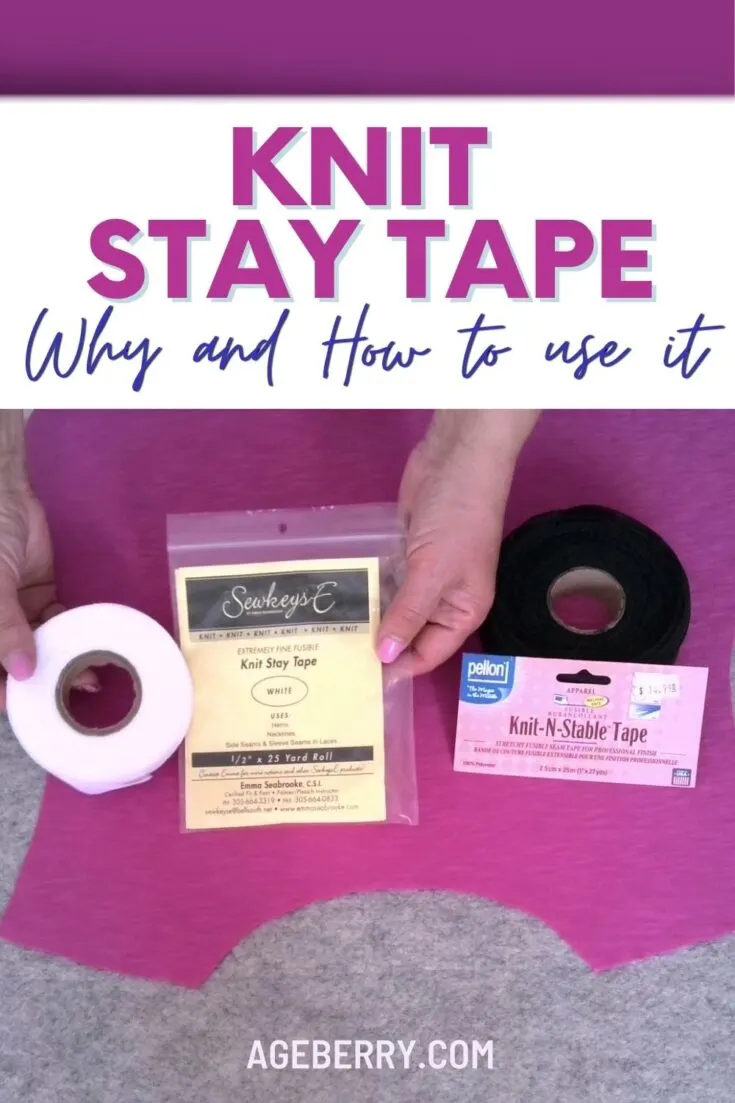 ---