It was a time when I didn't even know there were different types of sewing machine needles – I was so lost. I can still clearly picture the irritated expression on my face as I pulled the fabric from the sewing machine for the fourth time. My fabric was getting tattered and the stitches were messy, uneven, and pulling. What on earth was going on? Had the sewing fairy tapped me on the shoulder in the night and removed all of my sewing skills? Ahh…the joy of learning new things.
There are a lot of reasons that sewing with a sewing machine can be difficult, but one of the most common things that we often forget about is a sewing machine needle. The needle is the workhorse of the sewing machine, making thousands of punctures in each project, magically weaving together thread loops to make something beautiful and useful.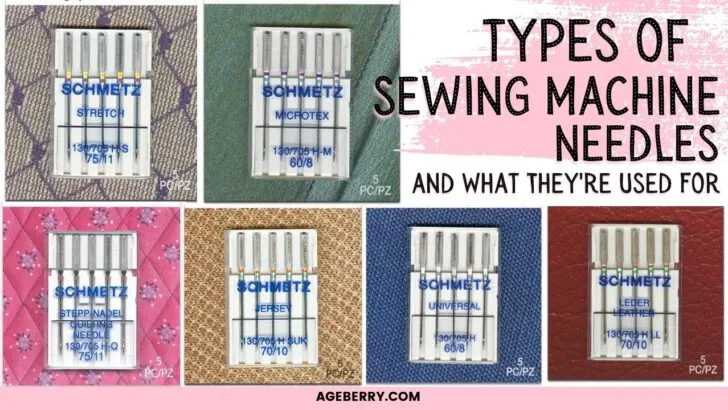 But isn't a sewing machine needle … well, just a needle? Don't you just pop a new one in and keep sewing if your needle breaks? Actually, I used to think exactly that when I first started sewing, and I was frequently frustrated that some of my projects didn't look as tidy and pretty as I wanted them to. When I took the time to learn about having the right needle, my sewing projects began coming together with much less angst.
I'd had no idea that each kind of sewing machine needle was developed particularly for certain kinds of fabrics or sewing projects. I learned that sewing machine needles are like tools in my sewing toolbox. Using the wrong needle for a project is like trying to pound nails with a screwdriver. You can get it done eventually, but the work goes better and more quickly if you have the right tools for the job.
How to Choose a Correct Sewing Machine Needle for Your Project
If you go to buy needles, you will be overwhelmed by a seemingly endless selection of needles at your local sewing store.
When choosing a needle for your project, there are several factors to consider, among them fabric type, thread type and weight, and stitch type and design details. Start by looking at your fabric type – this will determine whether you need a universal needle or something more specific like a denim/jeans or ballpoint needle.
Next, consider your thread type and weight – if you're using thicker threads (12 wt), then you should use a heavy duty needle; if you're using metallic threads, then use a metallic needle.
Consider stitch type and design details – if you're doing decorative topstitching then use a sharp point or topstitch need; if you're adding embroidery designs then use an embroidery-specific needle.
Use this guide as a starting point when selecting the right needle.
Types of Sewing Machine Needles
Universal Needles
Universal needles are probably the most common type of needles used in sewing machines today. You know those fancy multitools that feature all kinds of gadgets, from pliers to various types of screwdrivers? This is your universal needle. You can use it for most of your basic sewing.
Note: Some of the links on this page are affiliate links. This means I will receive a commission if you order a product through one of my links. I only recommend products I believe in and use myself.
Can You Use a Universal Needle When Piecing a Quilt?
When piecing a quilt together, it is important to match your sewing needle to the fabric you are using. A universal needle generally works well with traditional quilting cottons and cotton blends, but if you are working with fancier fabrics, it might be wise to invest in a different type of needle that is more suitable for that fabric.
For instance, if you are making a t-shirt quilt (from jersey knits), it would be better to opt for a stretch or jersey needle. And if you making a quilt from denim use a jean needle.
What Is the Difference Between Stretch Needle and Universal Needle?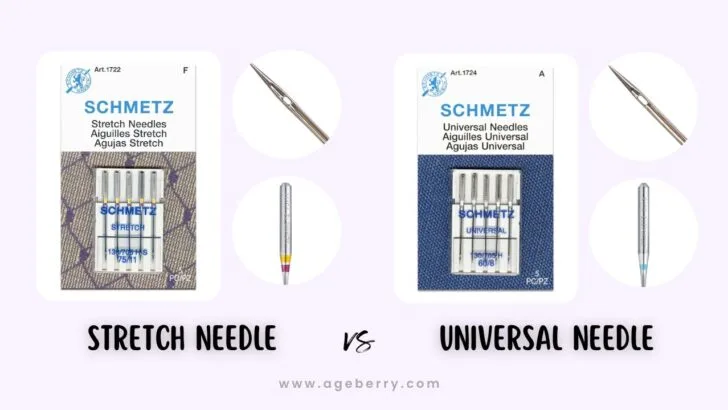 Stretch sewing machine needles have medium ballpoint tips which allow them to smoothly move between fabric fibers when working with highly elastic knit fabrics, such as swimwear and activewear. On the other hand, universal needles feature a sharper tip designed to penetrate a variety of woven and knit fabrics, from lightweight chiffon to heavy wool blends. Additionally, stretch needles tend to have smaller eyes and deeper indentations around the eye (known as "scarf") than their universal counterparts.
What Is the Difference Between Universal Needle and Ball Point Needle for Sewing?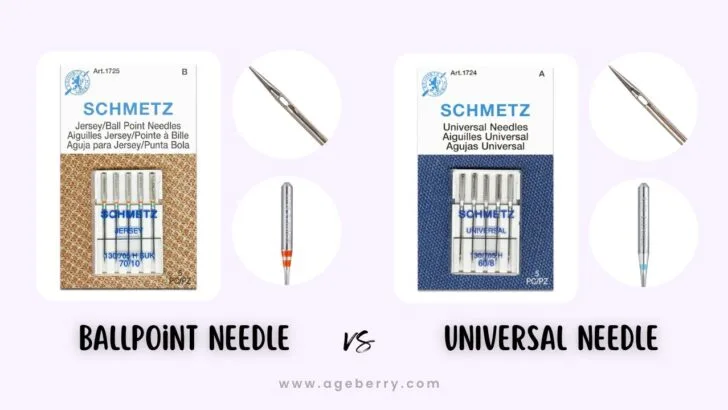 Universal needles are a great all-around option that can handle both woven and slightly stretchy knits. However, when it comes to sewing with knit fabrics, a ballpoint needle is necessary. That's because the rounded tip on this type of needle glides between fibers instead of tearing them apart like a universal needle would do with knits. The result is a seam that looks smooth, not ragged or snagged which is often what can happen if you use the wrong needle.
How to Tell the Difference Between Stretch and Universal Needle?
You can't see the difference with your eye. Some manufacturers use color codes to help make it easier. Schmetz, for example, applies yellow coding on stretch needles while leaving universal needles uncolored.
When it comes to Organ needles, they don't mark them at all. To save yourself from potential confusion, you can read the type of needle on the box or create a needle organizer book like mine which will aid in memorizing and determining differences. If you're looking for help on how to create one, here's the link to my tutorial.
How Can I Tell If My Sewing Machine Needle Is a Ballpoint and Universal Needle?
Figuring out the difference between a ball point needle and universal needle can be difficult, as there is no visible difference between them. To differentiate, some manufacturers use color codes, with Schmetz featuring an orange code on their ball point needles and no colors on their universal equivalents.
Unfortunately, Organ needles don't feature any kind of color coding. You can also consult the packaging that each type of needle comes in or make yourself a nifty needle organizer book to help you keep track.
Did you find this tutorial helpful? If so, save this pin (see below) on your sewing board so you can come to this tutorial later when you need this information on types of sewing machine needles, and follow me on Pinterest for more tips, tutorials, and inspiration!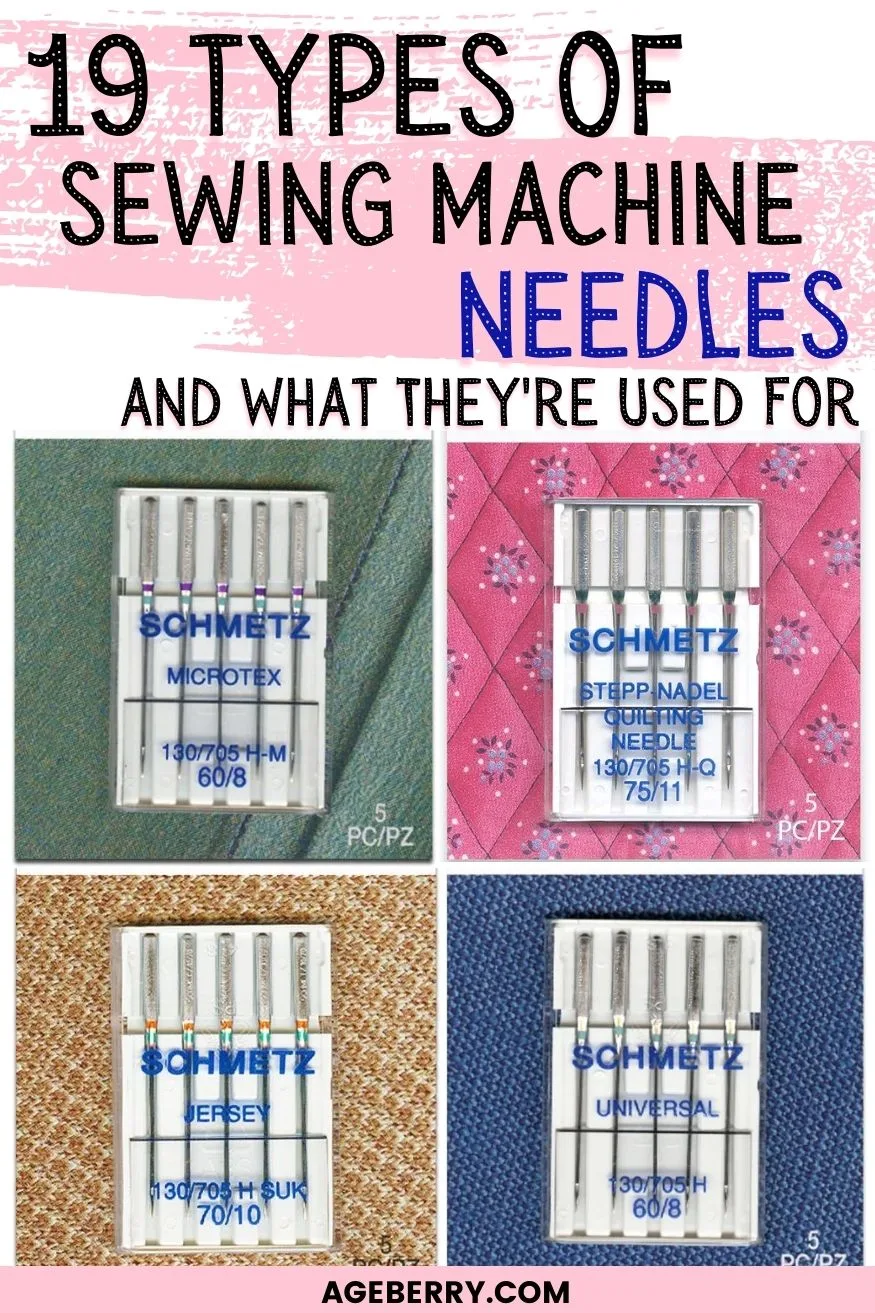 ---