A topstitching thread is different from a regular thread in several ways, so it's important to know what to look for when choosing this thread for your projects. In this comprehensive guide, I will discuss everything you need to know about the topstitching thread!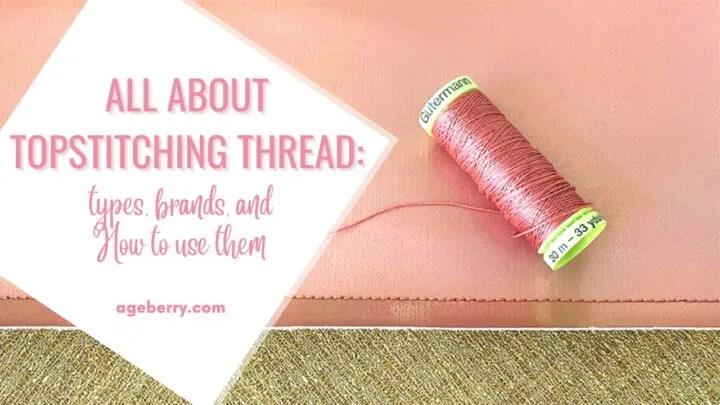 What is a Topstitching Thread?
This is a question that many sewists may ask, especially those who are just starting out.
It's a special type of thread that is stronger and thicker than regular sewing thread. It's used for topstitching, which is a type of stitching meant to be visible on the right side of an item to finish hems, give a decorative touch to a final product, or reinforce seams.
When it comes to topstitching, you have several thread choices. The weight of your fabric will help you decide which type of thread is best for your project.
Options include using regular sewing thread, doubling your thread, or using a special topstitch thread.
An all-purpose thread will work well for light and medium-weight fabrics. However, you'll need a thicker thread for topstitching on heavier fabrics. Double-up your all-purpose thread or use a topstitch thread when working with heavy materials.
Topstitch thread is generally thicker so that you can see it on your fabric. Typically, you want seams to stay hidden, so you use small stitches and thin, color-matching thread. However, when it comes to topstitching, you would want those stitches to stand out visibly to get that professional-looking decorative finish.
✅ Related tutorial: How To Topstitch | 17 Topstitching Tips Every Beginner Should Know
Topstitching Thread For Jeans
Topstitching thread for jeans is a strong heavy-duty thread that is used to topstitch the denim fabric. This type of thread is extremely strong and typically made from polyester or cotton covered polyester and is available only in a few colors: most often yellow and blue. So when choosing a jeans topstitching thread, it is important to consider the color of the denim fabric and the desired contrast.
Jeans' topstitching thread is not just for jeans. It's also great for use on denim tote bags, backpacks, and other similar items.
When topstitching jeans, it's better to use a special denim needle together with topstitching thread. Denim needles have a sharp point and a strong shaft that can penetrate through several layers of heavy-duty fabric.
Note: Some of the links on this page are affiliate links. This means I will receive a commission if you order a product through one of my links. I only recommend products I believe in and use myself.
When it comes to topstitching thread for jeans, I prefer to use Coats&Clark Denim Thread. I don't make jeans so I don't use this thread for new garment construction but I always use it to sew a hem when I need to make the jeans shorter. This thread is not very thick, it's pretty close to all-purpose thread weight.
I find that it provides a strong and durable stitch that can withstand a lot of wear and tear. The thread's strength and durability ensure that the repairs will hold up well over time. Overall, I highly recommend Coats&Clark Dual Duty Plus Denim Thread for anyone in need of a top-quality topstitching thread for jeans.
When it comes to topstitching not so heavy weight denim fabric, you want a thread that is very strong but not so thick that it looks bulky. Coats&Clark Denim thread is the perfect balance of strength and durability.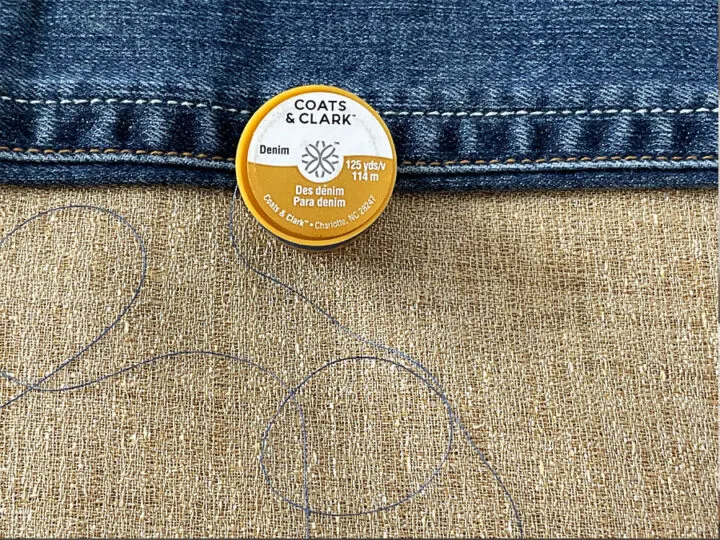 The denim fabric has become much more lightweight in recent years, and it's often quite stretchy. That can make it difficult to find a topstitching thread that will work well with the fabric. But the Coats&Clark Denim thread is up for the challenge. It sews smoothly and evenly, without skipping or breaking, and it produces beautiful topstitching that looks professional.
I prefer to use the unique "jeans blue" color of this topstitching thread.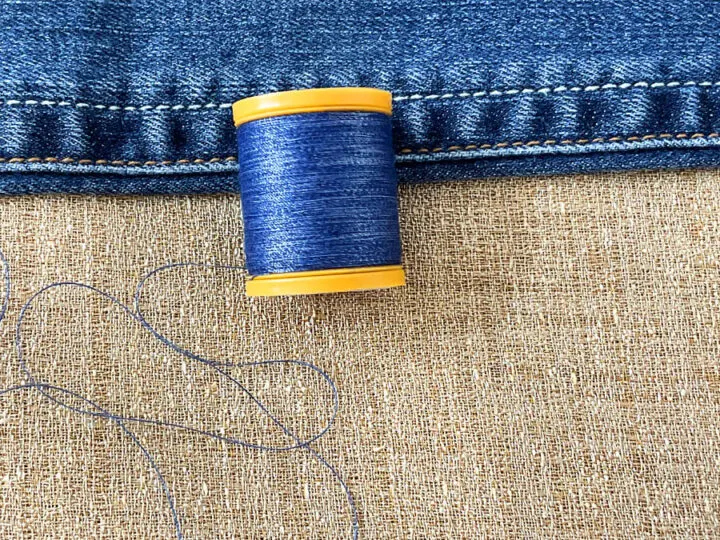 The blue color perfectly blends with the blue denim fabric, making it less likely to stand out if there are any topstitching mistakes. Topstitching jeans' hem with a home sewing machine can be difficult due to the many layers of heavy-duty denim, but using a blue topstitching thread can help to make any mistakes less visible.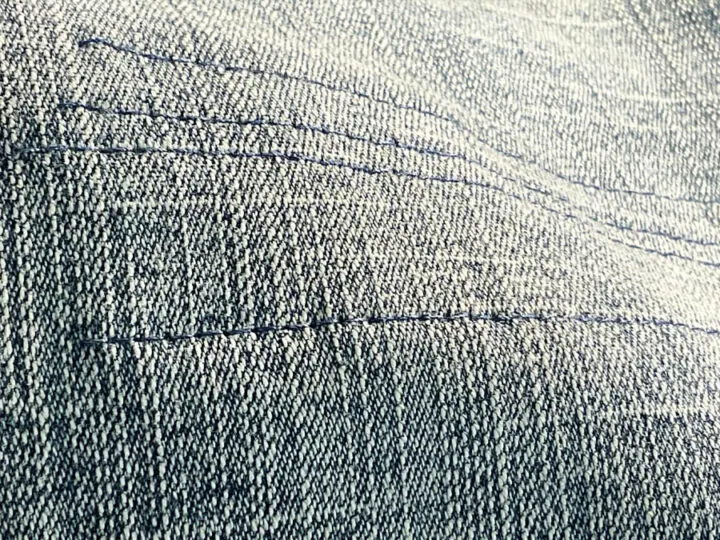 But if you are going to use this thread (as many other types of threads from Coats&Clark) you should know how to correctly put this spool on your sewing machine.
This thread is wound onto the spool in the same direction, right on top of itself. Rows of thread lay parallel to each other around the spool. This one is called stacked wound thread also known as parallel wound.
Why is it important to take this into the consideration? Because you might have problems with broken thread or needle or your sewing machine might get stuck.
What to do in this case? I have the answers in my YouTube video Thread Secrets.
Also, you really can't go wrong with Gutermann or Singer denim threads. Both brands offer high-quality threads that are specifically designed for use with denim fabric. The threads are strong and durable, and they resist fraying and breaking.
In addition, Gutermann offers a wide range of colors, so you can find the perfect match for your jeans. And Singer also offers topstitching needles that are specifically designed for use with denim fabric.
So when it comes to choosing the best topstitching thread for jeans, these are three brands that stand out: Coats&Clask, Gutermann, and Singer. All three brands make a high-quality thread that is specifically designed for topstitching denim, and they each have their own unique strengths. Which brand should you choose? Ultimately, it comes down to personal preference.
Quality Topstitching Thread
When it comes to topstitch thread, there's more than meets the eye. Yes, it's often used for jeans, but that's not all it's good for! In fact, topstitch heavy-duty thread can be used for a variety of other applications. For instance, it can be used for outdoor gear, like tents and sleeping bags. It can also be used for leather goods, like wallets and belts.
And because it's so strong and durable, it's often used in upholstery and ideal for projects that will see a lot of wear and tear.
It's also an ideal choice for sewing buttons onto a jacket or coat. Sewing buttons with topstitch thread will give you peace of mind knowing that they will stay securely in place, no matter how often the jacket or coat is worn.
This type of thread is made from multiple strands of thread that are tightly twisted together, making it much stronger than regular thread. In addition, topstitch thread has a slight coating that helps to resist friction and wear.
If you're looking for a high-quality topstitch thread, you can't go wrong with Gutermann.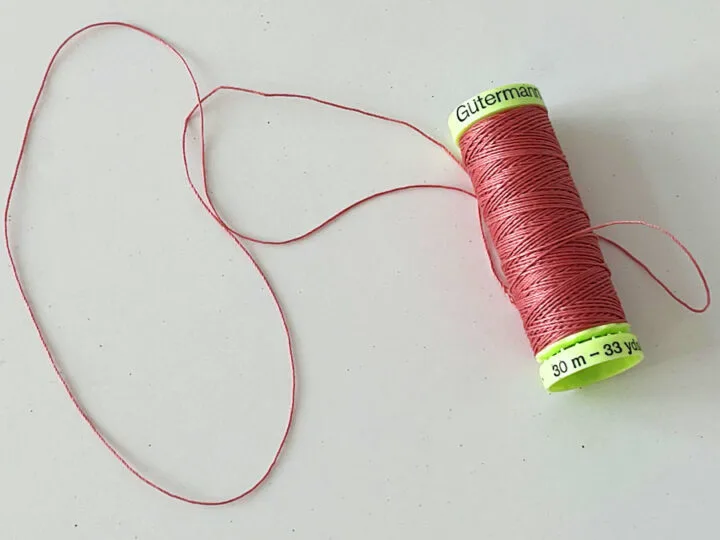 Gutermann is a world-renowned provider of high-quality sewing thread, and their topstitch heavy-duty thread is no exception. This thread is perfect for both decorative topstitching and sturdy construction, making it a versatile option for any sewing project. The thread is available in an extensive range of colors, so you're sure to find the perfect match for your fabric.
The Gutermann topstitch heavy-duty thread is made from 100% long-staple polyester, so it's strong and durable enough to stand up to repeated washings. This thread also has a high luster, which gives it a beautiful shine.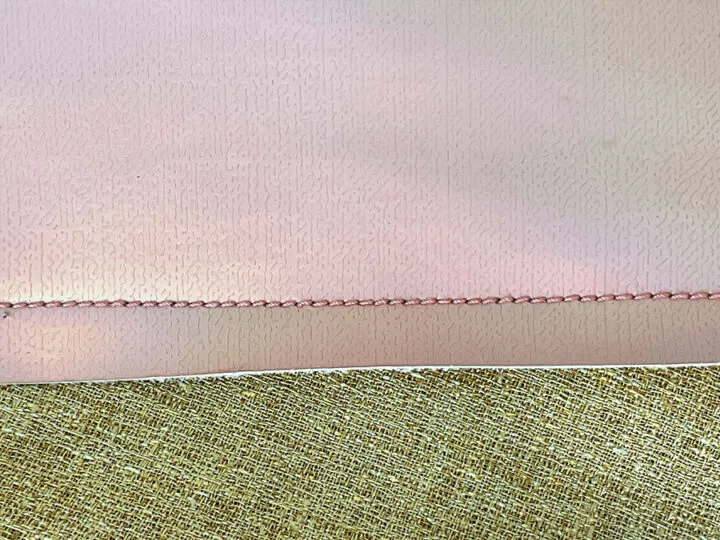 What Type Of Bobbin Thread To Use While Topstitching
When it comes to topstitching, the type of bobbin thread you use can make a difference in the overall look of your project. Many people think it's best to use the same type of thread on both the top and bottom, but this isn't necessarily true. In fact, it's better to use just a regular all-purpose thread in the bobbin. The home sewing machine sews better if a bobbin thread is slightly thinner than the topstitching thread.
The problem here is that the finished project doesn't look quite store-bought. In store-bought items, the threads are usually the same on both sides. But if you are using a different thread in the bobbin it can be difficult to match the color of the bobbin thread to the topstitching thread, which can result in an imperfect finish. But if you're careful with your color choices, the finished product can still look great.
✅ Related tutorial: Common Sewing Machine Bobbin Problems And Solutions (+Videos)
I tried to use topstitch thread in the bobbin however I find it difficult to work with and it requires some adjustments to a sewing machine. The main issue seems to be that the thick topstitch thread in the bobbin causes tension problems. You can adjust the bobbin tension if you're determined to use topstitch thread, and you may want to try a thinner variety of topstitching threads (like Coats&Clark denim thread).
But I would recommend sticking to regular all-purpose bobbin thread for topstitching.
Be sure to test it out on a scrap piece of fabric first so you can see how it will look.
However, because of its thickness, topstitch thread can be more difficult to work with and may require some adjustments to your sewing machine.
One interesting trick – use a black thread in the bobbin for decorative topstitching and light color topstitch thread in the needle. The contrast will make the stitches really pop, and each stitch will be clearly visible. This is especially helpful when working with darker fabrics.
What Is The Tension When Using Topstitching Thread
Tension is one of the most important things to get right. So how do you know what tension to use when using topstitching thread? Unfortunately, there is no easy answer. Every sewing machine is different, and even the same machine can produce different results with different fabrics and threads. Therefore, it's impossible to say – put your tension at 4, or 6 or 8, etc.
The best way to figure out the perfect tension for your project is to do a test stitch on a scrap of fabric. Once you've found a tension that produces nice, even stitches, you can proceed with your project.
Just remember that tension for topstitching thread should generally be set higher than regular tension.
If your tension setting will be lower than necessary for your fabric, you'll see loops of topstitch thread on the bobbin side. If your tension will be higher than necessary, the top stitches will start to pull up the bobbin thread and will look like a flat line.
Experiment with moving the tension a bit. Start with a lower tension and gradually increase it until you get the results you want.
My tutorial on how to adjust sewing machine tension can help.
If you are still unable to get tension right with the topstitching thread try using a different type of topstitching thread. Some threads are thicker than others, and this can affect tension. Finally, if all else fails, you can try adjusting the bobbin tension on your sewing machine.
I have a detailed tutorial on my site on how to adjust the bobbin tension so check it out.

Did you like this tutorial? If you want to save it for future reference and use it later when you need this information on topstitching thread, pin this image to your sewing board on Pinterest and follow me on Pinterest for more tips, tutorials, and inspiration.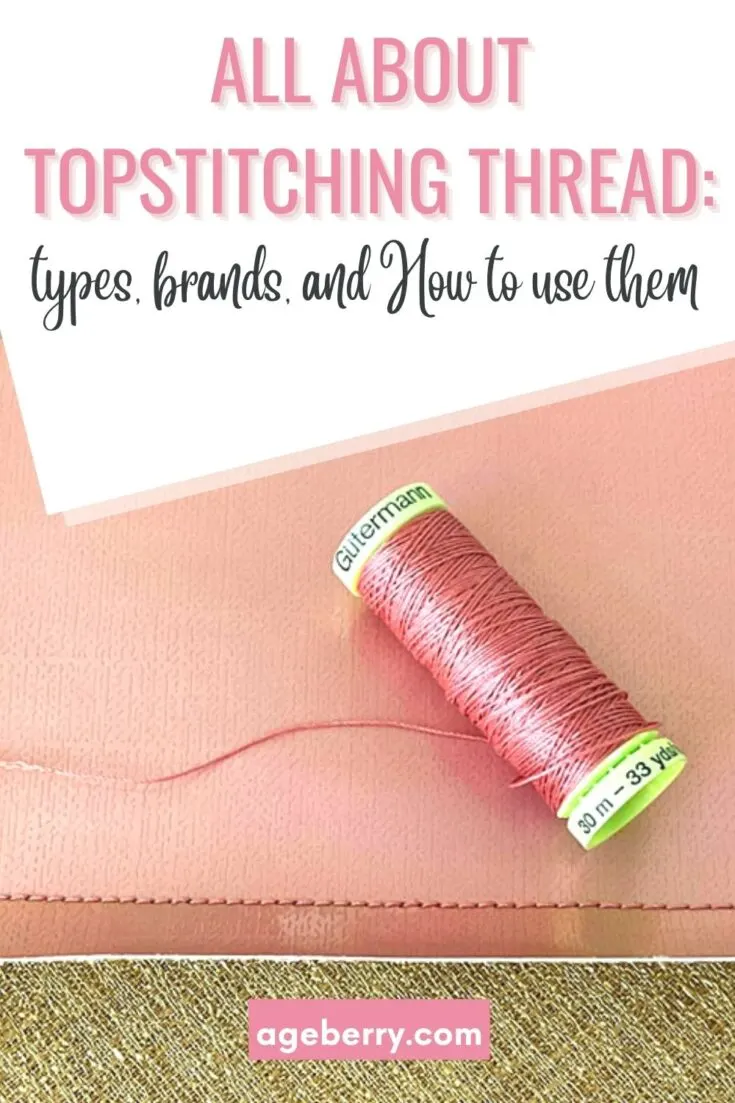 ---