Why an article about IKEA sewing tables in particular? Because a table seems to be essential for all our human functions. You eat at it, you do homework there, you work, you discuss politics with friends (ok, you may do that on a couch too) – you get my point. Sewing is no different: a sewing table is central to your sewing room, perhaps the most important part of it. In this article, I will share my experience (and opinions) about IKEA sewing tables.
I think using IKEA furniture for your sewing tables is a great idea. In fact, many IKEA families of products have items that can be used as sewing tables: KALLAX, BESTA, NORDEN. They include products that are excellent for this purpose. It works for me – let me tell you why and how.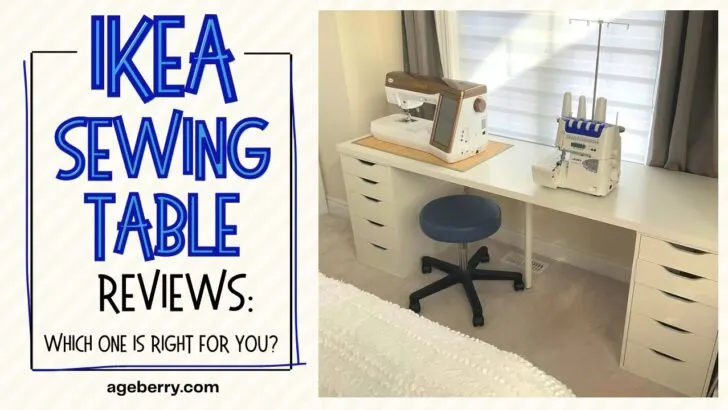 Sometimes, we even have to press the dinner table into service as a cutting table. It usually has a large surface, almost every household has such a table and by necessity, it needs to be almost empty. But using the dinner table is not ideal. It is not even desirable, even if I am myself guilty of using it from time to time. For sewing, that is 🙂. So when I was able to make my sewing room I decided to get a dedicated sewing/cutting table.
Note: This article expresses my own opinions. I am in no way affiliated with IKEA nor do I get any payment from them in any way.
✅ Related tutorial: Sewing room ideas for small spaces
Why IKEA Tables are Great for Sewing
IKEA tables are versatile and customizable
It is my opinion that IKEA furniture is versatile and IKEA tables even more so. I was able to make a custom sewing room with plenty of storage space for small items and a sturdy cutting/sewing table by simply picking up items that in the beginning did not seem to fit together. This is what my "little" IKEA sewing room table looks like.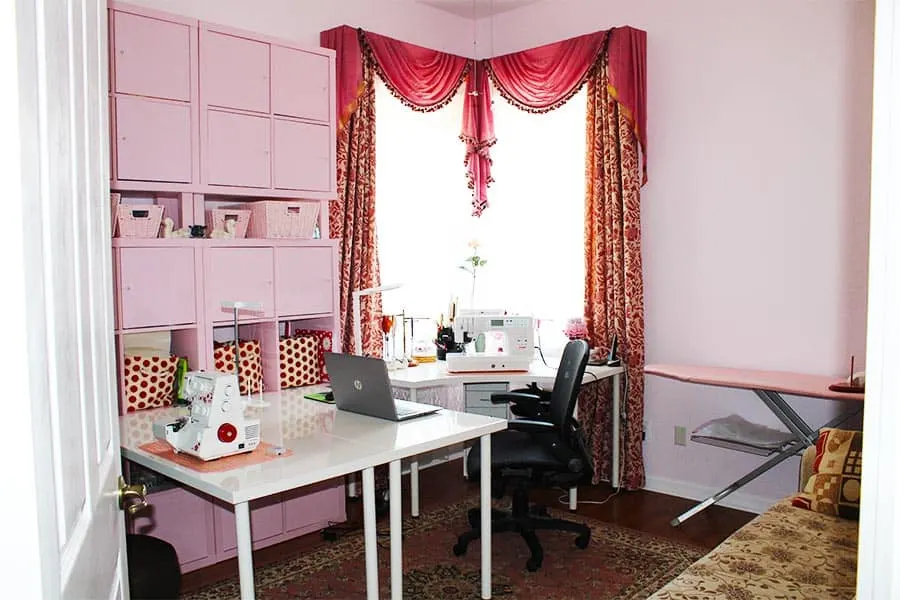 If you sew, you need in fact multiple tables: sewing table, cutting table, table for ironing, etc. Few of us own huge rooms where you can have all these separately. I know I don't. Therefore we have to make do with multifunctional tables, and IKEA has them from a simple table for a serger/overlock to a sewing table with storage.
IKEA tables are affordable
In my article mentioned above I made a detailed computation of the cost of the whole sewing room. The table itself is only a fraction of the cost of the room. The whole sewing room cost, including storage spaces and two tables, is less than half of the cost of a dedicated Kangaroo cabinet.
My sewing room in the photo above cost about $800 while a sewing cabinet I would like to have was just under $1800. Yes, it is my opinion that IKEA tables are affordable.
Note: Some of the links on this page are affiliate links. This means I will receive a commission if you order a product through one of my links. I only recommend products I believe in and use myself.
Let me make it clear: I would love to be able to get a Kangaroo cabinet if I could afford it. If you can afford it, here is a handy link for such cabinets at Amazon: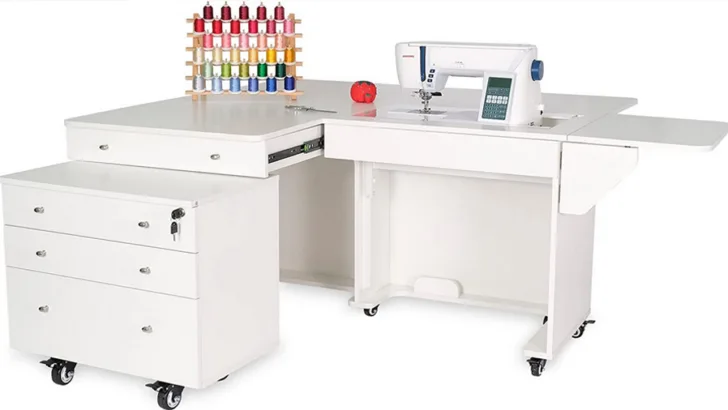 IKEA tables are accessible
I seem to vaguely remember a commercial from long ago where a store was advertising as "your own neighborhood store". I do not remember exactly what store that was, or even what kind of merchandise it was carrying. However, IKEA has all the rights to call itself "your neighborhood store".
They have 52 locations in the US and 15 in Canada, 10 in Australia, 22 in the UK and in many other places. You want an IKEA folding sewing table in Iceland? Yes, there is an IKEA store. What about Vietnam? You got it. Literally everywhere. I would say that indeed, IKEA sewing tables are not difficult to obtain.
Incidentally, there are only 20 stores in Sweden 🙂.
If you are interested in such trivia, here is a Wikipedia link to an interesting article: List of countries with IKEA stores.
IKEA tables are functional and durable
What I mean by "functional" is that all IKEA tables really do what they promise, if installed properly.
I have two large (relatively large) IKEA tables, 4'x4' (120x120cm) and I use them extensively. My tables do not move, do not shake and the legs don't wobble.
I bought my first sewing table from IKEA only 7 years ago, so I probably should not talk about "durable". For comparison, my dining room table is more than 30 years old and is still strong. But I also have some Billy units from IKEA I bought 30 years ago, and despite being taken apart and moved 4 or 5 times, they are still doing well.
Yes, I think that if cared for properly, IKEA furniture is going to serve you well for a long time.
Choosing the Right Table for Your Sewing Projects
When it comes to choosing the right IKEA table for your sewing projects, there are a few things to consider. These are the most important factors to keep in mind when selecting the perfect table for your sewing needs. Remember, this is my opinion only 🙂.
Size and Shape
The size and shape of your IKEA sewing table are very important to your comfort. And your comfort is very important for your productivity. Consider the size of your workspace and the type of projects you will be working on. A larger table will provide more space for cutting and laying out fabric, while a smaller table may be more suitable for tight spaces. Consider that you will need space around the table to move.
Additionally, the shape of your table can affect the ease of use. A rectangular table may be better for larger spaces, while a square table may be more convenient for smaller rooms. You will need to be able to reach across the table, it is not optimal to need to move around to reach the other side.
I don't really have tons of space, I could not fit a huge table in my room. I am not tall and my reach is not that great, a smaller table worked well for this reason also. I chose a square table because when I am cutting, or drafting a pattern, I need to move around the table to work and I need to reach whatever is on the other side of the table.
Storage and Organization
Storage and organization are essential to well-functioning sewing tables. Look for a solution that has built-in drawers or shelves to keep your supplies organized and within reach.
If not built in, perhaps you can add some storage. A designated, easily accessible space for your sewing tools and materials can save you time. This storage must be under/on or near the table, you can't afford to get up and rummage at the bottom of the closet for a tool every time you need it.
✅ Related tutorial: How to Choose the Best Sewing Table
Height and Comfort
The height of your IKEA sewing table is another important consideration. You want to ensure that your table is at the right height for your comfort, so first find out what is your preferred height.
A table that is too low can cause strain on your back and neck, while a table that is too high can cause strain on your arms and shoulders. If you need a bigger height, look for a table with adjustable legs or consider adding risers to your table to customize the height to your needs.
In my case, I am comfortable most of the time with the regular table height of about 27-28" (70cm) when I am working. But if I need to go to a table for some quick task, or a quick adjustment, I want a taller table so I would not have to bend or sit down. It may seem ok if you do it once, but if you do it 20 times per half hour, let me tell you: it's not good.
Sturdiness
You will use the table for your sewing machine – that will make it vibrate. It shouldn't, of course, but the reality is, it will vibrate. Consider a well anchored table because otherwise, you will have problems.
A cutting table needs to be sturdy also because sometimes you may support your weight on it, like in the image below. When cutting a long cut, you have to reach the other side of the table. Or when transferring a pattern to the fabric, you may need to reach further to pin. At that point, it is essential that the table does not collapse, because you definitely will support some of your weight on it. And IKEA tables I use for sewing are indeed sturdy, proven during my years of use.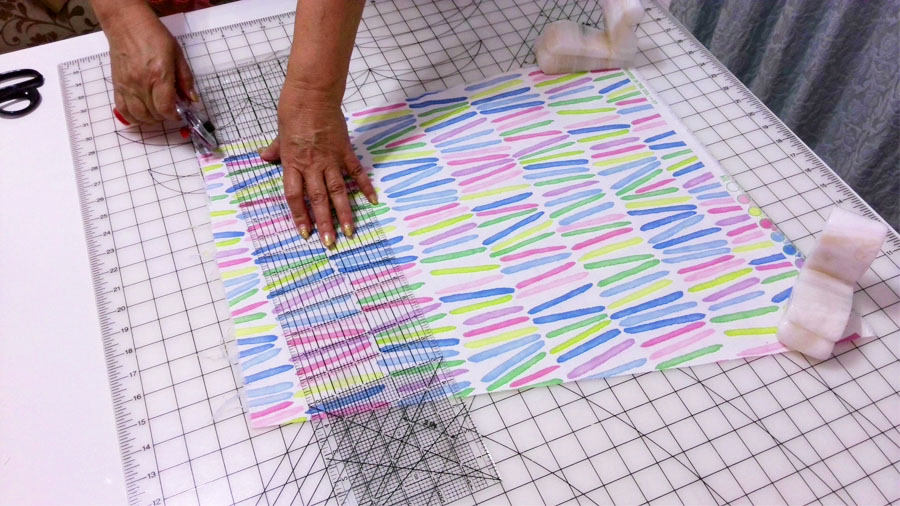 Corner
Have you ever seen a room without corners? I have. In the movies, the Oval Office of the US President. I, a regular person, only have rooms with corners, so I needed a corner table, if possible. Plus, one of my sewing rooms has a corner that has windows on both sides and plenty of light. A table there is very useful and benefits from a lot of natural light, always preferable when sewing.
Temporary Space
When you sew, did you ever find yourself with something in your hand which you need to put down (but in a place where you can reach it again immediately) to attend to an immediate task? I have. I am sewing, and I need to look at my phone, for example. I take the phone, look up the info I need, and I need to put it down. On the table? No. There are patterns, materials, my sewing machine, who knows. It's in the way. And I found a solution: a side table.
All these considered, let's look at my tables.
Cutting/sewing table LINNMON/KALLAX
My IKEA sewing table hack is probably original because I have not seen it anywhere, not even on the IKEA site. I have two tables built in the same manner, a LINNMON/KALLAX sewing table combination.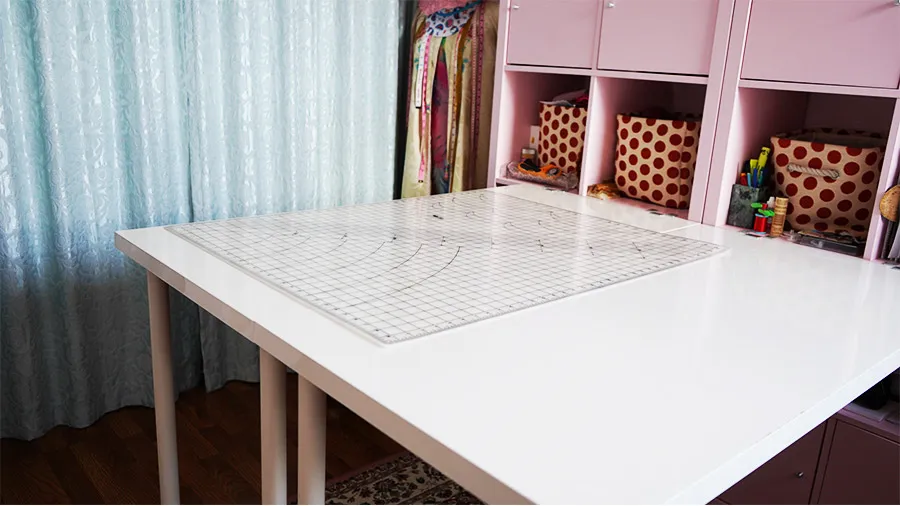 My tables are square, 4' on one side (120cm). They are made out of two LINNMON table tops, each supported on one side by two ADILS legs, and on the other side they are attached to (and supported by) the KALLAX unit that can be seen in the background.
I used a type of bracket like in the image below (LINNMON also at that time). This is no longer available and has been replaced with a new item, INLÄGG, as in the image.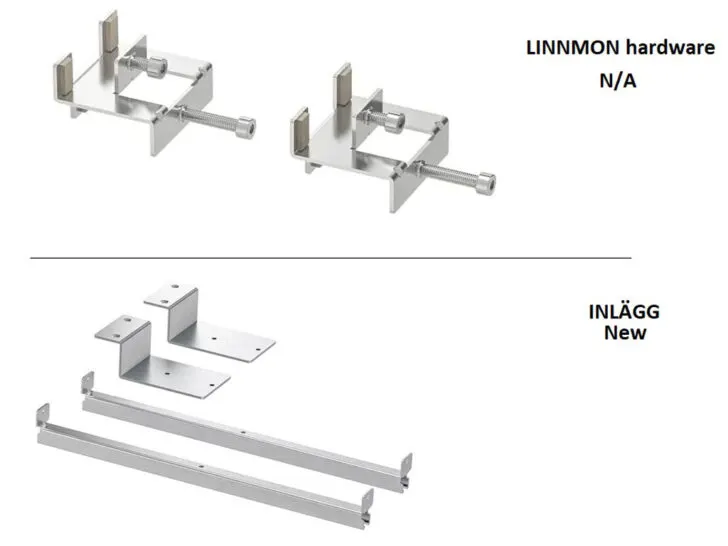 IKEA no longer has the LINNMON tabletop in 120cm (48") size as i have. The LINNMON tabletop is slightly smaller now (just under 40", or 100cm).
IKEA now has the LAGKAPTEN tabletops which have the same width (23 ⅝" or 60cm) as LINNMON but come in various lengths 78 ¾, 63, 55 1/16 and 47 ¼" (200, 160, 140 and 120cm).
So if you choose to build a sewing table with these IKEA components now you actually have a better choice of tops (and they are different colors too).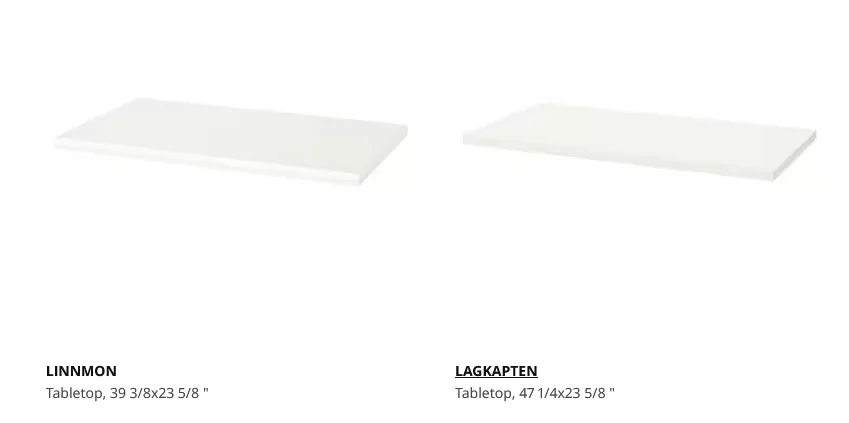 Because I do not need a special height for a table and I am ok with the standard, I used the cheaper ADILS legs which are not adjustable except for a small amount which you would use to make the table horizontal. But IKEA has other leg options including one that is height adjustable (OLOV), one with wheels, if you feel like moving the table, and even a leg made out of natural wood, which is supposed to look better.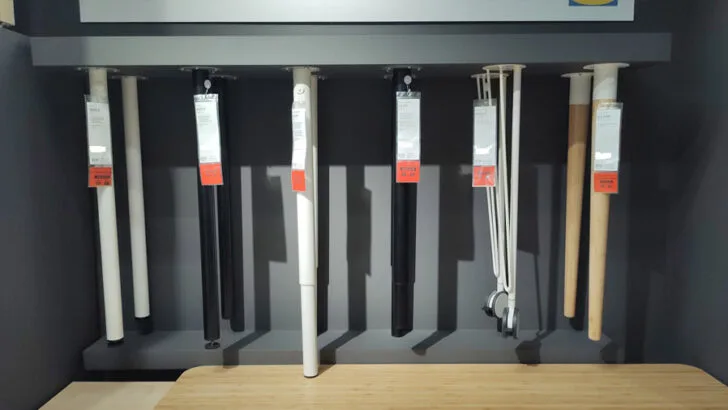 I do not recommend using the wheeled legs for a sewing table, from my experience these are not stable enough for our purposes. I do not have experience with height adjustable legs, I preferred a different solution for my height adjustable table (see below).
Corner table
As you can see I have in my sewing room a corner with two windows which receives a lot of light during the day. Moreover, the windows face West and North, so they receive very little direct sunlight which means I have light, but I don't need to close the drapes. I took advantage of this by placing in that corner a corner table. This is my corner table.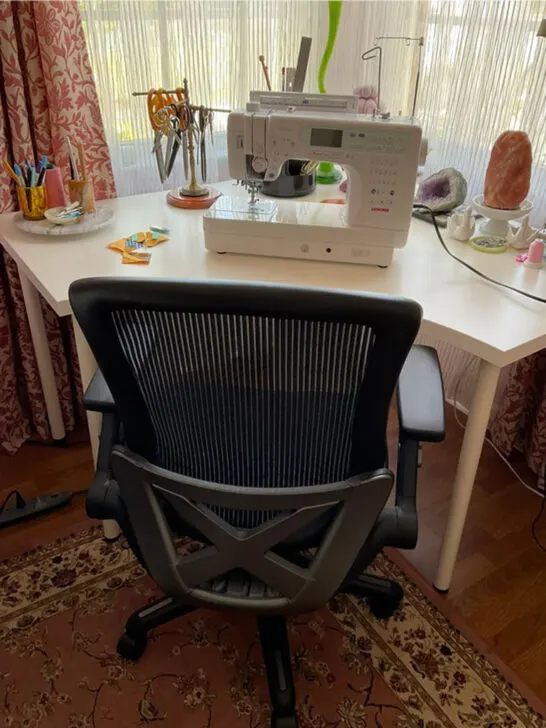 It is not very visible in the image but I placed under the table a storage cabinet HELMER like in the image below. If you look carefully through the chair mesh you can actually see it. It seems difficult to access, but it is not really since it is on casters and the floor under it allows it to move easily.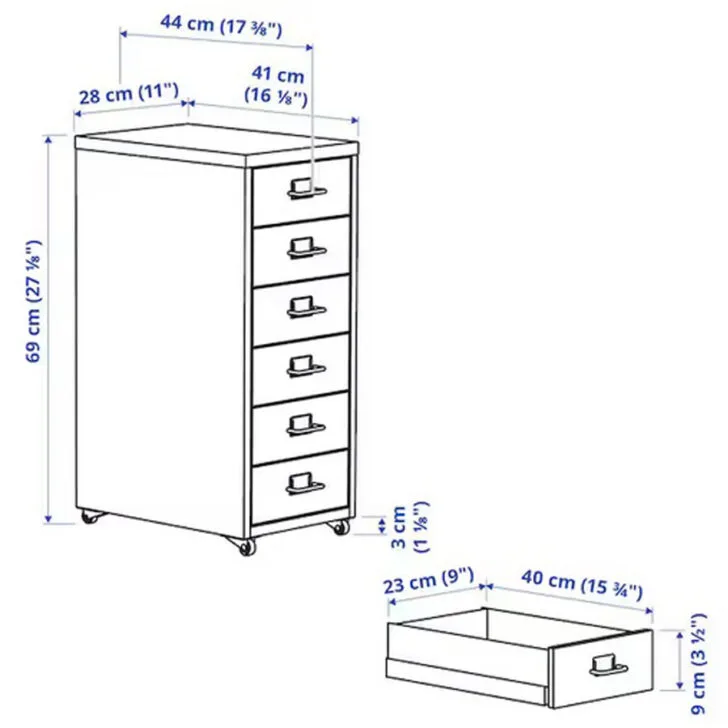 The chair is my sewing chair and I wrote about it in my article Best Sewing Chairs For Comfort In Your Sewing Room.
At the time I bought it, IKEA was selling the corner tabletop separately (under the name LINNMON also) and I used the ADILS legs with which I was familiar from building my LINNMON/KALLAX table.
IKEA no longer sells the corner table but it sells a replacement, the MICKE table.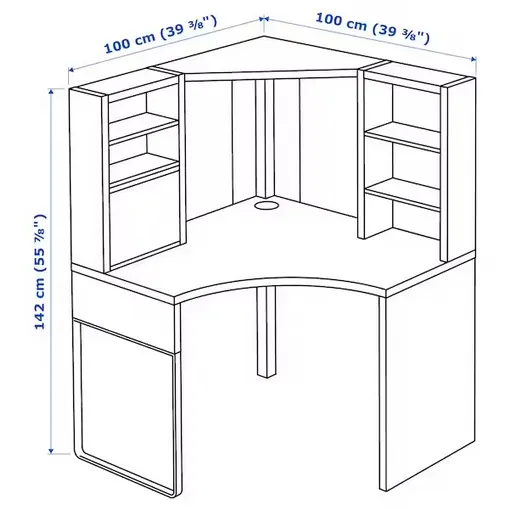 I have not seen this table in the store myself so I can not judge if it is large enough to be used for sewing.
The extra storage is very useful, however, I am afraid the empty space would not be enough for a project where you would need space for your material, both on the side of the sewing machine and behind it. But it is definitely worth considering given that corners are notoriously difficult to furnish. I am very satisfied with my corner table.
Adjustable Height Table TROTTEN with chair LIDKULLEN
This is a later addition to one of my sewing rooms (well, it's still a bedroom) and I recommend you consider getting one. It can be used for sewing, of course, and I have used it as such, but my main usage for this table is different.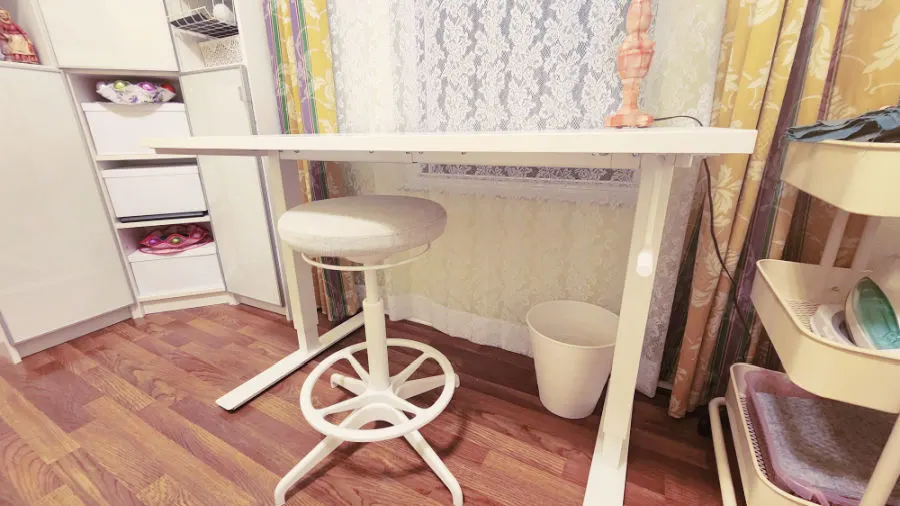 When I am in the middle of a project, cutting, transferring or drafting patterns, ironing, etc. sometimes I need to perform a quick task at a different table. Look up something in a book, or on the computer. Or do some other small tasks that will take me away from the table where I am working. Because I stand (these operations need me to move around), it is a waste of time to sit down at a different desk, and I found out from experience that bending many times per day builds muscle, but is very tiring.
Another usage for this table are my Cricut and Accuquilt machines, it is easier to deal with both when they are at eye level. Neither of them needs me to sit down while using (this is a link to Amazon if you are looking for a Cricut, and a similar link for an Accuquilt cutter).
So I decided to get a desk which I can adjust so I can work at it while standing. The best cost vs. features I could find was a TROTTEN desk from IKEA plus an adjustable height chair.
The desk is 63" (160cm) wide which is wide enough for my purpose.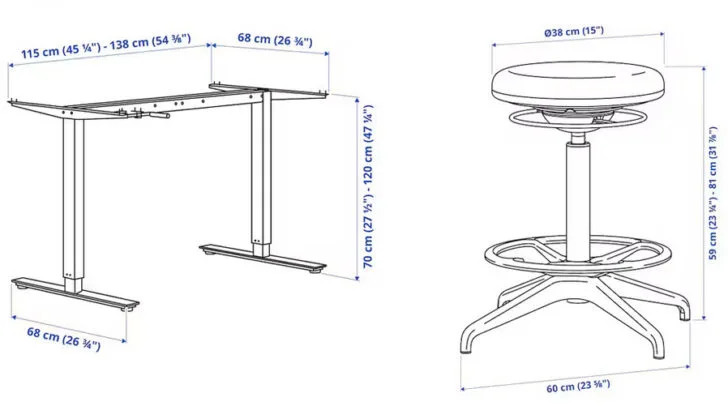 I chose a manually adjustable version because I do not perform the adjustment often. It is not even possible to adjust the table height every time you use it, the adjustment takes time even if motorized, and I don't have the time to sit idle for minutes to wait for the table to raise/lower.
So I set the height to suit me from time to time and since the operation is not frequent, I saw no reason to pay extra for an automatic system. In addition, I did not want another item to plug in! Manual works for me.
If you wish, here is a link to Amazon for adjustable desks, some of them have motorized mechanisms.
ALEX/LAGKAPTTEN table
I have the longer version of this table (78 3/4:", 200cm) and it comes with a foot in the middle of the span.
I thought in the beginning this foot would bother me when working, but it turns out it does not and I am not even aware of it anymore. The longer table really works for me, I can even put two sewing machines (serger/overlock and sewing machine) on it at the same time. I like this table a lot.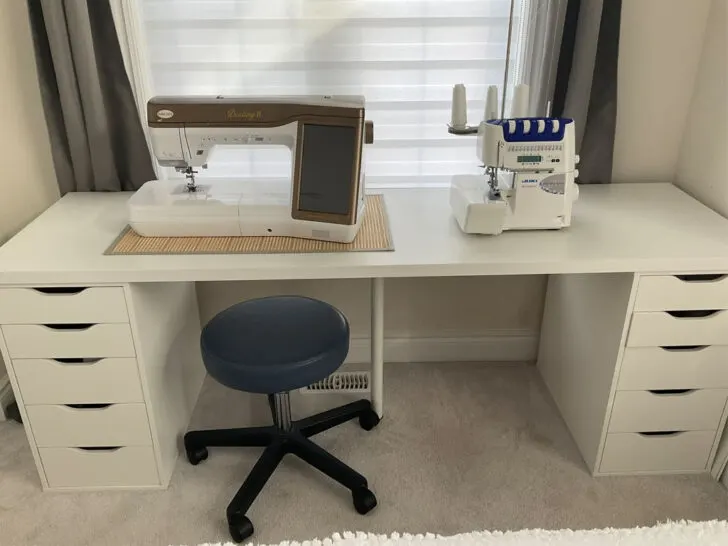 In the beginning I was reluctant to get such a long table. I thought it would bend under the weight of the machine. I also thought it would be wobbly because like all IKEA furniture you need to assemble it from parts.
But it turned out it was well designed and my fears were not founded. However, the assembly is not trivial, my husband worked a whole morning to put it together, it REALLY comes in small pieces, including the drawers.
Hey! After so many years of marriage, I am entitled to some benefits, right? But I steered clear of him that morning. Why poke the bear?
But in case you do not have the space for such a long table, or the foot simply bothers you, the table is coming in a smaller version too as in the image below. The smaller tables are 55 or 47" long (160 or 140cm) and the smallest version comes with only one set of drawers to allow for knee space under the table. Both versions still have a lot of storage.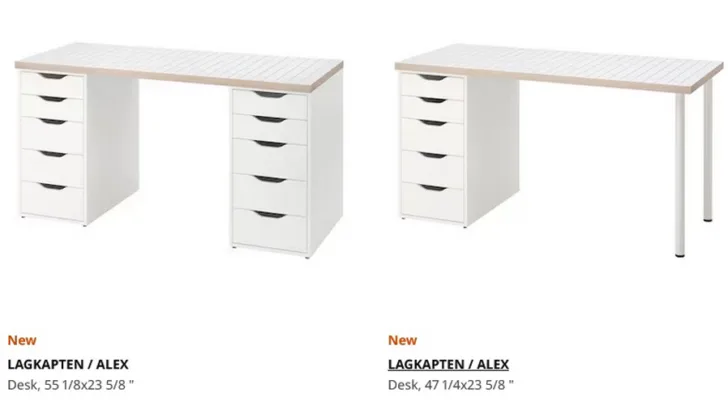 Side table LACK
I have a number of tables from the LACK family. This family seems to include smaller tables which are probably not useful for sewing but can be used for storage in smaller spaces. I have two types of tables
A small side table (in fact, two of different sizes)
A larger table, long and narrow
I use both of them to store items in my sewing room.
The smaller square tables I keep near my main sewing table and I used to put on them things that I might need but which don't belong on the sewing table. For example, the phone or tablet, a book or the pattern envelope if I am working with a pattern, the box with bobbins, etc. I have two sizes, 13 ¾ and 21 ⅝ on the side (34 and 55cm).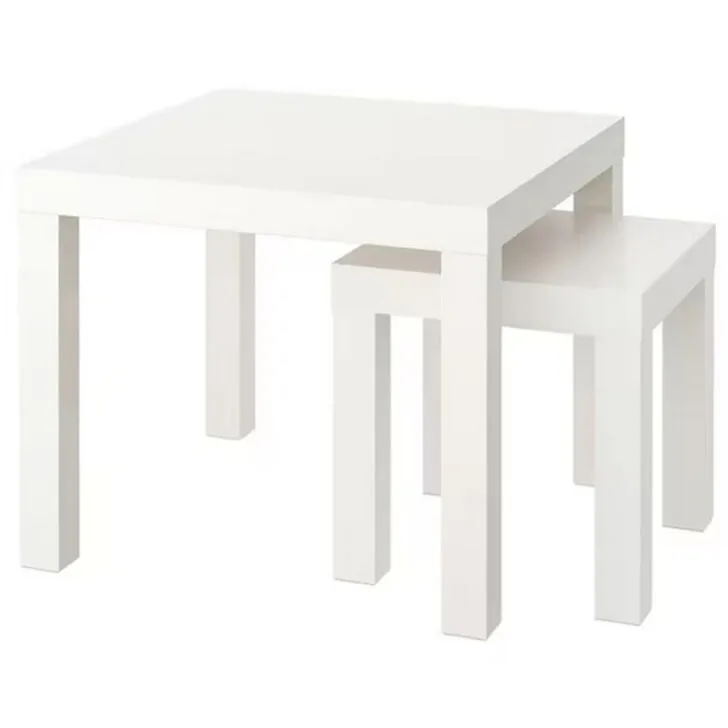 The larger table 55 ⅛ x 15 ⅜" (140x39cm) is very useful for storing my sewing machine or serger when not in use. In the image bellow, it is shown with only one machine on it but it usually has two if not three items on it. I do not use it for sewing because it is too narrow, it's lower than a regular table, and the shelf under the table makes it impractical to place a chair there (no space for your knees). But for storage it is excellent. This table seems to only be available in North America, I did not find it in European stores.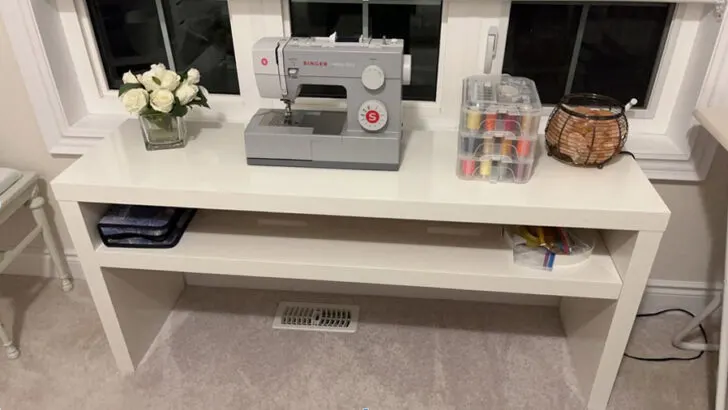 Let's laugh a little. I do not have the table below and that is not my image but every time I see that image, two things strike me: first, I should get one (after all two sergers fit on it 🙂), and second, it is wrongly put together. The hole for the cables should be at the back, not at the front. I am not sure where I took the image from. In case you wonder, this table is part of the MICKE family and is still sold in stores. I think it is worthy of consideration, certainly if you put it together the right way, that is.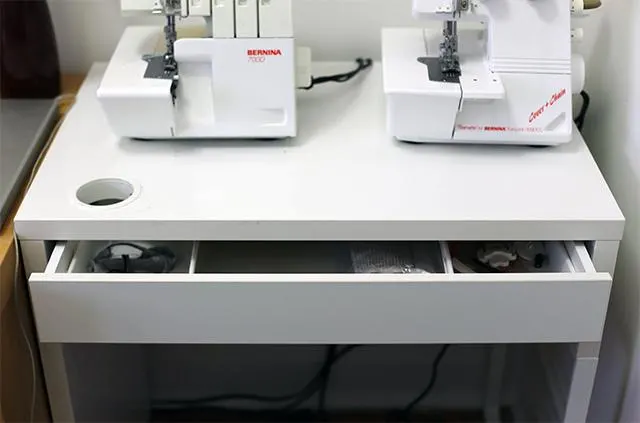 ✅ Related tutorial: Best Serger Tables: Everything You Need to Know
This ends the list of tables that I have. However, IKEA has a lot of other tables which I think are worthy of consideration. Let's look at them.
I really considered IKEA folding tables, and I regretfully discarded them in the end. Let me explain why.
I find that the extended leaves are not sturdy enough to support serious weight and some sewing machines are really heavy. In addition, the leaves are moving slightly and a movement of the table is the absolute last thing I would want when I draw a pattern or when I cut fabric on the table. So while the extensibility is a big, big plus, I could not really consider these tables for sewing. But since I thought about them I feel I have to bring them to your attention.
NORDEN table
They call this folding table "gateleg table" which is in fact a version of the drop leaf type. These tables have one or both ends that can be dropped (folded) so they occupy less space when not in use. This table also has some built-in storage for small items. Actually, a LOT of storage – six drawers which are perfect for small items or thread spools.
This table is about 10" wide when both leaves are folded, 35" wide with one leaf and 60" with both leaves extended (25cm, 90cm and 150cm respectively). This table is definitely large enough to be a sewing or cutting table especially if your sewing machine is not heavy.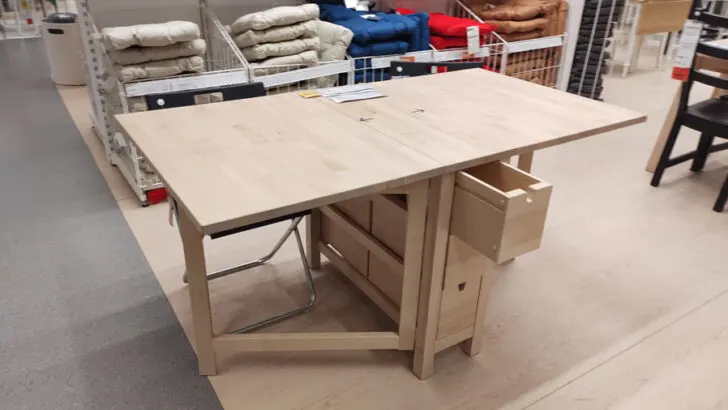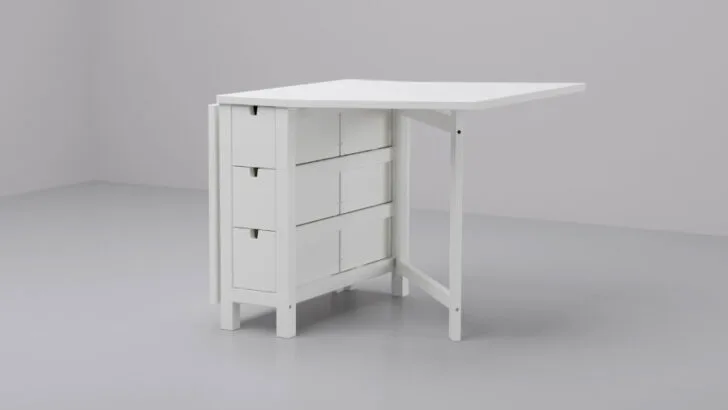 INGATORP table
Another extendable table is INGATORP. It looks very good, it is slightly smaller and cheaper than NORDEN. It also has less storage than NORDEN. This table is ~25" wide and it extends to a maximum of ~48" (65 and 120 cm respectively). The 25" width is in my opinion insufficient for a sewing machine but it might be enough for a serger (overlock).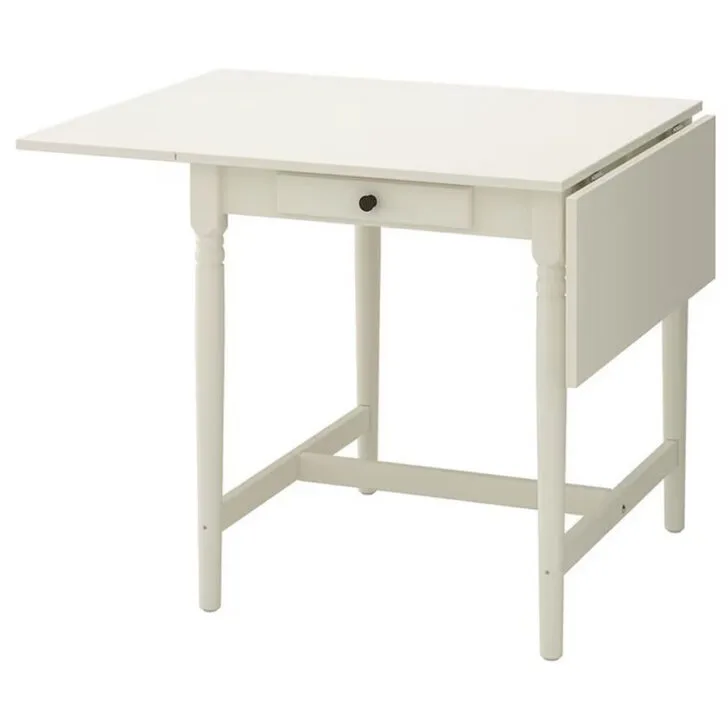 NORBERG drop leaf shelf
While I did not consider an extensible table for my sewing room, I did buy a drop leaf table for my laundry room. It is more like a shelf, really, and I use it when I sort the laundry both before and after the washing. Mine is a simple shelf without the extra storage but it seems IKEA no longed has that product and NORDEN is the closest to what I have. I think it is a useful piece.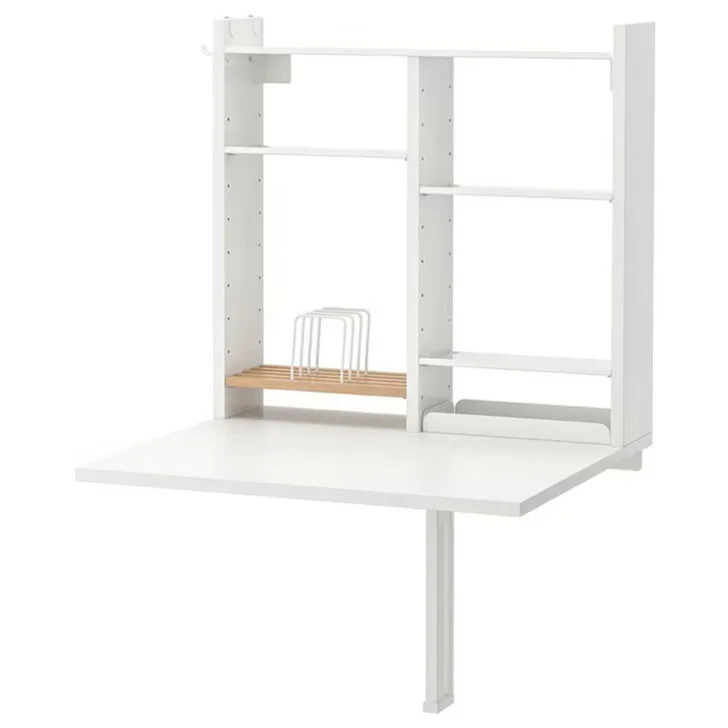 IKEA has in fact many other tables which you should consider. Let me mention some: BRUSALI, HEMNES, VEBJORN. If you plan your sewing room, I urge you to go to an IKEA store and look around. All my ideas are working for me, but your mileage might vary – your room might be different, bigger, longer, narrower, etc. Your preferences might be for a multifunctional table like the extendable ones I mentioned – the possibilities are endless.
If you're looking for the perfect chair to pair with your new IKEA sewing table, check out my article Best Sewing Chairs For Comfort In Your Sewing Room. This guide will help you find the right chair to keep you comfortable and productive during your sewing projects.
Looking for ideas to create your dream sewing studio in a small space? Check out our guide Sewing Room Ideas For Small Spaces: How To Create Your Own Dream Sewing Studio and get inspired to transform your space into a beautiful and functional sewing room – click the link to learn more.
Did you find this tutorial helpful? If so, save this pin (see below) on your sewing board so you can come to the guide later when you need this information on IKEA sewing tables , and follow me on Pinterest for more tips, tutorials, and inspiration!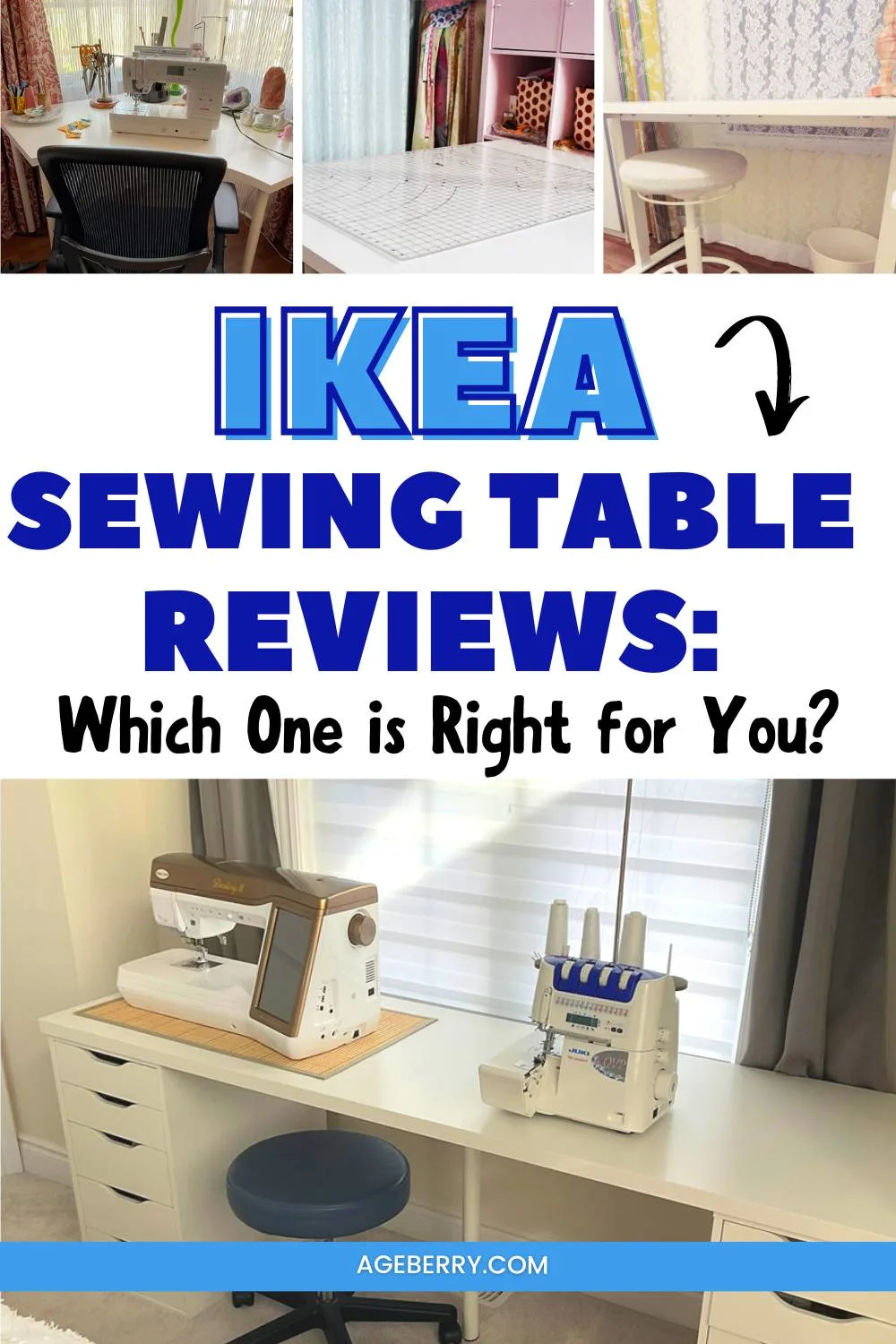 ---