What do those funny-looking scissors do? I'm showing you everything you need to know about duckbill scissors, why you need them in your sewing toolkit, and giving you my recommendations for good quality products.
One time when I was working on an appliqué project, I was doing some cutting with regular scissors and made the mistake of cutting some of my stitching (and even a little piece of fabric). Oops!
I wish I had known then about duckbill scissors because using that often misunderstood tool would have prevented that little mishap and saved me the time of having to go back and fix it, or start over.
When doing machine embroidery or appliqué, you don't want strings hanging out, jagged edges, or uneven layers because they will make your project look terrible (sorry, but it's true!). Using ordinary scissors means the likelihood of one of these things happening is fairly high, so it's a good thing that there's a product available for this purpose!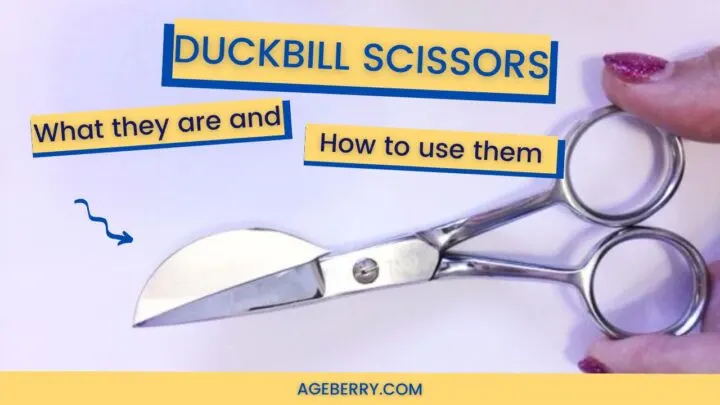 I love working with machine appliqué because it's a fun way to add some detail and interest to different sewing projects. Ordinary sewing scissors can get fairly close, but as we both know from my experience above, it's just too easy to unintentionally cut something you really don't want to cut and ruin your project.
That's when you'll want to pull out a pair of duckbill scissors.
✅ Related tutorial: 20+ applique tutorials, techniques, and ideas
What Are Duckbill Scissors?
Duckbill scissors are a pair of funny-shaped scissors with a wide flat blade and a slightly angled handle so that your hand is lifted from the fabric while you cut.
The paddle blade (also called the duckbill blade) prevents you from cutting the stitches or the good part of the fabric. At the same time, the angled handle allows you to hold the scissors well while the blade is really flat on the material. Using the duckbill scissors you can cut the fabric very close to stitches and that's why they are widely used in making appliques.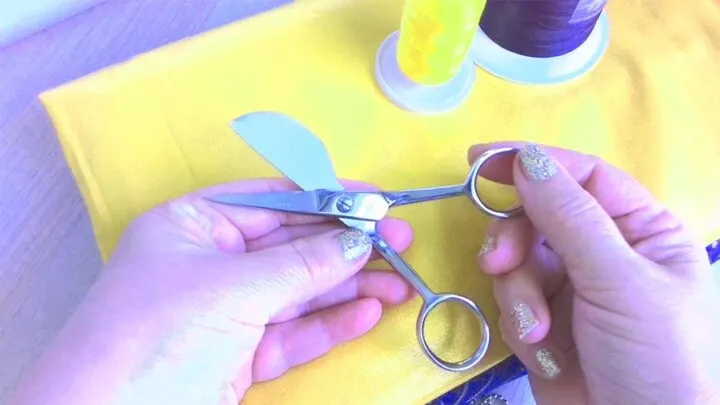 "What's in a name? That which we call a rose by any other name would smell as sweet."
Ok, William Shakespeare quotes aside, duckbill scissors might sound like a funny name (and it is), but I've also heard these scissors called "appliqué scissors" and "pelican scissors."
And the name isn't the only funny thing about these scissors. You have seen the way they're shaped. The paddle blade alone is enough to make you look twice.
It really doesn't matter what name you call this funny-looking tool, because these scissors are seriously helpful.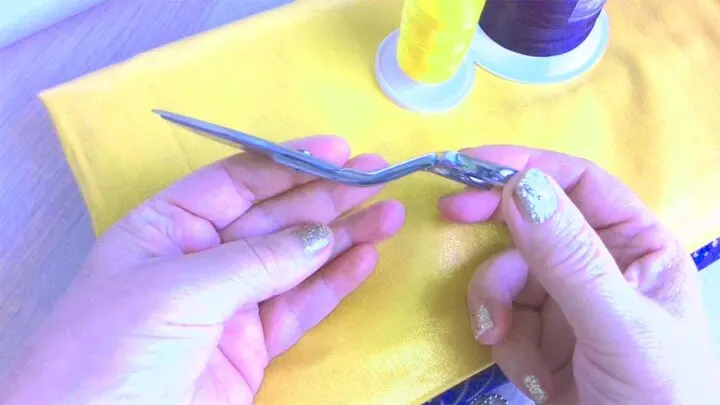 Attention! If you like the video format, at the bottom of this post, look for a YouTube video version where there is a quick tutorial on how to use duckbill scissors. For a more complete picture, I recommend exploring both versions.
How To Use Duckbill Scissors
As adults, we tend to take the skill of cutting with scissors for granted. We learned how to do that in kindergarten, right?
Understandably, these are some of the most misunderstood scissors! They can't be used in the same way that you use normal scissors – and they shouldn't be used that way because their purpose is very different.
There are two different ways that people use duckbill scissors to accomplish the same task.
Method #1
In this method, the wide paddle blade slides under a layer of fabric to push it up and away, allowing for a clean and close cut by the sharp cutting blade on top.
For a right-handed sewist, you would cut around your project in a counterclockwise direction. For left-handed sewists, it would be clockwise.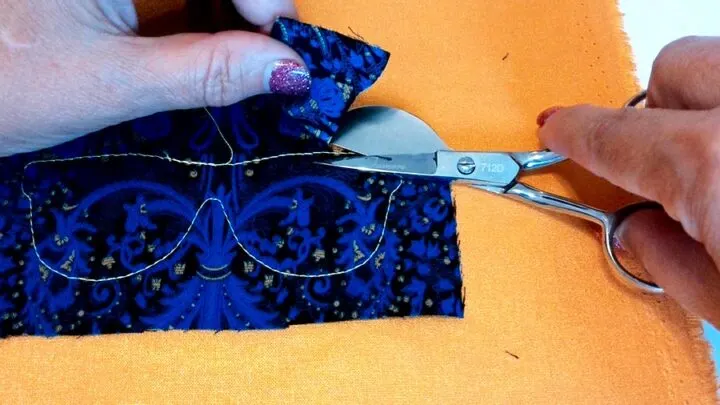 Method #2
With this method, you want that duckbill blade to be directly against your appliqué, protecting it.
With this method for using duckbill scissors, you'll do your cutting around your appliqué in a clockwise manner so that the duckbill blade glides over your appliqué and your project and hard work are protected.

If you're left-handed, you'll cut in a counterclockwise direction for this method.
Either way, if you use these scissors, the end result is the same: neater cuts with clean, finished stitches all around your appliqué.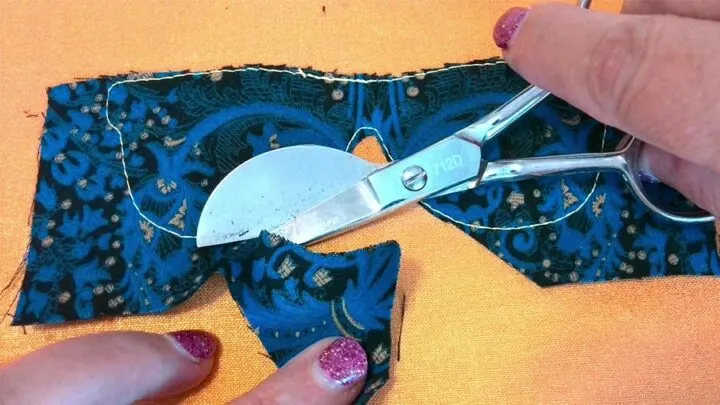 Duckbill Scissors Uses: When And Why?
Duckbill scissors offer the unique ability to trim fabric very closely without the worry of ruining your project thanks to the flat paddle blade.
Simply glide the wide flat blade underneath the fabric to push it down while the other blade goes over the fabric to cut it. This allows you to see exactly where you're cutting and helps to prevent any unnecessary or unwanted cuts.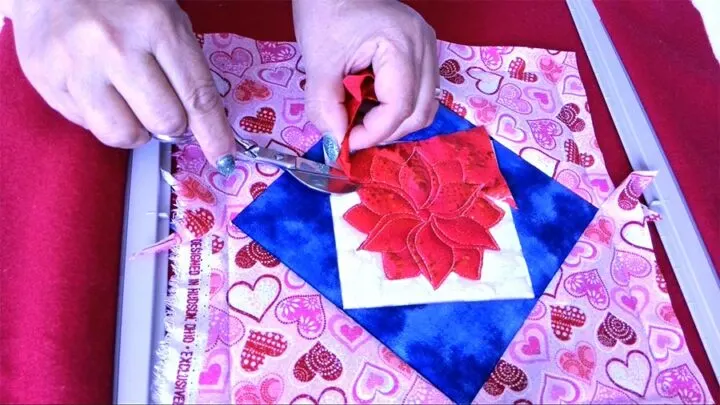 Note: Be careful! The cutting blade is very sharp to ensure precision when cutting so that your projects turn out exactly as you want them to.
I use duckbill scissors mostly for my machine embroidery and applique projects when I need to trim fabric in the hoop. Trimming in the hoop is quite challenging and I would say almost impossible without duckbill scissors. These are the tutorials I published on my site where I use duckbill scissors.
Although embroidery and appliqué are my favorite ways to use these scissors, there are a few other times when they come in very handy:
Snipping threads
Cutting bulky seams
Trimming batting and interfacing
Grading seams
Duckbill scissors are incredibly helpful in getting into tight spots where you need to trim something.
So sometimes I use these scissors to trim the batting when making quilts as I can cut very close to the seams without cutting the thread or the fabric.
✅ Related tutorial: Best quilt batting, types of batting for quilting, and how to choose batting for a sewing project
I also use them to cut the bulk out of seams (where many seams meet).
Duckbill scissors are also great when you make something using flat-felled seams: you have to trim one seam edge and make it narrower and the paddle blade of duckbill scissors keeps the part, that you don't want to cut, away from accidental cutting.
✅ Related tutorial: Types of seams
Note: Some of the links on this page are affiliate links. This means I will receive a commission if you order a product through one of my links. I only recommend products I believe in and use myself.
Are There Duckbill Scissors For Left-Handed People?
There are duckbill scissors for left-handed people. Unfortunately, this is one product that absolutely won't work with either dominant hand, so left-handed duckbill scissors need to be specially purchased. Be sure to double-check that the package specifies they're left-handed.
Thankfully you can often find them in large sewing chains such as JoAnn Fabrics. If you can't find any in your local store, check online because Amazon and probably other stores carry them as well.
How To Store Duckbill Scissors
Make sure you clean your duckbill scissors after each use before storing them because lint is accumulating very fast on the wide paddle blade. So it's necessary to remove the lint on a regular basis. Keep the scissors fully closed when storing them.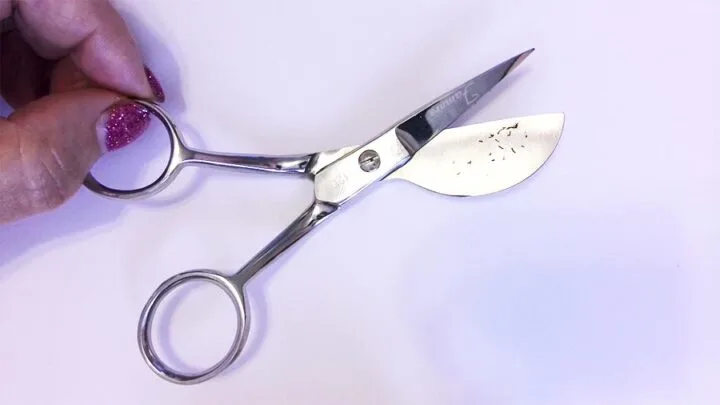 Due to their odd shape and angles, storing duckbill scissors may be a little trickier than storing your normal scissors. Honestly, it will all depend on how you have your organizational system for your sewing supplies set up.
You may be able to keep your duckbill scissors with your other cutting devices, or you may need to keep them separate, such as in a sewing box.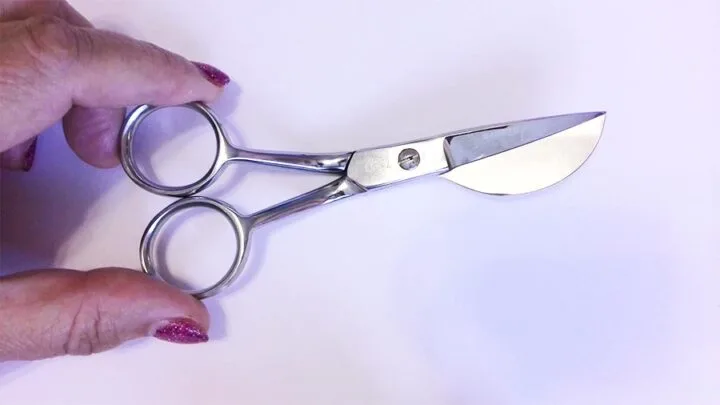 ✅ Related tutorial: How to store fabric
Can You Sharpen Duckbill Scissors?
Yes, you can sharpen duckbill scissors.
Over time and with use, scissors can dull even if you're fairly careful. More inexpensive types of scissors tend to dull faster and easier than more expensive, high-end scissors.
Most duckbill scissors are on the lower end of the price range, however, they also aren't generally used for cutting things other than fabric or thread. Even still, If you find that your duckbill scissors are getting dull, try sharpening them rather than throwing them out.
Wondering where to sharpen your scissors? Well, if you don't have a sharpening tool, try calling your local hairdresser or dog groomer. They regularly need to sharpen their scissors so they can make precise cuts to hair and they will likely be able to recommend the person they use to sharpen their scissors. You can reach out to that person and get all your scissors sharpened!.
The Best Duckbill Scissors
It may (or may not!) surprise you to learn that duckbill scissors are not as widely used as you may think. Given how helpful they are, you might expect nearly every sewist to have a set, but that simply isn't the case.
As a result, there aren't many different brands or styles of duckbill scissors to choose from. Here are my recommendations for high-quality, affordable duckbill embroidery scissors.
Gingher Inc, Silver
These Gingher duckbill scissors are a top-of-the-line choice and this brand offers a slightly offset handle to provide a slight lift, improving the angle of your hand while cutting. Additionally, these scissors:
Are made with a double-plated chrome-over-nickel blade finish.
Are VERY highly rated and affordable.
Are manufactured in Italy.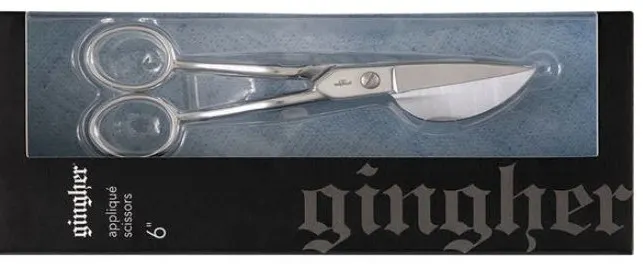 Mini Duckbill Knife Edge Applique Scissors
The smaller design of these Mini Duckbill Knife Edge Applique Scissors makes them ideal for more intricate work. I use exactly these scissors by By Famore Cutlery. The double-pointed blades are very sharp and make cutting sharp angles and tight corners a breeze because they can easily get into all the nooks and crannies. In addition, these scissors:
Are made with stainless steel.
Have offset handles.
Utilize a tension adjustment screw.
Are lightweight.
Can be resharpened if needed.
Tula Pink Duckbill Applique 6-Inch Micro Serrated Scissors
The cutting blade has very small serrations in order to keep your fabric from slipping. Tula Pink Duckbill Applique 6-Inch Micro Serrated Scissor is a right-handed model, but I suggest a good quality left-handed set of duckbill scissors below. Additionally, these duck-billed scissors are:
Very highly rated.
Comfortable for people with larger hands to use.
Beautiful – thanks to the rainbow sheen that helps them stand out in your sewing box.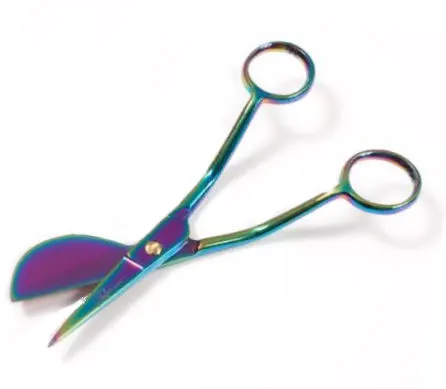 Roberts Duckbill Napping Shears
Roberts Duckbill Napping Shears are affordable and get many excellent reviews. Their larger 7-inch design makes them comfortable for sewists with larger hands. Additionally, these scissors:
Are manufactured in Germany.
Are lightweight and ergonomically designed to help reduce fatigue.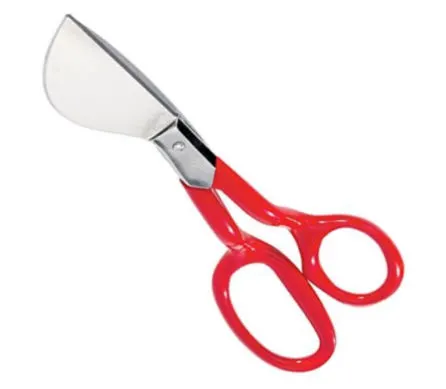 Havel Multi-Angled Left-Handed Duckbill Applique Scissors
Here is a set of Havel Multi-Angled Left-Handed Duckbill Applique Scissors specifically for left-handed sewists. They get solid reviews and will make a great option if you're left-handed.
If you enjoy doing embroidery or appliqué projects, duckbill scissors are a must-have for making precise cuts that will make your finished products look incredible. I recommend having both a larger set and a smaller set if you do intricate work.
So here is my YouTube video. Check this out if you like to see how to use duckbill scissors.
Did you find this tutorial helpful? If so, save this pin (see below) on your sewing board so you can come to this tutorial later when you are ready to buy or use duckbill scissors, and follow me on Pinterest for more tips, tutorials, and inspiration!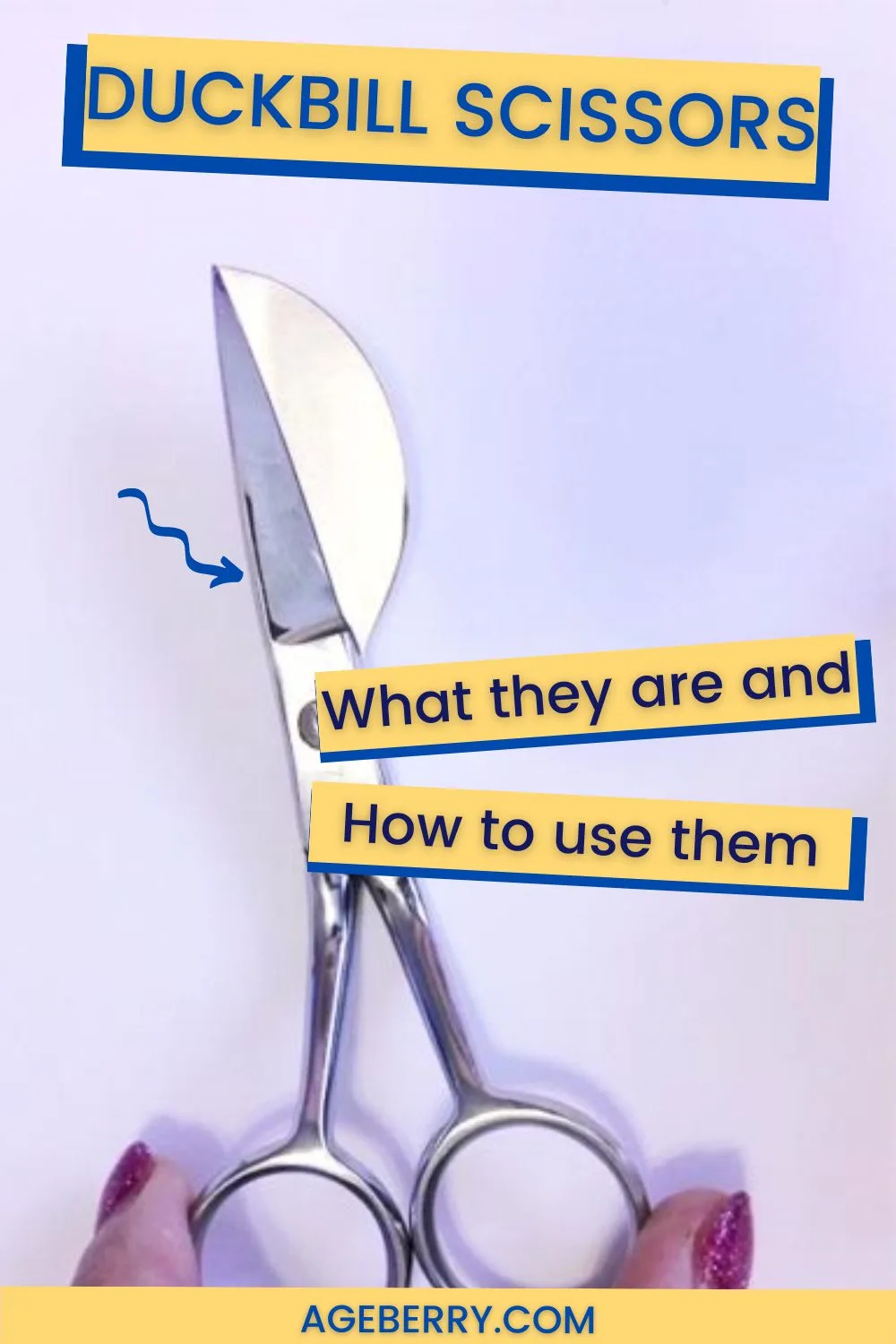 ---