So, you've finally taken the plunge and invested in a new serger, eager to try out all its features. But as you glance around your sewing space, all hard surfaces are already in use.
Your sewing stand holds your sewing machine snugly, and your cutting table is taken up by your self-healing cutting mat, acrylic ruler, and rotary cutter. Also, if you're like most sewists, all other available space has been claimed by mounds, piles, and smallish stacks of fabric that were too lovely to leave behind at the quilt shop.
Where will you put your shiny new baby?
Sergers are fun, but they take time to set up and thread properly. For this reason alone, a special serger table is a necessity. To get the most benefit, you must keep your new serger set up at all times. Otherwise, you'll be tempted not to use it. And that would just be tragic. So, what do you do?
Do you buy a desk? A fold-away table? A plank of wood supported by sawhorses? The answer to all these options is "no." What you need for your new serger is a workspace that's specially designed to take advantage of its efficiency. Serger tables do exist and are in abundant supply. The fun is sorting through them to find the one that works best for you.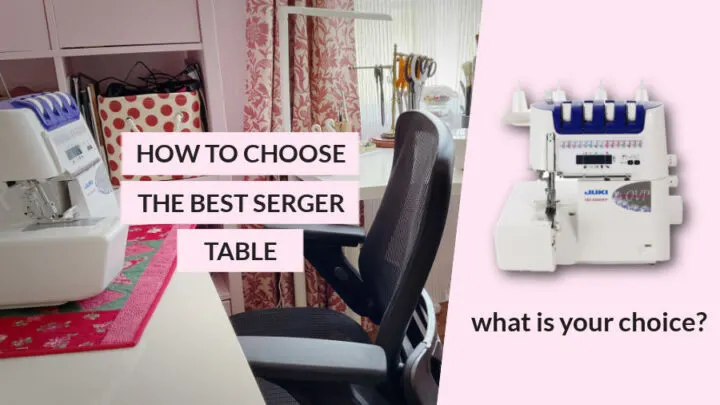 That's where we come in.
Settle in for an informative stroll through our favorite serger tables and accessories that make owning an overlock machine a real pleasure.
Whether you're interested in a Koala Studio serger table, with all the bells and whistles, or a simple folding serger table that tucks away out of sight, we've compiled a comprehensive list of serger must-haves for the burgeoning sewist.
✅ Related tutorial: Best serger for beginners – Serger buying guide
What Defines the Best Serger Table?
Before delving into all the options available for serger tables, it's good to know more about them. The term "serger table" may refer to three different accessories. These include:
A storage table or cabinet that houses your new serger.
A dual-storage system that holds both your serger and your sewing machine.
A type of elevated table extension that adds a flat workspace around your serger.
A simple search for "best serger table" may yield any of the above options. Explore them all before deciding which one is right for you.
Why Store Your Serger Near Your Sewing Machine?
There's a lot you can do with today's modern sewing machines such as Baby Lock Solaris or Brother Luminaire, but keeping your serger nearby adds that professional finishing touch. Your sewing machine may perform many of the same functions as your serger, but they'll take longer and require more sewing prowess.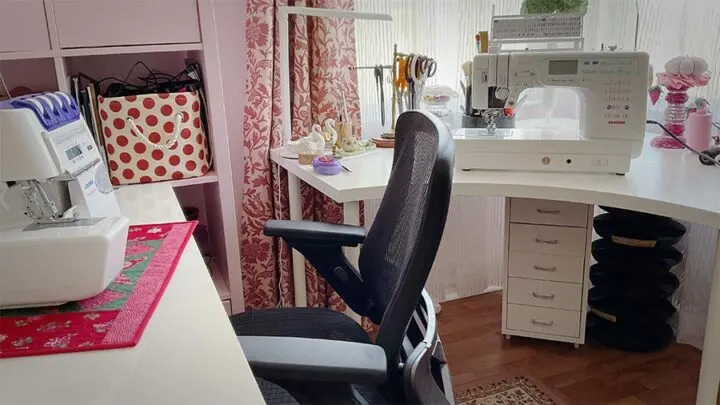 Meanwhile, your serger performs those same functions simultaneously, shaving hours off your actual sewing time. There's something to be said for having the right tool for the job, and keeping your serger nearby lets you:
Sew stretchy fabrics easily
Make seams that stretch instead of breaking
Finish seams professionally
Create ruffles effortlessly
Sew beautifully rolled seams
If you regularly sew apparel or home decor items, need to make a bathing suit or a formal gown, or want to add a professional look to handbags and tote bags, keeping your serger out and at the ready is ideal. For these reasons, it's vital to have the best serger table for your particular needs.
✅ Related tutorial: Serger vs. sewing machine
What's the Difference Between a Serger Table and a Serger Cabinet?
Typically, a serger table is simply a flat workspace that accommodates your serger and allows you to place a chair in front to sit and sew comfortably. A serger cabinet, however, provides additional storage for accessories such as:
Thread
Pins
Cutters
Fabric
Clips
Acrylic Rulers
Measuring Tapes
Choosing the right serger cabinet can help you organize your workspace neatly, leaving you plenty of free space for sewing.
Note: Some of the links on this page are affiliate links. This means I will receive a commission if you order a product through one of my links. I only recommend products I believe in and use myself.
Best Serger Cabinets
The best serger cabinets store your serger or notions out of the way and are safe from dust and debris.
Photo Credit: www.sewingmachinesplus.com
Koala Studios Evolution Serger Station Cabinet, for example, is a compact solution for storing your serger, along with a few of your most-used notions. When closed, three elevated storage compartments fold flat to add extra workspace around your machine. When opened, there are plenty of cubbies for stowing necessities.
The Koala Studios Serger Station Cabinet comes in two attractive finishes (Teak or White) to fit seamlessly with any decor. Cord ports keep cables organized and out of the way, and hidden casters lock and unlock for easy mobility.
This little serger table on wheels is a sound solution for sewing rooms with limited space. When not in use, simply wheel it out of the way.
However, if you're interested in a more permanent solution than a serger table on wheels, check out these serger cabinets we found at Amazon. Perfect for housing both your serger and your sewing machine, along with everything else you need to keep handy, these sewing stations will help you design the hobby room of your dreams.
One of our favorite serger/sewing machine combo cabinets is the Dual Sewing Machine Cabinet Center by Kangaroo which gives you everything needed to set up your dream space.
Photo Credit: www.sewingmachinesplus.com
Two separate units combine to provide tons of storage space for your sewing machine and serger, along with an assortment of drawers, countertops, cutting tables, and storage cubbies.
This arrangement also includes an oversized cutting mat for your convenience. Much more elaborate than just a small serger table, this grand sewing station is a savvy tool for the serious sewist.
✅ Related tutorial: How to choose the best sewing machine table
---
---
Some of the best serger tables we've found online are ones that maximize your workspace without taking up your entire sewing room. You're going to love this option.
This small serger table over at Tracey's Tables is actually a serger cart. Lightweight and fully portable, casters make it easy to wheel around your sewing room while its size makes it an ideal Baby Lock serger table, capable of holding the larger machine.
This small serger cart is designed with efficiency in mind as the storage drawer doubles as a flat workspace once the serger is positioned.
Must-Have Serger Extension Tables
If you've never used a serger, you may not realize how important it is to feed the fabric through evenly. Unfortunately, the weight of many fabrics makes it difficult to feed them through a serger. If the fabric falls away in the back, you may be left with puckers or seams that aren't straight and even. If the fabric accidentally bunches beneath the needle, the serger blade may cut areas where it's not supposed to, ruining your project.
This is where a serger extension table becomes invaluable. Serger extension tables add convenient sewing space around your serger. They elevate the sewing platform so the fabric lays flat and neat and feeds easily through your machine. There are many serger extension tables available. Make sure the one you purchase fits your machine.
Sew Steady is a great source for serger extension tables. These convenient accessories are designed to fit multiple machines and add valuable sewing space around your needle. Fabric won't tug or pull away while you working. As a result, you'll get clean, professional results every time.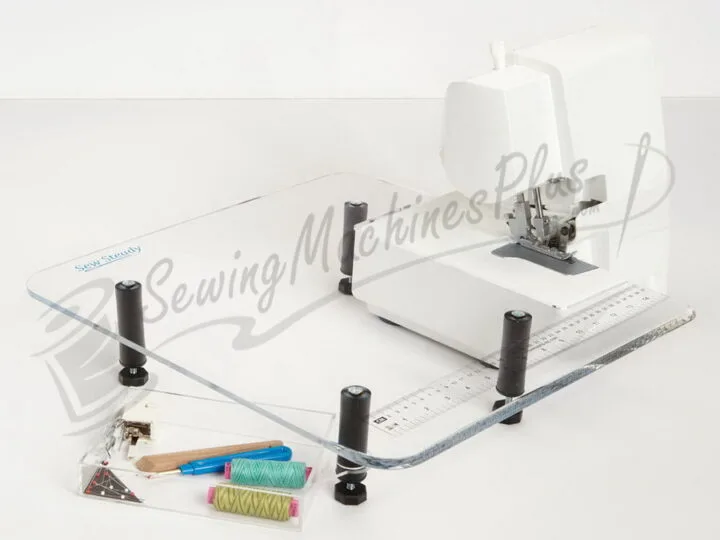 A 24-inch by 24-inch extension table is universal, meaning it fits any and all sergers, and it's also available on Amazon.
And speaking of convenient accessories, this little tilt table is ideal for customizing your sewing space just the way you like it. It fits easily beneath your serger, giving you the best angle for sewing.
It's good to note, also, that if you plan to use an extension table, you'll have an even greater need for a designated serger workspace. Setting it all up and taking it all down after every project is time-consuming and inefficient.
How to Store Your Serger Without a Serger Table
If you haven't yet invested in a designated table for your new appliance, you can always make a DIY serger table from serger table plans found online. Usually, this involves using simple tools such as a jigsaw and orbital sander to cut holes in an existing wooden table.
This tutorial over at Make It Handmade is a good example. The sewist used a plain IKEA table and customized it to fit her machine, making, in essence, an IKEA serger table. She used her design to house her Janome sewing machine, but the same tutorial would work for most sergers.
✅ Related tutorial: IKEA sewing room ideas
And speaking of IKEA hacks, Jen, over at Grainline Studio, used an IKEA desk with the top installed backward to design her ideal serger table. The cord port became a simple trash can for sweeping all her scraps neatly away, and the table is sturdy enough to hold both her Bernina overlock and her cover-stitch machines with handy storage down below.
If you don't have a designated table for your new serger, it's possible to store it on a closet shelf or on open shelving until you're ready to use it. This method means setting up your serger every time, however, and may discourage you from enjoying it as much as you would if it was always set up and ready to go.
This concludes our roundup of the best serger tables on the market today. We hope you found one that fits your sewing needs. Do you have a favorite serger table? Let us know in the comments, and be sure to share us with your friends and fellow sewists.
Do you make these 15 mistakes with your serger?
Enter your email in the box below to download your free eBook and find out which mistakes you should avoid!
Subscribe to my weekly newsletters with sewing tips and tutorials, free sewing patterns, printable PDFs, and other useful content and you'll find the eBook in your inbox.
Subscriber exclusive offer.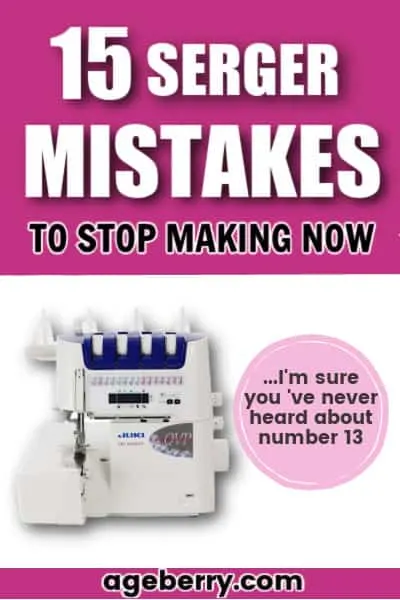 Did you find this tutorial helpful? If so, save this pin (see below) on your sewing board so you can come to this tutorial later when you are ready to buy the best serger table, and follow me on Pinterest for more tips, tutorials, and inspiration!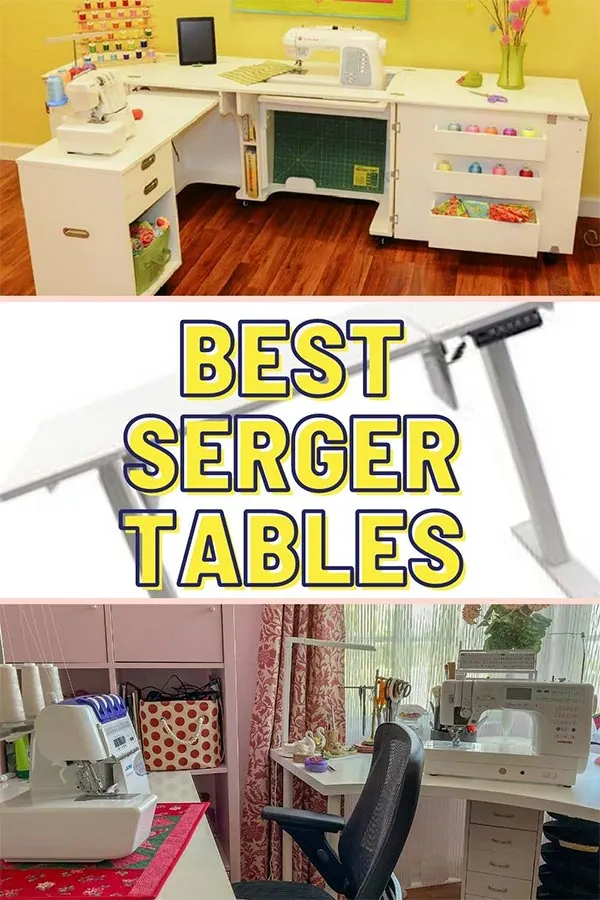 ---