This article is a review of a Singer Intelligent Steam Press.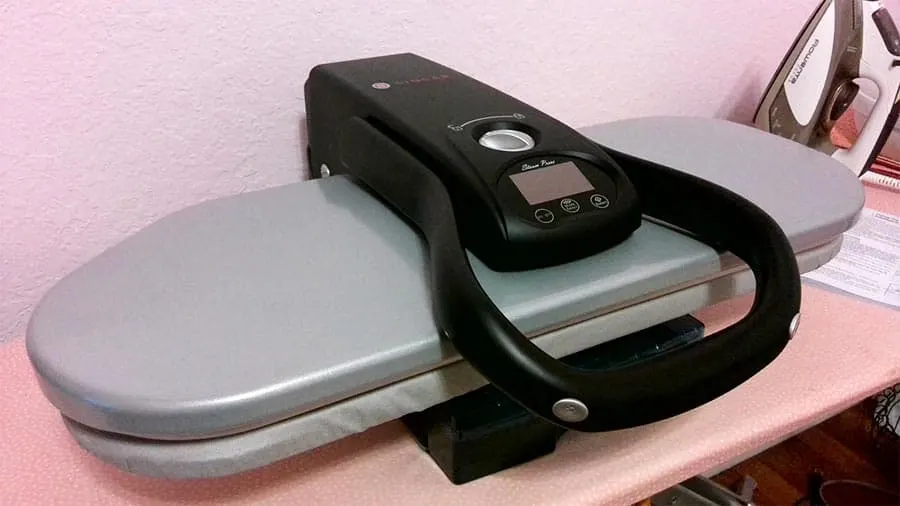 Singer is probably the best-known brand name in sewing, and for good reasons. The founder of the company, Isaac Singer, patented and sold the first successful sewing machine in 1851 and by 1853 the sales were around 1000 units per year to grow to 250 THOUSAND per year 20 years later, around the mid-1870s.
With a history like this, I would not be surprised if Singer would be one of the most recognized brand names everywhere, not only in sewing!
Incidentally, while Singer sewing machines still exist, they are not manufactured anymore by the original corporation. The brand name was spun off in 1986 as a standalone business then the sewing machine business and the name itself was sold a number of times, nowadays (2020) the machines are sold under Pfaff, Husqvarna, and Singer brands are all owned by one company.
But back to our subject: the Intelligent Steam Press ESP260T made by Singer is one of the three steam presses made for home use. It's a digital steam press, meaning that it is computer controlled even if this is no longer something unusual, most devices nowadays have a small computer inside.
This model is right in the middle between the smaller version (20″ Singer SP550) and the larger one (36″ Singer ESP36T1). These are the only models of steam press for home use that Singer makes at this time (December 2020).
The three models look pretty much like brothers, as do in fact most of the steam presses for home use from other manufacturers:

All three models are offered with an optional stand which I don't have but I fully recommend. I will discuss the stand later.
The main difference between the three is the pressing area and the water tank capacity. The three models look like this:
| | | | |
| --- | --- | --- | --- |
| Model | Pressing area | Water tank | MSRP |
| SP550 | 20" x 8.4"50.8cm x 21.3cm | 150ml | $170 |
| ESP260T | 26" x 11"66cm x 28cm | 800ml | $280 |
| ESP36T1 | 38" x 12.8"96.5cm x 32.5cm | 300ml | $450 |
In reality, you will find the devices in stores a little discounted which is not unusual for home appliances. I found the price of the press affordable but it's nevertheless higher than iron, on par with higher-priced steam stations.
First I will talk a little about the machine and its uses; if you want to skip directly to the actual testing, just go directly ahead to "How to use a steam press".
This steam press is kindly gifted from AllSew store, which is a sewing machine dealer (including the Singer brand) and authorized repair center in Flint, Michigan. I have never heard of them until they got in touch, but I love the steam press and started to use it right away. The people at AllSew seem very knowledgeable and willing to answer questions, even in this difficult situation with the pandemic going on.
If you have a Singer (or any other brand) and have an issue with it, or you want to upgrade, or you simply want a new sewing machine, why don't you give them a call at (810) 732-1066. If you are local to the area you might even visit them, but even if you are not, they might be able to suggest something if you have an issue. They sell not only Singer but Babylock, Bernina, Brother, Elna, Janome, Necchi, and Pfaff.
I have seen their promise: "If your machine is less than 15 years old, we'll credit the full purchase price you paid off of the MSRP of a new machine". I have to confess that I was tempted to test this, I have an older Janome 350E embroidery machine that I no longer use, but frankly, I am too fond of my old machine to part with it. Let it enjoy a well-deserved retirement at the bottom of my closet!
The steam press that I am reviewing today is here: Singer Intelligent Steam Press 26". It has been well packed and I received it without any damage in its box.
Steam Press Q & A
What is a steam press?
A steam press is a device that allows fabric pressing at once without the need to pass a hot iron over the fabric repeatedly. With a steam press, you can do almost everything you can do with an iron.
Usually using a steam press results in better and faster results for many types of garments, like pants, shirts, skirts, dresses, etc. where the area to be pressed is quite large but there are few details that require individual attention.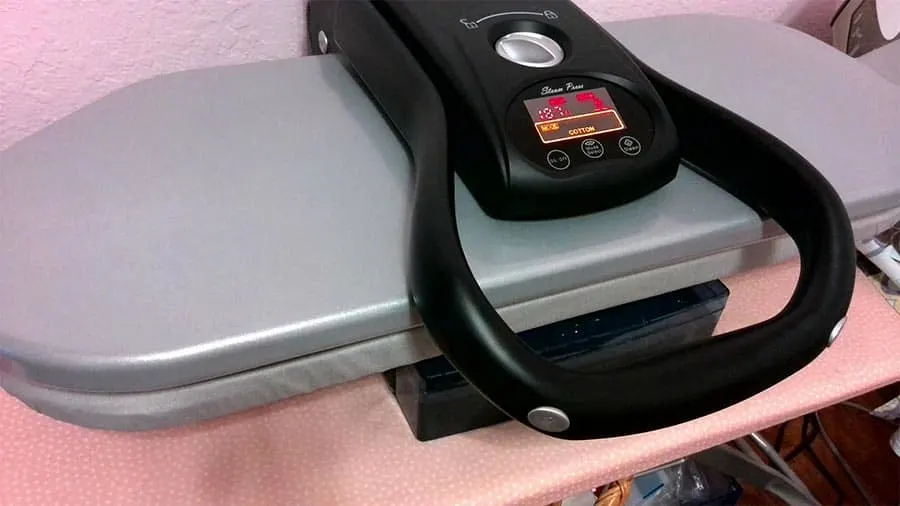 What can you use a steam press for?
Obviously, to press the fabric to iron out wrinkles from clothing and linens. But can be used very well for fusing interfacing to fabric (actually, it's excellent for this) and also applying heat transfer embroidery designs and iron-on patches onto garments.
I found the press very useful when pressing fabric that has been prewashed. At this point, the fabric is still in large pieces and it's a lot of work to go over it with the iron; the press does this easily.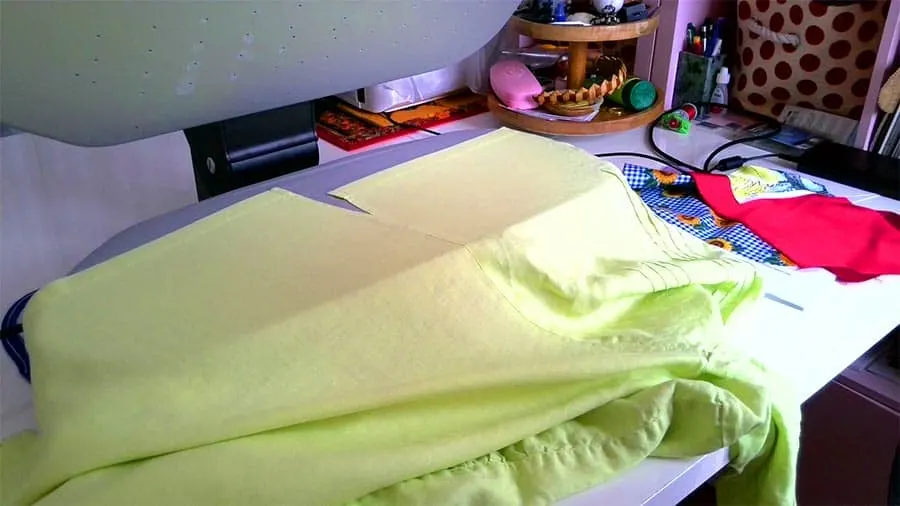 What is the difference between a steam press and a heat press?
Both machines use two flat surfaces that are heated and press various items between them.
However, the steam press is used mainly to press garments and linens to iron out wrinkles from clothing and uses hot steam in the process while the heat press is used only to transfer designs onto fabric and other surfaces (like glass or metal) and does not use any steam.
Generally, the maximum working temperature for a steam press machine is a little over 200°C (400°F) while a heat press machine can reach over 250°C (500°F).
Are a steam press and heat press the same or different?
They are completely different and are used for different things even if the working principle is relatively the same. The steam press is used mainly to iron out the wrinkles in the fabric while the heat press (also named "heat transfer press") is used to transfer decorative designs onto certain surfaces. One uses steam, the other does not.
Can A Steam Press Replace A Steam Iron?
If you don't have an iron handy, in a pinch it's possible to use a steam press to do almost everything that iron does; it will require ingenuity and creative placing of the garment on the ironing board when you have garments with intricate designs. But in my opinion, you need both, one can't replace the other.
RELATED POST: IRON BUYING GUIDE
Is a steam press better than iron?
A steam press is better than iron for some tasks, and iron is better for others. For example, when pressing the shirt's front and back, or pants legs, or a finished quilt block, a steam press is ideal. For tasks in small places, or where the pressing area is not flat (for example, when pressing seams open, or when pressing around a thick button), the iron may be better.
Each tool has its uses and I would not recommend giving up the iron (or the mini iron) if you have a steam press. While sewing you will use both.
RELATED POST: PRESSING TOOLS FOR SEWING
Safety precautions
Empty the tank after use; don't leave water in the tank unless you plan to use the press very soon
Make sure the press is inserted directly into a wall outlet or use a good extension cord; the current required by the press is similar to an iron, and you will need good contacts
Make sure the cord is not frayed and there are no exposed wires anywhere
Make sure the cord and the plug are not hot; "hot" may mean excessive current, bad contacts, or a bad device. You must find the cause
Make sure when you fill the water tank you don't spill water, it may get inside the machine
The steam press does have an automatic shut-off function however it's still hot and the steam under pressure must be dealt with carefully. Keep away from children and unplug when not in use. Like the iron, this is not a toy.
What should a steam press not be used for?
I do not recommend a steam press to press open seams, curved seams, or small details in a garment or a quilt; it may be possible but it's quite difficult.
The manufacturer (Singer) claims "dry cleaning results at home" when using this steam press; I never understood why, unless they say that the garments will be ironed very well. My advice: do not use the steam press instead of dry cleaning, the steam may fix some stains or make others spread.
How to use a steam press
If you'd like to watch the video version, hit the Play button below.
Steam press features and characteristics
I looked during my testing at the following items:
Pressing surface
I found the area of the press to be long enough and wide enough for my needs. I am not sure I would have appreciated the larger surface model more.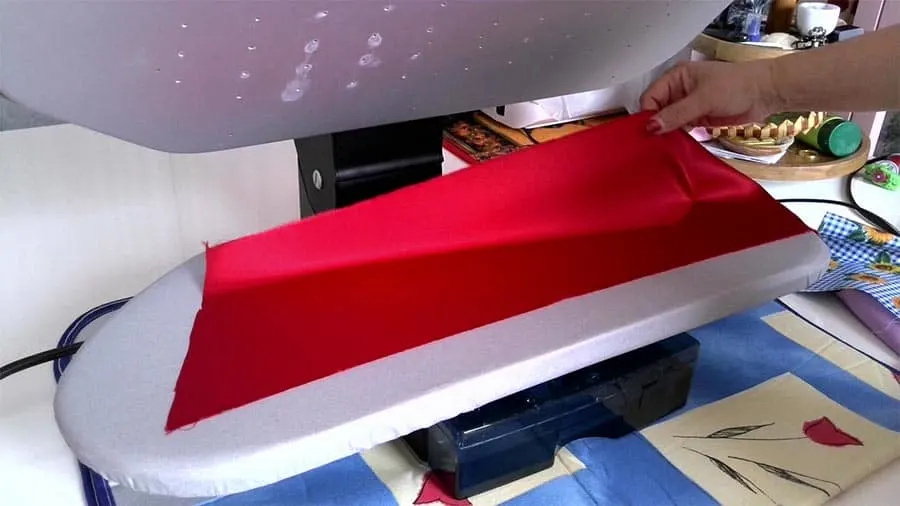 Wattage (power)
The steam press boasts 1500W of power which brings it to the limit of usability on regular household circuits and outlets; anything above would probably need a special circuit given that the fuses in most homes in North America are set at 15A for regular outlets. 1500W is adequate and while the press doesn't heat very quickly, I don't see this as a problem.
However the press must be kept open while not working and it's hot, so it will generate a fair amount of heat.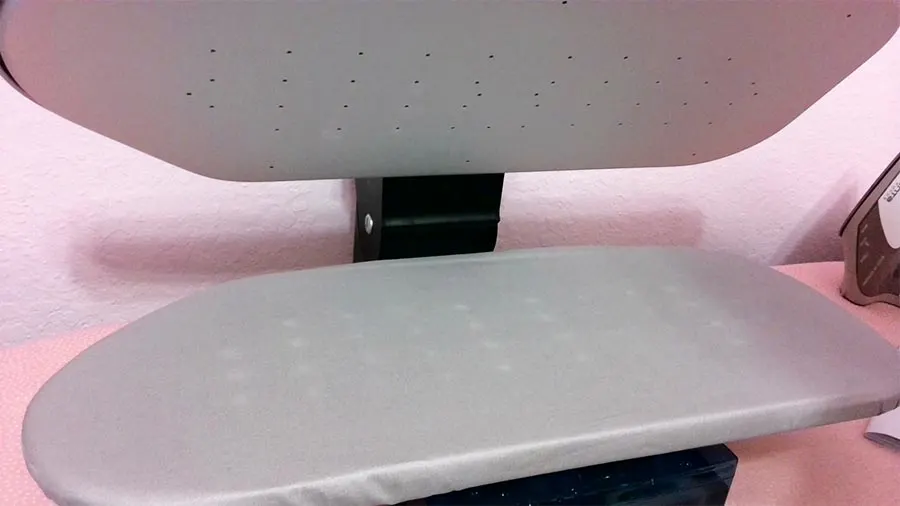 Digital display
The press has a digital display that shows very clearly the current temperature, the fabric type, and the steam settings. I believe the display is adequate and well-designed.
The display shows clearly when the steam is activated, when the press is heating (WAIT illuminates), and when ready (READY is on).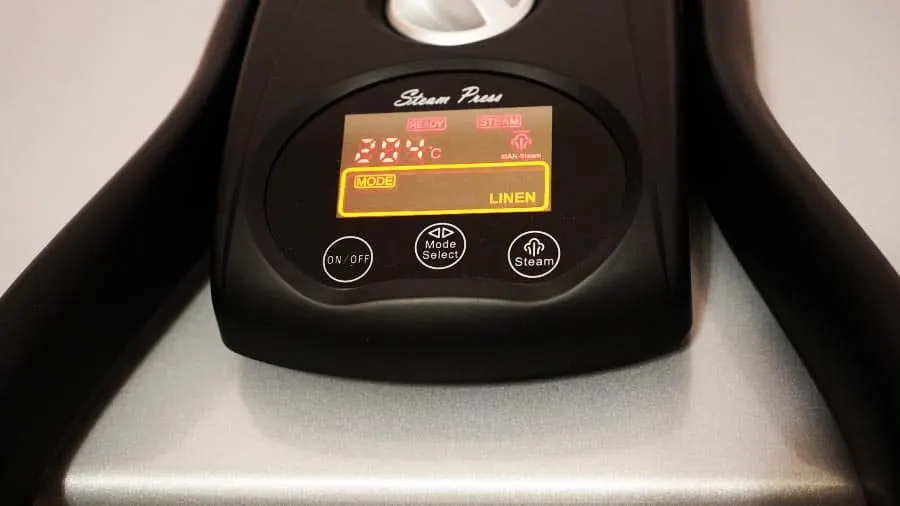 Temperature setting
I tested the press on all settings, from the lowest to the highest. The press gets hot enough to use on cotton and linen and is gentle enough for polyester in the proper setting. The temperature settings were in the expected range on each setting, very often on irons I have to set the iron on a higher setting than on the dial; not here.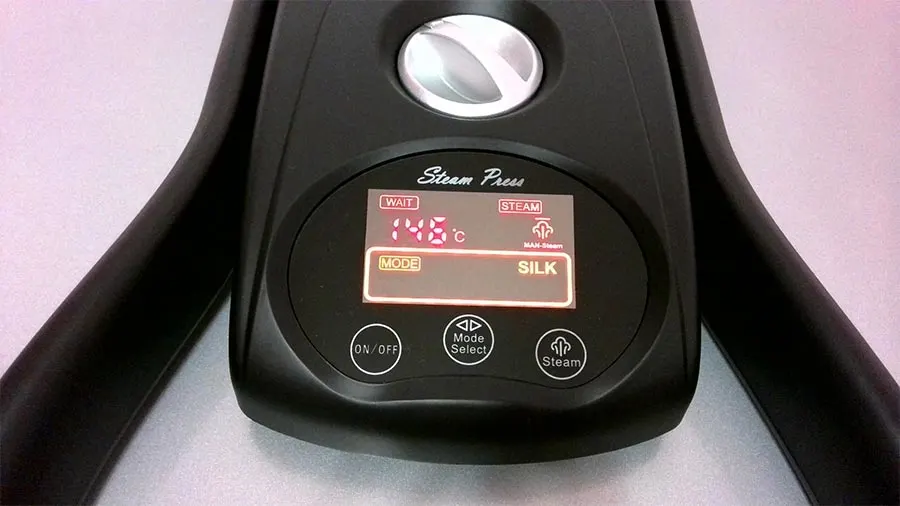 Water tank
I like the 800ml capacity, both the 20" and the 36" models have smaller water tanks; I don't understand why. I don't enjoy running out of water in the middle of a task! I find it puzzling that for the 36" model, which will certainly use more water, the water tank is only 40% the size of the 26" model.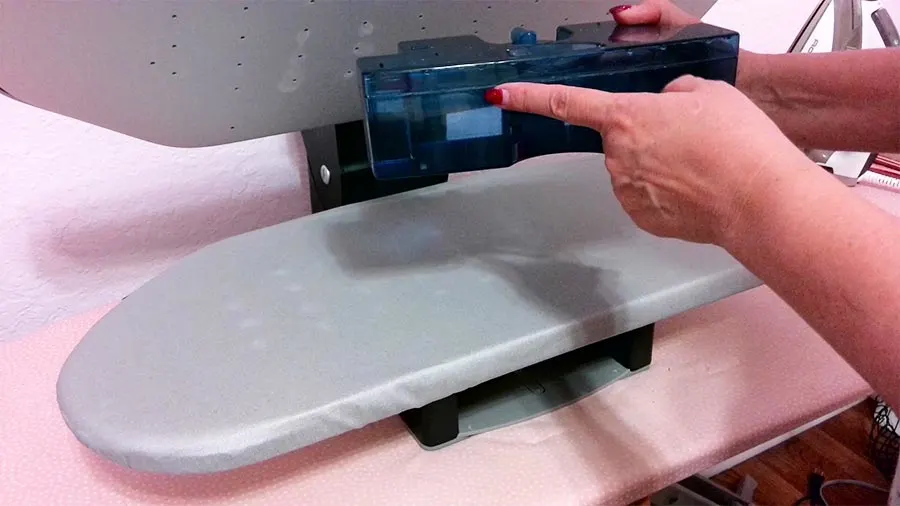 Temperature control, fabric type
I found the temperature control to be accurate and adequate. Unlike some irons, the temperature setting for "silk" is indeed good for silk, and "linen" (the highest) is indeed good for linen. The scale of settings steps is Nylon, Silk, Wool, Cotton, and Linen.
There is a temperature display on the dashboard and the fabric temperature settings go from 100°C for Nylon to 220°C for linen (212°F to 428°F). I can't test if the display is correct however the press was indeed adequately hot on all settings, so I believe it's indeed correct.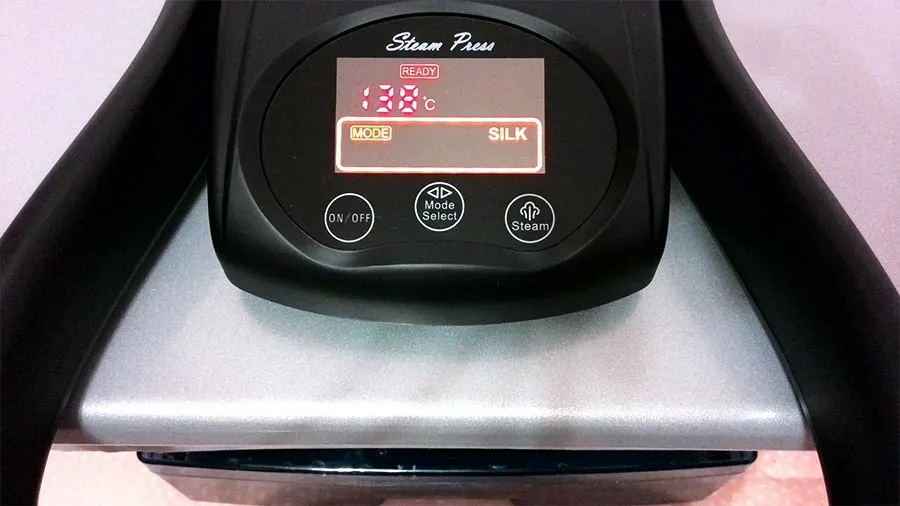 Burst of steam
The press has two steam settings: automatic steam generation and manual. I recommend reading the manual and doing what it says in both modes. If you are not careful, the steam generation may damage the press or the fabric.
The press only generates steam on settings above 145°C, until the press reaches that temperature the steam function is disabled. Look at the end of the article for a better explanation of how the steam function works.
In manual mode you need to press a button to generate steam; you need to hold the press open above the fabric (around 3 inches) and press the button, or else the pressure of the steam might damage the fabric.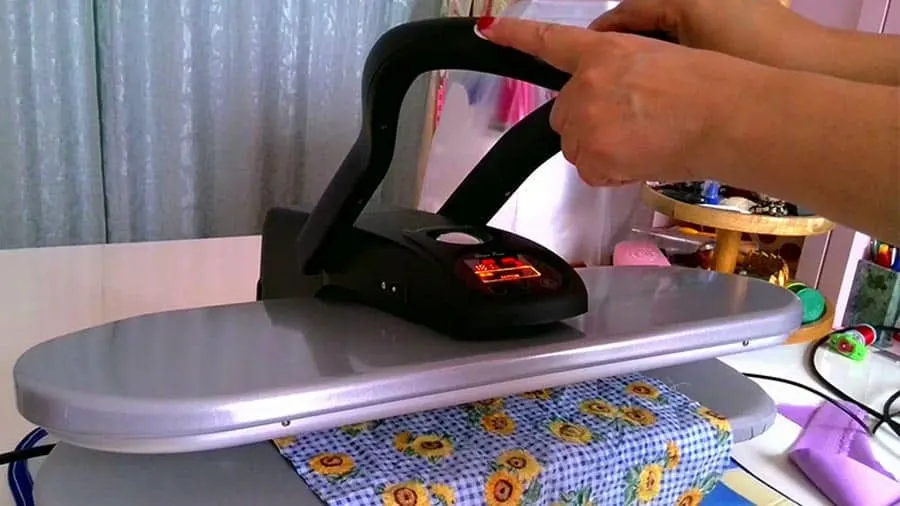 If you press the button for a steam generation when the press is closed, again you might damage either the press or the garment, the steam will have nowhere to go.
In automatic steam generation mode, when set, just close the press gently and when it reaches the correct distance to the garment the steam is generated automatically for one or two seconds. You don't need to do anything, just lower the press completely (the steam generation stops) and the press will do its job.
Perhaps I am old-fashioned, but I don't like (for now) the automatic setting, I like to control myself the steam generation. But the auto function works well too.
Can I use a steam press for vinyl?
I was curious myself and I used it; it works beautifully in applying small vinyl patches. In the image below you can see a vinyl decal I cut with my Cricut (the silver ornament). I used a setting on "silk" without steam, of course, it was applied well, without any problems.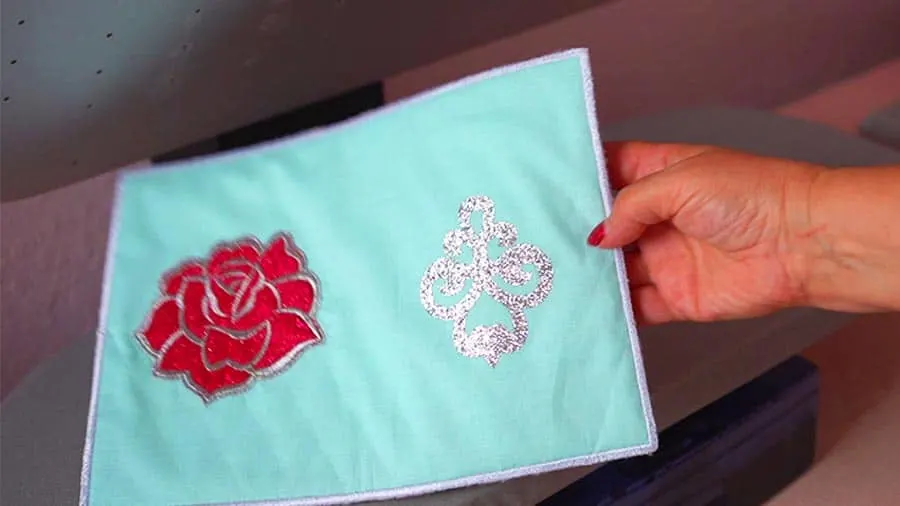 I even put a vinyl applique (cut from iron-on glitter vinyl with my Cricut machine) on my hat and it worked perfectly!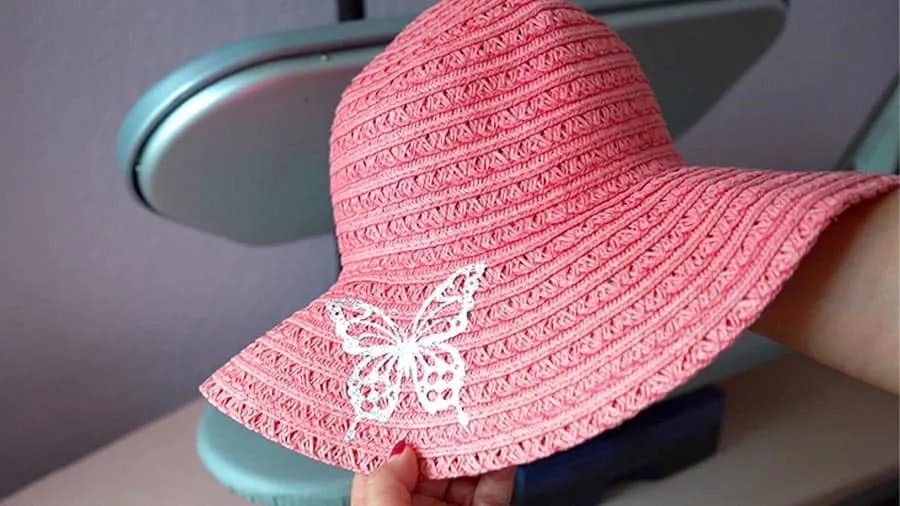 Delicate fabric
The press works well for delicate fabric, I used it for silk with no problems. Place the fabric on the lower board, close the press – that's it.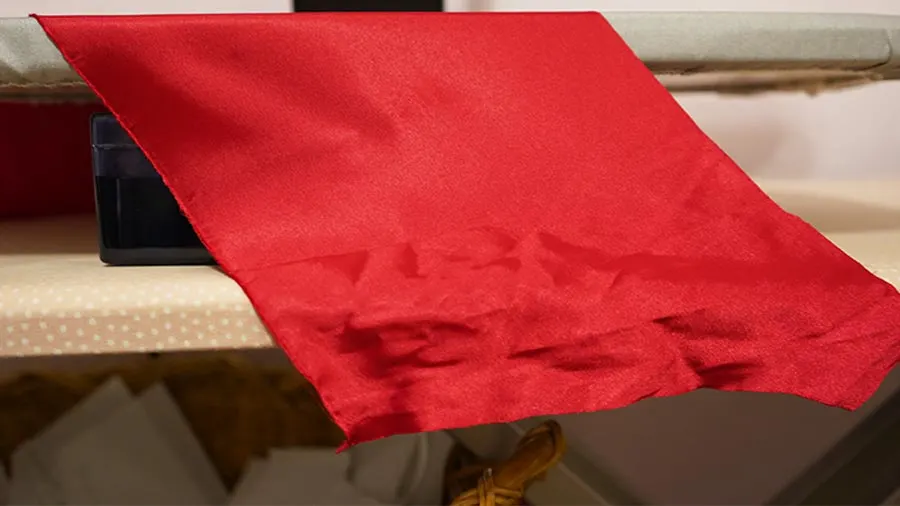 Metal pressing plate, steam holes
I found the upper metallic pressing plate easy to use and pleasant looking. It doesn't have the cool aspect of steel, even if it probably is, but it blends with the rest of the press nicely. The steam holes are adequate in number, placement, and size, and the amount of steam generated I found very satisfactory.
Does it work well?
In my opinion, the press works beautifully. I can press an entire garment on it, and I did, or a small p[iece of material (and I did that too). I can press silk (I didn't try nylon though, I am not really fond of artificial fabrics), and I can press linen, both very well. I can use steam, or not – both work well. The temperature control is clear, works well and it does what it promises. It creates crisp creases where necessary and a smooth surface where necessary.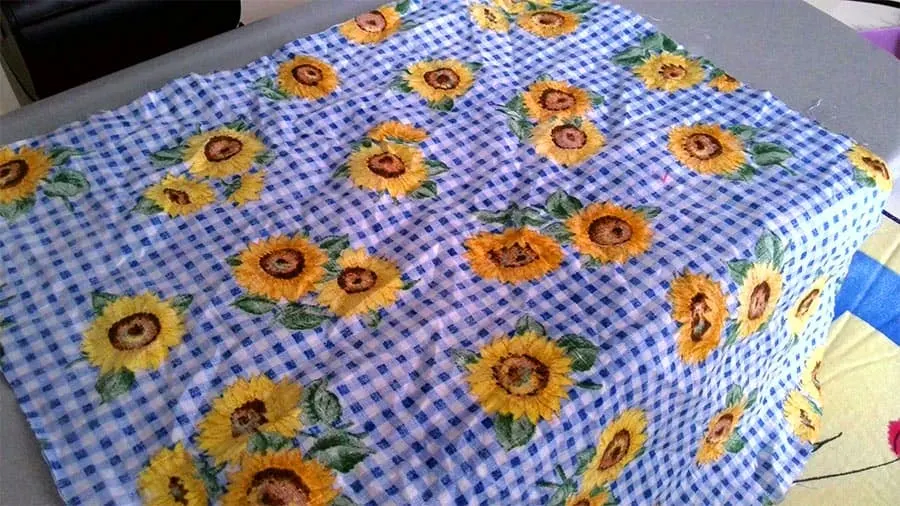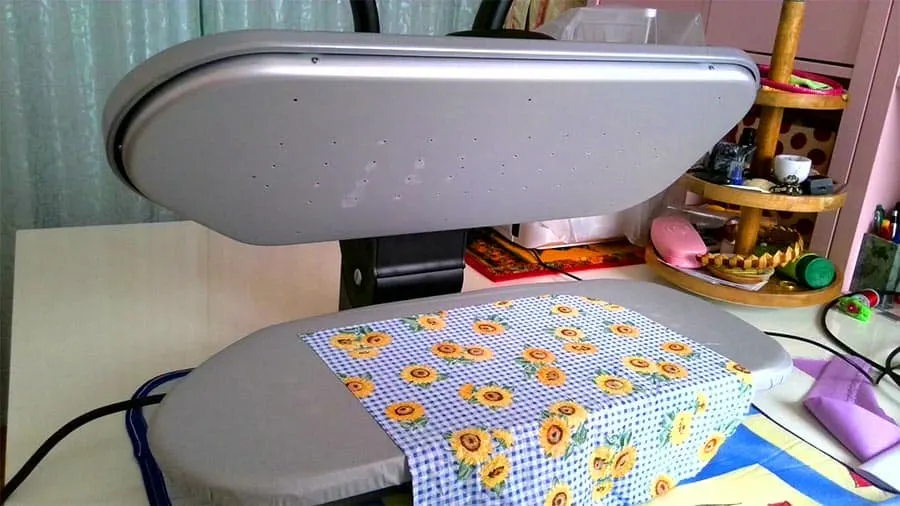 I like it.
Stand
I fully recommend, if you have the space in your sewing room, get a stand for it. Or have your husband or significant other leave the remote on the table for one day and build a stand, or go to IKEA and get a small table that can act as a stand. The press is not light so it's not easy to move, especially when the tank is full of water, and I can guarantee that if you buy one, you will want to keep it handy to use. I know I do.
Will it last? Who knows? I promise to review the article after I use it for a longer time, a couple of weeks is not yet long enough to assess reliability.
What I don't like about the steam press
There are two things I don't like about the steam press:
It doesn't come with an assistant and I still have to work myself
It doesn't have a "minimize" button to store itself out of the way and it takes space in my sewing room, space that I could fill with other stuff!
Seriously now, I really liked the steam press and I hope it will serve me for a long time. How could I have ever lived without it?
How to take care of a steam press machine?
How should I clean my steam press?
Periodically clean the water tank.
Clean the metallic surfaces before use, they may have rust or other stains (glue, for example) and may transfer these to the fabric.
Clean or wash the fabric that covers the ironing board.
I recommend using distilled water in a steam press; however, if you do not, in time you will have deposits on the upper plate and (not visible) inside the machine. These can be cleaned with a vinegar solution, but beware: in time, vinegar will corrode the insides of the machine, so use it with care.
Some final notes about the steam bursts
The press will not generate steam until the press heats to 145°C therefore in order for the press to BEGIN to generate steam you need to set it at "wool" level or higher.
When the temperature reaches 145°C the steam function is activated and you can both select the mode (auto or manual steam) and start using it.
The steam function will remain active until the press temperature goes down below 135°C. Yes, it starts to work at 145°C but it's deactivated only after the temperature goes below 135°C.
So if you want to press silk with steam, you will need to set the press to "wool", wait for the steam to be activated, then set the press to "silk" (the temperature will start to drop now slightly) , and then use the press. A temperature setting of 140°C for pressing silk is perfectly ok, it works well and is not bad for the material.
Did you find this review helpful? If so, save this pin (see below) on your sewing board so you can come to this article later when you are ready to try using a steam press, and follow me on Pinterest for more tips, tutorials, and inspiration!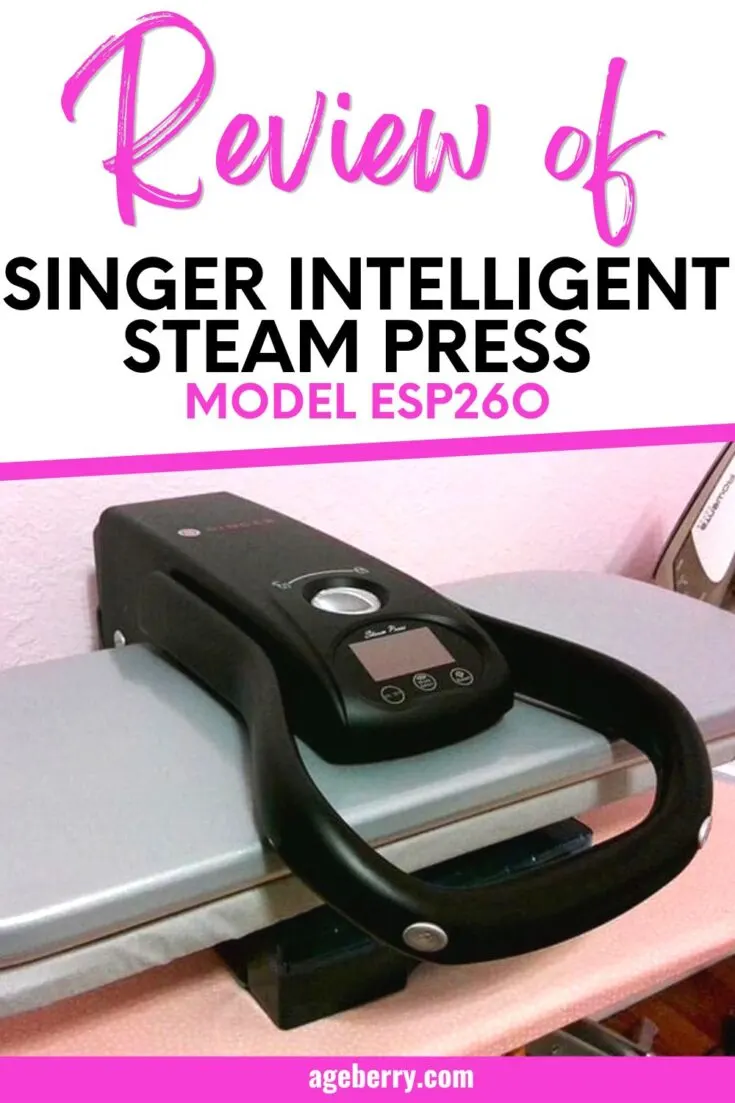 ---