If you don't have a mini iron for sewing to help with your intricate and small area work, maybe it's time to consider purchasing one. Here's what you need to know about mini irons and which models are the top options on the market.
Pressing your work is an essential part of almost any sewing, patchwork, quilting, or applique project.
Using a regular iron can sometimes be all you need. However, there are times when you need more control over what you're doing. A regular full-size iron just can't provide that, so you need a mini iron.
Note: Some of the links on this page are affiliate links. This means I will receive a commission if you order a product through one of my links. I only recommend products I believe in and use myself.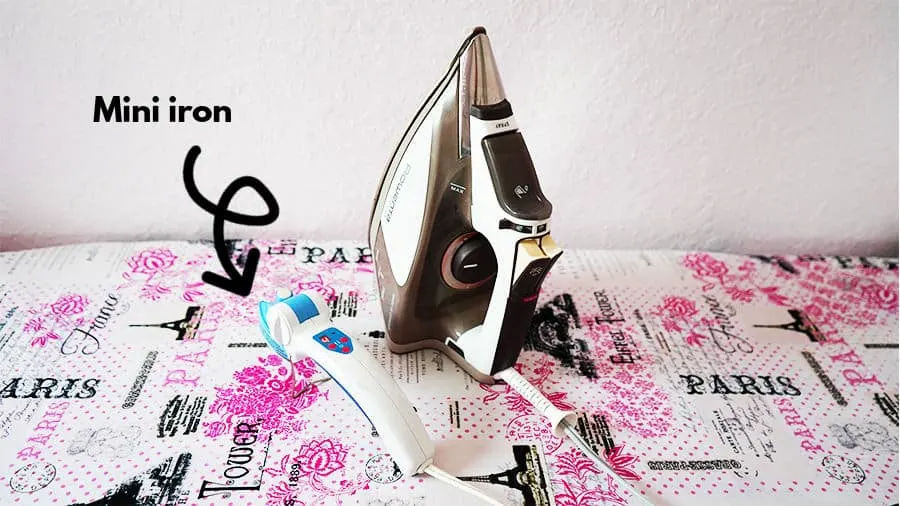 What Is A Mini Iron?
There are many, many different types of irons available to purchase, but not all irons are created equal. An everyday iron that you would use to iron your blouses might not work for your small sewing projects.
So what is a mini iron? Well, as the name implies, a mini iron is just that – a compact version perfect for traveling or using on small sewing, applique, and quilting projects.
Why Do We Need Mini Irons?
Pressing for sewing purposes is more than getting out wrinkles. It builds structure and shape into your projects and often more precision is needed than a standard iron can provide. In that case, you'll need a small iron.
Can you just use your regular iron? Absolutely. For most things, your regular iron can work wonders. However, there will be times when you find that having a more compact version would be extremely helpful.
I use regular iron for ironing my fabrics and large projects. I prefer to use my mini iron when pressing small seams open, sewing small projects, or working with intricate designs (like hats or small bags).
The main reason I bought a mini iron is to press seams open in my small quilting pieces. I have Dritz mini iron and it gets enough heat for quilting cotton. It's great that I don't have to get out an ironing board to use this little thing. I usually use the mini iron on a table right next to my sewing machine and press open seams without getting up to go to my big ironing board.
The mini iron is great to use when pressing small seams open because I don't burn my fingers holding the seams. It's much easier to do with the mini iron than with my full-size iron.
I like to use the mini iron for pressing around buttons and buttonholes. This is a really annoying part of ironing with big iron.
So, if you like to do patchwork, applique, or other projects that have a smaller surface area, you'll want a mini iron with a smaller tip that you can use to get into those small areas.
✅ Related Post: Pressing Tools I Use for Sewing
Features To Look For In A Mini Iron
Most small irons have similar features to regular irons, however, here are some you may want to consider as you look to purchase a mini iron.
Temperature Settings
Good temperature control and variety are essential when it comes to sewing. You'll work with different fabrics, each requiring different temperature settings. A one-size-fits-all approach won't work, so look for a mini iron that allows you to control the heat settings.
Steam Function
Here's another important feature, and shockingly one that many small irons don't have. There will be times when you need to use a little steam on your project to help press it the way you want it. Save yourself the aggravation and look for a good steam function.
Usability
Pay attention to the shape of the iron and where the controls are. Here are a few things to keep in mind.
Where Are The Controls?
Where are the controls and how are they positioned? Would you be able to use them when you're working with the iron?
Is The Design Comfortable?
Is the mini iron lightweight? Is the handle comfortable that you can use, grip, and control the iron easily? If you have any joint issues, is the design such that it won't aggravate your joints?
✅ Related Post: Basic Sewing Tools: Iron Buying Guide
Price Of Mini Irons
If you were to explore the price of mini irons on Amazon, you would find options ranging from about $13 all the way up to about $50. Be sure to check out the features that are important to you as well as the reviews from people who have purchased models that interest you.
The Best Brands Of Mini Irons For Your Sewing Projects
When shopping for a small iron, you want to find the best mini iron, right? It's important to know a little about the brands that are available and the options they provide.
I've done some of the research for you to get you started, but you'll ultimately have to choose a small iron that best fits your needs.
About each iron below – why is it good? Why do customers like it? What problems do people have with this iron?
Here's a quick review of the most common models of small irons.
The Steamfast is one of the most popular small irons you can buy (4.5 stars with more than 10K ratings), and it's no wonder why. It's a well-designed, very portable, reliable unit.
The model I tested was replaced by a newer one, the Steamfast SF-710 which has a slightly lower user frating (4.3 out of 5, 1700+ ratings).
Pros
3 temperature settings
Steam function with a 1.4-ounce water tank
420 watts
7.5-foot long cord
Dual voltage (so you can use it anywhere around the world)
Includes a travel bag
No auto-shutoff so it is always hot when you want it
2-year hassle-free warranty
Cons
Not as powerful as some other models
✅ Read reviews of Steamfast mini iron here
Oliso mini iron is compact, powerful, and easy to use.
Pros
Multiple temperature settings
Steam function
1,000 watts
8-foot cord
Dual voltage (so you can use it anywhere around the world)
180-degree pivot cord so it's great for right-handed and left-handed users
No auto-shutoff so it's always hot when you want it
3-year limited warranty
Cons
One of the most expensive models
It doesn't have a handle, you have to place your hand on top of the iron
✅ Read reviews of Oliso mini iron here
The design of the Clover mini iron is significantly different from the previous irons I have shown you. Shaped more like a screwdriver than a traditional iron, this design will work well for some and not work at all for other people. However, its shape does work exceptionally well for very intricate projects.
Pros
Inexpensive
8-foot cord
Interchangeable heads to use with different projects
Includes an iron stand
Cons
Only comes in 120 volts (can only be used in the US)
20 watts
Low and high settings only (no medium)
No steam function
✅ Read reviews of Clover mini iron here
The design of the Dritz petite mini iron is almost a cross between the Steamfast and the Clover. It heats up quickly and works well for pressing seams and other small intricate work.
Pros
Four-position adjustable head
Comfortable ergonomic handle
Flip down stand when not in use
Compact and lightweight
Four temperature settings
Digital control pad
Heats quickly
Cons
One of the most expensive models
No steam function
✅ Read reviews of Dritz Petite mini iron here
What Can You Use If You Don't Have A Mini Iron?
Ok, so what do you do if you don't have a mini iron?
Here are a few options:
You can finger press seams. To do this, all you have to do is press with your fingernail along the seam. It works really well for small seams (on the straight grain or cross-grain) but can distort seams if not done correctly, so I don't recommend it for longer seams.
Use a seam presser. If you do enough finger pressing, your fingers can tend to get really sore. That's when the Clover Seam Presser comes in handy. The thick plastic is sturdy and also has the added benefit of keeping any dirt or oil from your fingers from transferring to your fabric so it stays nice and clean. Prefer wood to plastic? Check out these options from Etsy.
Another option is to use a seam roller, like a Clover Roll & Press. This is a convenient way to press seams right at your sewing machine. Since the wheel is tapered to put pressure directly on the seam, it won't distort your fabric as you press.
While these options definitely work (especially in a pinch), if you do lots of sewing projects that involve pressing seams or have small details, nothing works as well as a small iron does to get the job done.
While there are a few options to assist you with pressing seams without a small iron, if you sew often it's worth investing in a good mini iron. Doing so will make your projects easier and safer.
Thankfully, there are many excellent options out there. Just make sure to decide which features you want and compare models (and prices) before committing to a model so that you get exactly what you want.
I hope that this post helps guide you toward a mini iron that you love!
Did you find this guide helpful? If so, save this pin (see below) on your sewing board so you can come to this tutorial later when you are ready to buy a mini iron for sewing, and follow me on Pinterest for more tips, tutorials, and inspiration!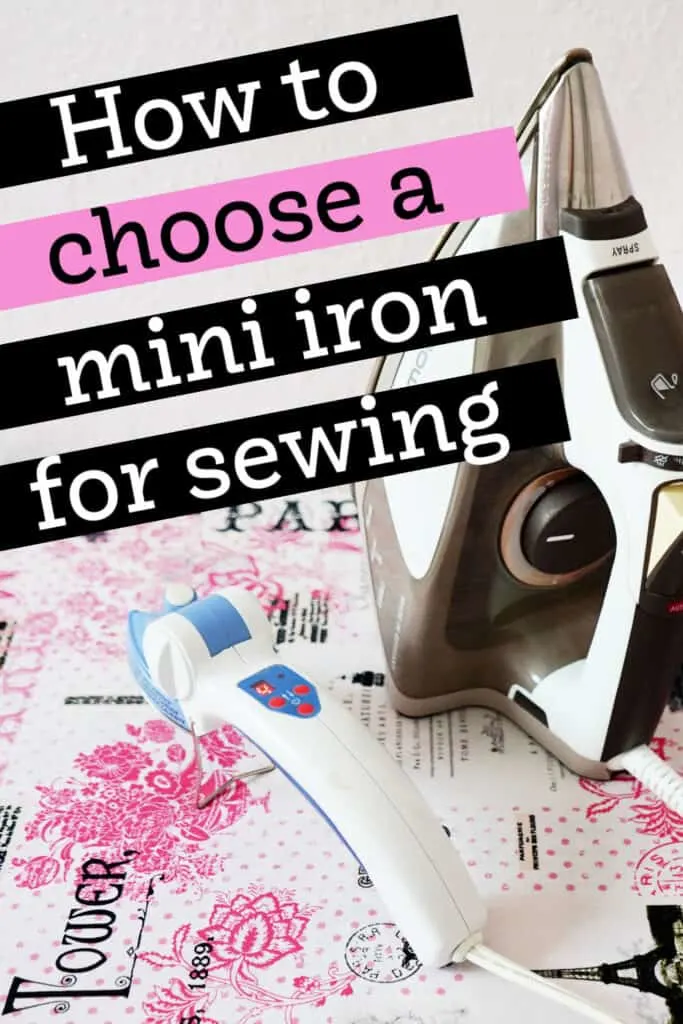 ---