Some sewists may scoff at it, but the truth is that fabric glue can be a great alternative to needle and thread for a quick and easy way to adhere items to material or "sew" pieces of fabric together. I always keep a box with different fabric glues in my sewing room. I often use it for leather and vinyl projects, attaching trims and embellishments, basting quilts, and even for securing serger thread ends.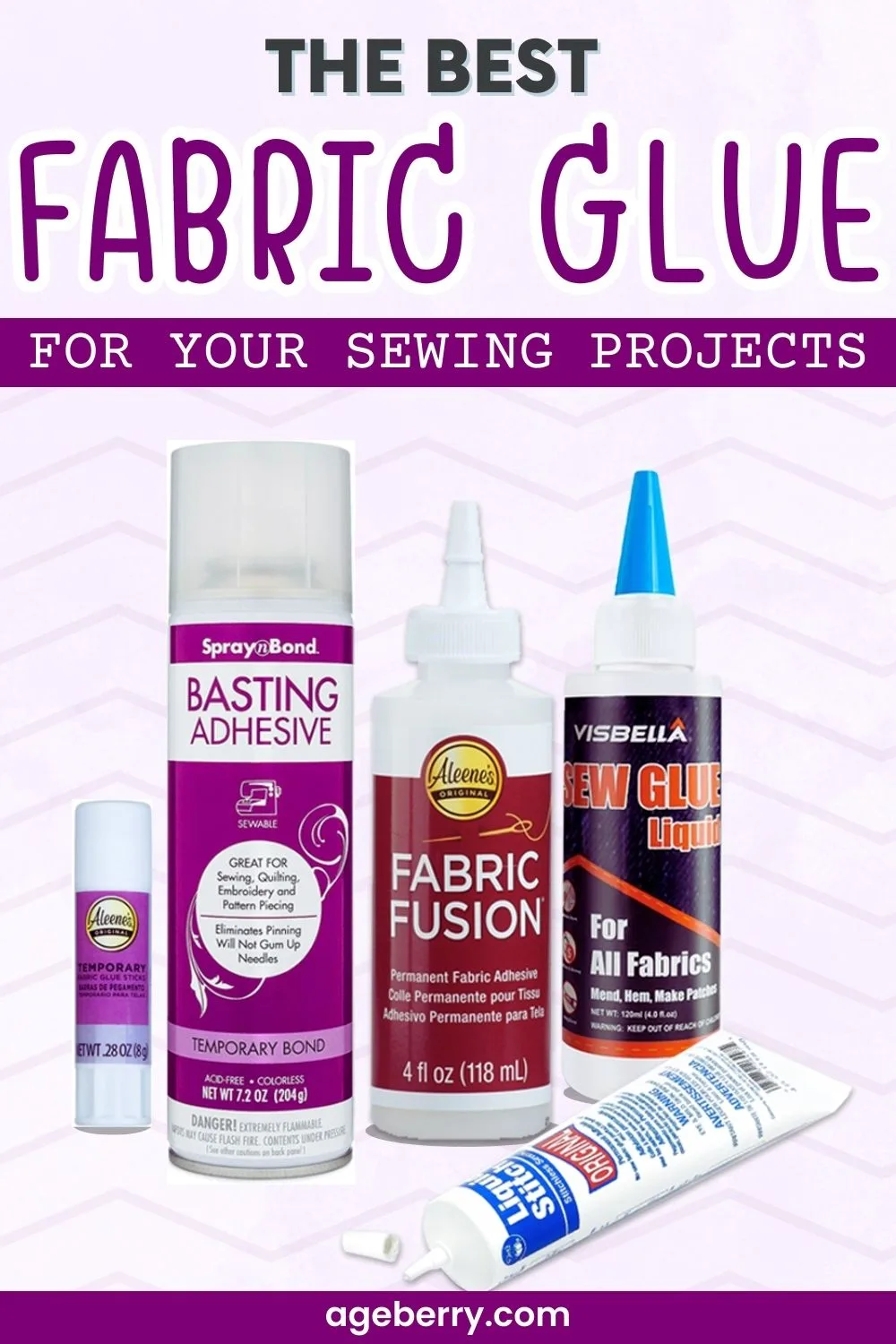 But, the sheer amount of available fabric glues can be staggering! Here are the best fabric glue options on the market now, plus why (and when) you should use it.
What Is Fabric Glue?
Fabric glue is exactly what it sounds like: something that adheres material together as an alternative to sewing. The concept is similar to adhesive hemming tape but with a liquid or gel adhesive instead.
Somewhat different from everyday crafting glue, fabric glue is specially designed to be used with fabric (vs. paper or other crafting surfaces). It's also developed to properly bond and hold fabric together or adhere items (such as patches) to the material.
Fabric glue can come in a variety of forms, including liquid, spray, and glue sticks.
Why Use Fabric Glue?
Although many experienced sewists view fabric glue as an inferior bonding method, there are actually many benefits to using fabric glue for all sewists!
Here are just a few reasons to have fabric glue in your sewing toolbox.
Makes repairing materials quick and convenient (think: quick patch application on clothes!).
Great for beginners.
Requires no needle, thread, or sewing machine to repair or complete a fabric craft project.
Can create a temporary or permanent bond, depending on the type of fabric glue you use.
Durable and washable.
Helps secure items to a garment while sewing (like pockets) to prevent shifting out of place.
Makes attaching decorative elements faster and easier, like ribbons, gems and rhinestones.
Offers greater flexibility – fabric glue can usually move and bend with fabric, unlike crafting glue.
Here's some information about the pros of using fabric glue for sewing projects.
Speed: Fabric glue can be a much faster method of attaching fabrics together than sewing. There is no need to set up a sewing machine, measure and cut thread, or carefully sew each stitch. Fabric glue can be applied quickly and easily, making it a great option for quick fixes or small projects.
Ease of Use: Sewing can be a difficult and time-consuming skill to master, but fabric glue is much easier to use. It requires no special skills or training, and can be used by anyone regardless of their sewing experience.
Precision: Fabric glue can be applied precisely to specific areas, ensuring that the materials are attached exactly where desired. This can be especially useful for attaching small embellishments or details to a larger fabric project.
Versatility: Fabric glue can be used to attach a wide variety of materials to fabric, including non-porous materials like metal, wood, plastics, and ceramics. This makes it a great tool for a variety of crafting projects beyond just sewing.
Durability: Fabric glue can create strong bonds that can last a long time without being affected by humidity or outside weather conditions. This makes it a reliable option for attaching fabrics together.
But there are also some cons.
Limited Durability: While fabric glue can provide a strong bond between fabrics, it may not hold up as well over time as a sewn seam. The glue can break down over time, especially if exposed to heat or moisture, which can cause the fabric to come apart.
Limited Flexibility: Fabric glue can be stiff and inflexible, which can be problematic if you're working with a fabric that needs to be able to move or stretch. This can be especially problematic if you're using fabric glue to attach pieces of fabric that will be worn or used frequently, as the glue can crack or break under stress.
Limited Precision: While fabric glue can be great for attaching fabric to other materials, it can be difficult to apply precisely to very small or intricate areas. This can make it challenging to use for more complex sewing projects.
Limited Reversibility: Once fabric glue has been applied, it can be difficult (if not impossible) to remove without damaging the fabric. This can make it challenging to correct mistakes or make adjustments to a project once the glue has been applied.
Overall, while fabric glue can be a convenient tool for certain sewing projects that require a quick, easy, and precise method of attaching fabrics together, it may not be the best choice for all situations. It's important to weigh the pros and cons of using fabric glue versus sewing before deciding which method to use for your project.
Note: Some of the links on this page are affiliate links. This means I will receive a commission if you order a product through one of my links. I only recommend products I believe in and use myself.
Types Of Fabric Glue
Have you found yourself looking at the options for fabric glue and scratching your head in bewilderment over which one to choose?
Since different materials have different qualities (texture, weight, natural vs. synthetic, etc.), no "one size fits all" fabric glue works with every fabric or task. That's why so many options are currently available, and the number seems to be growing each day!
Here are some of the different types of fabric glue.
Permanent: This type of fabric glue creates a strong bond that is designed to last over time. It is ideal for projects that require a permanent hold, such as clothing repairs or some home decor projects.
Temporary: Temporary fabric glue is designed to create a bond that can be easily removed or repositioned. It is often used in sewing projects to hold fabric pieces together before they are sewn.
Spray Adhesive: Spray fabric glue is a convenient option that can be quickly and easily applied to fabric surfaces. It is often used in larger projects or in hard-to-reach areas.
Non-spray: Non-spray fabric glue is applied directly to the fabric surface using an applicator or brush. It is often used for smaller or more precise projects.
Water-based: Water-based fabric glue is a non-toxic option that is easy to clean up and safe for use around children and pets.
Toxic/Non-Toxic: Some fabric glues contain toxic chemicals that can be harmful to humans and the environment. Non-toxic options are available for those who prefer a safer and more eco-friendly option.
Waterproof: Waterproof fabric glue is designed to create a durable bond that can withstand exposure to water and moisture.
UV resistant: UV-resistant fabric glue is designed to hold up well in sunlight and other outdoor conditions.
Indoor/Outdoor: Some fabric glues are designed specifically for indoor or outdoor use, depending on the project and the environment in which it will be used.
Overall, there are many different types of fabric glue available, each with its own unique set of features and benefits. When choosing a fabric glue, consider the specific needs of the project and select the best option accordingly.
That being said, if you want one to start with, my favorite all-around fabric glue is – Beacon Fabri-Tac.
Beacon Fabri-Tac is a premium quality fabric glue that is specifically designed for use with fabric. It is a clear, water-based adhesive that dries quickly and remains flexible once dry.
One of the key features of Fabri-Tac is that it won't soak into fabrics, which can cause discoloration or damage to the fabric. Instead, it creates a strong, permanent bond on the surface of the fabric. This makes it a great option for attaching embellishments like rhinestones, sequins, ribbons, or beads to fabric.
Another benefit of Fabri-Tac is that it is easy to use. The glue comes in a bottle with a precision tip that allows for precise application of the glue. It can be applied directly to the fabric or to the back of embellishments, and then pressed firmly into place. Once applied, the glue dries quickly and remains flexible, which allows the fabric to move and stretch without the glue cracking or breaking.
Fabri-Tac can be used on a variety of fabrics, including cotton, denim, leather, and more. It can also be used on non-fabric materials like wood, metal, and plastic, making it a great all-purpose adhesive for a variety of crafting projects.
I hope you'll try it because I feel confident it will work well for you, too.
However, when it comes to getting certain projects done, it's necessary to have the right "tool for the job." So below, I'm sharing my other go-to fabric glues based on the task you're trying to accomplish.
Best Fabric Glue For Attaching Rhinestones To Fabric
Rhinestones typically already have an adhesive on the back, and you use a special tool to attach them to the fabric. However, if you pick up some rhinestones that don't have adhesive, you can use fabric glue to attach them to your material.
My favorite glue for this purpose is B-7000 Glue Clear for Rhinestones.
Why I like this glue: It's a flexible jewelry glue that is clear, durable, waterproof, and can stretch without breaking. This glue is specifically designed for fabric and is strong enough to hold rhinestones in place without damaging the fabric.
When applied correctly, fabric glue can hold rhinestones in place for a long time, even through multiple washings and wearings. This is especially important if you're attaching rhinestones to clothing or other items that will be used frequently.
Pros: While fabric glue can be great for attaching fabric to other materials, it can be difficult to apply precisely to small or intricate areas. This can make it challenging to use for rhinestones. B-7000 glue has a needle top tip that offers precise application, and the pin in the cap prevents the glue from drying out.
Cons: It does have a strong odor that may bother some people.
How to Use it: Simply apply fabric glue evenly to the surfaces and press the pieces together. Wait 24 hours or more for the adhesive to cure fully.:
Fabric Glue For Adhering Patches
Similar to rhinestones, some patches already have adhesive applied to the back (that activates when you iron it on), while others don't. If you buy patches that don't have adhesive or make your own patches, you can just use fabric glue to apply them to the material.
I've tried both, and I've had better, long-lasting results when I have glued patches into place with glue instead of ironing them into place.
When choosing the best fabric glue for patches, there are a few things to consider. Look for glue that dries clear and won't leave any residue on the fabric. Additionally, the glue should be easy to apply and have a strong hold that can withstand frequent use.
I like to use Original Gutermann HT2 fabric glue for patches.
Why I like this glue:This glue is a high-quality adhesive that is designed specifically for use with fabrics and is ideal for attaching patches to clothing, bags, and other fabric items.
The Original Gutermann HT2 fabric glue is a clear, solvent-based adhesive that is easy to apply and dries quickly. It is also very strong, making it a great choice for attaching patches to fabrics that will be washed or worn frequently. The glue is also resistant to heat and cold, making it suitable for use in a variety of different environments.
Pros: Once cured, it has a strong bond that won't fail. The fabric is washable to 40° C.
It can be used to attach patches to a wide range of different fabrics, including cotton, denim, leather, and more. It is also suitable for use with a variety of different patch types, including embroidered, woven, and printed patches
Cons: It is more expensive than some options and can be challenging to find (I recommend buying it on Amazon).
How to use it: Simply apply small dabs of this glue evenly to the back of the patch and place it where you want it. Use something to maintain pressure on the material so that it stays in place while the glue dries, and leave it alone for 24-48 hours to fully cure.
Nayrmaer's Fabric Glue is another option that is definitely worth considering for patches.
Why I like this glue: Fabric glue for patches is perfect for all fabrics - cotton, flannel, denim, leather, polyester, nylon, and other materials.
Pros: t's high performance glue that outperforms silicone, acrylics, and rubber cements. It has a built-in tip with a precision open needle top for pinpoint application. Easy to use and dries clear and waterproof.
Cons: Has a scent when it dries. Takes 24 hours to dry completely.
Top Upholstery Fabric Glue
Upholstery takes a beating and involves a lot of wear and tear, so you need a strong fabric glue that forms a permanent bond. Gorilla Waterproof Fabric Glue is the toughest there is, and it's perfect for fixing that unsightly tear in the couch cushion.
Why I like this glue:Gorilla Glue has a well-established reputation for forming a strong, permanent bond. Every time I have used Gorilla Glue, I've been impressed with the results.
Pros: This glue is clear, sets quickly, and forms a durable and flexible bond that withstands wear and tear.
Cons: If you use too much, it can be stiff and scratchy when dry.
How to use it: Apply small dabs of Gorilla Glue evenly to the surfaces you w
Applique Glues
This ornamental technique uses pieces of fabric ( in combination with thread) to create different patterns and shapes, usually on garments and home decor items. Depending on the design, applique can look more like patches grouped together into shapes than other decorative techniques, like embroidery.
Sewing applique designs into place can be time-consuming, so sometimes fusible interfacing can make it easier and faster. However, if you want to use glue instead, I think the best fabric glue for applique is Aleene's Fabric Fusion Permanent Fabric Adhesive.
Why I like this glue: This versatile glue works with many different fabrics to quickly create a strong, flexible, and washable bond. If you want an even faster bond, you can apply heat (but it's still safe to put into the dryer once dry)!
Pros: It's affordable, works well on a variety of surfaces, and has a strong yet flexible bond that's machine and dry-clean washable in just 30 minutes.
Cons: This glue is expensive and doesn't form a bond that's as strong without heat.
How to use it: Use the notched cap to apply Aleene's Fabric Fusion sparingly to the back of your applique and then place it where you want it. Hold it there for several seconds to ensure you like the placement and the applique stays where you put it to dry.
If you try to release pressure and the applique separates from the garment, continue pressing until it dries (up to 5 minutes).
I also highly recommend the Visbella Fabric Glue for anyone looking for a quick and easy solution to attach applique, and also repair tears, create costumes, and make DIY decorations.
Why I like this glue: Visbella Fabric Glue is easy to use and perfect for attaching appliques, and repairing tears in clothes. The glue dries clear and remains soft and flexible.
Pros: The glue is safe, acid-free, and non-toxic, making it perfect for families and DIY enthusiasts. The large capacity of the glue makes it cost-effective. The glue is washable and dryable.
Cons: It takes longer than a minute to set, so patience is required when using it. Be careful not to use too much glue, or it could leave a stain. The glue may not work well on thicker fabrics.
Glues For Embroidery
This decorative stitching involves using colorful thread to create ornamental and often delicate designs on clothing and other items (such as purses). Embroidery stitching can be done by hand or machine but can take significant time to complete.
It can be difficult to repair if a thread snaps or comes loose. When working with (or repairing) this decorative stitching, I find that Dritz Original Liquid Stitch is the best fabric glue for repairing embroidery.
Why I like this glue: It goes on white (to make it easy to see) and dries crystal clear with an ultra-strong and flexible bond.
Pros: The precision tip allows you to put dabs of adhesive exactly where you want them for a clean-looking hold that can be washed or dry-cleaned in 24 hours.
Cons: It's expensive, and you must apply it carefully to ensure you avoid using too much.
How to use it:Apply a small amount of Liquid Stitch to the threads you want to adhere to the material. Position them where you want them (you can peel them back and reposition them if necessary before it dries). Let the glue cure for 24 hours.
Glitter Glue For Fabrics
Glitter glue's purpose is to adorn rather than to repair. The benefit of glitter glue is that you can easily add eye-catching sparkles to costumes, banners, and other fabric crafts without the mess of spreading glitter over regular glue.
I like Neon Metallic Glue with Glitter to add some sparkle to my projects.
Why I like this glue: It adds a fun pop of color to any project where you want to work with glitter but don't want to deal with the hassle and the mess.
Pros: It saves time, is washable once it dries, bonds to most materials, and includes 12 colors: yellow, blue, green, purple, fuchsia, lime green, pink, orange, silver, red, light blue and gold.
Cons: It doesn't have a strong hold, so it's more for decorative purposes than fixing fabric tears. Although it can adhere fabrics together, don't expect the bond to be permanent.
How to use it: Apply a small amount of glitter glue to any material you want to decorate. Let it sit until dry (60 minutes to 24 hours, depending on how thick you apply it).
Best Spray Glue For Fabric
At first glance, spray fabric glue may sound like a quick and easy solution to all your fabric adhesion and repair needs. However, spray glues generally don't work well for fabric repairs because the wide spray leaves a thin layer of adhesive across a wide area rather than in a small, precise location.
If spray glue is all you have available, you can cover the areas you don't want to spray so that when you attach the fabric pieces, they only adhere where you want them to.
When using spray glue, it is important to follow the instructions carefully. Most spray glues are flammable, so it is important to use them in a well-ventilated area and away from any sources of heat or flame.
There are a few applications where spray fabric glue is the perfect tool for the task.
One of the most significant benefits of using spray glue for fabric is that it is quick and easy to apply. Unlike traditional adhesives, which can be messy and time-consuming, spray glue can be applied in seconds. Simply spray the glue onto the fabric and press the two surfaces together. This makes it an ideal choice for projects that require a lot of gluing, such as quilting.
Another advantage of using spray glue for fabric is that it can cover a large area quickly. Traditional adhesives often require multiple applications to cover a large surface area. With spray glue, you can cover a large area in seconds, which makes it an ideal choice for larger projects.
My favorite spray glue for fabric is SpraynBond Quilt Basting Adhesive Spray.
Why I like this glue: It forms a good temporary bond between the batting and the fabric when quilting so that you don't need to baste the quilt before you stitch. Unlike traditional adhesives, which can leave a residue on the fabric, spray glue dries clear and leaves no residue.
Pros: It can be a time-saver and washes out of the material well once you don't need it anymore.
Cons: Its hold is usually temporary, so you wouldn't want to use spray glue for a permanent repair. When spraying the glue onto the fabric, it can easily spread onto nearby surfaces such as tables and floors, leaving a sticky residue. This can be a hassle to clean up and may require additional time and effort.
How to use it:Spray the glue on the surfaces you want to adhere to, then press and hold them together so the glue can set for a few minutes before you begin stitching.
Fabric Glue Stick
Glue sticks are a convenient option for temporary, light adhesion. Holding hems in place while you sew them is a great way to use fabric glue sticks, for example. I have had good experiences with Aleene's Temporary Fabric Glue Sticks.
Why I like this glue:Glue sticks are simple to use and small enough to have on hand nearly anywhere, so they're convenient.
Pros: They're quick and easy to use, are clear and mess-free, and wash out without leaving any residue.
Cons: They only offer temporary hold. Plus, the bond often isn't strong enough to use with thicker or heavier materials.
How to use it:Glide the glue stick across the surfaces you want to adhere. Then press them together until the adhesive sets and stitch over the fabric. Once you finish stitching, you can wash the glue out of the material.
Because various crafting tasks have different adhesion needs, having a few types of fabric glue in your supplies is helpful. I hope this list of the best fabric glue options helps you find the right one for your project to deliver incredible final results.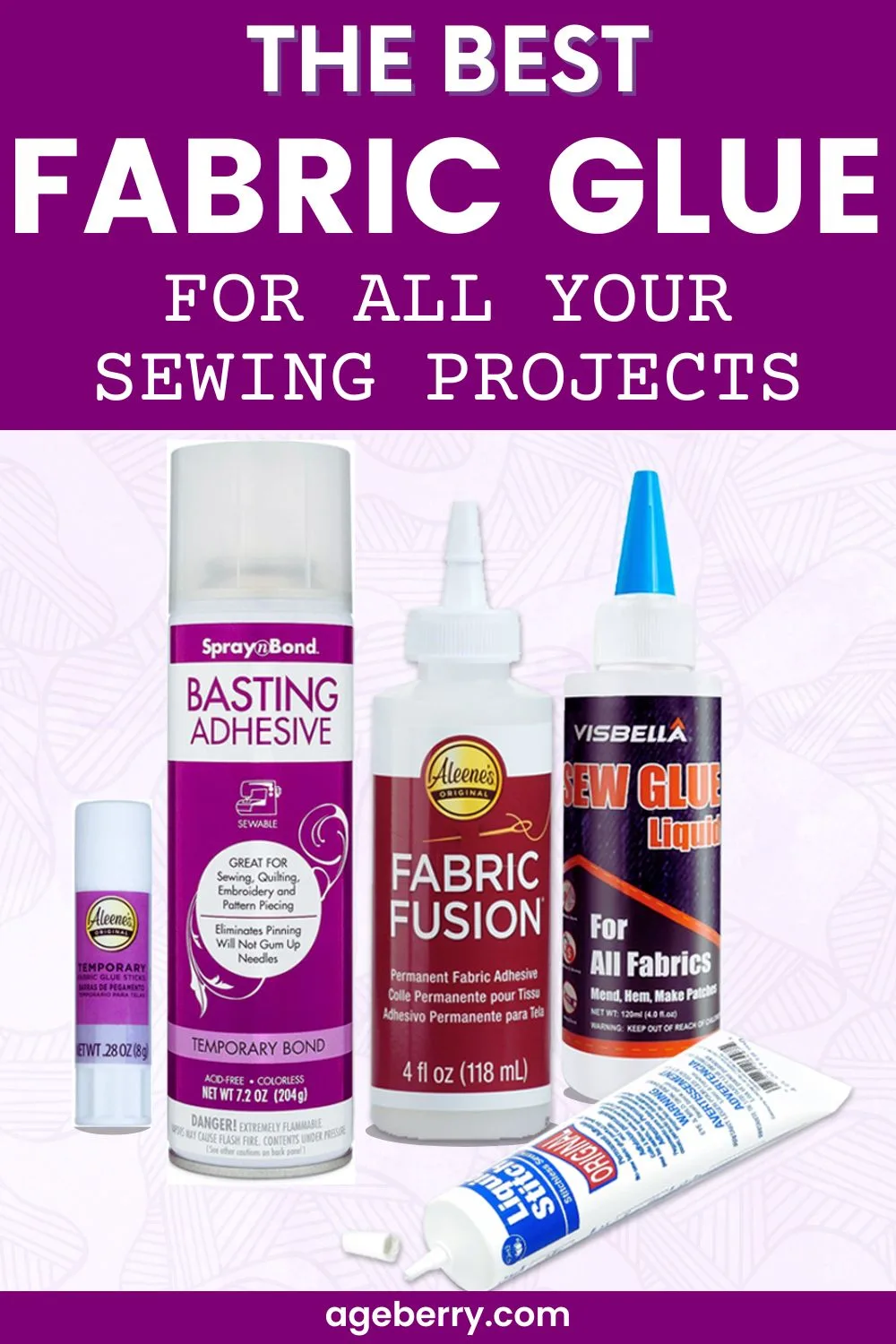 ---