I often get questions from my readers about the uses of silk fabric:
What can I sew with natural silk?
Is 100% silk fabric good for casual outfits or only for party dresses?
Which is the best silk fabric for dresses? Skirts?
Can I use silk fabric in interior design?
Can I make pajamas from silk fabric?
What types of silk are good to make a lining?
How do I choose silk fabric suitable for my project?
In this article, I will try to answer some of these questions.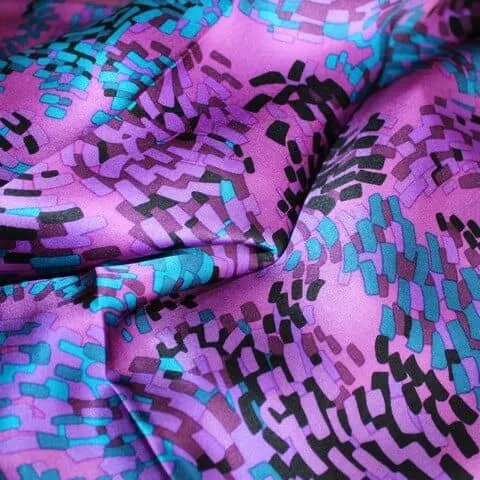 Note: Some of the links on this page are affiliate links. This means I will receive a commission if you order a product through one of my links. I only recommend products I believe in and use myself.
The uses of silk fabric are practically endless. Silk is suitable for every occasion, it is used to sew garments for everyday wear and clothes for the most significant events. Some silk fabrics keep the shape well and others drape perfectly, laying down soft folds. We can create a great variety of garments, differing in cut, style, occasion, and color.
✅ Related tutorial: Types of silk fabric

Fashion is extremely unpredictable, right? Things that were fashionable only a few years ago may be completely out of trend now. However, there are garments that withstand the test of time and maintain their popularity forever, and among such ageless classics are silk garments. And they come in all shapes and styles.

Photos from fashion podiums allow us to conclude that natural silk is consistently very popular among countless brands, from fast-fashion retailers to haute couture houses.
I have been sewing with silk fabric for a long time and I love to share what I have learned with you.
Everyday casual silk outfits, as a rule, are characterized by a laconic cut and the lack of a large number of decorative details. The material is beautiful in itself, so we don't want to overload the image.

The dress can be of solid plain color, but often unobtrusive prints are used. Printed silk fabrics with flowers, leaves, polka dots, diamonds, or geometrical motifs are better suited for simple and relaxed clothes comfortable for hot summer days.

But quite often we can't really put a clear border between casual and party dresses. A cute and stylish silk dress can be easily dressed up or down to suit whatever event you've got today.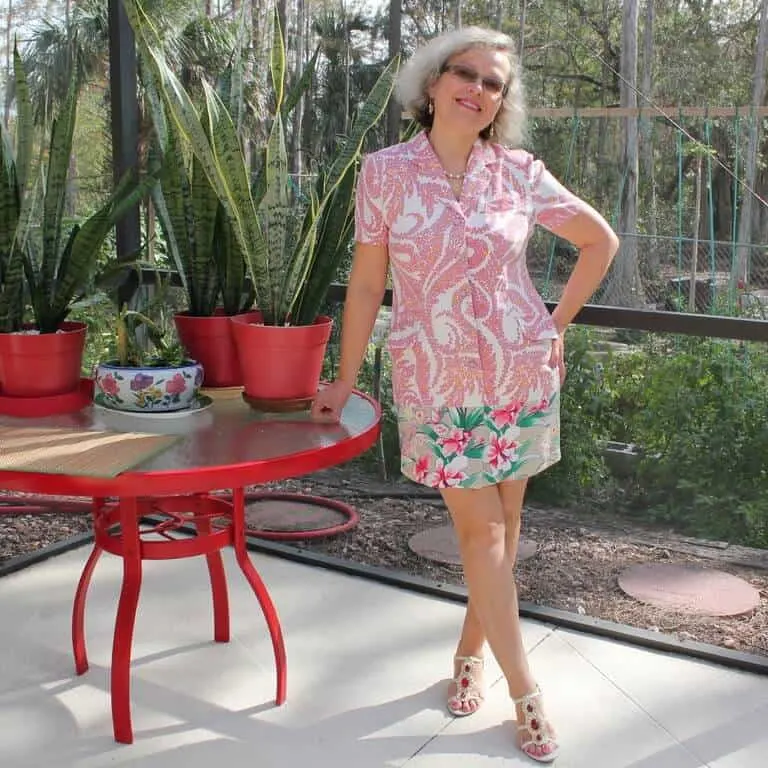 A tailored dress or blouse made of plain silk is appropriate for creating a business image. I guess we have to be a little conservative while sewing garments for business. In the business world, you are not a mom coming from gardening in your backyard but a successful businesswoman.

Do you want to make a statement about your business, or do you want to express your passion for pink flowers and blue polka dots? Printed silk fabrics, as well as silks with a high sheen, are too distracting for business attire.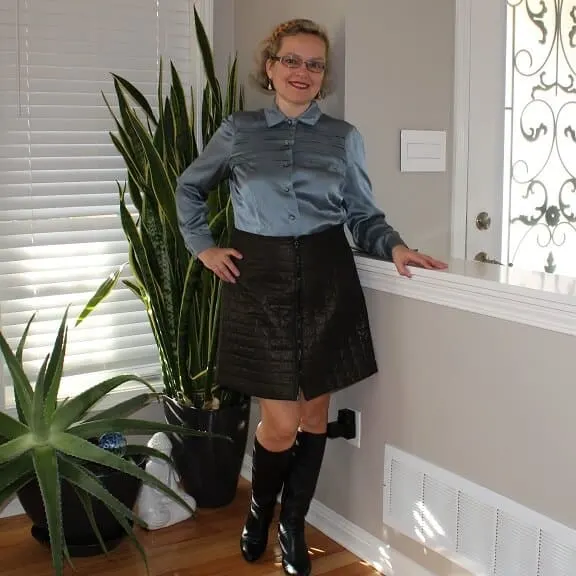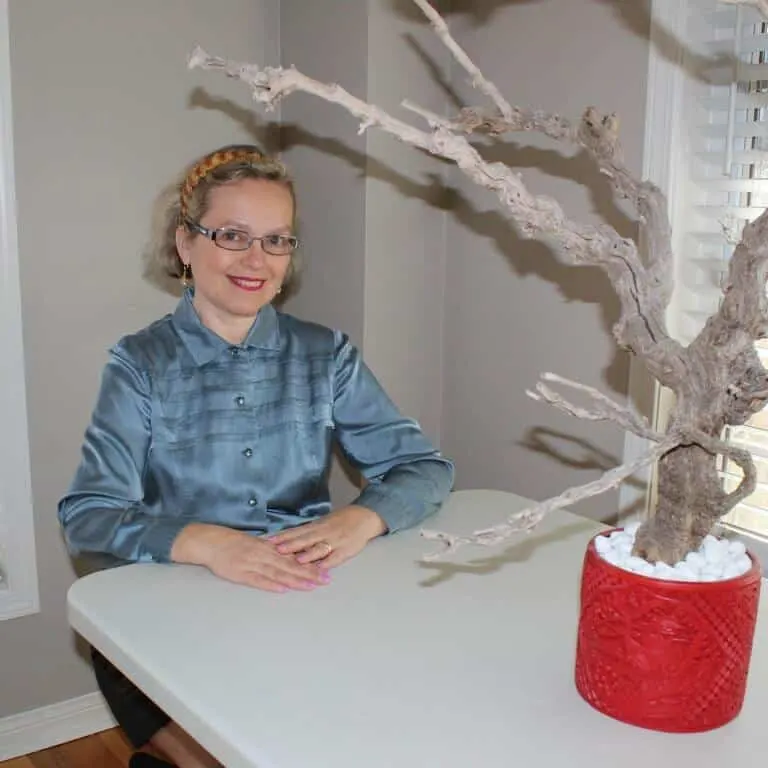 A cocktail dress which is usually a knee-length party dress worn at a cocktail party can be sewed from any kind of silk cloth. It is also an excellent choice for visiting a theater, an exhibition, an official reception, or a friendly party.

Usually, cocktail dresses shouldn't be too revealing and hemlines and necklines should be suitable for semi-formal to formal occasions.

Silk fabric for elegant and sleek cocktail dresses can have a printed pattern and always comes in a great variety of colors. For decor, we can use frills, jabots, beads, sequins, jewels, embroidery, and rhinestones.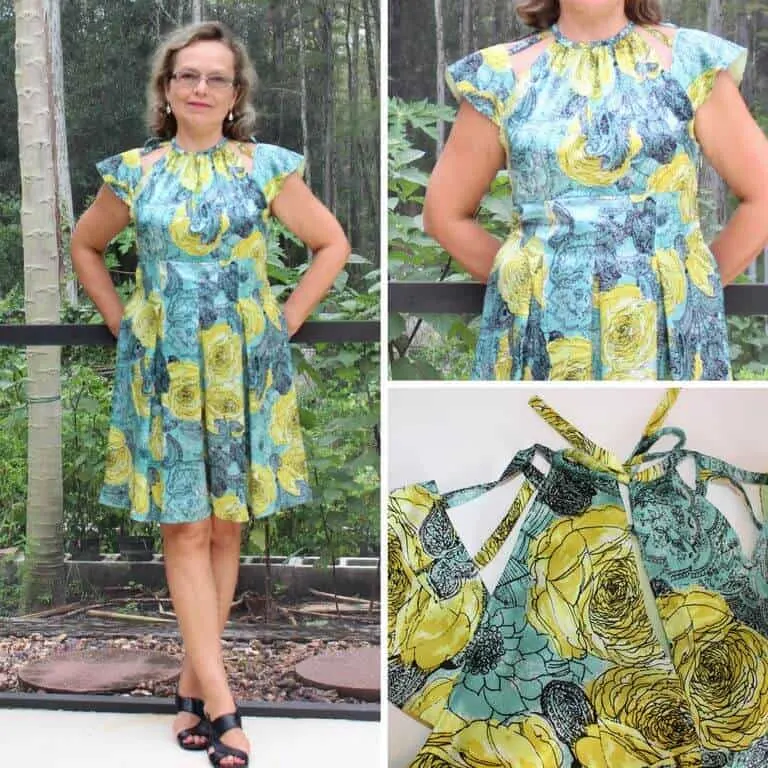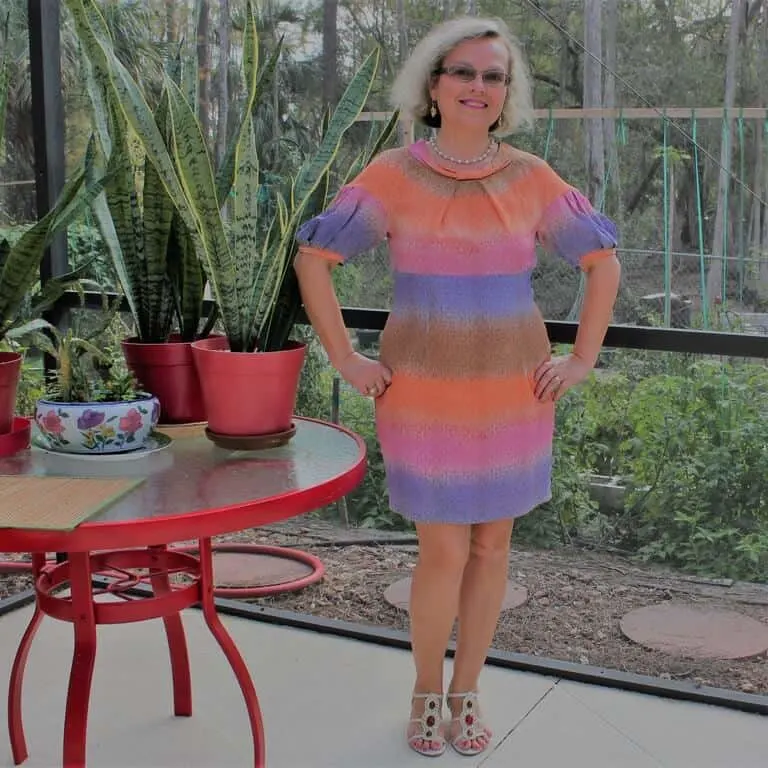 Luxurious silk fabric is always a popular choice for evening and wedding gowns – long flowing dresses appropriate for formal receptions. Evening dresses can have a corset top or a deep neckline, the straps are also very popular. For especially festive occasions, we can choose a dress with a small train.
Planning to sew a wedding dress? Buy gorgeous silk fabric ( and also notions and patterns! ) at www.amazon.com.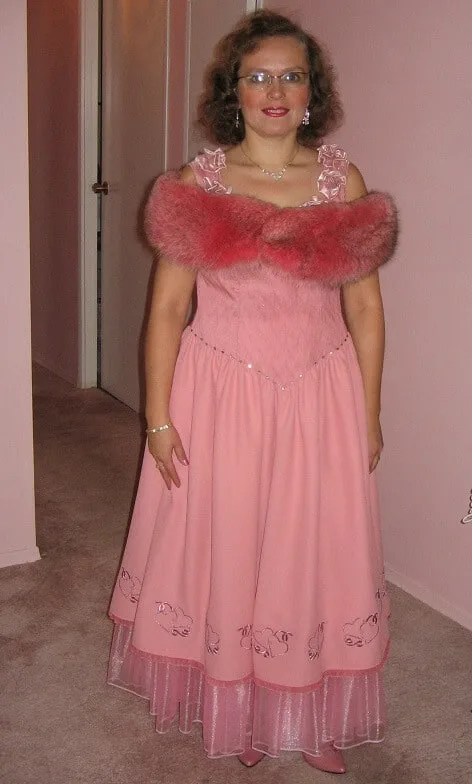 Silk fabric is also widely used for bedding and home decoration projects. DIY fabulous curtains, beautiful throw pillows, comfortable silk pillowcases and sheets, unique lamp shades, and even small blankets make fantastic living space accents.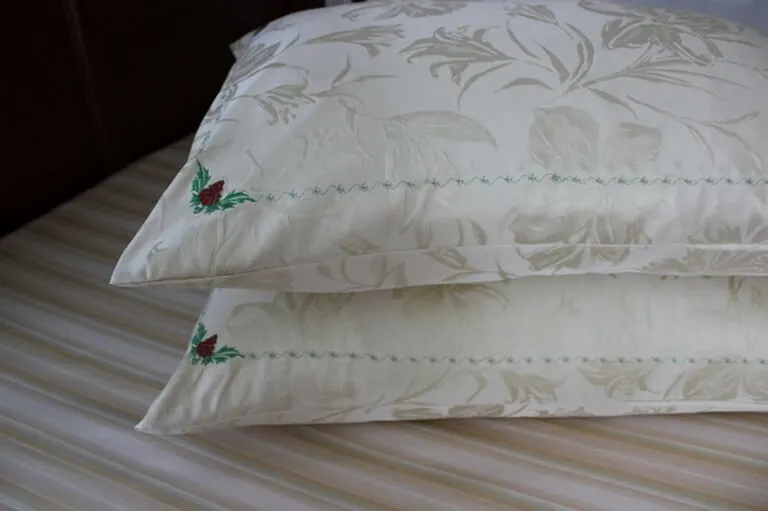 ✅ Related tutorial: DIY silk pillowcase
There are many different types of silk fabric and each of them has its own uses. Below are some guidelines on how to use all kinds of silk and what to sew from them.

But before actually using silk fabric you need to buy it, right? Do you know where you can buy 100% silk? I prefer online stores usually and one of them is www.amazon.com.
1. Silk Satin
It seems that silk satin is the most popular and widely used type of silk fabric. When we hear the word "silk" we imagine right away a very shiny and smooth material with a lustrous sheen, right? And there is a great variety of uses for silk satin which can be lightweight (and has even a special name – Charmeuse), medium weight, and even heavyweight (then it's called Duchess satin).
From medium-weight satin, we can sew sheets and pillowcases, and make beautiful throw pillow covers and window dressings. This fabric is very good for special occasion dresses, blouses, suits, and even light coats, it's also suitable for neckties. We can make straight and pencil skirts from medium-weight satin because it keeps shape well, but it is not quite suitable for full-circle, flared, and gathered skirts which can be better sewn from lightweight satin (charmeuse). Charmeuse drapes really well and because of this can be used to make many kinds of flowy dresses. Charmeuse is good also for blouses and shrugs, tunics, and kaftans, it's perfect for any kind of lingerie. We can make scarves and stoles from silk charmeuse and also neckties.
It can be also used for lining. Yes, it will be quite an expensive lining but if you are making a gorgeous pure wool coat, for example, you can afford a few yards of silk satin for the lining.
I also like to make fabric flowers from silk satin.
Both sides of the satin fabric (shiny and matte) can be used as a right side or you can combine them in one garment.
Satin combines with other types of silk and other fabrics as well and can be used for different embellishments. Sleeves, collars, belts, and bias strips sewn from satin make garments look stylish and unique.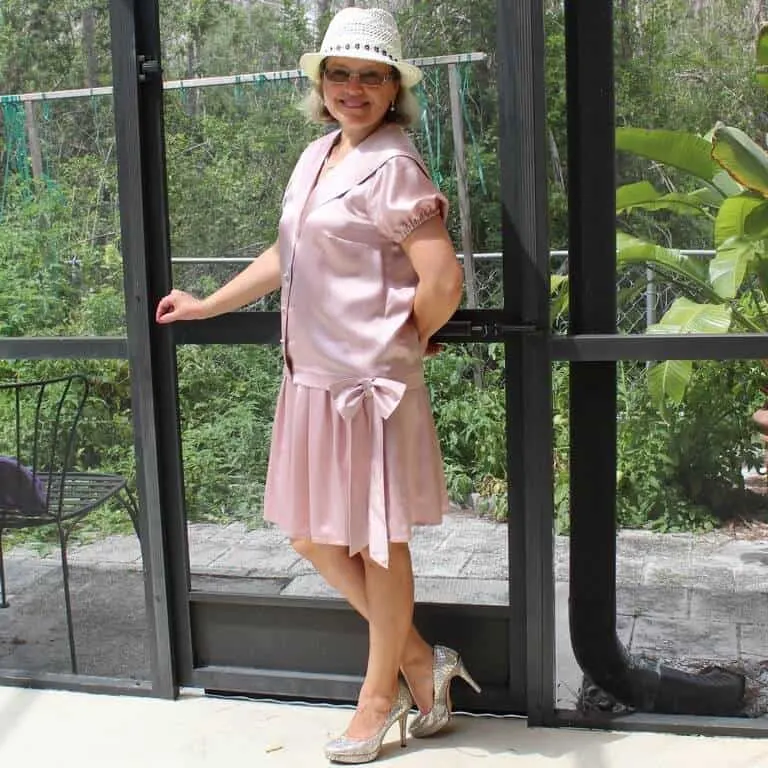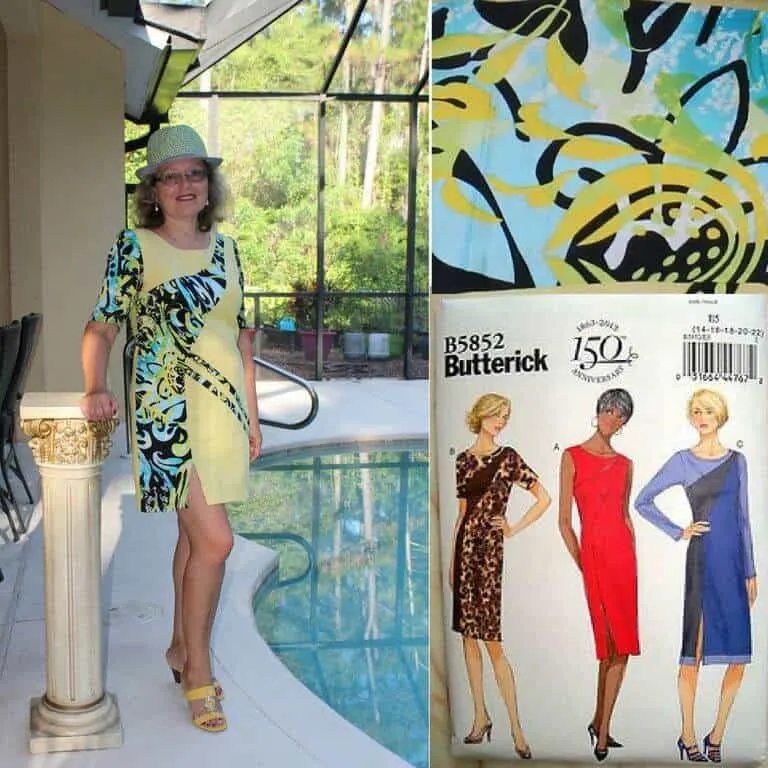 2. Silk Chiffon
Silk Chiffon is also a very popular silk fabric but its uses are a little bit different. Chiffon is sheer fabric so garments made from chiffon have to be lined most of the time unless it is sexy lingerie. Chiffon dresses and blouses are usually flowy and made with frills, flounces, gathers, and ruffles; chiffon drapes really well and doesn't keep the shape. Chiffon is widely used to make scarves and lingerie because it's a very soft fabric and pleasant for the skin. But you can't make beach covers from silk chiffon because every drop of water would leave a visible spot.
Silk chiffon is not easy to use and some sewing skills are required to handle it properly. If you plan to sew something from chiffon I strongly recommend not to use zippers for closures.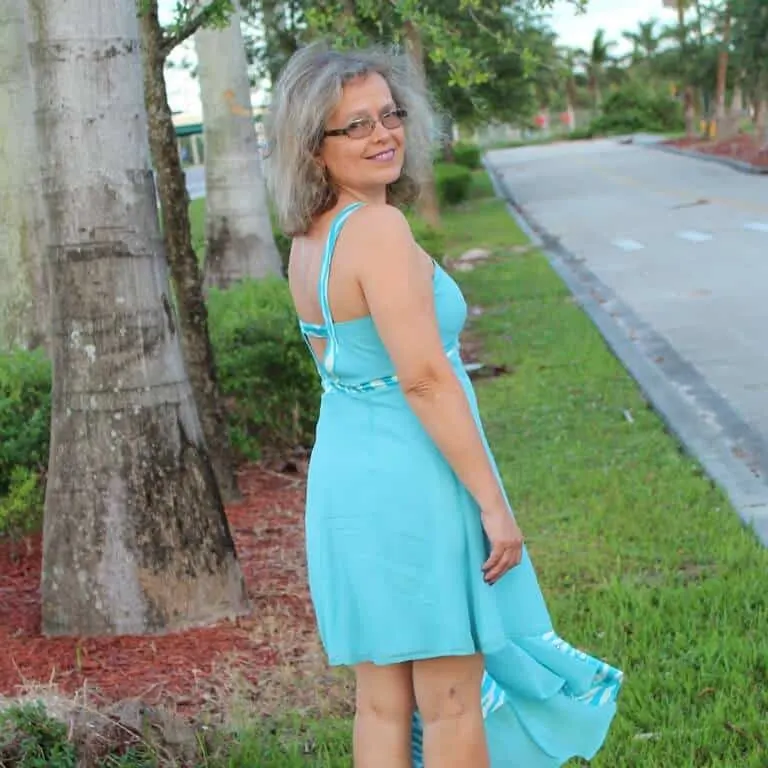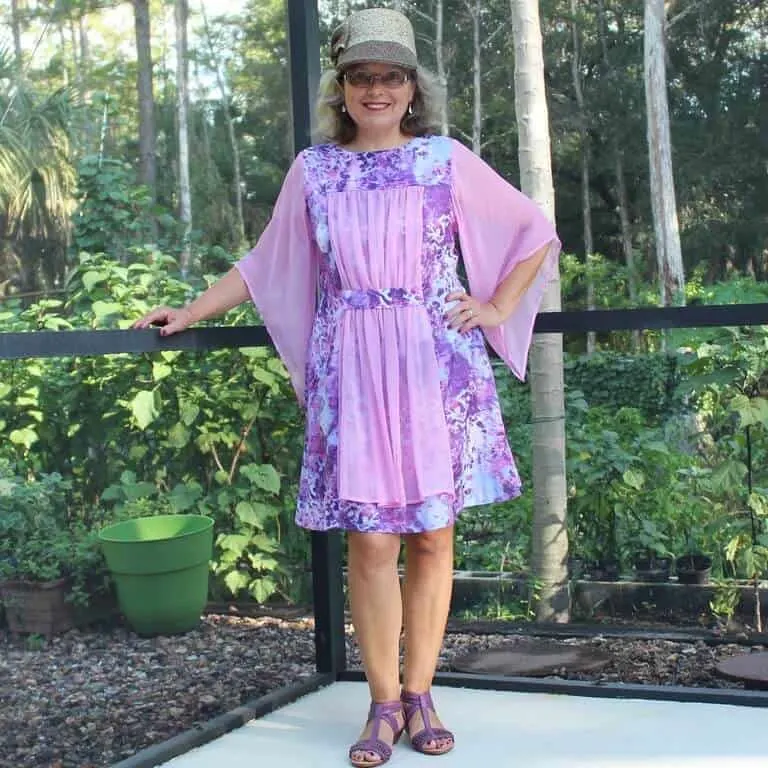 3. Silk Organza
Silk Organza doesn't drape well, so it can't be used for patterns that require soft folds and draping fabric. Dresses and gowns made from silk organza have to be lined because it's even sheerer than chiffon. Organza is used a lot for wedding garments.
I like to embroider organza (it takes machine embroidery very well) and make free-standing embroidery or appliques with it. It's also good for making fabric flowers.
Silk organza works well as a press cloth because it withstands high temperatures and you can see clearly through it.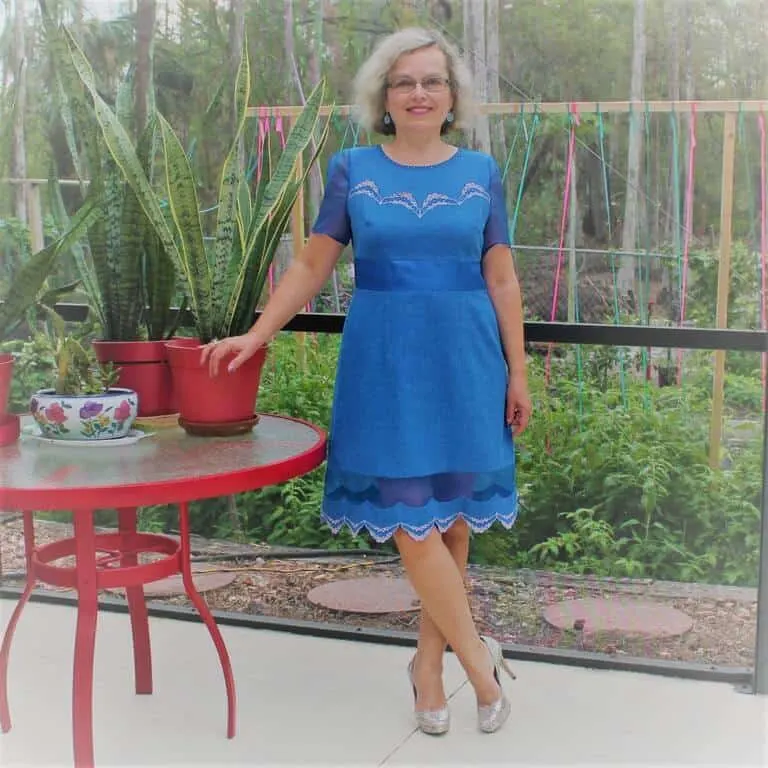 4. Silk Dupioni and Shantung
These fabrics are similar and they have similar uses as well. They can be used for bedding but after the laundry, they can't be ironed very well and become look wrinkled.
They are very good for home decorating projects that don't require frequent washing: curtains and pillows made from dupioni look awesome.
Dresses, blouses, skirts, and light coats made from dupioni and shantung are not draping well, and because of this, you can use straight or square cut patterns and pleats. These types of silk fabric unravel easily so a serger will be necessary to finish the edges.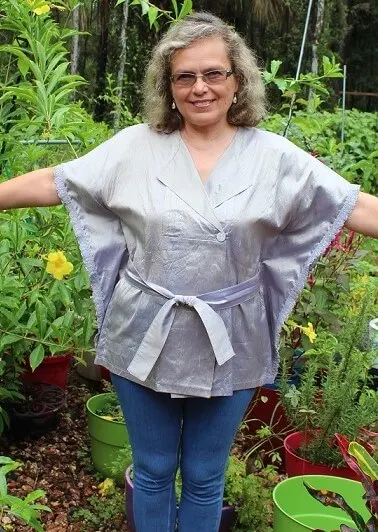 5. Raw silk
Raw silk doesn't look like silk at all because it doesn't have any sheen. To me, it reminds me of lightweight wool but it feels much softer.
The fabric is usually slightly knobbed and looks like it is covered with lint: you can see short, fine threads on the irregular fabric surface.
Raw silk is good for casual outfits – dresses, blouses, shirts, skirts, pants, suits, etc. The fabric is very easy to sew – it is not slippery, and it doesn't unravel easily. Some men's clothing like dress shirts and suits are often made from raw silk.
I have some raw silk fabric in my collection but didn't sew anything from it yet so I didn't have any image to put here.

6. Silk Habotai/China silk
This type of silk is very good for lining luxurious clothes because it is not expensive compared to other types of silk and is very lightweight, soft, and smooth.
China silk is also good for loose blouses, lingerie that is not too tight, and scarves, and it's widely used to sew kimonos.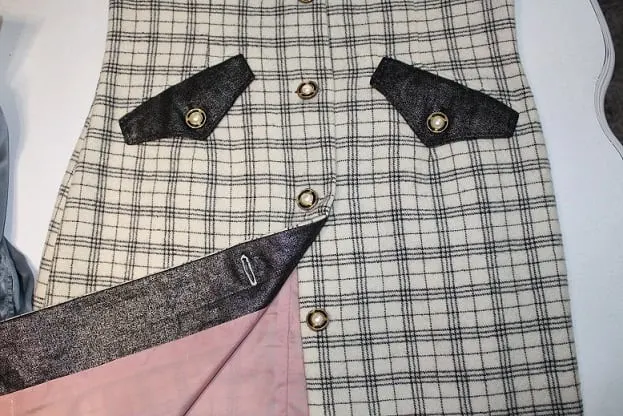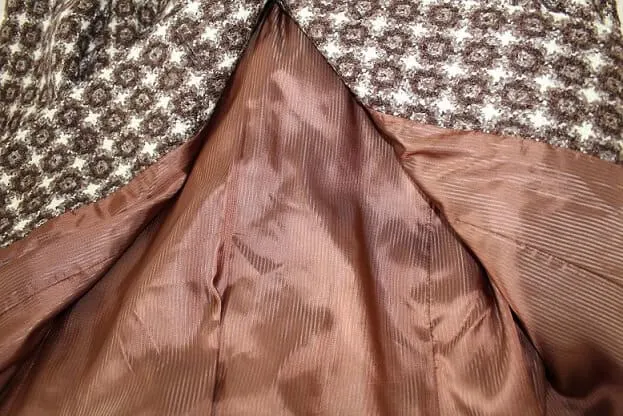 7. Brocade, Taffeta, Damask
These silk fabrics are used mostly for home décor projects but they are also good for high-style wear: evening gowns, wedding dresses, formal coats, jackets, vests, and costumes. These silks are medium and heavyweight fabrics so they are really easy to sew.
I made pillowcases from silk damask and I am very pleased with the results: see a step-by-step sewing tutorial on my blog about it.
Also a few years ago I made curtains for a dining room from silk brocade. They were quite costly but always looked most elegant and luxurious. I made them with a lining and I think it is advisable to complete any silk curtains with a good lining, which neutralizes the negative impact of ultraviolet radiation.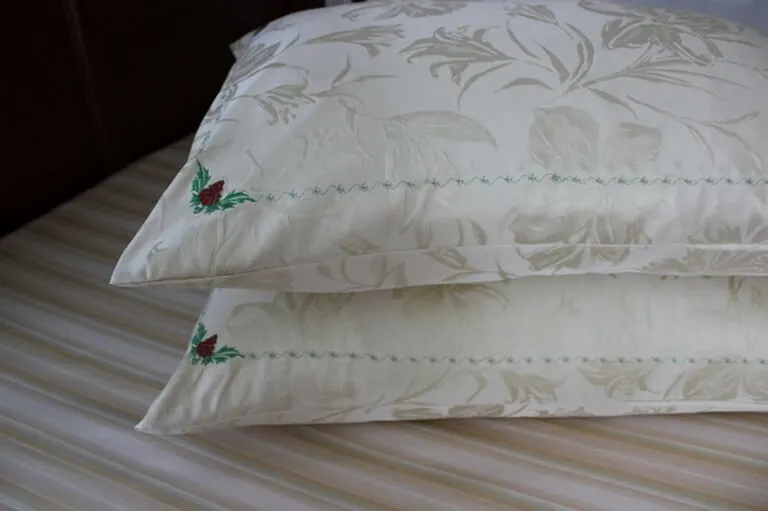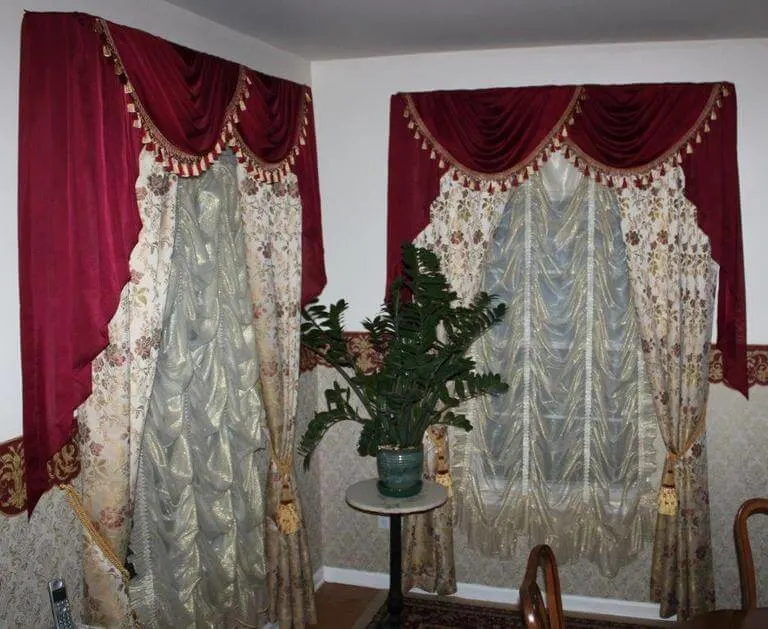 8. Silk knits
There is a great variety of different silk knit fabrics and I love to use them for everything ( I mean clothes, not home décor). But somehow I didn't know till a few years ago that such fabrics exist!
Like any knits, silk knits are stretchable and because of this, we can sew tight-fitting garments without any problem. Silk knits are easy to sew but it's much better to have a serger and special ball point needles to sew silk knits because they are so lightweight and soft.
✅ Related tutorial: Best serger for beginners – Serger buying guide
Silk knits don't fray, don't get wrinkled (at least as much as other lightweight silks), and they are cool and breathable and have all the awesome benefits of pure silk.

I made pajamas, underwear, tops, skirts, and dresses from silk knits and now I plan to make leggings. Silk knits are also a great material for workouts.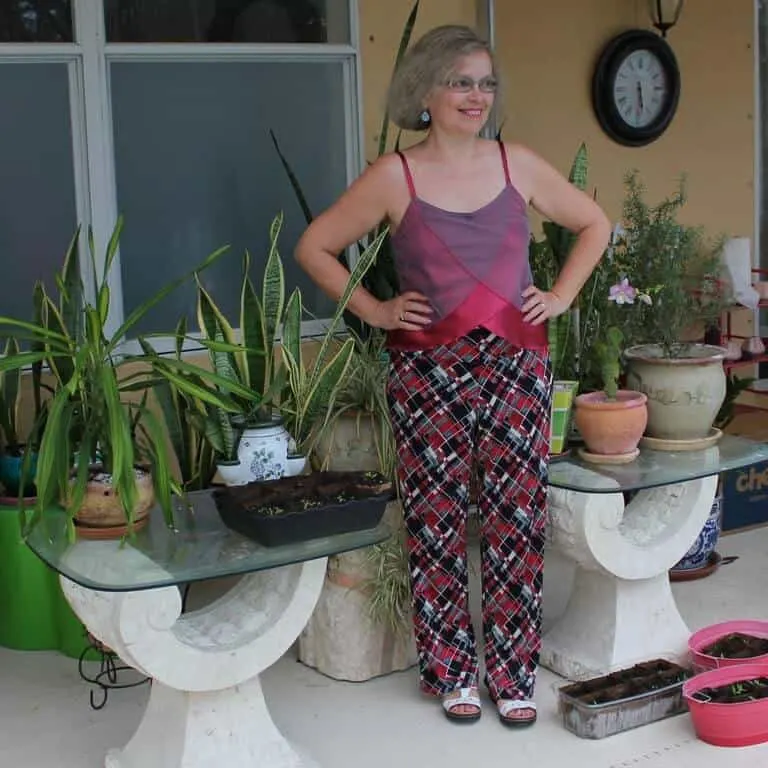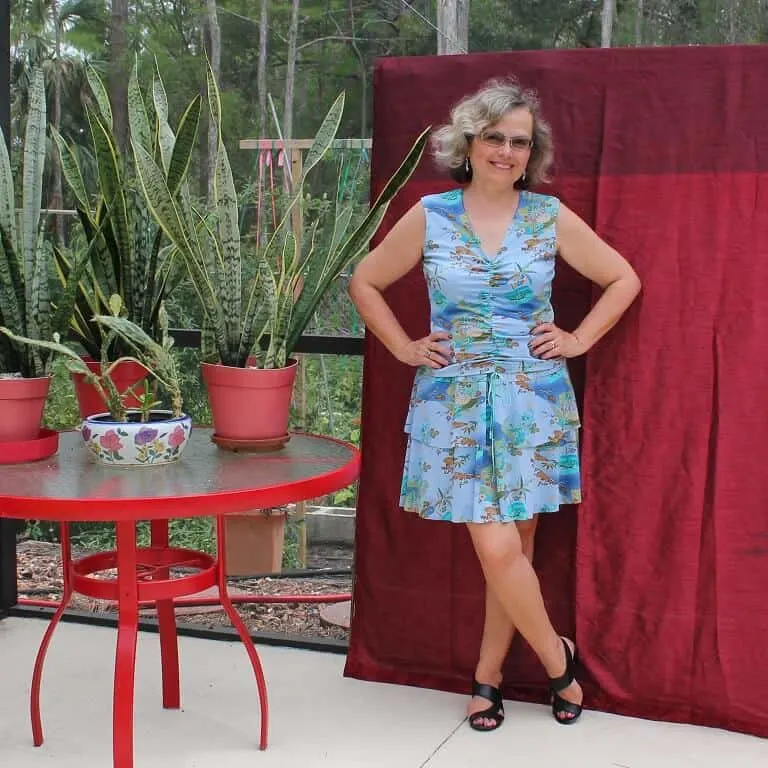 9. Using silk scrap fabric
I even try to use creatively silk scrap fabric that is left after I finish some sewing project. Here is one example of how I made a tunic (and I think it's quite beautiful) from an old dress and some silk scrap. You can find a tutorial here.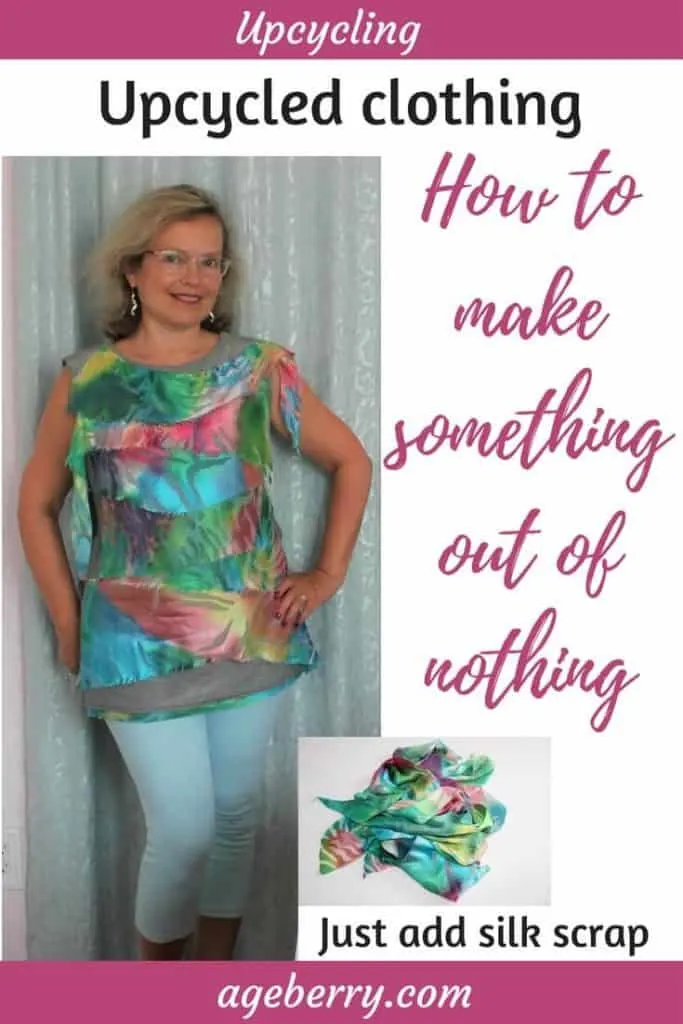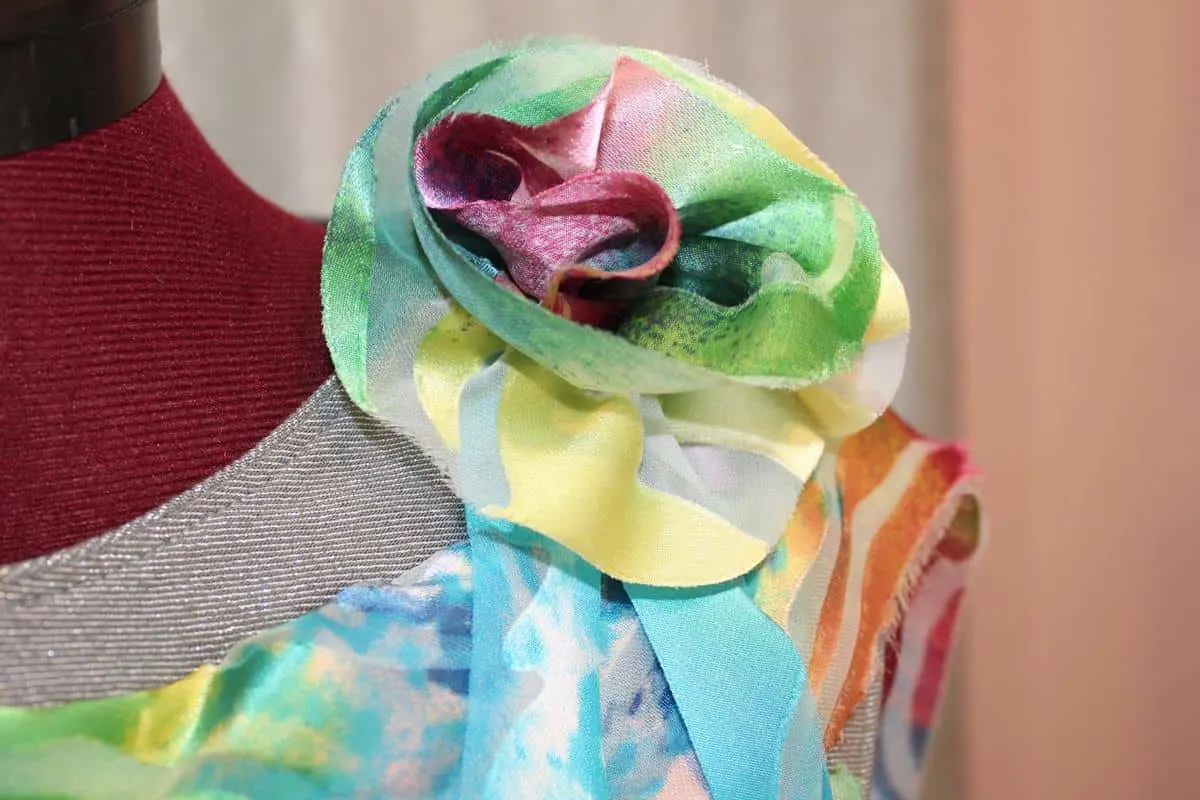 Also, I made a headband and a sleep mask from scrap silk fabric and even published tutorials about how to make them. Here are the links if you are interested:
DIY sleep mask
DIY fabric headbands: a step-by-step tutorial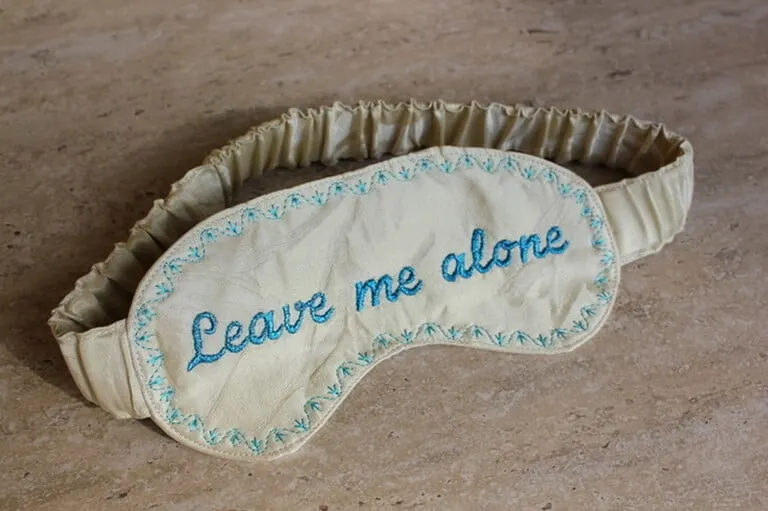 If you are using silk fabric (especially lightweight woven silk ) for clothes don't make them tight-fitting. If you make some garments too tight the fabric will creep along the seams and the seams may break the fabric after you wear the garment a few times and then you will see something like this happening (see the image below).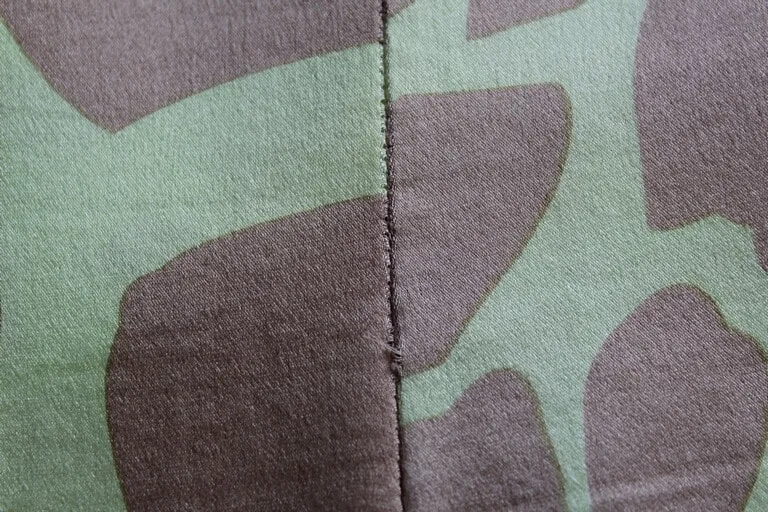 So choose flared and airy loose designs for silk garments. For example, tunic and kaftan silk dresses are among the most popular casual outfits and are suitable for any body type. Simple cuts and plain seams combined with the softness and comfort of pure silk fabric create quite an amazing effect.

Also, we have to remember that lightweight silk fabrics wrinkle quite easily but if you add lining wrinkles are less noticeable.

Special touches for silk garments
I noticed that if you add these elements when sewing silk garments you will make silhouettes even more charming.
The cutout shape is an attention-grabbing detail and is the perfect way to show off an excellent figure. It can be just above the hips, or it can be a deep V-neck or open back. The cutout can also have an asymmetric shape. For example, in dresses of the Greek style, one shoulder is often left completely open.
Silk dresses are sewn with sleeves of different styles but I don't recommend narrow, tight-fitting sleeves if you are using lightweight silk fabric. Flared, butterfly and gathered sleeves are most popular.
You can experiment with necklines. For example, bias-cut, softly plunging draped neckline looks very nice on silk dresses and tops.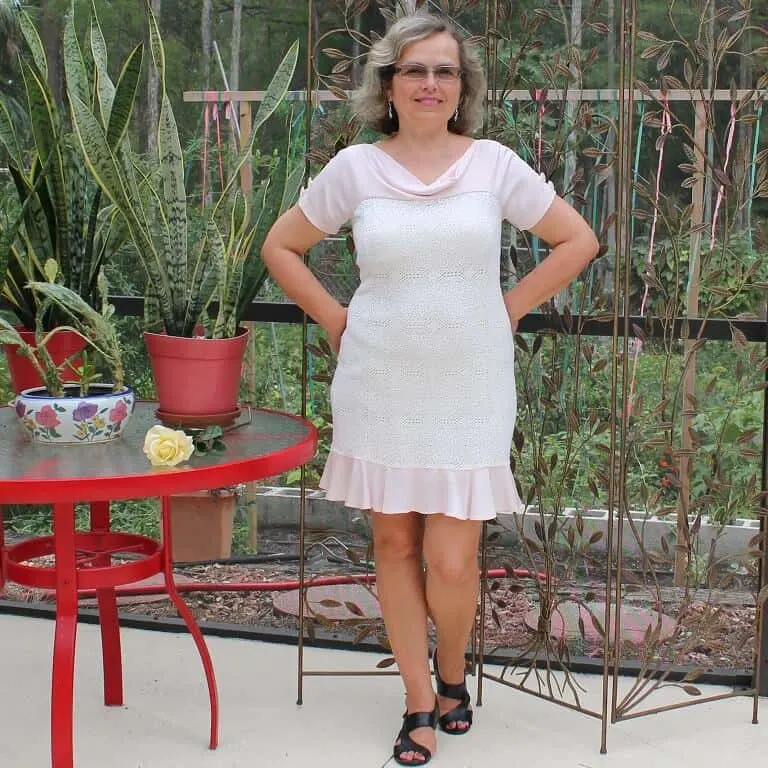 Spaghetti straps make very decorative support. And you can embellish them with ribbons, buttons, crystals, etc. That alone can make a dress unique because these pretty small details can't be found on store-bought dresses. A weightless silk dress on straps is almost a perfect option for hot summer days: it is comfortable, keeps you cool, looks fantastic, and can be easily combined with shrugs, bolero, and stoles. It keeps your underarms open and breathable. No traces of sweat.
I like to make self-fabric belts for silk dresses that draw all eyes to the waistline and hug the figure without being too tight.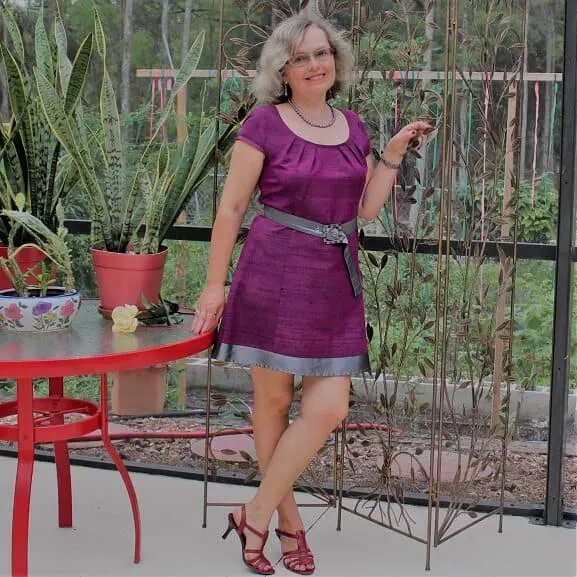 I like to make bias strips from lightweight silk fabric to embellish or to finish beautifully necklines, sleeve vents, and hems.
You can use both the dull and the shiny sides of Silk Satin to create a contrast between matte and gleaming surfaces to highlight some interesting details of the dress.
Different types of silk fabric can be perfectly combined with each other. For example, you can sew a bodice from satin and sleeves from chiffon. In addition, you can create inserts on the bodice or flounces on the skirt. In the image below you can see how I combined printed silk charmeuse with silk chiffon for a top.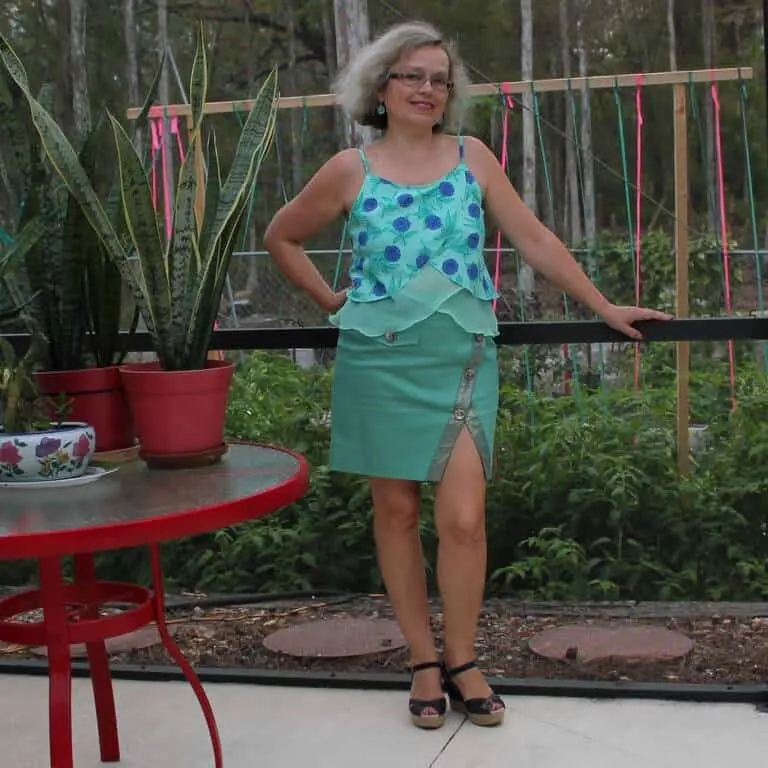 Costly silk cloth can be easily combined with other natural fabrics like cotton, wool, and linen. Remember to use two fabrics that are similarly matched and supple and have the same laundering and pressing needs. For example, you can sew the body of your garment from lightweight cotton and use silk cloth for sleeves, yokes, collars, and belts. Silk can be easily combined with beaded lace or sequin fabric for some extra shine.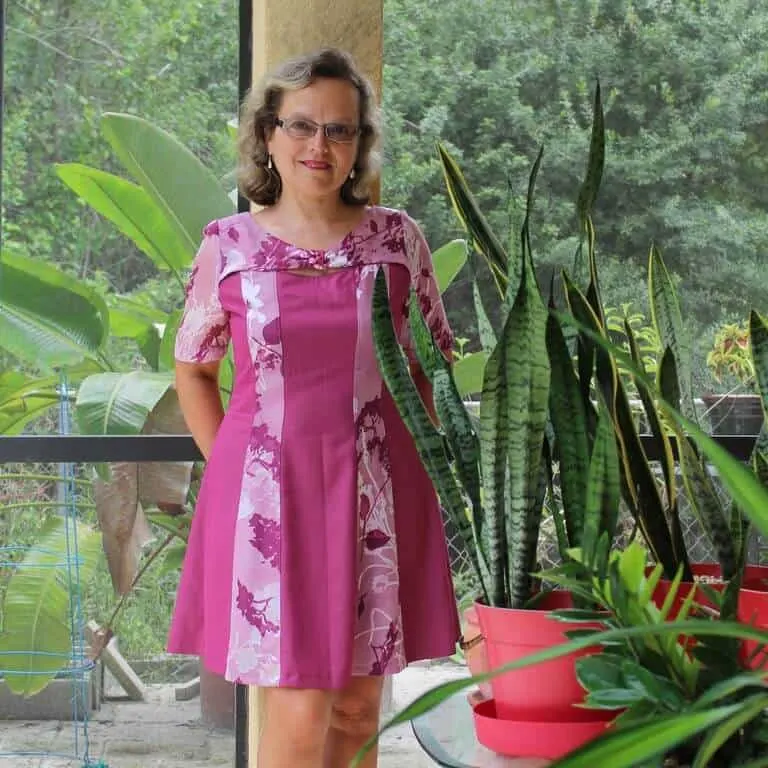 If you are a complete beginner in sewing it is better to finish few projects with a cotton fabric to gain some experience and then start sewing with silk because the fabric is pricey and has the reputation of being difficult to sew. But fear not! Basic sewing skills are surely all you need to handle such fabulous fabric.

At the beginning of your sewing adventure choose styles with minimal design details such as darts, pleats, buttonholes, zippers, and topstitching. Loose-fitting silhouettes, straight lengthwise seams, gathers, soft folds, kimono sleeves, and uncomplicated patterns work better than close-fitted styles with curved seams and challenging and time-consuming details. Sometimes even big fashion brands stick to the "less is more" motto.

In the images below you can see silk dresses I made from square pieces of fabric without any pattern. I also have step-by-step tutorials on my blog about these dresses: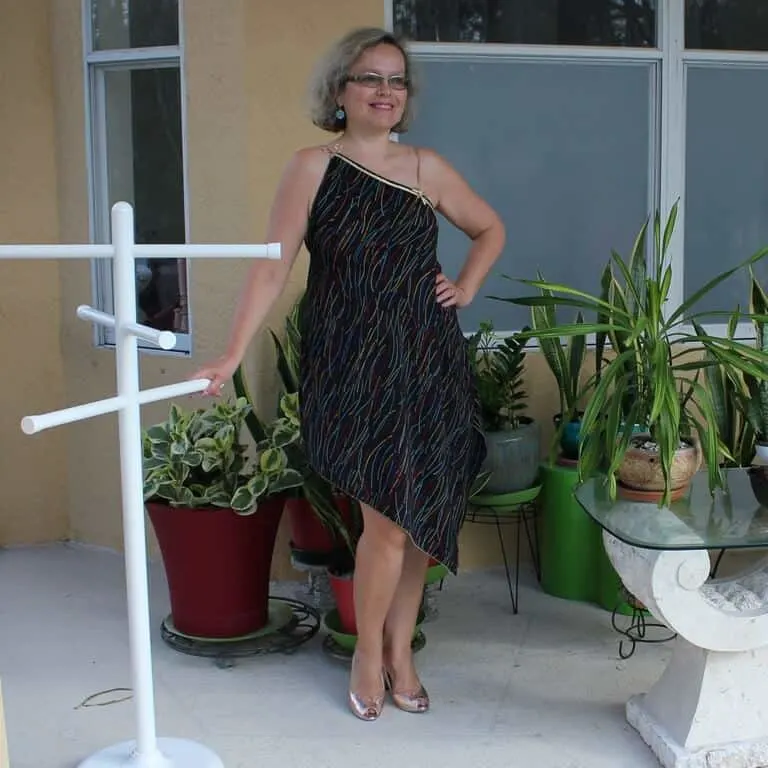 If possible, sew first a muslin from similar weight cheap fabric before sewing it in silk; mistakes can be costly.
If you decided to sew a dress from opaque silk with a loose cut pattern, then the lining is not needed. But if you work for example with sheer Chiffon or Organza, then lining is a must. But never, NEVER make a synthetic lining for a silk garment!
With a terrible polyester lining a silk dress (or any other silk garment) loses all its meaning – just don't sew it. I am always amazed when I see in stores beautiful 100% silk garments lined with horrible 100% polyester or other synthetic fiber. I feel it is a shame to skimp on the lining after I spent days (or even weeks) sewing couture-inspired garments. I really like to use natural silk fabric for a lining. Not pricey silk; Habotai is usually a good choice. I bought many yards of pure silk Habotai in New York some time ago and used it as lining for dresses, jackets, and skirts.
✅ Related tutorial: Chemicals we wear everywhere
Yes, sometimes it tears easily, especially if I make a tight-fitting dress. I wasn't careful and have now a tear in one of my dresses but jackets and skirts are holding well for a few years already. My conclusion is that tight-fitting garments with pure silk Habotai lining are a no-no. But practically any light or medium-weight silk makes a great lining.
For some clothes, I used silk Satin as lining and it doesn't tear at all (it's more expensive though) and makes my jackets warmer. I also used silk Shantung as lining for one of my coats and it didn't tear. I really hate polyester lining. Natural silk is so much better.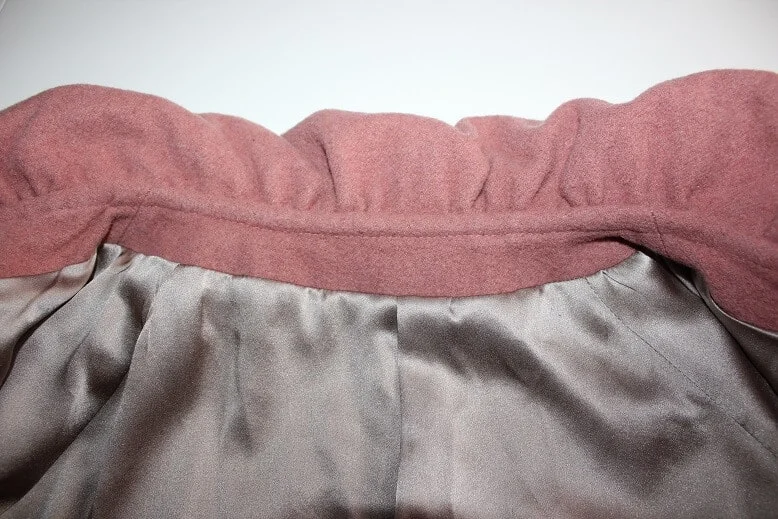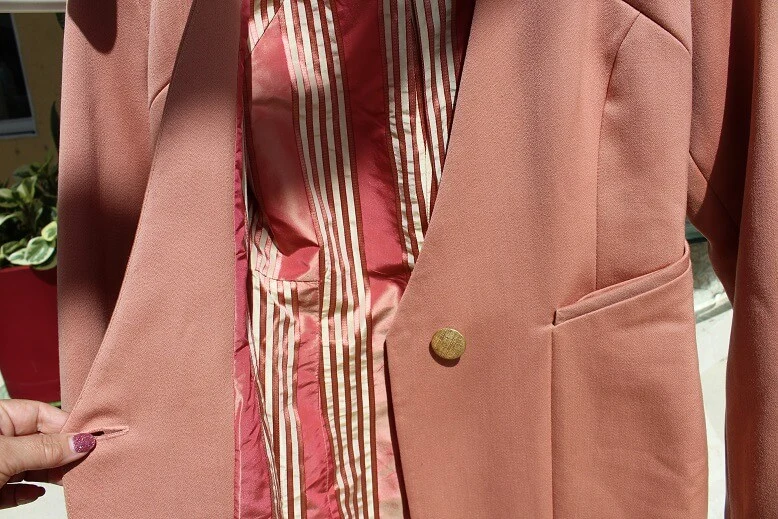 If you would like to know more about working with silk I highly recommend these books:
Fabric Savvy: The Essential Guide for Every Sewer by Sandra Betzina (older version, but still good if you already have it)
and
All New Fabric Savvy: How to Choose & Use Fabrics by Sandra Betzina (newer, updated version)

"Fabric Savvy is a handy, spiral-bound reference on virtually every fabric imaginable–from the newest to the old favorites. It's a must for anyone who has ever felt overwhelmed in a fabric store by all the fabric and notion choices. Fabrics are listed alphabetically for easy reference. Specific information for each fabric includes preshrinking instructions, layout, marking, interfacing, needle and thread options, stitch length, seam finishing, pressing, topstitching, closures, hemming, and more!"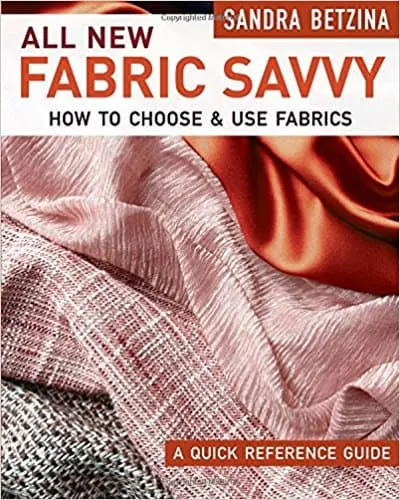 Alright – are you ready to sew something truly special? What did you sew with 100% silk? What would you like to make? Do you need some step-by-step tutorials to help you start? Please, leave a comment below and let me know if I've missed anything obvious. And while you are at it – don't forget to share the article!
---
Do you know where to buy 100% silk fabric?

You can't find it in regular fabric stores. The best place to buy beautiful silk fabric is an online store.
I recommend www.amazon.com.
Discounts up to 50% off retail are just one of the reasons high-quality silk fabrics are some of their best sellers.
Did you find this tutorial helpful? If so, save this pin (see below) on your sewing board so you can come to this tutorial later when you want some ideas on the uses of silk fabric, and follow me on Pinterest for more tips, tutorials, and inspiration!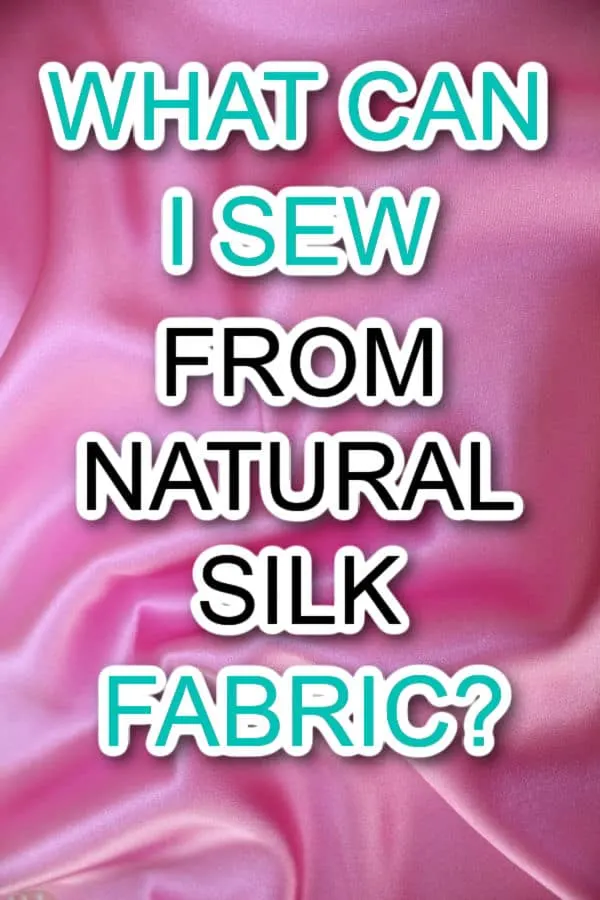 ---