In this sewing tutorial, I will show you how to make a pillowcase from natural silk fabric. There is no more sensitive skin than on your face. So why do you sleep on a polyester pillowcase and make your skin even more prone to problems? Use a 100% silk pillowcase, especially if it is very easy to make, so it doesn't cost a fortune.

I heard many nice things about silk pillowcases. And after I made the silk fitted sheet I decided to make 2 pure silk pillowcases with embroidery on them to go with the silk sheet. I looked online and found out that silk pillowcases (especially with embroidery) are very expensive.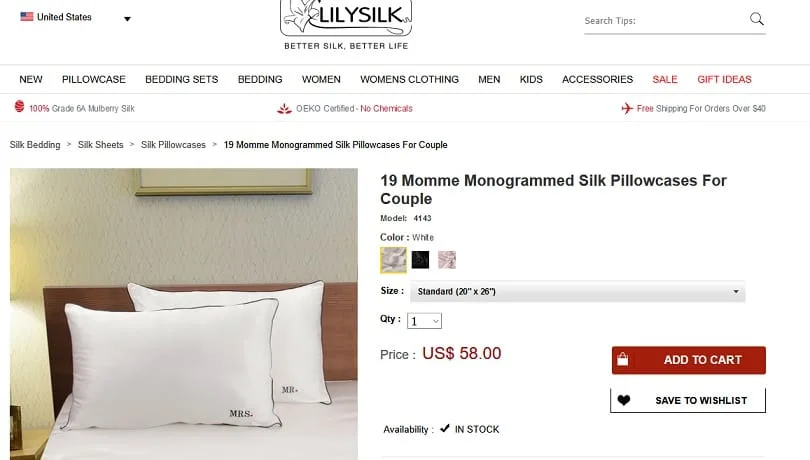 Sewing a pillowcase is so easy task! Pillowcases don't have sleeves, collars, facings, interfacing, darts, and curved lines, etc.

Also, I would like to make envelope pillowcases so my pillows will not go out of them when in use. I don't really like standard store-bought pillowcases that are coming together with bedding sets. When I look at my bed pillows are always can be seen going out of the pillowcases. It is ugly and I always try to make button closures for such pillowcases. So if I make a pillowcase myself I can avoid this problem altogether and make an envelope pillowcase.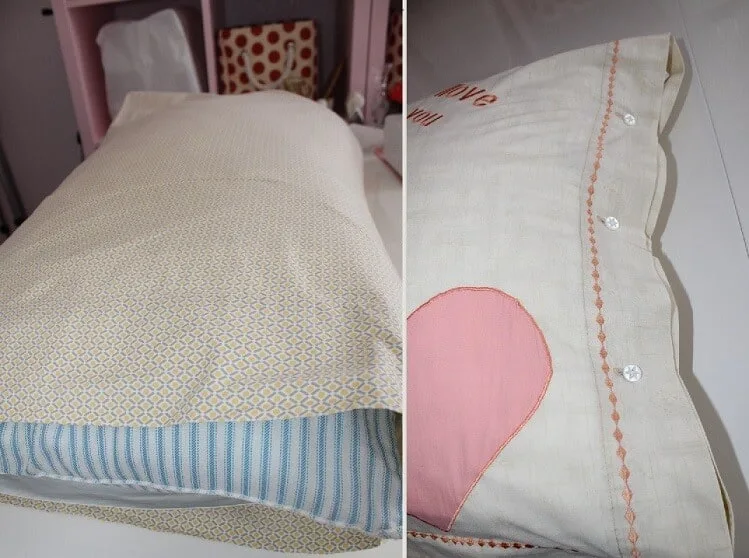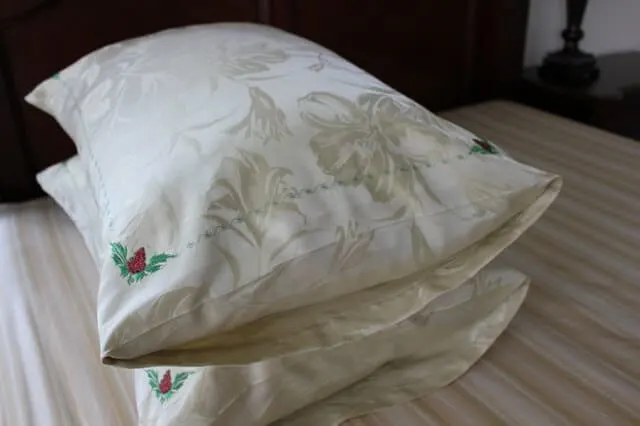 I don't like the quality of my store-bought pillowcases. See ( in the image below) how they look on the inside. I don't think manufacturers will use time-consuming French seams to sew mass-production pillowcases. But I can do it! And my pillowcases will look very nice from the inside.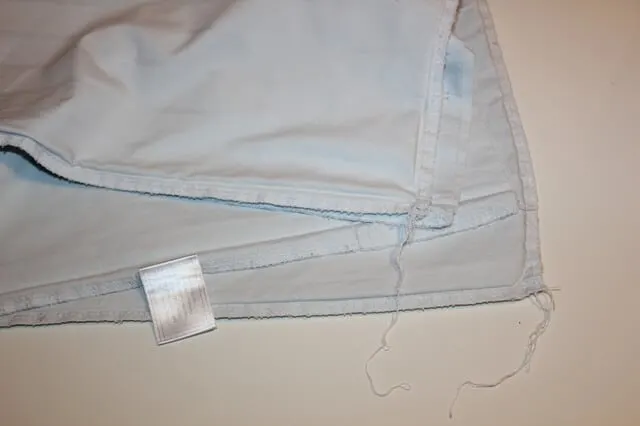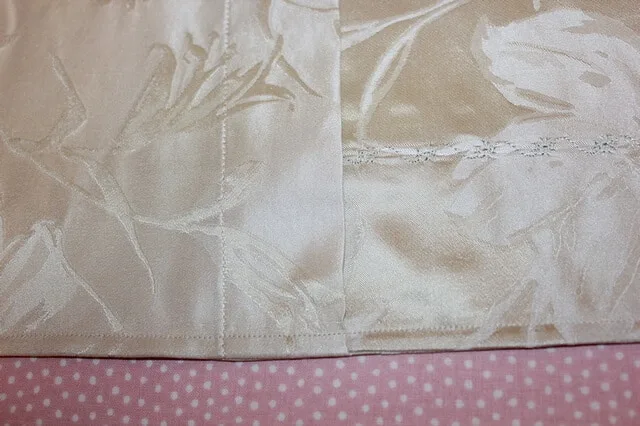 And I will make pillowcases from natural silk fabric which has many awesome benefits. You can read about the benefits of silk fabric in my article " Great benefits of pure silk fabric".

Moreover, I can put nice embroidery on my pillowcases. I have an embroidery machine and always look for ways to embroider something. By the way, the embroidery machine I used for this project Janome Memory Craft 350E is not top of the line and is not really the expensive one but it does the job nicely and I love to use it.

Please note: some links I share on this page are affiliate links. I only recommend useful things that can make your sewing life easy.
I noticed there are so many online tutorials on how to sew a fabric bag. Pinterest is full of them. I look at those bags – yes, they are easy to sew but what is the point to make them? I don't see it. Of course, it is only my opinion and we all have a different sense of style but you will never catch me out with one of those whether I am going out on the weekends, running errands, or heading to work. So I would advise you to sew a silk pillowcase instead.

As you see I gave you plenty of reasons to sew a pillowcase. With that said here is a tutorial to show you how easy it is to sew your own silk (cotton and linen will do also of course) pillowcase.

Step 1.

Measure the length (a) and the width (b) of your pillow. Also please note that measurements in this article are provided in metrics so if you are used to working with the imperial system please use this chat from www.craftsy.com or this chat from www.ludlowquiltandsew.co.uk Use this figure below for cutting your fabric. You have to cut a rectangle with length = a + a + 30 cm + 5 cm + 5 cm

and width = b + 1.5 cm + 1.5 cm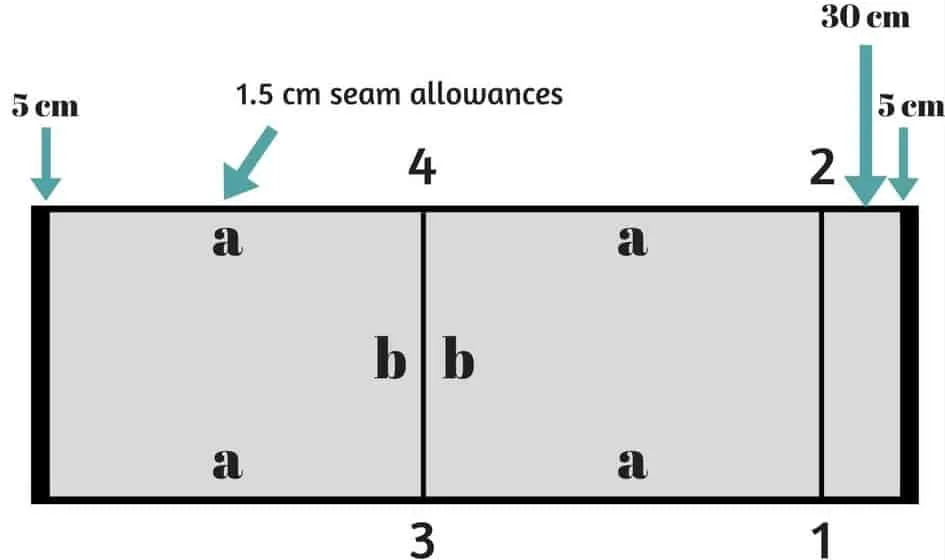 Step 2.

Pre-wash your silk fabric in warm water and let it air-dry. If we are going to use it for bedding it has to go to the washer regularly.

Before pre-washing it is better to serge (to finish) 2 raw edges (the other two are selvages, they don't unravel) because the silk fabric is fraying a lot and if you pre-wash in the washing machine without finishing the edges first you will lose quite a lot of fabric in both ends.

So I pre-washed it in warm water (so it will not shrink later) and let it dry outside (not in the dryer). After that, I ironed it with a steam iron.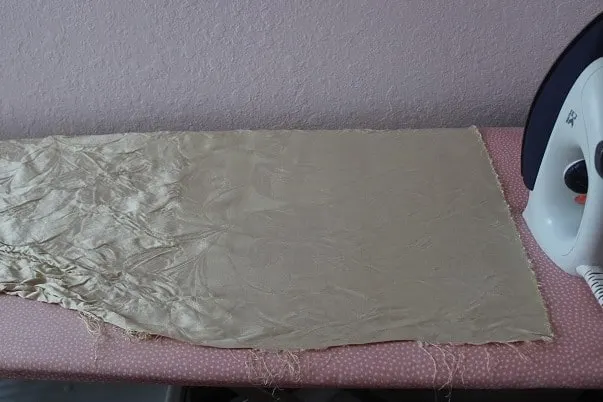 Step 3.

Cut the fabric using the figure above. You have to cut the fabric very straight. I have a tutorial on my blog "How to cut fabric perfectly straight". Subscribe to my blog in the form below and you can read and use it.
Step 4 (optional).

Put embroidery on it. Or embellish it as you like (with lace, for example). I put 4 corner designs on mine using metallic thread. And between them, I used just one of the hundreds of decorative stitches of my regular sewing machine.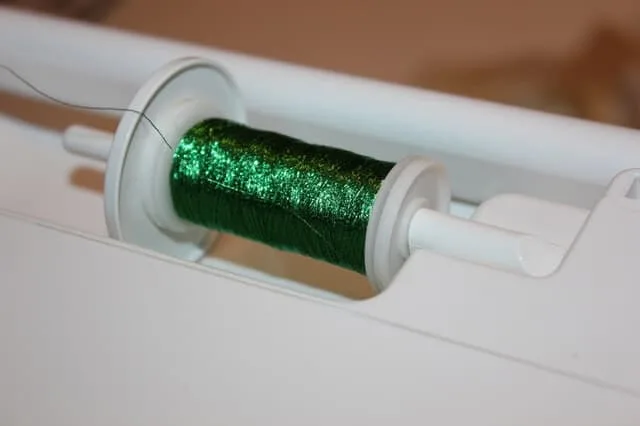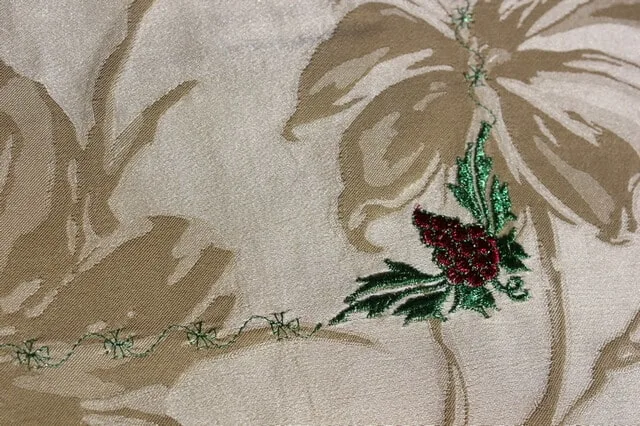 For sewing with metallic threads, you will need special metallic needles.
And here is the link for metallic threads.
Step 5.

Finish one of the pillowcase's shorter sides – for this turn the fabric in 5 cm and press. After that measure 4 cm from the fold line and turn the raw edge in with pins or basting using the marked line as a guide so your finish looks nice and neat. Press and topstitch on the wrong side close to the folded edge. Press again.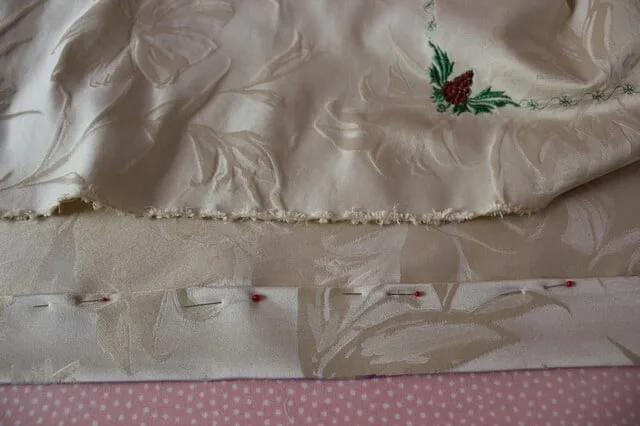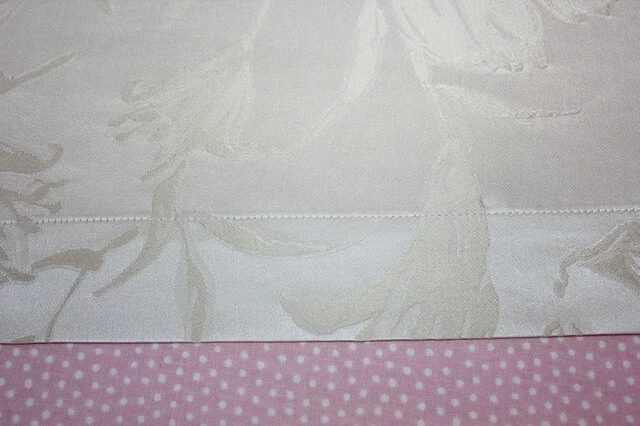 Step 6.

Fold the fabric along the 1-2 line ( look at the diagram above to see the line 1-2) wrong sides together and pin. Fold the fabric again along the 3-4 lines wrong side together and right sides up. Pin.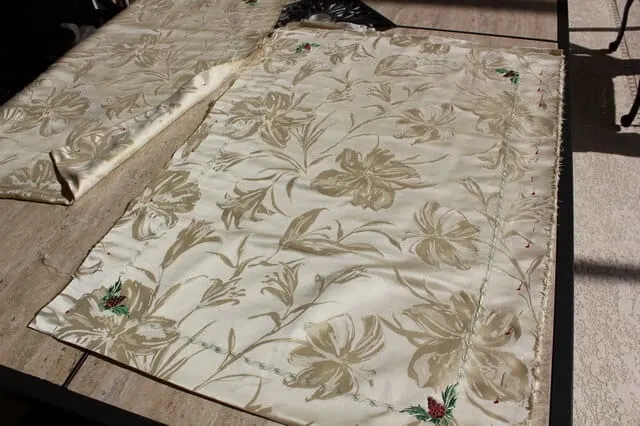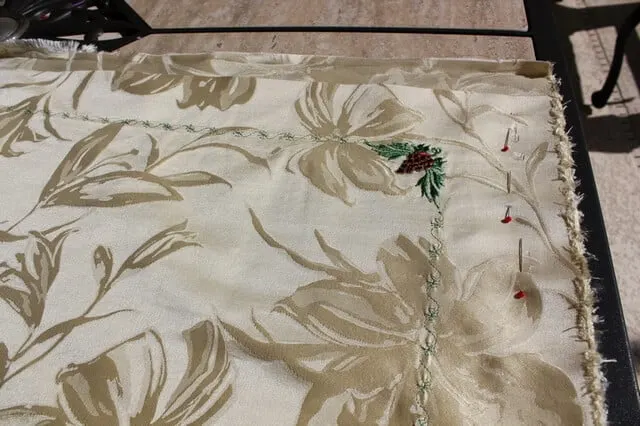 Step 7.

We are going to make French seams now ( here is my tutorial on how to sew French seams) for a strong, durable, and nice-looking finish. Use your serger to sew seams – the stitch line should be about 6-7 mm from the pattern line. Press seams flat on one side.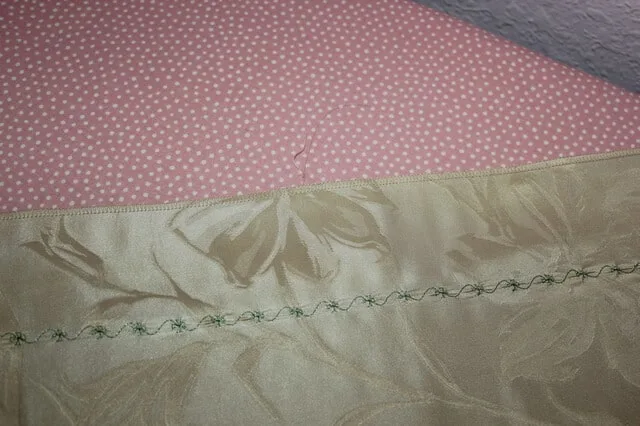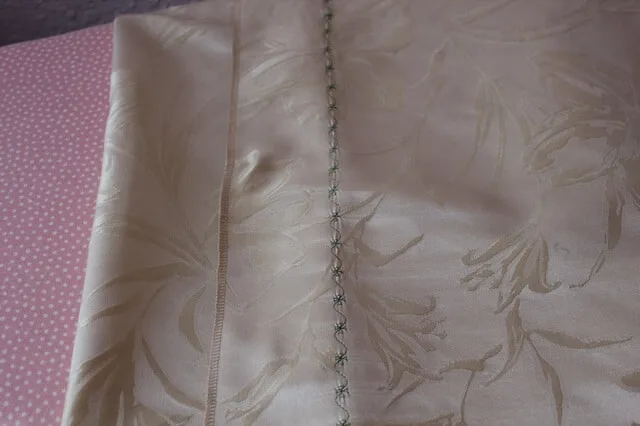 It is not really easy to press seams in corners to get a neat perfect point. I always use a special wooden seam board (an edge presser) and sometimes a clapper (a pressing block).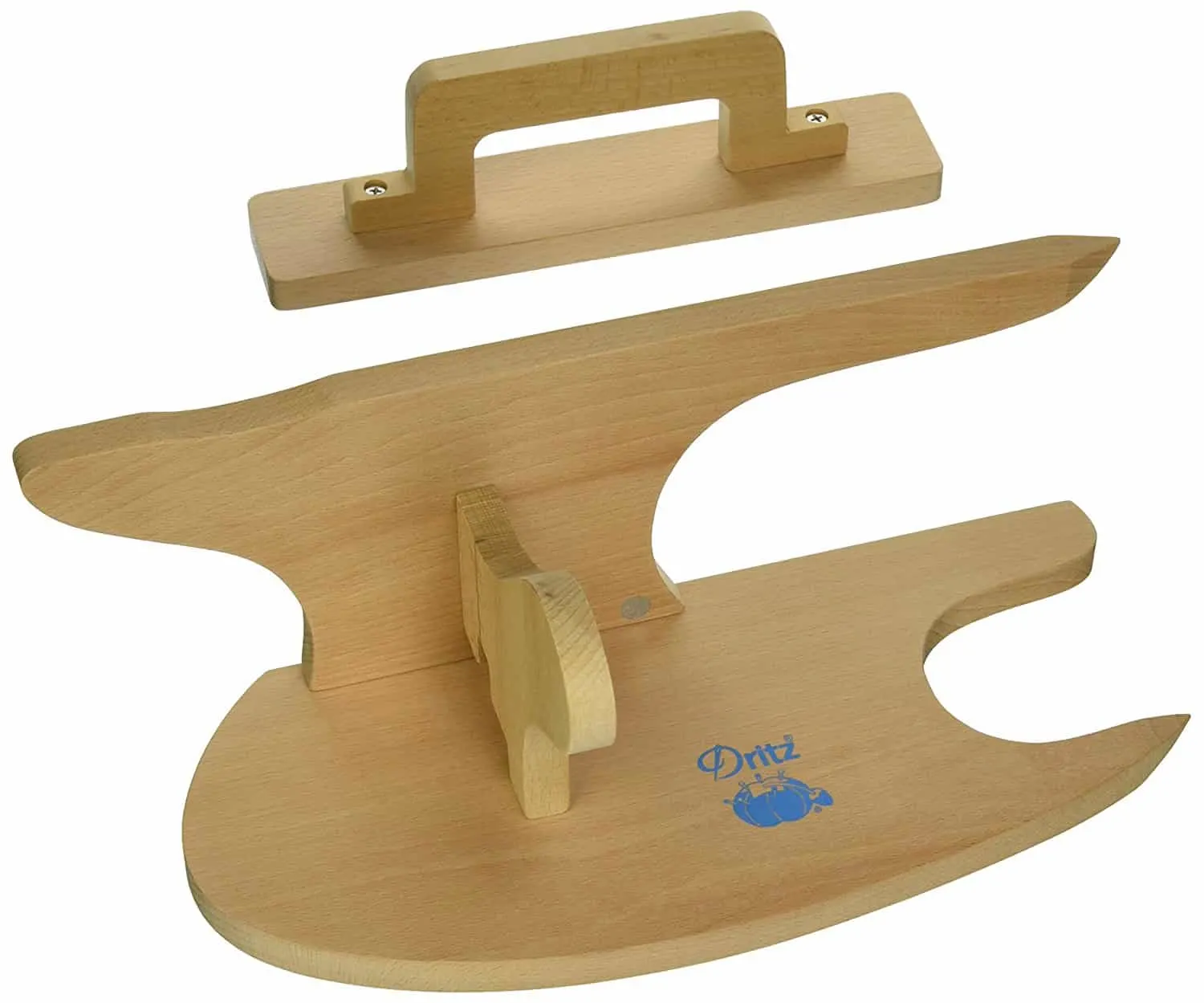 Refold pattern pieces so the right sides are now together ( and the wrong sides are up) and the fold line is exactly along the first seam. Baste, press, and stitch 6-7 mm from the fold line so that the allowances remain inside. Press again on one side.
Of course, if you don't have a serger ( well, if you are serious about sewing you must have one) then you can use a regular method of sewing the French seams (here is the link from Tilly and the Buttons blog ) But I like this method with the serger more. It is much faster and there are no threads or even raw edges showing on the right side of the fabric.
Step 8.

Now is the time to sew the other side's raw edge which we didn't finish. Turned it in enclosing the part of French seams and topstitch as straight as you can. Press.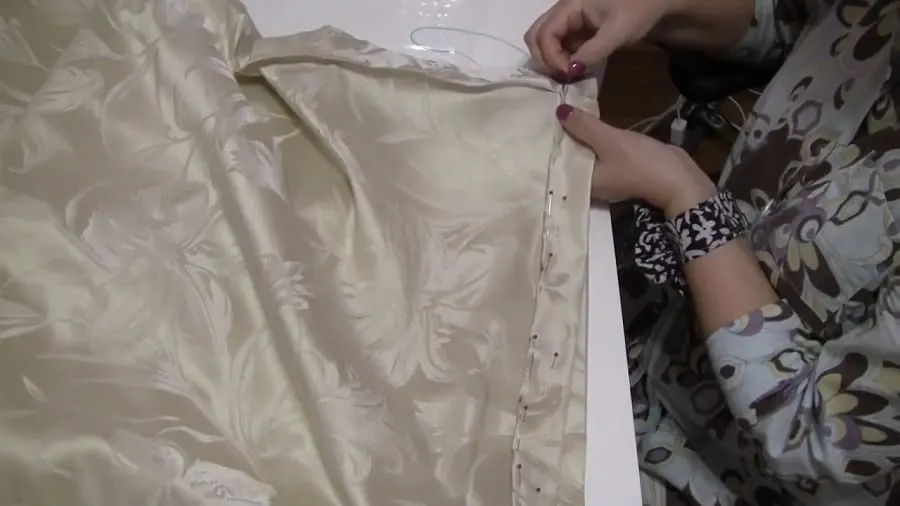 I use my pillowcases and can say they feel really good – soft, smooth, comfortable, beautiful. They beat cotton ones any day and sometimes you just have to indulge yourself.

So I would like to challenge and inspire you – sew something out of the ordinary. Take what you have learned in this tutorial and apply it to your life. Will you?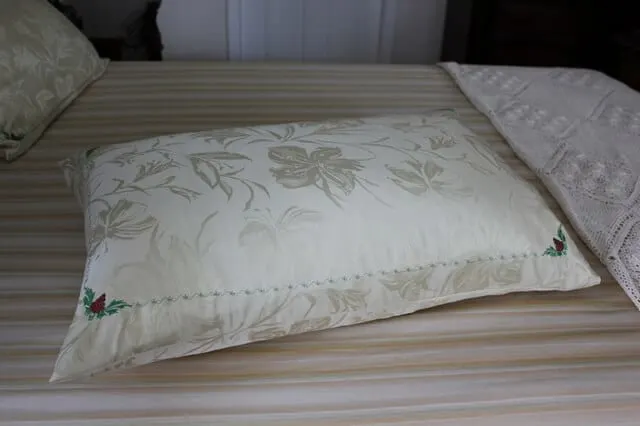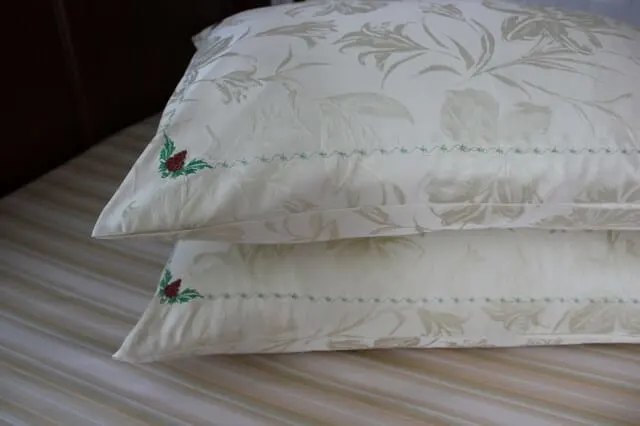 I also made silk fitted sheet that goes with these pillowcases. You can find a step-by-step tutorial on my blog "How to sew a fitted sheet (from 100% silk fabric)".
Did you find this tutorial helpful? If so, save this pin (see below) on your sewing board so you can come to this tutorial later when you are ready to sew a pillowcase and follow me on Pinterest for more tips, tutorials, and inspiration!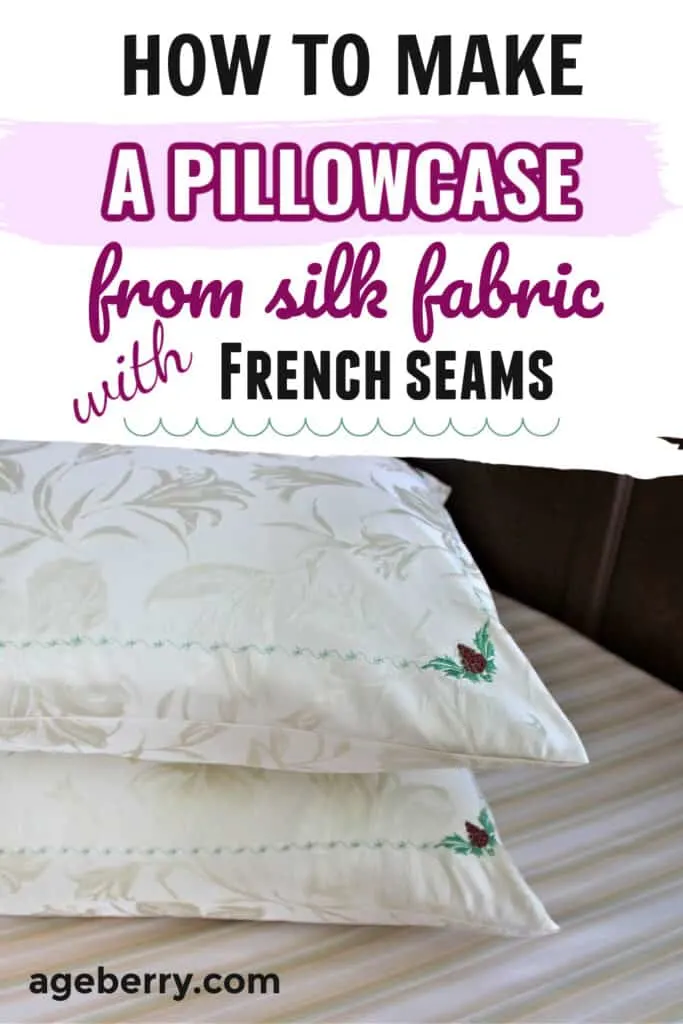 Like sewing tips? I have other popular tutorials on my site that might be interesting for you. Check them out below.
---