I made two silk pillowcases recently (you can find a step-by-step tutorial on my blog) and some fabric was left over, so I decided to sew a sleep mask. And now I want to share with you how to make a sleep mask easy. The project is quite simple even for a complete beginner.
Note: Some of the links on this page are affiliate links. This means I will receive a commission if you order a product through one of my links. I only recommend products I believe in and use myself.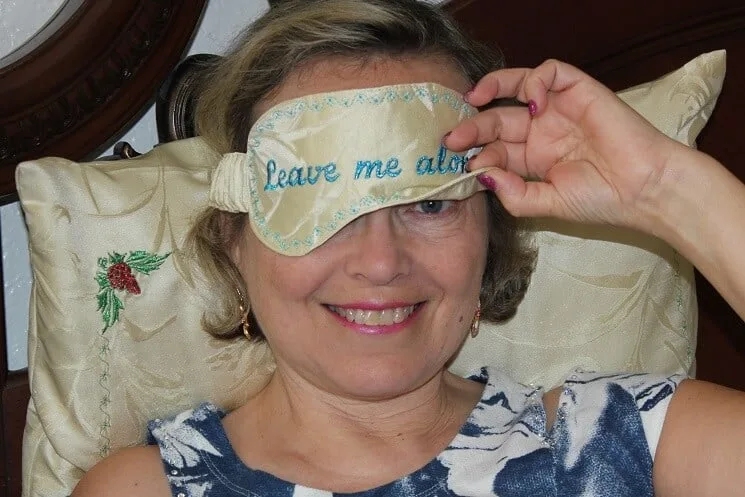 But first, let me say a few words about why we would use a sleep mask.
Isn't it nice to wake up in the morning well-rested? But it's not always possible because you didn't fall asleep fast enough the night before: maybe you are one of those people who need total darkness to sleep but the moonlight was too bright, or you slept next to someone who needs a nightlight for safety. Or maybe the first sun rays didn't allow you to sleep an hour or two more.
There are also cases when you have to sleep in the daytime after a night shift or on the long road. And – why not – perhaps you need to protect your eyes because treatment was applied before sleeping? In such situations, a sleep mask will be very useful.
Cosmetologists say that sleep masks can also relieve puffy, strained, and tired eyes.
It's pretty simple to use, but there are a few points to consider, instead of just pulling a mask on your face and hoping for the best.
Stores provide a wide range of sleep masks – from simple and plain to embellished and sophisticated. But practically all of them (at least those that I saw) are made from polyester. So why not make a nice sleep mask from 100% silk fabric especially that is not difficult? You will get the mask exactly as you want it, it can be customized easily to your face if at first, it doesn't fit well and at the same time, you will improve your sewing skills and will be better prepared for the next more complicated sewing projects.
The mask will be in contact with the skin on your face and must be made of a naturally soft material. And what is better for the mask than pure silk?
If you decide to sew the mask from a different material you need to consider that the mask will be in direct contact with a very sensitive part of your skin for 8 hours or more, therefore, we should avoid prickly materials and those that can cause sweating. Don't make it from too stiff or too thin fabric.
The mask for sleep should also be comfortable – not too tight and not too loose. You need full darkness when you put the mask on therefore it needs to cover your eyes completely and be thick enough to block all light. Elastic bands ( or any other band you use to tie it ) should not press on the head or ears, even if at first this does not seem a problem, in time it may become, the mask will stay in place the whole time while you sleep. Make sure also that the mask does not cause discomfort around the nose area.
Follow the steps below to sew your own silk sleep mask. Please note that these steps are only recommendations and you can adjust everything to your liking.
For example, I put this fun embroidery on the mask, but it is not necessary and you can decorate your own sleep mask as you want or just leave it plain ( again, please remember that any embellishment should not make the mask prickly ).
Step 1.
First, prepare everything you need so that during sewing you do not have to be distracted by a search for the right tool.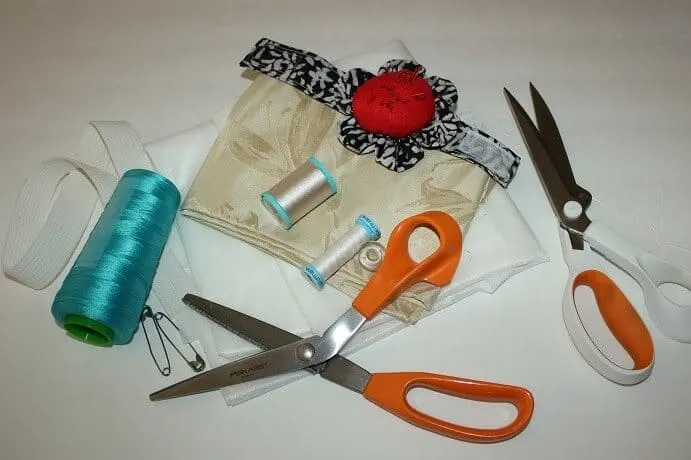 Step 2.
Prepare a pattern drawn on paper if you want your mask to be proportional and symmetrical.
You can download a free pattern for the sleep mask from my RESOURCE LIBRARY. When printing the pattern check your printer settings – it should be set to the actual size or to 100% scaling. Of course, you can alter this to adjust the size if necessary. After you print the pattern measure the test line – it should be exactly 4 inches for 100% scaling. Be aware that my pattern doesn't have seam allowances included.
Step 3.
If you have an embroidery machine make embroidery on the piece of silk that will go to the outer layer of the mask. If you don't have an embroidery machine maybe it's time to buy one? It's really fun to create whatever design you want and you can make a nice pattern in a short time… I put embroidery on everything – on pillowcases, bed skirts, table linen, clothes… Follow me on Instagram for inspiration and tips! Here is the link to best sellers in embroidery machines on Amazon.
Step 4.
I made the mask with three layers of the same silk fabric ( one layer for the inner part of the mask that goes to the eyes, the second layer for the outer part, and the third layer to put inside to prevent the light from going through the mask) and 1 layer of fusible interfacing.
Fold the fabric (3 layers), pin the pattern to all 3 layers at once, and outline seam allowances as you like – 3/8 inch (1 cm) or 5/8 inch (1.5 cm). I did mine with standard 1.5 cm (5/8 in) seam allowances. Cut it out. Cut also 1 layer of fusible interfacing, this time without seam allowances.
For me, the sleep mask was good with the inside layer of silk fabric with interfacing on it. But you can use a piece of wadding instead of silk fabric for full darkness.
Step 5.
This step is optional but still recommended. Trim the first layer (the one that goes to the eyes) a little bit all around (2-3 mm), so when you will turn the mask right side out later on after stitching the seam will not be visible on the outer layer.
Step 6.
Apply fusible interfacing with an iron-on 1 piece of silk layer that goes inside of the mask.
Step 7.
Cut out a rectangular piece of silk for a band, around 70 cm (28 in) x 9 cm ( 3 ½ in) – 1.5 cm (5/8 in) seam allowances included. I decided to make a wide band but you can make it as wide or as narrow as you like.
Or you can skip the gathered silk band altogether (if you are worried that this gathered fabric will be uncomfortable for your head) and just use a narrow elastic strip.
Step 8.
Fold the band in half lengthwise right sides together, pin and stitch. I used 1.5 seam allowances on the band. Turn it right side out using a safety pin.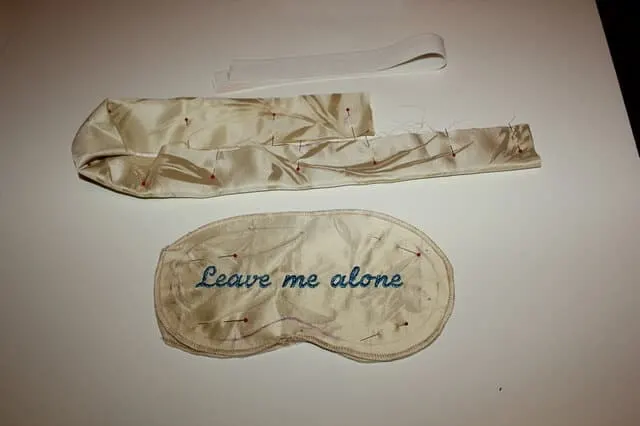 Step 9.
Baste and press the band. Topstitch long sides 1mm from the edge.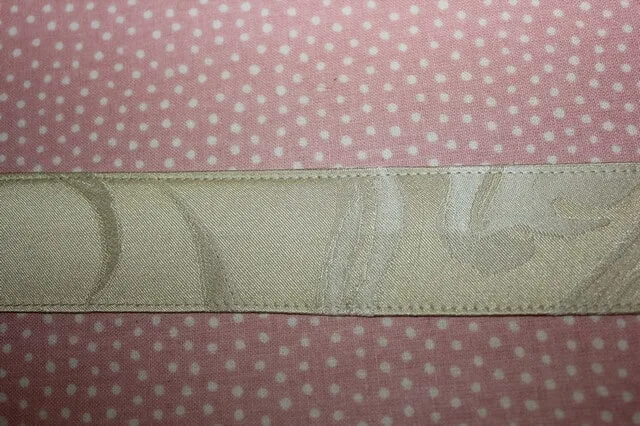 Step 10.
Cut a piece of elastic (around 50 cm (18-20 in)). Attach safety pins to both ends of the elastic. Insert an elastic distributing the fabric evenly over it. Stitch both open ends of the band to secure the elastic inside.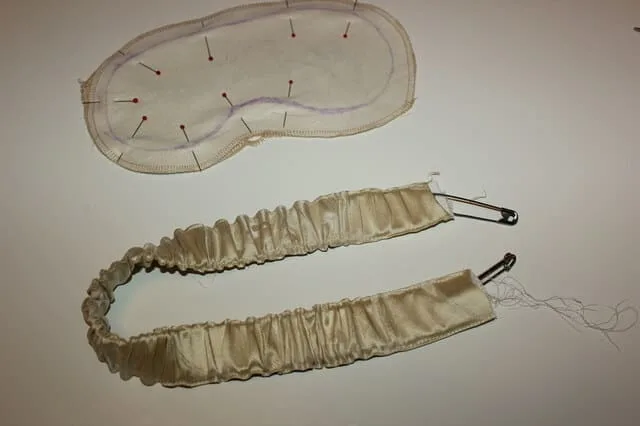 Step 11.
Baste the band to the side edges of the outer layer of mask right sides together using 1 cm (3/8 in) seams allowances. Try on the mask and adjust the band's size – make sure that the band has a proper fitting – not too tight and not too loose. Trim the band if necessary.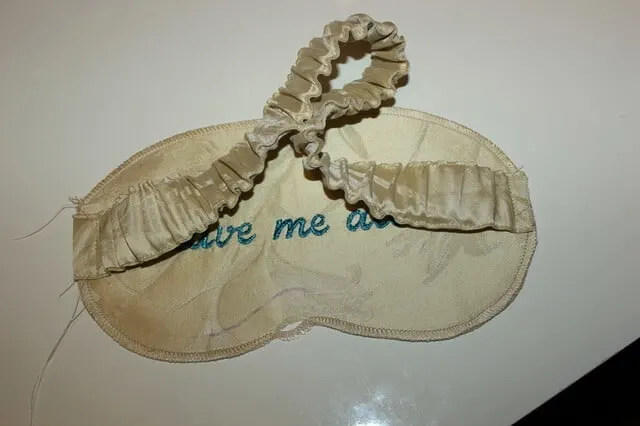 Step 12.
Pin layers of the mask together for the final seam around the edges. The elastic band should stay inside. Make sure you didn't catch the band with pins. Stitch 1.5 cm (5/89 in) from the edges leaving an opening at the top for turning the mask right side out. Press the seam and cut seam allowances close to the stitch line with pinking sheers ( because the stitch line is curved). But don't cut allowances at the opening.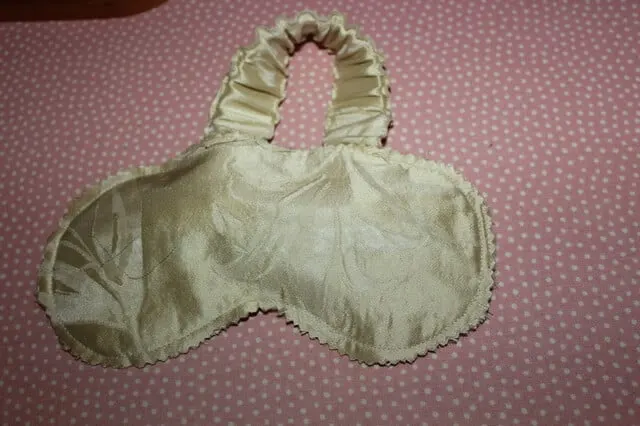 Step 13.
Turn the mask right side out through the opening. Baste the opening closed, and baste the whole mask. Press. You can finish the opening by hand sewing, or you can topstitch all around close to the edge. I used one of the hundreds of decorative stitches on my sewing machine.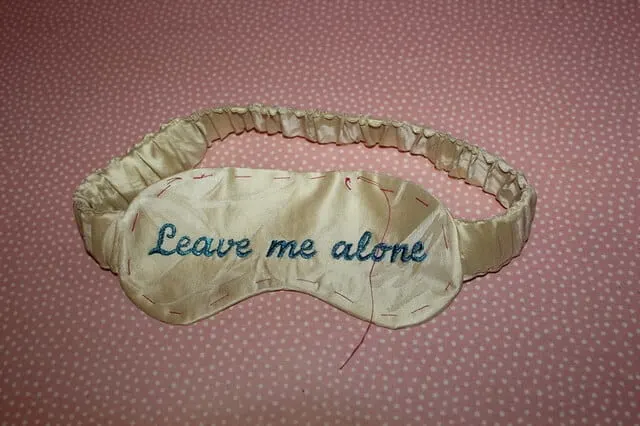 Did you find this tutorial helpful? If so, save this pin (see below) on your sewing board so you can come to this tutorial later when you are ready to sew your own sleep mask and follow me on Pinterest for more tips, tutorials, and inspiration!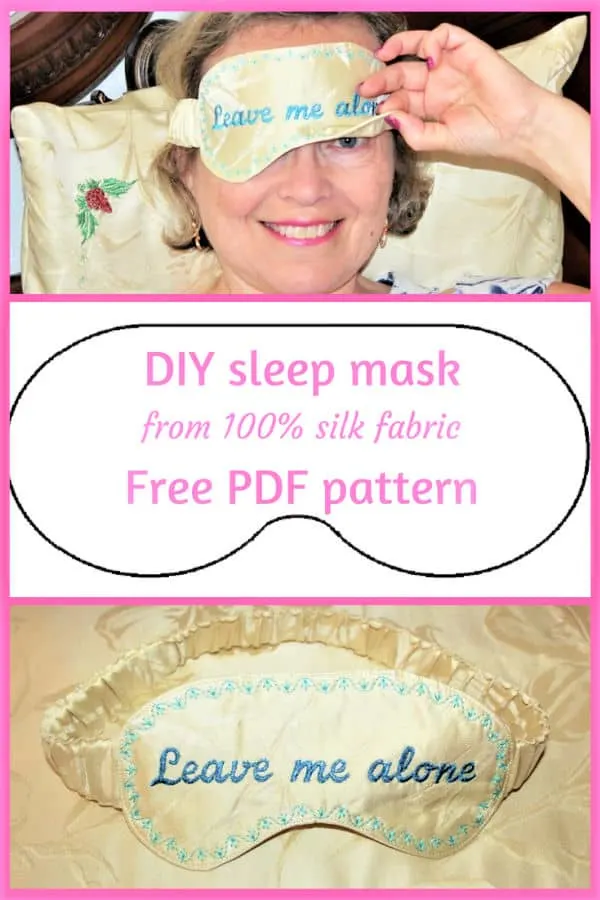 ---