There are many different types of natural silk fabric and it is very easy to get confused with all of them. It depends on the type of weaving, quality of silk threads, the country where silk was manufactured, and many other factors.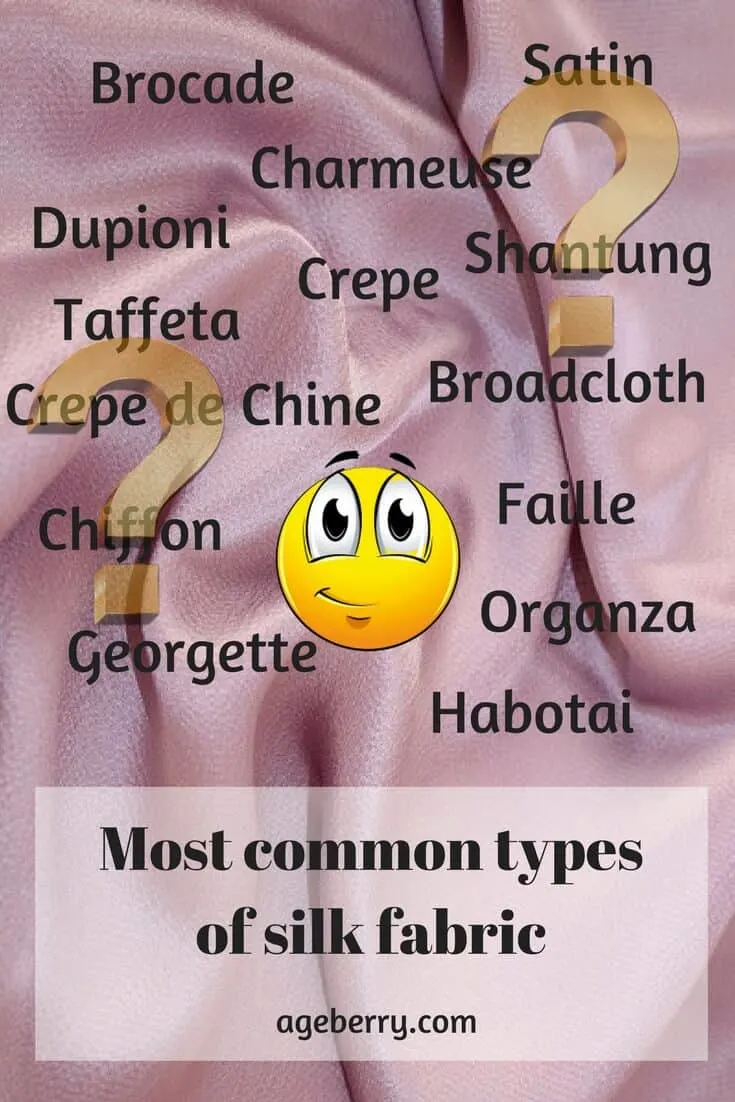 Note: Some of the links on this page are affiliate links. This means I will receive a commission if you order a product through one of my links. I only recommend products I believe in and use myself.
You can't easily find many kinds of pure silk in fabric stores ( like Joann fabrics in USA and Fabricland in Canada for example) to compare them, touch them and feel the difference. But there are plenty of online stores that sell 100% silk. I prefer to buy pure silk fabric on Amazon, check out this link. Also, floral silk prints are very much in style right now.
To me, the most distinguished types of silk fabric are Charmeuse, Dupioni, Chiffon, Organza, Raw Silk, Jersey Silk, and Silk Mesh. I have all of them and can see the dissimilarity.
But I am really puzzled about other types of natural silk fabric like Shantung, Georgette, Crepe, Satin, Habotai, Crepe de Chine, China Silk, Noil, Taffeta, Brocade, Broadcloth, Faille, Duchess Satin, etc. Is Charmeuse Satin? Is Shantung Satin? Are Shantung and Dupioni the same? Is Crepe de China Satin also? Are Georgette and Chiffon the same thing? Is Duchess Satin a lighter or a heavier kind of Satin? What of them is shiny and what's not? What is heavier and what is lighter? I googled, I researched, but it just confused me even more…
But we have to know what all these terms mean. Let me explain why.
I buy very often sewing patterns from Joann fabrics – McCalls, Simplicity, Butterick, Vogue, New Look, Burda. I use them quite a lot as a base for my sewing. And they always have recommendations on the back of the envelope on what fabric is suitable for the pattern.
You can see that among suggested fabrics there are always many types of silk. I wonder what you usually do when you read it? Do you know all these types of silk fabric for dresses, blouses, and skirts? Or do you just ignore it?
Well, let's try to research more and define them. I made also many silk fabric images and will include them in this guide.
Brocade
Read this "fabricadabra" from Wikipedia. Do you understand something here?
"Brocade is a class of richly decorative shuttle-woven fabrics, often made in colored silks and with or without gold and silver threads. Brocade is typically woven on a draw loom. It is a supplementary weft technique; that is, the ornamental brocading is produced by a supplementary, non-structural, weft in addition to the standard weft that holds the warp threads together. The purpose of this is to give the appearance that the weave was actually embroidered on.
In Guatemala, brocade is the most popular technique used to decorate fabric woven by Maya weavers on backstrap looms.
Ornamental features in brocade are emphasized and wrought as additions to the main fabric, sometimes stiffening it, though more frequently producing on its face the effect of low relief. In some, but not all, brocades, these additions present a distinctive appearance on the back of the material where the supplementary weft or floating threads of the brocaded or broached parts hang in loose groups or are clipped away. When the weft is floating on the back, this is known as a continuous brocade; the supplementary weft runs from selvage to selvage. The yarns are cut away in cutwork and broché. Also, a discontinuous brocade is where the supplementary yarn is only woven in the patterned areas."
Well, this scientific description doesn't help me much.
So, in the end, I found this link from www.burdastyle.com, which I understood easier.
"Brocade fabrics mainly consist of solid or multi-colored silk threads, often times combined with gold or silver metallic threads (note: even professionals cannot agree …). A brocade is woven by adding a supplementary weft to the weave, creating the illusion that sections have been embossed into the fabric, or embroidered on top of it. The back (or wrong side) of brocade is determined quite easily, as it will have groups of threads that have been trimmed away or left out of the weave and look messier."
So as I understood, the main thing in Brocade weaving is "to achieve ornamental designs on the fabric that look like they are embroidered on".
I found out also that Brocade fabric often has a floral or a geometric motif and some luster, sews easily, and benefits from lining to maintain shape. It is used for evening gowns, wedding dresses, formal wear, costumes, and also for upholstery and draperies. Silk Brocade is a huge favorite of fashion designers. Brocade weaving, especially with gold and silver threads, has been an age-old tradition in India.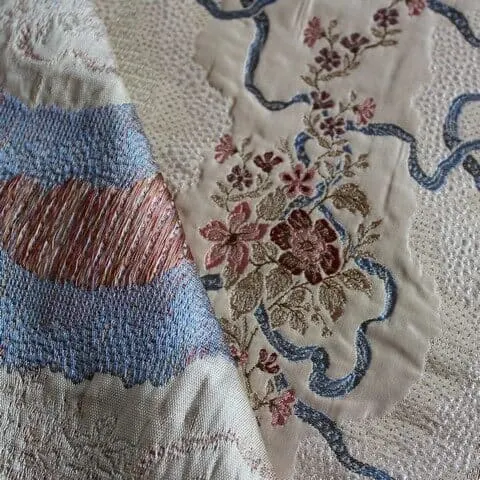 And now some examples of what we can sew with brocade. This Simplicity pattern 1691 recommends using Brocade for dress C in the middle.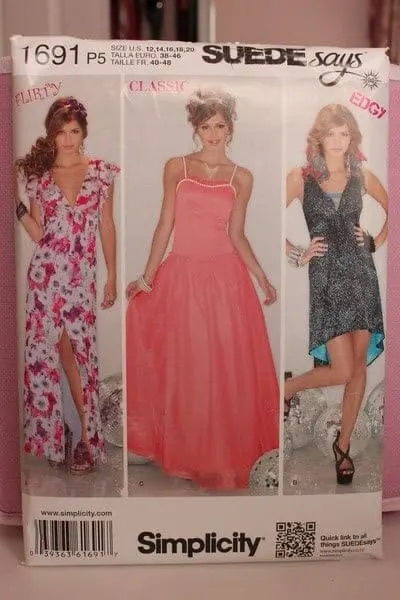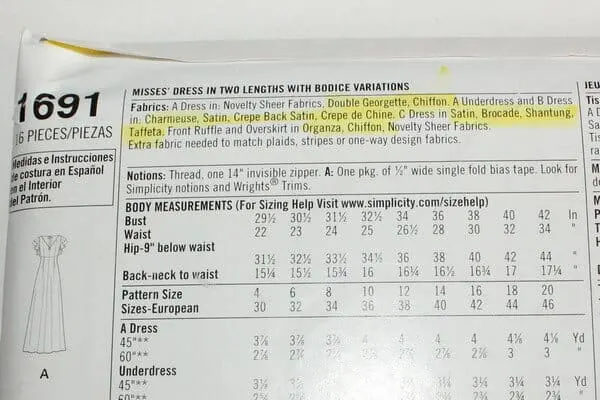 Satin ( plus Charmeuse and Duchess Satin)
Now, what is Satin and how is it different from Sateen?
Silk Satin – is one of the noblest and most luxurious types of silk fabric. We appreciate Silk Satin for its smoothness and characteristic shine. It is flatteringly fluid fabric and drapes very well. This fabric is dense with high thread count and can be lightweight, medium and heavyweight, firm, but delicate.
The word Satin is often referred to not only as natural silk: Satin can be produced in a variety of fibers. Satin is essentially the name of a weave and is not the name given to a specific raw material.
One side of Satin silk cloth has a lustrous sheen, is very shiny and smooth, and the other side is matte. When sewing with Satin you can show whichever side you like because it is a completely reversible fabric.
Silk Satin fabric looks and feels very luxurious and absolutely ideal for sewing the most elegant garments. Satin is used to create bridal dresses, evening gowns, lingerie, and bedding. In menswear Satin is usually used on tuxedo lapels and trimmings.
And what is interesting, silk Charmeuse is Satin fabric, but very lightweight. Satin fabric that is heavyweight with a very high thread count is called Duchess Satin. There are a few other types of Satin, but I didn't see them mentioned in my sewing patterns, so I skip them for now.
Two more thoughts though. There is also the word Sateen. It is used for fabric with the same particular kind of textile weave but made from cotton threads.
Satin fabric is quite easy to handle if you follow some tips for sewing slippery fabric.
A pattern that suggests using Satin is the one below (Simplicity 1658):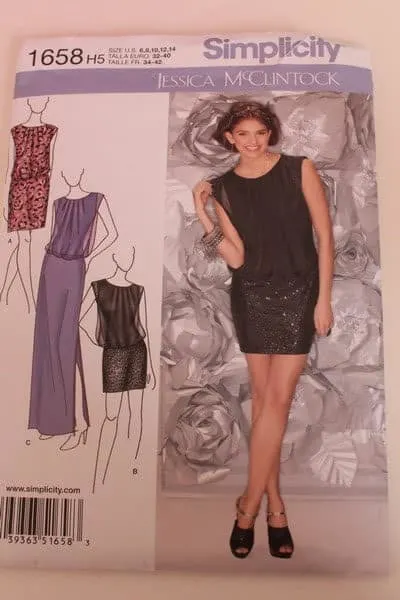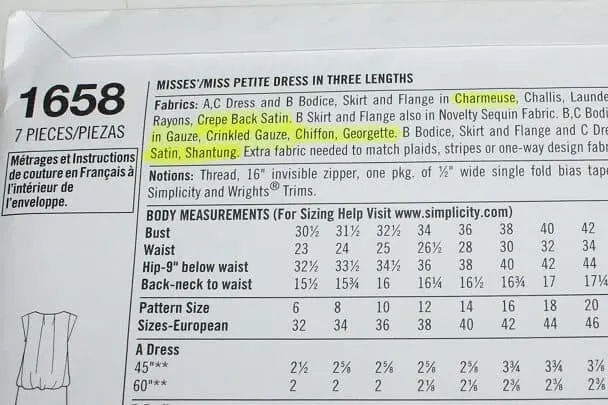 Shantung
This time the Shantung fabric definition from Wikipedia sounds good: "Shantung is a type of silk fabric historically from the province of Shandong. It is similar to Dupioni but is slightly thinner and less irregular. Shantung is often used for bridal gowns."
It is mediumweight silk fabric woven in a plain weave, has a slightly irregular surface, uneven ribbed "crisp" texture, it has some sheen but is not very shiny. I noticed that it wrinkles easily and abundantly. But it is easy to sew.
I want to quote this blog post: "While the silk shantung will still have a fair amount of body and that lovely crispness, it will usually be much thinner than the dupioni and will therefore be suitable for more delicate garments. Silk shantung can almost appear flowing, and is the perfect "happy medium" between a drapey silk charmeuse and a stiff silk dupioni or taffeta. Besides the popular uses of silk in home decorating and quilting projects, silk shantung is terrific for evening wear, flower girls' dresses, bridal gowns or sashes, fabric flowers, First Ladies' gowns, or any special occasion that calls for an exquisite outfit."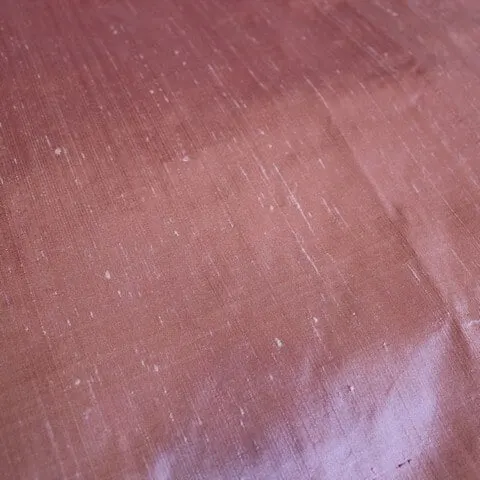 And now an example of a pattern which recommends using Shantung (Simplicity 1665):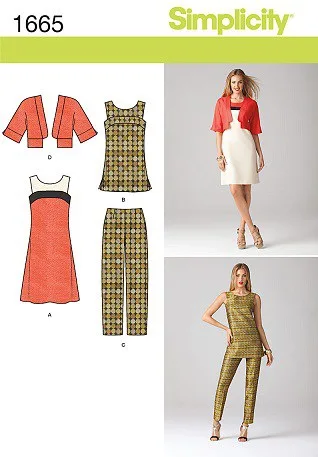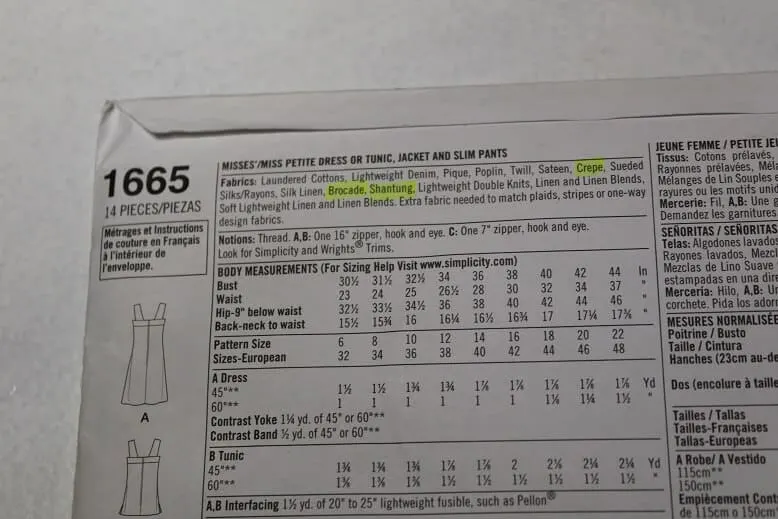 Dupioni
Dupioni (also sometimes Douppioni or Dupion) is a plain weave crisp type silk fabric. It is similar to Shantung, but a little thicker and with greater crosswise irregularities and bumps in texture called slubs.
Dupioni is often woven from two different colors of threads and because of that it shimmers or changes color in the light. It does have a tendency to wrinkle and unravel easily but is usually easy to sew. The fabric is reversible, so both sides of the cloth can be visible in a finished garment.
Dupioni is popular in wedding and evening wear, is suitable for prom dresses, and women's suits, and can be used in upholstery and drapery. But dupioni is quite stiff fabric and is not good for patterns that require fluid drapey fabrics that flow very well around the body.
Silk Dupioni comes in a home decoration version, which is usually heavier and wider.
I didn't find Dupioni in the suggested fabric for my sewing patterns. But I used it a lot to make blouses, dresses and … pillowcases. Here are some examples of curtains:
Taffeta
Taffeta looks like Satin at first glance because it has a nice sheen but when you touch it you feel that it has a stiff texture. It holds its shape very well.
It is a tightly woven, plain weave material. Usually, gowns and suits made from Taffeta are lined with another silk fabric that is softer and smoother. If you walk in a long dress made from silk Taffeta you may notice that the fabric makes a funny hissing noise. Dresses made from Taffeta are usually quite heavy.
Wikipedia says that "it is also widely used in the manufacture of corsets and corsetry: it yields a more starched-like type of cloth that holds its shape better than many other fabrics ".
Being a stiff silk fabric, Taffeta doesn't drape very well. It also unravels a lot and doesn't ease well. But is very easy to sew.
Here is the pattern that recommends using Taffeta (Butterick B4069)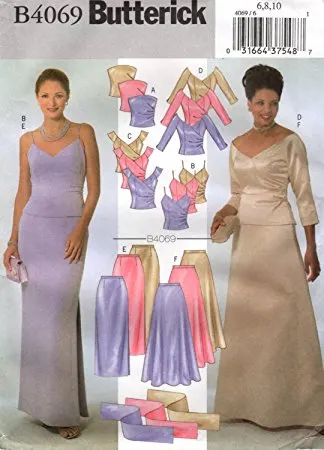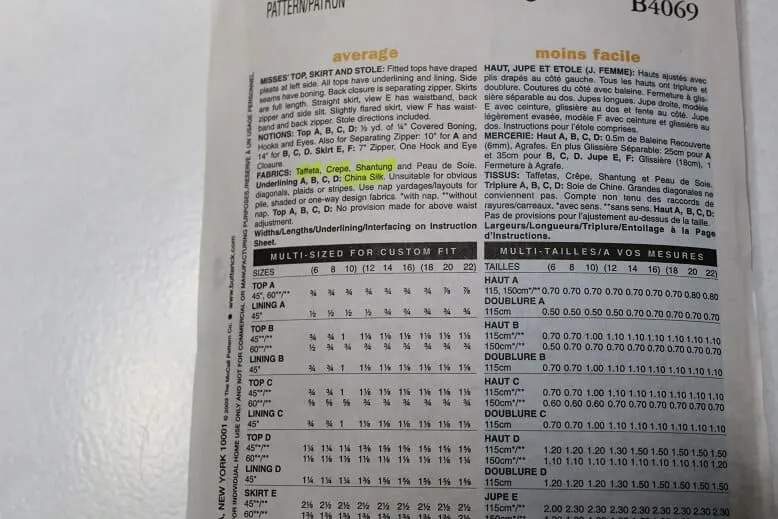 Crepe
Silk Crepe is a woven fabric that usually has a crinkled or granular surface, with a sort of small folds or ridges. The tight weaving and twisting of the fibers prior to weaving are responsible for this pebble-like texture.
Crepe is usually lightweight cloth and has a lustrous sheen. It drapes very well and is suitable for blouses, dresses, skirts, scarfs, and any patterns that require flowing fabric. Both sides of the fabric look and feel the same. Crepe fabric doesn't unravel easily and is a little stretchy and quite wrinkle-resistant because of its texture. Easy to sew.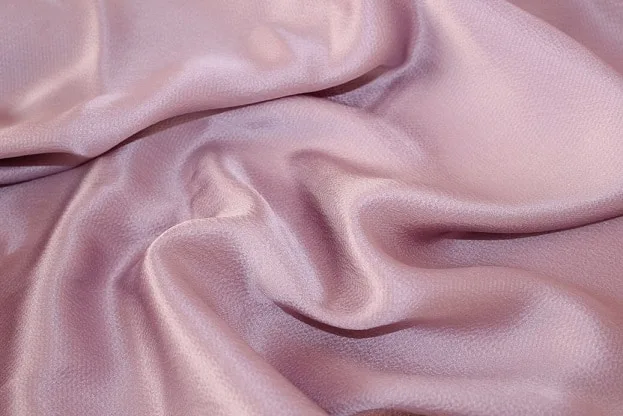 Here is an example of what can be made with Crepe.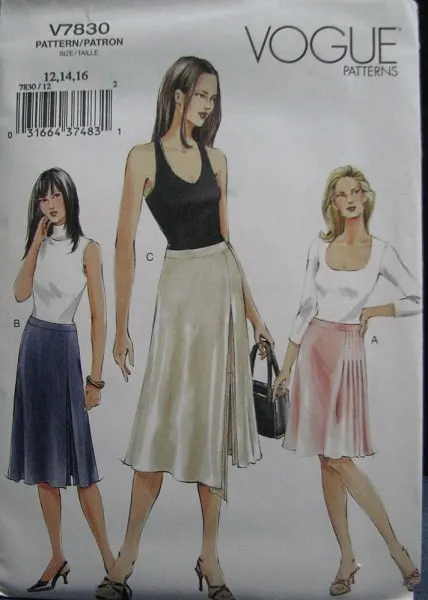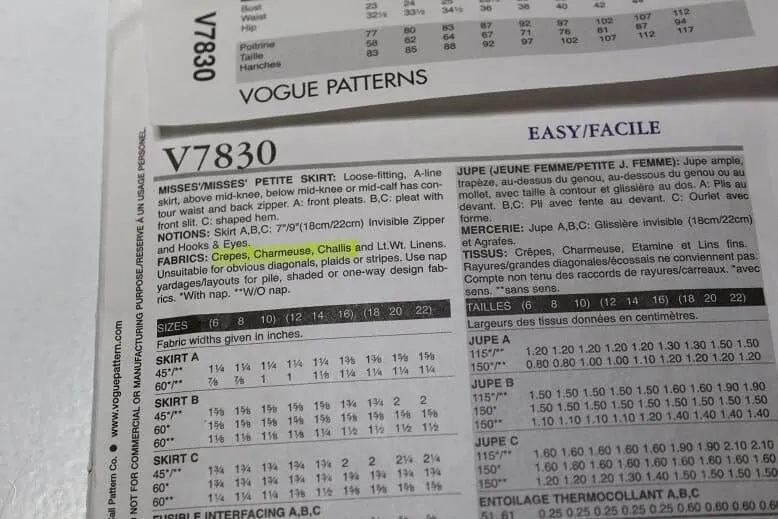 Crepe de Chine
I found a great description of this silk fabric here: Crepe de Chine … is similar to Silk Crepe, but lighter weight and less textured fabric made with S and Z highly twisted filament yarns alternating in the weft and with a normally twisted filament warp. The matte surface and pebbled texture of this graceful fabric reflect individual pinpoints of light, giving it wonderful chromatic depth and striking eye appeal. This luxurious silk has the additional virtues of great durability and excellent wrinkle resistance."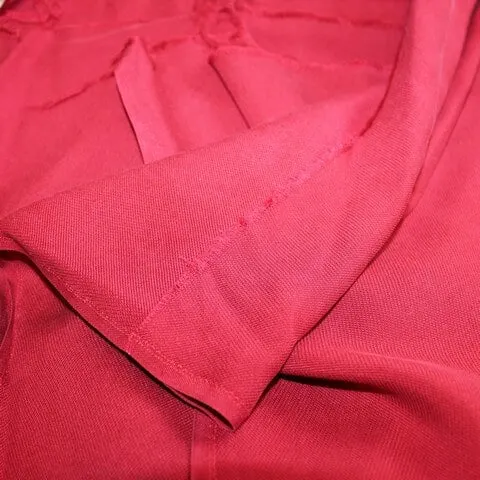 I see that Crepe de Chine is quite popular among pattern makers. Here is one example.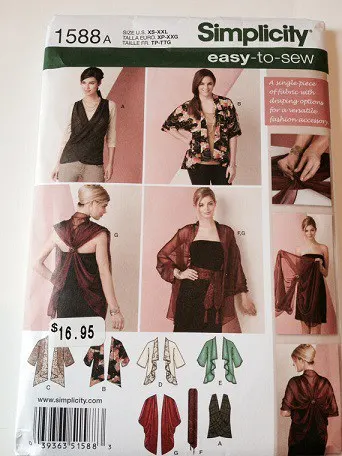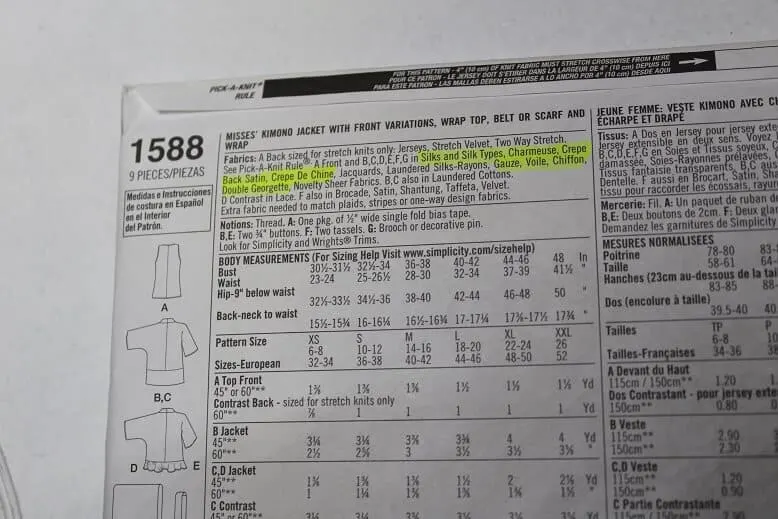 Georgette
Again I will borrow an explanation from the same post:
"Fine, lightweight, plain weave, crêpe fabric, usually having two highly twisted S and two highly twisted Z yarns alternately in both warp and weft. Made of crepe yarn, silk georgette has a grainy texture, a sheer feel, and a thin, very dry hand. It is heavier than chiffon, and is similar to silk crepe, but is not as soft or lustrous as crepe. Georgette is durable but snags easily. Drapes very fluidly, and falls into soft ripples.
With its creped surface, this sheer and strong silk fabric is great for blouses, bias-cut flared skirts, evening wear, dresses, and scarves. Doesn't show pin marks, and doesn't hold a crease. Relatively difficult to sew."
So Georgette fabric (like Crepe) has a textured surface, is sheer and similar to chiffon but stronger and a little more opaque. If you want a flowing look but not so transparent as with Chiffon, use Georgette. Dresses, blouses, flared skirts, scarves, and evening and bridal gowns are some of the most common garments made with Georgette.
There is also Double Georgette Silk fabric which is heavier than Georgette providing extra weight to garments. Double Georgette is considered a medium-weight sheer fabric with good draping abilities.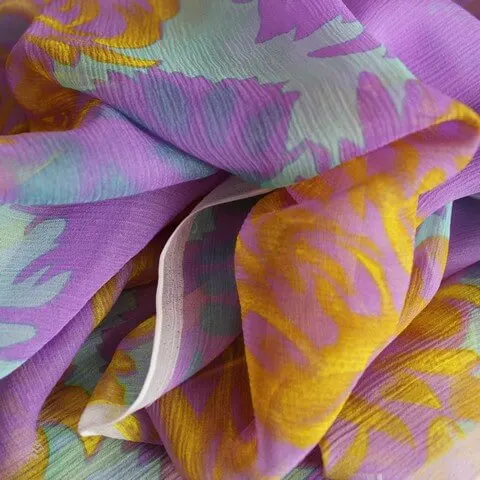 Now is one example of a pattern that suggests using this fabric.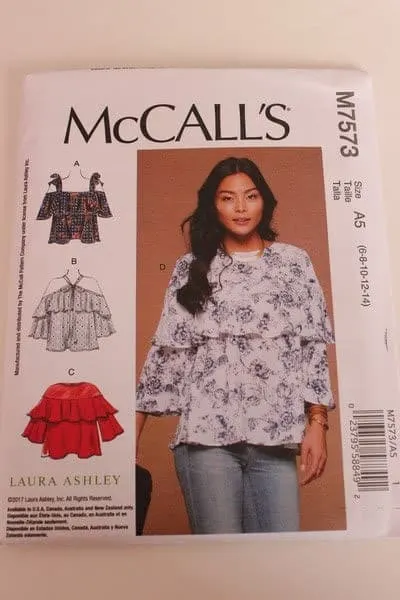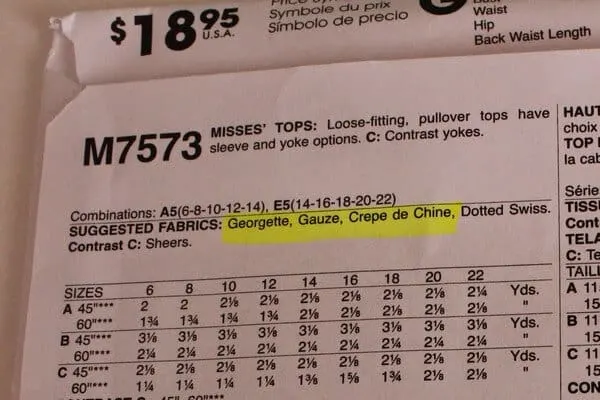 Habotai /China Silk
This silk fabric has an even, most basic, plain weave of very fine silk threads, it has some sheen, is very lightweight, not sheer but thin, soft, shimmering, and smooth, and looks the same on both sides.
This is the classic silk fabric since nothing has changed in its production over the centuries. I noticed that it is a little less expensive to buy than other silks, maybe because of this, it is commonly used as a lining for luxury garments instead of polyester. To me, silk Habotai looks like that polyester lining that we can easily find in any fabric store.
Silk Habotai is a very flowing fabric and at the same time has a slightly crisp feel. It can be used not only for lining but also for dresses, blouses, lingerie, scarves, and swim cover-ups, it is widely used to make kimonos. Another common use for silk Habotai is silk painting because it has a smooth surface and it is quite easy to dye.
Silk Habotai has a tendency to fray but otherwise, it is quite manageable to sew.
Here are some examples from my patterns.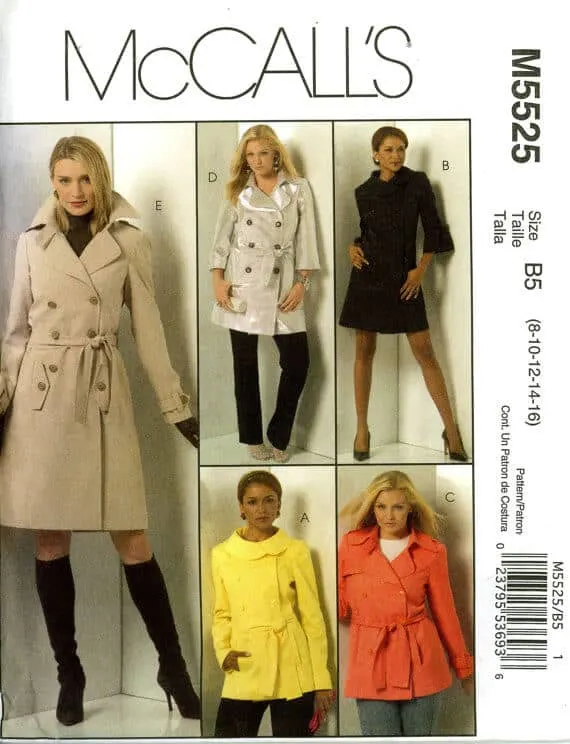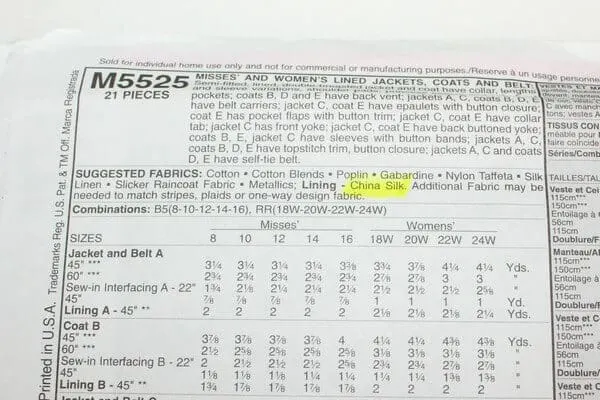 Silk Chiffon
It seems to me everybody knows that Chiffon is sheer silk fabric so I don't need to say much here.
Silk Chiffon is a sheer see-through, lightweight, fine, delicate fabric with a soft, beautiful drape. It can have a nice sheen or be matte. Chiffon garments usually require lining or backing. It is widely used for making scarves. Drapes beautifully, falling in soft, languid ripples.
Chiffon can be difficult to work with because it is very thin, fluid, and slippery.
I like to work with chiffon even if it is considered a difficult fabric. I published some articles about sewing with chiffon. Here are the links:
Laying out, marking, and cutting sheer silk chiffon, organza, and other "slippery" fabric
How to sew sheer fabric using only a bobbin thread for stitching
And below are some images of the garments I made from silk chiffon fabric.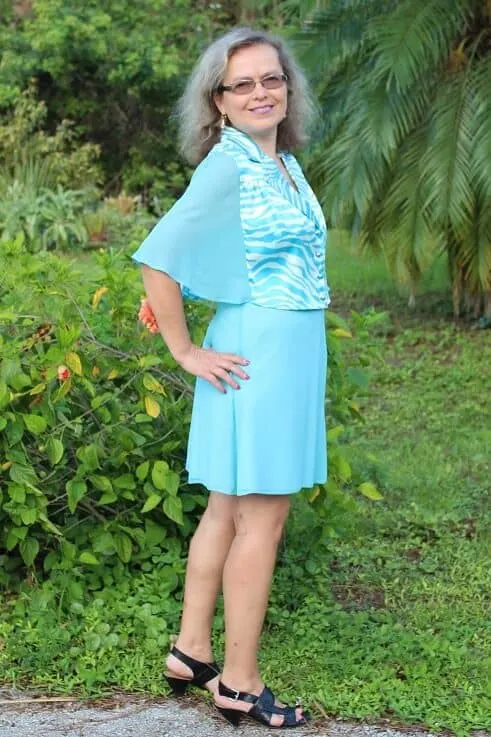 Silk Organza
We usually are more familiar with polyester and nylon Organza which are readily available in any fabric store. But I don't like synthetic so I use only 100% Silk Organza.
Silk Organza is fully transparent, it has a crisp feel and a flat, smooth texture. Usually, it has a nice sheen. In spite of its delicate appearance, it is very strong and durable.
It has so many uses in the sewing room! It is great for bridal and evening wear, costumes, and home decorating. It can be used for lining and interfacing because it stabilizes and adds practically weightless support for dresses and skirts preventing the fabric from stretching and it also prevents wrinkles to some degree.
What I like the most, is Silk Organza unlike any other silk fabric resists high temperatures and steam ironing and because of this I really love to use silk Organza as a regular press cloth for ironing. The absolutely best thing is that I can see through it and iron hems, darts, and other silk pattern pieces without any fear that drops of water from my iron will come to my precious silk and spot it exactly in the most visible place. Organza also saves my silk from iron burns. Actually, with Organza as a press cloth, I iron my silk fabric with cotton settings and full steam. It seems to me my iron doesn't get really hot for cotton and linen.
I also like very much to use Organza for machine embroidery.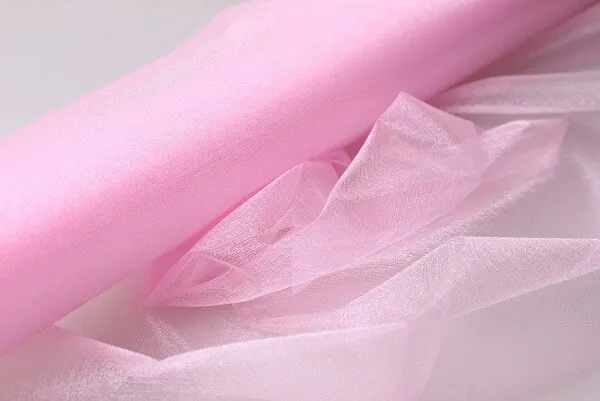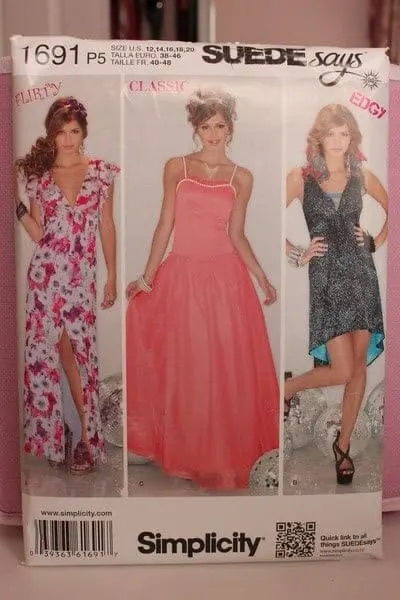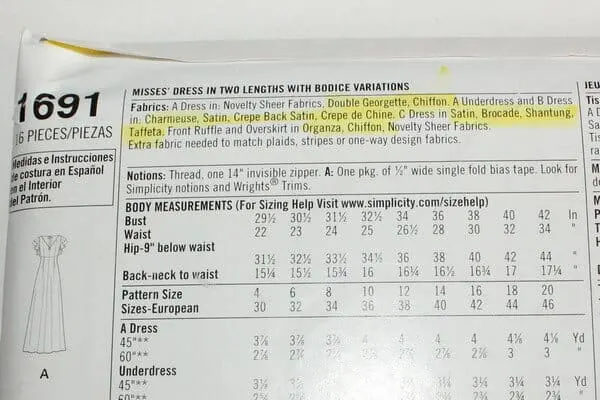 Faille
Faille is sometimes a recommended fabric on the back of a pattern envelope.
I do not have experience working with this kind of fabric and I really can't come up with a clear profile from external sources. In the dictionary, it is described like this: "a somewhat shiny closely woven silk, rayon, or cotton fabric characterized by slight ribs in the weft". https://www.merriam-webster.com/dictionary/faille
On the other blog, I see these words: "A plain weave fabric with pronounced, fairly flat crosswise ribs and a silky, somewhat lustrous surface, faille is the name given to such fabric in a range of weights". http://vintagefashionguild.org/fabric-resource/faille
Mood fabric store defines Faille silk this way: "Silk Faille Fabric receives its characteristically ribbed surface from the calculated addition of thicker yarn. Faille Fabric is one of the more substantial silk fabrics where the defined ribs are less prominent than a grosgrain since a faille is of a plain weave. Similar to most silks, this fabric is smooth, lustrous, and easy to drape, but it has an affinity for taking a crease making it a popular choice for tailored clothing." https://www.moodfabrics.com/fashion-fabrics/silk/faille
So I understand that Faille is silk with some kind of ribbed texture, but how is it different from Crepe? And since there does not seem to be a common opinion about this it is also likely different fabric manufacturers will have their own opinion about what makes faille.
I only have an image from the online fabric store https://www.moodfabrics.com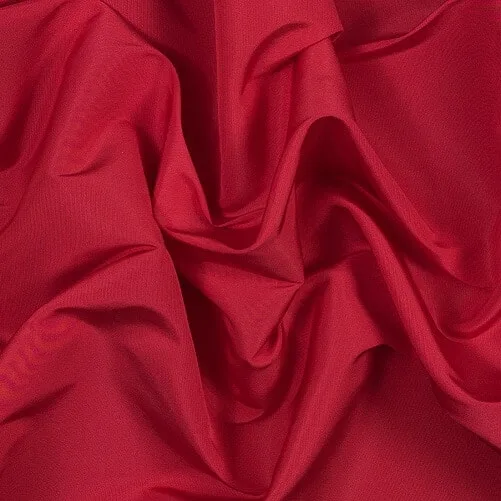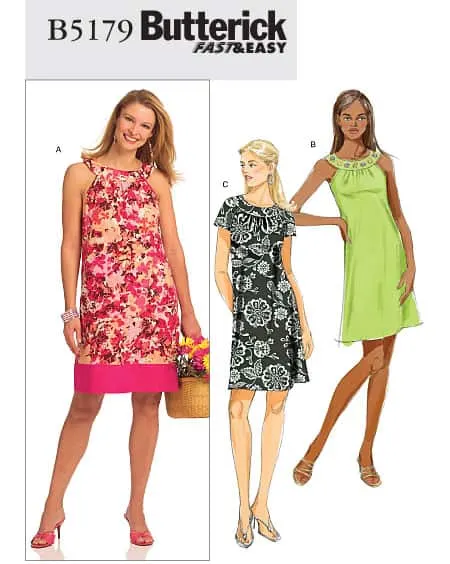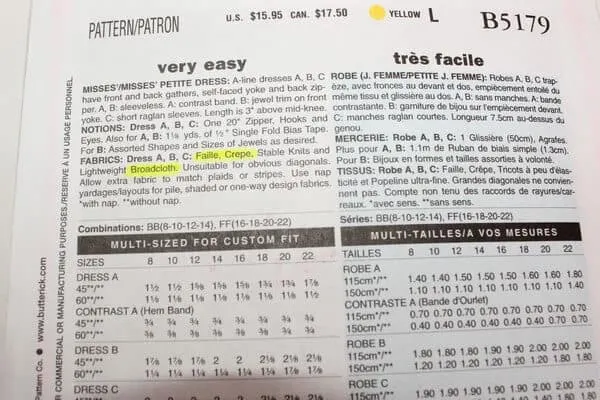 Broadcloth
Silk Broadcloth is a mediumweight woven fabric with a fine, tight, even, plain weave.
It has a very little sheen, a slightly crisp hand, and an opaque surface. Drapes pretty well. To me, it looks very much like light soft cotton fabric. An interesting thing about this silk is that it can be machine washed at any water temperature but it shrinks. It is used to make men's shirts, but great for blouses and dresses also.
The example of a pattern that suggests using Broadcloth is the same as above for silk Faille.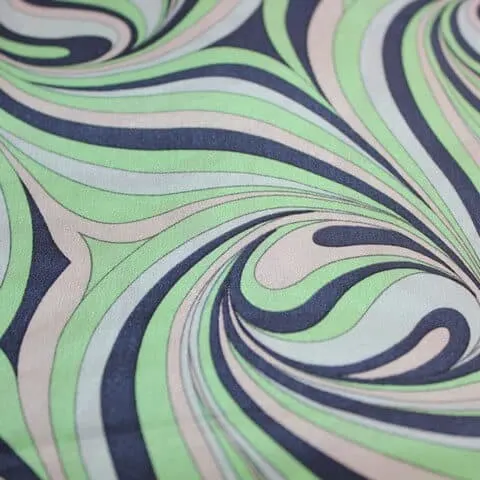 Raw silk
Raw Silk, also known as Silk Noil, is something different with a bit of texture to add to your collection of silk fabrics. Slight imperfections of the weave in the fabric are characteristic of Raw Silk. Non-slippery and not shiny texture sets Raw Silk apart from the rest.
Raw Silk usually has not been chemically processed.
"Note, this doesn't mean that raw silk is necessarily organic, however, which is how it's commonly advertised on some websites. Raw silk can still undergo several types of processing and finishing that are bad for the environment, and still, be left "raw."( http://dieworkwear.com/post/50021621387/raw-silk-explained)
"This is a slightly nubby fabric with random flecks in a natural, off-white color. It has a somewhat rough texture and a gentle drape."
To me, Raw silk fabric looks a little like thin wool but it drapes better than wool. Raw Silk is made from short fibers left after combing and carding so it doesn't shine like many other silk fabrics.
If you buy Raw Silk you may notice that it has an odd smell because initially, it has a lot of sericin (a naturally occurring protein) in it; the smell dissipates after washing. It can be machine washed on gentle and dried on low, but this will cause a faded, "weathered" look. If you prefer bright colors, dry clean or hand wash.
You can buy Raw Silk for a very reasonable price as it is one of the least expensive silks. This fabric takes dies very well, is easy to work with, and sews up beautifully. It is perfect for casual garments because it is soft and breathable, it is also great for bedding, and may be used for quilting, some people use it even for diaper lining.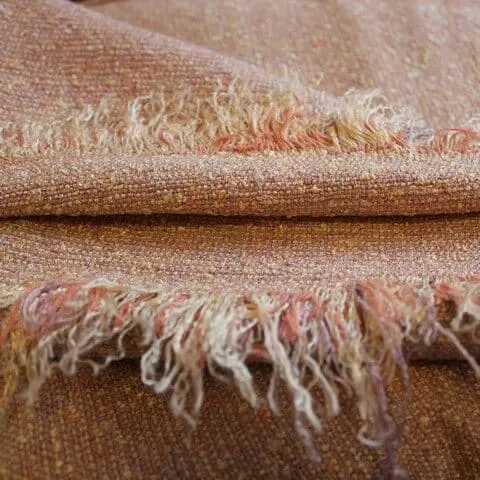 Gauze
Silk Gauze is a sheer silk fabric similar to soft floaty Chiffon but thinner, it is extremely lightweight, sheer, and delicate, loosely woven of fine but very strong silk threads.
Gauze has a very soft hand and floaty drape. It can be used to make light as air wedding veils, scarves, stoles, boleros, and even dresses. It is the most difficult of all types of silk fabrics to cut and sew because it is almost weightless, it distorts easily, it stretches a lot along with the bias and it is prone to snags.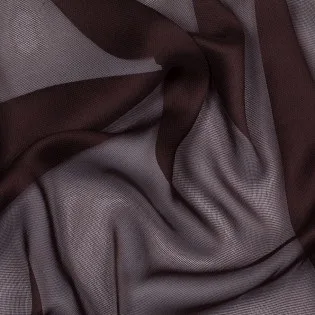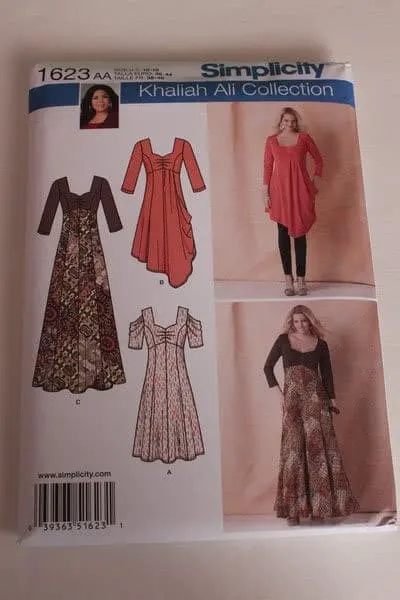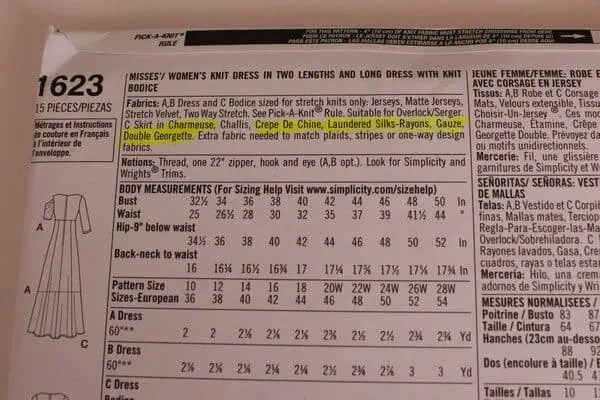 Gazar
Silk Gazar is completely different from Silk Gauze.
"Silk Gazar is similar to organza, but with more stiffness from extra sizing, and offers a slightly looser weave. The gazar fabric was developed and popularized by Cristobal Balenciaga, the famous 20th-century Spanish designer." https://www.voguefabricsstore.com/Silk-Gazar/
Gazar has a crisp hand and a smooth texture and is much used in bridal and evening wear. Gazar has a lot of sheens and can be considered just a Satin version of Organza. Gazar, like Silk Organza, is a washable fabric, that withstands high heat and steam. Easy to sew.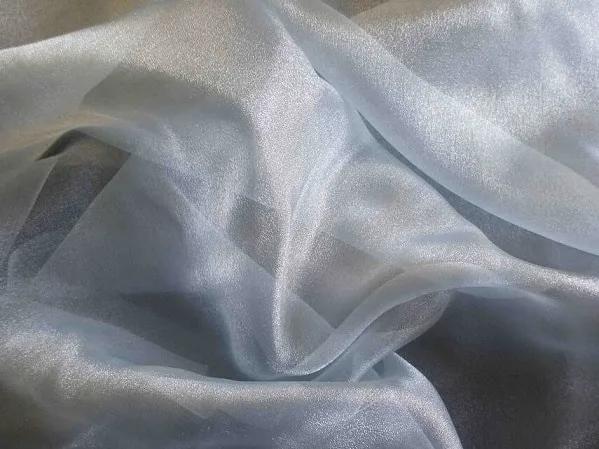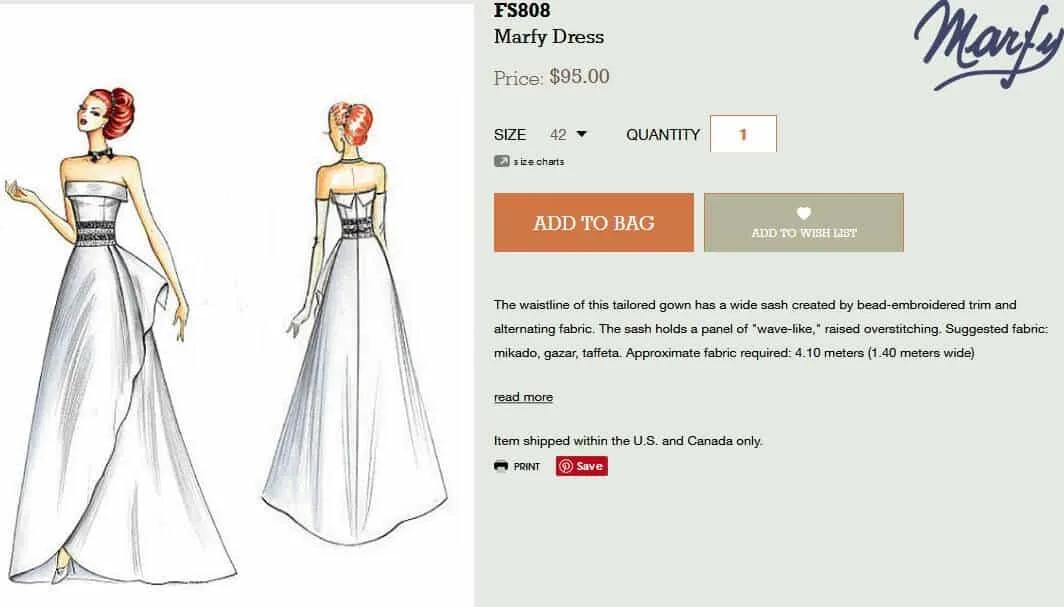 Silk Mesh
Silk Mesh is a lightweight, very fine netting, as light as a spider's web. Another word for this fabric is Tulle.
"This very lightweight mesh fabric has 75% mechanical stretch across the grain for added comfort and ease. Silky soft and sheer, it is perfect for creating stylish camisoles, layering tops, dancewear, ruffles, costumes, lingerie and even bathing suit cover-ups! This mesh fabric is sewn together at the selvage, creating a tube. Cut the selvage to yield two 24" wide pieces or one 48" wide piece." https://www.fabric.com/buy/0348377/telio-silk-mesh-black
Silk Mesh may be loosely woven or knitted fabric that has closely spaced holes. This open-hole silk fabric may be used for athletic wear, casual summer apparel, and even lingerie. But it is best known as the material for wedding veils.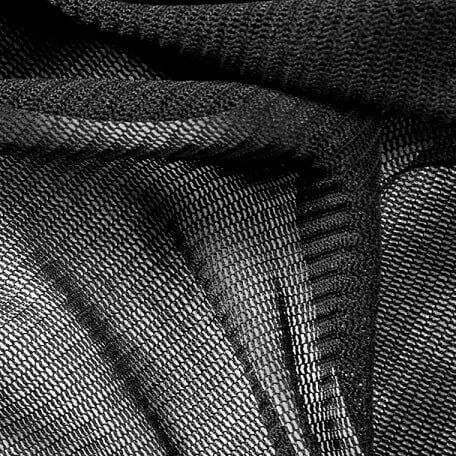 Silk Knit fabric
I really like to sew Silk Knits. This fabric is not woven, but machine-knitted. The best feature of it is stretchiness (or elasticity). Most knits stretch in all directions: up and down as well as across.
Silk Knit fabric is light, flexible, soft, very pleasant to touch and wear (as any other silk), and also very versatile. You can use it to sew comfortable dresses, trendy tops and jumpsuits, cozy leggings, lingerie, and much more.
Knit fabric usually doesn't unravel, so the edges often can be left unfinished.
And one feature that I especially like is the fact that Silk Knit fabric doesn't wrinkle as silk woven fabrics. Most kinds of silk fabric are quite wrinkly and after a few hours of wear silk garments look wrinkled and rumpled. But not outfits made from Silk Knits! They always look polished and well-ironed. Actually, they don't even require ironing.
The best type of Silk Knit is Silk Jersey fabric. The right and wrong sides of Jersey are different: vertical knit ribs are shown on the right side, while you can see horizontal purls on the wrong side.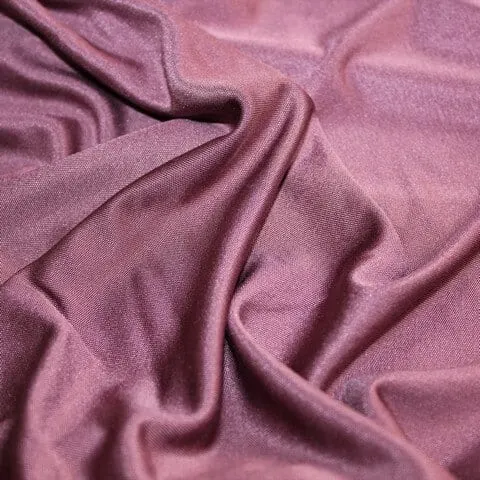 Embroidered Silks
Pure silk fabric is fabulous on its own but when it is enhanced with hand or machine embroidery the results are really spectacular. We can find stunning motifs on sturdy types of silk fabric like Dupioni, Taffeta, Shantung, Crepe, Organza, and Satin. Embroidery may incorporate also materials such as pearls, beads, gemstones, sequins, and ribbons.
Embroidered silks are commonly used for home decoration but if you want to show off on glamorous occasions you can use embroidered silk fabric to make fashionable garments like evening coats, skirts, tops, and dresses.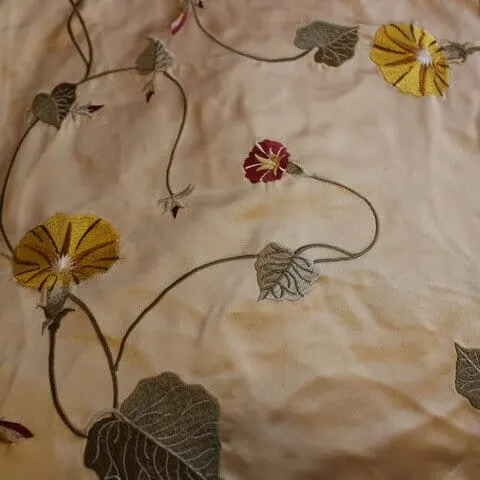 Well, my guide is getting too long right now for an article on a blog. So I will stop and advise you to explore the reading options suggested below.
There are plenty of resources to learn more about different types of fabric. I highly recommend the best-selling fabric guide by Sandra Betzina All New Fabric Savvy: How to Choose & Use Fabrics.
This book was named the best reference book of 2017 by Library Journal. "Fully updated to reflect new fabrics and notions as well as changes in sewing tools and techniques, All New Fabric Savvy is chock-full of essential information that all garment and home decor sewers need to work with 107 different types of fabric."
Now they can make polyester and rayon fabric similar to silk in its appearance. Artificial silk looks sometimes even better than natural – it is wrinkle-resistant and really shiny. But remember that polyester is a pure chemical product of the oil industry. If I wear a polyester dress on a hot summer day I feel like I am inside of a plastic bottle. Very uncomfortable feeling. So I never make clothes from polyester fabric. Check my article "The chemicals we wear everywhere" and decide for yourself if you agree with me or not.
Also, I have many posts on my site about sewing with natural silk fabric. Check them out:
Great benefits of pure silk fabric
Helpful tips to avoid frustration when sewing silk (and what tools and notions to use)
How to sew silk: some advice on different types of stitches and seams
What types of silk do you use in your sewing projects?
Can you add something to my descriptions so we will understand better the dissimilarities of different types of silk cloth?
Did you like this guide? If you want to save it for future reference and to use it later when you are ready to sew something from silk, pin this image to your sewing board on Pinterest and follow me on Pinterest for more tips, tutorials, and inspiration.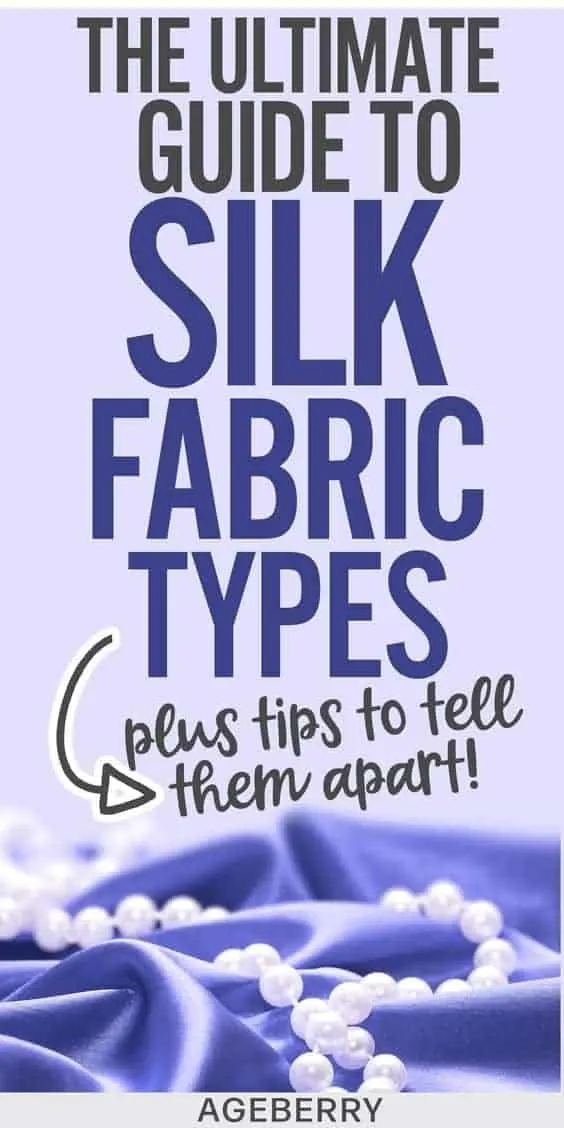 ---