This is a tool-by-tool guide to sewing with natural silk fabric. But not all silk though. If you sew with medium or heavyweight silk then you can use your regular sewing tool and notions.
But if you are using lightweight silk (like silk charmeuse, chiffon, georgette, habotai, shantung, etc.) then you probably need to read this guide.
Sewing machine settings
Most sewing machines (not all though) come with a foot pressure regulator. This control is not so obvious and many sewists just never use it. But if you are sewing very fine silk fabric you must adjust the foot pressure otherwise you may get skipped stitches, poor feeding of the fabric, and difficulty in guiding the fabric.
The foot pressure for chiffon, organza, georgette, and other very lightweight silk fabric has to be different than for thick coat wool and denim. So look in the manual of your sewing machine and find the pressure adjustment knob and how to move it for very lightweight fabrics. It is usually marked with an image of a presser foot.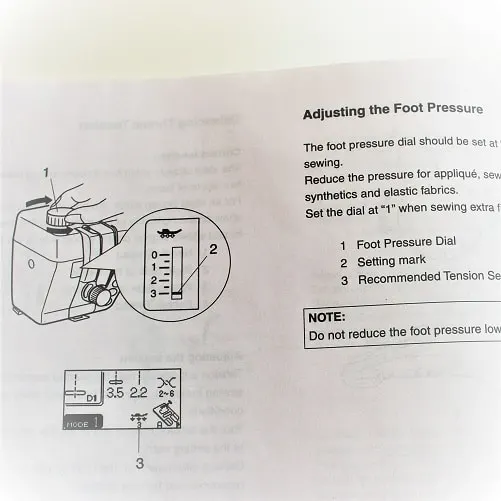 Pins
It's very important to use special pins (so they don't leave any holes in the material) for lightweight silk fabric. They usually have glass heads, they are very thin, long, and sharp and should go into the fabric with ease. Try your pins on scrap – if you hear a snapping sound when the pin enters the fabric then your pins are no good for fine silk.
Note: Some of the links on this page are affiliate links. This means I will receive a commission if you order a product through one of my links. I only recommend products I believe in and use myself.
Needles
For woven silk fabric use universal or sharp needles – sizes 75/11, 70/10, 65/9, 60/8.
For silk knits use special ballpoint, stretch, or jersey needles.
Hand sewing needles for lightweight silk have to be very thin and sharp, but it doesn't mean that they must have a tiny eye. I found out that embroidery needles size 8 with long eyes and very sharp points work the best for this purpose. Marks of such needles are not so visible.
---
Threads
Remember that your thread shouldn't be heavier than the fabric.
I prefer to use 100-weight 100% silk spooled threads to work with silk fabric. They are smooth, quite strong, yet delicate, have a lustrous sheen, and glide through the silk fabric with amazing ease. Silk threads are just amazing! They are very thin but they are also very strong.
If you don't have silk threads you can use fine machine-embroidery threads made from polyester or rayon but I prefer not to use regular polyester threads because it happens sometimes that the polyester thread when it comes out from the machine stretches out and then "relaxes" on the seams and shrink back puckering the seams. So check out on scraps how the stitching line falls.
Use also Eloflex. What is it and why do you need it?
Eloflex is an innovative stretchable thread from Coats. You can sew knits and stretchy woven fabric with a straight stitch of your regular sewing machine. Just wind the bobbin with Eloflex thread and use the thread both in the needle and the bobbin to sew stretchy fabric. Eloflex thread is quite strong and it expands with the fabric so seams don't pop out when stretched.
Interfacing
It is the lightest weight fusible. It has a wonderful drape. This is very thin and doesn't leave the silk stiff like some other regular fusible webs. But it must be applied using a non-stick Teflon sheet.
Misty Fuse is an environmentally friendly fusible that is solvent-free and recyclable. It's been extruded to a very fine web to create a lasting bond without adding bulk. No extra adhesive to gum up your needles. It is suitable for a wide variety of fabrics from velvets and cottons to delicate tulles and silk organzas. The fusible is made from 100% thermoplastic adhesive polymer resin.
Misty Fuse is a dream to work with – it handles well, is sheer and doesn't add bulk to your fused piece and bonds firmly once cooled. The 10-Yard Misty Fuse offers a discount over the regular by-the-yard price – it is cut directly from the bolt. You will receive a Misty Fuse instruction card with your order.
You can use also Pellon – Fusible Ultra Lightweight Interfacing: White. Ultra-lightweight interfacing for light to medium-weight fabrics. Ideal for wovens, knits, blouses, and sheer garments such as crepe de chine, voile, and handkerchief linen fabrics. Use for stabilization in quilting projects. Made of 100% Polyester. This package contains 3 yards of 15-inch wide ultra-lightweight interfacing. Made in the USA.
I prefer to use very lightweight thin fusible knit interfacing which has a certain amount of stretch in it. It doesn't add any weight or bulk to the fine silk fabric.
Special needle plate
There is a special needle plate (for sewing lightweight silk) with a smaller opening for the needle. It is called the Straight Stitch Plate and is used for straight stitching in the far left position.
This special plate prevents puckering, bunching up, skipping stitches, and also prevents the fine fabric from being pulled down to the bobbin area.
It is a little bit different for every sewing machine. I have one for my Janome 6600 but for Brother and Singer and other brands they will look different. Here is the image for mine. And you can buy it on Amazon. If you have a different machine, as you probably do, you will have to search for "your machine name straight stitch needle (or throat) plate" (just make sure it fits your model, it will be different than this).
Straight Stitch Foot
You can use a special Straight Stitch Foot with a smaller hole. It also holds fine silk fabric against feed dogs and helps to prevent puckering and skipped stitches.
Scissors
I prefer to use lightweight Gingher shears for cutting silk fabric.
The scissors cut fabric expertly and they are extremely lightweight, only 2-ounce yet somehow not flimsy at all, well balanced, and relatively study. Handles are sculpted to fit your hand, maximizing comfort, sensitivity, and control. The proprietary blade grinding technique provides a lasting sharp edge that cuts all the way to the tip.
Lightweight silk fabric usually ravels easily so you can trim it with pinking shears when necessary.
Marking tools
I prefer a purple disappearing ink pen, its marks are air and water-soluble and usually disappear in 24-72 hours. In the instructions for the marking pen, they say "do not iron over marks" but I don't know how it is possible – I mark darts for example, then sew them, and then I had to wait 24-72 hours to iron them? Of course, it's not possible – I iron them right after I sew them. And fortunately, I didn't have problems with marks leaving spots.
But this pen may be not suitable for all fabrics so always test your marking pen on scrap to be sure marks will completely disappear.
Some fabric markers ( especially waxed chalk) leave hard-to-remove spots on delicate silk fabric so don't use them.
Four spool pin felts two red and two white, protect your machine, and prevent friction and thread backlash. They are placed under the spool between the base of the machine and the spool of thread. They help to keep the spool from continuing to spin after you've stopped sewing. You only need to use it if you're on a vertical pin.
---