A walking foot attachment is an essential accessory that can make all the difference in your sewing projects. Today, we're taking a deep dive into your sewing machine's walking foot to learn what it is and why to use it…and maybe answer a few burning questions you've had about a walking foot attachment (and a few you didn't know you had).
What is a walking foot attachment for a sewing machine?
A walking foot attachment is a bulky weird-looking presser foot for a sewing machine. There are a few different types of walking feet but the most common walking foot for home sewists looks like this.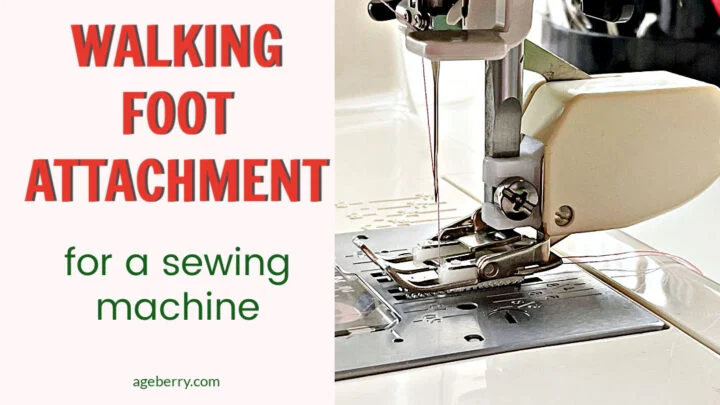 The majority of home sewing machines do not include a walking foot attachment as an option; instead, it must be purchased separately.
Look at the parts of a walking foot in the image below.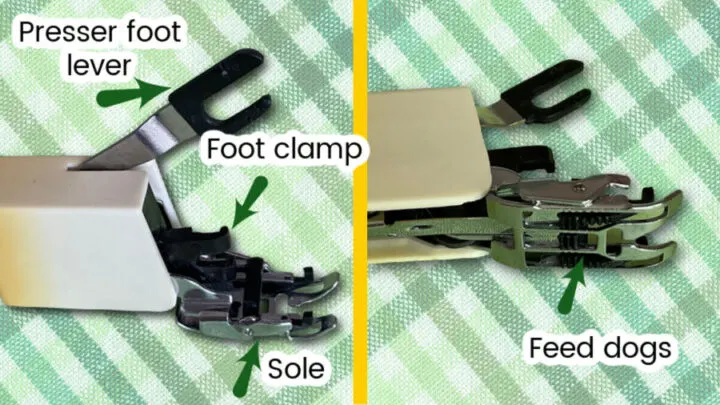 There is a presser foot lever (called an arm sometimes). This lever fits over the screw that secures the machine needle in place and goes up and down as the needle moves.
You also see a foot clamp for attaching the foot to the machine with a screw. On the bottom, there is a sole that resembles a standard presser foot.
But the most important part of a walking foot is the feed dogs that are built into the foot and work similarly to the feed dogs that any sewing machine has.
Just in case you don't know what feed dogs are on a sewing machine – short, thin metal bars (they are called teeth) located below a throat plate that move the fabric under the presser foot.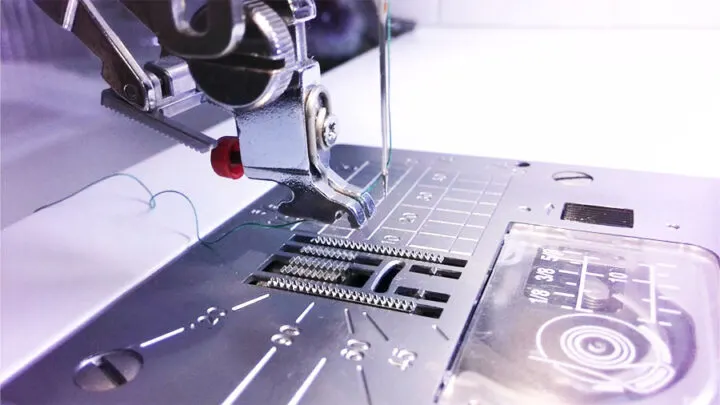 The feed dogs of a walking foot can be made of metal too but some of them are made from plastic.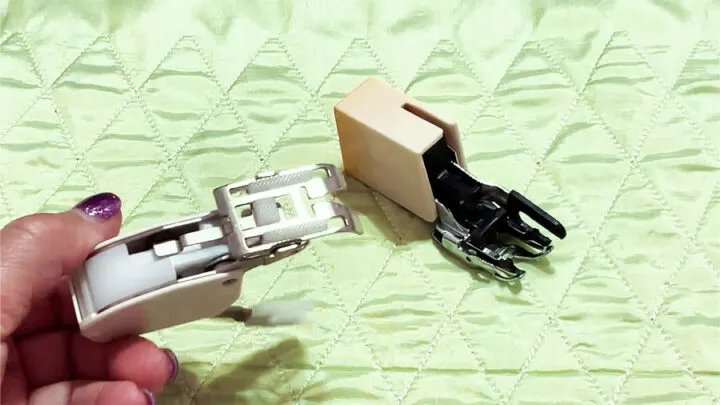 Attention! If you like the video format, at the bottom of this post, look for a YouTube video version where there is a quick tutorial on walking foot attachment for a sewing machine. For a more complete picture, I recommend exploring both versions.
How does a walking foot attachment work?
Let me show you first how a regular presser foot works so you will understand better the walking foot features.
So, the needle is going up and down, and together with the needle feed dogs under the needle plate go up and down and move the fabric and push the fabric through the machine.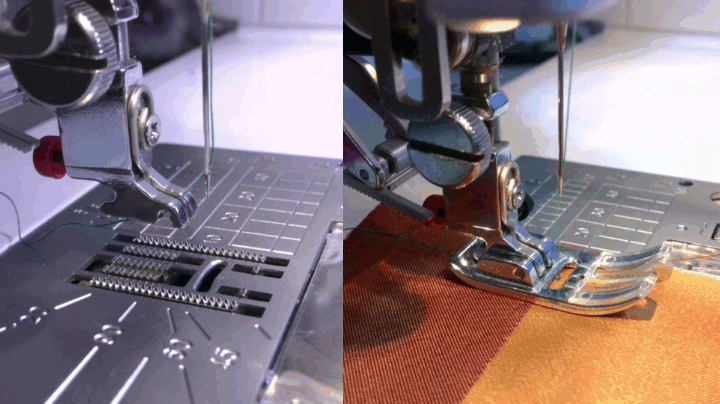 So when you sew multiple layers of fabric the feed dogs under the presser foot grab (or touch) and move only the bottom layer and the top layer is moving too but only because it's attached to the bottom layer and the presser foot presses them together.
In this case, the top layer may shift as a result of uneven feeding. And this is exactly what's happening when you sew heavyweight fabrics, slippery fabrics, when you have multiple layers in a quilt, etc. Thick fabrics can't easily move under the presser foot and the top layer can't move in unison with the bottom layer.
But if you use a walking foot, that has its own feed dogs, the top and bottom layers are moving in unison when the needle is moving: the machine's feed dogs move the bottom layer and the walking foot's feed dogs move the top layer. This process eliminates uneven top and bottom layer feeding and also reduces puckering since the fabric layers are fed uniformly through the machine in one smooth movement.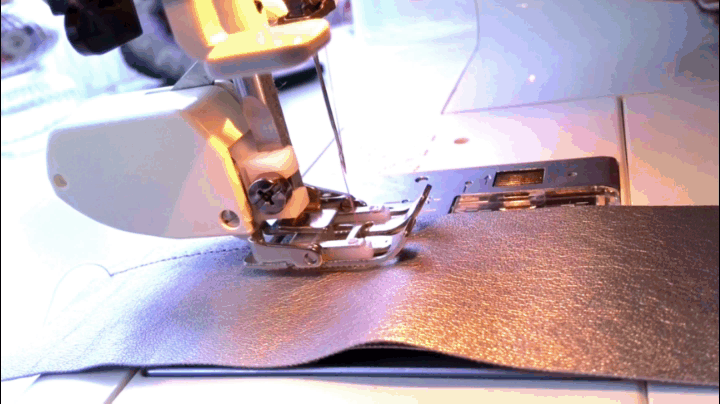 If you would like to know how to attach a walking foot to your sewing machine and how to use it check out my tutorial on How to use a walking foot
The walking foot (also called the even feed foot) attachment is helpful when you're facing some sewing challenges. The feed dogs of the walking foot grip the fabric and help pull it through at the same pace that your machine's feed dogs pull the fabric while your machine stitches. It basically will keep fabric layers moving through your machine at an even rate, whether it is slow or fast.
Is a walking foot the same as a presser foot?
Here's a riddle for you:
Every walking foot is a presser foot, but not every presser foot is a walking foot.
In other words, a walking foot is a (really bulky) type of sewing machine's presser foot.
What is the difference between a walking foot and a regular foot?
A regular presser foot slides across the top of your fabric as it presses down on it. As your machine's feed dogs pull the fabric towards the back of the machine, the presser foot just pushes the fabric. This can mean trouble for certain (silky or stretchy) types of material, as well as layers of fabric.
A walking foot is a bulky presser foot that has feed dogs of its own to help pull the fabric through at the same rate as the machine's feed dogs. This helps correct or prevent any fabric puckering or misalignment.
Note: Some of the links on this page are affiliate links. This means I will receive a commission if you order a product through one of my links. I only recommend products I believe in and use myself.
Is even feeding foot the same as walking foot?
Yes, these are two different names for the same sewing machine attachment.
I noticed that in stores they prefer to use the term "even feed foot" for the walking foot attachment. So if you plan to buy a walking foot online search for an "even feed foot".
Benefits Of A Walking Foot
Many people think of a walking foot as solely a quilting tool, but that couldn't be farther from the truth. Sure, it's beneficial for quilters, but it's also a helpful tool for many other uses too. Here are a few.
Quilting With A Walking Foot
Quilting is probably the most well-known use for walking foot, and there's a good reason for it. An even feed foot is super helpful when quilting because it prevents fabric layers from shifting in opposite directions. With a standard presser foot, you can use as many pins as you want to try to hold everything in place, but it will still shift or pucker. That's not a problem when you use a walking foot!
Straight Line Quilting With A Walking Foot
A walking foot is a go-to presser foot when you want to do straight line quilting. When appropriately used, this foot helps prevent puckering, and ugly tension weaves in your quilt.
In the image below you can see how I used a regular presser foot to sew a straight stitch on a piece of silk with batting: at the end of the stitch (before a pin) I had a big "wave" of fabric and this is a regular occurrence if you try to quilt with a regular foot.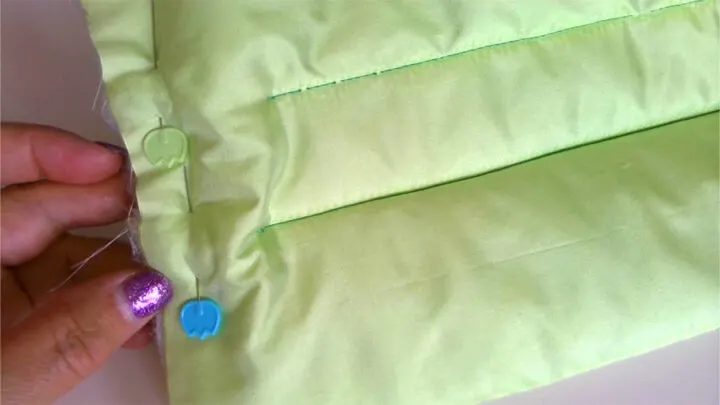 This is not happening if I use a walking foot.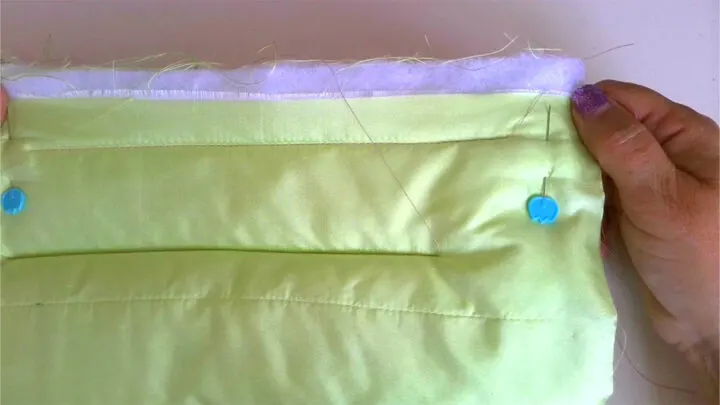 Use these tips to help ensure success:
Securely baste all the layers together.
Stitch slowly – WALK your walking foot.
Quilt in the same direction – don't sew in one direction, and then flip the piece around and sew in the opposite direction.
✅ Related tutorial: How to baste a quilt
Sewing On Quilt Binding And Topstitching The Binding
A walking foot really is your easy button for preventing puckering when sewing on quilt binding and doing the topstitching. It does a great job at feeding all of the fabric layers through simultaneously, taking the process from maddeningly frustrating to frustration-free.
Seam Matching (Nesting Seams) With A Walking Foot
When you want to match seams precisely, turn to your walking foot to sew them evenly. A standard presser foot will likely shift the fabric ever so slightly as you sew. And nothing is more frustrating than to see a ⅛" or ¼" difference in your seam alignment – well, maybe taking all those stitches out and doing it all over again!
Matching Plaids And Stripes
Sewing directional prints and patterns so that they align well at the seams can be a daunting task with a regular presser foot.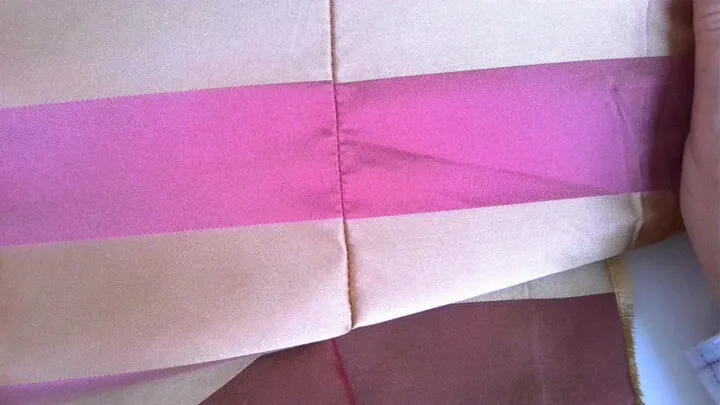 However, using a walking foot ensures that both pieces of your fabric move through the machine without shifting out of alignment.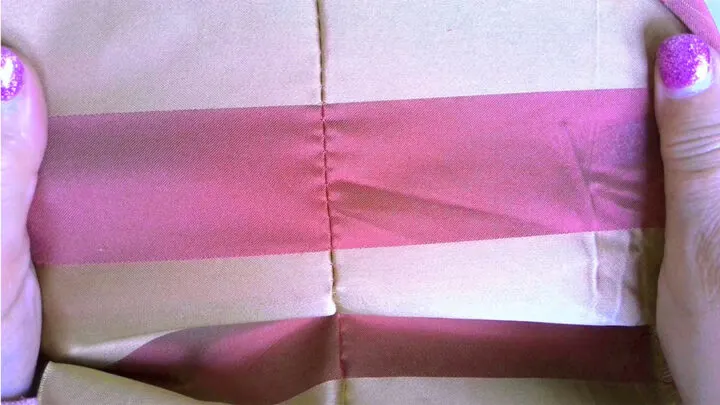 Topstitching
When you sew multiple layers of fabric, it's nearly impossible to prevent the feed dogs from feeding the bottom layer of material through the machine faster than a standard presser foot feeds the top layer. That's the case even when you use a huge number of pins.
A walking foot helps feed the top layer through the machine at the same rate as the bottom layer. That way, there's no shifting in the fabric alignment, so your final stitched item lies flat and pucker-free.
Sewing Stretchy Knit Fabrics
Stretchy knits are great for making leggings, activewear, dresses, skirts, and more. But they are, well, stretchy and you've probably experienced the frustration of having your seams come out wavy. When you sew knits with a standard presser foot on a regular sewing machine (not a serger), they tend to stretch and create a wavy seam. That's why it's important to use a walking presser foot when sewing these types of fabrics. A walking foot helps feed the fabric through evenly and prevents pulling or stretching while you sew. It also makes your seams look much better!
Sewing Leather, Vinyl, And Other Difficult or Heavyweight Fabrics
Thanks to their varied weights and textures, these fabrics can be challenging to work with when using a standard presser foot. These materials are slippery and bulky, which makes it hard to keep them in place with a standard presser foot. A walking foot is just what your machine needs to make this process easier for you. The walking foot's teeth will feed them through your machine without a hitch! You won't have to worry about slipping or sliding when using a walking foot for heavy-duty projects.
For example, when I try to sew faux leather and use a regular presser foot I have a problem of puckering on the back, and the top layer is always shifting. Look: the top and bottom layers were exactly the same sizes but after stitching the top layers seem ¼ inch bigger and the bottom layer is puckered.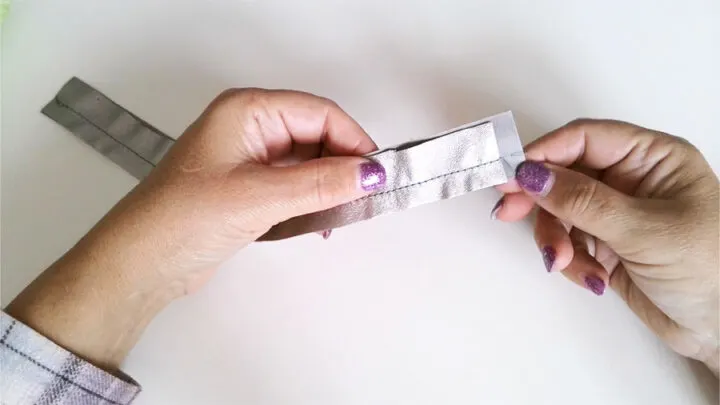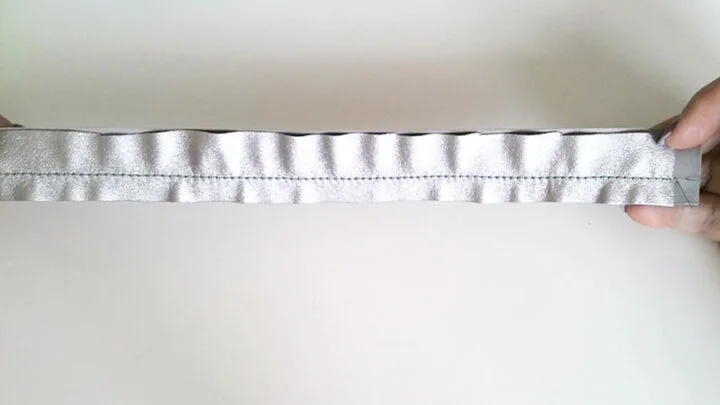 But as soon as I change the presser foot and use a walking foot for this material I don't have such problems anymore and the stitches look nice on both sides.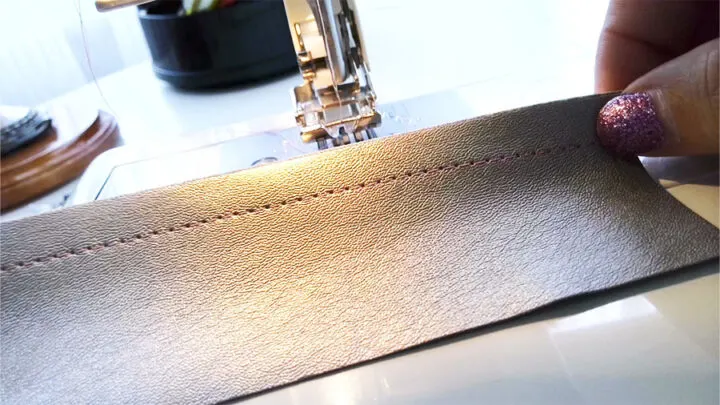 The same thing is happening if I sew velvet without a walking foot.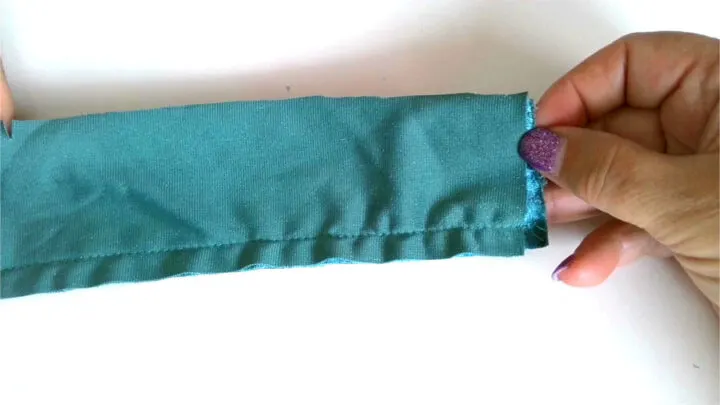 If you would like to buy a walking foot for your sewing machine check out my tutorial Brands of walking foot attachments: buying guide
When Not To Use A Walking Foot
You can use a walking foot in a large number of situations. However, there are a few when using one could ruin your project:
Free-motion quilting – a walking foot works very well when the fabric moves forward, but it doesn't turn from side to side.
Wide decorative stitches – since these require side-to-side movement, a walking foot can't handle them.
Sewing in reverse – a walking foot's feed dogs can only move the fabric forward, which will still happen even if you try to sew in reverse.
Sewing lightweight silk – a bulky walking foot with moving feed dogs can damage delicate fabric.
FAQs
In addition to the information above, here are a few common questions I see beginners ask.
What is the advantage of a walking foot sewing machine?
There are special walking foot sewing machines, most of them are industrial but there are some portable for home sewists as well.
For example, this one Consew CP206RL Portable Walking Foot Sewing Machine w/ drop-feed & reverse stitch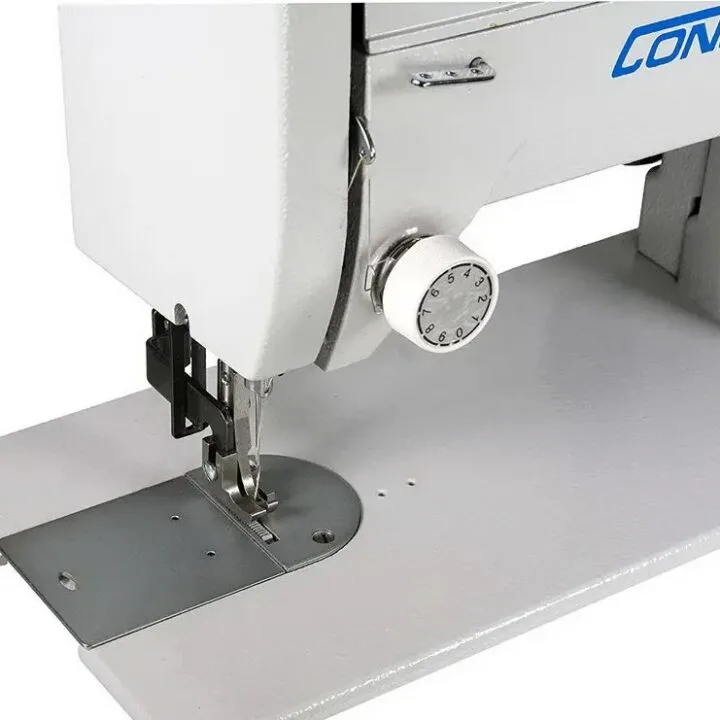 If you do a lot of sewing with a walking foot attachment, you may find that using a walking foot sewing machine creates higher quality final products. These machines are ideal for thick, slick, and layered fabrics, thanks to their built-in walking feet.
These machines are specially designed for stitching such products as auto, boat, and furniture upholstery, all kinds of covers, sails, tents, camping trailer covers, awnings, umbrellas, bags, luggage, handbags, travelware accessories, sports, and camping equipment, outdoor clothing, canvas shoes, slippers, orthopedic appliances, etc.
Is it worth buying a walking foot?
Yes, absolutely, there's no way around it. Your machine likely didn't (or won't) come with a walking foot, so you'll have to pay extra for one – and they can be expensive. However, if you like to do any of the sewing ideas I mentioned above, I recommend making the investment.
TIP: Before you make your purchase, double-check that the walking foot you want to buy is compatible with your machine.
Is a walking foot good for thick fabric?
Yes, a walking foot is great for thick fabric like upholstery fabric, outdoor fabric, bag fabric, camping equipment fabric, etc. because it's not easy even to place these fabrics under the regular presser foot – they are bulky and well… thick and it's even harder to make them move under the presser foot. For example, a few layers of denim were stuck under the regular presser foot when I tried to hem jeans and the needle was sewing in the same spot.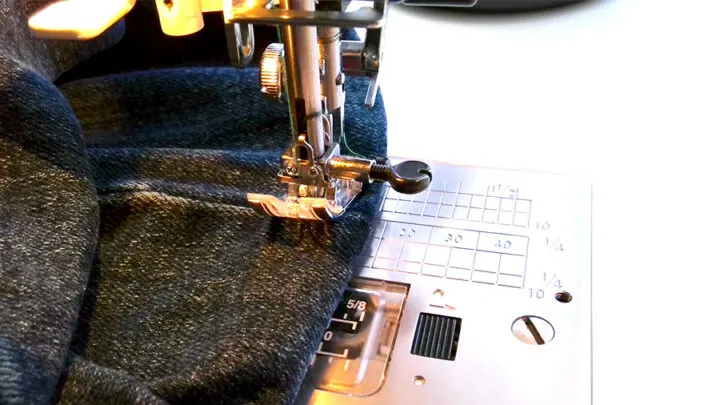 But the walking foot has the upper feed dogs that help the thick fabric to go through.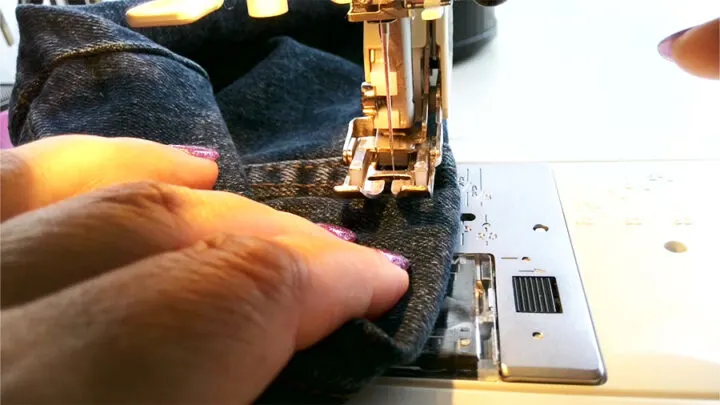 So here is my YouTube video. Check this out if you like to see a helpful video on this even feed/walking foot attachment.
I hope this post answers all your questions about the benefits of using a walking foot attachment for a sewing machine. If you have any other questions that I didn't answer in this post, please leave them in the comments so I can answer them for you.
Did you find this tutorial helpful? If so, save this pin (see below) on your sewing board so you can come to this tutorial later when you need this information on walking foot attachment for a sewing machine, and follow me on Pinterest for more tips, tutorials, and inspiration!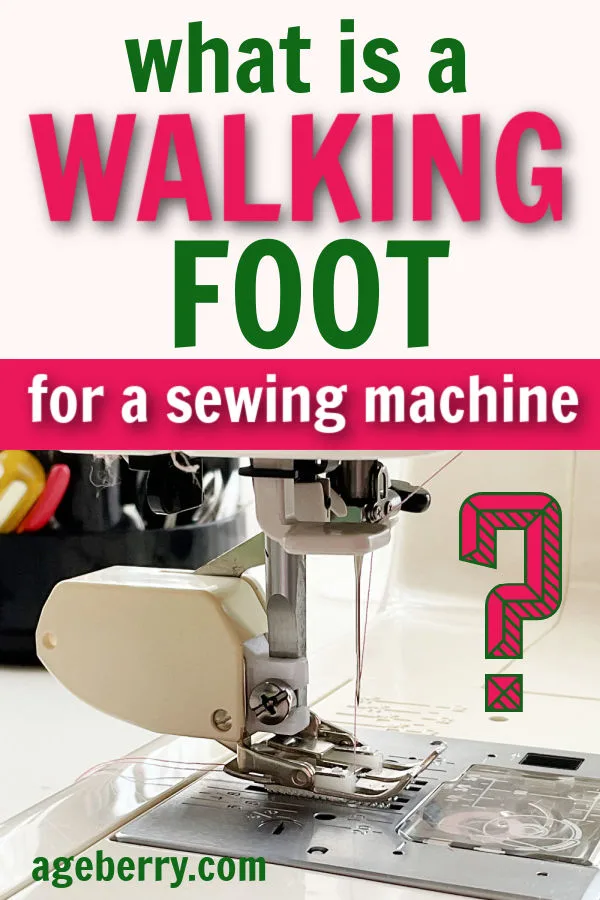 ---