Every sewing project starts with taking measurements. It's even more important to take your own body measurements for sewing clothes. One of the first steps in sewing clothes is selecting the right pattern size. Even if your body measurements don't match exactly one of the pattern sizes, fewer adjustments will be needed if you get the correct size.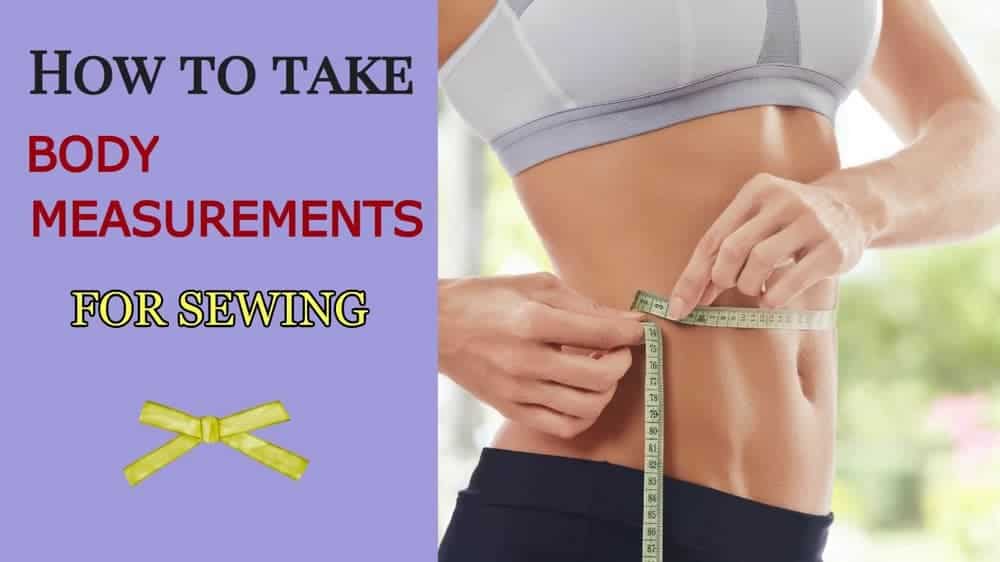 The sizes that come from ready-made clothes and patterns are only a general indication of the body measurements – in reality, each body is different. Even if you do wear a size 8, for example, a general size 8 may never fit you perfectly, or not in all dimensions. Taking the body measurements before sewing a piece of clothing is an absolute must.
Accuracy is important in taking measurements. We have to be honest here and accept the reality of our body: it doesn't pay to cheat because the result will be ill fitting clothes. Besides, if you have a problem, the first step in correcting it is acknowledging it.
In this post I'll present how to take the body measurements that you'll need regardless if you sew with one of the available commercial patterns or draft a pattern yourself.
✅ Related tutorial: Fabric conversion chart calculator
Why do you need to measure yourself?
To choose the proper size pattern if you use commercial patterns (paper patterns or PDF). In USA I saw pattern sizes from 4 to 24 but they all are different from sizes of ready-made clothes, also different from pattern designers because they are using their own sets of measurements. For example, I am a size 10 for ready-made clothes and size 12 – 14 for Simplicity patterns.
To draft the pattern properly. If you would like to make your own pattern – you have to know your measurements.
To make fitting adjustments to commercial patterns.
I can't stress enough: your measurements have to be honest – don't even try to make it smaller if you want a good fit (not too tight, not too loose)
Note: Some of the links on this page are affiliate links. This means I will receive a commission if you order a product through one of my links. I only recommend products I believe in and use myself.
What equipment do you need?
The essential thing to measure yourself accurately is a measuring tape.
Choosing a measuring tape may seem a simple task however it's important to have a tape that doesn't stretch or you may end up with distorted results. Remember that tapes may inadvertently come into contact with hot surfaces, iron or steamer; plastic tapes will stretch. The best is to choose a fiberglass tape and verify from time to time that it's still good.
Do you know that measuring tapes can be different? Some of them are only in centimeters, some of them have only inches, others have both – inches and centimeters.
Perhaps, you will be interested in reading my other tutorial: All you need to know about a measuring tape for sewing.
As for me, I like to use a measuring tape that starts with 0/1 on BOTH ends. I think they called them DUAL SIDED. I don't see them for sale often. I bought mine in New York and I found one online. I just can't use the other type that they sell in most fabric stores. I don't like to lose a lot of time searching for the proper end to start measuring.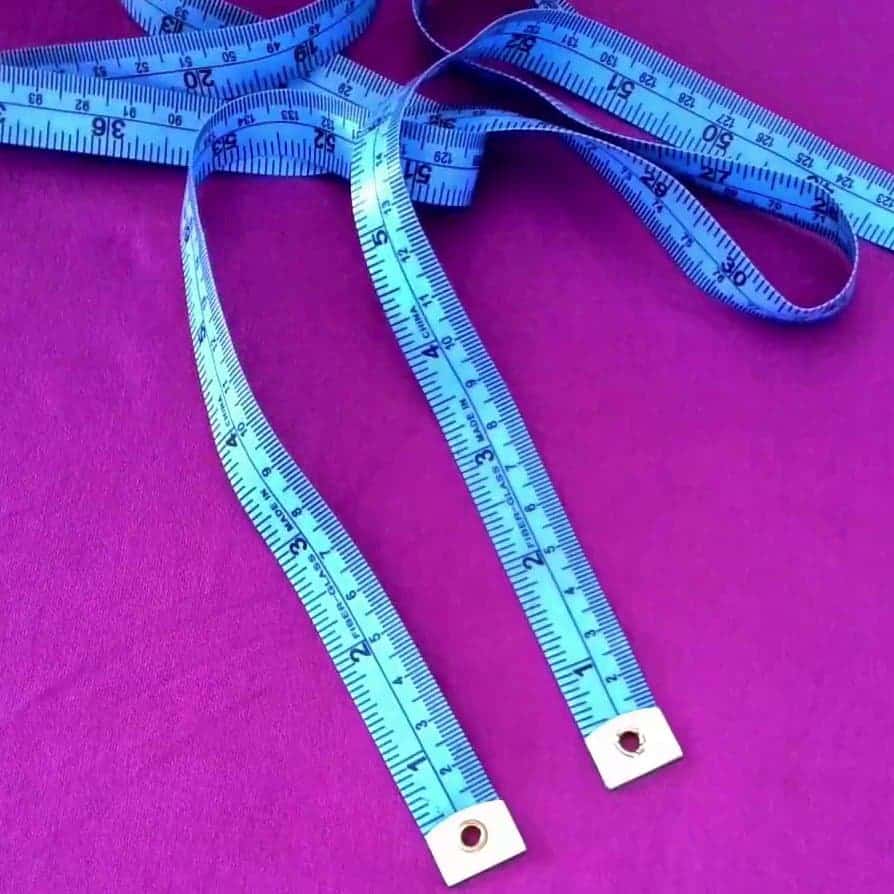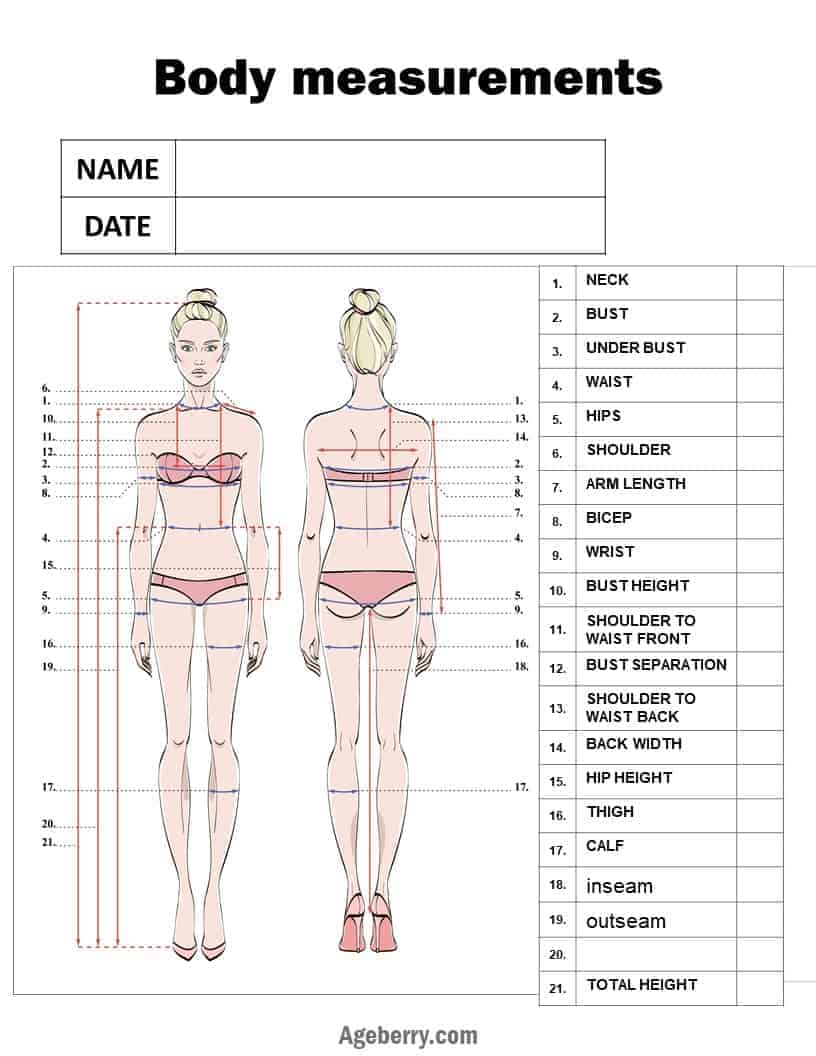 ---
General tips for taking body measurements
1. Remove all loose, thick, bulky clothes otherwise your measurements won't be accurate. If possible, wear only the underwear and bra that fits the best. If underwear only is not an option, wear tight fitting clothes like leggings, tank top, thin T-shirt.
2. Always wear underwear and bra for measurements if the garment is designed to be worn with them, the body aligns differently without them. If you will wear a push-up bra with the garment, wear that for the measurements or you will have surprises later.
3. Relax before measuring. Stand in your normal position, do not try to force a position more rigid/straight than you normally have. Do not try to suck in your belly. Keep your feet straight 10-15cm apart (4-6").
4. Be sure to not pull the tape too tight. Hold the measuring tape against your body but not too tightly. If measuring the upper side of the body breath normally otherwise the measurement will not be accurate. The tape should not make an indentation in any soft part of the body.
5. Don't add anything to the numbers you see on the measuring tape – write them down as they are. Body measurements are the actual measurements of your body. They are not the measurements of the pattern. What you measure is what you get. I don't think you should bother with small fractions of an inch. If you see that the number is 26 ¼ inch you should write down 26" or 26.5", if you see 39 15/16 in (many measuring tapes have 16 parts of an inch) then write down 40". I usually round up the number like this.
6. If possible, have someone help you. However, it's better to have an experienced person help, otherwise you will need to supervise closely.
7. Don't be in a hurry, take your time and do it right.
8. It's also good to take measurements both in the morning and in the evening. You will be surprised to find out that during the day the measurements change slightly, both length and width.
9. I have read – do not remember where, but it was funny – that you need treats to make your children sit through the process. Indeed! My children are grown now, but I can attest this is 100% true! Until my girls were in their late teens, I had a very hard time making them stand still long enough. Of course, when they were in their late teens there were other problems, none of the patterns I wanted to use was cool enough!
If you prefer to watch the tutorial on how to take body measurements GO TO MY YOUTUBE CHANNEL TO SEE THE VIDEO.
✅ Related tutorial: How big is a yard of fabric
What measurements should you take?
The general consensus is that there are 3 basic measurements: bust, waist and hips. Is this enough? In principle, yes. In reality, depending on the pattern used, you might need extra measurements, specific for each pattern. If you want to draft your own pattern you will have to take many more different measurements. We will deal with some of them a little later.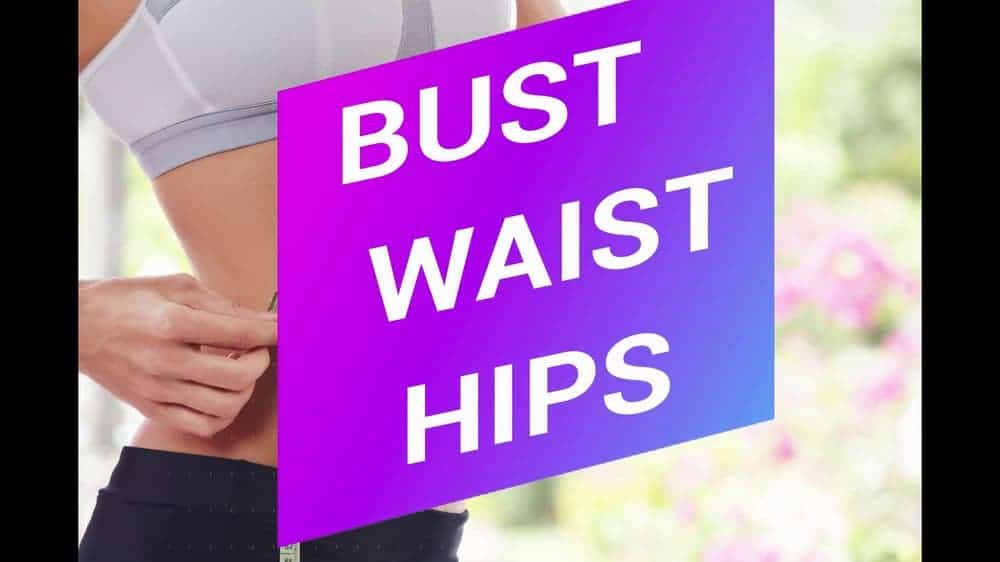 How to measure Bust
Measure around the fullest part of the bust. For women this would be the absolute fullest part of the body. Don't forget to wear a bra (see above). Make sure the tape is straight and does not sag at the back, you will need either help or a look in the mirror for this. Also make sure the tape is not pressing your breasts. The measuring tape should be parallel to the floor in this case.
How to measure Waist
In theory, the waist is the narrowest part of your upper body (above the hips) and this was certainly true for me until now. It's still true, barely! It's important to make a difference between the natural waist (which we measure now) and the waistline of your pants or jeans which is probably much lower. The natural waist is usually above the level of the belly button.
Sometimes it may be difficult to find the natural waistline, especially after a certain age. So tie a ribbon, string or elastic around the body (not very loose, not very tight) where you guess the waist is. The ribbon will fall naturally into place after a couple of movements and you can measure around it.
You can also try bending towards left or right at the waist, the point where your body flexes is on the waistline.
Once you have determined the natural waist and have an elastic/ribbon around it, leave it in place until the end of the session – many other measurements will be taken to or from the waistline marked this way. Many length measurements start (or end) at the waistline so knowing exactly where your waistline is, is absolutely critical.
If a waist can't be clearly determined simply measure the body at the level slightly above the belly button. For young children it's quite common to not be able to determine the exact waist position.
I can say that this is also the most difficult measurement. Why? Because any woman when taking this measurement draws in her belly! So try to stand upright and relaxed but don't lie to yourself: take your real waistline if you want to breathe, eat, bend over and sit down in your skirt.
They usually say that you have to keep your measuring tape parallel to the floor, but sometimes it's just not right and you may notice that your waistline is probably not at the same level in front and in the back. The front is in some cases (not always) lower than the back – you can check this in the mirror. And in some cases (if you have a big tummy) the front may be a little higher than the back. We are not models so you shouldn't worry if you see that your waistline is not parallel to the floor.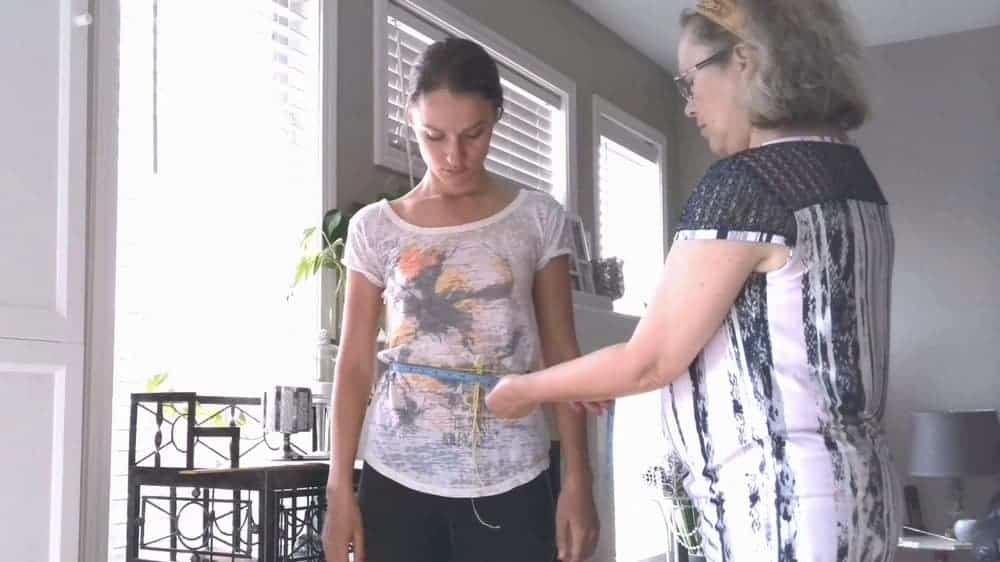 How to measure Hips
The hip measurement is supposed to be the widest measurement around your bottom. You will have to determine the exact point for your body, it's not the same for everyone.
Usually it's recommended to measure horizontally the widest part of your hips. But again it's quite rare that the widest part of our bottoms goes parallel to the floor. Your stomach can protrude in different place than your buttocks. So we can measure like this in the drawings below.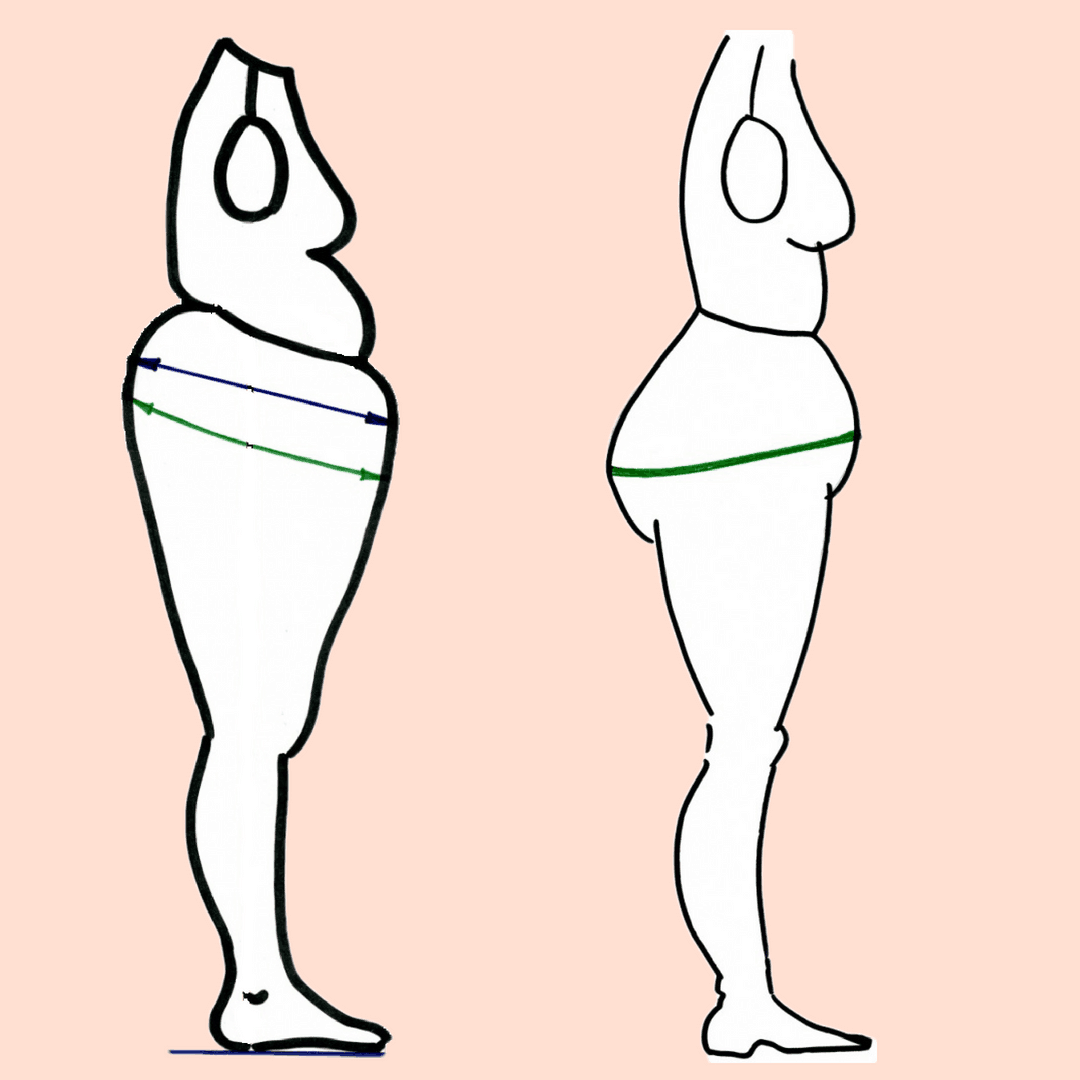 But there is another method, more accurate.
Take a rectangular piece of rigid enough paper and wrap it over your bottom. Connect the edges with a scotch tape and make sure they (I mean the edges) go exactly vertical and parallel to each other. And after that take a measuring tape and measure your hips around the paper.
Or you can use a long ruler. Put it at the level of your belly perpendicular to the floor. Measure around your buttocks and around the ruler at the front keeping the measuring tape parallel to the floor in this case.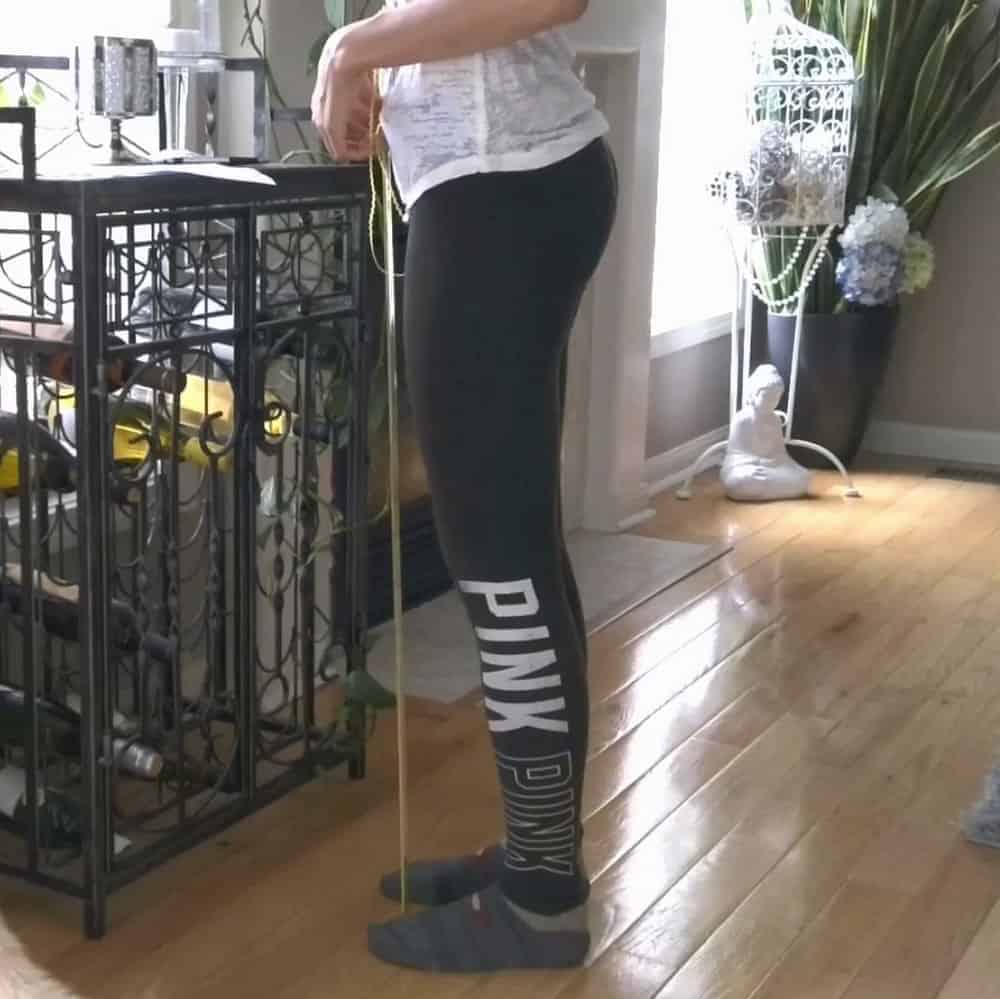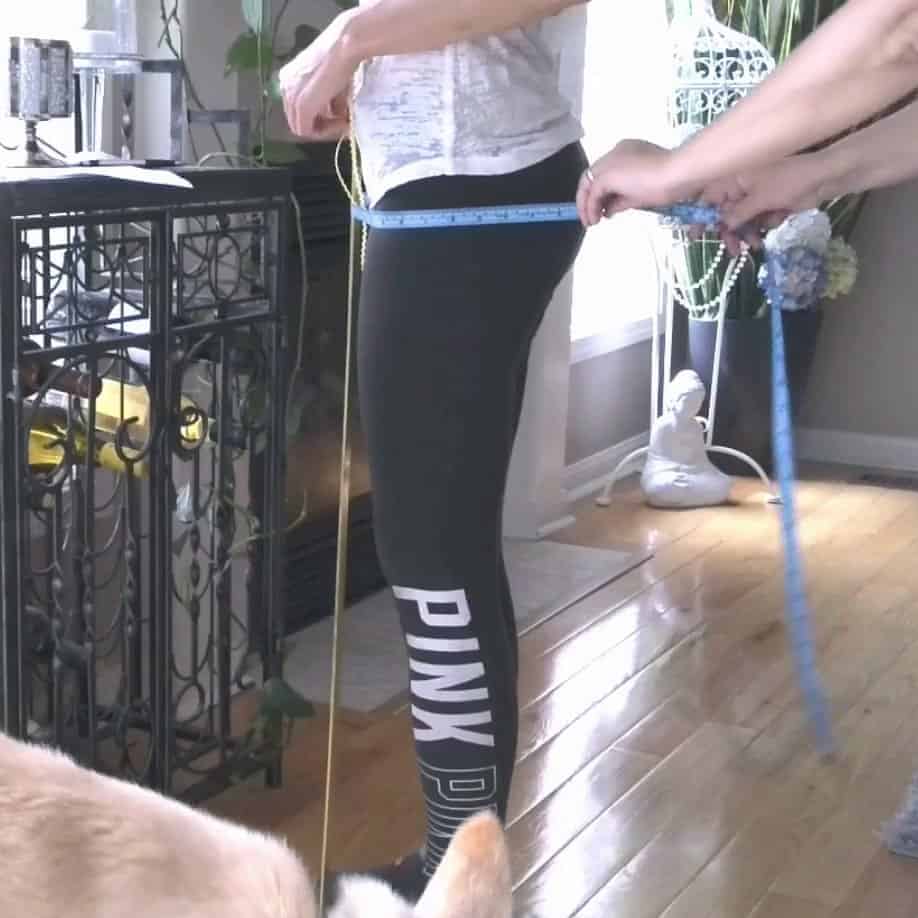 What other body measurements would be useful?
Once you feel comfortable measuring your bust, waist and hips there are other useful measurements you could take. Some of these are specific to particular garments, such as trousers so you won't necessarily use them all just yet.
Neck
This is the measurement taken around your neck. It has to be measured above the collar bones -obviously- but not very high. Useful for drawing necklines.
Height
Take any shoes off and get your subject to simply stand up against a wall. Measure from the floor to the top of the head.
If you are measuring yourself, use a ruler and place it above your head touching the wall. Spin around and then measure where it touches.
A lot of patterns don't specify height but if yours does, it can be a good comparison to judge whether you want to alter the length.
I like to use Burda patterns and the height measurement is always necessary to choose the right size.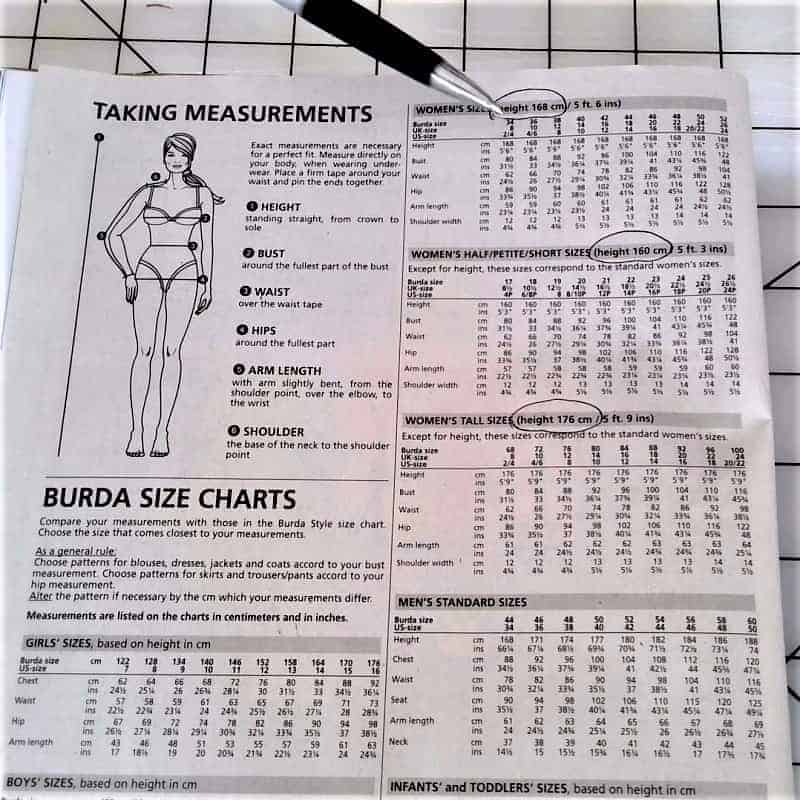 Another consideration when looking at envelope covers is that models are taller than the average person. If a dress or skirt hits the model at the knee, then it will probably be below the knee or look a couple of inches longer for most people.
Shoulder
The shoulder measurement is -no surprise here- the length of your shoulder from the point where the shoulder joins the neck (it's actually the highest point of the shoulder) to the outside edge. It's very important measurement for drafting a bodice pattern.
The arm is not straight where it joins the shoulder, you have to be careful not to go down the arm. Feel your way around the edge of the shoulder until you find the end of the bone. This point you will also use for the next measurement.
Arm
You need to know this if you make clothes with sleeves.
Measured from the edge of the shoulder (see above) to wrist and is useful for sizing and placing sleeves and cuffs. Do NOT measure this length with your arm straight. You should bend the arm and then measure. The bend around elbow will increase the length a little bit. This is where help would be welcome!
Bicep
Measure around your bicep above the elbow.
Wrist
Measure around your wrist above your hand where the sleeve would end. You need to know this to properly adjust the cuffs. If you wear a watch or jewelry you need to take this into account or you may end up with sleeves that are too narrow to accommodate them.
Shoulder to Waist (Front)
Measured from the same starting point on your neck as you measured the shoulder length. The measurement goes on top of the breast, usually straight above your nipple to your waist (which is marked with the ribbon). Be careful not to apply force to the tape. I used this measurement to adjust the bodice size, for me this is always shorter than I see in all commercial patterns.
Shoulder to Waist (back)
Measured from the same starting point on your neck as you measured the shoulder length. The measurement goes to your waist. If you need to make adjustment to the front of the bodice you will surely need to adjust the back also.
Under bust
This is the measurement around your body that is taken below your bust. Keep the measuring tape parallel to the floor and measure just under your breasts. If you have a larger or smaller bust this might be useful for doing full or small bust adjustments to bodices.
Bust separation (or bust apex to bust apex)
Measure the distance between both apexes of the bust. It's an important number because darts should point to the bust apexes.
Bust height
The bust height is measured from the shoulder at the base of the neck vertically to the bust apex.
Back width
It's an important measurement for drafting your own patterns and for fitting adjustments. Find the point on the back where the arm seems to attach to the back and measure across the back from one side to the other.
Hip height
Measure along the side of the hip, from the waist to the hips. Can be very different from person to person.
Inseam (Inside leg)
This measurement is for pants only. As a general rule, measure from your crotch to your ankle (or to the floor). This will give the inside length of your pants leg. BUT: depending on the kind of heels you will wear and the width of the pants the inseam might be longer or shorter for the pants to drape well. I found that leaving a wider hem allowance (at least 1" if not more on top of the normal allowance) I can adjust this in the final fitting stage.
Outseam (Waist to Ankle)
The outside counterpart of the inseam measured from your natural waist to the ankle (or to the floor). Beware that unlike the inseam (inseam gives the exact pants length), the pants outside leg may be shorter than this measurement taken from the waist. The pants will not raise to the waistline usually. The outseam is also useful for maxi dresses or skirts. Same observation as for inseam – a longer hem allowance is recommended. Of course, if making pants, you will certainly use the same allowance as for the inseam.
Now you are ready to determine your pattern size by using your own measurements.
Did you find this tutorial helpful? If so, save this pin (see below) on your sewing board so you can come to this tutorial later when you are ready to take body measurements for sewing projects and follow me on Pinterest for more tips, tutorials, and inspiration!