Traditional Russian beet salad Vinegret is made with boiled beets, potatoes, carrots, peas, pickled cabbage, onion, and a simple olive oil dressing.
This unique and delicious beet salad is especially popular in Russia during Christmas fasting because it doesn't include any animal products which are traditionally avoided during the fast.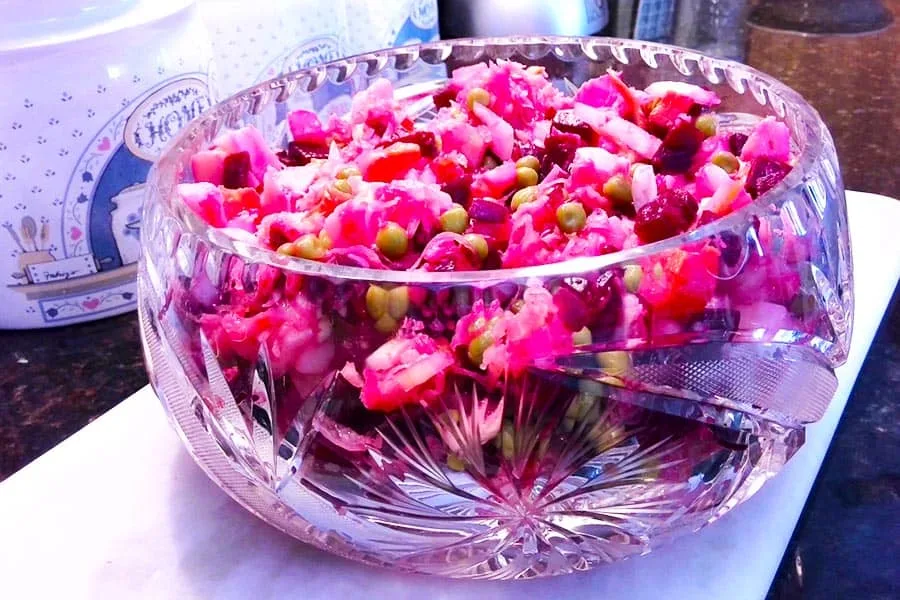 Where is the name for the Russian beet salad coming from? The name (Vinegret) should not be confused with the "vinaigrette dressing" which is a simple dressing made out of oil and vinegar. Wikipedia (Vinegret) finds that it may come from the name of the dressing, but that is only an opinion because, in Russia, vinegar is not used for salads much (at least in the part of Russia where I am from). In any case, it's not really important where the name comes from – the important part is that it's easy to make, cheap, and very tasty beet salad.
All subscribers to my newsletter can download a printable version of this article for free from my "Resource Library" page. You will receive the password to access that page upon subscription; you can find there all my free patterns, plus copies of other printable articles and a lot of other useful information! If you are already a subscriber, you do not need to subscribe again.
It is well known that red beets are very frequently used in Russian cuisine; perhaps because beets grow very well almost everywhere in Russia.
In fact, one of the most well-known Russian dishes (the "borscht", Russian борщ) has as one of its main ingredients beets.
We will use regular red beets that are, not surprisingly, good for you. I will not reinvent the wheel, I will quote previously published articles: 9 Impressive Health Benefits of Beets and 15 Health Benefits of Beets. These tell us that yes, red beets are worth considering in your diet. 100g (3.5oz) of beets packs only 44 calories, but have a lot of beneficial vitamins and minerals and are believed to help your overall health in many ways.
One very, very important mention here: beets stain! The smallest droplet, it will show up on any color dress, pants, apron, or blouse you have, and the color is bright. It is also beautiful, but this is beyond the point, you definitely do not want stains. So be extra careful.
With this in mind, let's get cooking! Well, preparing, because the two dishes I am presenting here don't require any cooking beyond boiling the vegetables.
Ingredients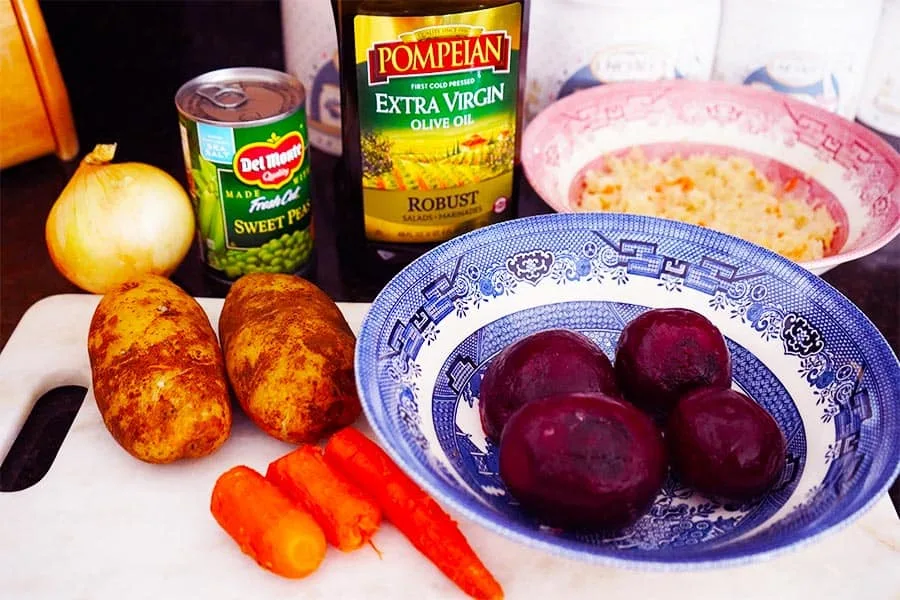 | | |
| --- | --- |
| Beets | 1 pound (450g), boiled and cubed |
| Boiled Potatoes | 2-3 large (~700g or 1.5 lb raw, before boiling) |
| Pickled cabbage (not sweet) | to taste; depending on how sour it is. |
| Onions (sweet, uncooked) | 1 medium; to taste |
| Boiled carrots, cubed | 1 large, 2 small |
| Canned Sweet Peas | 1 can (15oz, 400-430ml) |
| Oil | to taste |
| Salt, pepper | to taste |
For my Russian beet salad, I used about 600g of cabbage, drained. I expect you will use about the same amount unless the one you have is very, very sour.
Sometimes I add salt and pepper to this vinaigrette, and very seldom do I use balsamic vinegar; but you may want to season the dish to taste, people have different tastes.
Variations:
Add:
Olives (to taste, pitted or not, green or black, cut or not cut)
A small amount of balsamic vinegar, if desired. Depends on how sour is the cabbage and if you like the balsamic vinegar aroma.
Substitute:
Pickled cucumbers instead of cabbage ( it changes the taste a bit)
Green onions (replace part of the fresh sweet onion)
To be honest, I seldom use any of these substitutions, but my husband is so fond of olives and sour things that he always adds those to his plate. So I thought I'd mention it. Men are weird! And they don't even get pregnant, why like sour things? Heartburn, anyone?
Note: Some of the links on this page are affiliate links. This means I will receive a commission if you order a product through one of my links. I only recommend products I believe in and use myself.
I always use not sauerkraut (pickled cabbage) but a mix of pickled cabbage and carrot; if I can find it, that is. In North America, this is usually only found in Polish or Russian stores. If you don't have the mix, you can shred a small piece of fresh carrot and add it to the cabbage, it works in a similar manner. Or you can use only cabbage, carrots are included in the recipe separately.
If you do not have n European delis handy, I found a good product like this on Amazon: pickled cabbage and carrot.
I strongly advise using organic products wherever possible. They taste better and are certainly better for your general health.
Do not forget:
make sure you squeeze the liquid out of the cabbage, or else your salad will be soggy
taste the beets before cutting make sure they have a good taste
How to make the Russian beet salad Vinegret step by step
Step 1
Boil the potatoes, beets, and carrots. Boil them the day before, otherwise, you will need to wait a couple of hours for the vegetables to cool down.
I always boil the vegetables on the skin and remove the skin after. This prevents some of the loss of nutritive value during boiling (the vegetables lose less this way).
In my case, I bought the beets already boiled (in Costco) so this step was the easiest!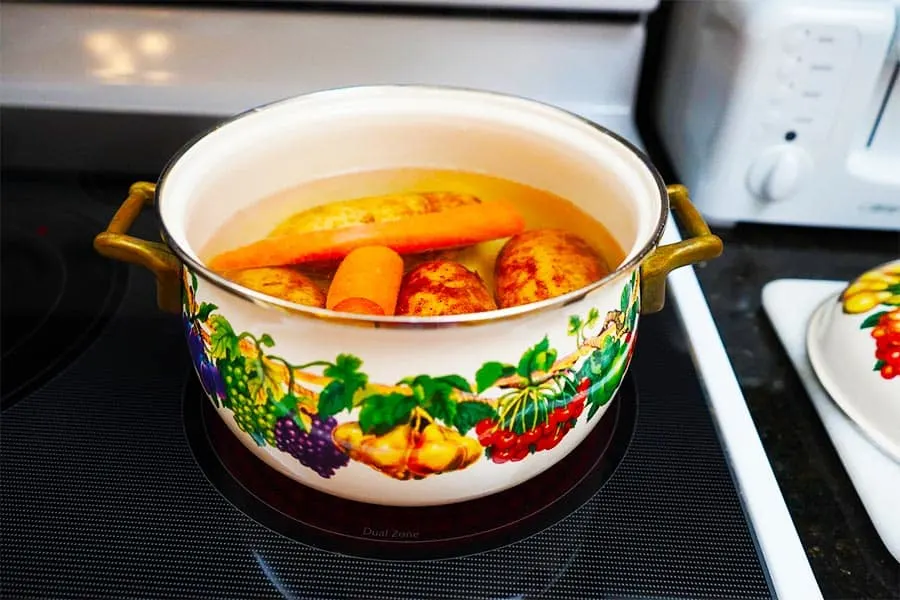 Step 2
Cut the vegetables and add them to a bowl.
Dice potatoes, beets, and carrots into cubes. In my experience, a ¼" (6mm) cube is about right. Of course, we will not really measure it, I just wanted to give a rough idea.
In reality, I always cut the potatoes a little bigger; habit, I guess. Also because they tend to mash if you cut them too small.
How to cut potatoes into cubes? Cut the potato into slices, along its longest dimension. Then rotate it 90 degrees, and cut again. You have it "julienne" at this point. Then cut perpendicular to the first two cuts, and we have cubes.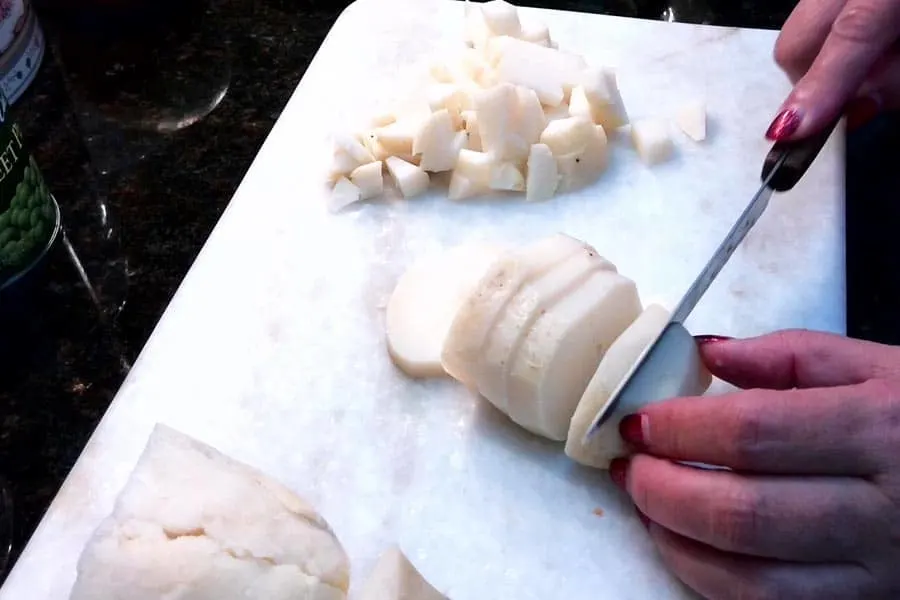 I have to confess that I have my own way of cutting vegetables, usually, you can name my way "any way you feel like". It works like a charm for me.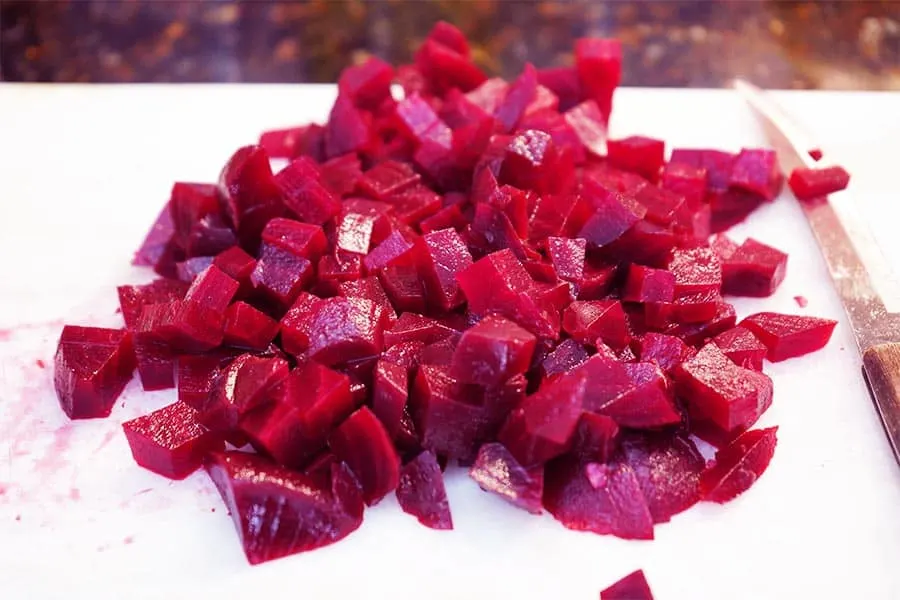 Cut the onion, also small cubes. In case you wonder how to cut onions, the process is different 😃 For the onion you will need a very sharp knife, especially at the tip. You can also use one of those "as seen on TV" gizmos (which I don't use) that claim to cut onions or potatoes perfectly. If you find one that works, let me know too, please!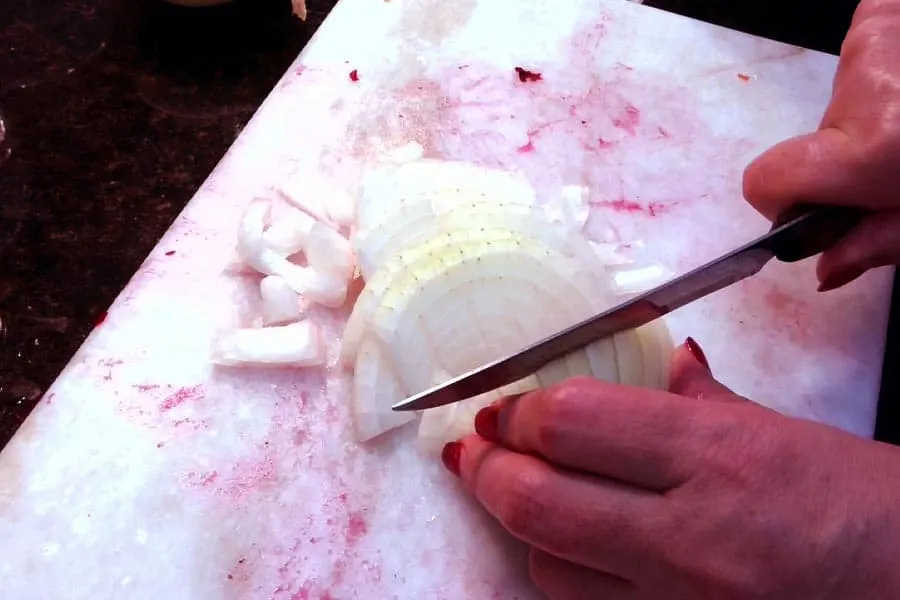 Take the cabbage out of the jar and let it drain a little. Wrap the cabbage in two layers of paper napkins and gently squeeze the juice out of the cabbage.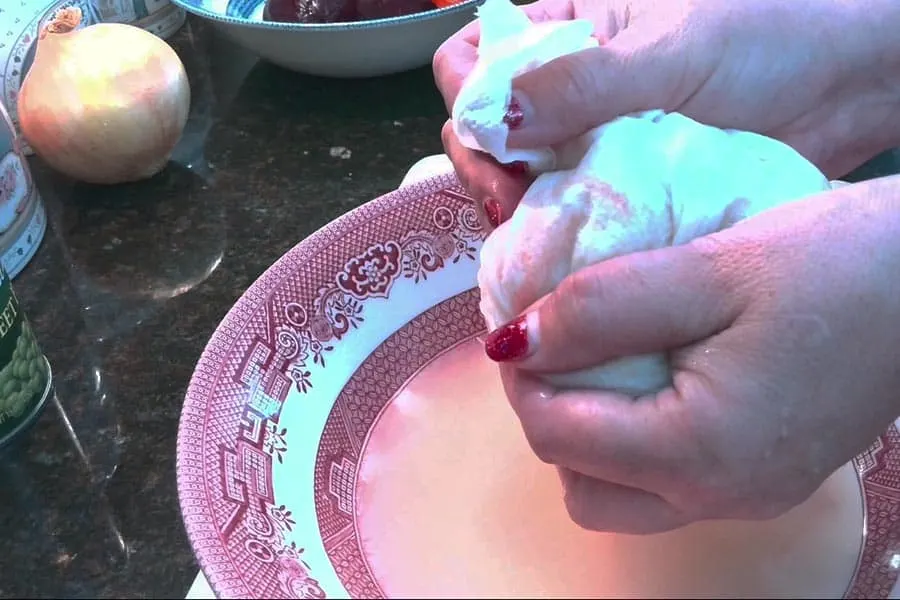 Step 3
Mix. Add some olive oil (I always use olive oil when I don't have to cook it), to taste. Not too much, perhaps 5-7 tablespoons. You can always add more, if necessary, but you can not take it out easily.
Do not mix all the cabbage at once, save some for later, in case the mix is too sour. Make sure there are no clumps forming, the cabbage has this tendency to form clumps. They are easy to break if you cut the cabbage in shorter strands.
Add salt, pepper, olives (if desired), and balsamic vinegar (if desired). Mix.
Step 4
Drain the peas, and wash them with clean water to remove as much of the salt or other preserving agent that might have been used.
Add to the beet salad and mix again. Not forcefully, the peas have the tendency to break.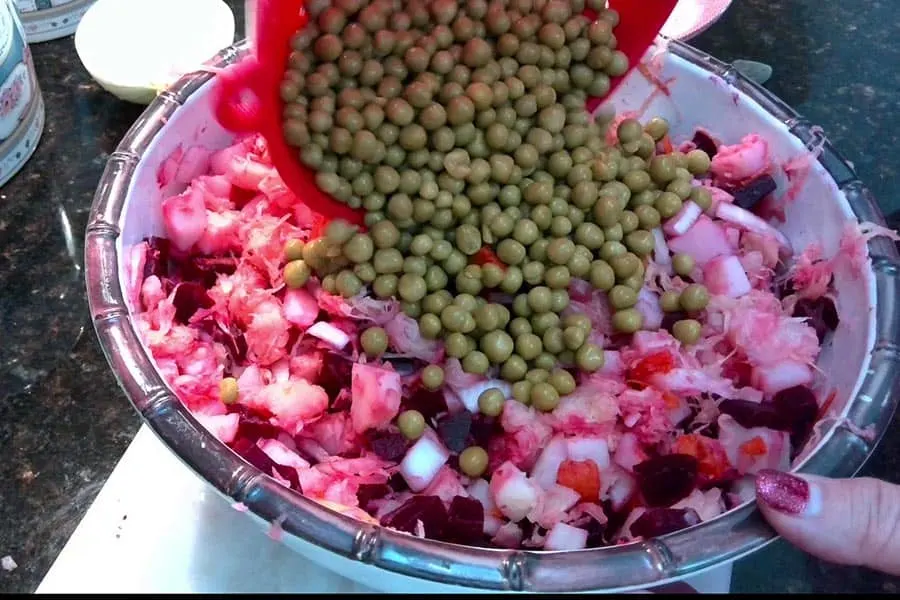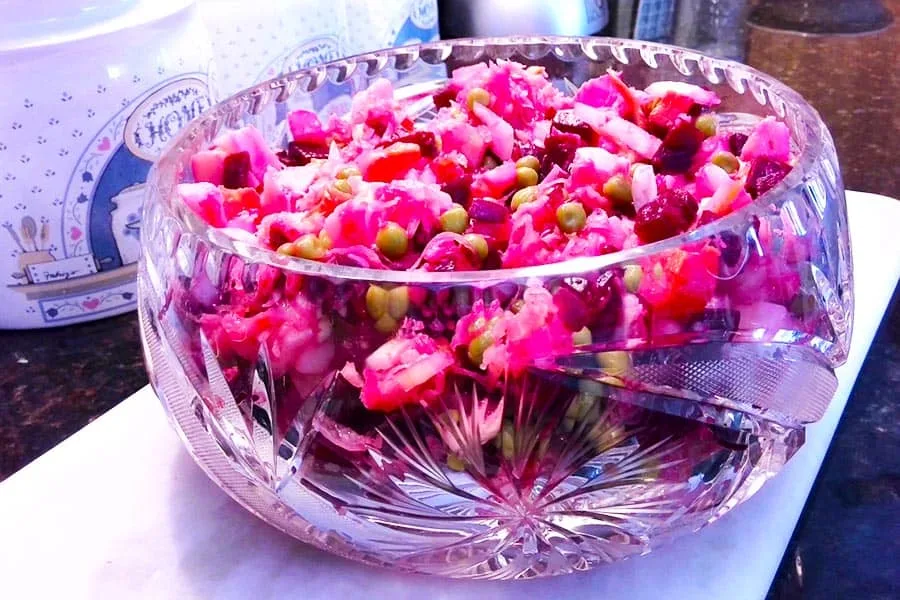 Transfer the mix to a nice crystal bowl; food tastes better when it is presented nicely.
Finished! Bon Appetit!
This Russian potato can be eaten on its own. Or it can be paired with a piece of grilled meat or fish, alone or together with other sides. The normal serving size for a snack would be around 150g (5oz) for me and 200g (7oz) for my husband. Or make that 300g (10oz) if he just came in after cutting the grass.
Related post: Russian potato salad Olivier
Calorie content
For a serving of about 200g (7oz) the Russian beet salad vinaigrette packs about 120 to 150 calories. If you add olives, things change, olives are no longer a low-calorie food, so read the nutrition information from the olive container.
The salad is not a low-sodium dish despite us not using any extra salt, the pickled cabbage and to some extent, the preserved peas add enough salt on their own.
✅ I made a short YouTube video on making the Russian beet salad.
Shredded Beet Salad (side dish)
If you boiled (or bought) too many beets you can use them in another side dish from beets (that's exactly what I usually do).
There are many variations of this dish – with garlic, walnuts, with sour cream. I will present here only the simplest one. In time if you will prepare this shredded beet salad I am sure you will try other variations.
Ingredients
Beets, cleaned, boiled, and grated (coarse) 1 piece, about 2" (5cm) in diameter, about 100g (after boiling)
Mayonnaise, 1 to 1 ½ teaspoons
Preparation
Use boiled beets. Grate coarsely. The grating will be very easy, the beetroot is soft at this point.
Very important: taste the vegetable after boiling, some roots are not good tasting.
I used a very small beetroot, about 4cm (1 ½") in diameter and that turned out to be only 1.6oz (46g). I will therefore need to cut the amount of mayonnaise accordingly.
You see in the image below the coarse side of the grater I used. Beware the beet is soft, guard your fingers!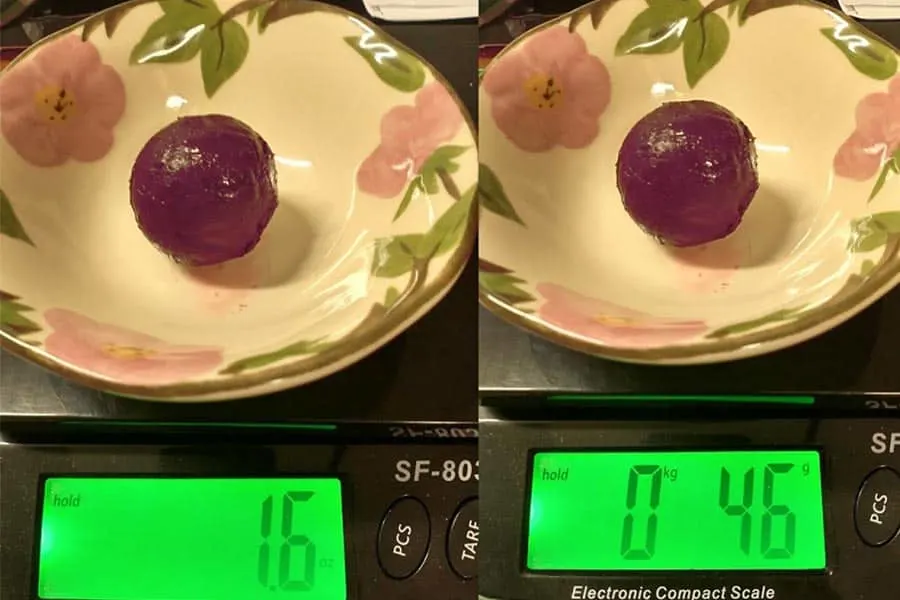 The image above is the beetroot before shredding and the one below is taken after shredding.
Remember to taste the vegetable to make sure it does not have a weird taste and is a little sweet. Some red beets are actually not sweet at all, you definitely want to avoid those.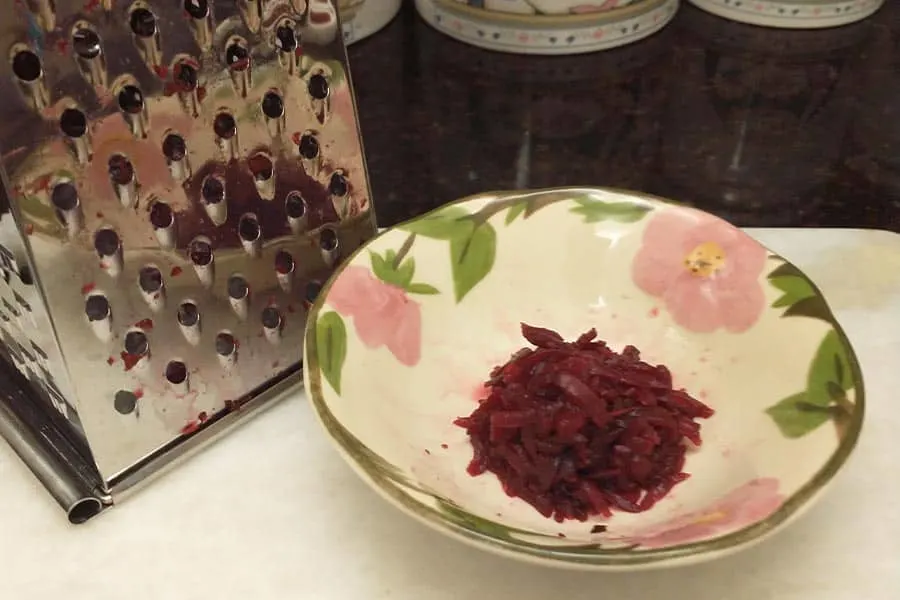 The next step is to mix with mayonnaise. Start first with a smaller amount, ½ teaspoon in my case. Add a little as needed, the color should be a dark pink after mixing.
You may add salt or pepper to taste, but I have never used extra salt or pepper in this dish.
The dish is a little sweet, a little sour, a little salty – something for everyone. It makes a nice side dish for a piece of chicken breast and it can also be served on its own, on a cracker. It certainly has a pretty color!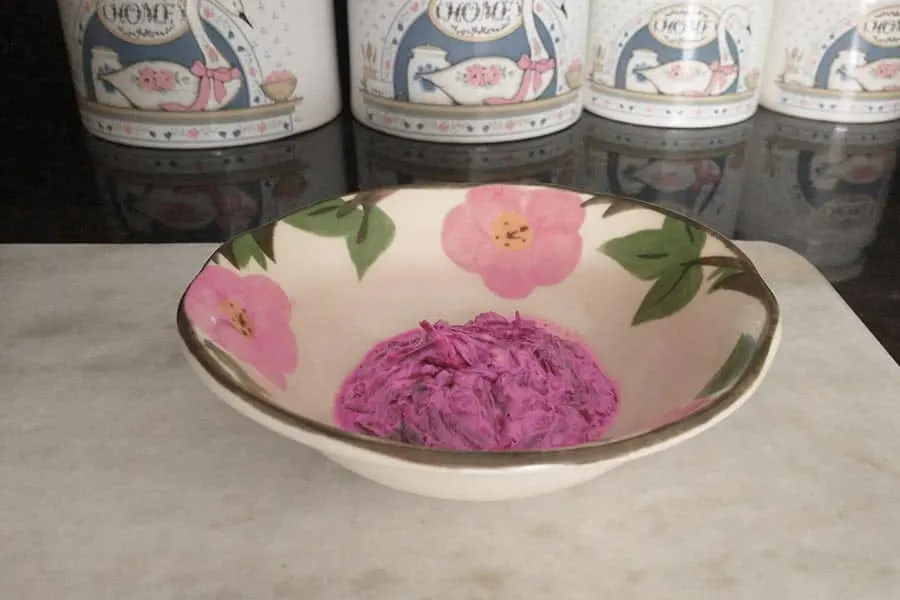 Hungry already? Ready to try any of these dishes? Did you find this recipe helpful? If so, save this pin (see below) on your sewing board so you can come to this later when you are ready to make the Russian beet salad VINEGRET, and follow me on Pinterest for more tips, tutorials, and inspiration!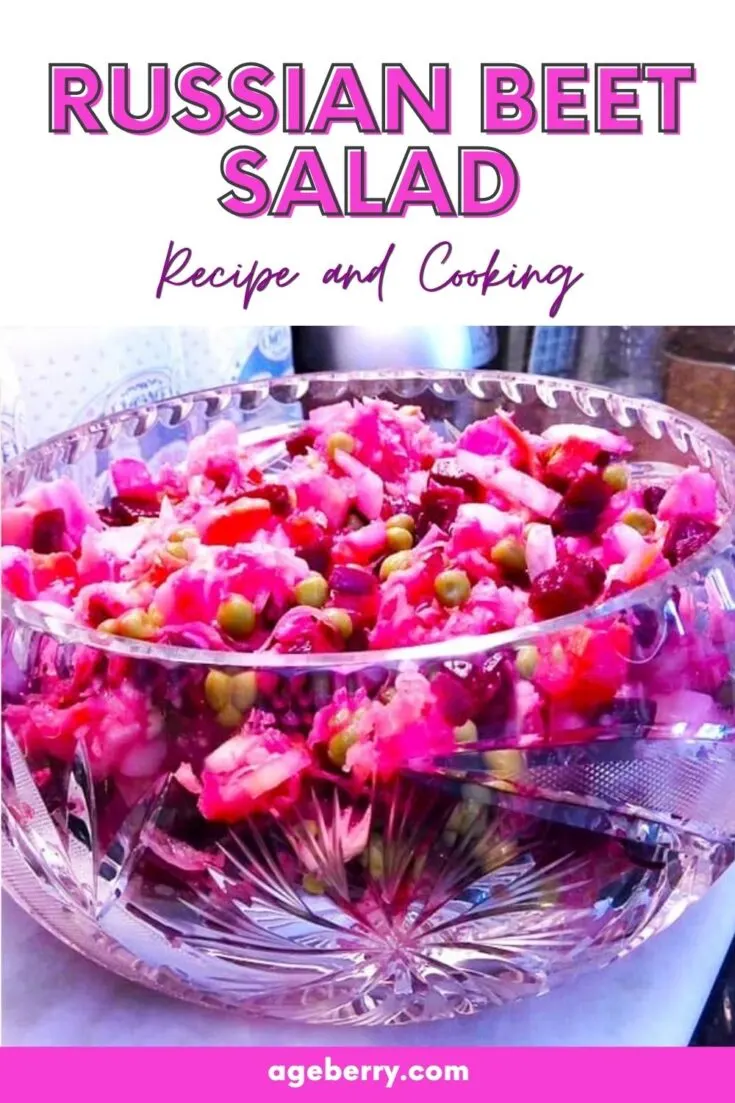 ---