Halloween is just around the corner and it's the perfect time to plan an unforgettable party with delicious and healthy appetizers. I always aim to come up with creative and unique ideas. When it comes to Halloween parties, we often think of candy and sugary treats, but there's a way to enjoy the spooky celebration without compromising our health. In this article, I am sharing one of my favorite Halloween veggie appetizer recipes. It will not only look spooktacular on your party table but also offer a nutritious and tasty option for your guests.
These "spider bites" may sound creepy, but they're actually a fun and healthy veggie appetizer that will have your guests crawling back for more.
With a little bit of creativity, you can transform simple ingredients into an eye-catching Halloween veggie appetizer. So, grab your apron and let's get cooking!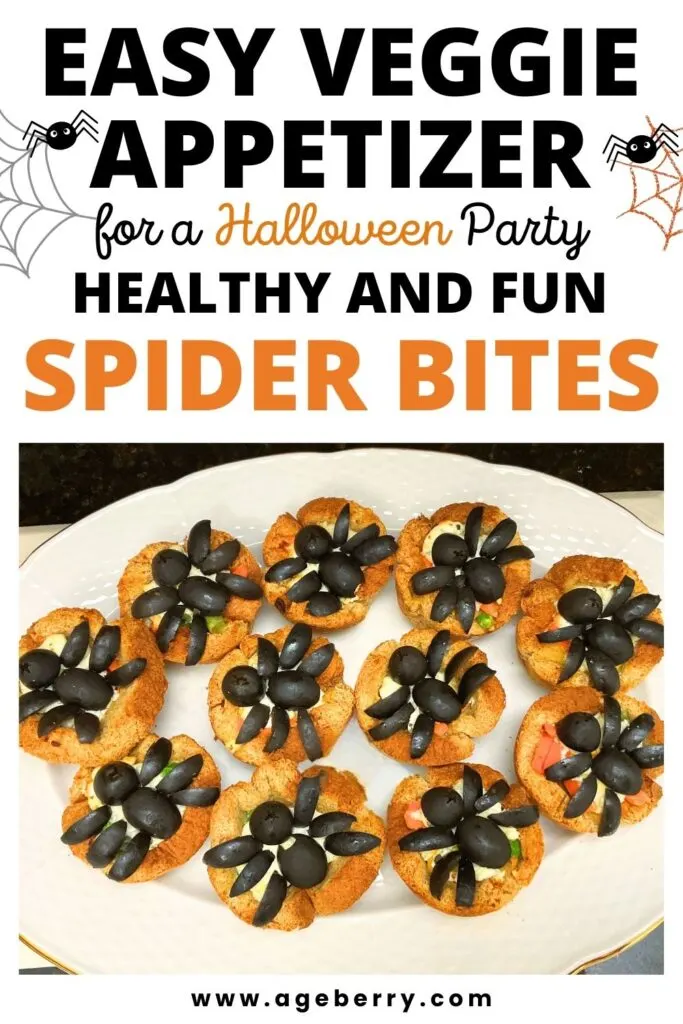 ---
Note: It's generally true that spiders have 8 legs, but my "spiders" from olives have 6. I don't think it's that important of a detail. Besides, it's much faster to make 6 legs than 8, and your guests will still get the idea. So don't stress about the number of legs – just have fun and enjoy the process of creating these spooky and delicious Halloween veggie appetizers!
---
Ingredients for Halloween Veggie appetizer
Various ingredients can be incorporated into a delightful Halloween veggie appetizer. For this particular recipe, I used bread slices, frozen vegetables, black olives, pickled peppers, goat cheese, eggs, half and half cream, and salt.
Bread Slices
Sliced bread will serve as a solid base for the veggie appetizer and provide a canvas to layer other ingredients. Whole wheat or multi-grain bread are the best choices for added nutrients and fiber. When selecting your bread, be sure to choose the thinnest slices available in the supermarket.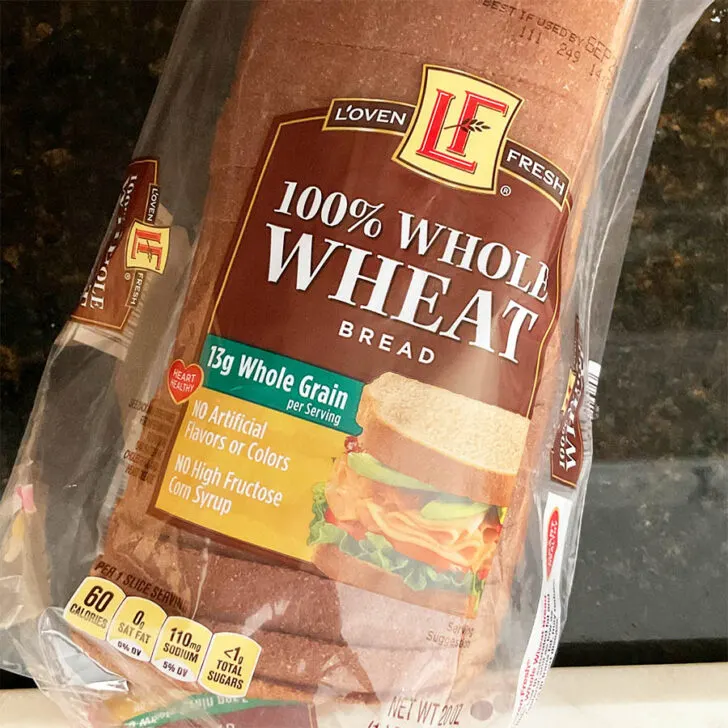 Frozen Vegetables
For this recipe, I am using frozen vegetables that have been cut into small pieces.
You can actually use any type of vegetable (frozen or not) that you like, just make sure to cut them into small pieces. Broccoli may be too big, but you can easily cut it into smaller pieces. I used a bag of organic frozen vegetables that contained carrots, green beans, peas, and corn. The small pieces of veggies will make it easier to create the spider bites.
Black Olives
Black olives are perfect for creating creepy decorations, such as spider bodies on this easy Halloween appetizer.
Marinated Roasted Peppers
The roasted peppers add some tanginess to this veggie appetizer. They provide a delicious and flavorful filling for the thinly sliced bread. I used store-bought marinated roasted peppers.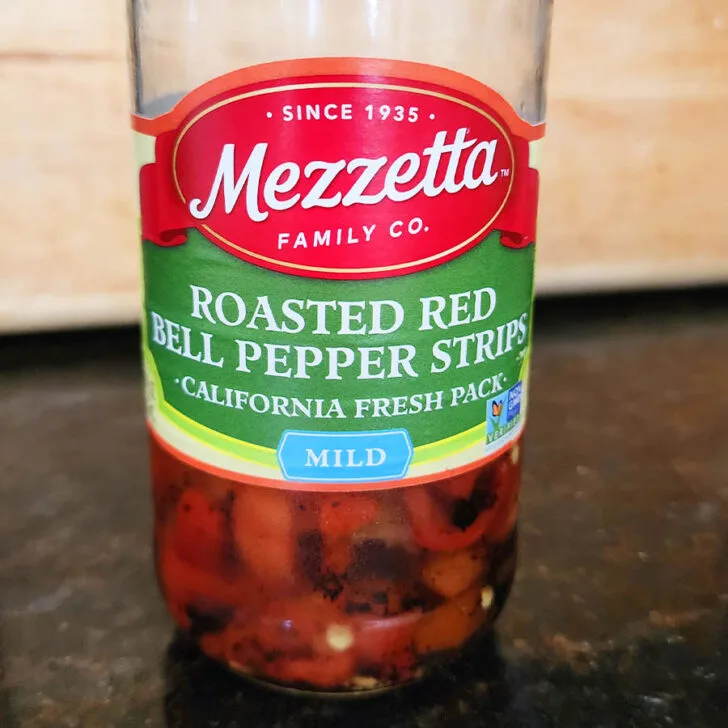 Goat Cheese
The goat cheese pairs perfectly with the roasted peppers and veggies and provides a creamy and rich flavor to the veggie appetizer.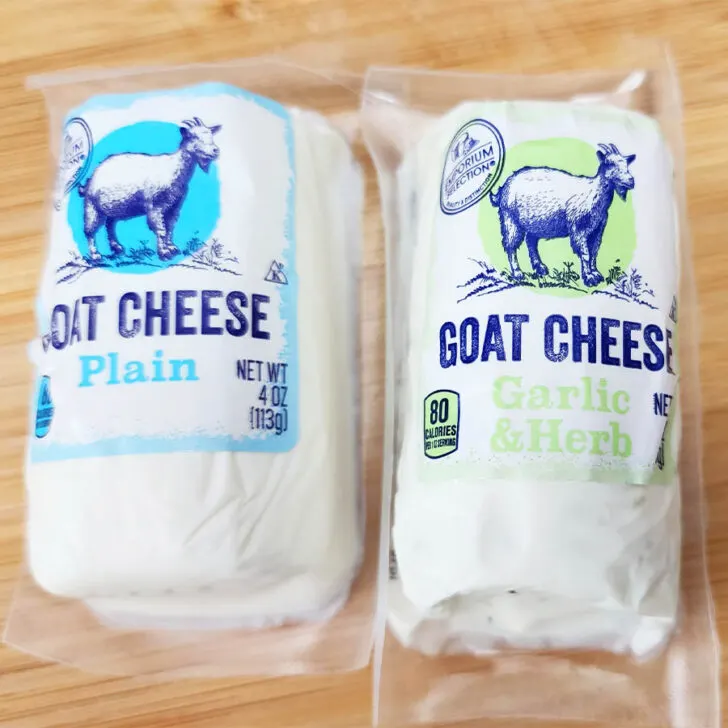 Using white goat cheese will not only add a delicious flavor to the spider bites, but it will also provide a great contrast to the black olives that we'll be using for the spider bodies. The combination of the white goat cheese and the black olives will make spider bites look just like little creepy crawlers!
Eggs
I used 4 eggs for this veggie appetizer
Half and Half Cream
One cup
Salt and Seasonings
Note: Some of the links on this page are affiliate links. This means I will receive a commission if you order a product through one of my links. I only recommend products I believe in and use myself.
Tools
12 – cup muffin Pan
I am using a muffin pan to create individual servings of Halloween veggie appetizers. The muffin pan will make it easy to create perfectly shaped spider bites. The muffin pan is a must-have tool for this recipe, so make sure to have one on hand before you get started. You can buy a very good one on Amazon.
Whisk
To create the egg mixture that will bind all the ingredients together, you'll need a whisk. The whisk will help ensure that the mixture is completely … well, mixed and smooth, making for a delicious base for the veggie appetizer. Don't have any? I found excellent set of 3 on Amazon.
Big Flat Plate
When it's time to serve the Halloween veggie appetizers, you'll want to use a big flat plate. The big flat plate will make it easier for your guests to see and enjoy the spooky designs you've created with your veggies. Plus, it will provide plenty of space for everyone to grab their favorite spider bite.
Wide Mug (4 inches in diameter)
To create perfectly shaped Halloween veggie appetizers, a wide mug with thin walls that measures 4 inches in diameter can come in handy. Use the mug as a cutter to create circular shapes from the thinly sliced bread. This will ensure that all of your spider bites are the same size and shape.
Cutting Board
A cutting board is a must-have tool when I'm making my Halloween veggie appetizers. It provides a safe, stable surface to work on and helps me avoid any accidental cuts. Make sure that your cutting board is clean and dry before starting the preparations. I like to use marble cutting boards and they are quite affordable on Amazon.
Pyrex measuring cup
The Pyrex glass measuring cup has a spout, which is a small indentation on the side of the cup that allows for easy pouring and accurate measurement. I have a few of them, different sizes, and they are indispensable tools in my kitchen. The Pyrex glass measuring cup with its handy spout simplifies the process of accurate measurement and pouring. Go to this link if you need to buy one.
Quick tip: An apron is an essential tool for any home cook. Not only does it protect your clothing from spills and stains, but it also helps you stay organized and efficient in the kitchen.
There are many different types of aprons available, from simple and functional to stylish and decorative. One popular style is the apron with a towel attached, which is perfect for busy cooks who need to quickly wipe their hands or clean up spills.
If you're looking to make your own apron with a towel attached, be sure to check out my tutorial that will guide you through the process of creating a one-of-a-kind apron that's both functional and stylish – How to make a unique apron with a towel attached.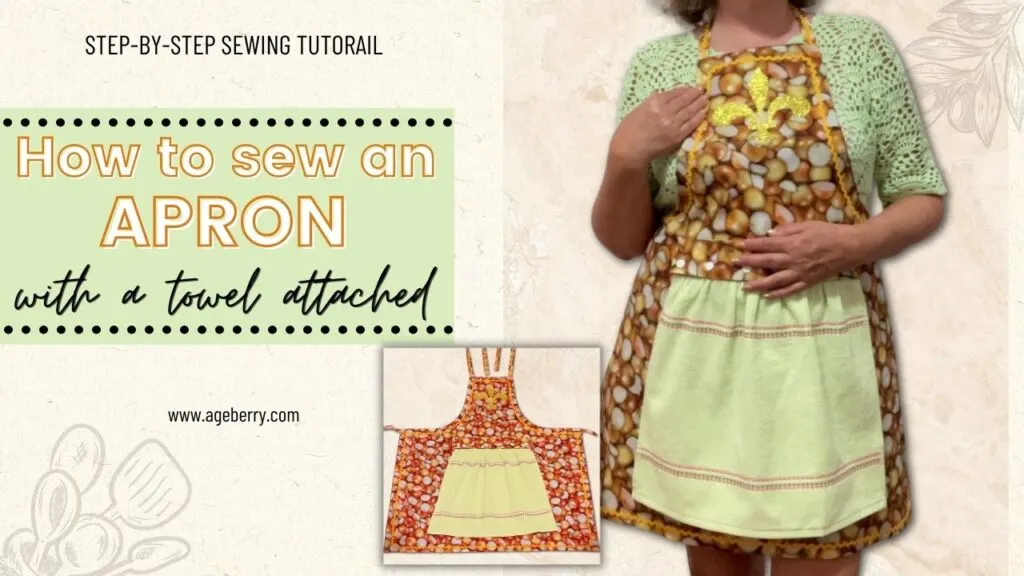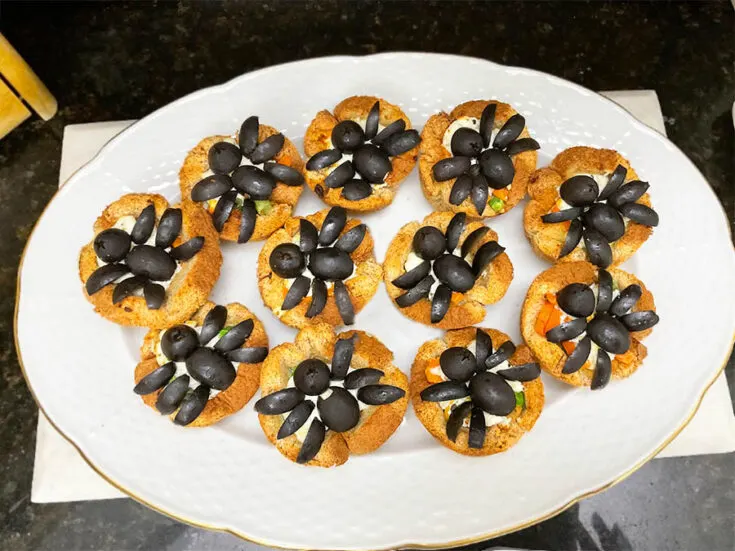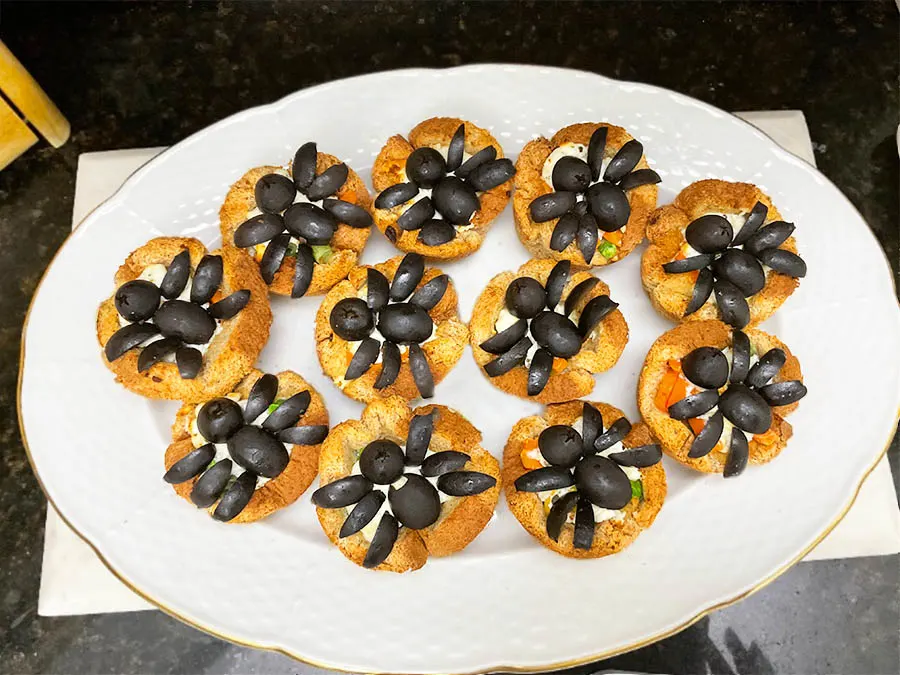 Halloween Veggie Appetizer: Spider Bites
Ingredients
Bread Slices
Frozen Vegetables
Black Olives
Marinated Roasted Peppers
Goat Cheese
Eggs
Half and Half Cream
Salt and Seasonings
Instructions
Step #1. Start Your Oven
First, preheat your oven to 380F so that spider bites cook evenly and thoroughly. Allow time for proper preheating, and avoid opening the oven door so the heat doesn't escape.
Step #2. Cut circular shapes from thinly sliced bread
Using a mug with thin walls that measures 4 inches in diameter, cut circular shapes from the sliced bread. This will ensure that all spider bites are the same size and shape.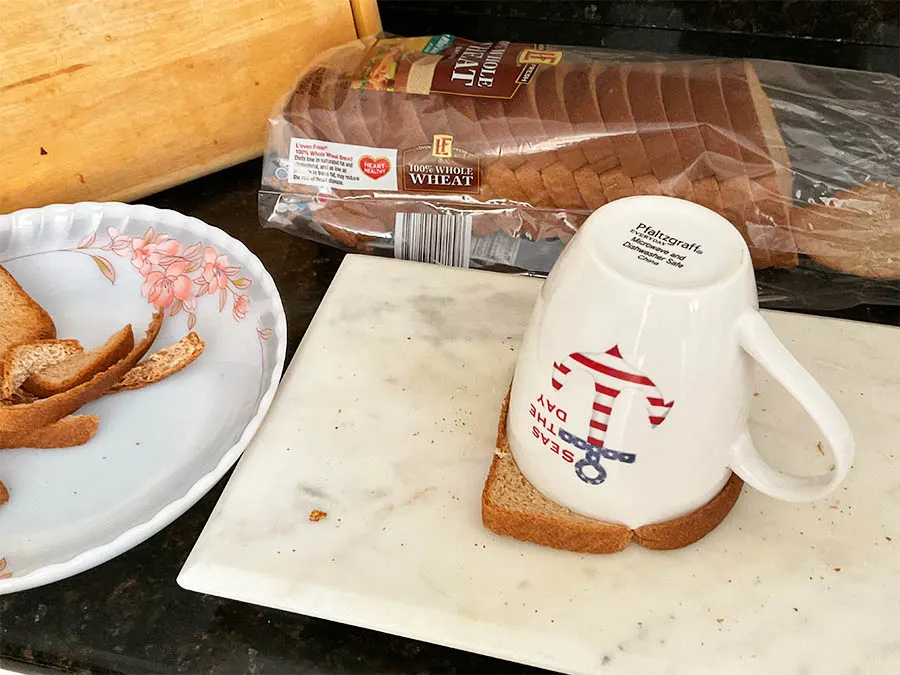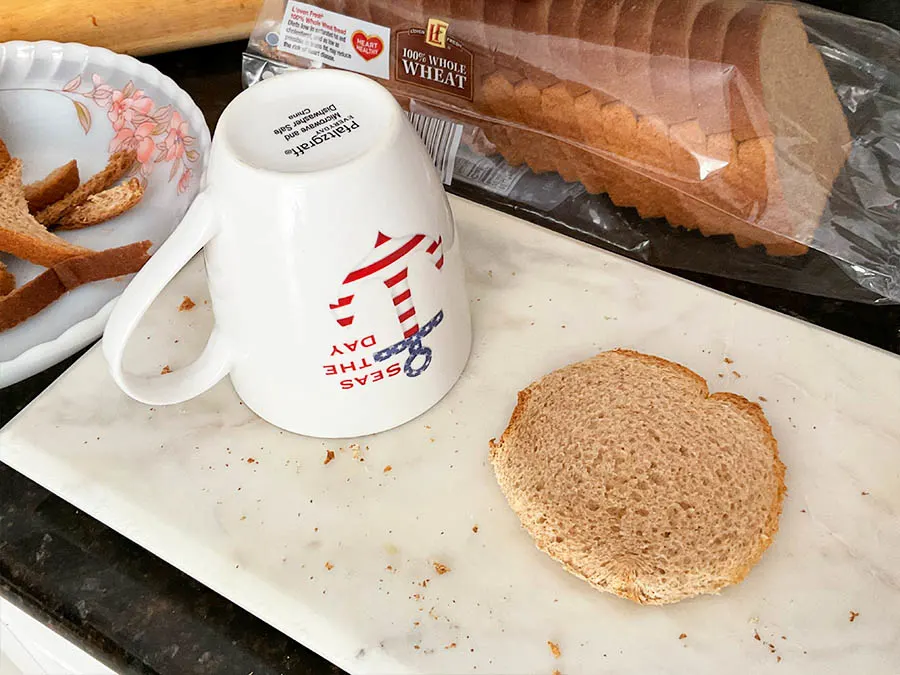 Insert each circular bread slice into a cup of the 12-cup muffin pan, pressing down gently to create a base for the spider bites. Make sure to use a muffin pan with non-stick coating or spray the cups with cooking spray to prevent sticking.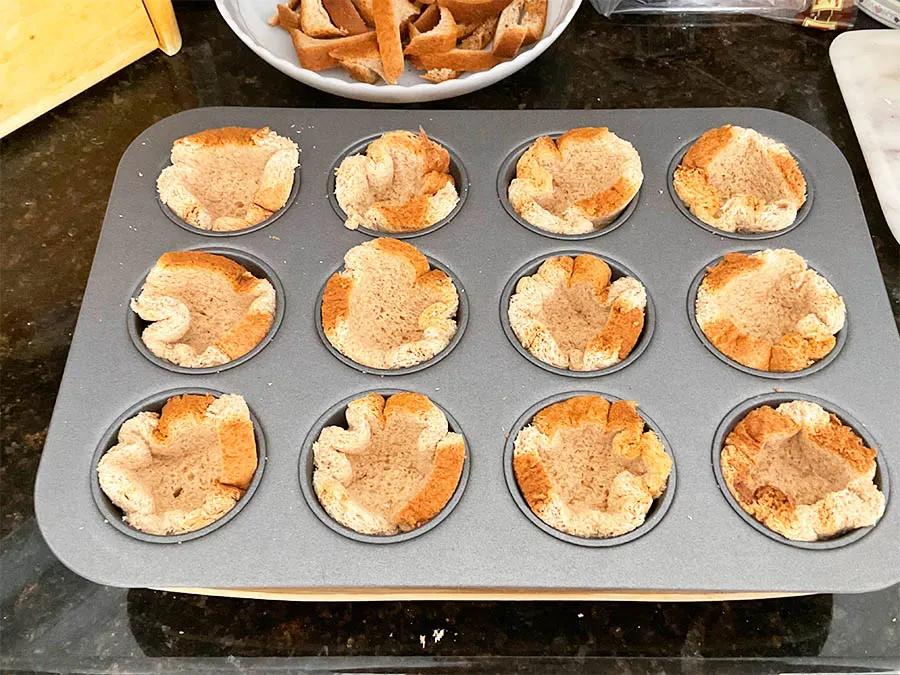 Step #3. Fill the Cups with Veggies
Fill each bread cup with marinated roasted peppers, distribute them evenly.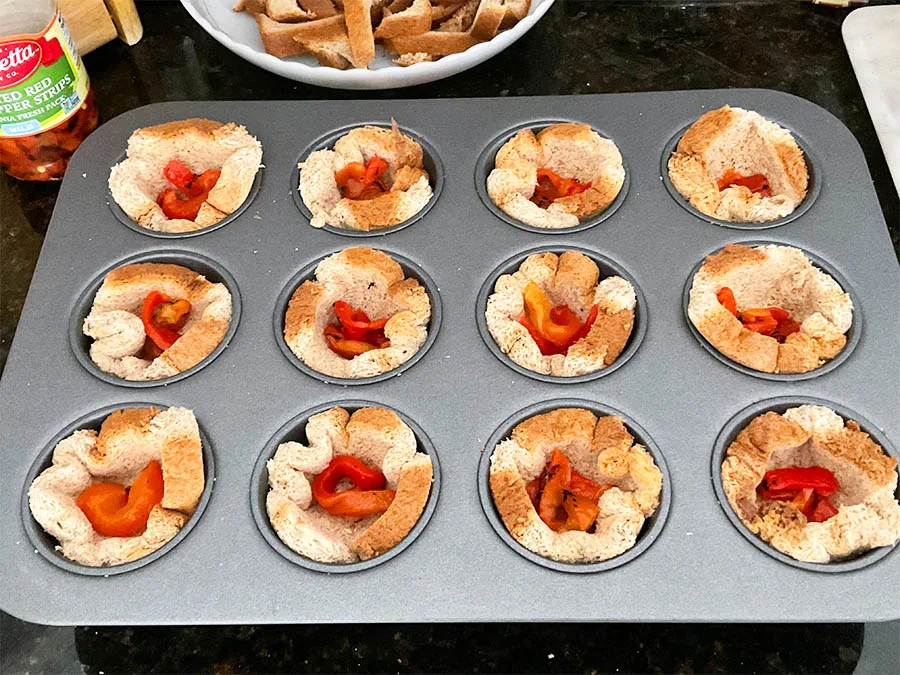 Next, add a generous amount of the small pieces of frozen veggies on top of the peppers. Be sure to fill each cup to the top, but don't press down too hard on the veggies. The veggies will cook down slightly in the oven, so it's okay if they're piled high.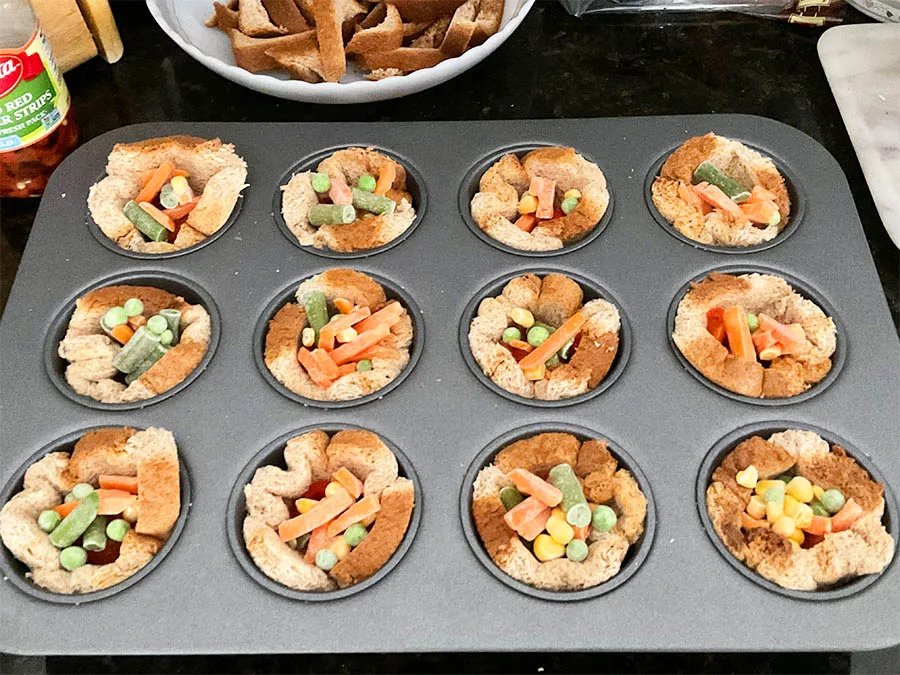 Step #4. Prepare the egg mixture
In a Pyrex measuring cup, whisk together 4 large eggs, 1 cup of half and half cream, and your favorite seasonings. Whisk the mixture until it's fully combined and smooth. This will be the base that binds all of the ingredients together and creates a creamy texture for the veggie appetizer.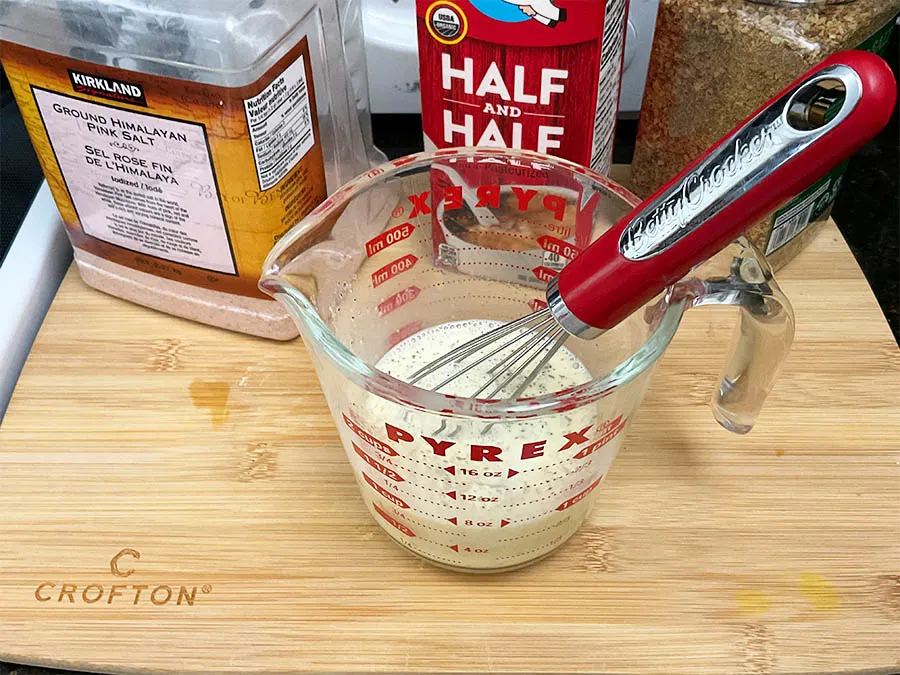 The spout will make it easier to add the egg mixture to the appetizer without making a mess. Simply pour the egg mixture evenly into each cup covering all veggies.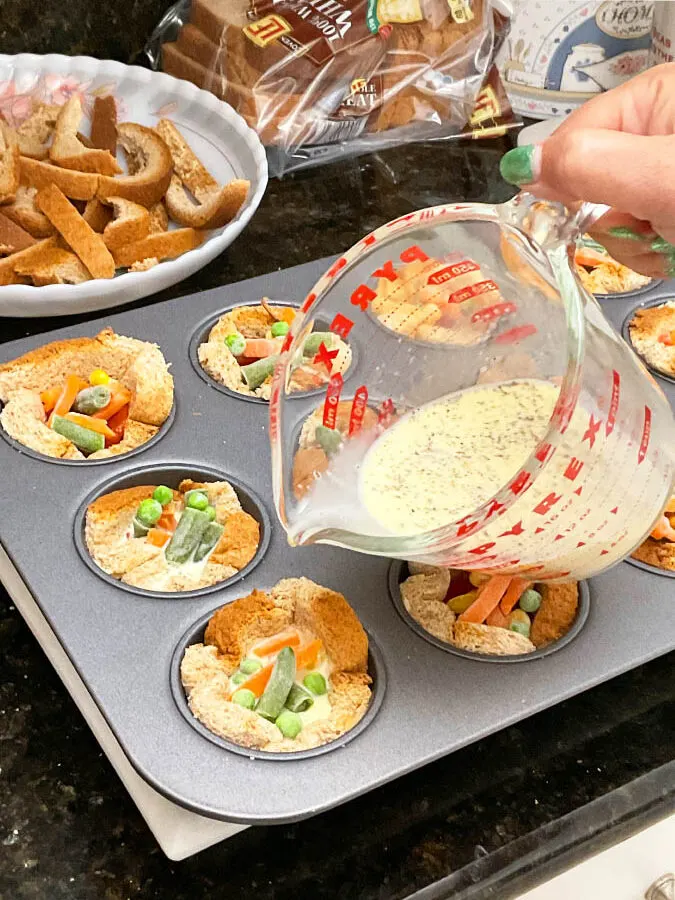 Step #5. Add White Goat Cheese
Add a generous amount of white goat cheese on top of the veggies in each cup, covering them completely. This will provide a great contrast to the black olives that we'll be using for the spider bodies. And also will add a delicious flavor to the appetizer.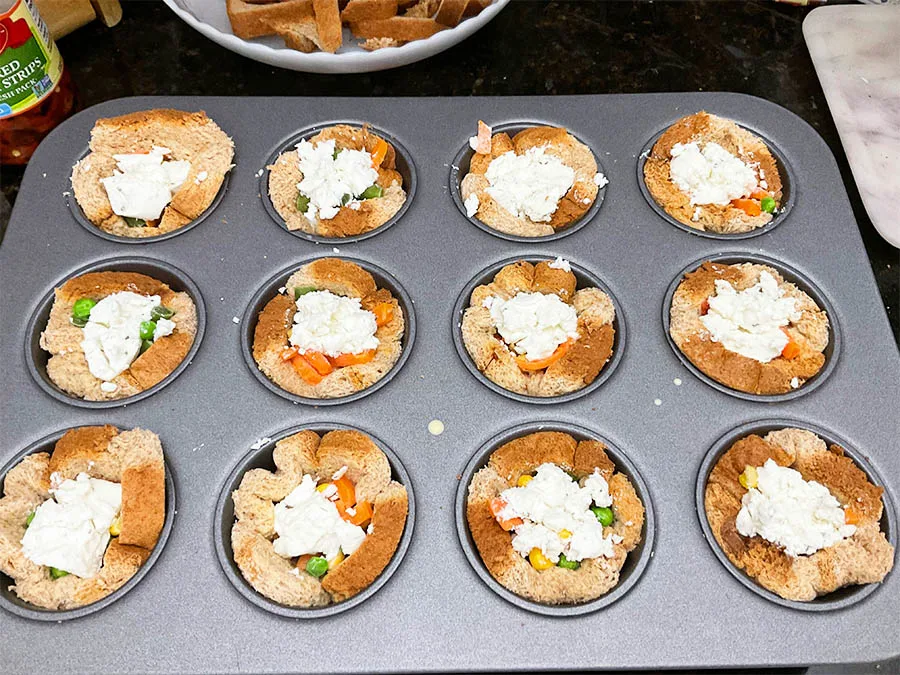 Step #6. Bake the Halloween veggie appetizers
Once your oven has preheated to 380F, place the muffin pan with the prepared spider bites into the oven. Bake for 15 - 20 minutes or until the edges of the bread cups are golden brown and the egg mixture is set. Check on the spider bites periodically to make sure they're not burning.
Step #7. Cut Spiders from Olives
While the veggie muffins are in the oven, it's time to cut black olives for spiders. Open a jar of black olives and slice some of them in half crosswise and some in half lengthwise.
Set aside some olive halves for the spider's heads and other olive halves for the spider's bodies. Slice the remaining olive halves into thin pieces to create the spider's legs. You'll need six legs per spider.
Once you've sliced the olives, set them aside until the veggie muffins are ready to be assembled.
Step #8. Arrange Spiders on top of each veggie muffin.
Once the veggie muffins are ready, remove the muffin pan from the oven and let them cool for a few minutes before arranging them on a plate.
Assemble the spiders on top of each veggie muffin. Place them on top of your finished Halloween appetizers to make the dish look as if it's crawling with spiders, perfect for a spooky party vibe.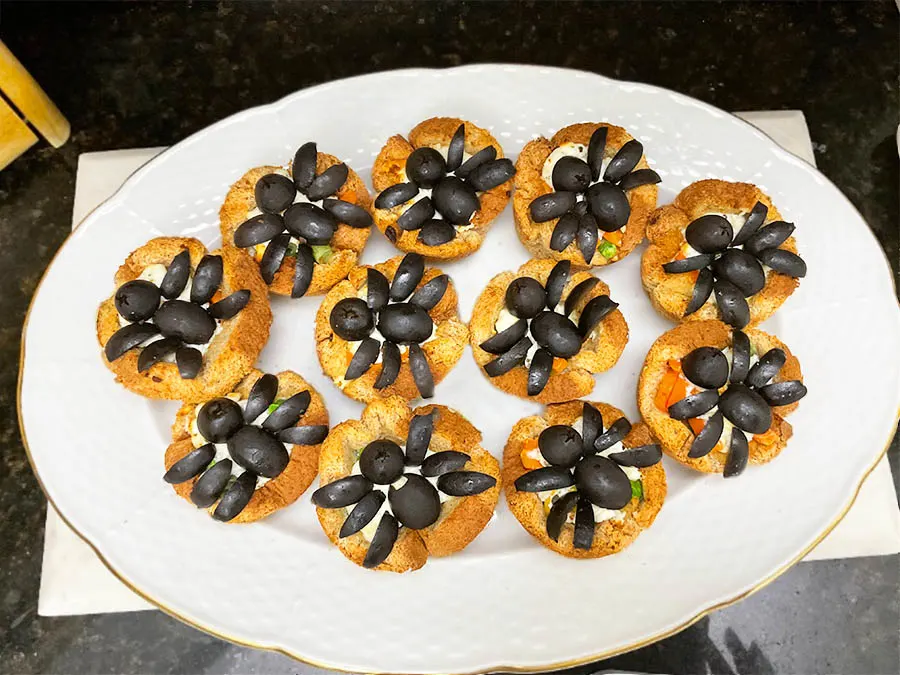 Serve immediately and enjoy your spooky and delicious Halloween veggie appetizers!
Recommended Products
As an Amazon Associate and member of other affiliate programs, I earn from qualifying purchases.
Alternative Ingredients for Halloween Veggie Appetizers
I think you agree with me that you can make countless variations of Halloween veggie appetizers.
If you or your guests have dietary restrictions, you can easily create gluten and dairy-free variations of these Halloween veggie muffins. Simply replace certain ingredients with alternatives. For a gluten-free variation, use gluten-free bread instead of regular bread. You can also use almond milk instead of cream for a dairy-free variation.
Where to Serve These Halloween-Inspired Bites
One of the best places to serve these veggie bites is at a Halloween party. Themed gatherings are always a hit, as guests are often delighted by unique and exciting dishes that align with the holiday spirit.
Another great time to present these appetizers is after trick-or-treating. Offering a tasty and nutritious Halloween veggie appetizer can be a welcome break from the abundance of sweet treats.
In addition to being perfect for Halloween, these veggie appetizers can also be customized for other holidays and birthday celebrations. Simply adjust the presentation to match the theme of your event, and your guests will surely be impressed by the creativity in your menu choices.
For example, you could use flowers from red tomatoes for a Christmas-themed appetizer (instead of spiders) or a heart-shaped muffin pan for a Valentine's Day celebration. The possibilities are endless, so get creative and have fun with your appetizer creations!
---
I hope you found this recipe for Halloween veggie appetizers helpful! If you did, save this pin to your cooking board so you can easily come back to it when you need to make these delicious appetizers again.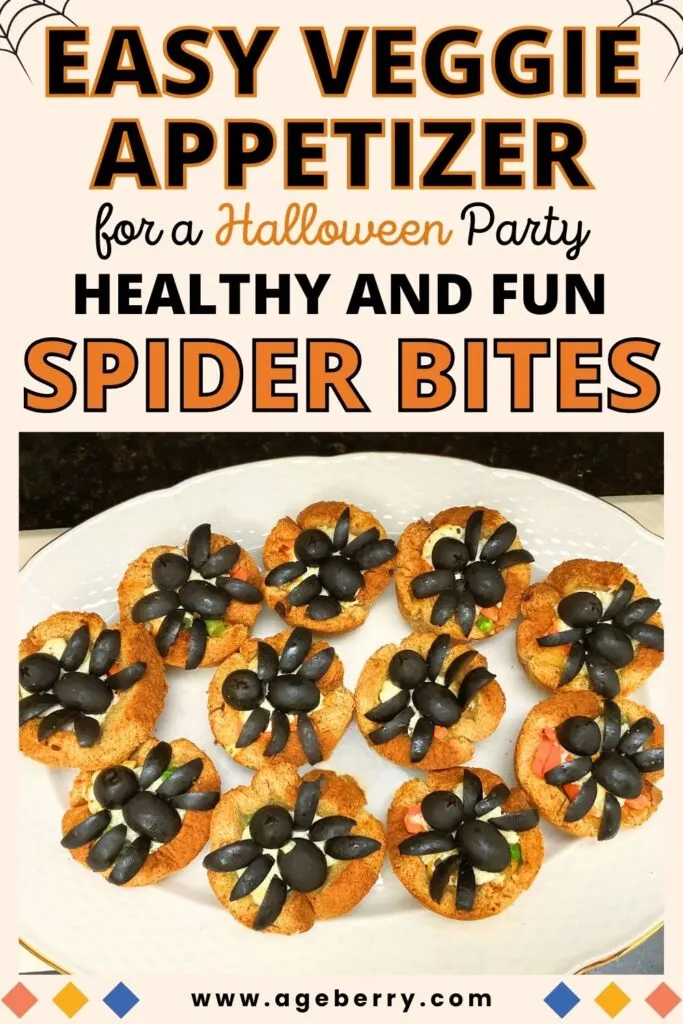 ---
You might also like these Halloween posts:
---