Are you tired of the same old boring salads? If so, you're in for a treat with this delicious imitation crab meat salad recipe! This salad is packed with flavor and is sure to become a new favorite.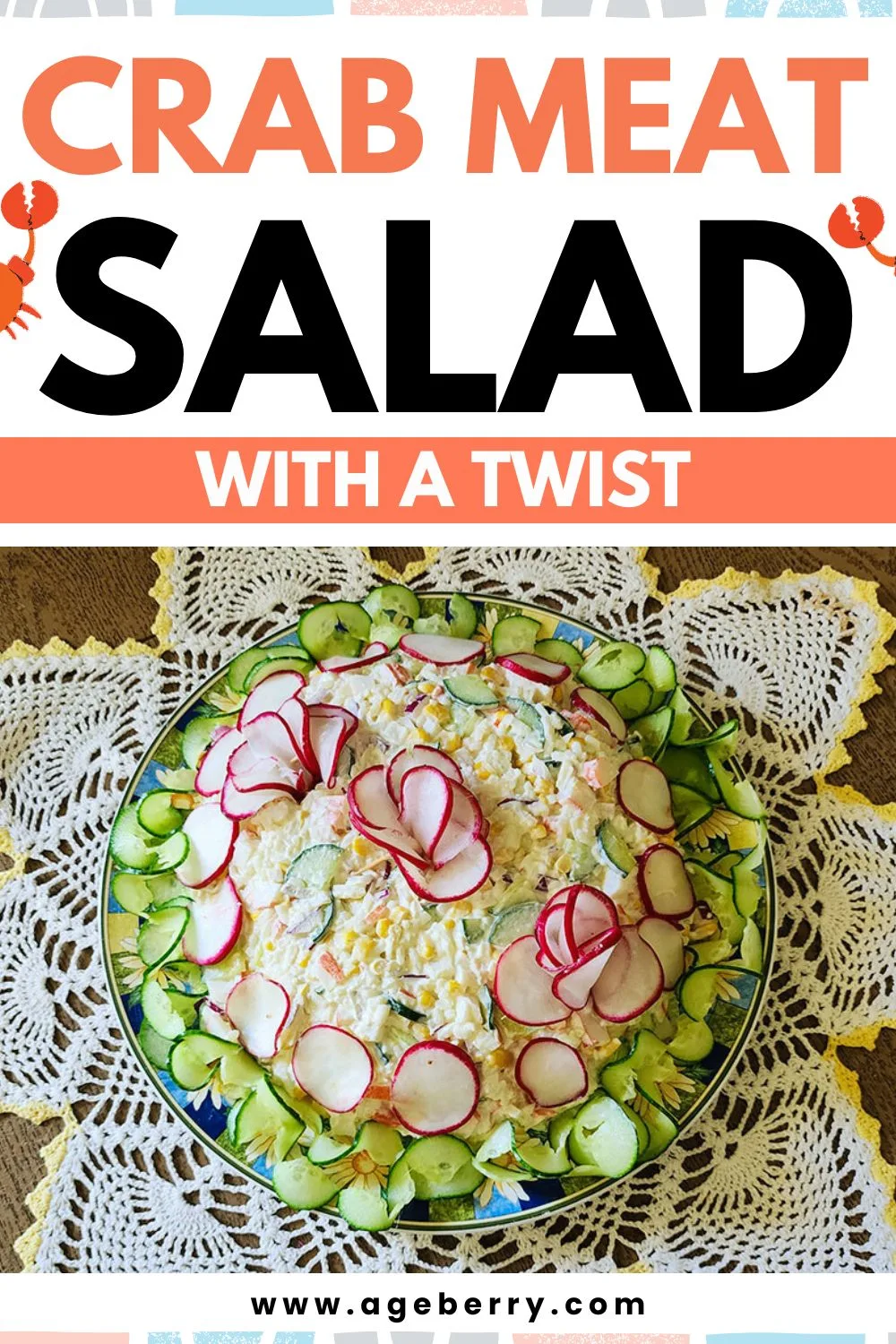 Salads made from imitation crab meat are popular dishes that can be found in many restaurants. Prepared with imitation crab meat, which is typically made from a combination of fish, starch, and flavorings, these salads are a tasty and affordable alternative to real crab salad.
So, a few days ago, we went to a Japanese restaurant to celebrate my birthday. I ordered a delicious crab salad made from imitation crab meat and lettuce. It was delicious but I have my own imitation crab meat salad recipe that is very tasty and has been in my family for decades. In this post, I will show you how to prepare it.
This salad is a perfect option for a light and refreshing meal or as a side dish. With its simple preparation and readily available ingredients, it can be whipped up in no time.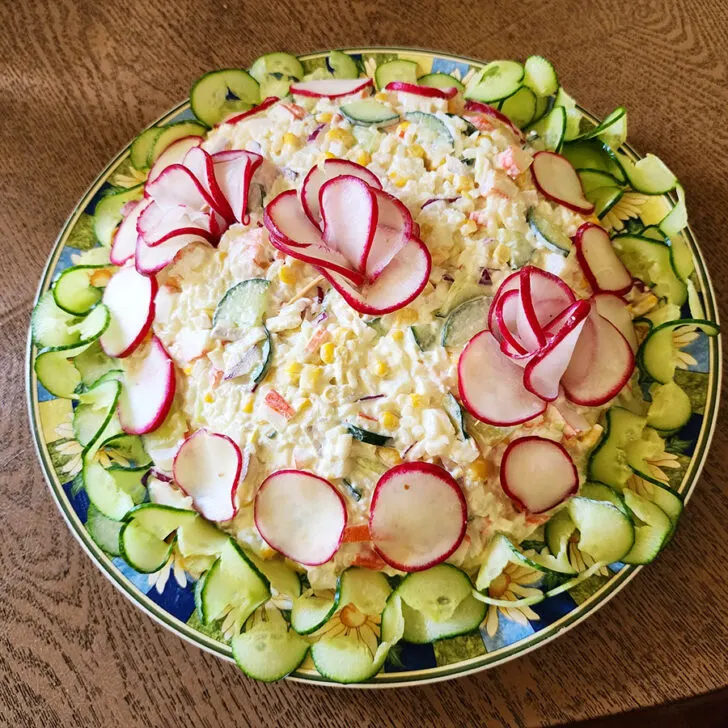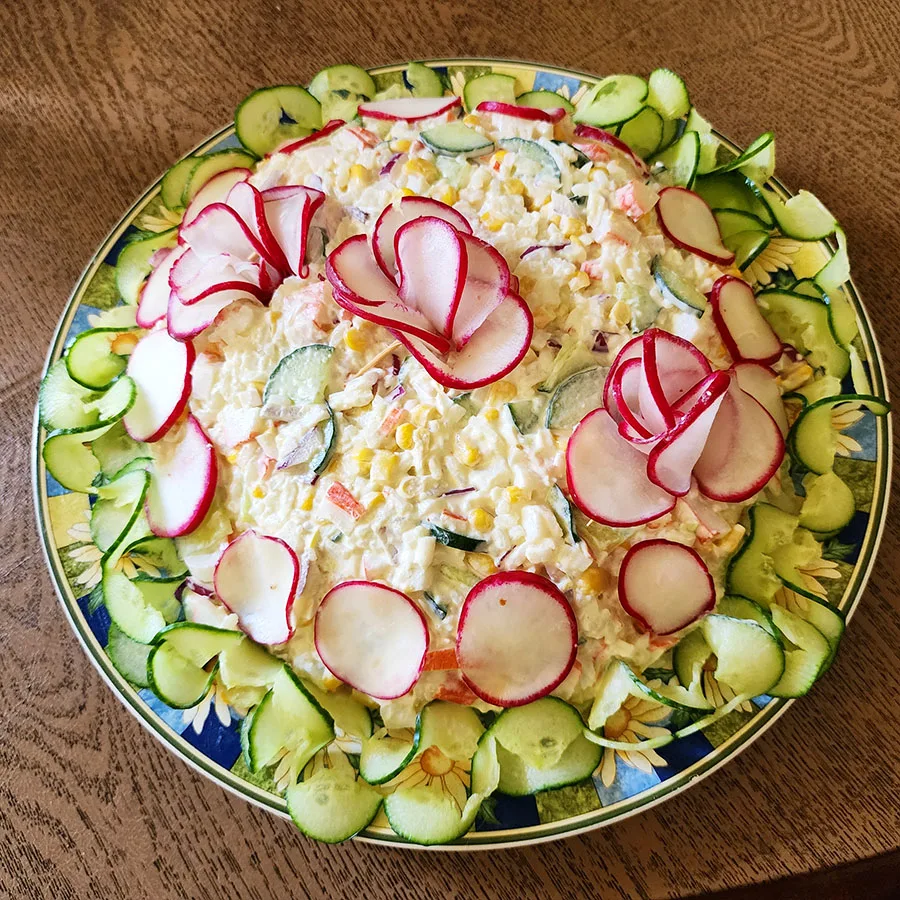 Understanding Imitation Crab
Imitation crab, also known as crab sticks, krab, or surimi, is a popular seafood substitute made from cooked fish meat. It is commonly used in salads, sushi, and other seafood dishes, and is a great alternative for those who are allergic to shellfish or looking for a more affordable option (as real crab meat is very expensive).
The production process of imitation crab involves several steps. First, white fish meat is minced and mixed with starch, egg whites, and flavorings to create a smooth paste. The paste is then shaped into crab-like sticks or chunks and cooked in boiling water. Finally, the imitation crab is chilled and packaged for sale.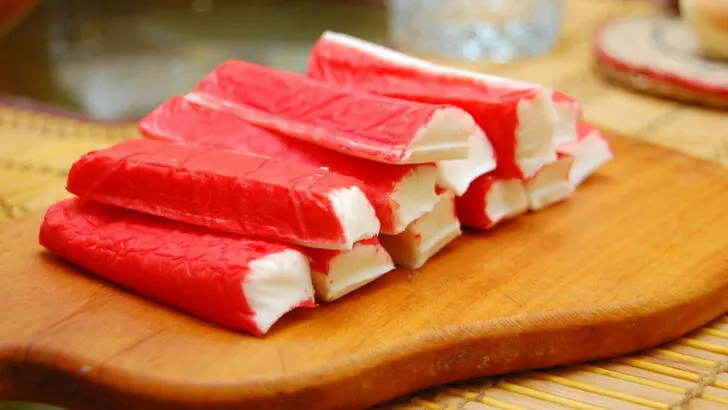 One of the advantages of imitation crab is its nutritional value. It is low in fat and calories, and high in protein, making it a great option for those looking to maintain a healthy diet. However, it is important to note that imitation crab may contain additives and preservatives, so it is always best to check the ingredient list before purchasing.
When it comes to healthy eating, it can be hard to know what to believe. One day, a food is touted as a superfood and the next day, it's deemed unhealthy. But the truth is, imitation crab meat (as many other foods by the way) is both healthy and unhealthy at the same time.
Compared to real crab meat, imitation crab meat is lower in fat and calories. It's also a good source of protein, which can help you feel full and satisfied. Imitation crab meat is usually made with white fish like pollock, which is a good source of omega-3 fatty acids that are good for us.
One of the biggest downsides of imitation crab meat is that it's often high in sodium and additives like carrageenan and artificial flavors that may not be good for your health. Some brands of imitation crab meat may contain added sugars or other unhealthy ingredients, so it's important to read the label carefully.
Another factor to consider is that imitation crab meat is not a whole food. It's a processed food that's made with a variety of ingredients. Choose crab sticks that has as few added ingredients as possible.
Imitation crab is often compared to real crab meat. While it may not have the same sweetness and brininess as fresh crab, it does have a similar texture and can be seasoned to mimic the taste of real crab. It is also much more affordable than fresh crab, making it a popular choice for budget-conscious consumers.
Where To Buy Imitation Crab Meat?
You may be wondering where to buy it. While it's widely available in supermarkets and grocery stores, not all crab meat is created equal. In my experience, I've found that the quality and taste of imitation crab meat can vary depending on where you buy it.
Recently, I bought some imitation crab meat from a local supermarket and was disappointed with the taste. It was bland and tasteless, and didn't have the satisfying texture that I was looking for. However, I've had much better luck buying crab sticks from a nearby asian store. They had a more pronounced flavor and texture that I find more enjoyable.
So, if you're looking to buy imitation crab meat, I recommend checking out your local asian stores. They often have a wider selection of seafood and seafood products, including crab sticks and other imitation crab meat products. Just be sure to read the label carefully and look for high-quality ingredients.
Note: Some of the links on this page are affiliate links. This means I will receive a commission if you order a product through one of my links. I only recommend products I believe in and use myself.
Some Notes About Other Ingredients For The Imitation Crab Meat Salad
Use one long cucumber that is straight and firm. This type of cucumber is often referred to as an "English cucumber" or "seedless cucumber" and is ideal for salads because it has fewer seeds and a thinner skin than other types of cucumbers. Choose organic produce if possible, as it is free from synthetic pesticides and chemicals. Organic cucumbers are also often fresher and have a better taste than conventionally grown cucumbers.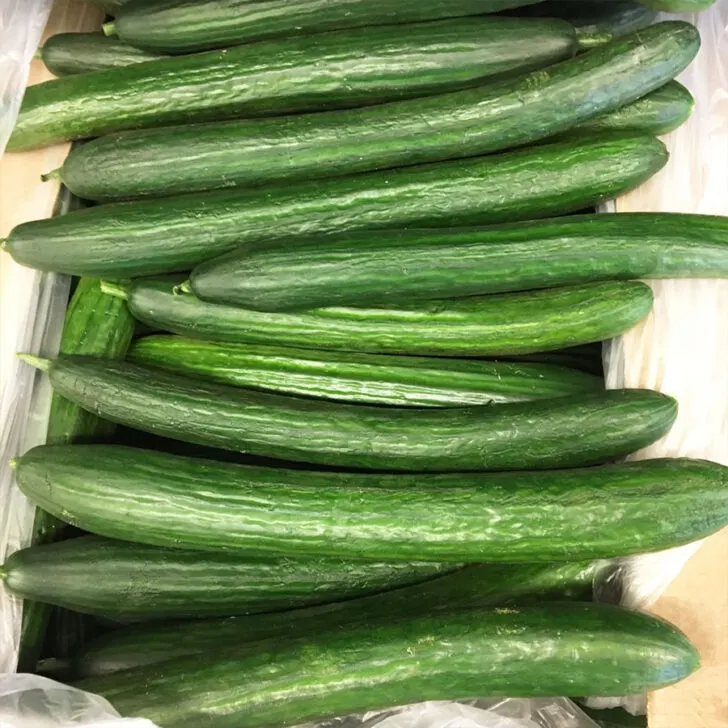 While there are many different brands of mayonnaise available, I prefer to buy organic mayonnaise from Whole Foods. It's made with high-quality, organic ingredients, which means it's free from synthetic pesticides and other harmful chemicals. This makes it a healthier choice for you and your family. Organic mayonnaise is made with cage-free eggs and also made with expeller-pressed oils, which are extracted without the use of chemicals or solvents.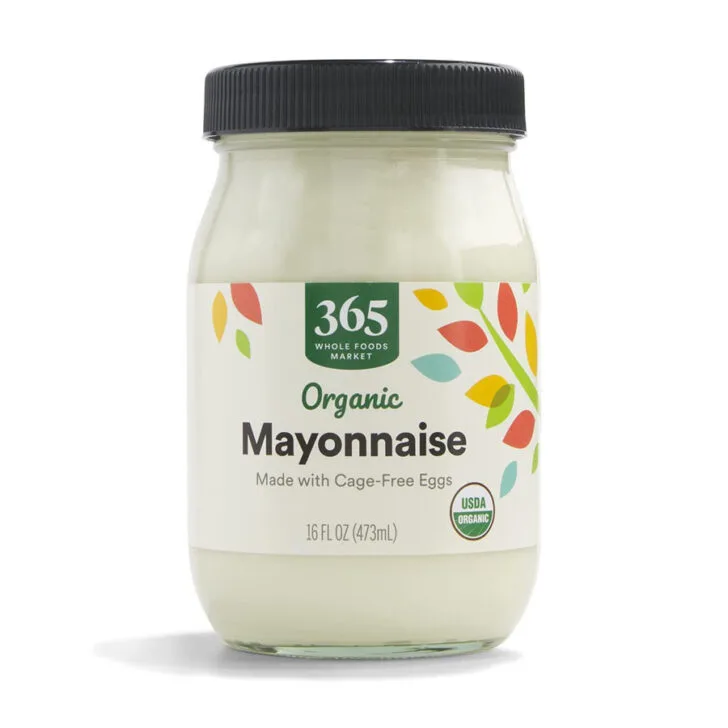 While organic mayonnaise from Whole Foods is a great choice, you can make your own mayonnaise at home.
I use everything organic: organic eggs, organic onion, organic rice, organic sour cream, and organic canned corn.
*** Helpful Tip ***
Cooking can be messy, and stains on your clothes are never a good look. That's why it's important to wear an apron while you're in the kitchen. I have just the thing for you: a one-of-a-kind apron with a towel attached. I created a sewing tutorial on my blog that will guide you through the process of making this unique apron. Not only will it protect your clothes from spills and splatters, but it will also add a touch of flair to your cooking routine. So, if you're ready to upgrade your kitchen attire, check out the tutorial now!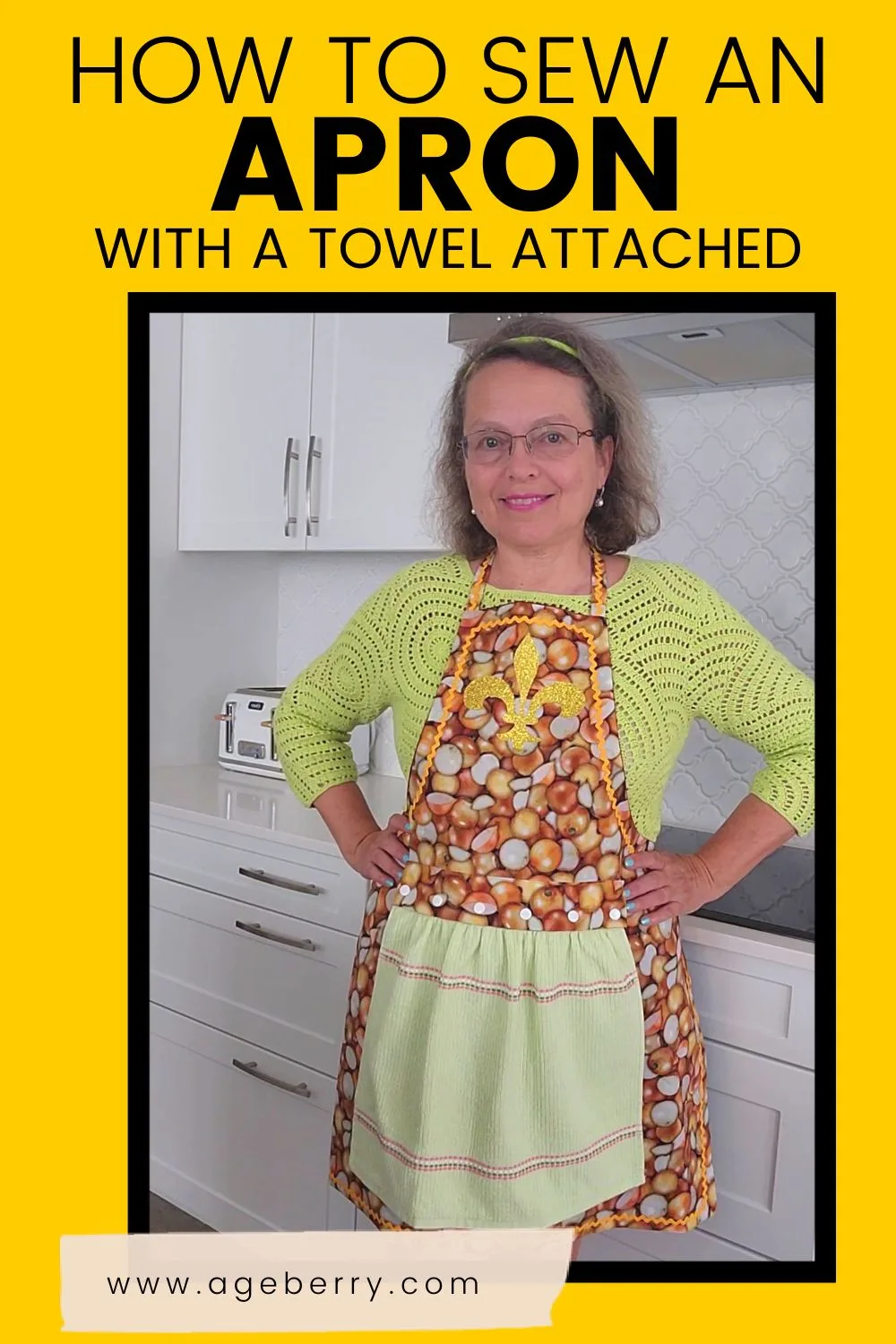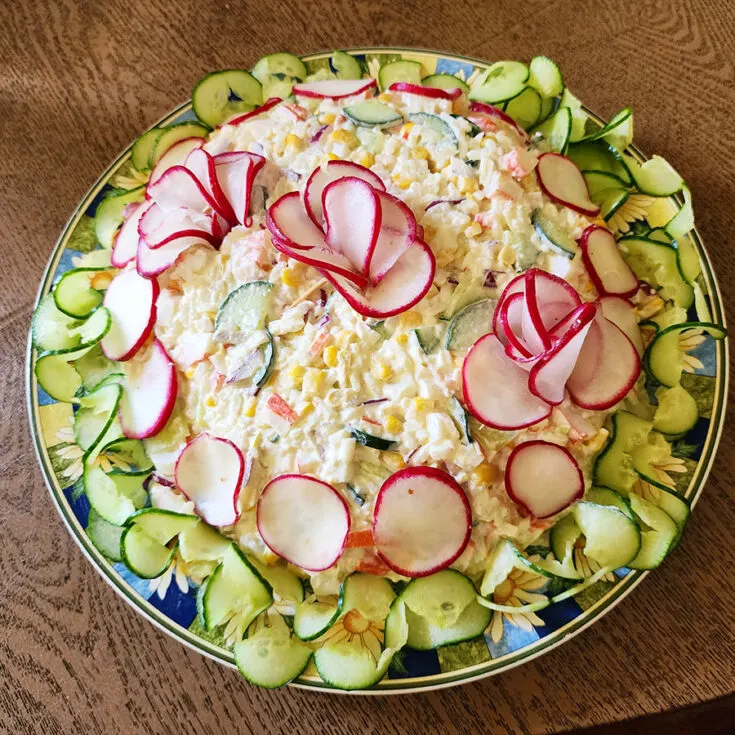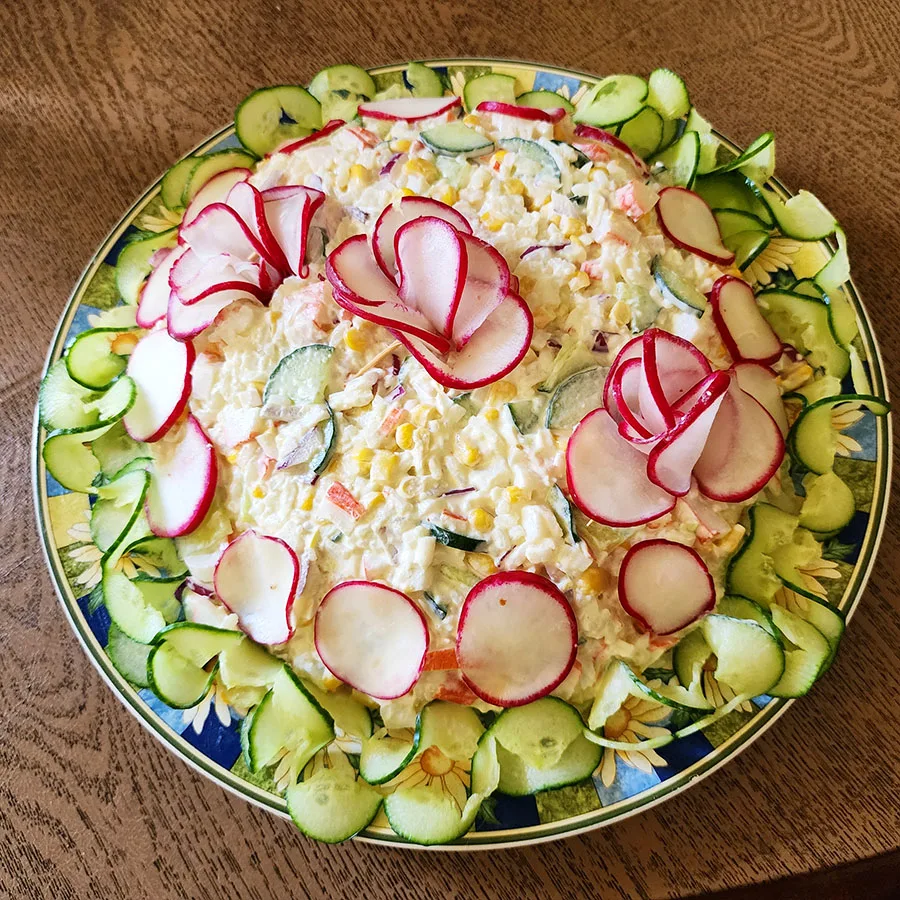 Imitation Crab Meat Salad
Ingredients
1 lbs imitation crab meat (or 1.1 lbs, or 500 gm)
5 hard-boiled eggs, chopped
2 cup cooked rice, cooled
1 red onion, chopped
1 fresh cucumber, chopped
1 can of corn
1/2 cup mayonnaise
½ cup sour cream
Salt and pepper to taste
Instructions
Start by gathering all the ingredients you'll need for the salad.
Prepare 5 hard- boiled eggs. Boil rice and let it cool before adding it to the salad.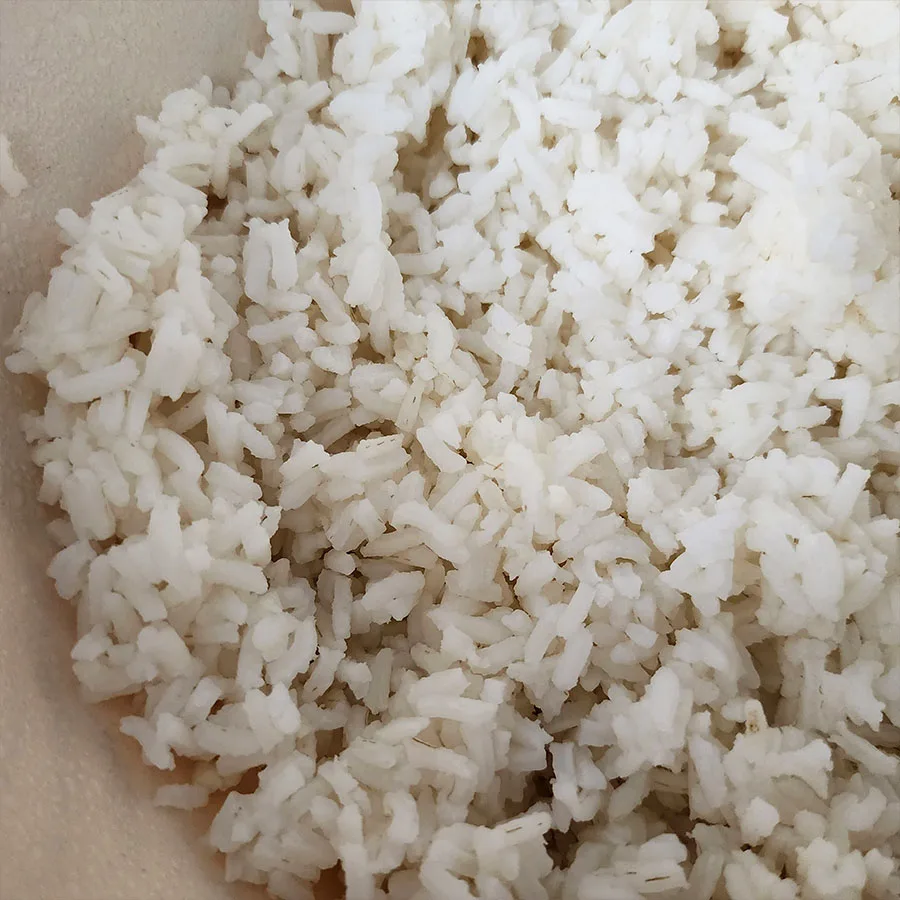 Avoid overcooking the rice, as this can result in a mushy texture that is unappetizing. Instead, it's better to slightly undercook the rice so that each grain remains separate and distinct. This can be achieved by keeping a close eye on the rice as it cooks and testing it frequently to ensure that it is cooked to the desired level of doneness.
Remove the imitation crab meat sticks from the packaging.
--------------------------------------------
Step 2. Cut the crab meat sticks in half lengthwise, creating two long strips. Cut each strip into small pieces. Add them to a large salad bowl.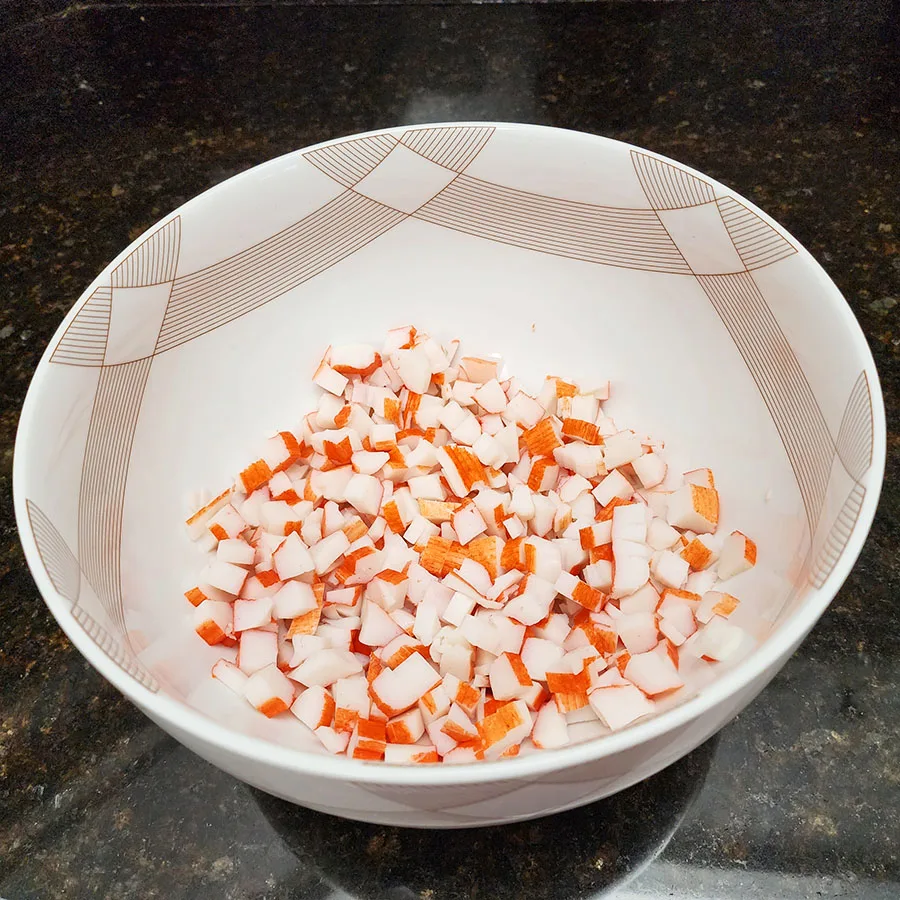 --------------------------------------------
Step 3. Chop the cucumber into small pieces.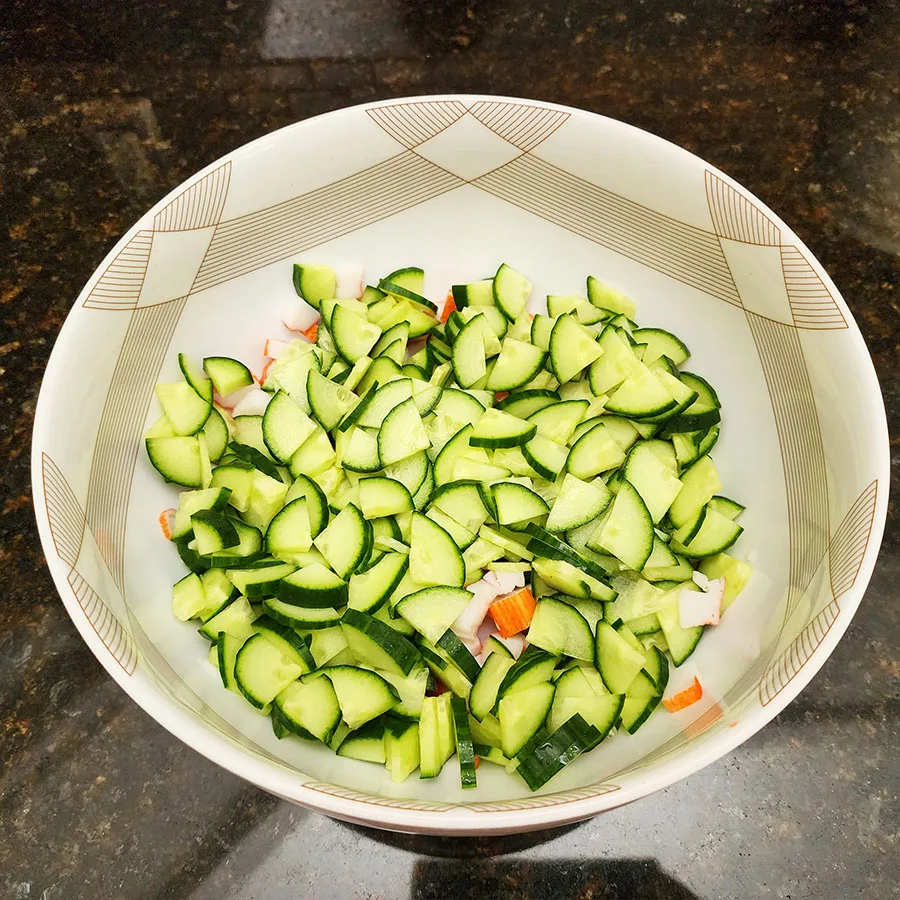 --------------------------------------------
Step 4. Chop the red onion into small pieces.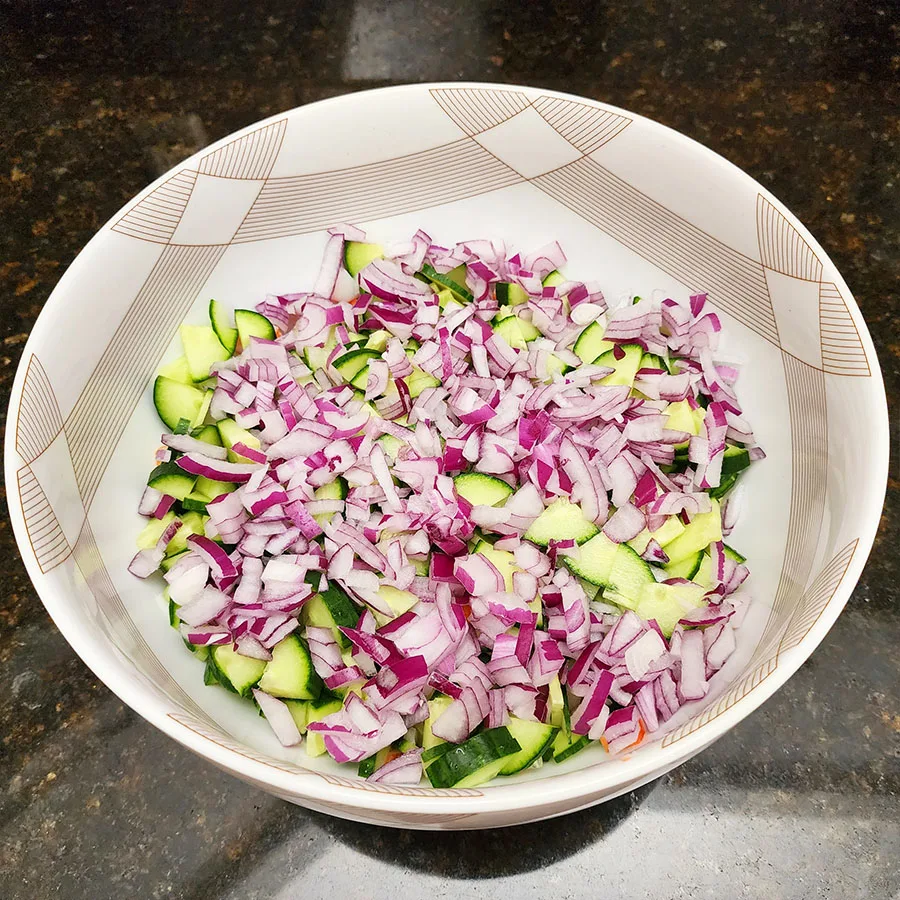 --------------------------------------------
Step 5. Add boiled rice to the bowl.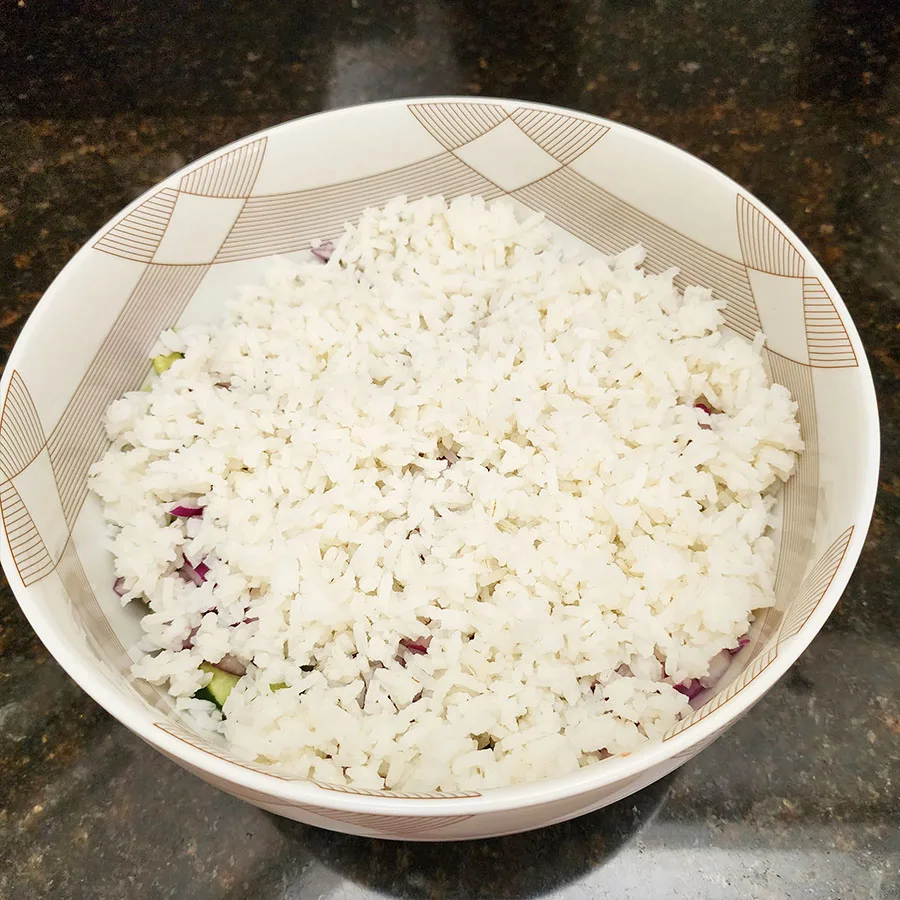 --------------------------------------------
Step 6. Add corn. Drain the liquid from the canned corn in a colander before adding it to the other ingredients. The canned corn might have added salt and preservatives. If this is the case you may want to rinse it with cold water in a strainer.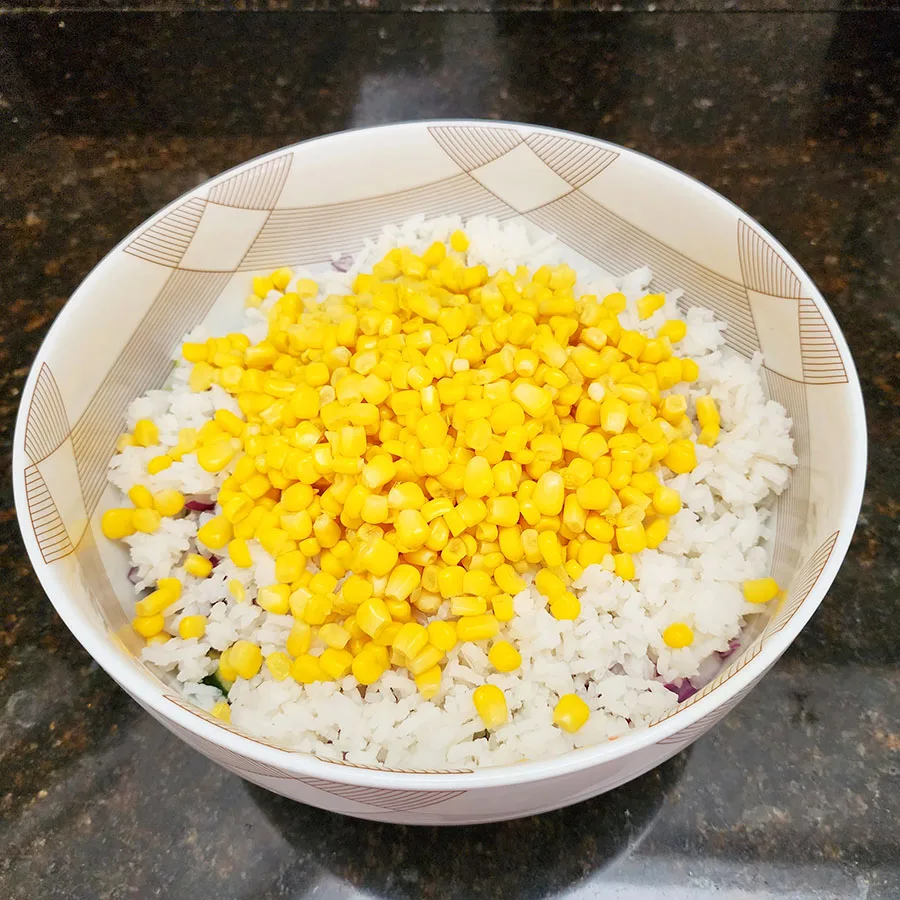 --------------------------------------------
Step 7. Add eggs. Peel the eggs and chop them very finely or grate them. I usually just grate them using a cheese grater.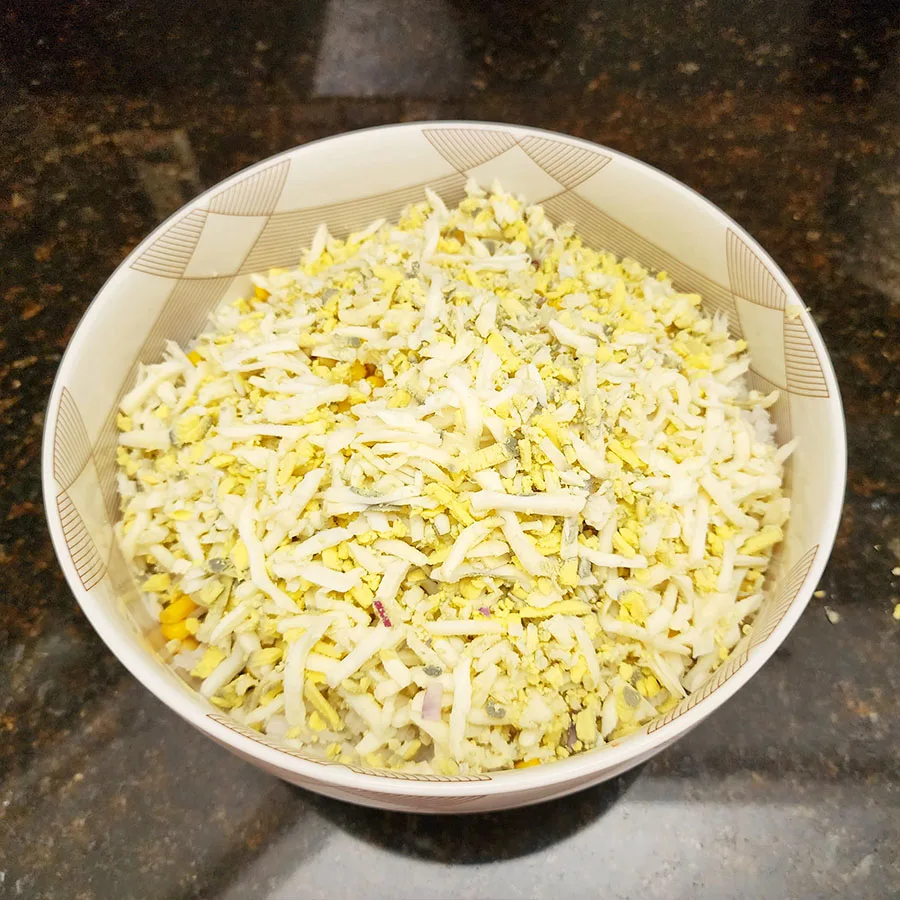 --------------------------------------------
Step 8. Add the mayonnaise, sour cream, salt, and pepper to the bowl and mix thoroughly until everything is well combined. If the salad turns out too dry, the amount of mayonnaise can be increased.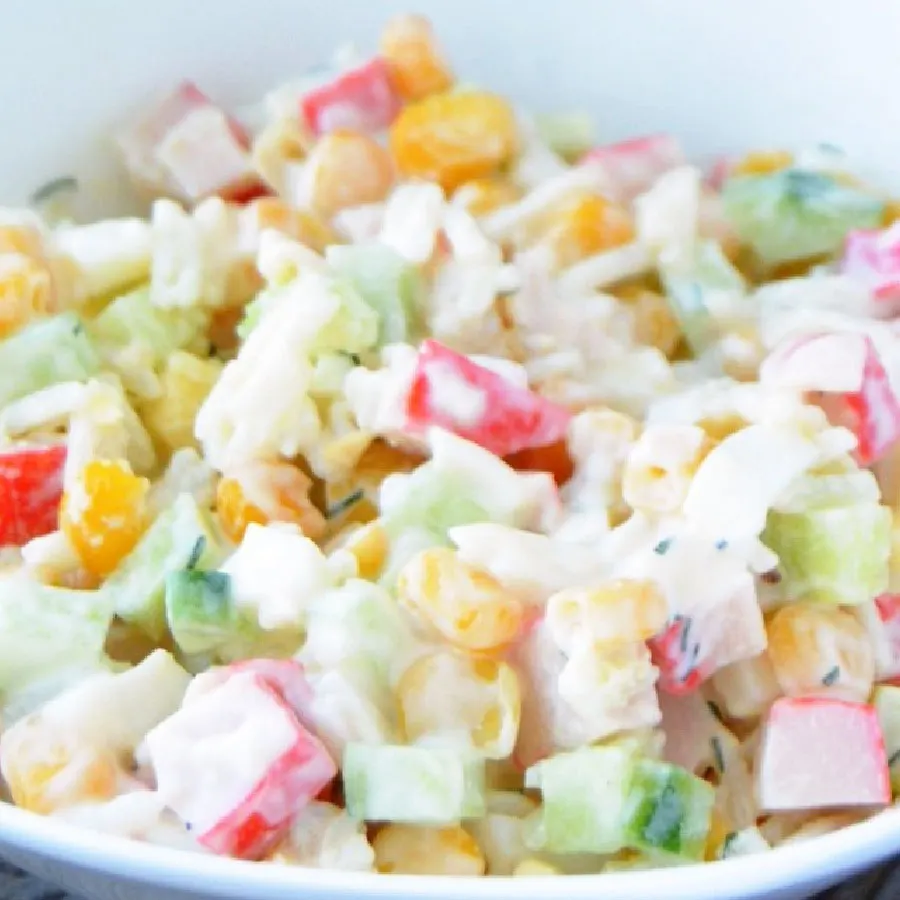 --------------------------------------------
Step 9. Taste the salad and adjust the seasoning as necessary.
--------------------------------------------
Step 10. Cover the salad and refrigerate for at least 30 minutes to allow the flavors to meld together.
--------------------------------------------
Step 11. Beautify your imitation crab meat salad with some simple techniques: make roses from radishes, cut cucumbers in spirals. To do this, use a spiralizer to create long, thin strips of cucumber.
Arrange the salad on a wide plate, creating cake-like effect and add radish roses on top and cucumber spirals around the edges.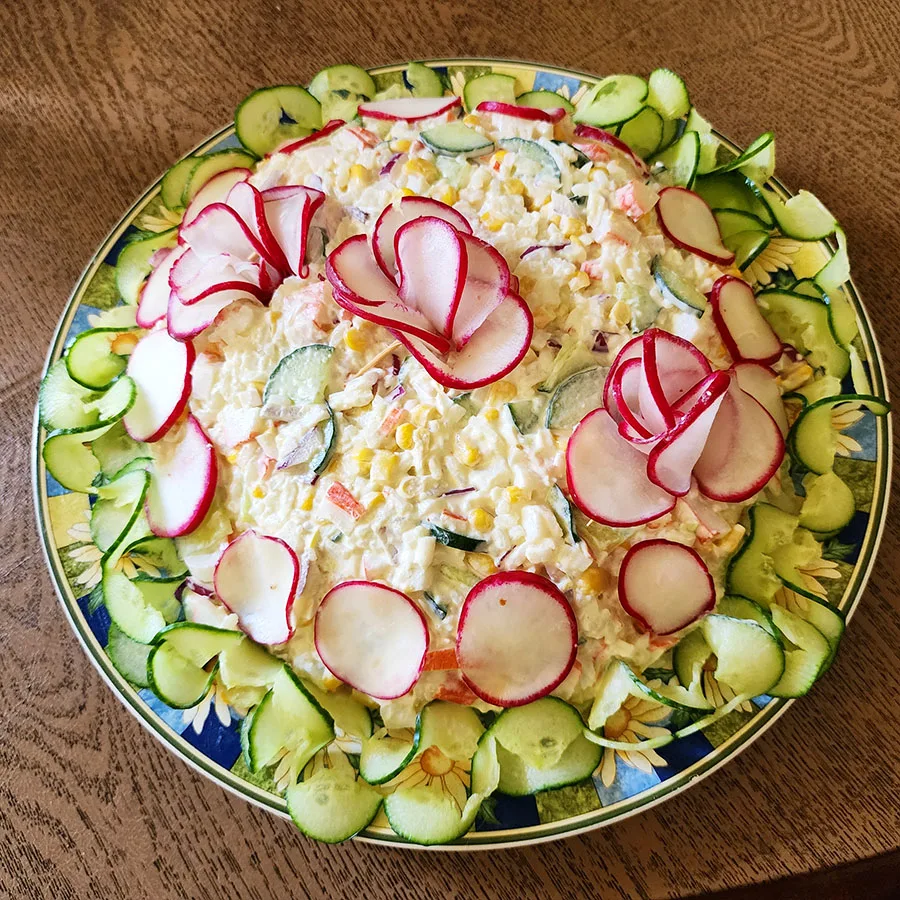 --------------------------------------------
Notes
How to Serve Crab Salad
There are many ways to serve the crab salad and make it a satisfying meal. It's a versatile dish that can be customized depending on your taste preferences and the occasion. Here are some ideas.
Crab salad can be served as a standalone dish for lunch or supper.
Crab salad can also be served as a side dish for dinner to complement a main course. It pairs very well with seafood, or roasted vegetables.
You can also serve it as an appetizer.
One option is to serve the crab salad with bread. This could be in the form of a sandwich or toast.
You could also serve it on a bed of greens, like lettuce or spinach, for a healthier option.
Another option is to serve the crab salad with crackers or chips. This is a great option for a party or gathering where guests can easily grab a cracker and top it with the crab salad.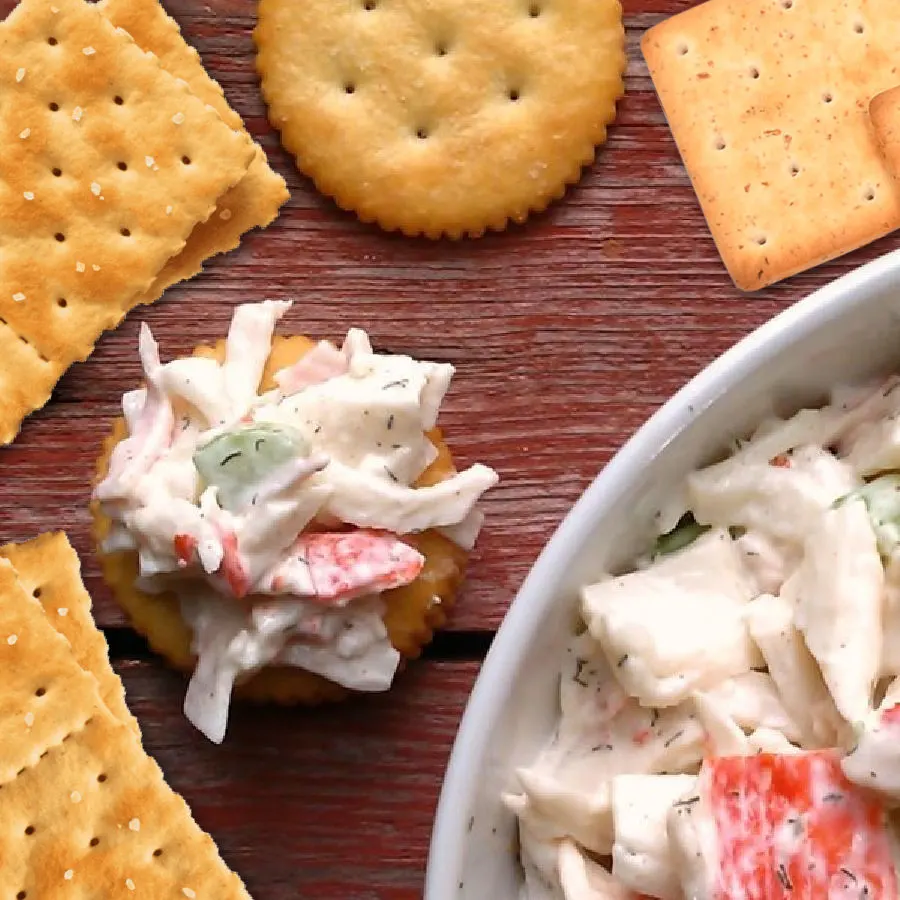 ---------------------------------------------------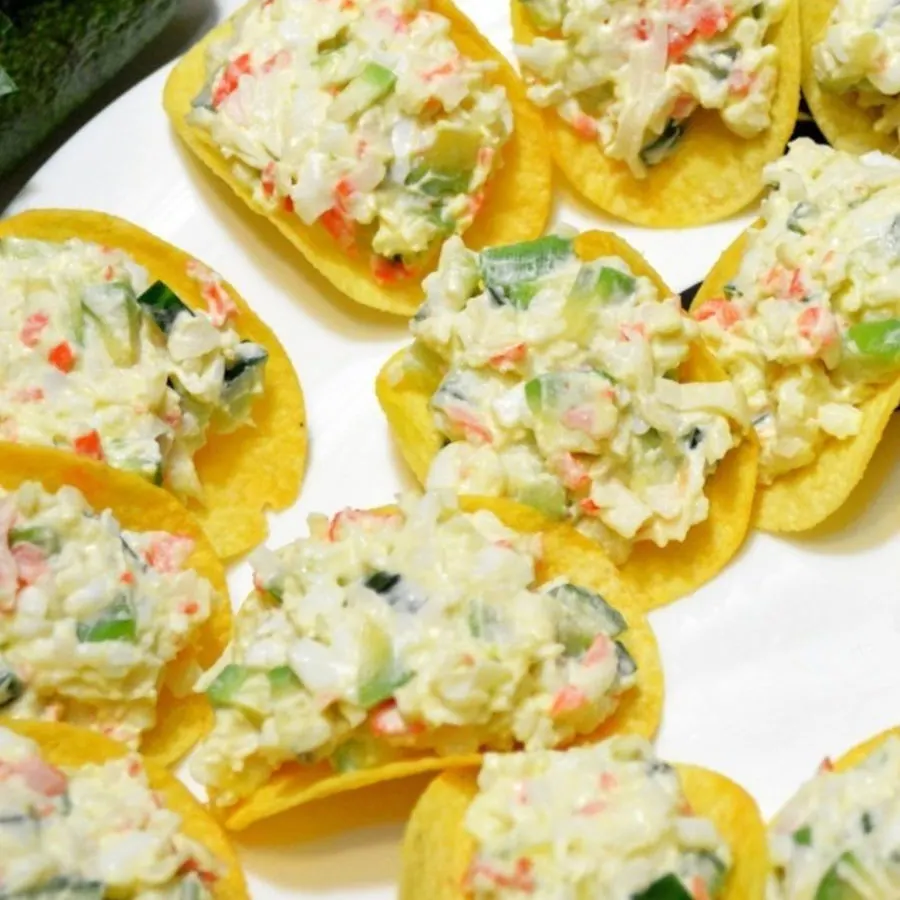 For a portable and easy-to-eat option, try serving crab salad in a wrap. You can use a flour tortilla or a lettuce leaf as a wrap.
So, what do you like? You can get creative and experiment with different serving options to find what works best for you and your guests.
What Drinks Go With Crab Salad?
There are many options that can complement the flavors of the dish.
For example, a crisp and refreshing white wine, such as a Sauvignon Blanc or Pinot Grigio, can be a great choice. These wines can balance the richness of the crab meat and the creaminess of the dressing and maybe provide a nice contrast to the flavors in the salad.
Another option is a light and refreshing beer, such as a pilsner or a lager. These beers have a clean, crisp taste that can provide a refreshing contrast.
If you prefer non-alcoholic options, try a sparkling water or lemonade. Drinks with a citrusy flavor can certainly complement the crab salad.
Recommended Products
As an Amazon Associate and member of other affiliate programs, I earn from qualifying purchases.
How Long Does Imitation Crab Salad Last In The Fridge
The imitation crab meat salad can last for 2 days in the fridge but it should not be stored for long periods of time, as fresh cucumbers quickly produce juice that can dilute the mayonnaise and ruin the flavor of the dish.
It's best to cook only as much salad with crab sticks as you can eat at one time. This way, you can enjoy the salad at its best, without worrying about loss of flavor. If you have leftovers, it's best to eat them as soon as possible, or discard them if they've been sitting in the refrigerator for 2 days.
---
So there you have it, a delicious imitation crab meat salad recipe that's sure to impress. Give it a try and let me know what you think in the comments below.
Did you find this post helpful? If so, save this pin (see below) on your food board so you can come to the article later when you need this information on imitation crab meat salad recipe , and follow me on Pinterest for more tips, tutorials, and inspiration!