This is a guest post by Helen Spencer from hellosewing.com
Although engineers have included many subtle safety features in modern sewing machines, you are still dealing with an electric machine that punches a sharp needle at a rapid pace.
As indoor hobbies go, sewing is still very safe, not to mention highly rewarding and productive, but only if you take care to include precautions on a regular basis.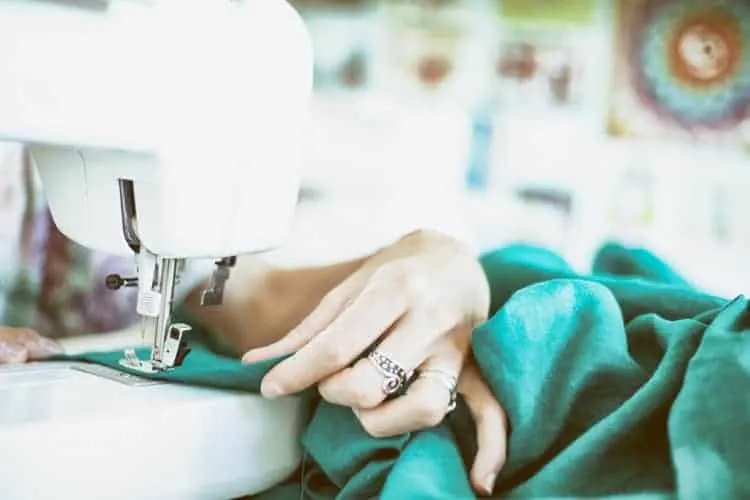 Steady as you go
Even if you are a veteran sewer, when you buy a new sewing machine, it takes time to adjust to its peculiarities. This goes double for beginner sewers.
In practical terms, this means that you should not floor the sewing machine to its fullest power, even if you want it at a higher speed. The faster it goes, the less time you will have to react if something goes wrong.
In fact, when you are starting out on a new machine, or the one you haven't used for a long time, it is best to test it first on a piece of disposable fabric. This will give you the feel for the machine if it is properly threaded, if the tension is correct, and if your stitch settings are aligned for your next sewing project.
Always try to make this a routine procedure if your sewing activity is not frequent.
---
Eliminate Distractions and Maintain Focus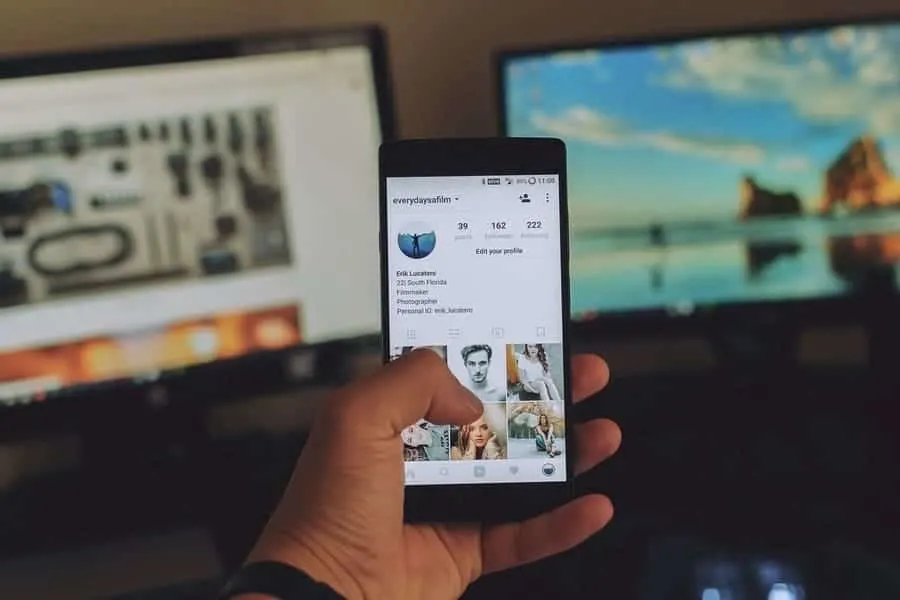 Nowadays, it is very easy to indulge yourself in media consumption while doing something else: TV, radio, podcasts, social media notifications on your smartphone, Youtube videos, family members, pets…the distractions could be endless.
Thanks to OSHA (Occupational Safety and Health Administration) which keeps track of stats and root causes of accidents, we know that a lack of focus in the activity you are doing is one of the top causes of accidents.
Suffice to say, there is no such thing as multi-tasking. It is pure fiction birthed by fake corporate culture. Computers can perform multi-tasking due to having multiple CPUs and parallel processes. Human brains are not built like that.
In the best-case scenario, you could become so skilled in something to the point it becomes a performed subconscious process. Driving a car, especially one with a manual transmission, is a good example of that, as some actions are done so frequently that you begin to do them without conscious thought.
However, this only takes you so far and lulls you into false confidence. In addition to removing the previously mentioned distractions, you should also feel well-rested and clear-headed, which means not sewing after you had a glass of wine!
Avoid Clutter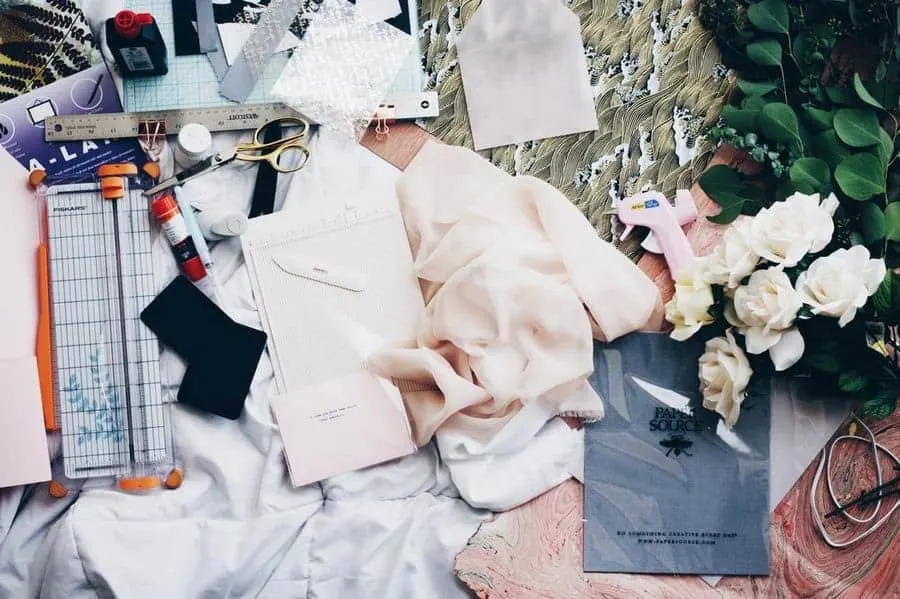 A cluttered working space creates a cluttered mind.
OSHA again comes in handy here with their revelations. They clearly show that any workspace where tools and other items are scattered all over the place creates a fertile environment for accidents.
In short, in your sewing space, only have items that you will need. This especially goes for sharp objects – scissors, seam rippers, rotary cutters, thread nippers, and shears. Almost all modern sewing machines have very small storage compartments. So, you'll need to store such sharp objects in nifty storage within arm's reach such as a small drawer on your sewing table. You would just need a few seconds to slide them open and take what you need. Or you could place them in a tin box or a jar, with the sharp end pointing to the bottom. Just make sure that the bottom of the container is cushioned, so you don't blunt the tools over time.
For the purpose of reducing dangerous clutter, and even worse – holding needles with your mouth – use pin cushions.
Handle Equipment as Intended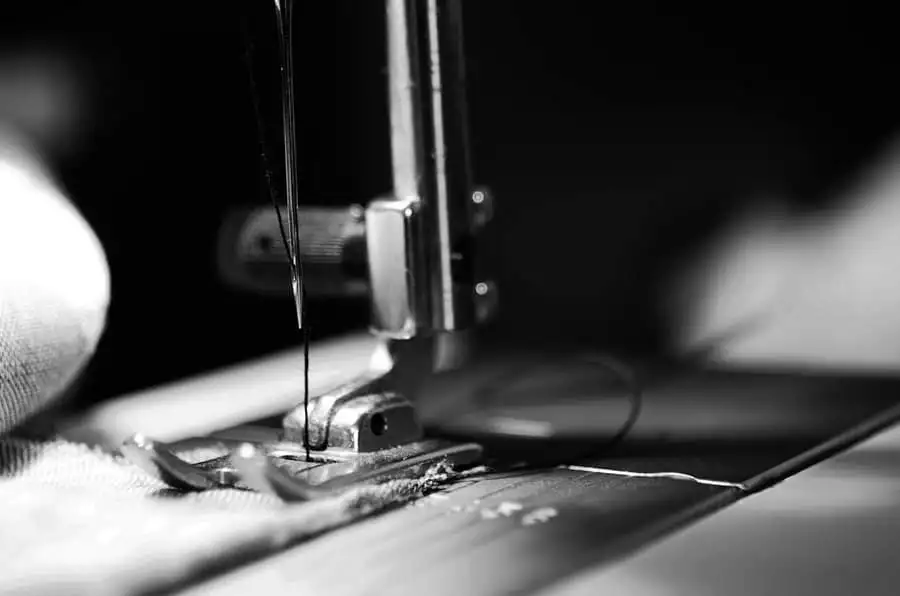 Even a machine at 100% working condition will fail if it is incorrectly used.
When it comes to sewing machines, this usually translates to using the wrong kind of needles for your sewing project. There are hundreds of guides and tables online that show which kind of needle is appropriate for what kind of material.
In fact, needle sets often come with such useful tips.
If you are not using the sewing machine settings properly and with the right needles, you risk needles breaking, damaging your machine, and potentially hurting yourself. The same can happen if you sew over pins or a tough fabric your sewing machine was not designed to handle. Most entry-level sewing machines cannot handle a few layers of denim, you will need a heavy-duty sewing machine such as these to handle it.
On another note, sewing machines often require maintenance and fiddling: changing needles, attachments, presser feet, etc. While doing that, make sure that it is completely unplugged from the electric grid. The quickest way to ensure this is to have a power strip with an on-off switch, so you don't actually have to unplug the cable itself. These switches light up when the power is on.
Trim Your Nails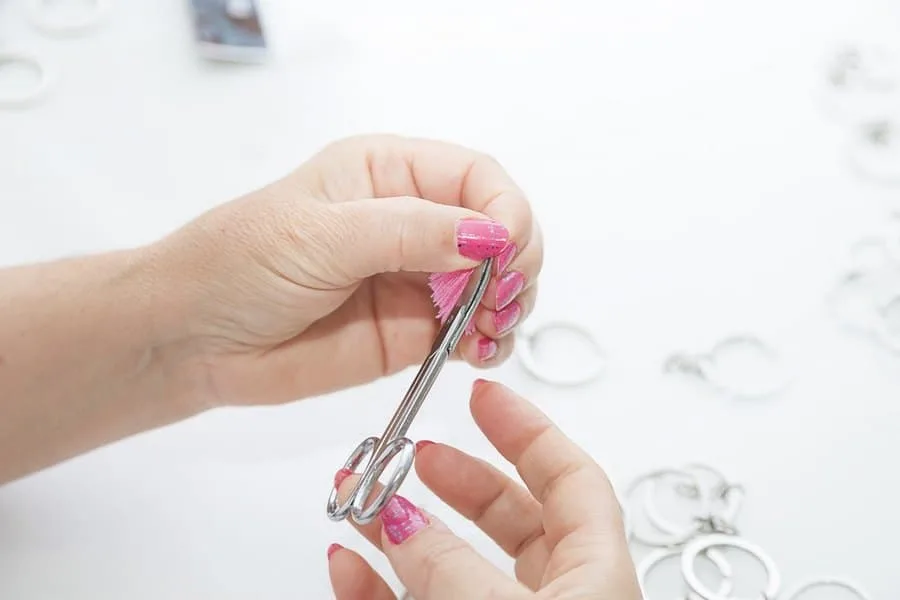 Women tend to have long fingernails, which is exceedingly impractical in many areas.
Needless to say, they are especially deleterious when it comes to sewing. You would basically cripple yourself; drastically lowering dexterity as your long fingernails snag on fine fabrics and needles.
Take Breaks
It is easy to lose yourself in the momentum of a sewing project, particularly one that is going well. To keep it smooth-going, it would be wise to take a break when you feel the tension in your arms and neck.
This is also a good strategy to prevent frustration. If something is not going well, a short break will facilitate renewed focus. And renewed focus means less likelihood of mishaps.
Beware of Steamers and Irons!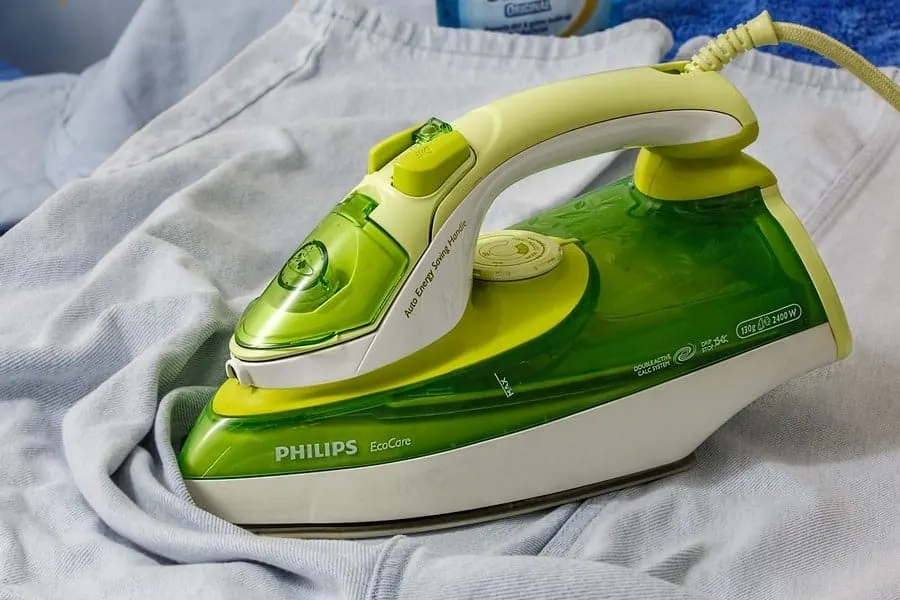 Cutting and puncturing yourself is not the only danger of sewing. Often enough, you have to level and smooth out a fabric with an iron or a steamer.
Old irons have no safety features whatsoever, so they require extra caution when handling. Furthermore, you can even singe yourself on a freshly ironed-out fabric. They are that hot.
What is your favorite sewing safety tip? Let us know in the comments below!
Did you find this post helpful? If so, save this pin (see below) on your sewing board so you can come to this guide later and follow me on Pinterest for more tips, tutorials, and inspiration!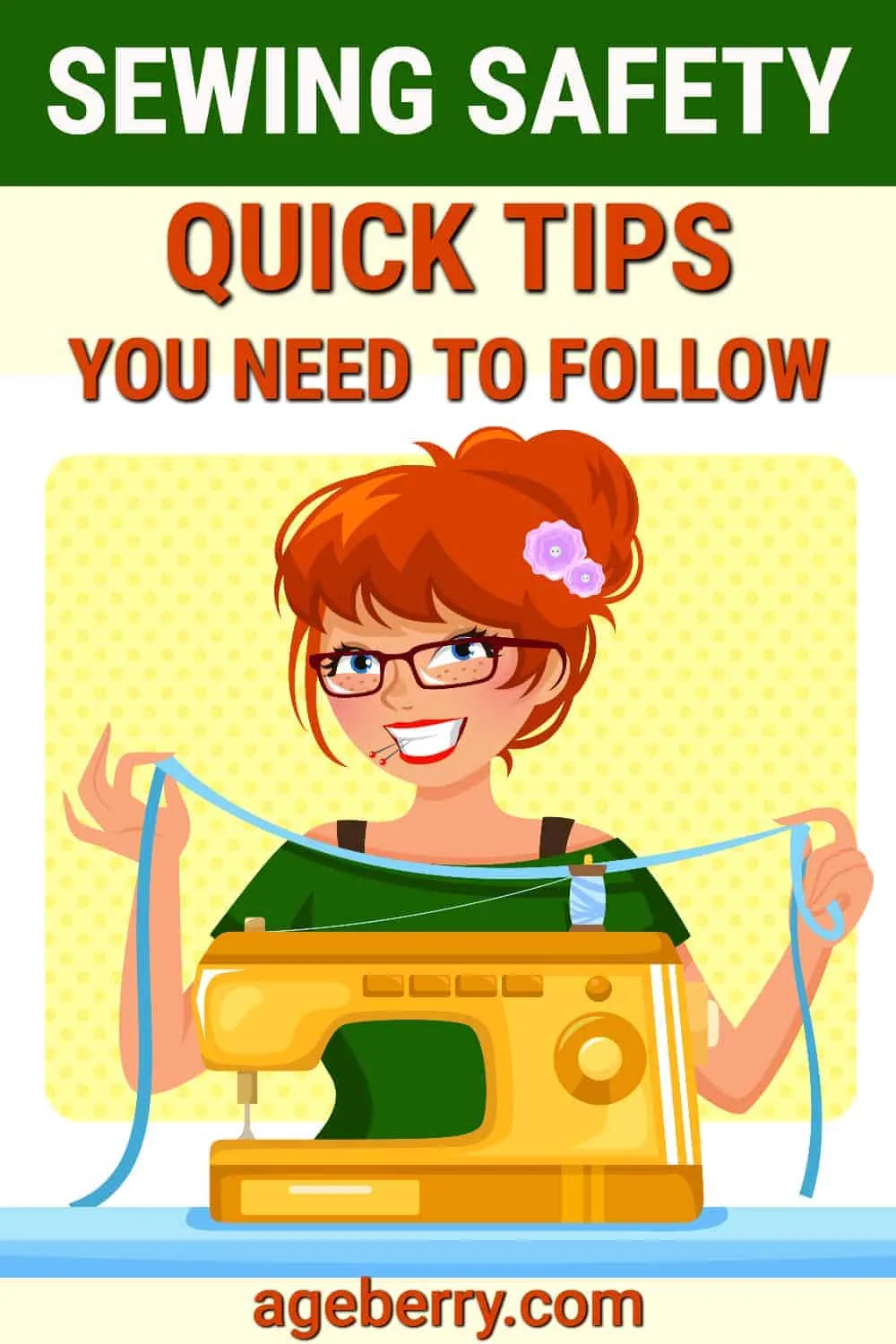 Ready to take the next step in your sewing journey? Check out more step-by-step tutorials from my blog and don't forget to share!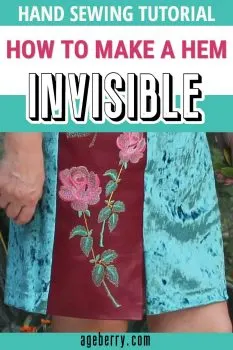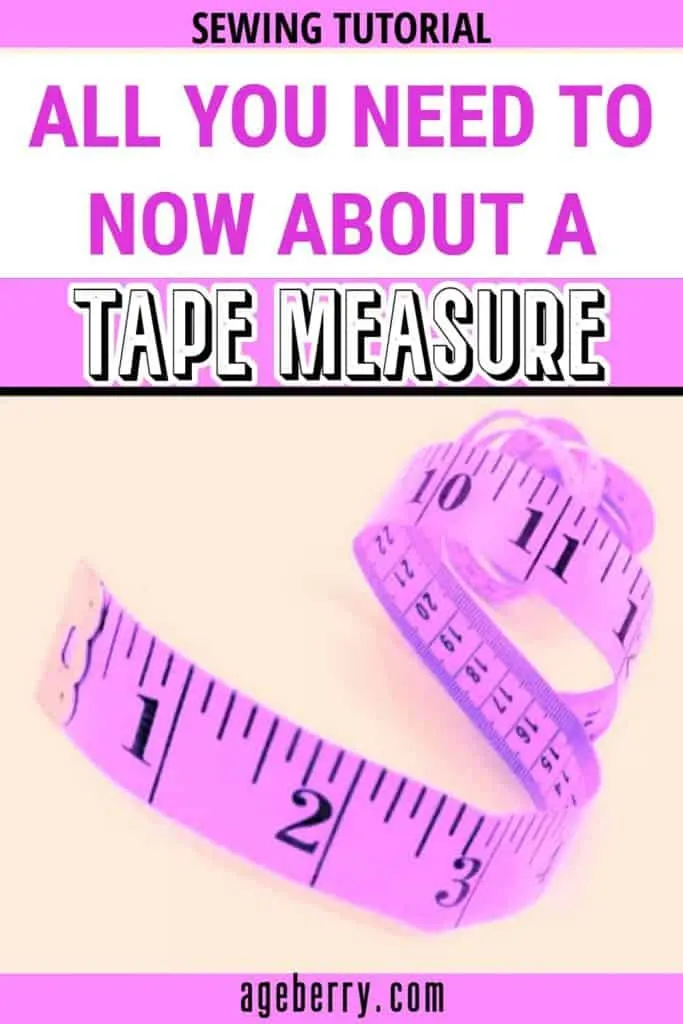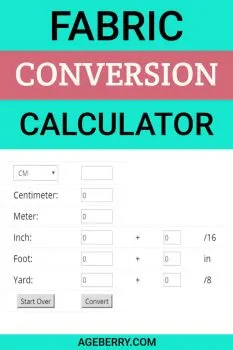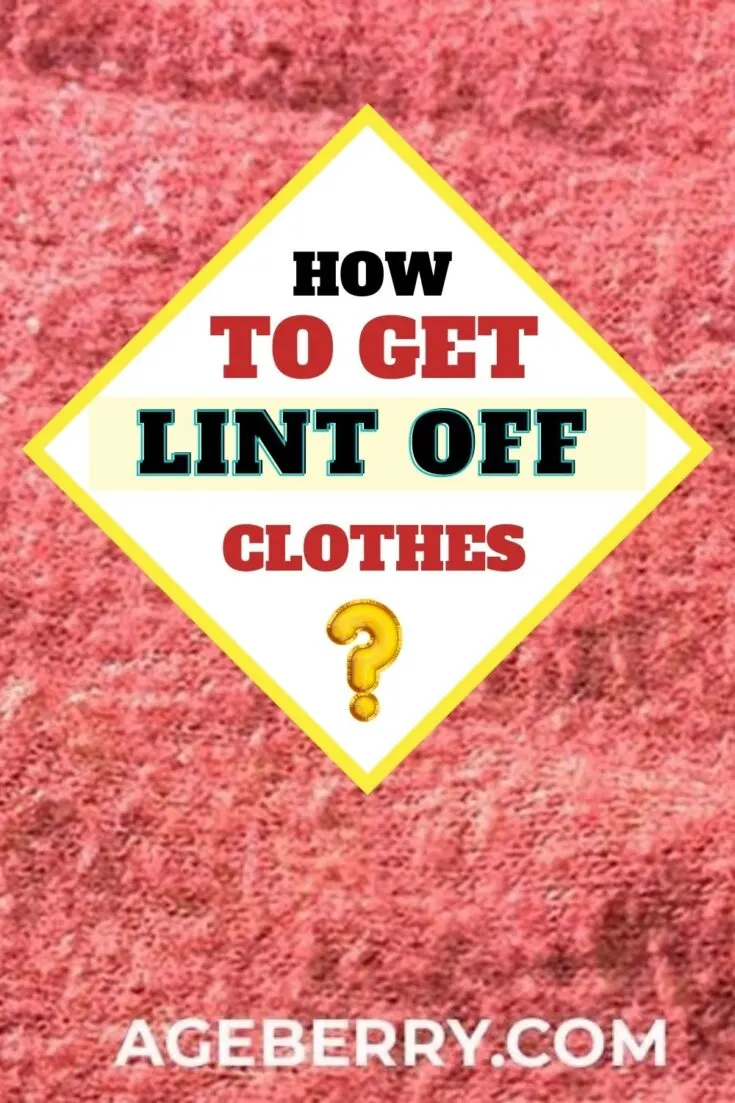 ---