Are you curious about what ruching is and how it's used in sewing and fashion? In this article, I want to explore the world of ruching and provide you with a complete guide on this elegant fabric technique. We will cover the benefits of ruching fabric, the different types of ruching, and how it compares to other fabric gathering techniques like smocking and shirring.
What is Ruching in Sewing and Fashion
Ruching is a popular sewing technique that involves gathering or pleating the fabric, and the result is visually appealing design details on various projects. This method adds a three-dimensional effect to the fabric.
It is commonly used in fashion to enhance dresses, tops, skirts, sleeves, collars, or even accessories such as hats and belts. This technique is especially popular in formal wear, such as ballgowns and bridal gowns.
I absolutely love using ruching in my sewing projects. It's such a fun technique! I made a ruched skirt (without a pattern by the way), and it turned out great I think. I used mesh fabric, which is excellent for gathers, and lined it with modal fabric for a soft and comfortable feel.
✅ Related article: Modal Fabric 101: A Comprehensive Overview of This Versatile Material
Even if you don't know the official name for this technique, chances are high that you have seen ruching in garments. I still remember those fancy prom dresses that were popular in the 80s. They featured mounds of gathered satin down the length of the garment – they were ruched.
However, ruching is not a technique that originated with 1980s clothing designers. It has been used in fashion for centuries. This technique probably was around in the Middle Ages, and became particularly popular during the Victorian era, where it was used extensively in women's fashion. Many paintings from that time period show women wearing beautiful ruched dresses made from silk fabric.
For example, look at this image below. It showcases a beautiful Victorian-era dress with ruching in the middle. The ruching adds a beautiful texture and dimension to the fabric creating a romantic feminine silhouette. The dress is a great example of ruching designs that were popular during the Victorian era.
Benefits of Ruching Fabric
Ruching might have been a bit overdone in the 80s, (let's be real, the fun of 1980s fashion is that so many things were overdone!) but it is still a technique that is used in modern clothing, and it has benefits that you might not have thought of. While a full length, hot pink, satin dress that features ruching from shoulders to floor is a bit much, you can still use this technique for many fun and interesting designs.
Benefits of Ruching in Clothing
Enhancing your garments
Ruching fabric can enhance your clothes with eye-catching details and texture. It can transform a plain piece of material into something visually appealing and unique.
It seems like ruched dresses are a favorite among celebrities as well. I often see stunning ruched dresses on the red carpet. One of my favorites is the off-the-shoulder red ruched dress that Beyonce wore.
Seeing ruched dresses on celebrities always inspires me to incorporate the technique into my own sewing projects.
Ruching is a popular choice for wedding dresses because it can create a flattering and feminine shape. By gathering fabric in just the right places, ruching can accentuate a bride's curves and create a tailored and elegant look.
Camouflages Figure Flaws
One of the main benefits of ruching is its ability to create volume without adding bulk. This is ideal for those who wish to accentuate their curves or create the illusion of them. By drawing attention to specific areas, ruching can help you achieve a flattering silhouette in your garments.
Unless you're a supermodel, chances are that you have a body part of which you are self-conscious. That's okay, we all have imperfections, and many of us learn to sew so that we can minimize these areas of our bodies. Ruching with fine fabrics can camouflage those few extra pounds that you don't want anyone to see. The trick is to use a lightweight fabric, so you don't end up with the opposite effect, creating bulk around your middle.
By strategically placing ruched details, you can enhance your best features while drawing focus away from less flattering areas. This can help you feel more confident and comfortable in your clothing.
✅ Related article: How to dress well: flattering clothes that hide figure flaws
Note: Some of the links on this page are affiliate links. This means I will receive a commission if you order a product through one of my links. I only recommend products I believe in and use myself.
Allows you to experiment with different fabrics and styles
Ruching fabric is a versatile technique that works well with various types of materials. It is particularly suitable for soft, lightweight fabrics, but medium weight options like rayon, nylon, cotton batiste, and voile can also be used effectively. This adaptability allows you to experiment with different fabrics and styles, expanding your fashion possibilities.
Ruching Can Make You Look Taller
Patterns that use a diagonal or vertical line of ruching can draw the eye upward, making you look taller. For petite women, this matters!
Ruching Adds Fun to Professional Wear
Professional clothing is supposed to be a bit understated. Solid colors or unobtrusive prints can make those of us with a flair for fashion want to cry. When you know how to sew ruching, you can add small touches of flair to your professional wear as you sew it.
Ruching is Perfect for Maternity Clothing
Designers are using ruching to provide fullness for maternity wear. Ruching can allow you to wear a garment through most of your pregnancy and even into the postpartum months since the fullness can look like a fashion statement in early pregnancy as well as expanding as your baby bump changes in size.
Benefits of Ruching in Home Decor
Ruching is not just for clothing! It works well in home decor as well.
Ruching Adds Dimension and Texture
Many of us, looking for soothing interiors, have redecorated our homes in simple, monochrome, minimalist styles. The only problem with this, is that often, the look can seem sterile or cold. Adding ruching to various components can give a softness to more minimalist home designs that make the home feel welcoming. The texture and dimension of ruched curtains or sofa pillows add interest to simple home designs even when you're using a simple color palette.
Ruching Keeps Fabric in Place for Active Households
Because ruching is soft, flowy, and looks kind of rumpled already, it is the perfect choice for homes that have active pets and children. Even after a pillow fight, ruching looks great! No need to adjust the pillow covers or bedding.
Ruching Expresses Individuality
Ruching is a style that really declares your unique vision for your home. You can add ruching to so many fabric surfaces, and when you sew items yourself, you can decide how it's going to look. You can play with vertical, horizontal, or diagonal lines, making your home exactly what you desire.
Types of Ruching
Ruching is a sewing technique that can help you express your own individuality. Here are some ideas for setting your ruching apart from others'. There are many ways to ruche, including pleating, gathering, and using pre-pleated fabric. Each method results in a unique appearance, allowing you to personalize your garments and home decor items according to your preferences and style.
Before you play with varying your ruching, you probably want to try out your ideas on scrap fabric or cheap muslin. That way you can get just the look that you want without damaging the nicer fabric that you have in mind for your project.
Gathered Ruching
Gathered ruching is a technique that involves creating gathers in the fabric. This type of ruching is perfect for adding volume and texture to a fabric.
Gathered ruching is the most common type of ruching used in sewing and fashion. To create gathered ruching, fabric is gathered along a few parallel lines of stitches and then stitched to an underlay. This technique creates a rippled effect in the fabric, which can be used to add texture and dimension to garments.
Gathered ruching can be created using a variety of techniques, including gathering with basting stitches by hand or by sewing machine, stitching with elastic thread, or using a serger. It is often used in sheers, like chiffon and organza, to create a soft and delicate look.
Gathered ruching can be used in a variety of garments, including dresses, blouses, and skirts, and can be used to create a range of styles, from romantic and feminine to bold and edgy. If you're new to ruching, gathered ruching is a great place to start, as it is easy to create and can add a beautiful touch to any garment.
Beaded/Embellished Ruching
This method involves sewing beads, pearls, or other decorative accessories onto the gathered or pleated fabric. Beaded ruching looks particularly stunning on evening gowns, bridal dresses, and other special-occasion garments.
Elasticized Ruching
Elasticized ruching is a type of ruching that uses elastic thread or tape in the seam to create a stretchable, form-fitting effect. It's very similar to shirring. This technique is ideal for fabrics with some stretch, such as jersey or spandex. Unlike other types of ruching, elasticized ruching is not stitched to an underlay and can be stretched and returned to its original shape. It is often used in swimwear, activewear, and lingerie. To create elasticized ruching, elastic thread or tape is sewn into the seam of the fabric, creating a series of not fixed gathers that can be stretched and released.
Ribbon-Tied or Pull-Tied Ruching
Ribbon-tied or pull-tied ruching is a technique that allows you to adjust the level of gathering to suit your preferences. With this method, you sew ribbons or drawstrings into the fabric's seams, then pull them to create the desired amount of gathers. This type of ruching works well on blouses, skirts, and dresses with flowing silhouettes.
Strip/Band Ruching
Strip or band ruching is a technique that involves using a separate fabric strip or band to gather and secure the fabric, creating a unique textured effect. By sewing a fabric strip or band along the fabric's edge and then pulling it tight, you can achieve various levels of gathering. This method is particularly effective for adding visual interest to bodices, waistlines, or collars.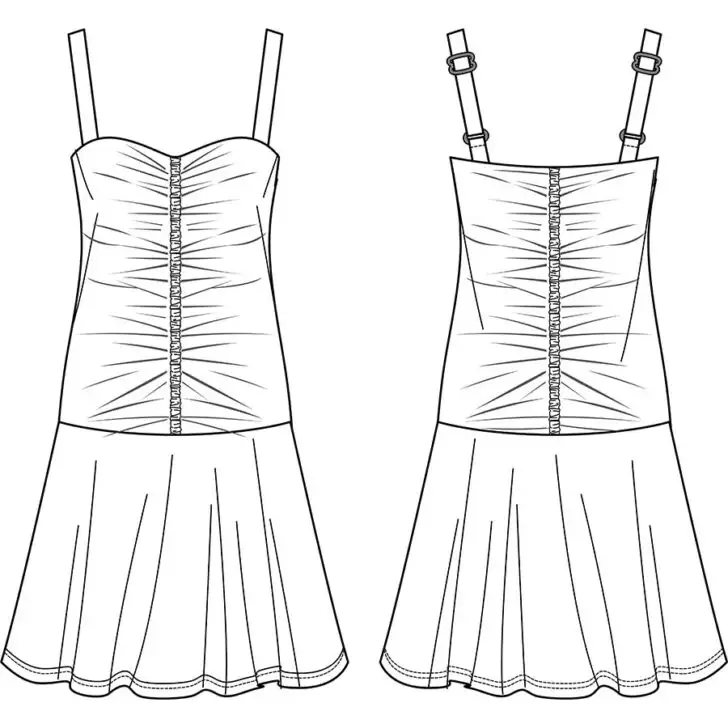 Pleat Ruching
Pleat ruching is sometimes considered a type of ruching, but not always. It differs from other types of ruching in that it uses pleats not gathers and creates a structured, grid-like effect in the fabric. It differs from traditional gathered ruching. However, it is sometimes included in discussions of ruching techniques. For example, you can read about it this article – How to Make Authentic Ruching Trim
Pleat ruching is often used in formal wear, such as evening gowns and suits, and can be used to create a range of styles, from classic and elegant to modern and edgy. It can be used with a variety of fabrics, including silk, satin, and taffeta, and can be combined with other techniques, such as beading and embroidery, to create beautiful designs.
Varying the Density and Spacing of the Gathering Stitches
By adjusting the density and spacing of the gathering stitches, you can create different looks for your ruching. For instance, if you want tighter ruching, you can increase the density of gathers and space gathering stitches closer together. On the other hand, if you want looser ruching, you can decrease the density and space gathering stitches further apart.
If we space our gathering stitches closer together, the ruching will look narrower, while if we space them further apart, the ruching will look wider.
Combining Ruching with Other Techniques
Ruching can be combined with other sewing techniques, like shirring or smocking to create one of a kind fashion statements. You could have one garment that features ruching, ruffles, smocking, and draping for an incredible look. Play with your sewing techniques, and you might be surprised at how well ruching blends with other ways of sewing.
Ruching vs Shirring
Shirring occurs when there are many parallel rows of gathering stitches. Generally these rows are rather close together. Shirring gives the fabric a parallel appearance and the shirring is often used to pull in fullness at the bust, sleeves, neckline, or other portion of the garment. Shirring is usually done with an elastic thread so that the fabric stretches and the garment is form-fitting and comfy.
Ruching does also use gathering techniques. However, usually the gathering is done in more widely spaced intervals giving the fabric a soft wave with much more fullness than shirring.
Ruching also requires much more fabric than shirring.
Ruching vs Smocking
Ruching and smocking are two fabric manipulation techniques used in sewing and fashion that involve gathering fabric to create texture and dimension. While they may look similar, there are some key differences between the two techniques.
Smocking involves gathering or pleating fabric with a series of stitches and then creating a decorative pattern with additional stitching. It differs from ruching in that it is more controlled and creates intricate patterns using various stitches. Often, heirloom children's clothing is embellished by smocking done by hand with lovely patterns, colors and textures added with embroidery threads over the top of the pleats.
I found this very nice Baby Girls' dress (daygown) with smocking on Amazon.
Gathering and Ruching
Ruching uses gathering to create the fullness. Usually the parallel lines of gathering stitches are done at a significant distance apart on the garment. For instance, a ruched dress might have the gathering stitches on the side seams, creating draped fullness around the waist or bust. Gathering is an essential part of ruching.
However, gathering and ruching are not necessarily the same. You can have a gathered skirt that is not ruched. The gathers are only on one edge of the seam, falling into fullness. Ruching has gathers on both sides of the seam to add dimension to the fabric.
Ruched Fabric – Manufactured and Handmade
Making fabric that is ruched is much easier than you might think. Tutorials abound. The main skills that you must have to create ruched fabric are measuring and gathering. The most important thing that you must do when you're creating ruched fabric is to account for the length of fabric. Ruching fabric takes a LOT of extra fabric length.
Did you know that if you don't want to sew your own ruched fabric you can buy fabric that is already ruched? This means that you can have the ruched look in way less time! Hooray for modern textiles! I found this fabric on Amazon.
What Clothing and Home Decor Patterns Are Good for Ruched Fabric?
If you are looking for a ready-made pattern with ruching in it, here are a few suggestions to get you started.This Simplicity dress pattern features ruching on vertical lines. The ruching here would not only add style, it would also camouflage a few pounds around the middle and make you look taller.
This ruched dress pattern from Butterick gives the illusion of a wrap dress. While the dress is simple, the ruching adds a bit of flair to the design.
This fun dress pattern from McCalls would be perfect for a casual summer dress, or if you used a fancy fabric it would be great for a wedding as well. It features ruching along the length of the bodice.
Remember how we mentioned that professional dress clothing can be embellished by ruching? These two tops are prime examples of how that is possible. One features ruching on the bustline, while the other has ruching on the sleeves. Both are perfect for office wear when paired with dressy solid color pants.
If you want to incorporate ruching in your home decor and need a few tutorials to get started, here are two for throw pillows. A throw pillow is a perfect way to sample and practice a new sewing technique, so why not get started today?
I hope you found this guide helpful. If you're planning on using ruching in your next sewing project, be sure to save this pin to your sewing board so you can easily reference it later. Simply click the "Save" button on the pin below and select the board you want to save it to. You can also follow me on Pinterest for more tips, tutorials, and inspiration.
---