A DIY drawstring backpack is a simple sewing project that's ideal for beginners. It's quick and easy to make and creates a cute pack that's versatile and perfect for anyone as a grab-and-go bag. Check out this collection of 19 different drawstring backpack patterns and styles to find the right one for you.
Let's talk about drawstring backpack patterns today. A drawstring backpack (a.k.a., cinch bag) is a great little flexible bag that opens only at the top and closes by pulling the drawstring that circles around the opening through a loop.
They make great lightweight bags that are stronger and more versatile than plastic bags, yet their flexible design makes them perfect for carrying odd-shaped items like shoes. Adults may use these grab-and-go bags as gym bags, while kids may use them as playdate, overnight, library, or even school bags.
Bottom line: they're extremely versatile bags that can be used for a lot of different purposes and situations. A casual backpack is never useless, and lately, it is more and more (surprisingly) fashionable!
For sewists, DIY drawstring bags are very simple to make, so they make great first-time projects for beginners that produce a very useful piece of gear. It's even a great project idea for teaching teens to sew!
How to Make Drawstring Backpacks
There are several different ways you can make this project idea, and I want to show you a couple of examples of each type of DIY drawstring backpack so you can see the similarities and differences between them. And more importantly – to help you choose the type of pattern you want to use.
Simple and Easy Drawstring Backpacks
I would call these patterns "basic". There aren't a lot of bells and whistles, but they're very functional and a breeze to sew.
Sew Can She offers a free tutorial on this all-fabric pattern. Even the shoulder straps are fabric instead of cords, which makes them much more comfortable to wear. This drawstring backpack pattern is great for using up a bit of your stash of leftover fabrics!
---
Here's a cute basic drawstring backpack pattern from Polka Dot Chair. The final product is the perfect size for kids to carry around their treasures outdoors or to take to Grandma's house. Although the main pattern is very simple, it does include an optional applique pattern that you can add to the bag if you want.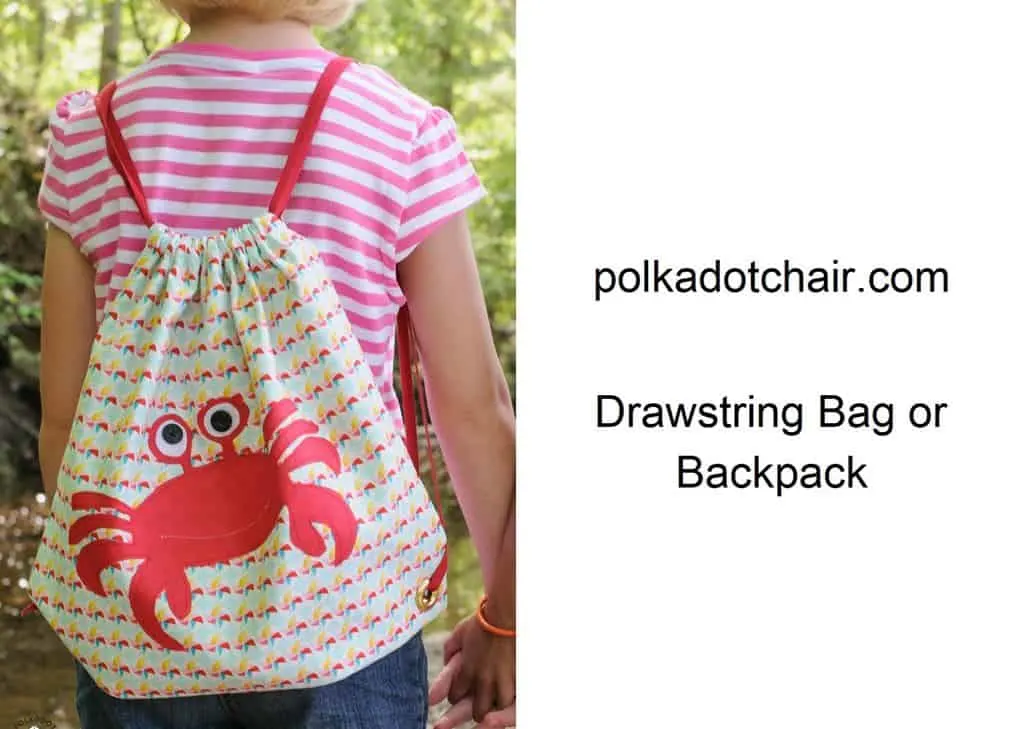 ---
Orange Bettie has a nice pattern that uses cords for the shoulder straps and includes an optional hook at the top for hanging your bag if that's a feature you would like. The finished product is 12" by 18", which makes it perfect for holding larger items if needed. The tutorial is written with beginners in mind and is very clear and detailed.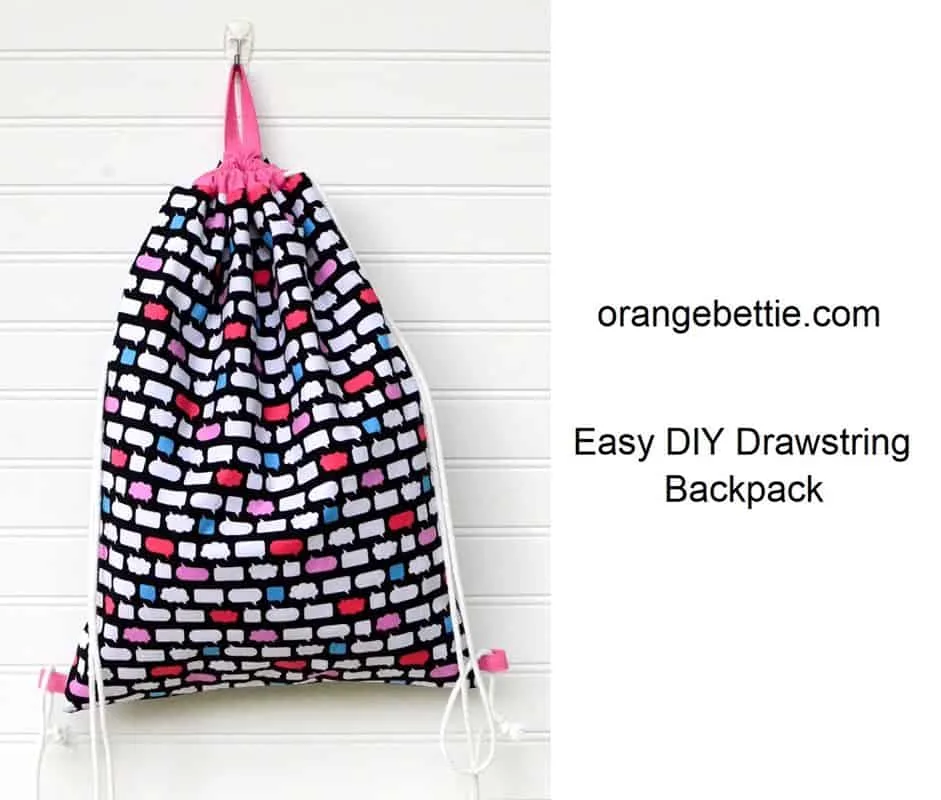 ---
Here's a drawstring backpack pattern that takes only 30 minutes to sew from Craft Passion. Since they hardly take any time to make, you can quickly sew a couple of them that kids can use as activity bags. For this pattern, you can use cotton, thin polyester, or coated fabric.
---
Drawstring Backpack Patterns With Zipper Pockets
Sometimes you just need a pocket (or two), right? Personally, I can never get enough pockets. Adding a pocket isn't difficult, but it does take a little more work to make these projects advanced beginner level. Check out these great drawstring backpacks with zipper pocket tutorials.
Sew 4 Home provides a tutorial for a sporty drawstring backpack that includes exterior vertical zippered pockets. These pockets are ideal spots to put your keys, cell phone, money, or anything else you don't want to lose. Made with reflective water-resistant nylon, it's a perfect choice to take outside as you head out in the evening (or any time of the day).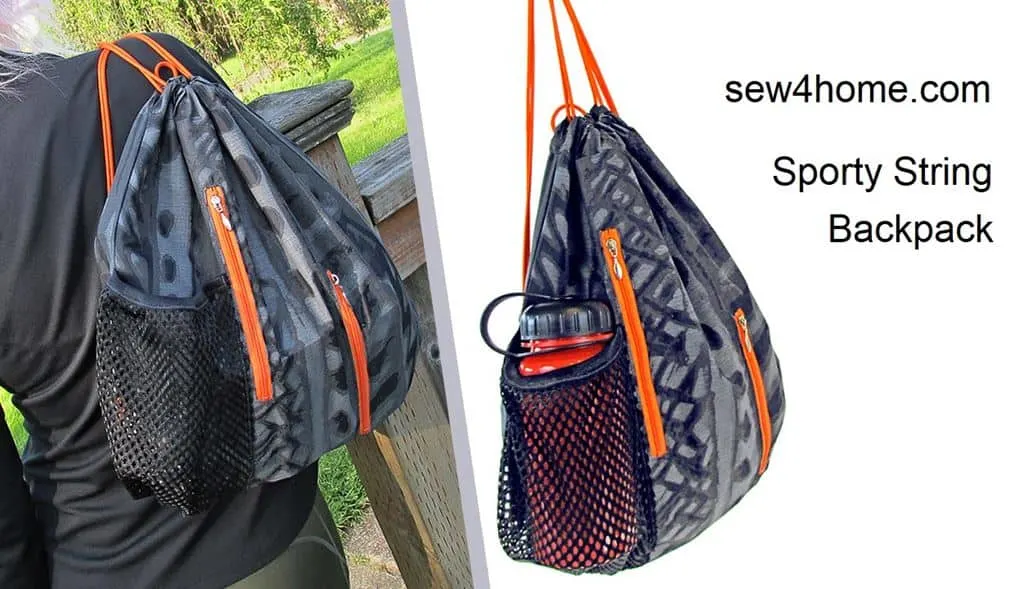 ---
If you prefer to have an interior (invisible) zipper pocket, you'll like this tutorial from Sew Very Crafty. The other distinct thing about this bag is that it's double-layered and made with durability in mind. The D-rings make it even more durable, and the cord shoulder straps are strong enough to hold your goodies.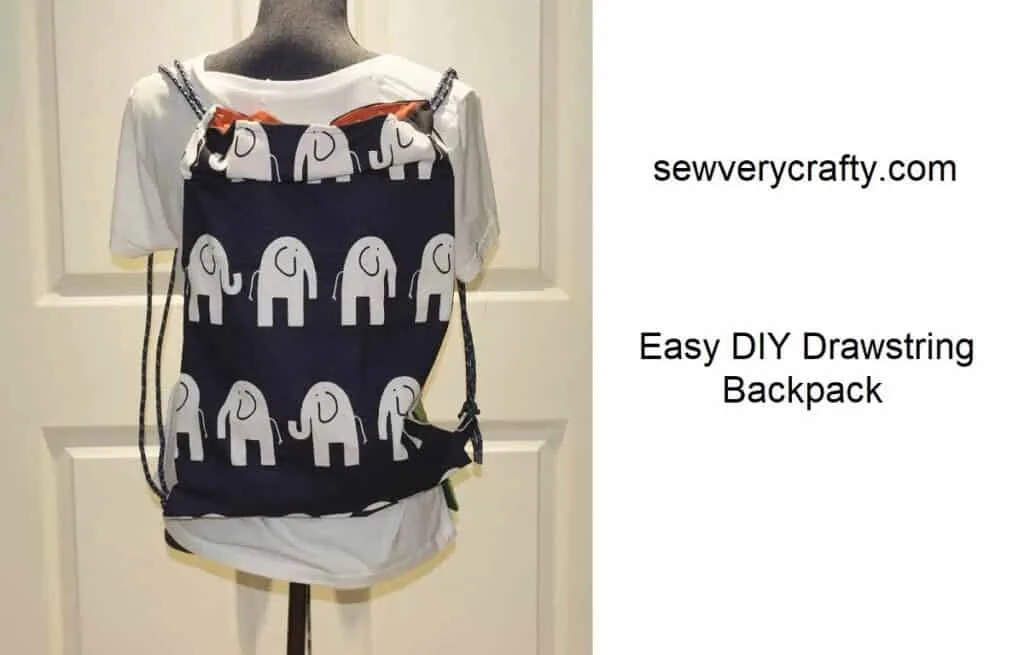 ---
Believe it or not, this drawstring backpack is bigger on the inside than any of the others we've looked at so far. Pattern Pile took the pattern for a basic, flat DIY drawstring backpack and added an oval bottom. That addition not only allows you to stand the back up while you fill it or empty it, but it also creates an expandable bag that allows it to hold more than it seems like it could.
---
Drawstring Backpack Patterns With Grommets
Using grommets reinforces the areas where your shoulder straps attach to the bottom of the bag which helps reduce wear and tear over time. Check out these tutorials showing how to make some amazing bags using grommets.
If you ever wondered how to install grommets, this tutorial from Dutchware walks you through the process step-by-step. With double stitching along the bottom, reinforced bottom corners, and grommets for your shoulder straps, this bag is made for comfort – and to last! Feel free to print the provided pattern.
---
Use colorful fat quarters of fabric in coordinating colors to make a fun everyday drawstring bag like this one from The Creative Blog. Large grommets in the bottom corners are ideal for using ribbon as the shoulder straps. Straight line sewing and bashing of grommets are all that you need to do to make this project.
---
DIY Drawstring Backpack With a Flap
I love the way that drawstring bags look when they have a flap over the top. Plus, that flap helps to hold items inside a little more securely in case the drawstring loosens up.
This weekend backpack sewing pattern from A One Stop Shop is great for either kids or adults. It makes a great overnight bag, kids bag, or diaper bag. Adjust the pattern to make it any size you need, and customize it by adding pockets or bottle holders to the outside.
---
Drawstring backpacks with a flap can also make great backpacks for kids to take to school or daycare. This drawstring backpack pattern from Infarrantly Creative comes together quickly and includes a hook for hanging, reinforced interior fabric, reinforced shoulder straps, D-hooks, and an external water bottle pocket.
---
How to Make a Child's Drawstring Backpack
Kids seemingly always stash items in their bags and carry them around everywhere they go. Here are a couple of terrific tutorials for drawstring backpack patterns kids will love.
The Happiest Camper knows a thing or two about the relationship between kids and their cart-around bags. This drawstring backpack pattern doesn't use grommets at the bottom. Instead, it uses diy loops on the sides to hold the shoulder straps in place. My favorite part about this pattern, though, is that it shows you how to size it for your child.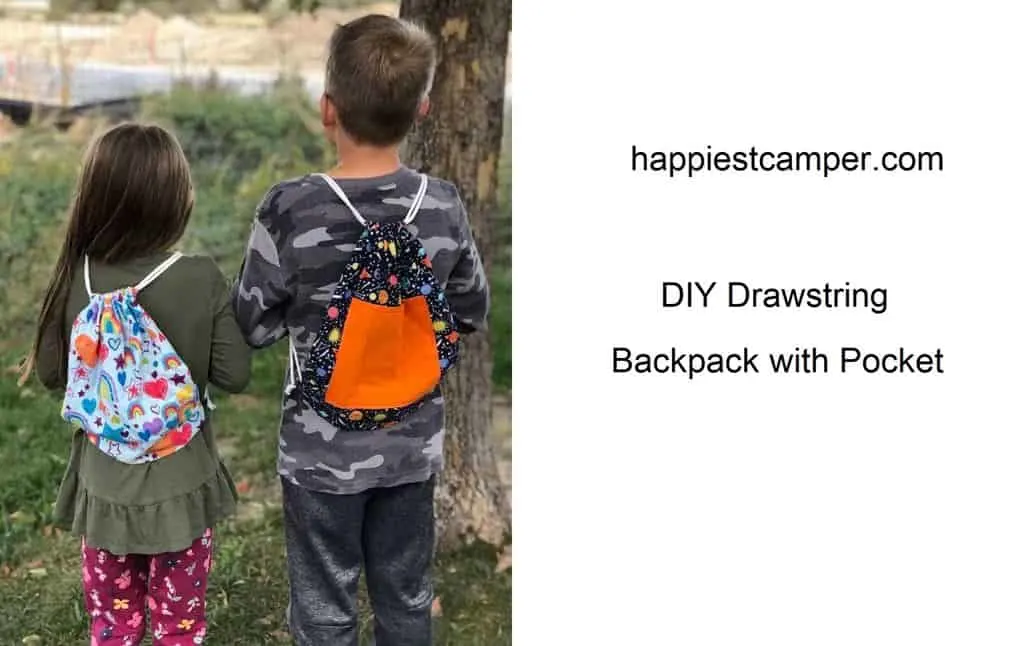 ---
Children's backpacks don't need to be limited to one simple design. Take your creativity up a notch by making a backpack in the shape of a favorite animal such as this fish drawstring backpack pattern from Tried and True. This tutorial isn't as detailed as some of the others on this list, so it may be a little more difficult for a true beginner to follow. Even though there is some free-hand involved, the good news is that you don't need to be extremely precise for this bag to look terrific.
---
How to Make a Reversible Drawstring Backpack
Like to change things up from time to time or see contrasting fabrics at one time? That's the benefit of making a reversible drawstring bag. Check out these tutorials.
---
Instructables provides a tutorial for a reversible drawstring backpack made from t-shirts. It's functional on both sides, although the unique part of this pattern is that on one side it's a gorgeous drawstring pouch while the other side is a drawstring backpack.
---
Lined Drawstring Backpack Tutorial
Lined drawstring backpacks are able to withstand wear and tear (and carry heavier objects) a little bit better than single-layer bags can, but adding that additional layer takes a little work. Check out these tutorials to find out how.
Reality Daydream provides a tutorial for a lined bag that is simply adorable. Instead of having the drawstring at the very top of the bag, it's a couple of inches down from the top. This creates a cute ruffle when the bag is cinched closed and allows you to see the inside contrasting fabric. Finally, the shoulder straps are not adjustable, as they are cut to size and sewn into the side of the bag.
---
One of the things you can do with the lining makes it waterproof so that the bag can function as a pool bag or beach bag. This drawstring bag pattern from Torie Jayne includes washable waterproof lining, oilcloth tabs at the corners with grommets, and a stitched ribbon hook and shoulder straps for hanging and wearing the bag.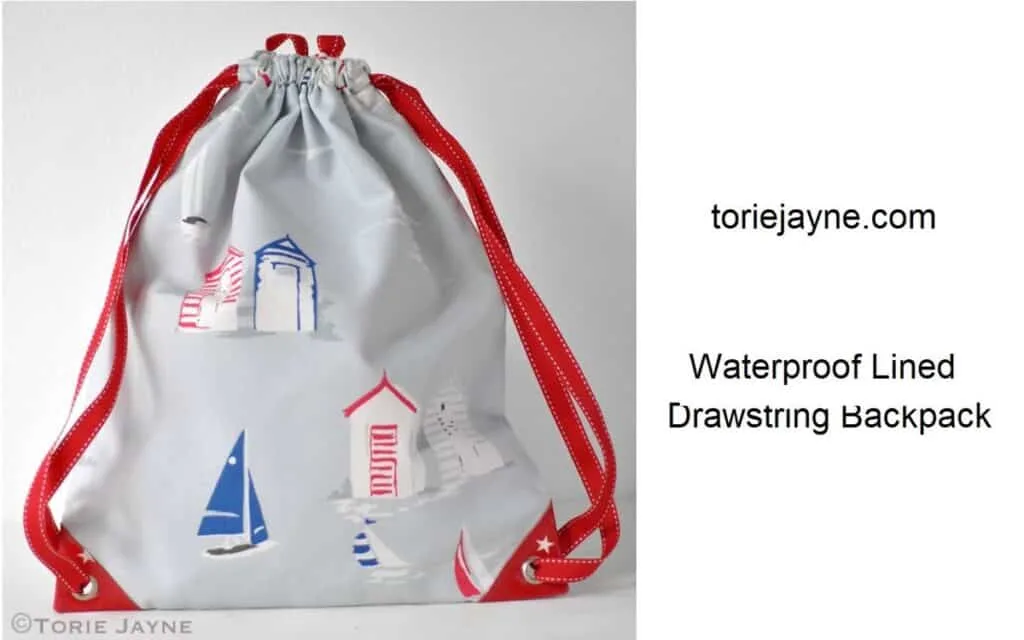 ---
Drawstring Backpack With Pockets Patterns
I happen to think that pockets are an essential component of any bag. There's just always something I need to stash quickly or tuck away to keep safe. Here are a couple of great tutorials for drawstring bags with pockets.
Who says that pockets need to be horizontal or vertical? Sew Modern Bags took the idea of pockets and made them diagonal for a twist on a simple design. It's a different but fun way to showcase two distinct fabrics. The tutorial is a video that you can watch which will lead you through the project step-by-step.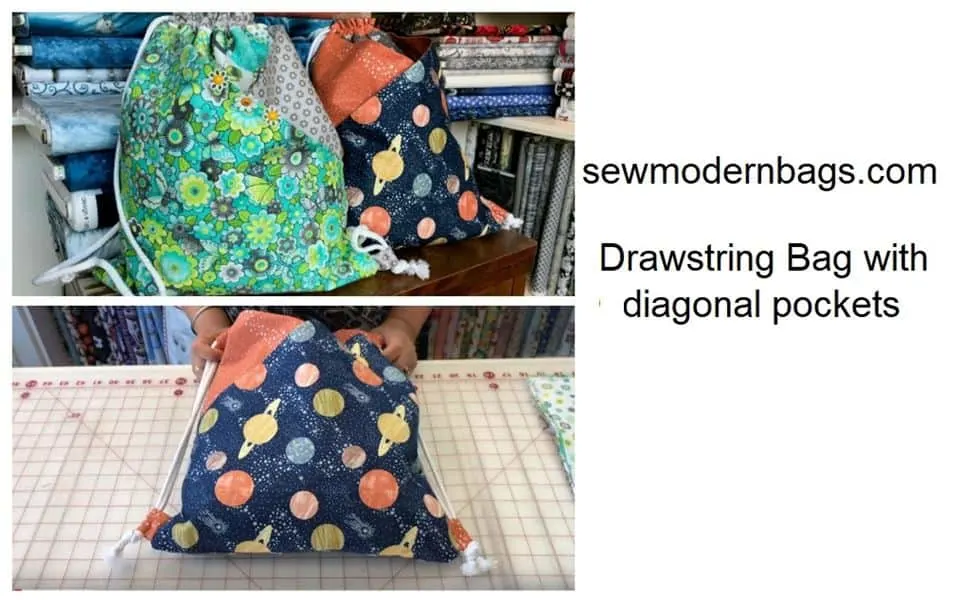 ---
This quick and simple design from Love to Know features a large, open outside pocket, lining, and external tabs to attach the shoulder straps. This easy pattern works well for using up old clothing or cloth scraps.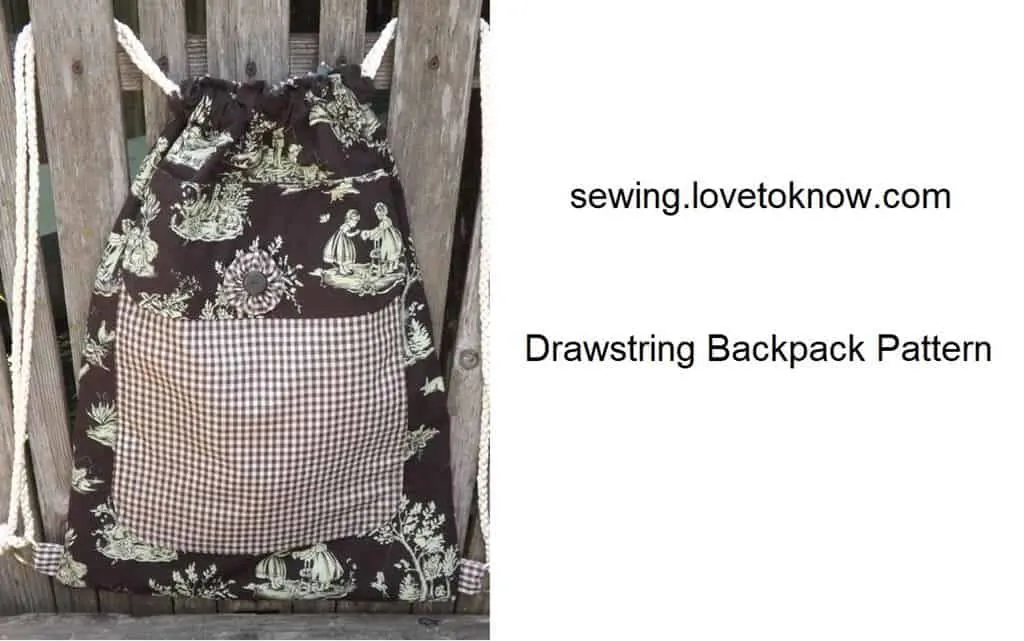 No matter what kind of pattern you want to use for your next drawstring backpack project, you're sure to find a tutorial on this list that addresses the features you want to include. Then once you know the basics, go and have fun creating your own unique piece of gear that you'll be proud to use all around town.
Did you find this article helpful? If so, save this pin (see below) on your sewing board so you can come to this tutorial later when you are ready to sew a drawstring backpack and follow me on Pinterest for more tips, tutorials, and inspiration!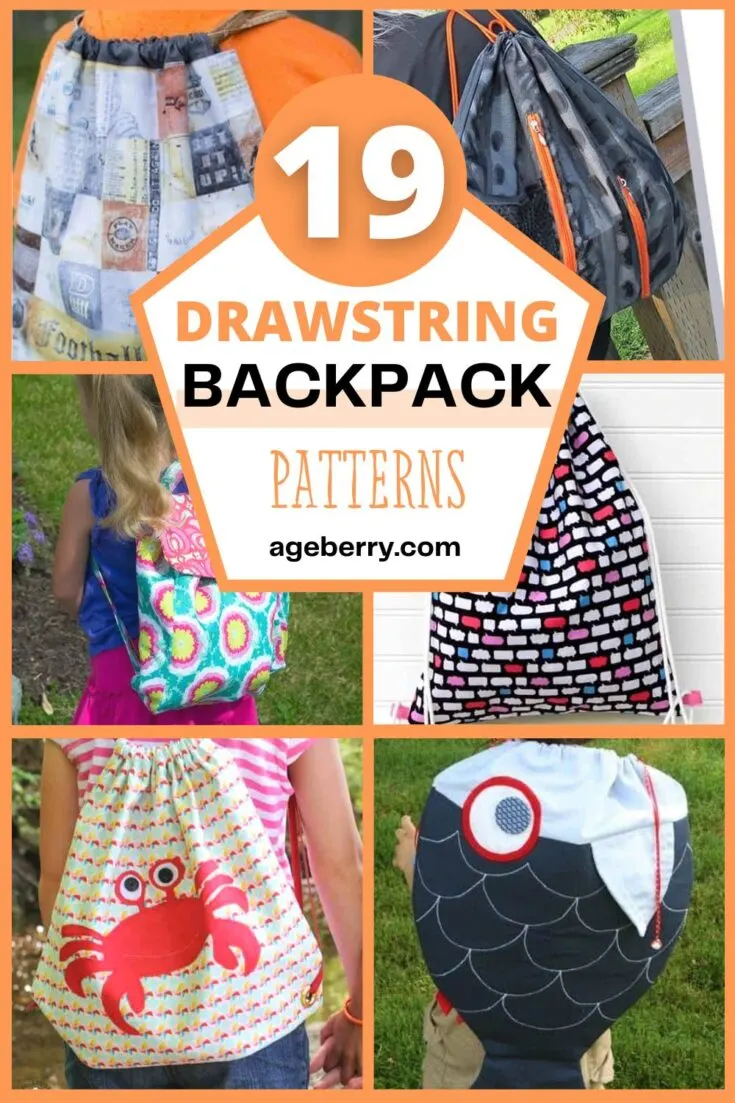 ---