Quilters and other sewists are notorious for "collecting" fabric, but that's okay. One day we'll find a use for that quarter-yard of pink polka-dot cotton that was just too cheap to pass up.
Honestly, we will.
Whether it's yards upon yards of cotton decorated with yellow bees, or a box filled with 2.5-inch blocks of every imaginable color, we quilters will find a way to use it up. And happily, it's usually those we love who benefit the most.
So, if you're not a sewist or someone who can't pass by the local quilt shop without salivating, try to see our dilemma: we really need to learn how to store fabric properly.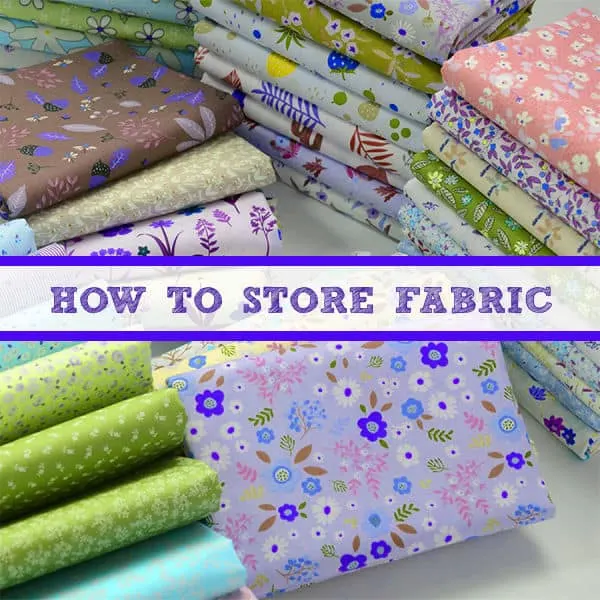 Some Common Rules for Storing Fabric
Unfortunately, with great amounts of fabric comes great responsibility. And if you have a soft spot for yard goods, you'll need a way of containing them so they don't take over your sewing room.
You can buy all shapes and sizes of fabric storage containers at places like IKEA or Amazon, but before you shop, make sure you understand the rules for fabric storage. This will guarantee your stash maintains its color and durability until it finds the perfect project. And learning how to fold fabric properly will keep it from stretching out of shape, as well. Here are four tips to get you started:
1. Store Fabric Away from Light and Moisture
Both UV light and humidity can harm fabric. Light fades the colors, and moisture can cause odd odors and mildew. Therefore, don't place a fabric organizer in direct sunlight or build a DIY sewing storage area in a damp basement or garage.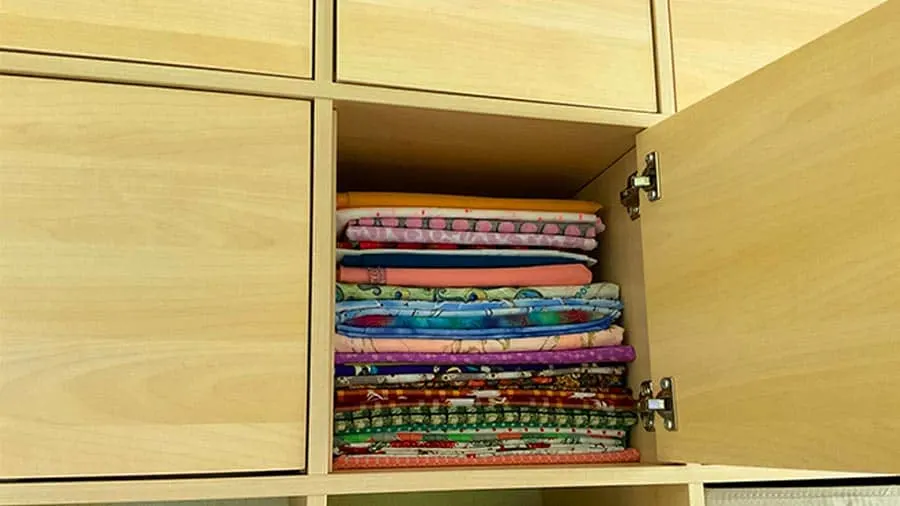 2. Prevent Stored Fabric Infestation from Clothing Moths
Take care when storing natural fibers, or they may attract clothing moths. Clothing moths enjoy feasting on wool, cotton, and silk. And if you get an infestation, your beautiful fabric stash will pay the price. Prevent moth damage by laundering fabrics you buy second-hand and by keeping mothballs and cedar oil in the storage drawers or cabinets where you keep these fabrics.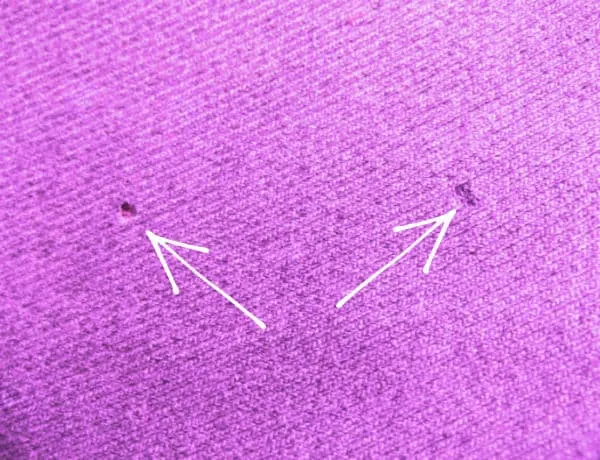 3.Store Outdoor and Vinyl Fabrics in Rolls
Some fabrics can develop fatal creases if left folded for long periods of time. These include vinyl fabrics and outdoor fabrics that have been treated with water-resistance chemicals. These materials should only be stored in rolls and never folded.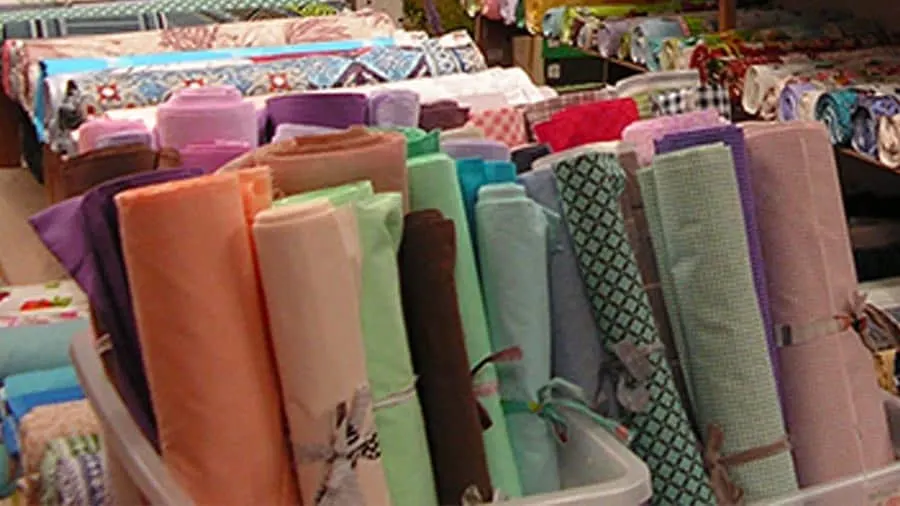 4. How to Fold Fabric for Storage
Folding your fabric properly for storage keeps it from becoming bunched and wrinkled. It also makes it easy to see what you have at a glance and prevents material from being misshapen or stretched. Mostly, you want to fold your fabrics so they all stack or align neatly together, grouped by size.
Many sewists enjoy folding fabric around archival comic book boards or plastic fabric organizer boards made for just this purpose. This lets you stow many different cuts of fabric safely together in a fabric storage cabinet, container, or bin. You'll know what you have on hand at all times and if you use fabric organizers with doors, looking inside will always brighten your day.
Below is my YouTube video How to fold fabric for storage. I am sure you will find my method very useful.
✅ Related tutorial: How big is a yard of fabric
Note: Some of the links on this page are affiliate links. This means I will receive a commission if you order a product through one of my links. I only recommend products I believe in and use myself.
Fabric Storage Ideas for Your Sewing Room
There are tons of ways to safely store fabric for sewing projects or quilting needs. And regardless whether your sewing room takes up the whole basement or just one corner of a spare room, we have plenty of creative takes, including fabric storage ideas for small spaces. We've compiled a few of the best below to jumpstart your creative muse.
Cabinet Fabric Storage Shelves
Shelves for storing fabric should share two important features:
They should be narrow, so no fabric gets lost behind another.
They should be tucked away behind closed doors that aren't transparent.
A simple office storage cabinet like the ones listed below are ideal.
Sauder HomePlus Storage Cabinet
This cabinet is available on Amazon in four separate finishes. It's narrow, which is good for small sewing rooms, but it also features four separate shelves for fabric storage. The double doors keep material nicely tucked away where sunlight can't reach, and the shelves are fully adjustable.
SystemBuild Callahan Utility Storage
This utility cabinet measures just a bit over 74 inches tall and comes in a variety of attractive finishes. It features four shelves, three of which are fully adjustable. Better, it comes with soft-close hinges to prevent finger-pinches. Double doors keep fabric neatly tucked away and free from dust and moisture.
For small sewing rooms, the Cache 4-shelf unit is one of the best compact ideas for storing fabric. Tall and thin and made from powder-coated metal, this little locker is a fun feature in any space. Plus, it adds four fixed cubbies to hold fabric bins for storage.
Wayfair's Karn Storage Cabinet comes in a lovely rustic finish and stands 72 inches tall. With eight separate cubbies for fabric storage, shelves are adjustable and double doors keep fabric safe.
✅ Related tutorial: How to Choose the Best Sewing Table
Fabric Shelving Units for Storing Fabric in Closets
Of course, if your sewing room has a closet with a closing door, you may not need a cabinet. Instead, a closet shelving system may be the perfect solution. We like the ones listed below:
5-Shelf Heavy Duty Shelving Unit
This sturdy, steel shelving unit comes with either 3, 4, or 5 adjustable fabric storage shelves, so you can buy the one that best fits your closet. Heavy enough to hold fabric storage containers or fabric bins, the decorative detailing beneath each shelf makes this unit a step up from the one in your pantry or garage.
Wire Shelving Unit with Wheels
For sewing rooms with high ceilings and wide closets, this wire shelving unit features six shelves and stands 82 inches tall. Crafted of sturdy, heavy-duty steel, these shelves are tough enough to hold your complete fabric stash.
Blue Neilson Heavy Duty Garage Unit
For sewists who simply need more storage space for heavier loads, the Rebrilliant Neilson 4-tier boltless storage shelf holds up to 400 pounds per shelf. It's 63 inches tall and 32 inches wide and may be used as stand-alone shelving, or partnered with other units. Store more than just fabric on this sturdy shelving unit. You can store your sewing machine and fabric cutters, too.
Lastly, Wayfair sells a shelving unit made from bamboo that's as cute as it is environmentally friendly, though at 12.5 feet, it may be too wide to fit any of the closets in your home. Still, when you place this pretty unit in your sewing room, it adds more than just storage space. Stack closed fabric bins for storage on the shelves to keep dust away.
Fabric Storage Containers with Lids
Usually made of plastic, fabric storage containers with lids may be see-through or opaque. Both work well for keeping your stash in good condition, but clear containers have the added advantage of allowing you to see what's in them at a glance. Of course, this type of fabric organizer also lets light through, so if you choose clear plastic boxes for storing fabric, you'll want to keep them in low light. Alternately, if you choose opaque storage, such as Rubbermaid containers, light is not an issue.
We found a few fabric storage containers we love. You can check them out at the links below:
Rubbermaid 95-Quart Clear Containers
These containers are fabulous for the sewist who has a healthy stash of beautiful material to store. See-through for easy use and roomy enough to hold large amounts of fabric, one 95-quart container goes a long way toward taming the chaos in your sewing room. This link points to a convenient 4-pack of containers, which may be all you need to get organized. Sort by color, type of fabric, or project, then store on sturdy shelving.
Sterilite 116-Quart Clear Containers
Sterilite offers a 4-pack of similar containers with even more room for fabric storage. These containers feature see-through sides and bottoms, but the lids are opaque. Sturdy clips keep lids in place and prevent infestation and dampness from ruining your stash.
Wayfair 68-Quart Classic Container
Wayfair's 68-quart clear container is the perfect size for smaller pieces and bundles of fabric, or for any of your sewing supplies in general. The waterproof container ensures that fabrics and supplies remain dry and untouched by dust, so even if you store your containers long term, your things will still be in pristine condition, and ready to use. The acid-free plastic can be easily cleaned with soap and water eliminating the need for special cleaners, which is a better environment for your fabric.
Bins, Boxes, and Underbed Storage
If you're searching for something a bit more fancy than plastic storage, Wayfair has multiple storage ideas for your fabric stash, including adorable canvas bins and boxes. Some have lids, others fit neatly on the shelving unit in your sewing room. Many are designed to fit under beds or other furniture pieces. All will keep your fabric well organized, and they double as pretty room decor.
✅ Related tutorial: How to sew with cork fabric: fabric bin sewing tutorial
Fabric Hangers for Your Closet
Pants hangers are great options for storing fabric. Store them neatly in a closet, but bring them out for easy access while you're working on your current project. When you're done, simply fold your remaining pieces and drape them neatly over the hanger to go back into the closet. Hangers like these hold multiple cuts of fabric in minimal space.
No-slip hangers are even better, as they securely hold material in place so that it doesn't fall. And the hanging method prevents wrinkles or creases from appearing.
These space-saving clothes hangers are the perfect shortcut for minimizing space taken up by your fabrics. These 5-tier hangers make searching for fabric a breeze. The convenient swivel hook allows for a 360 degree view of all your treasures while minimizing dust buildup and keeping large cuts of yardage wrinkle free.
These stainless steel pants hangers sturdily support your fabrics on five convenient tiers. The silicone non-slip coating ensures your fabrics won't slip, budge, or fall off the hanger, while the choice of colors keeps your storage closet looking coordinated.
These sturdy stainless steel pants hangers will not distort over time. Premium features such as the rubber coating that covers the entirety of the hanging surface supports your fabrics completely. These 4-tier hangers save lots of space in your storage closet.
Velvet Non-slip Multi-Layer Hanger
This velvet scarf hanger is a perfect choice for hanging your fabrics. The velvet texture provides a non-slip surface, and the metal hook can be hung anywhere. The slim design of the hanger allows you to stow more goodies in less space.
Multi-Layer Folding Wardrobe Hanger
The convenient design of this multi-tiered hanger provides space to neatly fold and store your bigger, thicker fabrics. Four 11.5 x 11.5 plastic shelves hang inside your closet and neatly out of sight. Storing bigger cuts of fabric will no longer be a struggle, and unlike other means of storage, all your fabrics will be visible and accessible at any time.
✅ Related tutorial: Organic fabric benefits
Fabric Organizer Boards
Fabric organizer boards are usually made of plastic or acid-free cardboard, and they save lots of room in your storage bins, drawers, or shelves. Simply fold your fabric around the board so it doesn't budge, and file it away in your fabric organizer. Surprisingly, some fabric organizer boards can hold up to 10 yards of fabric, but they also prevent smaller cuts of fabric from bunching up and becoming a tangled mess that you find yourself avoiding.
Many sewists use comic-book boards or make their own organizers from leftover cardboard.
4-Pack Fabric Organizer Boards
These fabric organizer boards made with acid-free plastic are safe and convenient for all fabrics. The 10×14 inch size holds large cuts of your favorite yardage, neatly and securely. The accessibility of your fabric will dramatically improve, and you'll have more space in your storage area.
6-Pack Fabric Organizer Boards
These boards store up to 10 yards of your favorite fabric. It's more economical than the 10×14 fabric organizer board, and it's smaller, allowing you to store more fabrics. A 10.5×7 inch area is large enough to fold fabric around, and the convenient plastic tabs hold your material securely in place. The plastic used is acid-free.
How to Store Fabric Rolls
Just like folded fabric, you should store bolts and rolls of fabric out of direct sunlight and away from moisture, dust, and insects. However, rolls of fabric can be awkward to stow, and simply standing them up in the corner isn't a very attractive option.
We recommend purchasing wooden dowels to hold larger rolls of fabric. Dowels with holes in one end can then be suspended from hooks on the wall or ceiling. Even a simple coat hook like the one listed below can hold multiple rolls of material. Just make sure you mount it firmly into studs or anchors in your drywall.
Heavy Duty Wall-Mounted Coat Rack
This attractive coat rack features five sturdy hooks capable of holding multiple rolls of fabric. Sold in a two-pack, a total of 10 stainless steel hooks won't rust or tarnish, and they'll fit into the smallest corners of your sewing room as one of the most creative ideas for storage we've seen.
How To Organize Fabric Scraps
Plastic containers are always a go-to when it comes to easy and convenient fabric storage. But fabric scraps do not always require plastic tubs. Instead, resealable bags may be more useful. The vacuum-seal technology shrinks the size of the fabric by 80%, leaving you with a lot more storage in a much smaller space.
These vacuum-sealed storage bags are perfect for your fabric scraps. Resealable and reusable, these 40×30 inch bags hold fabric equivalent to a queen-size bedding set. Say goodbye to bulky bins of unorganized fabric, when you choose resealable vacuum bags to store the stray pieces of your stash.
This resealable clothing storage bag is a smaller alternative to the vacuum-sealed version. It's the perfect size for fabric scraps, and the dust and waterproof zipper seal keeps contents neat and tidy. With the clear design, you can see all your fabric with ease.
Fabric Storage Ideas for Small Spaces
For sewists who want to create more fabric storage in limited spaces, we recommend going vertical. Take advantage of the wall space in your sewing room to generate creative ideas for storage. These options will keep your stash contained without eating up valuable floor space.
This wall cabinet mounts to your wall and allows you to store an abundance of fabric or sewing supplies. The cabinet is 12 x 30 x 32 inches, which will conveniently hold many of your thicker fabrics. The modern design is stylish and adds charm to any space while keeping your fabric dry and organized.
This three-section wall cabinet provides lots of wall storage for your fabric. The cabinet is sturdy and practical, and the soft closing hinges prevent slamming doors. Each shelf has a weight limit of 30 pounds, so even your heavier fabric will sit comfortably. The water-resistant white finish makes it easy to clean, while keeping your space looking modern and tidy.
This modern double wall cabinet has a 12-inch depth, which is incredibly convenient for storing fabric. Additionally, the profiled edges, and metal handles are pleasing to the eye. It will be the staple and focal point of your space.
Underbed Fabric Storage
Wall storage is incredibly convenient for small spaces. It frees up floor space and creates the illusion of a bigger space, but another great option is underbed storage. Underbed storage containers slide under your bed with ease, discreetly tucking away your unused fabric and saving you more space.
Under-the-Bed Storage and Organization Box
Wayfair's under-the-bed storage box is made of sturdy canvas in a fashionable chevron pattern. Stackable or able to slide beneath beds, sofas, and more, this pretty box stows big and small cuts of fabric safely tucked away beneath a tight-fitting lid.
A second discreet method of storage comes in the form of fabric storage stools. These stools lift from the top and reveal a hidden space inside. They provide comfortable seating while adding more storage for fabric.
Storage Ottoman With Removable Lid
This storage ottoman is great for storing your fabric scraps and features a convenient lift-off top. These storage ottomans come in a multitude of colors, and they add both storage and seating to your space This ottoman is multi-functional, allowing you to fit an abundance of fabric scraps inside.
This stylish storage stool is both sturdy and pretty. The solid wooden legs make the ottomon tough enough to hold up to 330 pounds. Additionally, it has a 1.6 inch thick frame and comes almost completely assembled, so you can start storing your fabric right away.
---
---
What we hope you'll remember is that it's okay to customize your sewing space to fit your needs. Small spaces call for fabric storage that's hidden away or that makes good use of vertical space. Likewise, large sewing rooms may need shelving units or cabinets to avoid feeling cold and cavernous.
We searched online for inspiration to help you plan out the best options for storing your stash, regardless of its size. Check out the links above to see some of the creative ideas. And be sure to let us know how you store fabric in your own home.
Did you find this tutorial helpful? If so, save this pin (see below) on your sewing board so you can come to this tutorial later when you need to know how to store fabric, and follow me on Pinterest for more tips, tutorials, and inspiration!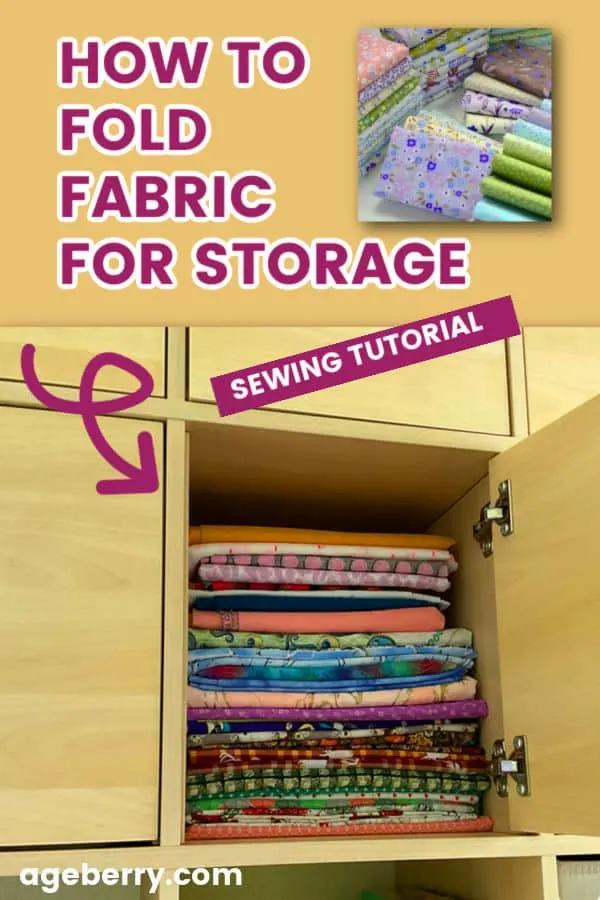 ---