In this tutorial, I will show you some tricks on how to thread a needle for hand sewing and embroidery and how to tie a knot.
It will be useful not only for people who are just learning to sew and don't yet know how to thread a needle but also for people who are experienced in sewing and learned to thread a needle 30 years ago.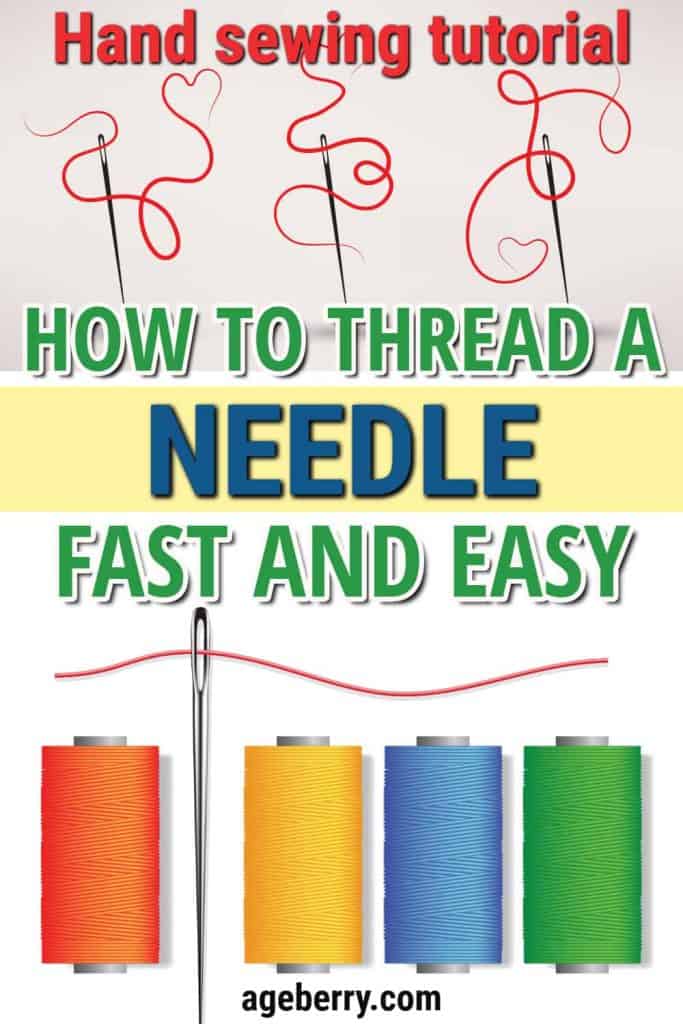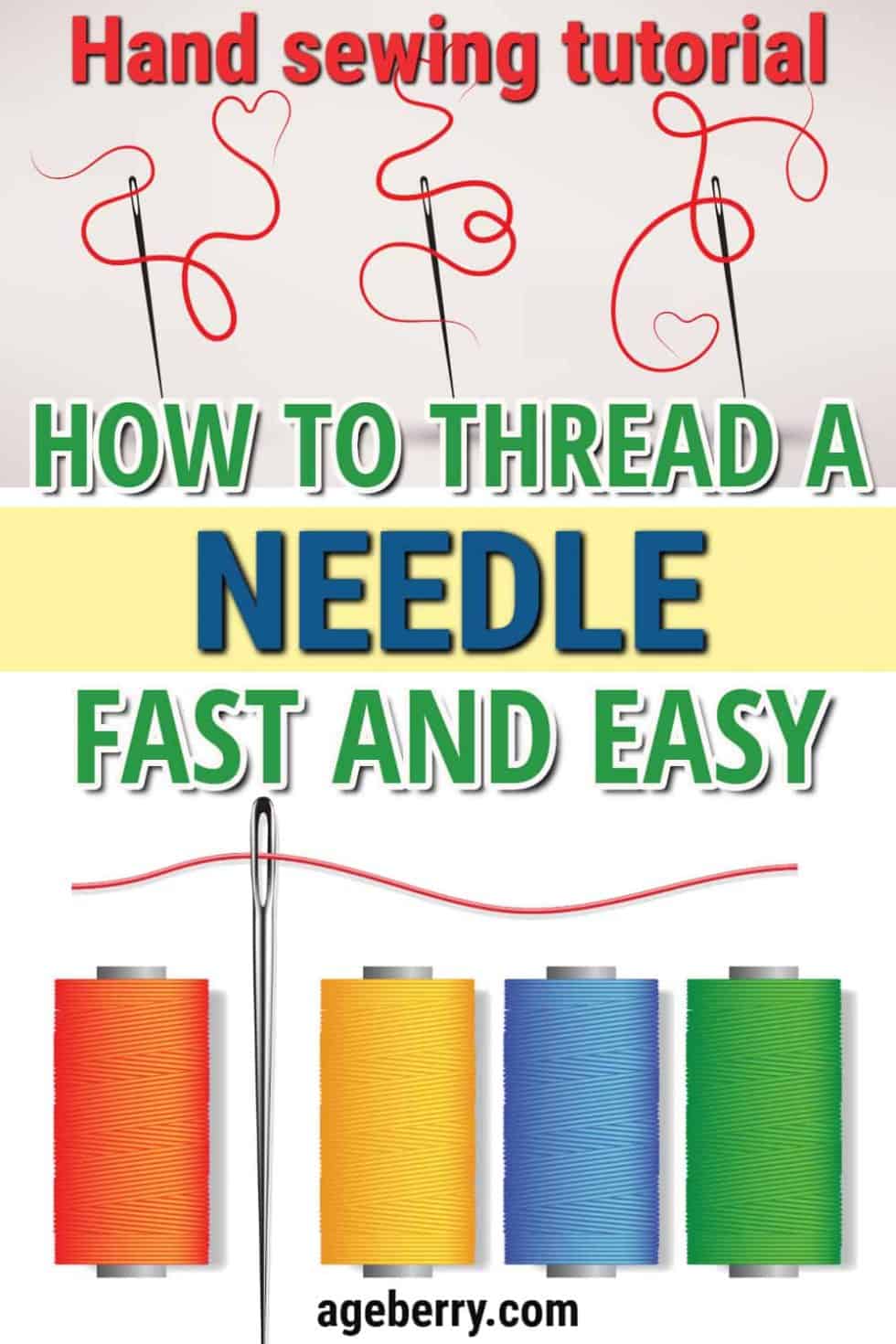 If you prefer to watch my video tutorial on YouTube instead of reading, then see the video below.
It seems so easy to thread a needle. You just push the thread right through the needle's eye and that's it. Yet you have to do it so often and it is so frustrating at times that many people, not only me, have come up with tricks, tools, and tips that help in the process of threading the little eye of the real tiny needle with a thin piece of thread.
So, first of all, you take the thread end from the spool and make sure that the cut is nice, clean and there are no fibers coming apart.
In most cases, it's enough just to cut the thread with sharp scissors and lick the thread. Look at this video:
If the thread is not cut well, fibers are sticking out and no amount of licking or smoothing will help. You will need to make a clear cut.
Don't break threads with your hands or with your teeth if you don't want problems with threading the small needle eye. A messy edge will be hard to thread.
Note: Some of the links on this page are affiliate links. This means I will receive a commission if you order a product through one of my links. I only recommend products I believe in and use myself.
But sometimes cutting and licking don't help.
Look at this shiny thread. I used this thread to sew a metal frame to the leather purse (tutorial is here: How to make a leather purse). I didn't want my hand stitches to be visible on the frame so I had to put this thread through the tiny eye of my leather sewing needle.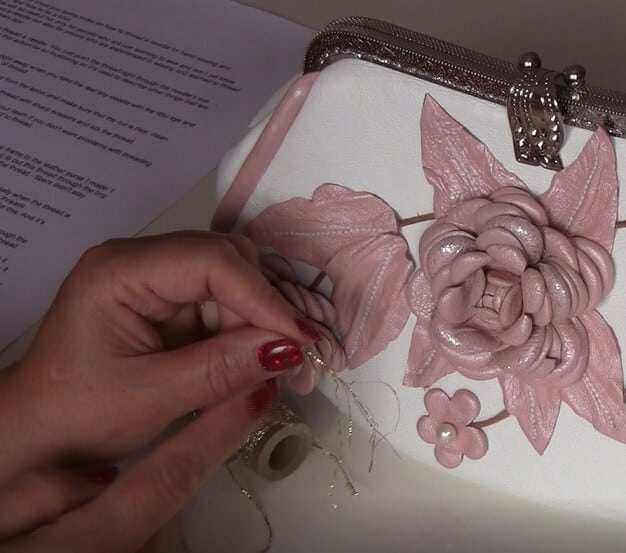 It wasn't enough just to cut the thread – fibers didn't stay together and the thread was splitting at the end.
This situation is common with some other types of threads too especially when the thread is thick (like an embroidery floss or yarn) and made out of multiple thinner threads.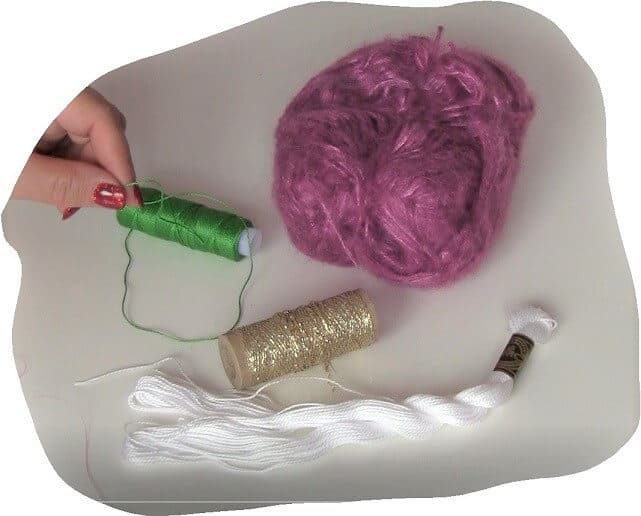 Also, in some cases we need to thread the needle with a double thread and it's practically impossible to do it the regular way.
In this case, we need to do something to keep all the fibers together to push it through the needle eye, right? I recommend using a few different things that will stiffen up the thread.
1. You can use beeswax (they sell it in all fabric stores too) but usually, we don't have it handy when we need to thread a needle. So I just use a lip balm from Burt's Bees – it has enough beeswax to hold thin threads together. Both items are cheap on Amazon, especially if you are a Prime member and do not have to worry about shipping costs.
2. But sometimes beeswax is not enough. For example, it didn't work with my silver thread. So I used a glue stick in this case and tried to make the thread end as flat as possible and cut it with sharp scissors to make the edge clean of fibers.
3. And if this doesn't work or the thread is really thick then use fabric glue. It holds everything without any problem. Just make sure that you use a proper size needle. The needle eye may be too small for the thread you plan to use – in this case, nothing will help you to push the needle through the eye.
Ok. What else will help us to thread a needle? There are special needle threaders that are really easy to use and they are very handy. You can buy them in fabric stores. So how do you use one?
Slide a thin metal loop into the eye of the needle, place the thread into the loop and pull the threader out of the needle. The metal loop is easier to insert in the needle eye because it is stiff, has no fibers and does not bend.
You see how simple it is. But these little threaders break very easily, unfortunately. And of course if you don't sew very often you don't think about buying them, or they get lost in a box somewhere.
If you don't have these handy threaders – don't worry, there is something else you can use instead of them — dental floss threaders intended for flossing dental braces, crowns, and bridges. They usually sell them in big packs. This one, for example, has 25 threaders and they are thin and flexible. The action is practically the same: put the thread through the circular opening, stick the pointy end through the eye of the needle and pull.
I have some more tricks for today.
I want to show you something else. None of us is getting younger, and unfortunately after a certain age, sight is not what it was at 20. Solution?
Use lamps with magnifiers! It will help you to see the tiny needles and thin threads better. For example, this lamp has a magnifier with a large diameter, which provides a wide viewing area, and offer distortion-free magnification. This is a real image of the lamp I am using: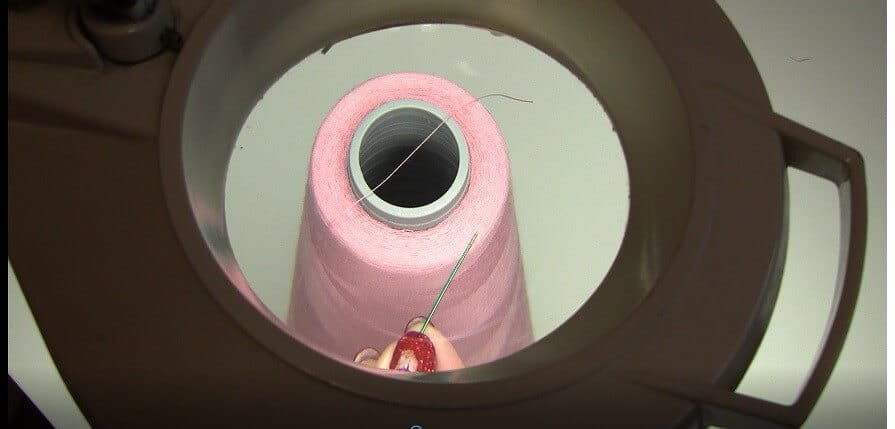 ---
There is also another little trick to manage threading a needle. Maybe you will like it. Instead of holding the needle and trying to push the thread through the eye – hold the small thread end with your two fingers and move the needle over it.
Did you know that all needles can be self threading? Let me show you a trick which looks like magic to me. It seems so easy but in reality it does not work always. Try it for yourself – I could do it only with this huge needle and thick thread. I can thread this big eye the regular way without any problem, so what is the point? It is cool and a fun thing to see!
Another tip — there are real self-threading needles now, and this is not a joke. See how they look like in the image below. And they are even sold with this very handy decorative magnet holder. Just slip the thread into the groove at the top of the needle and push it down into the eye.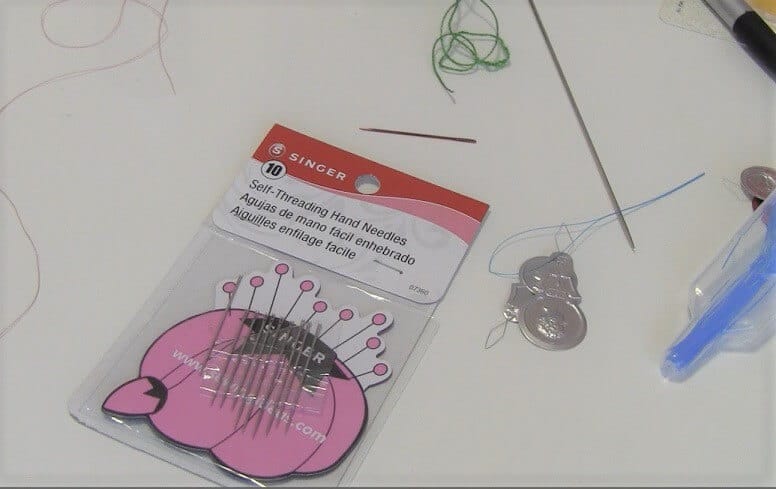 There is a very large selection of self threading needles on Amazon; I recommend use good needles, this is not something you will by often.
Ok, I am out of tricks now about threading a needle but now let me show you how to tie a knot because usually, we can't sew without a knot. There are some exceptions – but I will tell you about them later.
So, there are a few ways to do it.
First way – just tie the end of the thread twice or even three times.
Another way (and most people do exactly that, so this is the most used method as far as I know) – wrap the thread around your finger, roll the thread between your fingers and pull it tight.
But I know just one more easy way to do it and the knot, in this case, doesn't look messy ever. It works better when you have a double needle in the thread.
For this take both thread ends and wrap them a few times (2-3) on the needle. Hold the loops with your thumb and index fingers (which already holding the needle) and pull the needle away with your other hand.
In most cases, you will have to cut the thread that's left after the knot and make the knot neat (it is not necessary for basting though because you will have to take the thread out anyway)
And as I told you before I know 2 ways to start sewing without a knot.
The first way – thread your needle with double thread. Start sewing and insert the needle in the loop like in the following video:
The other way – thread your needle with single thread, start sewing, make a small stitch right near the point where you inserted the needle, make a little loop and bring the needle through the loop, and pull the thread tight. It will form a knot close to the fabric.
And in the end some more information about threading a needle.
For any hand sewing, the length of the thread has to be about 45-80 cm (18-32 in). A thread too short is not good because you will have to change it often, a thread too long will be snagging or kinking.
To prevent snagging you should thread your needle with the thread end that comes off the spool and tie the knot on the end you cut. This way the twist of the thread will be working with you not against you.
Threading can be done with single or double thread. In most cases, we use a single thread for sewing because a double thread kinks easier. But sometimes it is better to have it double, for example for putting buttons, because it will speed up your sewing.
Some people use beeswax to smooth the thread all the way so it slides through the fabric easier and doesn't kink or knot. Just draw your thread through the edge of the wax and smooth it with your fingers a couple of times for even distribution. But I advise you not to use the wax for very light or fine fabric because sometimes wax can melt and stain the fabric.
That's all for threading a needle.
Check the links below for more easy sewing tutorials and share this article with your friends if you find it helpful.
Ready to take the next step in your sewing journey? Check out more step-by-step tutorials from my site and don't forget to share!