Today's tutorial will show you some tips and tricks on how to thread a needle for hand sewing and make it practically effortless. Once you learn how to tie a thread on a needle, you can move on to how to tie a knot so you can use your thread for embroidery or any other sewing projects.
A guide like this one is beneficial not only for beginner sewists who don't yet know how to thread a needle but also for experienced sewists who learned to thread a needle 30 years ago.
Are you wondering why experienced sewists would need to learn the easiest way to thread a needle? Keep reading to find out!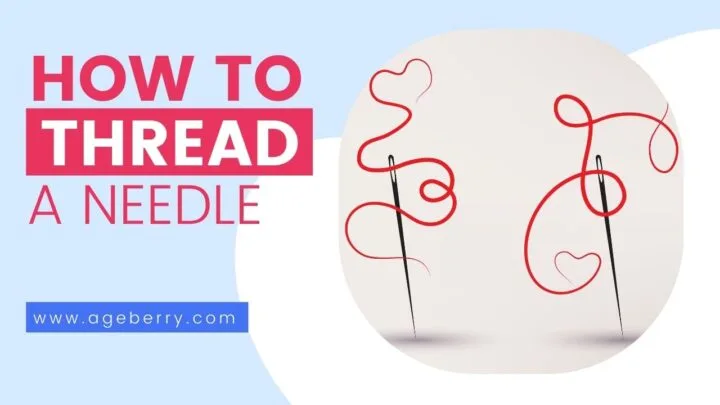 If you're a visual learner and prefer watching a video tutorial instead of reading about it, check out the video below.
How To Properly Thread A Needle
Threading a needle seems like a pretty straightforward process. You simply push the thread right through the needle's eye, right? But have you ever had that experience where it's like trying to push a wet noodle? Where you try and try but just can't get that thread to stay firm enough to go through the needle's eye?
As sewists, we have to thread needles so often, and it can be so frustrating when it doesn't go smoothly. Because of this, many people (including me!) have come up with tips, tools, and tricks that help make the process of pushing a thin piece of thread through the little eye of a real tiny needle easier.
Basic Way To Thread A Needle
The basic process for threading a needle goes a little something like this: take the thread end from the spool and make sure that the cut is nice and clean and that there aren't any fibers coming apart.
If it is not clean-cut, snip the thread with a sharp pair of scissors. Then, lick the end and push it through the eye of the needle.
See what I mean in this video:
Common Threading Problems
I know threading a needle sounds easy, but there are a couple of common things that happen which make the process quite difficult.
The End Of The Thread Is Uneven
If the thread is not cut well, fibers will stick out, and no amount of licking or smoothing will help. You will need to make a clean cut, as mentioned above.
Avoid breaking threads with your hands or your teeth because that will give you a messy edge that will be difficult or impossible to thread.
Note: Some of the links on this page are affiliate links. This means I will receive a commission if you order a product through one of my links. I only recommend products I believe in and use myself.
But sometimes, cutting and licking just aren't enough, depending on the type of thread you're using.
Fibers Stick Out And Won't Stay Together
Look at this shiny thread. I used this thread to sew a metal frame onto a leather purse. I didn't want my hand stitches to be visible on the frame, so I had to put this thread through the tiny eye of my leather sewing needle.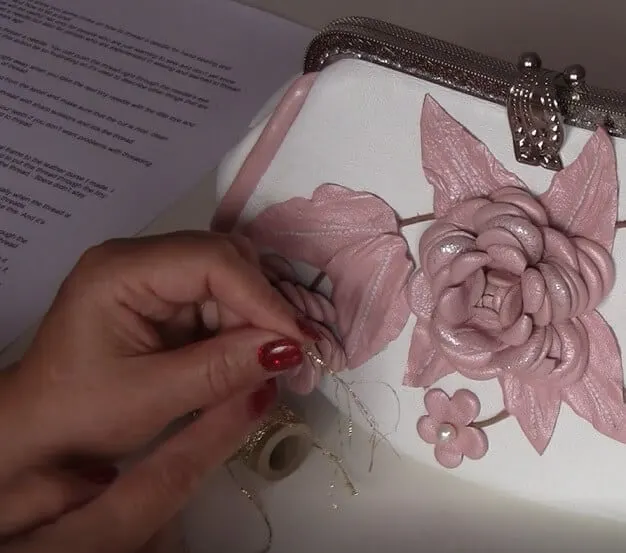 Cutting the thread wouldn't work because the fibers didn't stay together – the thread was constantly splitting at the end. This situation is common with some other types of threads, too. It is especially true when the thread is thick (like an embroidery floss or yarn) and made out of multiple thinner threads.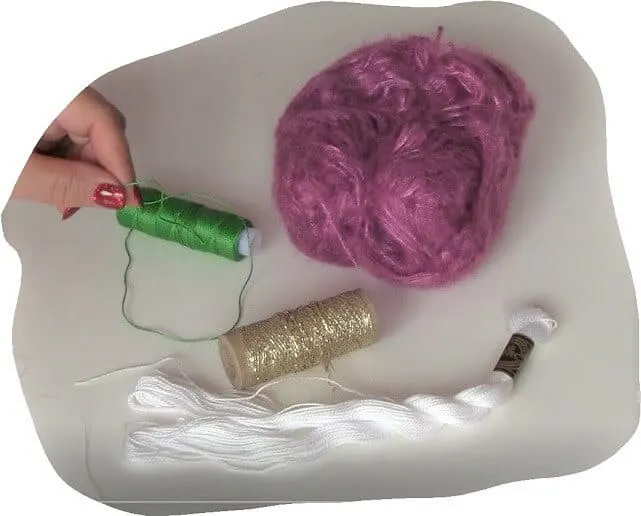 How To Double Thread A Needle
Also, in some cases, we need to thread the needle with a double thread. It's practically impossible to do it the normal way, so we need to use one of the tips below.
9 Easy Ways To Thread A Needle For Hand Sewing And Embroidery
When we can't keep all the fibers together to successfully push our thread through the needle eye (even after licking and smoothing), we need to turn to other methods. Here are some tricks I recommend using a couple of different things to help stiffen up the thread enough to push it through the needle's eye.
1. Use Beeswax
You can use beeswax to reinforce the thread a bit. Even though they sell it in most fabric stores, it's not something we always have on hand. If you don't have any handy and need to thread a needle, you can use lip balm from Burt's Bees. It's true!
It works because it has enough beeswax to hold thin threads together. You can find both beeswax and Burt's Bees lip balm on Amazon or in your local stores.
2. Try A Glue Stick
There are times when beeswax is not enough. When that happens, I often use a glue stick. For example, beeswax didn't work with the shiny thread I was using to sew a purse, so I used a stick of glue instead.
I tried to make the thread end as flat as possible and cut it with sharp scissors to make the edge clean of fibers. Then I applied a glue stick and let it dry for a few minutes to make it stiff enough to thread through the needle.
3. Use Fabric Glue
If the glue stick trick doesn't work (or the thread is really thick), try using fabric glue. It holds everything without any problem.
Pro Tip: Make sure that you use a proper size needle because the needle eye may be too small for the thread you plan to use. When it isn't a proper fit, nothing can help push a thread through the needle's eye.
4. How To Thread A Needle With Needle Threaders
There are special needle threaders that are very easy to use, and you can easily find them in fabric stores. They are convenient, but it might not seem obvious how to use them at first. So, how do thread your needle using one?
First, slide the thin metal loop of the threading tool into the eye of the needle.
Next, place the thread through the part of the metal loop that has been pushed through the eye.
Then, pull the threader out of the needle, and the thread will pull through the eye.
The metal loop is easier to insert into the needle's eye because it is stiff, has no fibers that separate, and does not bend.
See how simple it is? Unfortunately, there is a downside to needle threaders because they tend to break very easily. Another potential downside is that if you don't sew very often, you probably won't think about buying them (or you bought them once a long time ago, and they got lost somewhere).
5. How To Thread A Needle Without A Needle Threader
If you don't have these handy needle threaders, don't worry because I have another trick up my sleeve. Instead of using specific needle threaders, you can use dental floss threaders that are intended for flossing dental braces, crowns, and bridges.
You can usually find them sold in big packs. This one, for example, has 25 threaders. Similar to needle threaders, these are thin and flexible, and the threading action is practically the same.
Just put the thread through the circular opening, stick the pointy end through the eye of the needle, and pull it back through so that thread goes through the needle's eye.
6. Use A Lamp With A Magnifier
None of us is getting any younger, and unfortunately, after a certain age, eyesight is not what it once was. Sometimes, simply being able to see the tiny needle eye and thin threads better would make threading them much easier. In that case, I have a solution – use lamps with magnifiers.
For example, this lamp has a magnifier with a large diameter. It provides a wide viewing area and offers distortion-free magnification. Here is an actual image of the lamp I am using: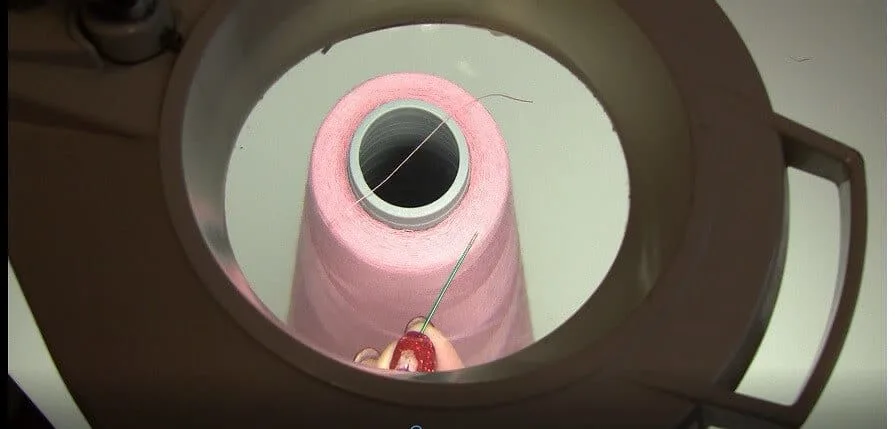 ---
7. Move The Needle Over The Thread
Here is another little trick for how to thread a needle – maybe it will work for you.
Instead of holding the needle and pushing the thread through the eye, hold the small thread end with your two fingers and move the needle over it. See how I do it in the video:
8. Self-Threading Needle "Magic Trick"
Did you know that all needles can be self-threading? Let me show you a trick that looks like magic. It seems so easy, but unfortunately, it does not always work. I was only successful with a huge needle and thick thread. And since I can thread this big eye the traditional way without any problem, the trick was not helpful to me.
However, the method is cool and fun to see, so try it for yourself and see if it might work for you.
9. True Self-Treading Needles
Believe it or not, there are real self-threading needles. Although the previous tip was a bit of a joke, these needles are real. See what they look like in the image below. And they are even sold with a convenient decorative magnet holder.
Just slip the thread into the groove at the top of the needle and push it down into the eye.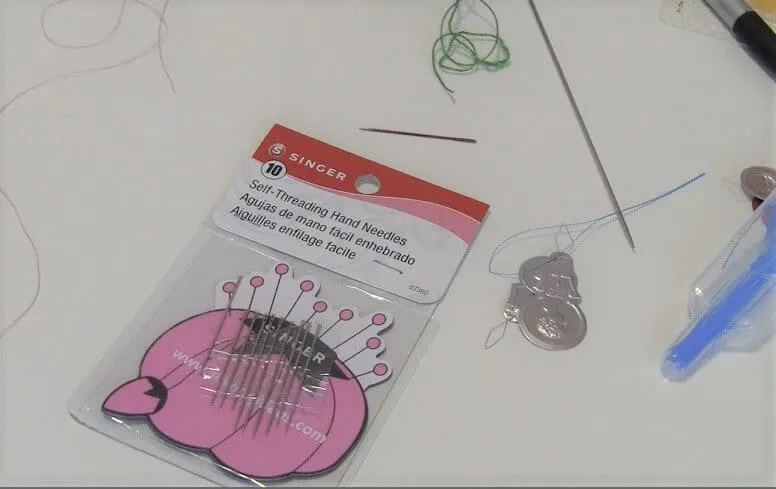 There is a huge selection of self-threading needles on Amazon. I recommend using good needles (which these are not), so they aren't something you will buy often.
How To Tie Thread On A Needle
I am out of needle threading tricks now, but I want to show you how to tie a knot. Do you tie a knot after threading a needle? Yes, we usually need a knot to hand sew. There are some exceptions, though, and we will go over them a little later.
Here are a few ways to do it:
First, tie the end of the thread twice or even three times.
Second, wrap the thread around your finger, roll the thread between your fingers and pull it tight. This is the most used method in my experience.
Finally, take both thread ends and wrap them on the needle 2-3 times. Hold the loops with your thumb and index fingers (which are already holding the needle), and pull the needle away with your other hand.
Note: this works better when you have a double needle.
In most cases, you will have to cut the thread that's left after making the knot to make your knot neat. The exception to this is basting because you will have to take the thread out anyway.
How To Sew Without Tying A Knot
And as I mentioned earlier, I know a few ways to start sewing without a knot.
First, thread your needle with double thread. Start sewing and insert the needle in the loop like in the following video shows:
The other option goes like this:
Thread your needle with a single thread.
Start sewing.
Make a small stitch near the point where you inserted the needle.
Create a little loop and bring the needle through the loop.
Pull the thread tight.
It will form a knot close to the fabric.
Final Tips On How To Thread A Needle
Here are a few more tips to make threading a needle easier:
For any hand sewing, the thread length needs to be about 45-80 cm (18-32 in). A thread that's too short isn't good because you'll have to change it often (which means more needle threading). And on the other hand, a thread that's too long will snag or kink.

To prevent snagging, thread your needle with the thread end that comes off the spool and tie the knot on the end you cut. This way, the twist of the thread will be working with you instead of against you.

Threading can be done with a single or double thread. In most cases, we use a single thread for sewing because double thread kinks easier. But sometimes, it is better to have a double thread. A good example would be sewing on buttons because it will speed up your sewing.

Some people use beeswax to smooth the thread all the way, so it slides through the fabric easier and doesn't kink or knot. Just pull your thread through the edge of the wax and smooth it with your fingers a couple of times for even distribution. (I advise against using wax for very light or fine fabric because sometimes wax can melt and stain your fabric.)
Troubleshooting Problems Threading A Needle
If you have tried the tricks above and still have some trouble threading a needle, this troubleshooting section might help.
My Thread Keeps Coming Out Of The Needle While Hand Sewing
When you're hand sewing, this can happen for a few reasons. The most common reason is that your thread is just too short. Try to keep it between 18 and 32 inches.
Another reason your thread might be coming out of your needle is that you may not be applying enough tension to the needle. If you allow the thread to stay very loose in your needle, it might slide out as you sew.
How To Thread A Needle With A Small Eye
Threading a needle with a small eye can definitely be a challenge. I don't recommend licking your thread and pushing it through a small eye because you're more likely to miss and separate the fibers, damaging your thread.
I have found it helpful to do this when working with needles that have small eyes:
Wrap your thread around the needle.
Slide the thread off of your needle so that you're holding the needle in one hand and a small loop of thread in the other.
Hold the loop of thread and slide it through the eye of the needle.
Pull the thread through the needle.
I hope these tips, tricks, and tools help make learning (or relearning) the process of how to thread a needle much easier! Check the links below for more easy sewing tutorials, and please share this article with your friends if you find it helpful.
Ready to take the next step in your sewing journey? Check out more step-by-step tutorials from my site, and don't forget to share!
---