You bought the perfect pair of pants made from amazing 100% wool fabric, you found the right fit and cut, they are high quality too. The only problem? They're just a little too long and leave folds of fabric around your feet. Isn't it annoying?
But you don't need to take them to the tailor. Let me show you how to hem pants without sewing with easy-to-follow instructions.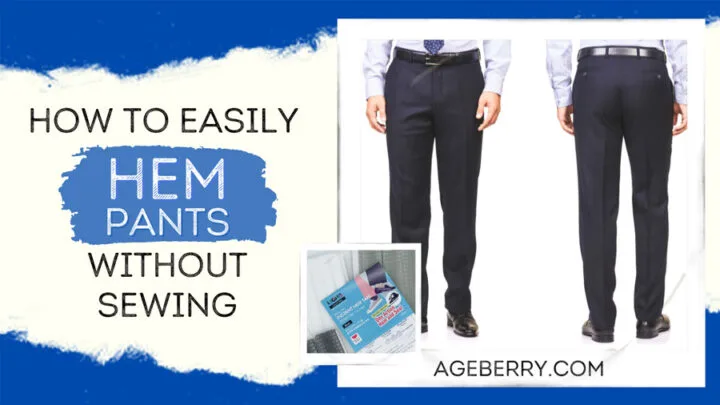 You also don't need any fancy tools or expensive equipment. Just use the right hemming tape, and your pants will be ready in no time. It's quick, simple, and affordable – so there's no reason not to try it out today.
Note: Some of the links on this page are affiliate links. This means I will receive a commission if you order a product through one of my links. I only recommend products I believe in and use myself.
Are you wondering what is the right hemming tape? Recently I bought this tape
This hem tape is available on Amazon in six different colors, so you can choose the one that best matches your pants. It comes in two different lengths – 5.5 yards or 11 yards – so you can choose the size that you need.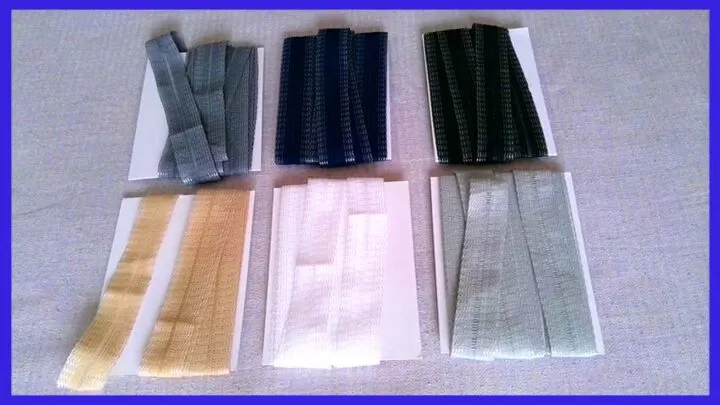 I am sure you didn't hear about Leonis instant hem tape before. Let me show you what it is and how it works.
It's an innovative product that makes it possible to perfectly hem your pants without sewing. It's a great alternative to a fusible web tape that can appear stiff in hems.
It's made of a flexible, adhesive material that bonds well to fabric. I've tried all other types of iron-on hem tape, and this is by far my favorite. It's very easy to apply and doesn't make the hem appear stiff. Plus, it's durable and washable, so it's a great long-term solution.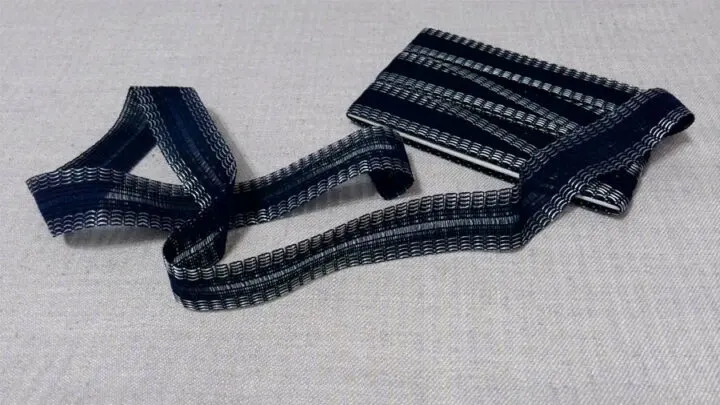 But ONLY IF YOU USE IT CORRECTLY!
This hem tape can be used on many common types of fabrics, including polyester, wool, linen, silk, and blends.
This simple tape does all the work for you, hemming and sealing the raw edge of the fabric in one quick action. Plus, it's much easier to use than traditional methods, so you can achieve professional results even if you're short on time or don't have any sewing experience.
The tape comes in a variety of colors to match different items of clothing, and it blends smoothly into the fabric for a seamless look.
Plus, the tape is designed to stay firm for a long time, so you don't have to worry about it coming off after washing or dry cleaning.
However, it's important to check the care label on your pants before using this product, as some fabrics may be damaged by the adhesive or the heat of an iron.
Additionally, you'll want to make sure that the tape is compatible with the fabric of your pants so that it doesn't come off after a few hours of wear or after the first washing.
By taking these precautions, you can help ensure that Leonis hemming tape is a safe and effective way to hem your dress pants without sewing.
If you've ever bought clothes online only to find that they don't fit quite right, you know the frustration of trying to make them work or having to return them. But with this high-quality hemming tape, you can quickly and easily adjust the length of pants that are too long or too short. All you need is a roll of the tape and a few minutes, and you'll have perfectly fitting pants every time. Just follow the simple steps below.
If you are not sure what should be an optimal length of your dress pants check out this article from the experts Breaking it Down: A Guide to Trouser Length. Or refer to my own article How Long Should Pants Be? A Comprehensive Guide to Hemming Pants.
Let me show you how to hem men's dress pants.
1. Measure and cut the pants to the desired length
First of all, you might need to undo the original hem of the pants you are fixing.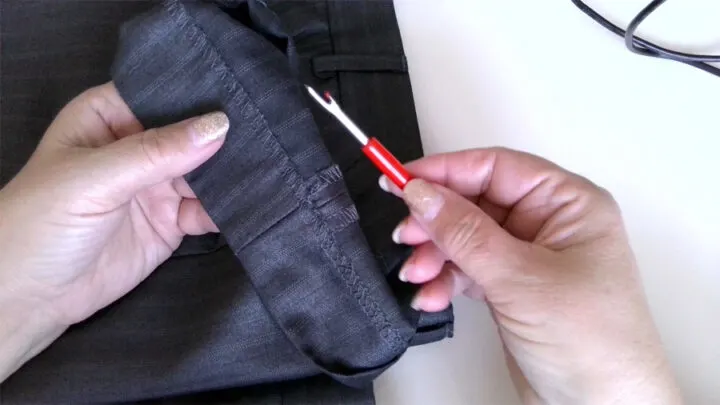 Just use a seam ripper: carefully rip the thread all the way around the hem. Unfold the hem completely and iron it flat to remove the crease.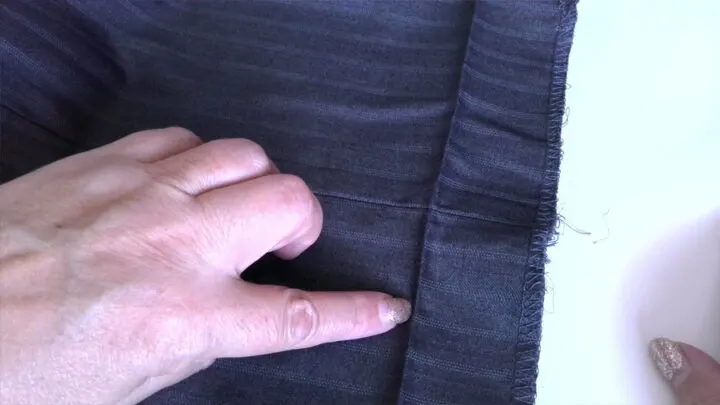 If you have other pants that are the perfect length you can use them to get the right hem measurements.
Lay the pants flat on a table. Using a measuring tape, measure them from the crotch seam to the hem at the inside leg seam. Measure the same length on the pair of pants you are altering and make a mark.
Now measure the distance from the bottom of the pants to this mark and then mark a line across the hem with a fabric marker. This will be a fold line for the hem.
But you can't cut the pants on this line. You need to create a new line 1 inch below the line you just drew. This will be the cutting line, so cut off all the extra fabric below this line.
Or if you have someone to help you, you can put on the pants inside out and ask another person to fold up the hem until the pants are the desired length for you.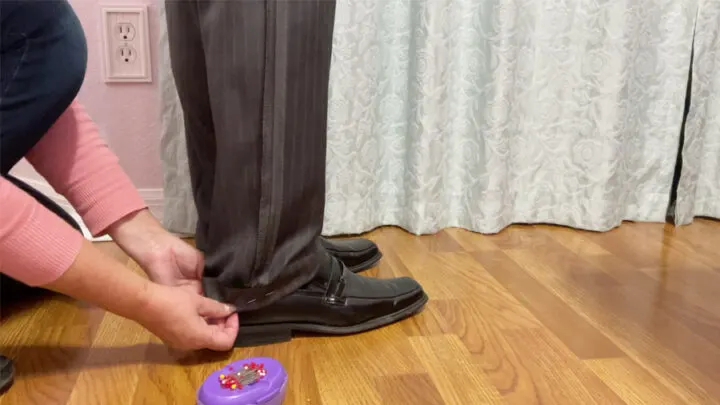 Make sure to do this while wearing dress shoes. If you do this step barefoot or just with socks the pants might still not fit correctly when you wear them with shoes. Use pins to mark the fold. You can walk around with the pants on to see how they fit and if the new length is good.
Mark the fold line with a fabric marker. Create a new line 1 inch below this fold line you just drew and cut.
Do the same with both pant legs. Make sure that both pant legs are even.
2. Fold the hem along the new fold line
Fold the hem along the new fold line, pin in a few places to hold the fold, and press.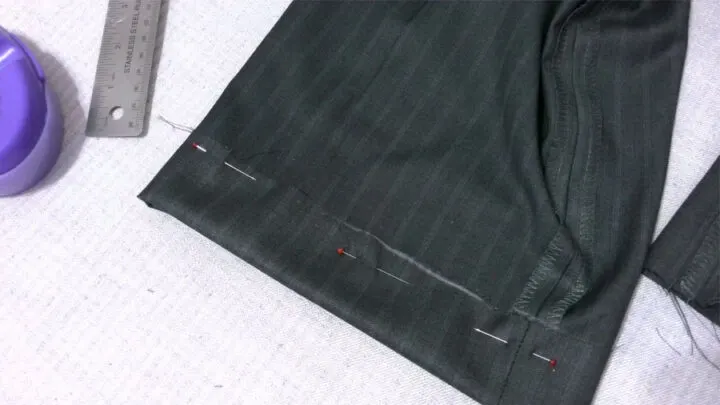 You have to know the fabric from what your pants are made of because wool is treated differently than polyester or cotton. Use a pressing cloth when ironing your pants.
This will be a single-fold hem, not a double-fold hem.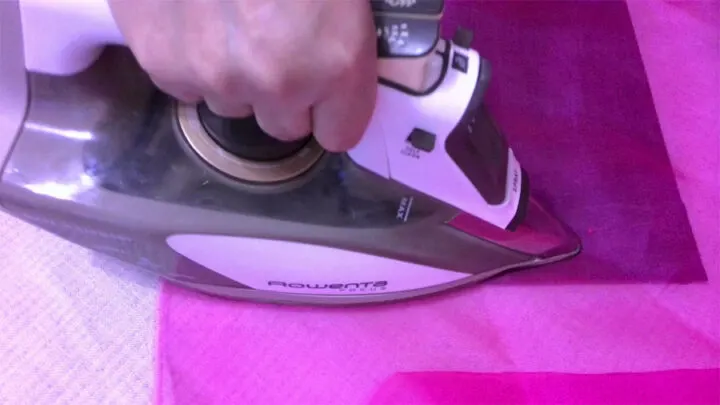 Make sure you have exactly the same width of the hem around the pant leg.
Remove the pins after pressing and press one more time.
You can use a steam iron to make the crease.
3. Adjusting the pant leg width at the bottom (optional)
This step is a little tricky. And it's optional. It means sometimes you don't have to do it but there are times when you need to do it. What am I talking about? Let me explain (and you better check your pants before proceeding to hem them).
It often happens that the dress pants' legs are narrowing at the hem. In this case, the bottom line is smaller in size than the upper hemline. So if you fold the fabric at the new hemline you will see that the raw fabric edge is smaller than the width of the pant leg in that place. You will need to adjust this if you want to hem your pants correctly.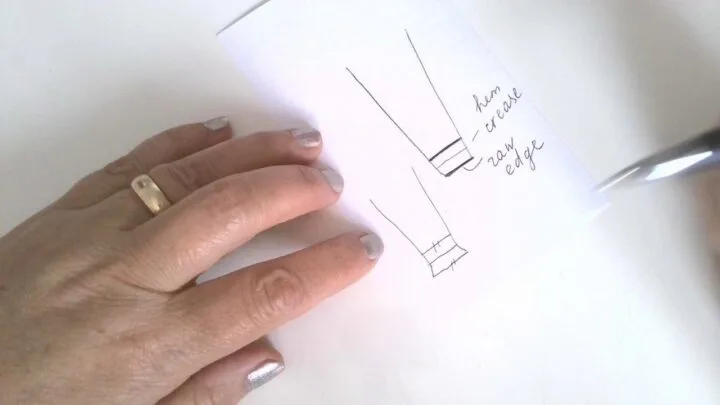 Increase the size of the bottom line to match the length of the upper hemline. For this, rip the end of the side seam, about ½ or 1 inch from the bottom, and adjust the fabric (you can make a new seam) so that the upper hem width is exactly the same as the width of the cut edge at the bottom.
4. Cut the Leonis hem tape to the desired length
Make sure you have enough tape to go all the way around the hem with a little extra at the end to overlap.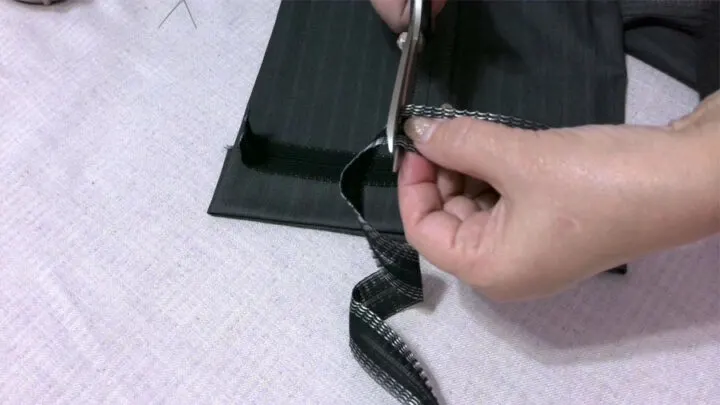 If you see some frayed threads at the bottom of your pants, cut them before proceeding.
5. Soak the Leonis hem tape in water
Before you use Leonis hemming tape, you'll need to soak it in water for a few seconds to activate the adhesive. Squeeze out any excess water, and make sure that the tape is completely wet. Otherwise, it will not work.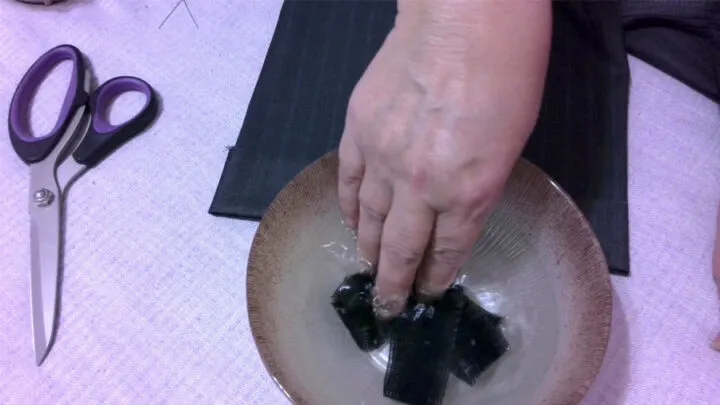 Once the tape is wet, you can apply it over the area you want to be hemmed. This step is different from any other iron-on hemming tape I've used before, so be sure to follow the instructions carefully.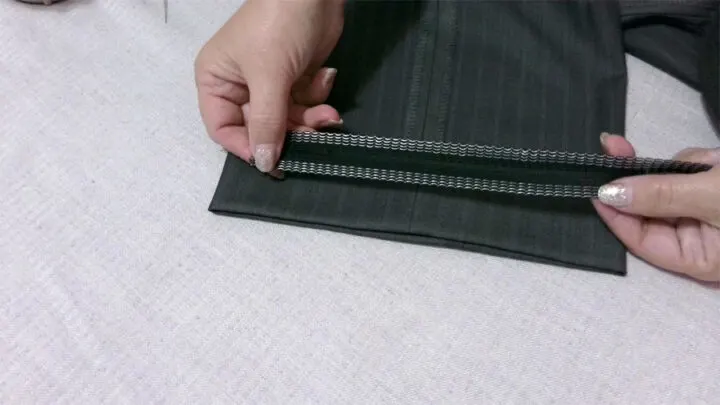 6. Place Leonis hemming tape on your hem with the fusible side down
Leonis hem tape has only one side that's fusible and you have to make sure that this adhesive side is placed on the hem. If you make a mistake you will make your iron dirty. But it's very easy to find the right side because it has white shiny threads on the adhesive side.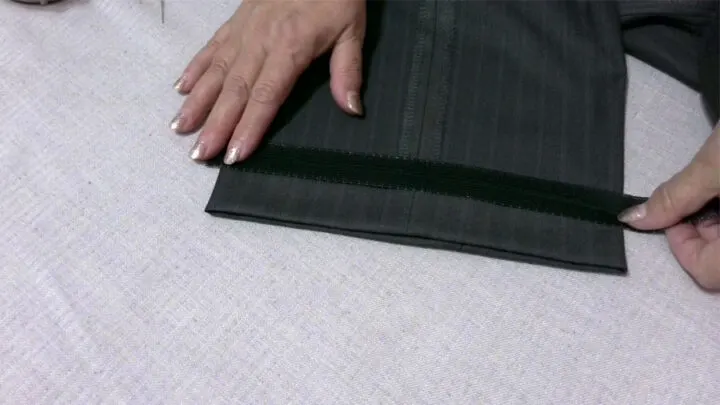 7. Attach Leonis instant hem tape
Set your iron to medium heat (not on high heat, I used it between wool and cotton settings). Press the iron with or without steam for 10 seconds. I preferred to use it without steam.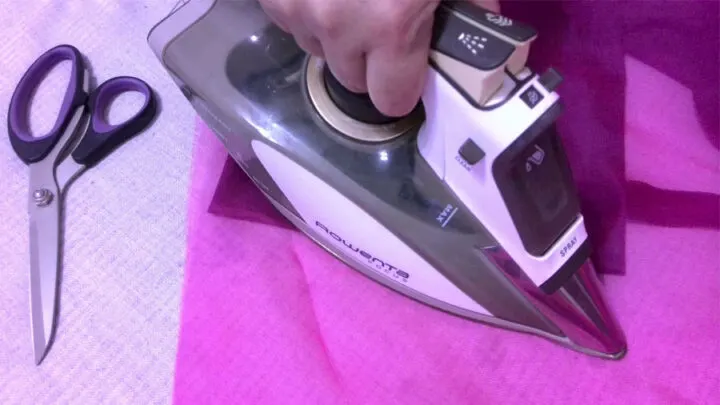 Don't move the iron back and forth, just press for a few seconds. Use a pressing cloth. Make sure your pants can withstand the heat.
You would see some steam coming out from under the iron. It's normal because the hem tape was wet.
Wait for it to cool down before testing adhesion.
You will see that the hem is soft and flexible, not stiff in the least.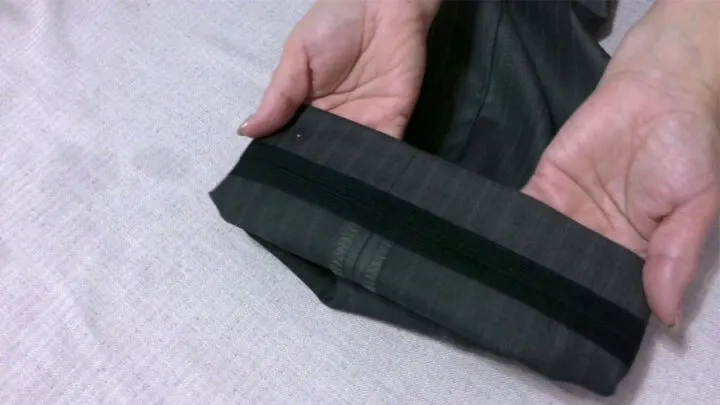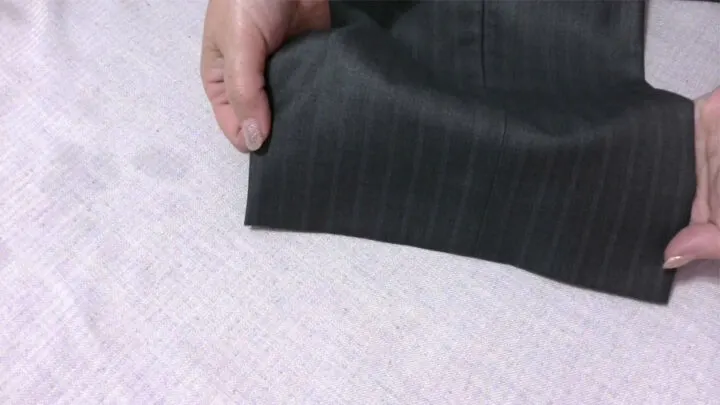 You can read more about Leonis instant hem tape in my tutorial How to Use Leonis Iron-on No-Sew Hem Tape.
In conclusion: So now you know how to hem pants without sewing. If you're looking for the perfect solution to hemming pants without sewing, be sure to give this tape a try. Leonis Instant hem Tape is quick, easy, and saves you from having to bring out the sewing machine. What do you think? Share your thoughts in the comments below.
Did you find this tutorial helpful? If so, save this pin (see below) on your sewing board so you can come to this tutorial later when you are ready to hem pants without sewing, and follow me on Pinterest for more tips, tutorials, and inspiration!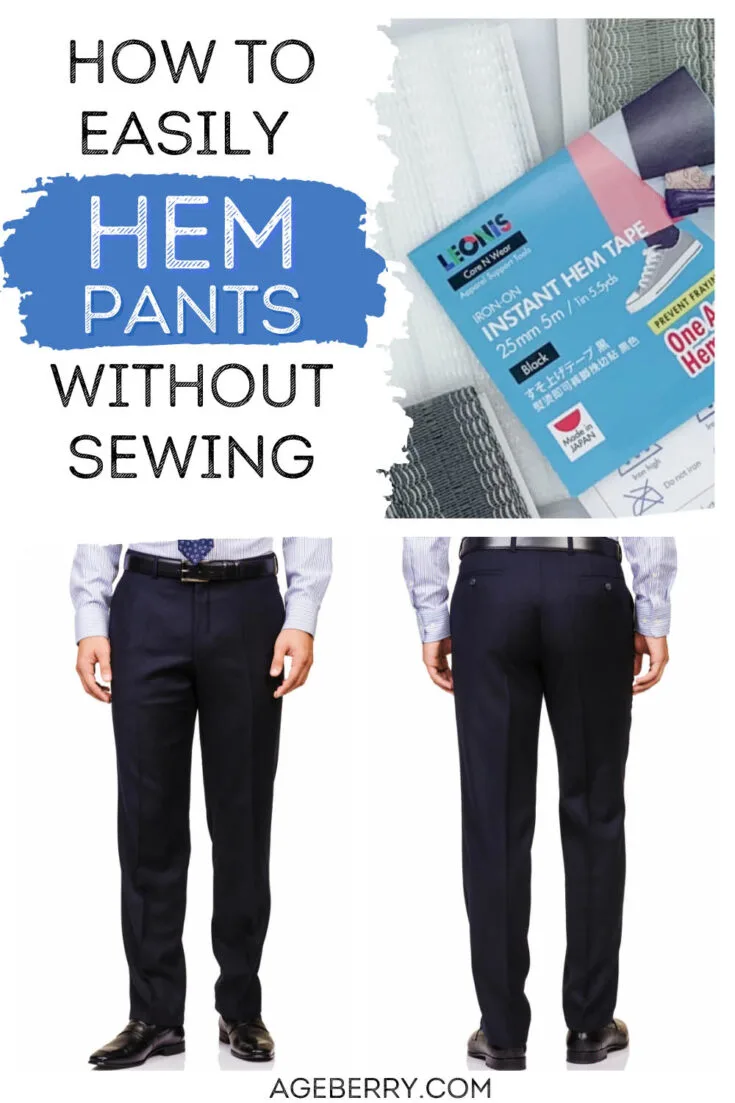 ---