One question I see from readers quite frequently is, "How do I hem pants?" It's completely understandable why people want to know how to hem pants but also the best length for hemming pants.
The length of your pants plays a crucial role in both comfort and how you look. Unfortunately, answering what seems to be a simple question like, "How long should pants be?" is more complicated than you may think. In the clothing world, trends impact hemlines too. So there is no definitive answer to what the common pants lengths are as it can vary a lot.
Although there's constant debate on the ideal pant length, a well-hemmed pair of pants can significantly impact your overall look. Because they act as an anchor, pants can elongate your legs and create a sense of balance with your outfit, bringing everything together.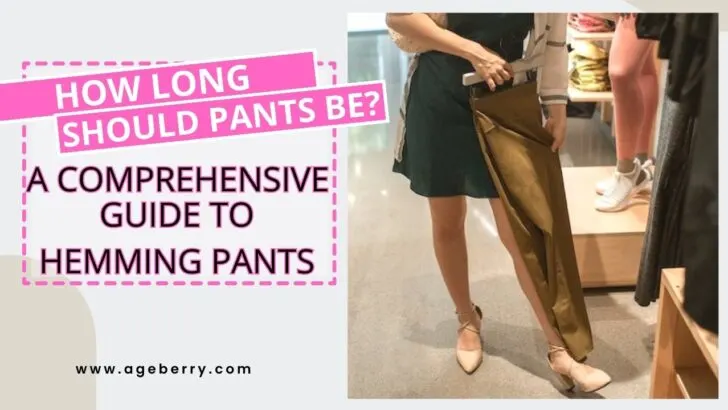 What Is The Hem Break?
In order to understand pant hemline recommendations, it's good to learn about "the hem break".
The break refers to the amount of fabric that folds or creases at the bottom of the pant leg when it meets your shoe.
Generally, there are four types of breaks, which are as follows:
No break: The pants just touch the top of your shoes, creating a clean line. This is a modern, trendy look suitable for slim-fit pants.
Slight break (quarter break): The pants have a minimal fold, commonly seen in contemporary and casual styles.
Medium break (half break): The pants have a noticeable crease, appropriate for a conservative look in professional settings.
Full break: The pants have a deep fold and are typically reserved for conservative suits and tuxedos.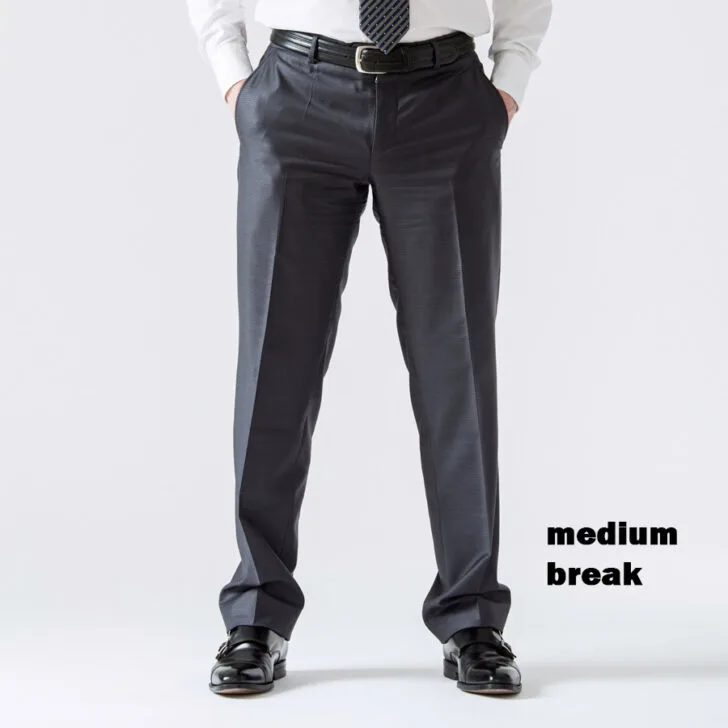 General Recommendations For Men's Pants Length
When it comes to men's pants length, personal style is an important factor in determining the appropriate length. Here are a few general recommendations to help you find the right length for your pants.
Many ideas here apply equally for men and women's pants. In fact, probably all of them! With the note that women have generally a greater freedom in choosing the length of the pants as a statement fashion. Pants too short showing the ankle would probably look ridiculous on a man, but may be cute on a woman.
Consider the type of pants you are wearing. Jeans, chinos, and dress pants all have slightly different guidelines for their ideal length. In general, dress pants can be worn with a slight to medium break, while jeans should probably have little to no break. Chinos can fall somewhere in between, depending on the occasion and your personal style.
Next, pay attention to body type. The goal is to find a length that complements your body and creates a balance between your legs and torso.
When determining the appropriate length of pants, consider the following:
Hem: The hem should be tailored according to the break you desire. In general, the hem should fall between the top of your shoe's laces and the middle of your shoe's heel counter or at the top of a heel (there are no strict rules here obviously). You can read more about parts of a shoe at this link.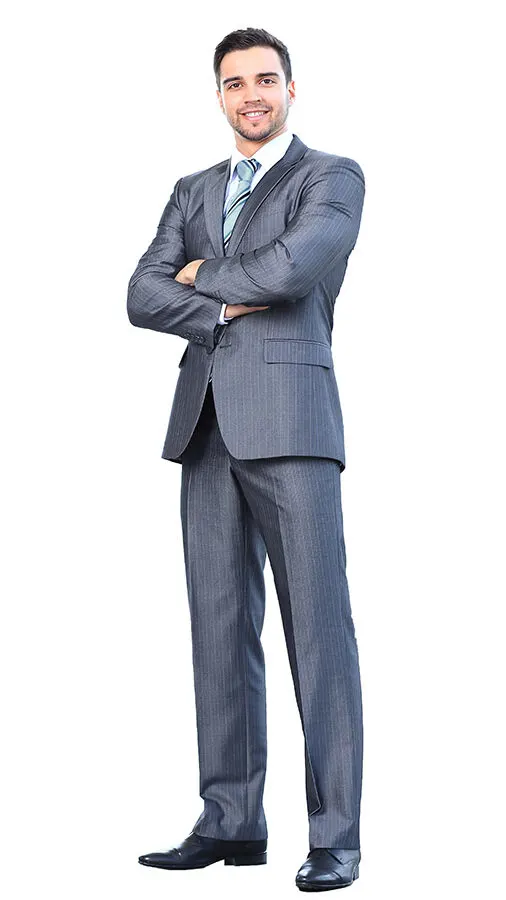 Shoe type: Different shoes require different pant lengths. For example, boots may need slightly longer pant legs than dress shoes. When you get your pants hemmed, always wear the shoes you will wear with these pants. This is true not only for men's pants but for women's also. In this image, it appears that the pants (on the left) are too short. Do you agree? If you wear boots, it's generally recommended to have the pants hemmed a bit longer to achieve a balanced and aesthetically pleasing appearance.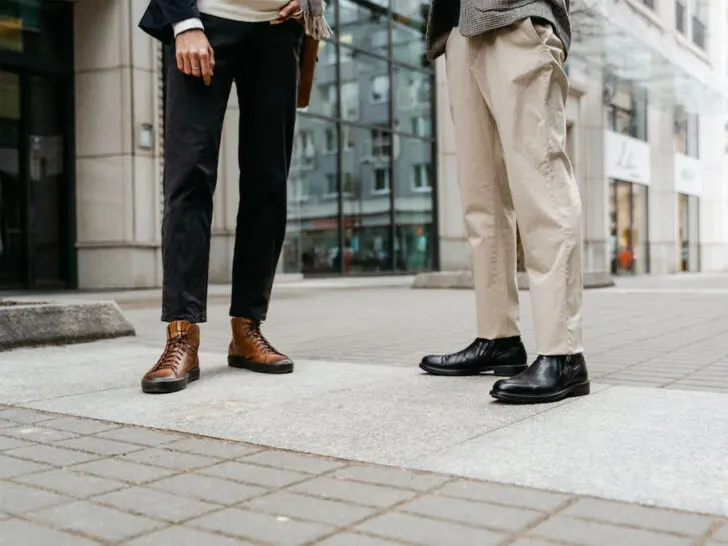 Tapering: Depending on the style and fit of your pants, you may want to consider tapering the leg opening. This can affect the overall appearance of the pants and the break, so take your preferences into account when hemming pants.

In the end, the length of men's pants is a personal style choice. Trends and fashion-forward looks may encourage shorter or longer hemlines. But ensure the length you choose feels true to your aesthetic and fits comfortably within your lifestyle. Don't be afraid to experiment and find the perfect pant length for you.
Pants, Pins, And Panic: My Misadventures In Hemming
And now let me tell you a story that happened about 20 years ago.
My husband and I were getting ready for a special occasion. He had a brand new suit, but the dress pants were not hemmed. Of course, I decided to take on the task of hemming them myself, feeling confident in my sewing skills. You have to remember, at that time, I had little experience sewing men's clothing.
So, he put the pants on and I started pinning the hem. I folded the fabric as I wanted, with no folds whatsoever at the front, and thought to myself, "Easy task. This is going to look great!"
I sewed the hem and my husband put the pants on with his shoes. And then, we both saw it – the pants were way too short! Maybe I should have measured the hem with the shoes on?
I had to rip the hem and do it again. This time, we measured with his shoes on. But, as I was reading about the "pants break," I couldn't help but think, "What kind of break? Are these pants going to need a vacation soon?"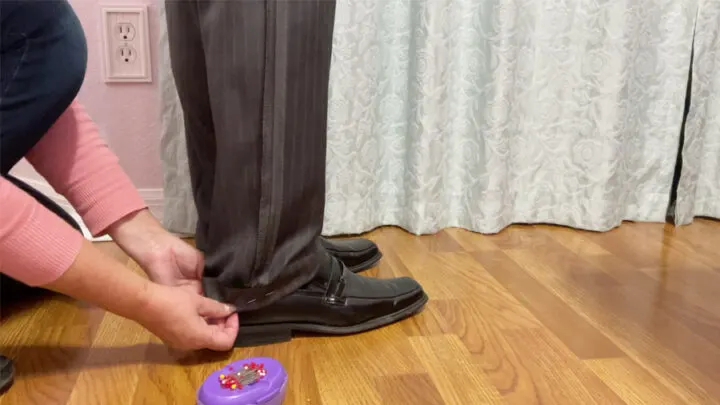 I tried to follow the rules, still not convinced that the folds at the front were necessary. So, I decided to make them longer in the back and shorter at the front so there are not so many folds above his shoes. When my husband put the pants on, it looked very weird – the slanted hem…
I had to rip the hem again and read about the "break" once more. Finally, I managed to get it right, or so I thought. I read that in the back it should fall somewhere in the middle of a shoe's heel counter. But at the front I still had lots of folds if I kept the required length at the back. I didn't like the folds, so I decided to make the pants a little bit shorter in the back (like at the top of the heel counter, not in the middle) so they don't have that many folds at the front. And again – when he sat down the pants still didn't look right – and too short. Pew… What a difficult task!
In the end, I managed to get the pants hemmed properly. But, I've learned my lesson to never underestimate the power of a HEM.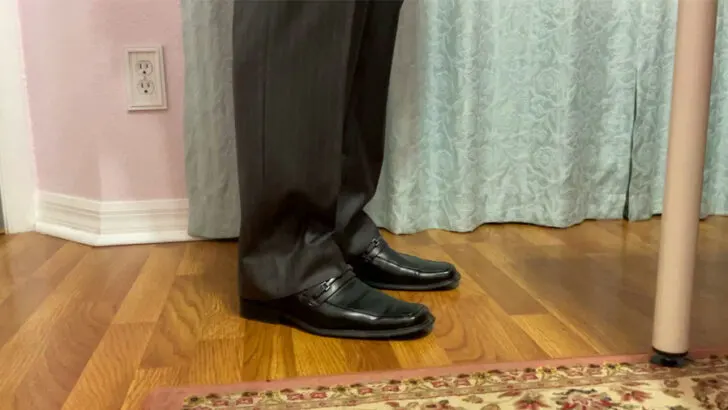 ✅ Related tutorial: Hemming 101: A Guide To Different Types Of Hems
The old saying goes: "The master has failed more times than the beginner has ever tried." This means that failure is an inevitable part of the journey towards mastery in any field including sewing. It implies that one can only become a master by persevering through failures and learning from them. In essence, the more you fail, the closer you are to becoming a master.
You can rest assured I learned very, very well the "length of the hem" lesson, if I remember it so clearly after 20+ years.
General Recommendations For Women's Pants Length
As someone who loves sewing and fashion, I know firsthand how important it is to find the perfect pants length that flatters your body type and suits your style. With so many styles and cuts available, it is really overwhelming to know which length is right for you. And of course we all make mistakes sometimes, even the most experienced fashionistas can make mistakes when it comes to choosing the right length.
Recently, I purchased a pair of jeans that fit me perfectly, but unfortunately, they were too short. When I wore them, I felt uncomfortable and self-conscious, like a teenager wearing clothes that her mom picked out. But I didn't give up on them just yet.
I found a solution that worked for me – I started wearing them with boots. By tucking the pants into my boots, I was able to hide the fact that they were too short. It was a simple fix that made a big difference in how I felt about my look.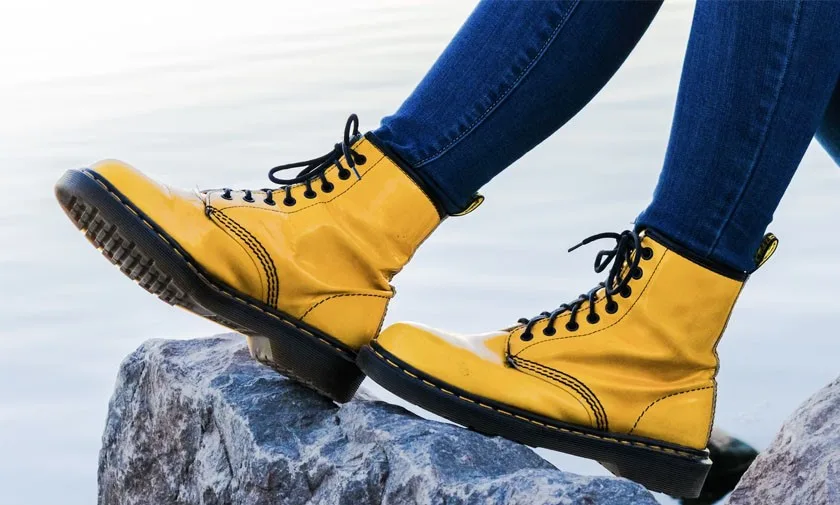 The lesson here is that even if you make a mistake when it comes to choosing the right pants length, there can be a solution to fix the problem.
Here are some general recommendations to help you find the right length for various styles of pants.
First of all, consider the type of shoes you will be wearing with your pants. If you plan on wearing heels, your pants should be slightly longer to create a streamlined look. If you plan on wearing flats or sneakers, your pants may be shorter to show off your shoes.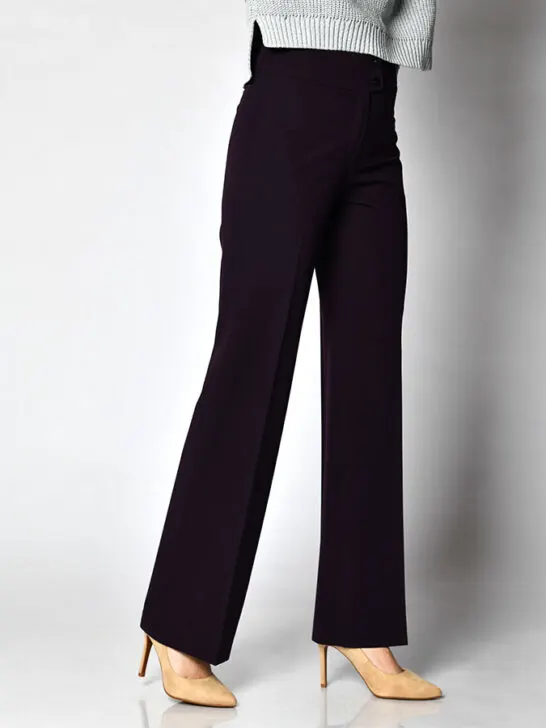 When a woman wears stilettos with regular classic trousers, there is a risk of the hem getting caught under the heel and getting ripped or damaged. This can be especially problematic if the trousers are too long or if the heels are particularly high.
Let me tell you about the time I wore stilettos with my work trousers. I was feeling pretty confident thinking I was looking my best. Little did I know that I was about to experience a wardrobe malfunction. As I was walking down the hallway, I suddenly felt a tug at the bottom of my pants. To my horror, I realized that the hem had gotten caught under my heel, and I had ripped it.
So, lesson learned – when it comes to wearing high heels with classic trousers, it's important to choose the right length of pants and heel height. I clearly missed the memo on that one. From now on, I'm sticking to flats and shorter heels when I wear trousers. I decided to leave the stilettos for dresses and skirts.
The occasion is also an important factor to consider when choosing pants length. Different occasions call for different styles and lengths of pants. Here are some general guidelines:
For casual occasions, cropped pants and ankle-length pants work well.
For formal occasions, longer pants that touch the top of your shoes are more appropriate.
The length of women's pants will depend on the style of the pants. For example, skinny jeans should hit at the ankle or a bit below it, while bootcut or flared pants should hit at the top of the heel. Palazzo pants should hit at the floor (well, almost).
Note: Some of the links on this page are affiliate links. This means I will receive a commission if you order a product through one of my links. I only recommend products I believe in and use myself.
Classic Trousers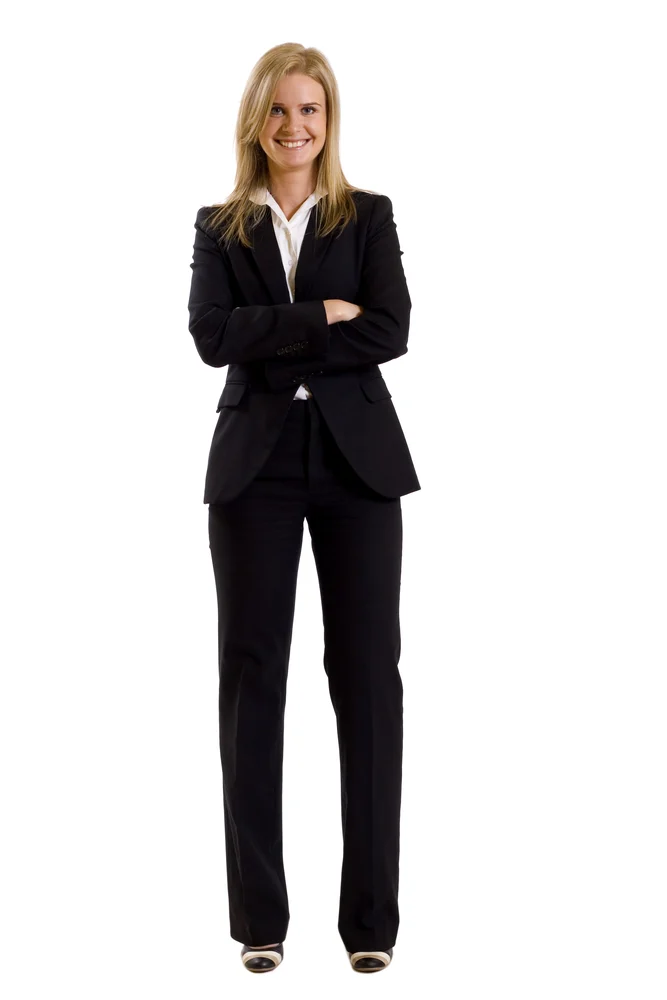 When discussing classic trousers, I am referring to regular work pants that aren't too tight, too wide, flared, or cropped. They are wardrobe essentials that never go out of style. They typically feature a straight or slightly tapered leg and are designed to fit well and flatter the body, with a tailored waistband and a clean, streamlined silhouette.
The trousers can be hemmed to just the top of the shoe, without a break, for a modern look. When pairing these pants with pumps, only the front of your shoe should be visible, giving the illusion of longer legs. It is important to avoid trousers that are too long, which can result in a messy hem, or too short, which can make the ankle visible.
Wide Leg Women's Pants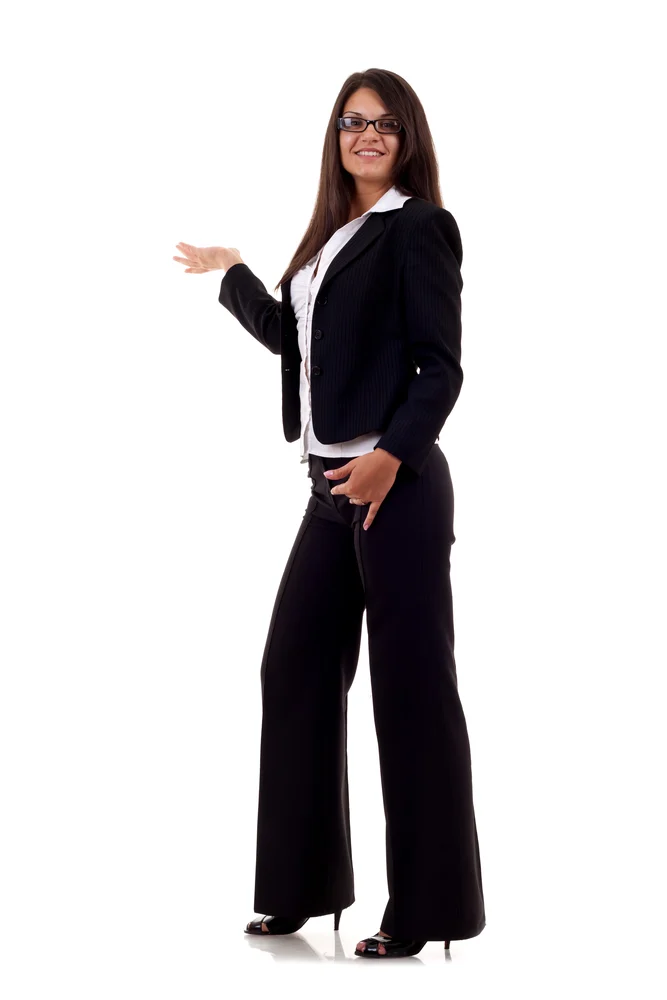 Wide leg women's pants (or jeans) are a type of pants that feature a relaxed fit and a wide leg opening. They are typically made from lightweight and flowy fabrics. For a casual look, they can be paired with a simple t-shirt and sneakers, while for a dressier occasion, they can be paired with a blouse and heels. Wide leg pants can also be worn for work, paired with a blazer and pumps for a professional look. They are comfortable and easy to wear, making them a great choice for travel or everyday wear.
Wide leg pants are best paired with a longer hem length when only a small peek of the toe is showing. The hem should be long enough to hide the shoe but short enough to prevent dragging on the floor.
Skinny Jeans And Pants And Jeggings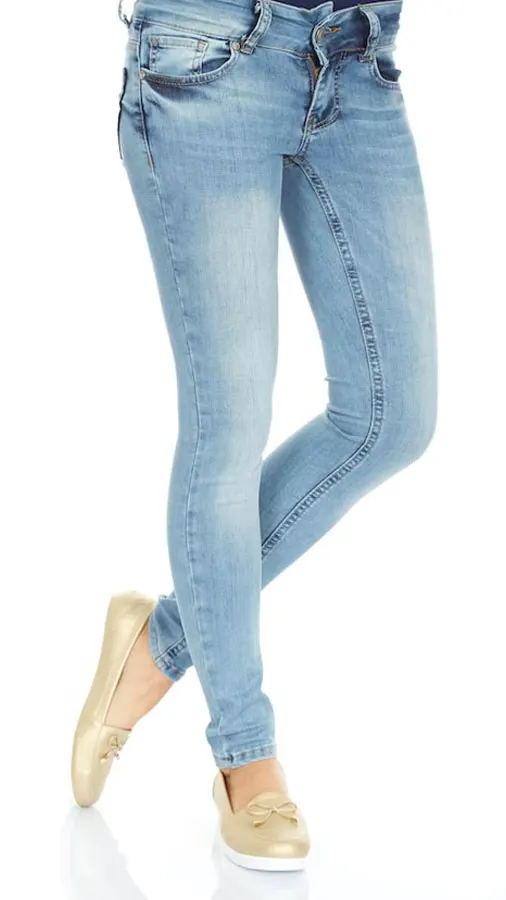 Skinny jeans, pants, and jeggings have become increasingly popular in recent years. They are now worn by people of all ages and are considered a staple in many wardrobes.
They are slim-fitting pants that hug the body from the waist to the ankle. They are typically made from denim and feature a stretchy fabric blend to provide a comfortable and flattering fit. Jeggings are a hybrid between jeans and leggings, with the look of denim but the stretchy and comfortable feel of leggings.
The regular length for skinny jeans and pants and jeggings is typically ankle length, meaning they fall just around the ankle bone. This length is designed to provide a flattering silhouette. However, some styles may be longer, depending on the wearer's height and personal preference.
Palazzo Pants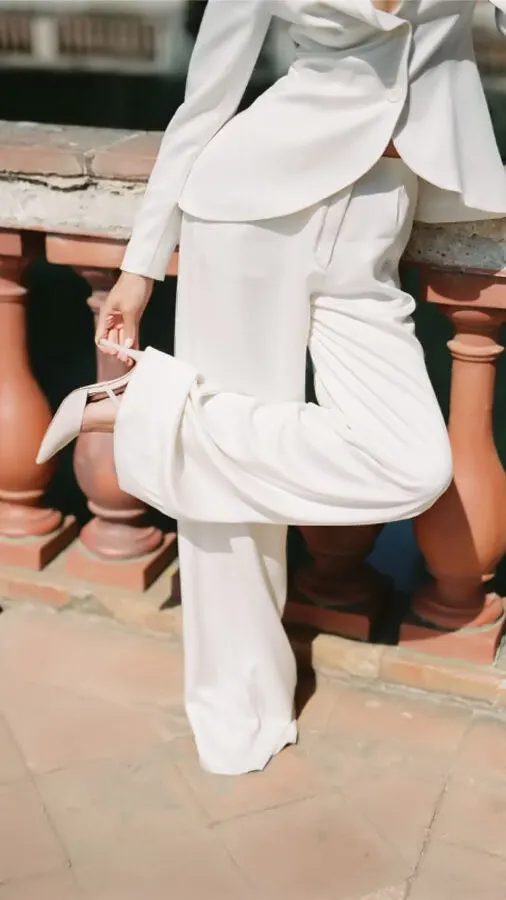 Palazzo pants are a popular type of loose-fitting women's trousers that have been in fashion for decades. They are characterized by their extremely wide-leg, that flares out right from the waist, flowy silhouette, and are typically made from lightweight fabrics. They are a popular choice for summer wear due to their comfortable fit and breezy feel.
The length of palazzo pants can vary, with full-length versions being the most common, extending all the way to the floor. But I also saw cropped versions that fall between an inch above the ankle to mid-calf, allowing for more versatility in styling.
Cropped Pants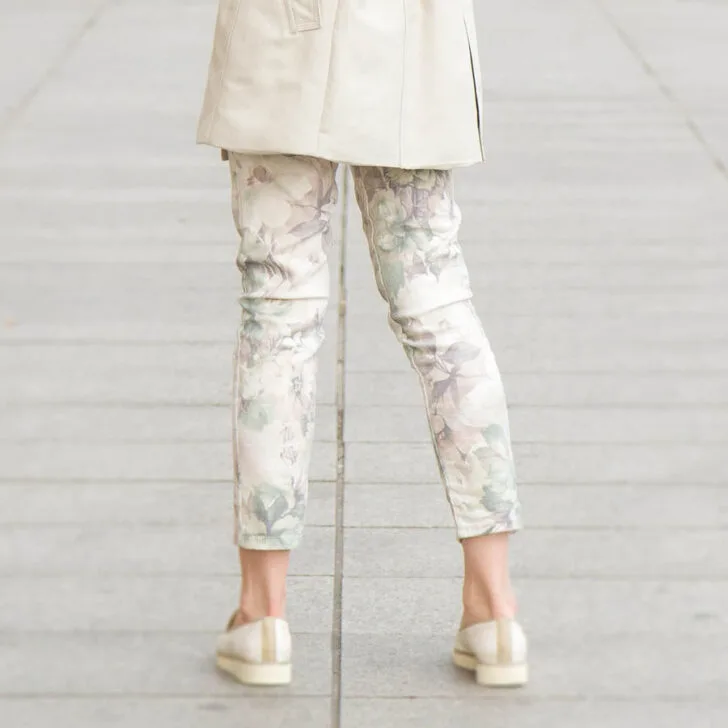 Women's cropped pants are a popular style of pants that are designed to fall between the length of shorts and full-length pants. They are typically shorter than regular pants, ending at or above the ankle. The length of cropped pants can vary depending on the style and fashion trend, with some styles ending mid-calf or just below the knee.
Cropped pants can come in different styles, such as straight leg, tapered, or flared. Each style can affect the length of the pants, with tapered and straight leg cropped pants typically ending just above the ankle, while flared cropped pants can end at mid-calf or just below the knee.
In addition to fashion trends, the length of cropped pants can also be influenced by the wearer's body type. Women who are shorter in stature may prefer cropped pants that end higher on the leg, while taller women may opt for longer cropped pants that end closer to the ankle.
Length Recommendations For Specific Styles
Here are some slightly more specific recommendations for how long paints should be according to pants style.
Dress Pants Length
For dress pants, the length should be such that they rest gently on the tops of your shoes, with a slight break at the front crease. This provides a polished and professional appearance.
Also, keep in mind that while sitting, dress pants should not rise too high above your ankle, as this may appear unprofessional and uncomfortable.
Suit Pants Length
Suit pants should have a similar length to dress pants, with a slight to medium break at the front crease and resting gently on your shoes. Finding the right suit pants length is essential for an impeccable fit and professional appearance.
Ski Pants Length
Ski pants should be long enough to cover your ski boots and keep snow from getting in, so they'll generally be 4 or 5 inches longer than your typical pant length. The bottom of the pants will have snaps or elastic to allow the pants to go over your ski boots and also create a snug fit to keep snow out.
Make sure to try on ski pants while wearing your boots to ensure that the pant legs aren't too long. You don't want them to catch on your bindings!
Tuxedo Pants Length
Tuxedo pants should follow the same guidelines as suit pants, with a slight break at the front crease and resting gently on your shoes.
Scrub Pants Length
Scrub pants should be comfortable and allow for easy movement. Scrub pants with knit cuffs also usually have a slim leg cut and should stop just at the ankle with no break.
On the other hand, more common flare scrub pants will have a medium to a full break. The ideal length is touching your shoes without dragging on the ground.
Golf Pants Length
Golf pants typically have a medium break, meaning the hem rests on your shoes with a slight fold for a comfortable and polished look on the golf course.
Hiking Pants Length
Hiking pants should be long enough to cover your ankle and the very top of the shoe so they provide protection from the elements. However, they should not drag on the ground, as this could cause tripping or quicker wear and tear.
Work Pants Length
Work pants should be an appropriate length for your specific job requirements while providing comfort and ease of movement. Generally, the hem should rest on your shoes with a slight break to medium break, depending on the environment you work in.
Baseball Pants Length
Baseball pants can vary in length, from just below the knee to the ankle, depending on personal preference or team style. The most important factors are comfort and ease of movement.
Knicker-style baseball pants stop just below the knee and have an elastic hem. Longer baseball pants go down to the ankle and generally have a full break to allow for extra fabric when bending, crouching, and sliding. Ensure the length doesn't go down to the ground to prevent tripping and premature wear and tear.
Cargo Pants Length
Cargo pants should have a similar length to chinos or casual pants, with the hem touching your shoes and a slight break for a relaxed, casual appearance.
Palazzo Pants Length
Palazzo pants are typically long and flowing, with the hem just skimming the ground or resting on the top of your shoes for a comfortable and stylish look.
Denim Pants Length
There are several different styles of denim pants, or jeans, which means there is quite a bit of "play" in hemlines. Typical jeans with a straight leg or slightly tapered cut should generally have a slight break, with the hem resting on the top of your shoes.
On the other hand, bootcut styles will look best slightly longer to partially cover the shoe. And capris or slim styles (for both men and women) look best when hemmed to a shorter length, exposing the ankle.
How Long Should Pants Be According To Leg Style
From slim to wide, the leg style of pants goes a long way toward determining how long the pants should be in order to provide a balanced and fashionable look.
Straight Leg Pants Length
Straight leg pants should have a slight to no break, with the hem stopping just below the ankle and barely touching the top of the shoes for a clean look.
Wide Leg Pants Length
Wide leg pants typically have a longer length than other styles, as the hem should almost touch the ground while still allowing for easy movement and avoiding dragging.
Flared Pants Length
Flared pants should be long enough for the flare to be visually effective. These pants generally have a full break with the hem resting just above the ground or on your shoes for a stylish and comfortable appearance.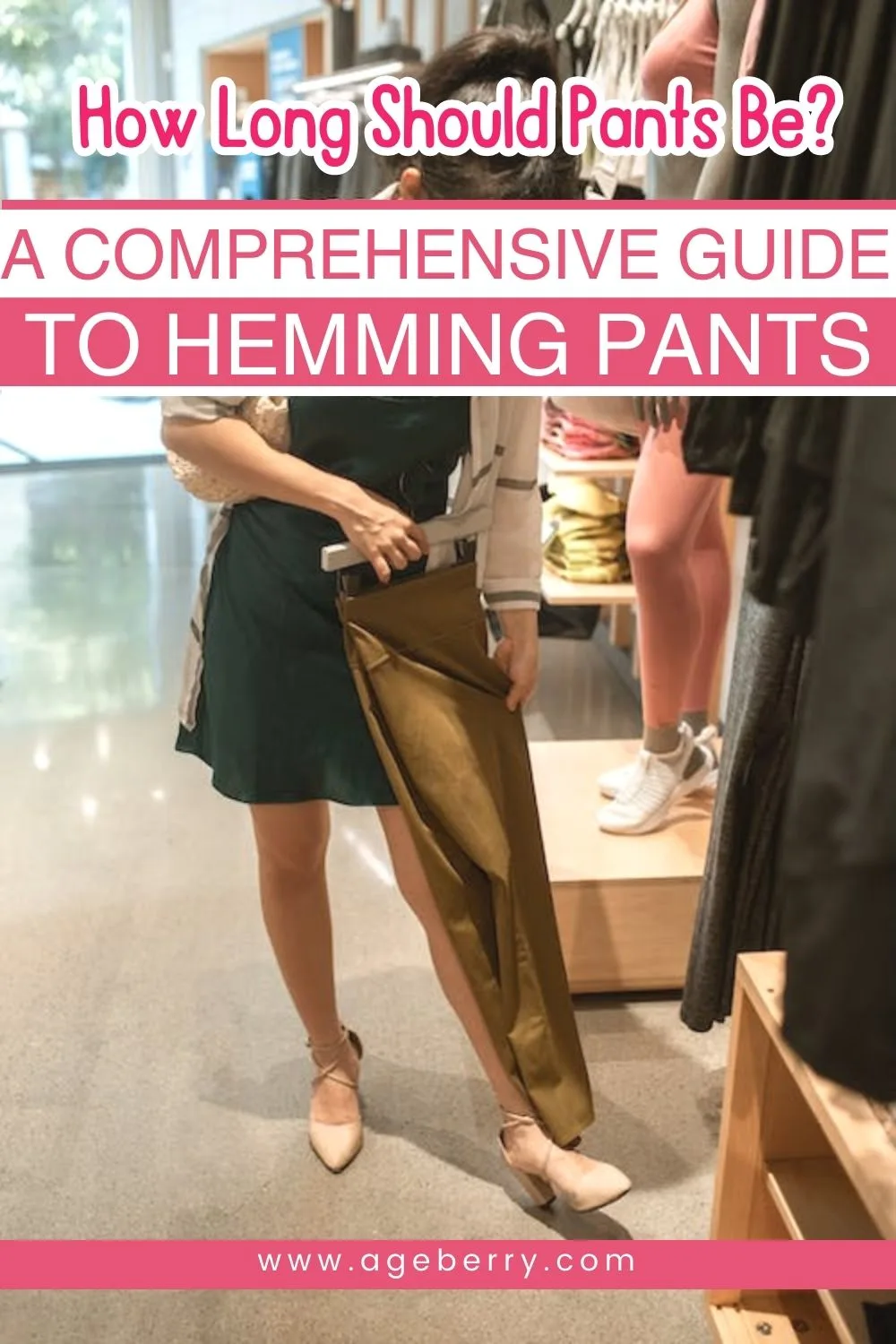 Of course, there are no hard and fast rules when it comes to knowing how long pants should be! Keep in mind that pants length may vary based on your body type, personal style choice, shoe height, and the type of leg opening.
---