A DIY baby bib is a simple sewing project that even complete beginners can make. It's super quick and easy yet makes a very practical item that you can use yourself or give as a gift that any new parent will appreciate. Check out this collection of different baby bib patterns and styles to find the right one for you!
A baby bib is a must-have item for any new parent to help keep babies dry by catching and soaking up food and drink spills. It's also a great solution for excess drool from teething infants. Bibs can be easily customized to style preferences or personalized for the baby. And if that wasn't enough, DIY baby bibs are often cheaper than purchasing from a store.
I've tried sewing many different styles of baby bibs over the years, and if there's one thing I've learned, it's that there is no one right way to make baby bibs. I love the flexibility that a project like this provides, but sometimes having nearly endless potential can make it hard to narrow down the possibilities enough to choose just one (or two!).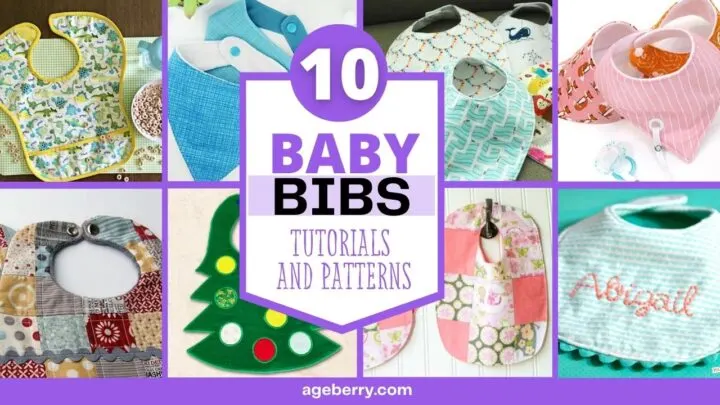 Are you looking for some inspiration to help you narrow down the choices? You will find something here to suit everyone from the classic to the trendy gift giver who likes to make their own items and gifts. Take a look at these baby bib patterns and styles – which one(s) will you make?
Types Of Baby Bibs To Make
There are a few different baby bib patterns that you can use to make a personalized dribble bib for your baby or as a gift for new parents. Some of the designs will be more traditional, while others might have some modern twists. However, every single one of them has a couple of things in common: they're adorable and easy to make.
If you really want to make a great all-in-one gift, bundle your homemade baby bibs with a DIY bunny lovey!
Christmas Tree Baby Bib: In The Hoop Embroidery Project
In the Hoop embroidery is a new way to make all sorts of fun things right on your embroidery machine. You can create adorable baby bibs that will keep your little one clean and dry with just your embroidery machine with no sewing machine required. In my step-by-step tutorial, I will show you how to make a fabric Christmas tree baby bib in the hoop. This design takes about an hour to finish (from start to finish) and when you're done stitching it up – you get something really unique and your creation will be ready to wear!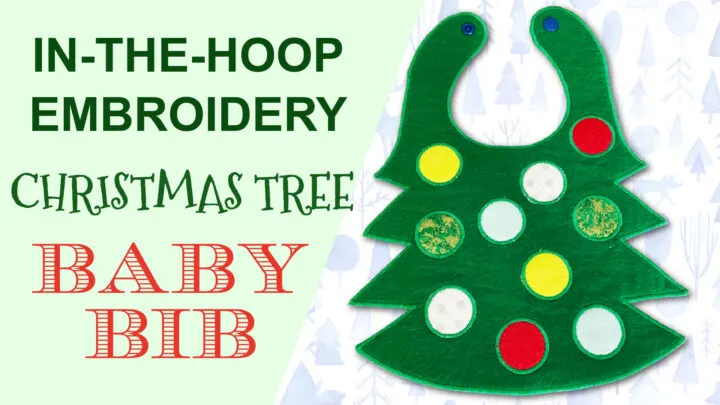 DIY Bandana Baby Bibs
In the last few years, traditional baby bibs have given way to the now very popular bandana shape. This style is a current favorite for many parents because it's cut in a "V" shape instead of a "U" shape. This allows it to gather under the baby's chin while adding a stylish feature to their outfit.
In other words, not only does it look adorable, but it's also a comfortable design that naturally catches food, liquids, and drools with ease.
Bandana Baby Bib Pattern In Two Sizes
Apple Green Cottage tested several different styles of bandana bibs before coming up with the final product. Then, the pattern was improved by adding a second size, so now there's one for babies and a larger size for toddlers.
This tutorial is very thorough and covers everything from the fabric to use to the seam allowance. It's even got a tutorial showing how to install KAM snaps! Don't forget to download the free PDF baby bib pattern to make it yourself.
Photo Credit: www.applegreencottage.com
DIY Bandana Droll Bib Pattern
This tutorial from Make It Love It is very thorough, showing in detail (with pictures!) every step of the process. The pattern is simple but varies in shape from other bandana bib patterns. And the best part is, it only takes 15-20 minutes to complete from start to finish, so this project is ideal for sewists of all levels.
Using a patterned fabric on the front helps the bib to look cleaner as it does its job of keeping the baby's clothes from getting wet and messy. Doesn't the flannel plaid print version look adorable?
DIY Waterproof Baby Bib Patterns
If you want to take your baby bibs to the next level, try making one of these waterproof baby bib patterns. Some fabrics may provide a good barrier and absorbency, but these patterns will prevent any moisture from getting through to the baby's clothes.
Waterproof Baby Bib With A Pocket
Check out this pattern from Crafting Cheerfully. It uses PUL laminated fabric to create a fully waterproof design, complete with a pocket to catch any crumbs or spills. This pattern uses baby-friendly velcro to secure the bib behind the neck, and bias tape is used around the border as the seam.
This pattern creates bibs that have kid-friendly patterns but are really meant to be more utilitarian.
Cute Waterproof Bib Pattern
If you want a bib that's cuter but no less functional, try this pattern from Hello Bee. Pretty much the Cadillac of all baby bibs, this one uses PUL waterproof fabric as the back layer but has a layer of adorable printed material in front and a layer of absorbent flannel in the middle. Pretty and functional, it's everything a parent could want in a baby bib.
Quilted Baby Bib Patterns
Bibs solely used to be functional. Looking stylish wasn't even a factor. Now, because babies often wear bibs almost all day, they have become part of the entire outfit. In addition to the bandana style and waterproof bib styles, another baby bib pattern is a quilted style. It's equally adorable and absorbent.
Here are a couple of examples of quilted bibs.
Patchwork Baby Bib Pattern
Although quilted patterns often take much longer than non-quilted versions, this baby bib pattern from Sew Can She makes a quick project. If you've always wanted to sharpen your quilting skills, a small job like this one is ideal for that. Use a mix of printed cotton fabrics as well as solid-colored flannels for a stylish baby bib.
Note: This pattern does not include a special absorbent or moisture barrier layer of fabric on the back.
Multi-Layer Quilted Baby Bib Pattern
This example from Our Cozy Nest has a quilted front layer that's slightly more involved than the previous example. Further, there's an absorbent layer of Minky fabric as the back layer, snaps for the closure, and a very detailed and helpful tutorial to ensure success if you haven't done a project like this before.
Kerchief Baby Bib Patterns
What's the difference between bandana bibs and kerchief baby bibs? Honestly, not much, if anything. Both designs share a similar shape and are made very much the same way. Both are adorable as well as functional.

Check out these tutorials to help you make one of your own.
Terry Cloth Absorbent Layer
This pattern from DIY Joy includes a Terry cloth back layer to provide absorbency as well as a barrier to prevent the baby's clothing from getting wet. The eye-catching cute cotton fabric on the front is what makes this bib amazing, along with the snap dome closure.
Attach A Binky Leash
Besides wet, soiled clothing, what's another thing that parents dread? For me, it was having the baby drop the binky again and again…and again. This clever baby bib pattern from Sew4Home has a solution for that problem. In addition to being cute, absorbent, and easy to make, this pattern includes a grommet and an attached leash to hold onto a binky. If it falls out of the baby's mouth, it won't fall far!
And as if all that wasn't enough, this pattern also includes three different bib sizes for newborns, infants, and toddlers.
DIY Baby Bib Decorating
Choosing various print fabrics isn't the only way to make your DIY baby bibs eye-catching. You can decorate them almost any way that you want to further personalize them and make them unique. With a few simple techniques, the possibilities for customization are endless!
What are some ways that you can decorate homemade baby bibs? Here are a few ideas.
Machine embroidery – You can easily add any design you want using your embroidery machine. Add a dog, a flower, or even a word or monogram with your embroidery machine. You can find many great designs online. Check this site: Sweet Pea machine embroidery.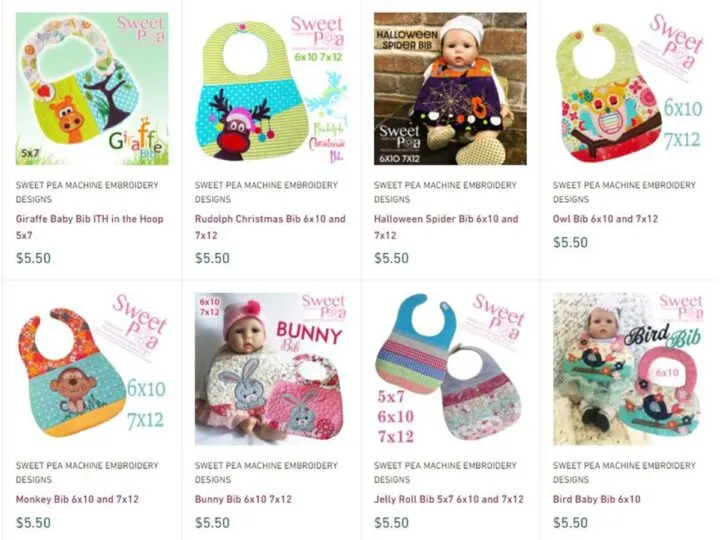 Hand embroidery – If you prefer, you can do hand embroidery instead of using your machine. The process is nearly the same except that it's done by hand, which is great for anyone who loves that hands-on personal touch. Learn more from this tutorial from Made By Marzipan.
Applique – Personalize a baby bib by sewing on an applique patch or a piece of fabric cut into any shape you choose. You can use plain or patterned fabric to create a beautiful final product in the shape of animals, flowers, sports, cars, trains, superheroes, and so much more. Learn more from this tutorial from The Country Chic Cottage.
Cricut – a Cricut machine is essentially a printer for fabric and crafts. You can use the accompanying software to design nearly anything you want to print on your baby bib. Add a cute phrase. No problem. Use your Cricut to include the baby's name or even abstract images. Learn more by reading this tutorial from Craft e Corner.
I hope that you've found all the inspiration you need to make a beautiful handmade baby bib. These baby bib patterns offer great versatility and ample opportunity for personalization in many different ways! If you have any additional questions about making DIY baby bibs, leave them in the comments below so I can answer them for you.
Did you find this tutorial helpful? If so, save this pin (see below) on your sewing board so you can come to this tutorial later when you are ready to use a DIY baby bib pattern, and follow me on Pinterest for more tips, tutorials, and inspiration!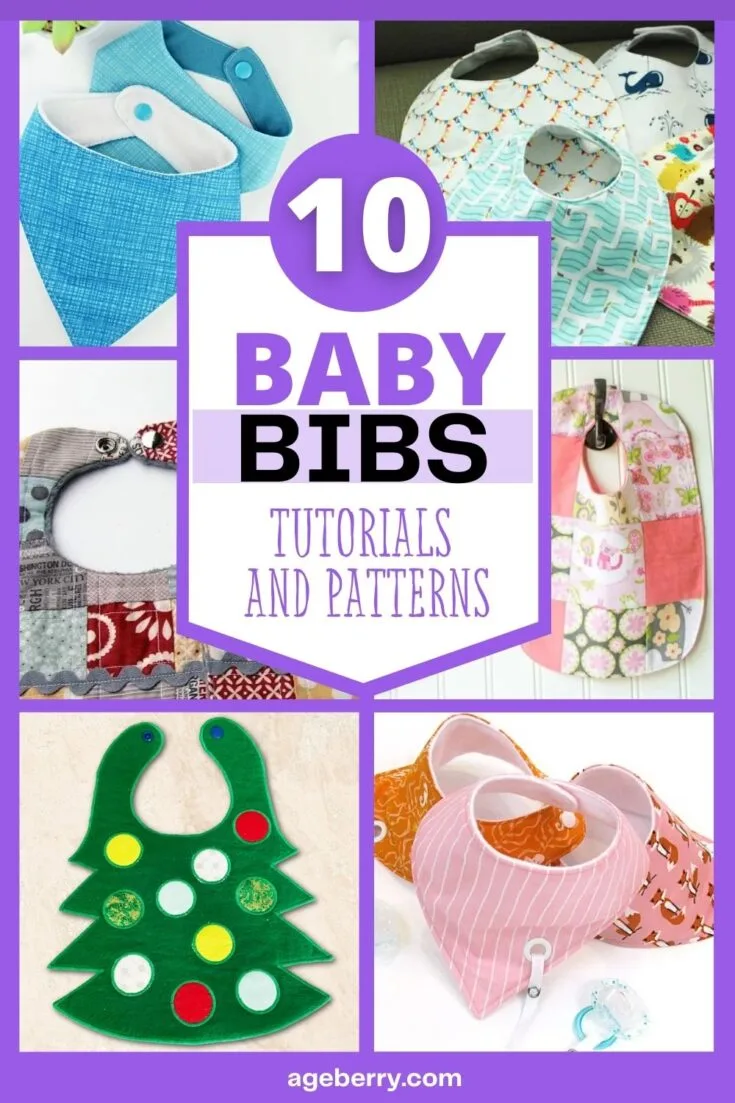 ---