What is flannel fabric and how to sew with flannel? Learn everything you need to know about this soft, cozy material.
Every year once the weather starts to turn and the cool winds of fall start blowing, I break out my flannel shirts and flannel PJs. I just love how warm and cozy they are when I'm feeling cold, and flannel clothing keeps me warm when most other fabrics don't.
Not surprisingly, for most of us, flannel is associated with something sweet, warm, and soft , because flannel comes from our childhood.
I guess everybody owns at least one flannel item, whether it's flannel sheets, flannel-lined pants, or a flannel shirt. But, what is flannel, and what makes it different from other types of fabric?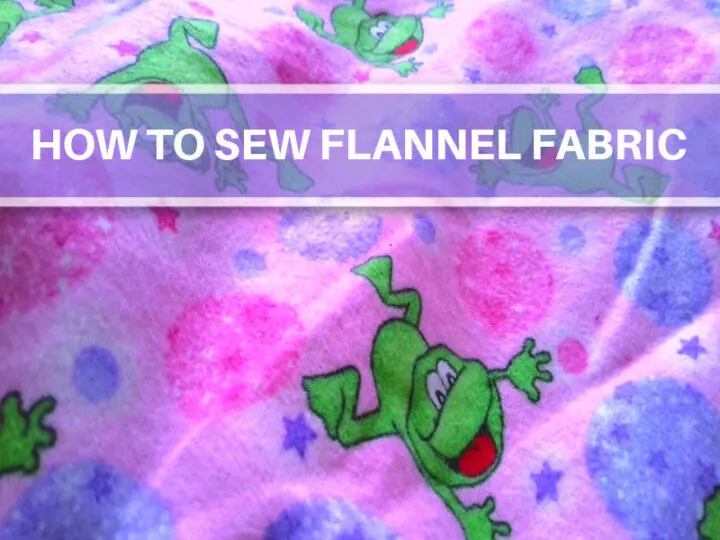 What's Flannel Fabric?
The flannel fabric has been around for centuries.
While no one knows exactly where the origin of the word "flannel" comes from, Wales produced a fabric very similar to flannel in the 16th century.
It's a very soft fabric with a plain or twill weave made from cotton or wool fibers (or sometimes blends with some synthetic fibers) and the main property of flannel is that the entire surface of the fabric is brushed (or napped) on one or both sides to distress it slightly and create a very soft fluffy texture.
On one or both sides of the fabric, there must be a uniform thin pile.
This funny flannel fabric with frogs has a brushed pile on both sides.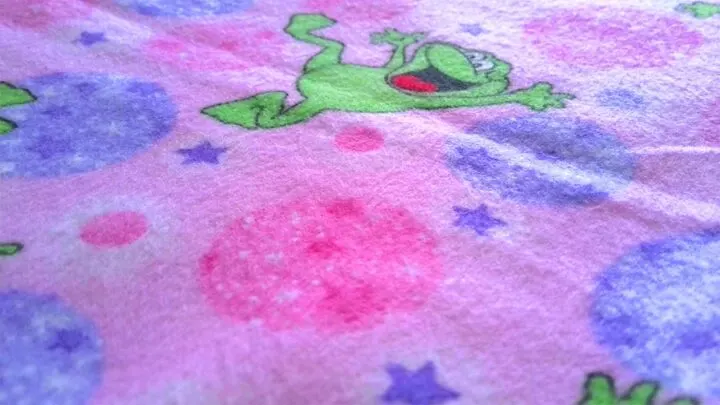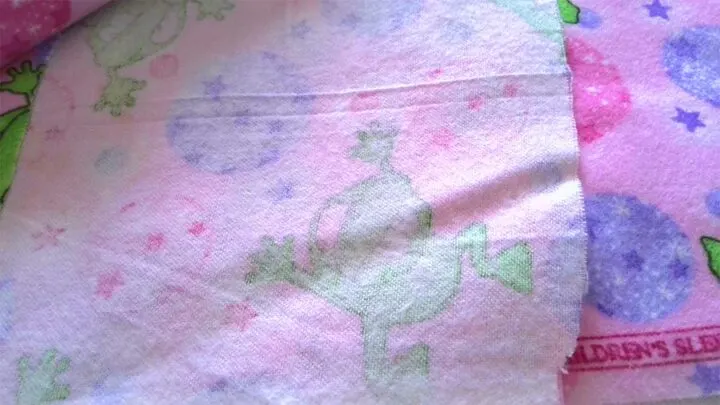 But this one cotton flannel has a fluffy texture only on the right side.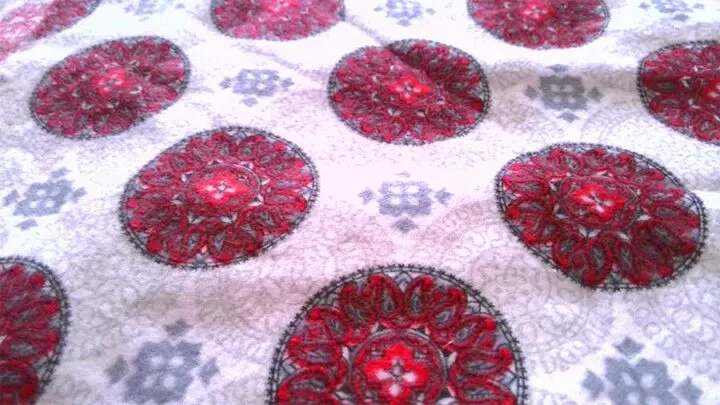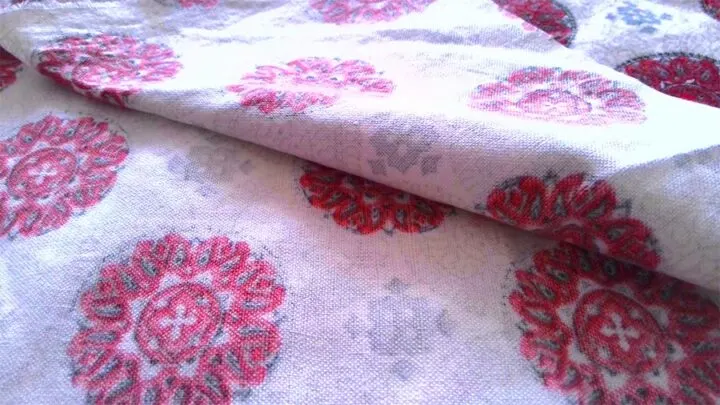 At first, flannel was made only from wool, but now cotton, wool, or synthetic fabrics can be used to make flannel. In fact, by the 20th century, cotton (and sometimes cotton mixed with silk) was the most commonly used to make flannel.
Nowadays, the coziest, softest flannel is 100% cotton. No matter what fiber has been used, the weave and brushing give us that soft warmth we associate with flannel.
Flannel perfectly retains heat, which is why it is an ideal fabric for clothes for cool weather. Moreover, unlike regular wool fabrics, flannel does not prick at all and does not irritate the skin. The fabric is durable and wear-resistant.
DISADVANTAGES OF FLANNEL
During the long-term use of flannel products, lint balls are formed on the surface of the fabric.
Flannel fabrics shrink a lot.
Flannel is very hygroscopic and after getting wet, the fabric dries for a long time.
Sewing with flannel
Flannel (either cotton or wool) is an easy fabric to work with. But there are some specific details to remember.
Cotton flannel must be prewashed before cutting. Wash cotton flannel as you will care for the finished product. Since flannel tends to have a looser weave in order to trap air pockets and make the fabric warm, it can shrink. And sometimes, it can shrink a lot.
Be sure to wash and dry your cotton flannel before making anything with it. You want the shrinking to happen before you cut and sew the fabric!
Iron the fabric after prewashing. But ironing should be done carefully – you can easily stretch the fabric unproportionally especially if you have loosely woven flannel. So just press the fabric with your iron without moving the iron.
As for me, I love to use my steam press – it takes out all wrinkles right away and doesn't stretch any fabric.
✅ Related tutorial: Singer Intelligent Steam Press Review
---
2. Don't prewash wool flannel though. Wool flannel must be steamed in order to shrink. I usually do it with hot iron steam but it can be done by putting the fabric in the dryer on high heat (but roll the fabric in a wet bath towel).
---
3. If the flannel is plain (no prints) and brushed on both sides, be sure to identify the right and wrong sides of the fabric before cutting.
---
4. It's best to cut the patterns on flannel fabric laid out in a single layer to avoid possible stretchiness because the flannel is sometimes loosely woven to create insulating air pockets and the cozy stretchiness that people love about this fabric.
---
5. Flannel fabric creates lots of lint in a sewing machine or serger so make sure you clean them well after working with flannel.
---
6. Flannel fabric frays. In fact, some types of flannel fray pretty easily, so it's best to use a serger for finished fabric edges.
Frequently Asked Questions About Flannel Fabrics
Now that you know a little about what flannel fabric is, there are lots of miscellaneous questions that I receive (and see people ask) about flannel fabric, so I'm answering those for you here
Different Types Of Flannel
I used to think that all flannels were the same. That couldn't be further from the truth!
Thanks to the use of different fibers, the tightness of the weave, and whether the fabric has been brushed on one side or on both sides, flannels are definitely different!
What Is Wool Flannel Fabric?
Just as it sounds, wool flannel fabric is made from wool fiber. It's a heavier-weight flannel that helps you stay warm in cold weather.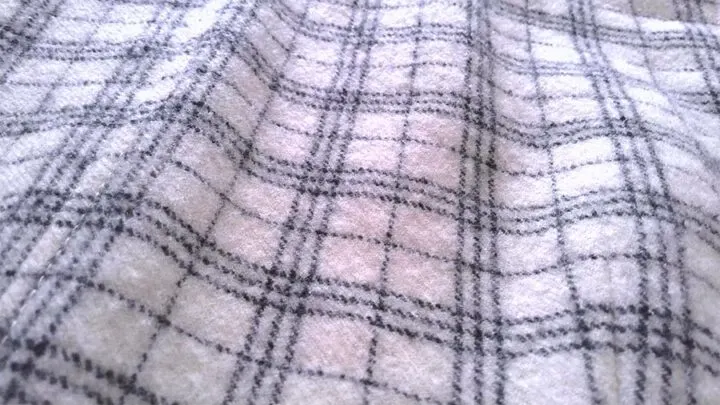 I use wool flannel fabric a lot in my sewing projects. For example, I made this dress from the flannel in the image above. But I don't have a sewing tutorial for this dress.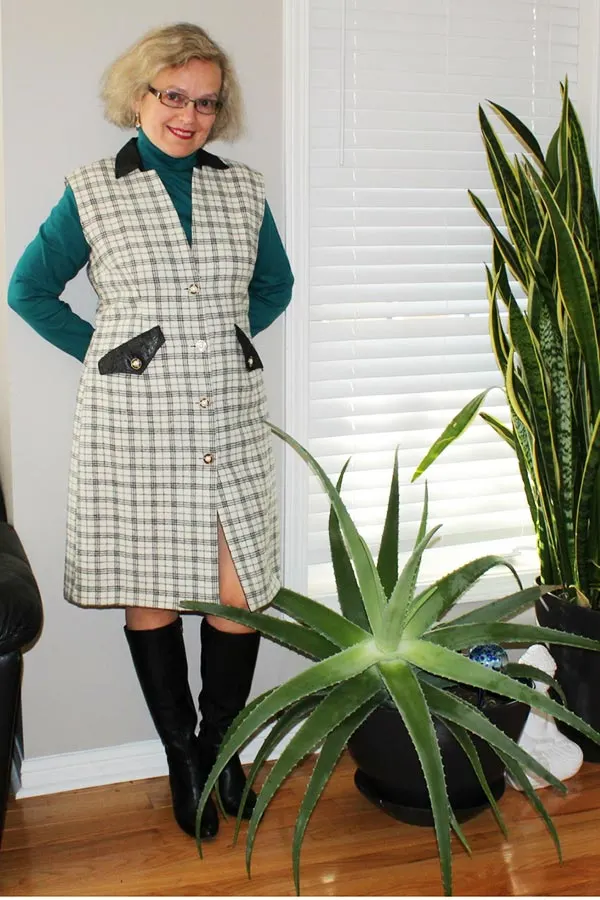 But I have a tutorial on making a simple scarf from wool flannel, check it out, it's a really easy sewing project.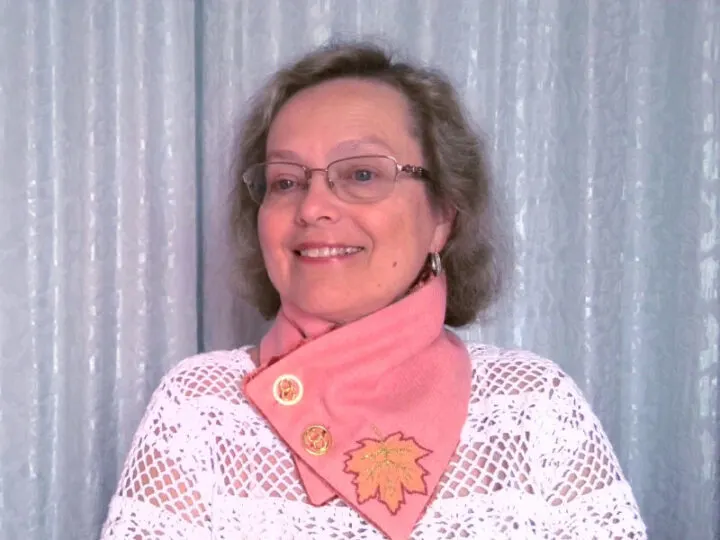 What Is Snuggle Flannel Fabric?
Snuggle flannel can also be known as nursery flannel, and it's even more soft and cuddly than normal flannel. In addition, it typically comes in light, bright colors that are geared towards babies and young children.
Snuggle flannel is nice to work with as it doesn't give or slip much. It will shrink, so make sure to wash and dry it before sewing with it.
By the way, have you ever noticed a warning on adorable flannel fabrics "not intended for children's sleepwear?"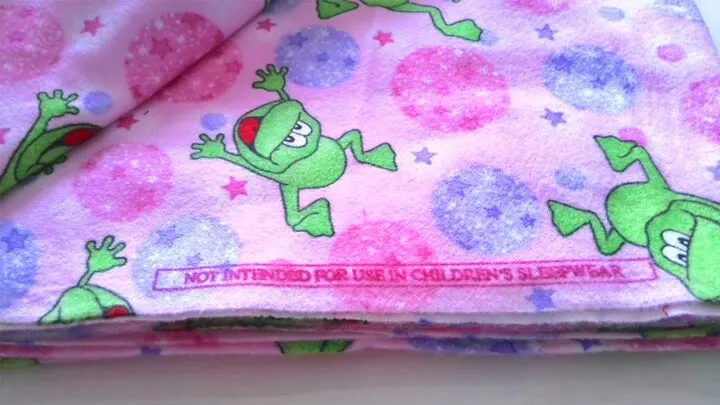 These prints are clearly geared towards very young children – and what do babies and young kids do? They sleep!
I did a little investigating, and what I found out is fascinating. In fact, it's so interesting – and important to know – that I'm sharing it with you in my guide Flame Retardant and Heat Resistant Fabrics 101
Flannel vs Plaid
While flannel and plaid can be used together, they are not the same thing. Flannel is the fabric, and plaid is the print on the fabric.
Flannel fabrics can be plain or have plaid (or other) prints, and not all plaids are flannel fabrics.
Is Flannel Fabric Absorbent?
Flannel made from natural fibers like cotton and wool is absorbent. It will wick away the moisture from your body if you sweat under your flannel clothing.
Is Flannel Fabric Warm?
Air is a terrific insulator, and the loose weave of flannel creates lots of air pockets in the fabric, which helps it retain body heat really well in cold temperatures.
Additionally, cotton is one of the warmest clothing materials, so you'll stay nice and warm when wearing cotton flannel.
Can Flannel Fabric Go in the Microwave?
That's a good question because certain fabrics are safe to go in the microwave and others definitely cannot. If you're working on a "microwave safe" project, you definitely need to know which is which!
Natural fiber like cotton can go in the microwave safe as long as you don't heat it too long. However, synthetic fabrics cannot be microwaved at all as they have varying levels of plastic in them and will melt.
Can Flannel Fabric Be Used For Face Masks?
So, a question on many people's minds lately when it comes to fabric: does flannel fabric work for masks? If you're wondering whether a flannel fabric is good for masks.. yes, it can work well.
The key is to choose a higher thread count so that the weave is tighter and traps more particles when you breathe out.
What Is The Difference Between Cotton And Flannel?
While cotton fiber can be made into flannel, they are not one and the same. I think the easiest way to distinguish between the two is that cotton is the fiber and flannel is the fabric.
Here's an easy way to remember it: Cotton fibers can be woven into the flannel fabric.
Is Flannel 100 Percent Cotton?
A common misperception is that flannel is always 100% cotton. It can be, for sure, and that's typically the coziest, softest type of flannel. However, as I mentioned above, other fibers can be used to make flannel fabric.
Are Flannel And Flannelette the Same Thing?
They are very similar, and I as a sewist can't really tell the difference if I look at both fabrics at the same time. They say that flannelette has a slightly different weave than flannel, and is made only from cotton fiber. Flannelette fabric is the same fluffy, but slightly lighter and softer and is most often used for making bedding sets.
Different Weights Of Flannel
You can find flannel fabrics in many different weights. Cotton flannels can vary from under 5 ounces per square yard to over 6.5 ounces per square yard.
Cotton flannels under 5 ounces tend to have a much looser weave and will:
Be more transparent
Stretch out of shape
Shrink significantly (be sure to prewash!)
Wool flannels are much heavier, typically 10-20 ounces per square yard.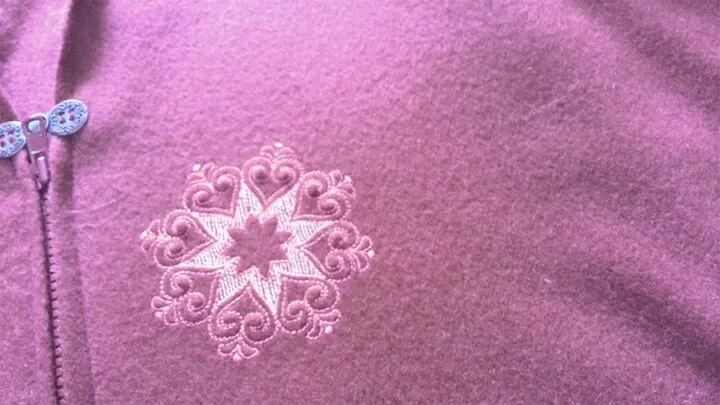 What to Make With Flannel Fabric
Cozy, with cheerful patterns, this fabric seems to be created to give babies unsurpassed comfort. But in fact, its application is much broader.
Flannel fabric is good for many uses, both in clothing and accessories as well as household items.
Here are a few examples of what flannel fabric is used for:
Blankets
Sleepwear
Bedsheets
Shirts
Cardigans
Lined slippers
Men's suits
Lined pants
Lined winter outerwear
Certain baby items such as burp cloths or swaddling blankets
Some household items such as napkins
Flannel Fabric Sewing Projects
It's one thing to say that flannel can be used in a wide range of items, but it's entirely different to actually see examples, right? Here are a few simple DIY projects you can make using flannel.
DIY flannel scarf – simple sewing project from Ageberry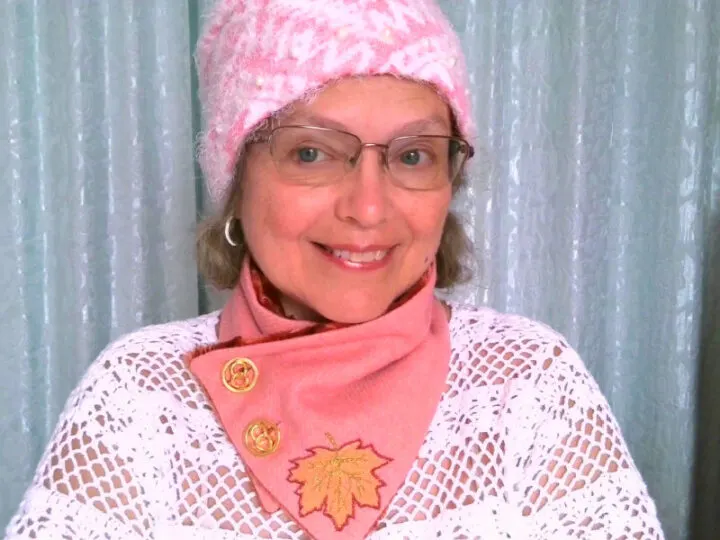 Fashion changes, but scarves are always relevant and at the same time practical and comfortable so it's good to know how to sew a simple scarf, especially since it's a very easy sewing project even for beginners. Read this tutorial to the end, pick up the materials and get to work.
Flannel is versatile, soft, inexpensive, and very sturdy, making it perfect for everyone from babies to outdoorsmen and everyone in between. If you haven't worked with flannel yet, it's time to give it a try!
Did you find this tutorial helpful? If so, save this pin (see below) on your sewing board so you can come to this tutorial later when you are ready to use flannel for your sewing or quilting projects, and follow me on Pinterest for more tips, tutorials, and inspiration!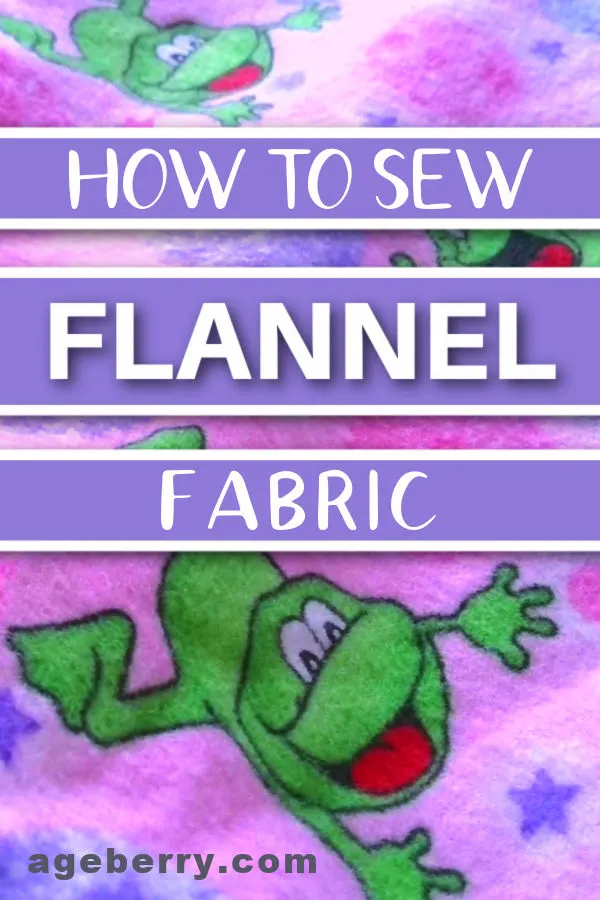 ---