Looking for things to make for Valentine's day? Here is a video sewing tutorial on making a romantic table runner/centerpiece for Valentine's day decor. This sewing project is easy even for beginners.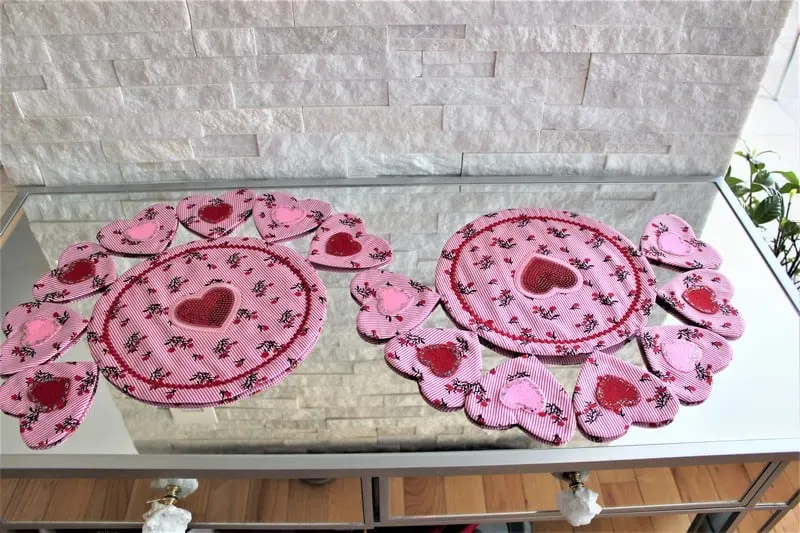 Note: Some of the links on this page are affiliate links. This means I will receive a commission if you order a product through one of my links. I only recommend products I believe in and use myself.
I put away all my Christmas decor and was really surprised by the bare look of my house. What is your next holiday? I need to do something fast and add some color to my space again. Oh, Valentine's Day is coming! One of the most romantic and beautiful holidays of the year! I want to make my house especially warm, cozy and filled with love.
In the modern world, where you can easily buy anything, it is difficult to surprise your loved ones with something purchased in a store or online. So, maybe it's better to make something interesting and most original yourself to decorate the interior? Something like this table runner for a cozy homemade dinner.
This table runner can be also a beautiful and at the same time practical Valentine's day gift for your mother, daughter, and sister.
This table runner is easy to make even for a beginner and it does not require any expensive materials.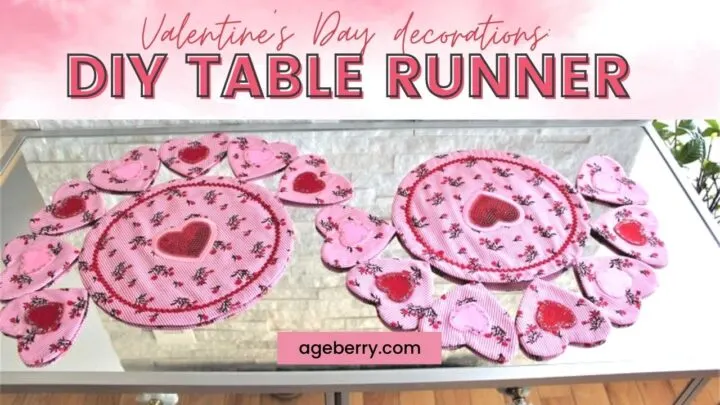 For this, we'll need
Half a yard of quilting cotton
Valentine's Day decor (I used felt hearts with adhesive on one side, 2 embroidered hearts, and a piece of ribbon )
Sewing machine and some other sewing tools
What about the pattern?
You see, it's very easy to cut circles and hearts. But there is a big BUT. They have to be coordinated in sizes with each other to form that shape. And it took me an hour to calculate the correct proportions.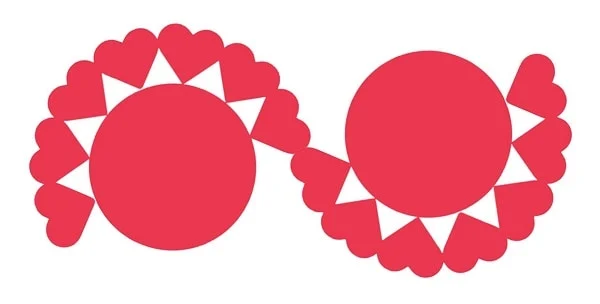 So if you would like to make the same table runner you can go to my free project library to get the PDF pattern instructions from there. If you are already subscribed to my newsletter you will find the password for the library in my emails. If you are not subscribed – sign up for my newsletter and I will send you the password right away
---
STEP 1
Cut 2 circles and 14 hearts from HeatnBond lite – iron-on adhesive.
I just cut everything with regular scissors. But I guess Cricut will work also if you have one. It looks just like a piece of paper on one side, and the other side is adhesive which is activated by a hot iron.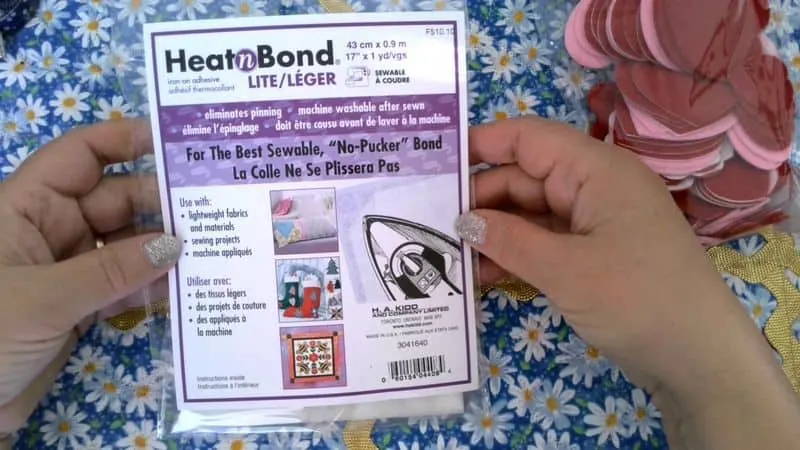 STEP 2
Do the same from lightweight sew-in needle-punched fleece.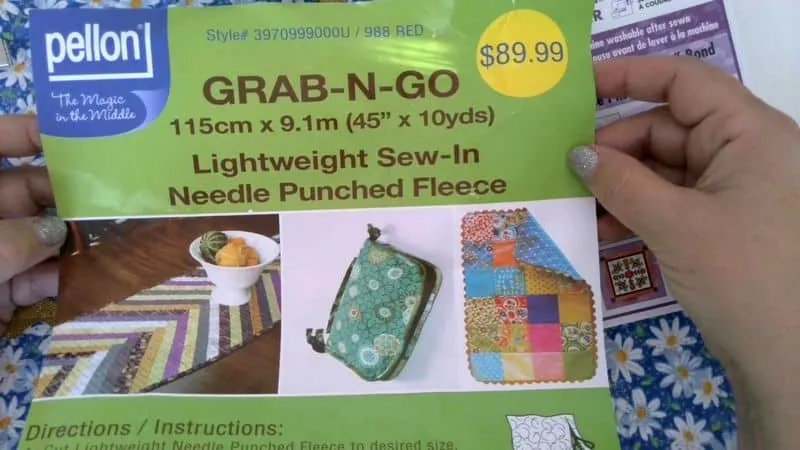 STEP 3
Pre-wash the fabric if you plan to wash the table runner.
Preheat dry iron to medium setting – it's usually wool setting. Place cut from HeatnBond heart and circles pieces paper side up on the wrong side of the fabric. Glide the iron across the paper side for 1-2 seconds.
STEP 4
Cut the fabric around attached hearts and 2 circles in two layers leaving some fabric for seam allowances – but not less than ¼ ". Don't forget to double your fabric because you need a front and back for your hearts and circles.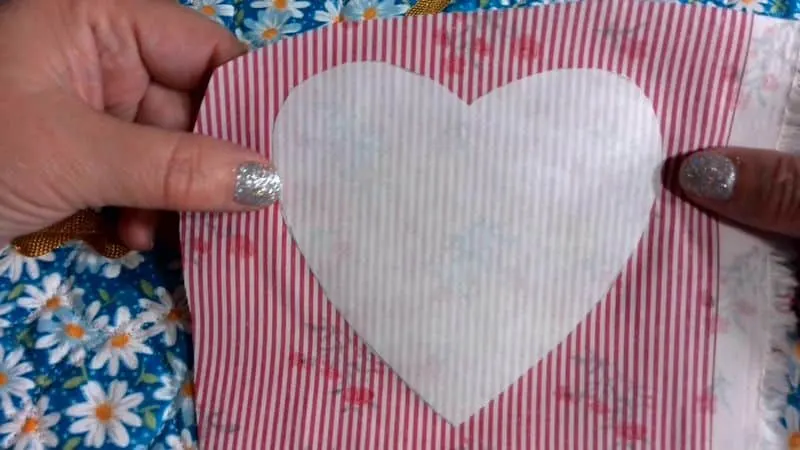 STEP 5
When cool, peel off the paper backing.
It's not so easy if you don't know a small secret. Just use a pin to scratch the paper and after that, it's very easy to remove the paper.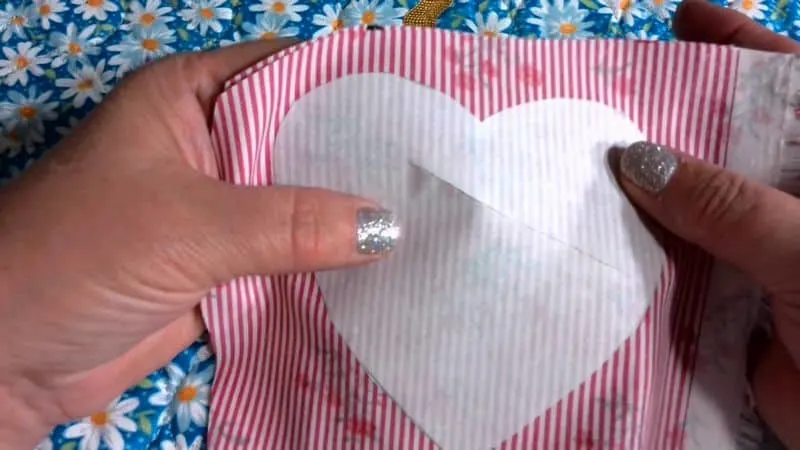 STEP 6
Place corresponding fleece pieces on the adhesive side in the desired position, cover it with a pressing cloth, and iron for 4-6 seconds. So in the end the fleece will be attached to the fabric.
Now you have 2 pieces of fabric right side together and a layer of fleece on top of one piece of fabric.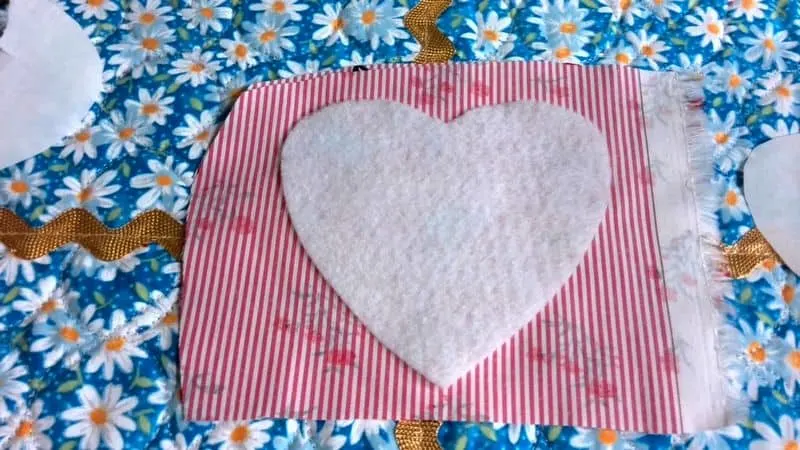 STEP 7
Now stitch all around the fleece pieces. Don't leave anything open for turning – I will show you a way to do it without the opening and it's much faster – I am not in a mood to sew 16 openings by hand. Start stitching somewhere on the side, don't start in the middle up or down.
Here is the stitched piece. Now cut the seam allowances.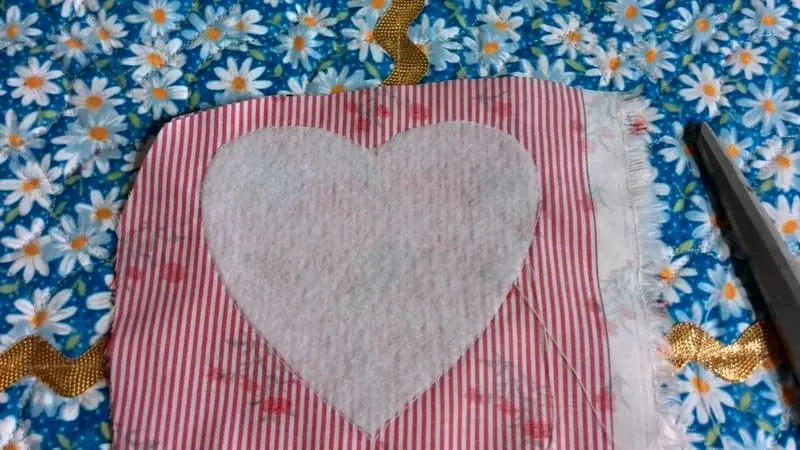 STEP 8
Take one piece – for example, this heart, separate the fabric layers and make a small cut as you see in the video below exactly in the middle of the heart. This opening should be enough for turning the piece over. Turn each piece over like this and PRESS each of them.
STEP 9
I decided to embellish small felt hearts I bought in a dollar store with some glitter glue. I will show you later how I am going to use these hearts. Of course, this is completely optional and you can find other ways of embellishment.
But if you choose the glitter glue have in mind that the drying time for it is quite long – it took about 2 hours for me.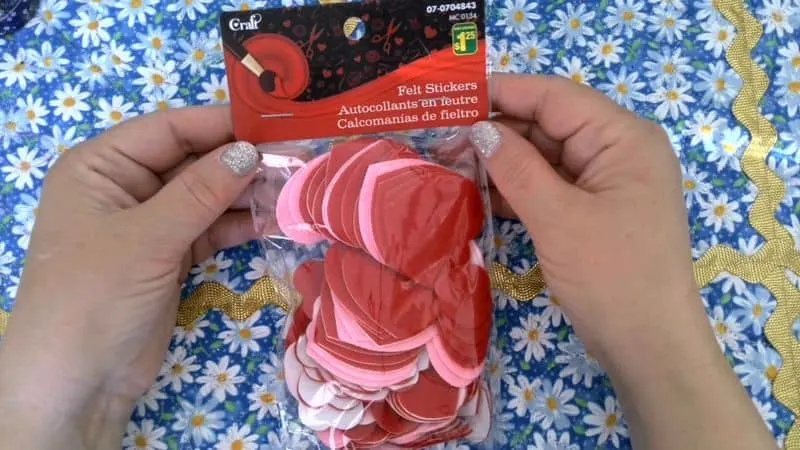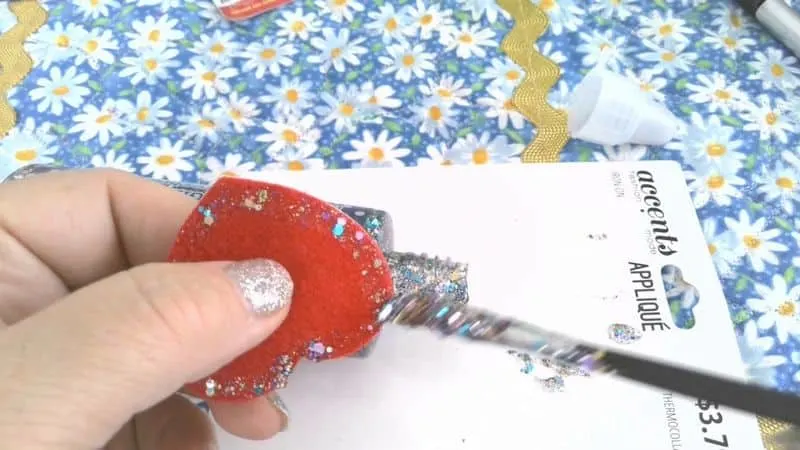 STEP 10
Now place these small hearts on the big hearts covering the openings. These small felt hearts – I bought them in a dollar store and have an adhesive side also.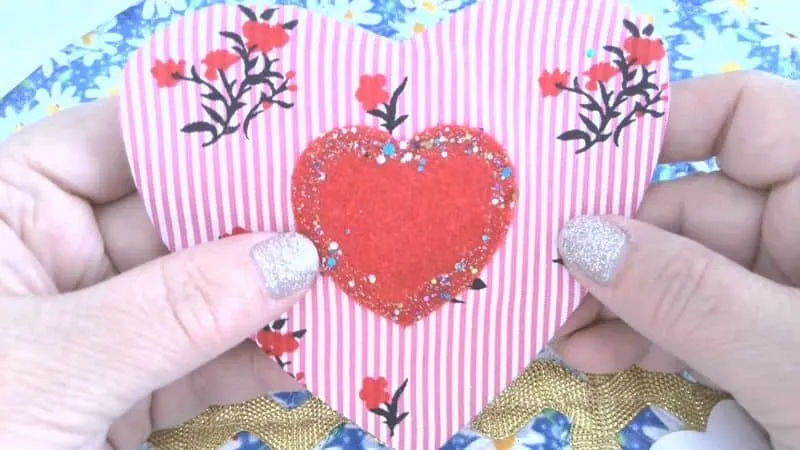 STEP 11
Let's embellish the big circles now. First of all, I bought these embroidered hearts – they also have an adhesive back which is activated by a hot iron. They were about $ 1 each, very inexpensive.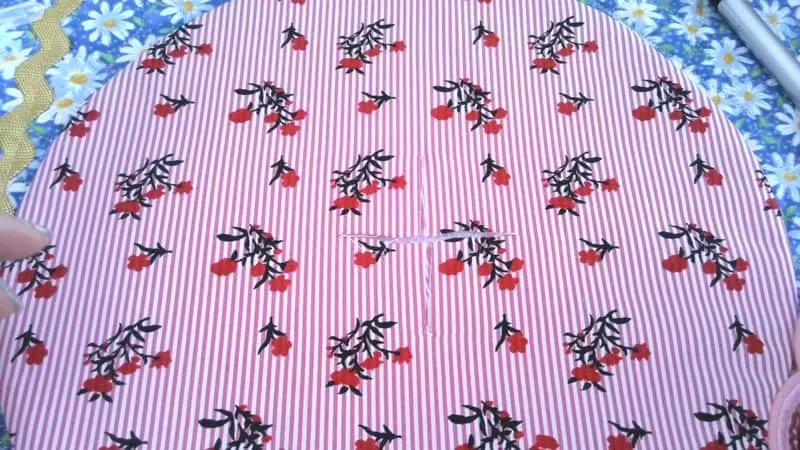 STEP 12
After that, I had to place a stitch all around the circle, about ¾" (or 2 cm) from the edge.
This could be a little bit tricky. If you just sew around you may end up with a completely screwed-up fabric circle. To avoid problems, draw a stitching line with a fabric marker (so you stitch exactly ¾" from the edge), and place pins perpendicular to the edge (just don't sew over them, take them out one by one when you are sewing close to them), and if possible, insert a walking foot (or a walking foot alternative – a Rotary Even foot. Did you hear about it?).
Sew slowly around the curved edge.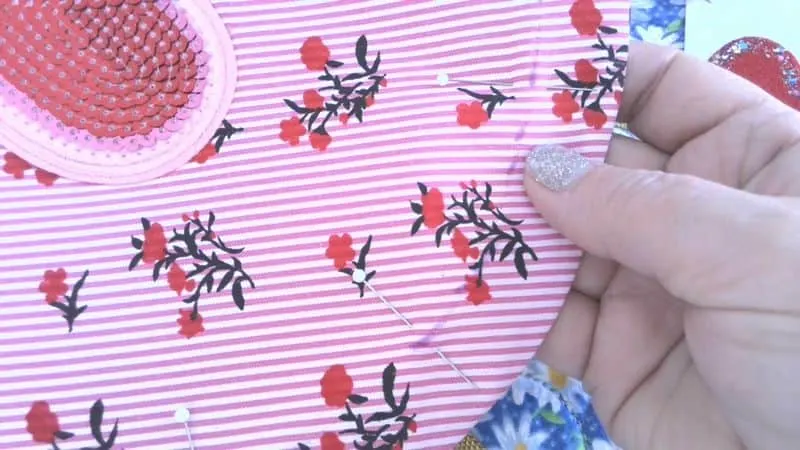 The stitch is necessary but it doesn't look really beautiful – so I decided to sew a small red ribbon over it.
Iron the circles after embellishing.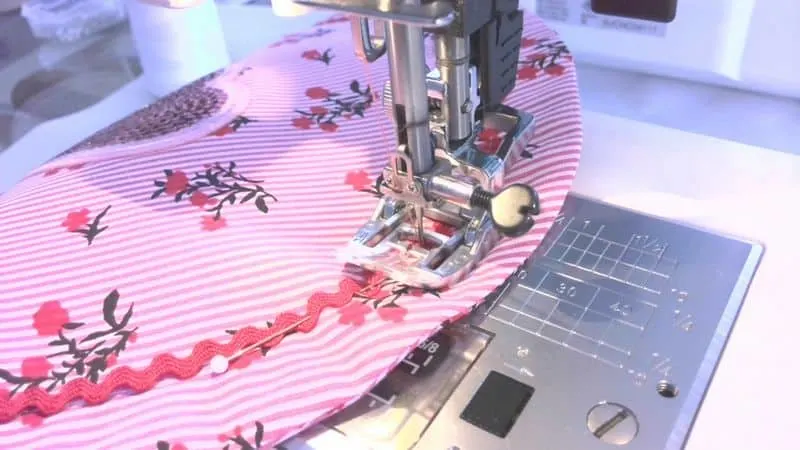 STEP 13
Now we prepared all the necessary pieces and all that is left is to place them in the desired pattern and connect them together with small hand stitches.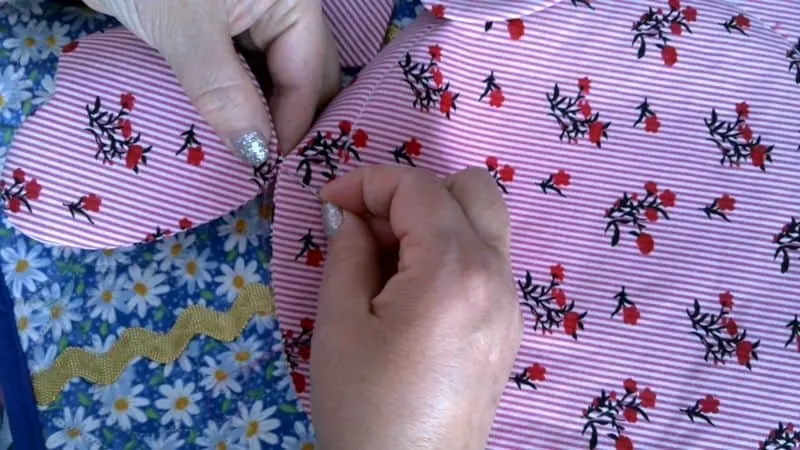 If you are interested in my other sewing projects for Valentine's day check out this tutorial: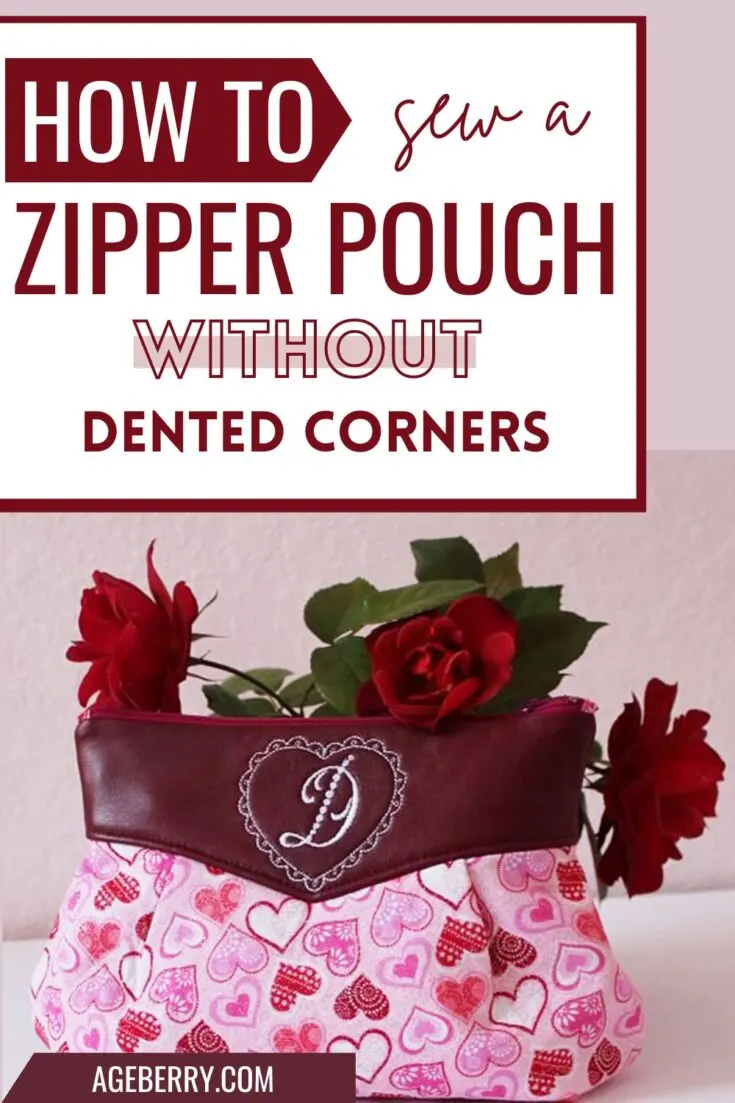 If you prefer a full video tutorial go to my YouTube channel to see the video.
Did you find this tutorial helpful? If so, save this pin (see below) on your sewing board so you can come to this tutorial later when you are ready to sew your own table runner, and follow me on Pinterest for more tips, tutorials, and inspiration!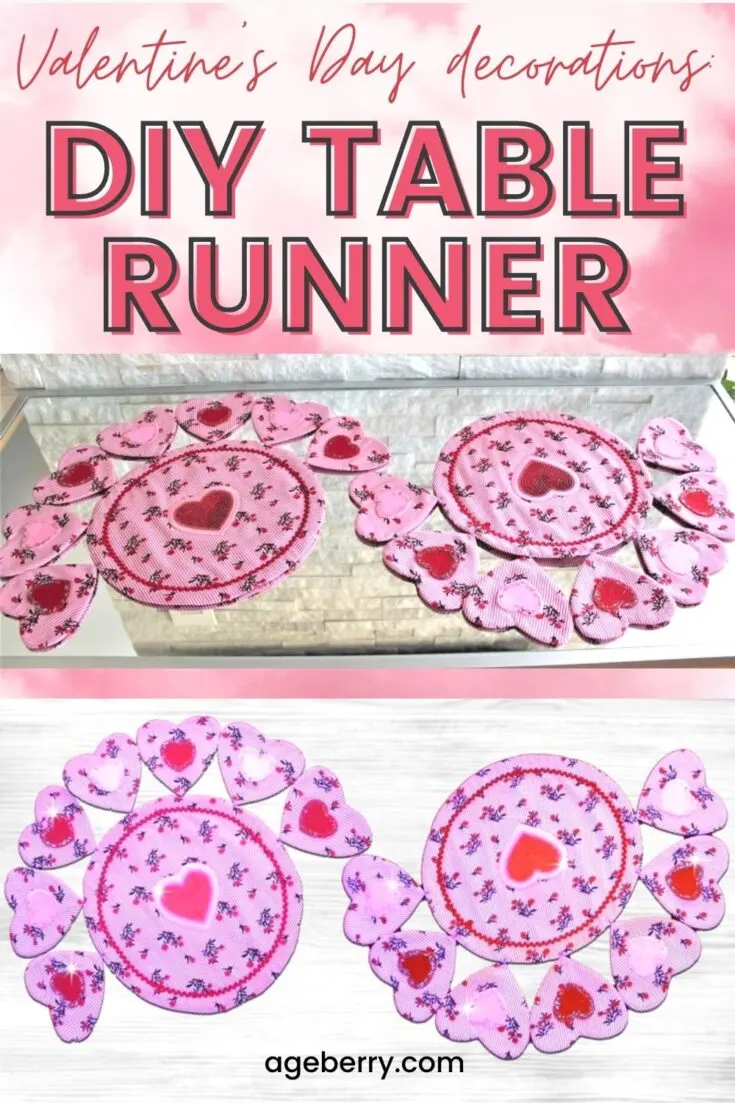 ---