Whether you have just recently begun to sew or you are someone who has sewed for years, it is always a good thing to keep your eyes out for new products that can make sewing easier and more fun. SewTites are one such product that can help you enjoy your sewing time and maybe even tackle projects that you might not have considered before.
These wonderful magnetic sewing pins can make tedious pinning a thing of the past. No matter what kind of sewing you typically do, there is a kind of SewTites that can make it easier.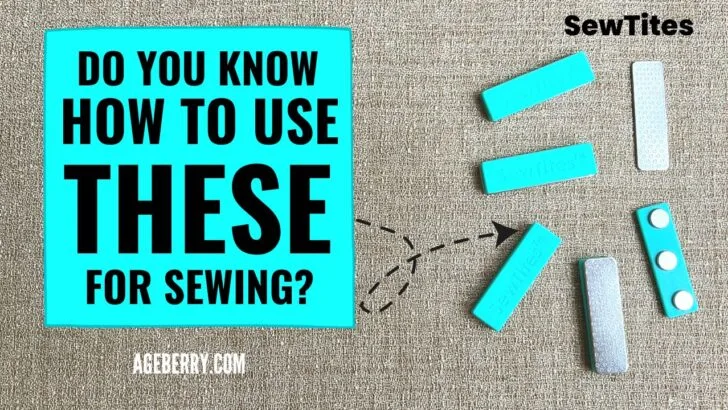 What Are SewTites (magnetic sewing pins)
Needles, fabric, and pins have been basic sewing equipment for hundreds of years. However, often the pins needed to fasten fabrics together as they are sewn have limitations.
When sewing, there are times when traditional pins just won't work. If the fabric is too thick, the pins won't go through. Or, if you're working with a material that can't be pierced, like leather or vinyl, you're out of luck. And there are other occasions, like when you're sewing on a backpack or other awkward shape, when pinning simply isn't possible. In these cases, what do you do?
There are several alternative methods of holding fabric together that don't require pins. One is to use sewing clips instead of pins. These are small clips that look like clothespins and can be found at most fabric stores and online. They're easy to use, very inexpensive, come in a variety of sizes, and don't leave holes in your fabric.
In the past, people just made do by perhaps basting things in place before doing final stitching. At other times, people just did the best that they could by holding things in place as they were sewn. This can be risky, since things could slip while sewing, and then one will have to grab the seam ripper, tear out the stitches, and start over.
SewTites is a product that can eliminate all of those kinds of problems.
SewTites are magnetic sewing pins that can hold your projects together without piercing the fabric. Then you can stitch it together with no worries about proper positioning. The SewTites will hold your fabric pieces securely.
SewTites consist of two very strong magnetic pieces. One will be on the front side of the project and the other will be on the back. When you are finished stitching, you can simply slide the two pieces apart and reuse them for the next step of your sewing project. They are removable and repositionable and can be used over and over again. These magnetic pins will make your sewing so much easier!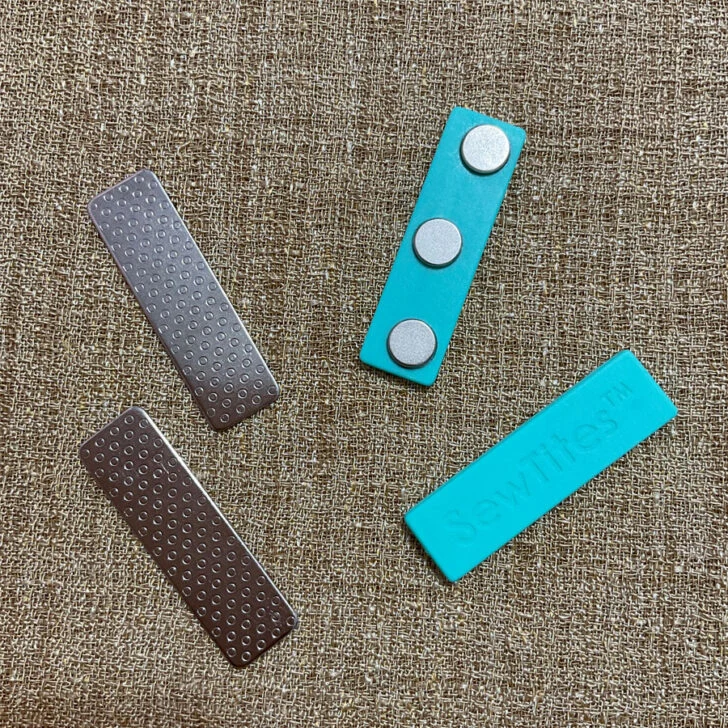 The Many Uses for SewTites Magnets
When you use SewTites, there is no more fumbling with a pincushion or struggling to pick up tiny pins. Say goodbye to spilled sharp objects on the carpet. SewTites hold projects of any kind together.
While they will work for dressmaking, they are actually intended for projects of other kinds where straight pins just are not practical. You can use a magnetic pin anywhere a traditional pin can be used and in many places where a traditional pin just won't work.
Sewing leather and vinyl
Anyone who has ever tried to sew leather or vinyl knows that it can be a real challenge. These materials are thick and slippery, making them difficult to work with. And traditional pins can damage the material, leaving behind unsightly holes. And sewing clips often get in the way and need to be constantly removed and replaced.
SewTites are a great alternative to pins and clips because they hold the fabric securely in place without damaging it. And they are even better than sewing clips because they can be placed in the middle of the fabric, not just by the edges.
Plus, you don't need to take them out as you sew; they can stay in place until you're finished.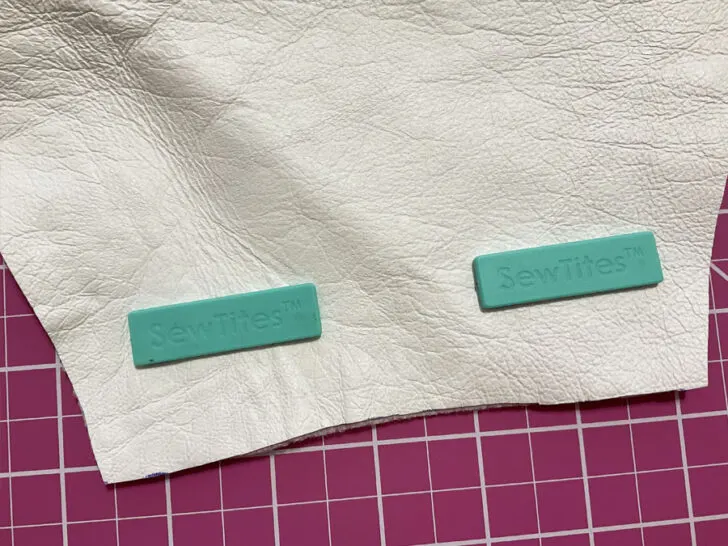 If you're into leather crafting, then SewTites are a must-have. I wish I had known about them when I was working on my leather project – this purse would have been finished faster.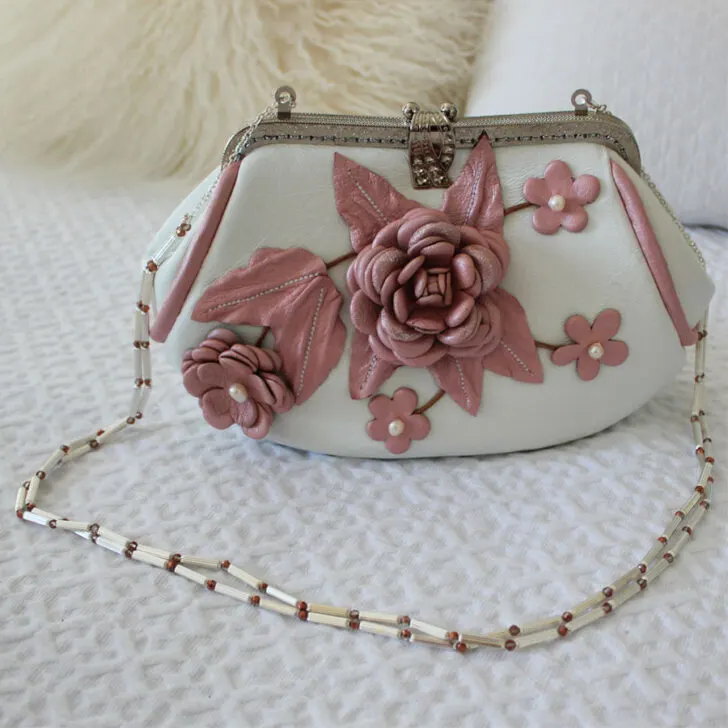 Sewing thick fabrics or many layers together
Anyone who has attempted to sew thick fabrics or many layers together knows how frustrating it can be to keep everything in place. Regular sewing pins are not up to the task, and the fabric can easily slip and shift out of position.
SewTites are perfect for holding thick fabrics together while you stitch them. The magnets will hold everything in place as you sew, making it easy to stitch even the thickest fabrics without slipping or shifting.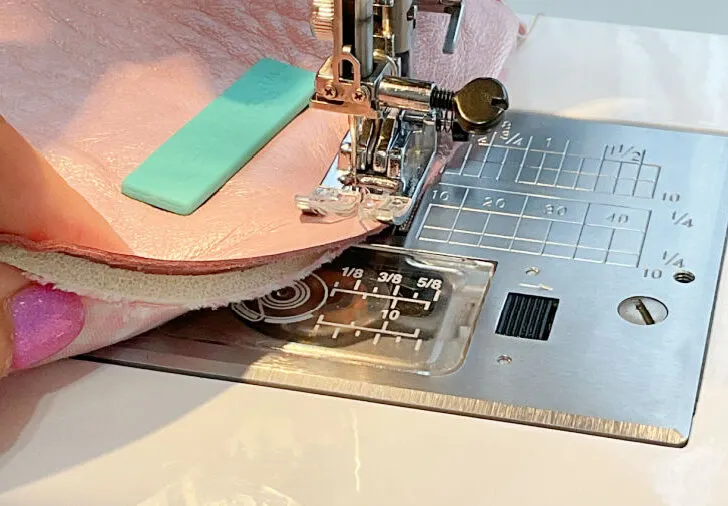 Holding sewing patterns in place
SewTites are also great for holding patterns in place. Simply place the pattern on top of the fabric and secure it with SewTites. This will ensure that the pattern does not move while you are cutting out the fabric.
In the image below you see me cutting fabric for my apron project. SewTites hold the pattern perfectly – it doesn't slip or slide when I cut it with my rotary cutter.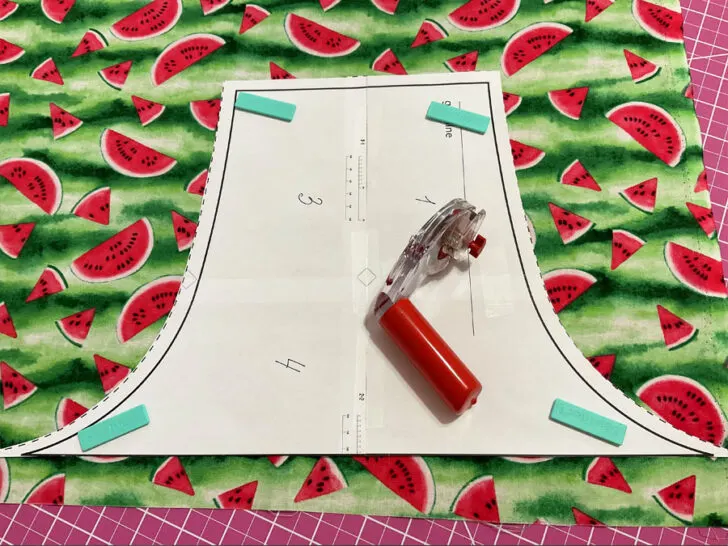 Bag Making
If you like to sew bags, SewTites are ideal for bag making. Most of the time, when you sew purses or handbags, you are dealing with heavy-duty fabric and multiple layers of fabrics. Because of the bulkiness of these materials, traditional straight pins are a headache. Pushing the pins through the heavy fabric is difficult and, often, the pins may bend.
Using SewTites can revolutionize your bag making hobby. You will be able to quickly pin up a bag, without having to wrestle with straight pins.
You may be able to use fabrics that you never thought you could use because you didn't want to pierce the fabric with a sewing pin. You'll simply set up the seam that you want to stitch, attach the SewTites magnetic sewing pins and then, stitch the seam.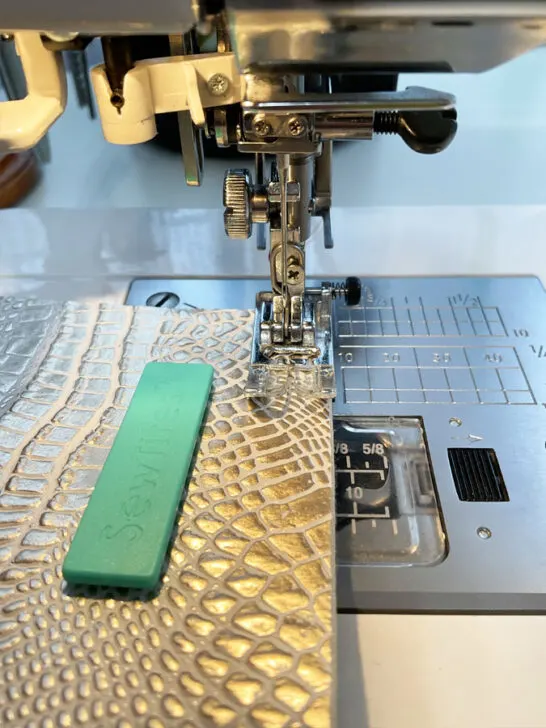 Pockets and Patches
When sewing pockets and patches onto other objects, it can be hard to get them affixed just right. Fancy applique patches can be thick and awkward to pin, and getting a pocket in exactly the right location on the outside of a garment, handbag, or jacket can be tricky.
SewTites makes attaching these objects to the outside of things much easier. They are especially useful if you are sewing an applique patch to a heavier item like a jacket, backpack, or handbag. If you need to quickly adjust the angle or location of a patch or pocket, magnetic sewing pins are easy to readjust.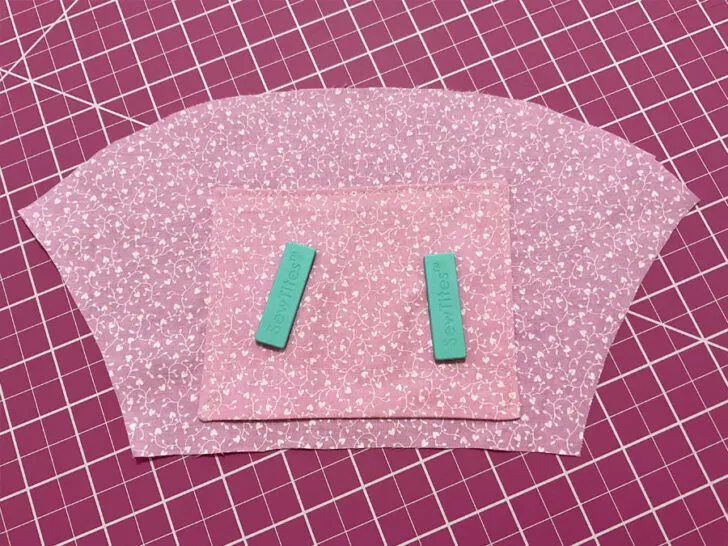 Embroidery
I find SewTites indispensable when I am doing machine embroidery.
Where SewTites really stand out is when you are embroidering items that are too bulky or small to fit into the machine hoop. You can put your stabilizer into the hoop and then place the small item on top of the stabilizer, without hooping it. It's called FLOATING EMBROIDERY.
Then, use the SewTites to attach the item firmly to the stabilizer in the hoop.
Be sure to double check that the SewTites will not be in an area where the needle or presser foot will hit them.
When you are done, remove the SewTites from the project, take the project out of the hoop, and trim away the excess stabilizer.
In the image below you see SewTites holding a piece of clear vinyl in the hoop. And here I have 4 layers – 2 pieces of quilting cotton fabric, a piece of batting, and a piece of clear vinyl.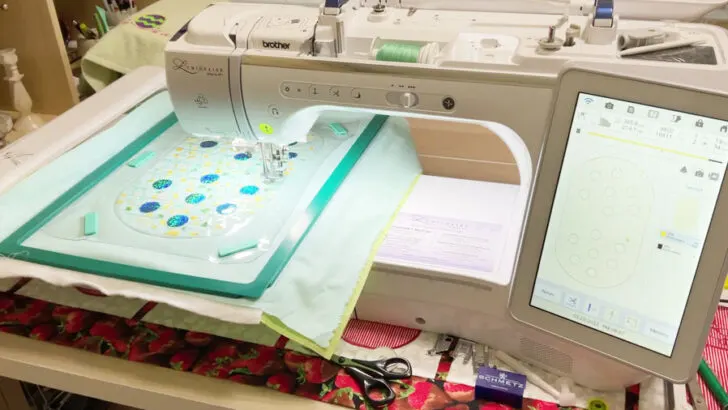 I first started to use SewTites when I made my embroidered fabric coasters.
That project was a very unusual one – I used a lot of new techniques and one of them was using a piece of clear vinyl so the coasters can be easily wiped out after you put some liquid on them.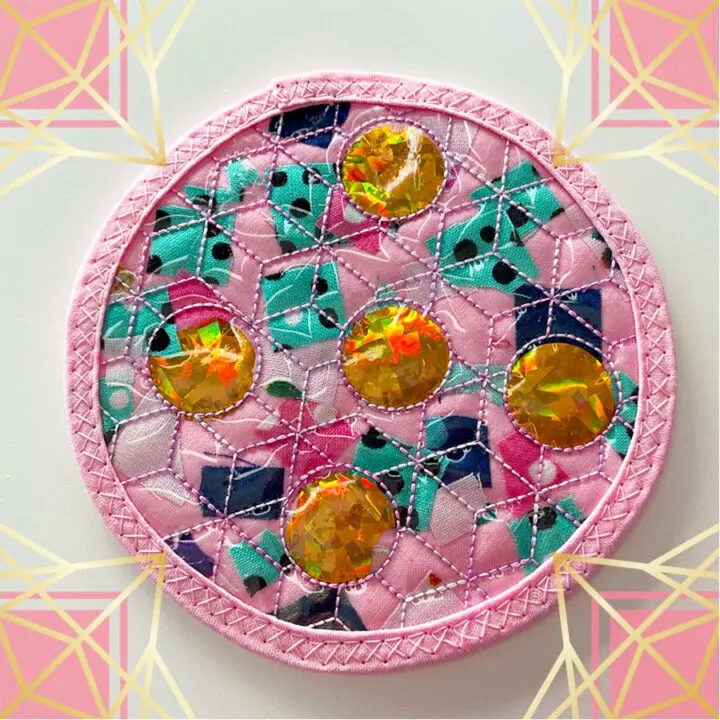 So I placed the piece of clear vinyl over fabric prepared for coasters and I needed to hold vinyl in place. I couldn't hoop the vinyl. So I used SewTites to hold the vinyl in place over fabric.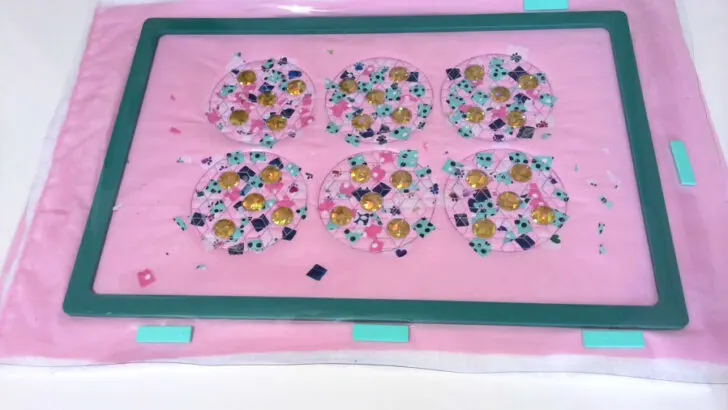 Using SewTites, I was able to hold the vinyl in place while my embroidery machine stitched over it. The result was perfect – and my coasters turned out great!
And they are repositionable, so if you need to adjust your fabric, you can just take them off and stick them back in place. Most importantly, they won't damage any fabric. I also used SewTites when I made my Halloween Treat bags. It was easy to hold small pieces of clear vinyl and pieces of felt in the hoop without actually hooping them.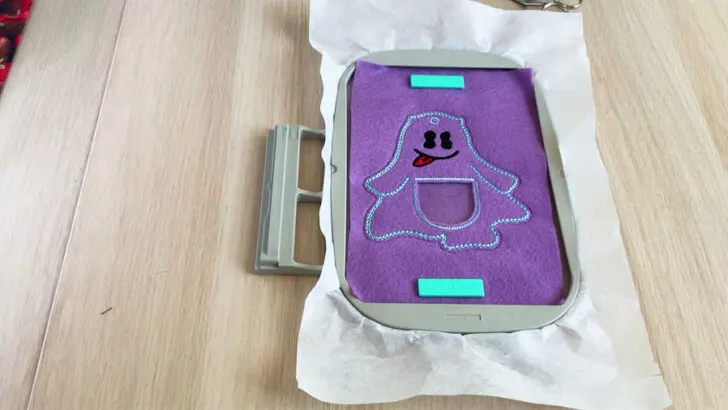 Applique
If you like to do applique, you know that keeping the applique pieces in place as you sew the tiny stitches around the fabric piece is tricky. A small slip of a fabric piece and you will have to get out the seam ripper and start over.
Whether you like to machine applique or do it by hand, SewTites magnetic pins will keep your fabric applique pieces securely in place as you stitch. In the image below you see SewTites secure the heart applique over my romantic DIY centerpiece for tables.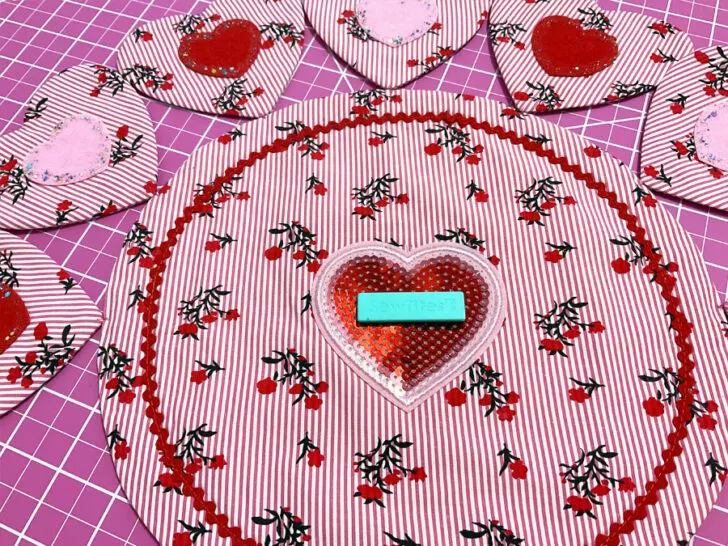 Quilting
When you are handling lots of little pieces of fabric, pinning can be tedious. Once again, magnetic sewing pins like SewTites can come to the rescue. Rather than pinning the pieces, SewTites are simply put into place and, after the stitching is done, they are simply removed and used for the next part of the project.
If you use a longarm machine to quilt, you know that loading a quilt onto a longarm machine can be a tedious process. Straight pins or other loading mechanisms are often required, which can add even more time to the already lengthy process.
Plus, no one wants to be constantly poking themselves with straight pins, and no one wants to bleed on their quilts. With SewTites, you can quickly and easily load quilts onto your longarm machine They're also easy to remove when you're finished—simply lift them off and you're done.
For Those With Hand and Finger Problems
One thing that can be difficult about getting older is the realization that one's body won't cooperate with the things one wishes to do. Many seamstresses and quilters have had to stop sewing when their fingers just stopped cooperating due to arthritis or other degenerative diseases.
However, by using SewTites, one may be able to sew for years longer. While hand sewing might be out of the question, machine sewing might still be an option when you use gadgets like electric scissors, sergers, or SewTites magnetic sewing pins.
How to Use SewTites
SewTites are very uncomplicated to use. Simply slide the top and bottom pieces apart and position them on the fabric on the top and bottom of the two pieces that you want to attach.
Next, after checking that the positioning is perfect, stitch your project.
Finally, slide the top and the bottom pieces of the SewTites apart and either reuse them for the next step of your project, or attach them together and store them in their place.
SewTites have many benefits over regular straight pins. SewTites are less likely to slip out of fabric and the magnets in SewTites can help to keep fabric in place while you sew or embroider, preventing it from bunching up or shifting. They will not damage your fabric.
However, there are also some potential drawbacks to using SewTites. For instance, the magnets in SewTites can interfere with the metal throat plate of your sewing machine, causing the fabric to bunch up.
The magnets can sometimes cause SewTites to stick to the throat plate of your sewing machine. To avoid this, make sure you use smaller SewTites with less powerful magnets.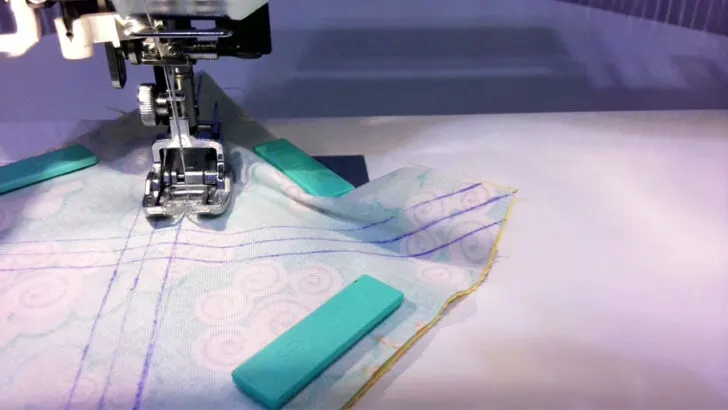 Additionally, when using SewTites for machine embroidery, be sure to position them close to the edges of the fabric piece (or the hoop) so they don't get caught up in the stitching as it happened to me once when I placed them over only one layer of fabric – one of them stick to the throat plate of my embroidery machine.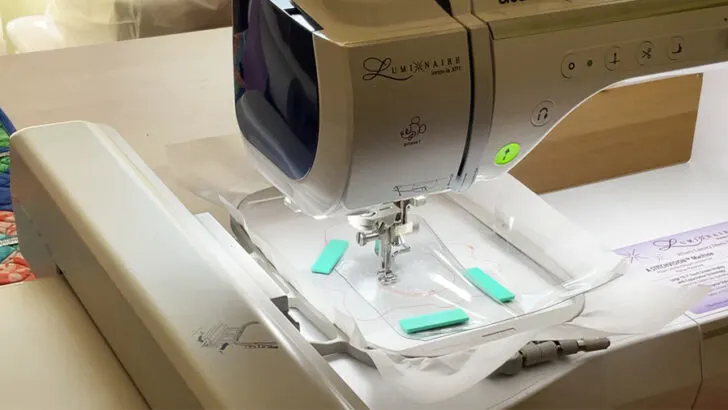 So it is important to use SewTites carefully and be aware of their drawbacks.
Note: Some of the links on this page are affiliate links. This means I will receive a commission if you order a product through one of my links. I only recommend products I believe in and use myself.
Types and Sizes of SewTites
SewTites come in a wide variety of sizes and styles so that you can have the perfect one for your projects.
Where to Buy SewTites
You can find SewTites on Amazon.com. They have a wide variety of colors and sizes to choose from so you can find the perfect match for your project.
Did you find this tutorial helpful? If so, save this pin (see below) on your sewing board so you can come to this tutorial later when you need this information on SewTites, and follow me on Pinterest for more tips, tutorials, and inspiration!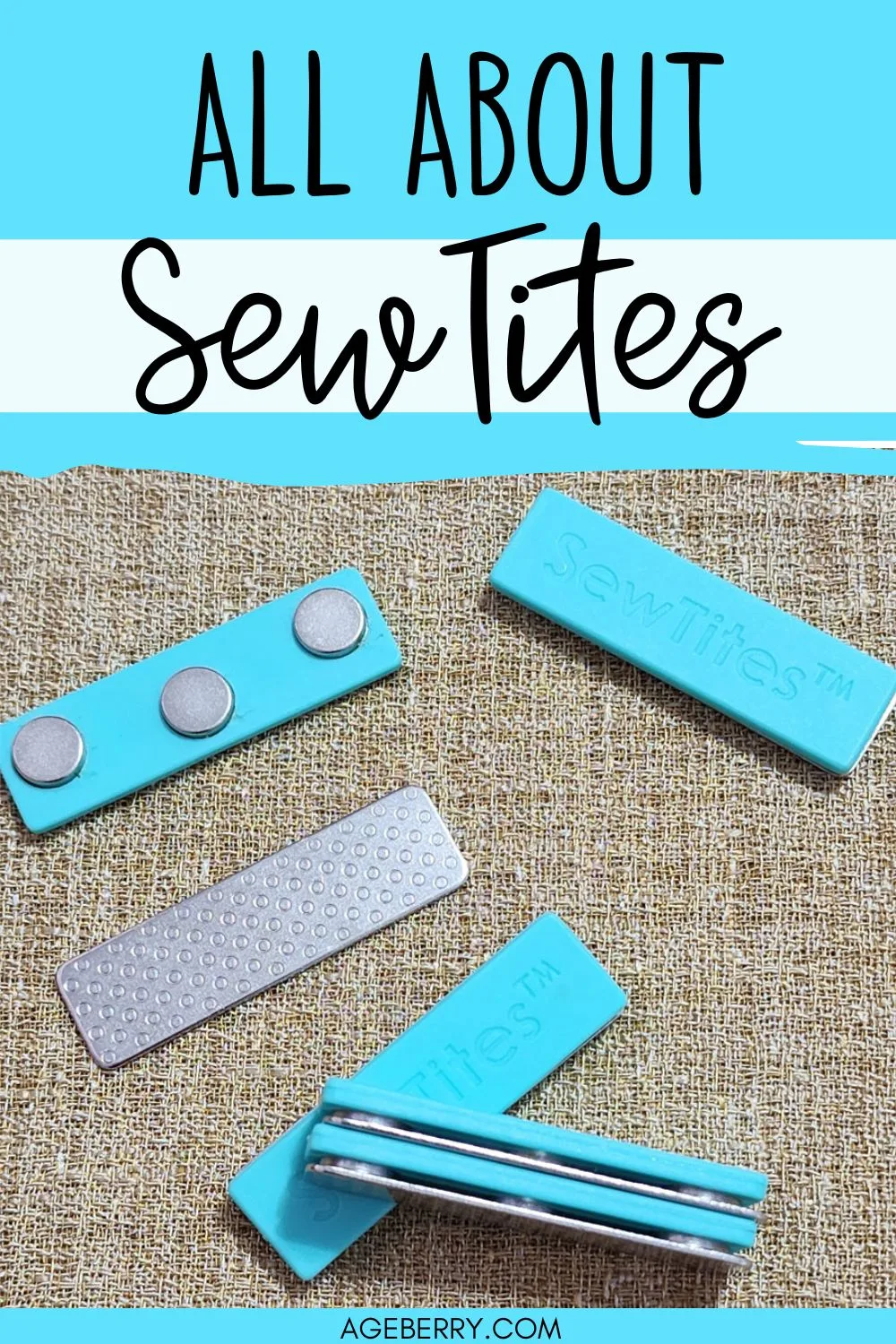 ---