Electric scissors are electric cutting tools that can be used to cut a variety of fabric and materials. They come in both corded and cordless models, with the latter being more convenient for home sewers who want to use electric scissors without having to worry about cords getting in their way. Electric fabrics shears are perfect for those looking to save some time on sewing projects!
But electric scissors aren't meant for every sewing project. Here we'll go over what electric scissors are, the different types available (corded vs cordless), and how electric scissors compare with regular cutting tools like traditional scissors or rotary cutters.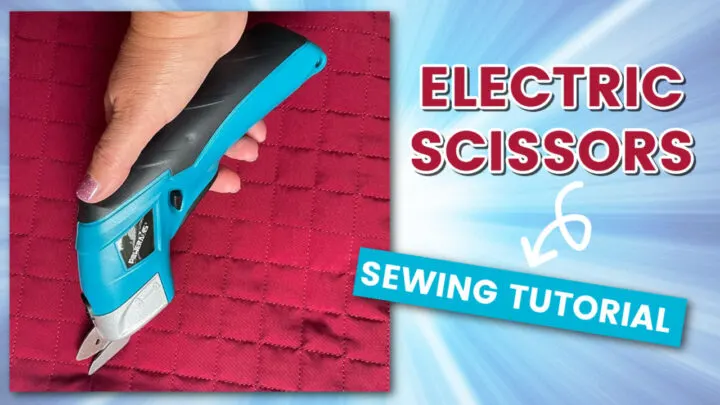 Using electric scissors can help make your sewing projects easier and faster. Keep reading to find out how to use them and which brands and models I recommend most.
Every crafter – and especially every sewist – knows that crafts and sewing both involve a lot of cutting. You have to cut the materials in preparation to use them, and that alone can be a lot of work!
Using traditional scissors for all of this cutting requires you to squeeze your hand often and repetitively which can lead to aches, pains, and even aggravate arthritis and other issues. There have been so many times when my hands hurt just from cutting out my fabric and materials. And, since I do more sewing than quilting, I don't use a rotary cutter as often as I use traditional scissors.
So one day I decided to look for electric scissors (also sometimes called electric shears). The manufacturer claimed that they could cut through fabric, plastic, leather, and cardboard while reducing hand strain.
Well, that piqued my interest! Would they work as well as traditional scissors? Would they even be helpful?
I decided to buy a set and give them a try to test them out.
What Are Electric Scissors?
Electric scissors are a hand-held tool that can cut through different types of materials easily and without needing to use your hand to move the blades manually as you would with traditional scissors.
They look similar in size and shape to a hand-held electric razor. However, the cutting blades are shaped differently and the entire unit is more curved to better suit its purpose. You can find both battery-powered and corded models depending on how you want to use them.
Types Of Materials To Cut With Electric Shears
Electric scissors can cut through "soft" materials such as different types of fabric, paper, craft materials, and even paperboard. Additionally, many models claim to cut through harder materials such as plastic, cardboard, and sometimes even thin metal.
Types Of Electric Scissors
There are two types of electric scissors: corded electric scissors or cordless electric scissors. Corded electric scissors need to be plugged in for power while you use them. Cordless electric scissors can work without being connected to an electrical outlet and they don't have any cords to get caught on when you're cutting.
I prefer cordless scissors – I just pick them up and use them and don't need to find an electrical outlet nearby to plug them in.
Each set will typically include two different "heads" in the package: one is designed for cutting softer materials while the other is designed for tougher materials. And, if you purchase a cordless model, you will also find a charging station or cord to recharge the battery.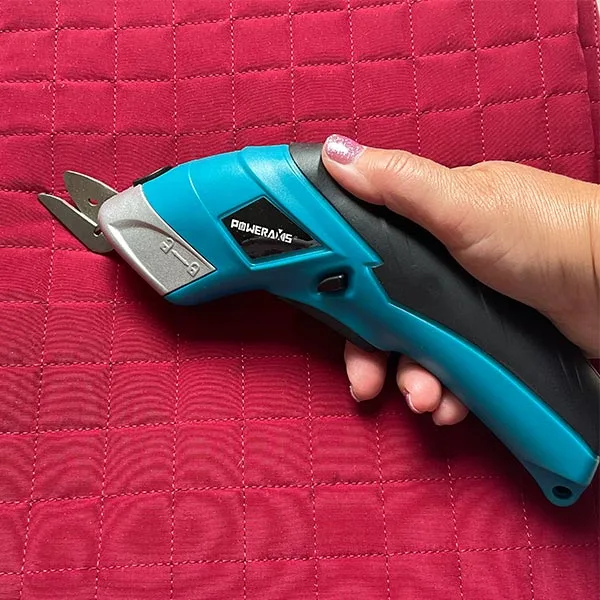 How Do Electric Scissors Work?
As far as cutting goes, electric scissors work very similarly to traditional scissors. The main difference is in how you use them.
Electric scissors take all the work out of cutting by using motorized blades that do the work for you. All you have to do is hold the unit, turn it on, and aim it in the direction you want it to cut.
Electric scissors for sewing are usually lightweight, they weigh less than one pound and are less than nine inches long, and this makes them easy to use and carry. My hands aren't large but I find them easy to hold onto.
But what I don't like about electric scissors is the fact that they are very loud when their motor is working.
Why Use Electric Scissors?
I think it's important to mention right away that this tool is not intended to be used for detailed or very precise cutting. Instead, it's meant more for helping to increase your productivity when you have a lot of fabric to cut or when you want to cut heavyweight fabrics like coat wool, vinyl, or canvas.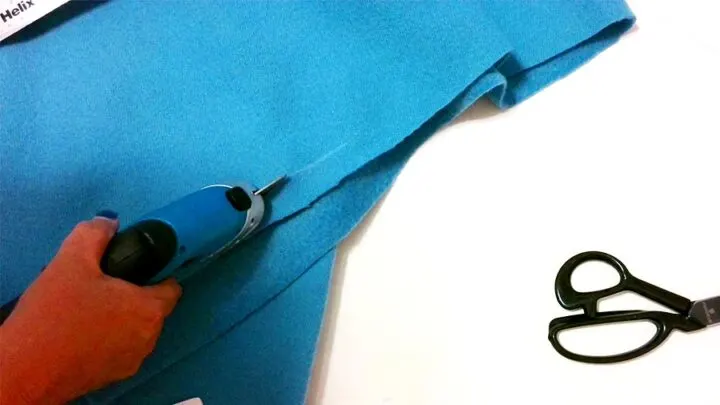 Electric sewing scissors can benefit anyone who does a lot of cutting for sewing and crafting, but they're especially beneficial for people who suffer from arthritis or other muscle and joint conditions.
The electric blades can be sharper than regular scissors.
Benefits of using electric fabric scissors include:
Eliminate tired hands and wrists due to extensive cutting
Reducing aches and pains from using scissors
No more jagged cuts
Increased productivity by being able to cut more in a shorter period of time
No need for a cutting mat
Safety Tip
Electric scissors are safe to use as the cutting power comes from the pressure and not from the sharp pointy ends.
Even though electric scissors for fabric have a safety cover on the blades, they can still be dangerous for children. If you have children around the house, take care to purchase a set that has a safety locking feature to disable the scissors when you aren't using them.
Where Can You Buy Electric Scissors?
Once you decide you want to purchase a set of electric scissors for fabric, you'll want to do your research to make sure that you find a set of powerful electric scissors that are also portable and work with your budget.
You can buy electric scissors at your local sewing shop and large box stores such as:
Lowes
Walmart
JoAnn Fabrics
Online at many sites including Amazon
Electric Scissors Recommendations
There are a large variety of brands that sell at least one model of electric scissors, but not all are brands that I would recommend. I have done some of the research for you and gathered my recommendations here to help save you some time.
Note: The key to buying a good set of electric scissors is to evaluate the price, design, weight, vibration level, and loudness.
Here are some of the best electric scissors available on Amazon!
Note: Some of the links on this page are affiliate links. This means I will receive a commission if you order a product through one of my links. I only recommend products I believe in and use myself.
Pink Power makes very reliable electric scissors that are both high-quality and affordable, and this model gets great reviews.
These heavy-duty, battery-powered scissors can cut through many different materials including plastic, leather, and thin metal.
If you purchase them, you'll receive:
2 blades
1 charger
1 lithium-ion battery
3-year warranty
Designed for both right-handed and left-handed users
1-2 hours of continuous usage on a full charge
If you purchase them, you will receive:
3 blades
1 charger cable
1 lithium-ion battery
Full 1-year warranty
These heavy-duty, cordless electric power scissors are reasonably priced, have a comfortable design, and get great ratings. They easily cut through carpets, canvas, cardboard, heavy and lightweight fabrics, leather, vinyl, and plastic.
I love that they come with an extra battery so you can keep using your scissors even while the first battery is recharging. They make a great addition to any sewist's "toolbox" and will help improve productivity without the need for a cutting mat.
With these scissors, you'll receive:
2 blades
1 ultra-fast charger
2 batteries
Safety button
You know the old adage, "You get what you pay for?" The previous models I have mentioned are solid choices, especially when you're shopping on a tight budget. However, if you can afford to buy a more expensive model, you will notice a marked difference.
These powerful electric scissors are more expensive, but worth every extra penny because they are one of the best electric scissors for sewing. They are much quieter and vibrate a lot less than cheaper models making them really beneficial for anyone who has hand, muscle, or joint problems.
If you purchase this model, you'll receive:
Well-balanced, cordless design
Ultra-tough Tungsten steel cutter head
Easy-to-replace cutter head design
1 blade
1 charger
1 battery
Option to buy additional blades and batteries
This model is the middle-of-the-road for the price on this list of portable electric scissors. It has a long-running time and recharges in half the time of many other electric scissors.
When you purchase this model, you'll receive:
Cordless design
Up to 2 hours of continuous cutting time
2 blades
1 ultra-fast charger
2 batteries
Safety button
If you're looking for a model of electric scissors that is about the same cost as a traditional pair of scissors, then this model is for you. Similar to traditional scissors in both cost and shape, this model is lightweight. It gets mixed ratings and I see that the latest reviews are really not good.
Because it's a more inexpensive model, you'll use AA batteries rather than a rechargeable battery pack and its cutting range is limited to only soft items.
When you purchase this model, you'll receive:
Convenient, cordless design
1 non-removable blade
Mini cutter
The singer brand is a trusted name in the sewing world and they offer an entry-level model of electric scissors for sewing!
Similar to the Delis model mentioned above, these scissors are not heavy-duty and won't cut through tough materials. However, they will make cutting easier and reduce pain and discomfort for anyone who has trouble cutting with traditional scissors.
When you purchase this model, you'll receive:
Convenient, cordless design
Replacement blades
What if you prefer to use a traditional style of scissors but have arthritis in your hands? I recommend trying these Fiskars! They aren't electric scissors, but they are specifically designed for people with arthritis.
They utilize a spring-action design that can easily cut through a large variety of materials without putting any strain on the hand. Plus, they come with a lifetime warranty.
---
---
If you enjoy sewing but find that the motion of using traditional scissors to cut your materials bothers your hands (or takes too long), consider buying a set of electric scissors. They eliminate the wear and tear on your hands and can help improve your productivity by making clean cuts much faster than traditional scissors do.
Did you find this tutorial helpful? If so, save this pin (see below) on your sewing board so you can come to this tutorial later when you are ready to buy electric scissors, and follow me on Pinterest for more tips, tutorials, and inspiration!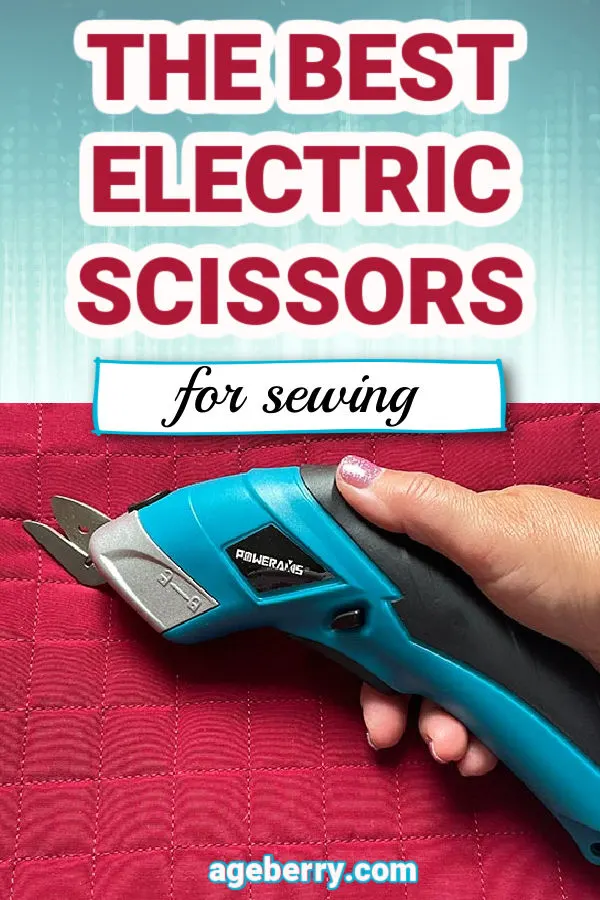 ---