15 hemming tools for sewing curved hems and edges easier
I think people who sew are always interested in any tool that could help to save time and improve accuracy.
There are myriads of sewing tools, accessories and notions on the market now.  And the assortment is all the time expanding, new inventions are created constantly to greatly simplify the work and help in mastering some sewing techniques.
In this article, I will tell you which sewing tools and accessories will definitely be needed for sewing curved hems and edges. If you are interested in 20+ methods to sew curved hems read my ultimate guide "How to sew a curved hem". I will not describe all common sewing tools and notions you already have like sewing machines, needles, threads, scissors, etc. I will share only those tools that, in my opinion, can be useful to sew curved hems, that can make sewing easier and more enjoyable and your projects look more professional.
Disclosure: Please note this post has affiliate links which mean that (at zero cost to you) I might earn a commission if you buy something through these affiliate links. I never recommend anything I don't personally use and find to be a valuable asset to my sewing.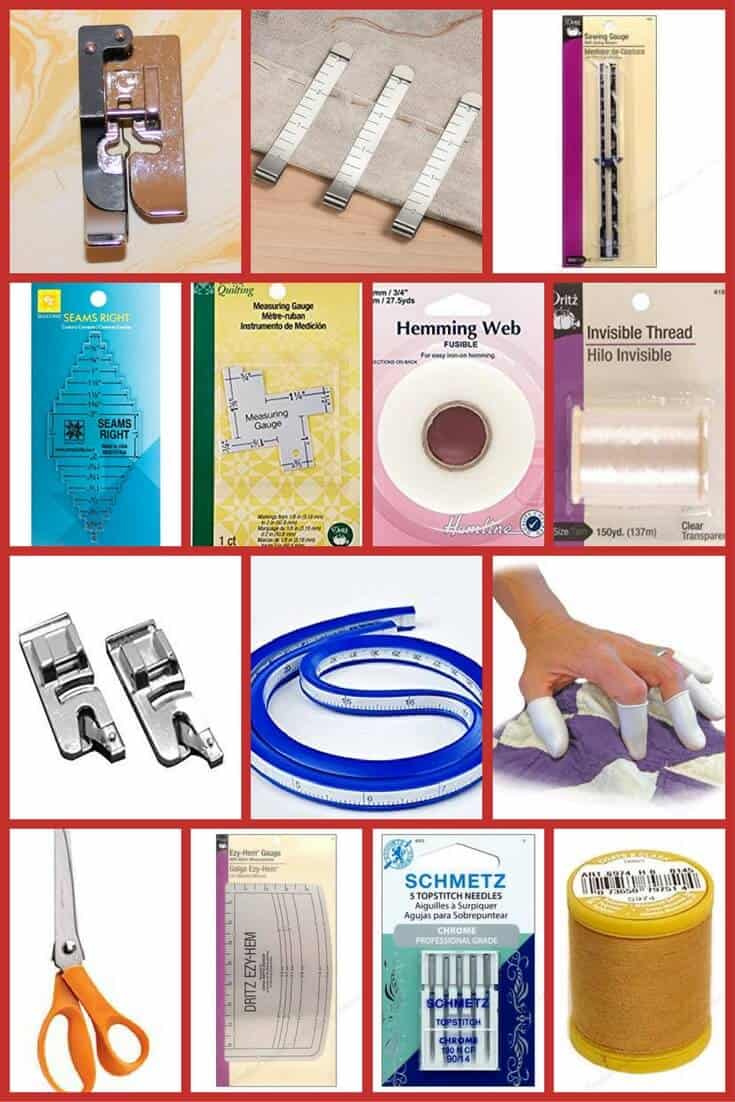 Sewing tools for measuring
Note: Some of the links on this page are affiliate links. This means I will receive a commission if you order a product through one of my links. I only recommend products I believe in and use myself. 
1. Hem Gauge for sewing by Dritz
This hem gauge is a very helpful tool for sewing curved hems. Ezy-Hem Gauge has standard and metric measurements. It can be used to make a hem from 1/4 inch to 4 inches on a straight edge and from 1/4 inch to 2 1/2 inchs on a curved edge. Use with a steam iron. Always test fabric sample for proper heat and moisture. There are complete illustrated instructions on the back of the package. The only problem with this gauge is that it gets hot when you press hems with it.
2. I really love to use a hem measuring tool.
This hem tool has measures in inches and centimeters. There is a slider on it to hold the position for repeated marking.
3. I also use this hem gauge for sewing from Collins. It is the perfect tool for easily and quickly measuring anything, even in small or tight spaces. 14 in 1 Measuring tool. A double-sided gauge has 14 functional measurements. Pity they don't have it centimeters.
4. Wrights Seams Right Hemming Tool is very handy for measuring all those small hems. It has 17 accurate measurements with easy-to-read big numbers! I like that this tool is made from clear plastic so I can see my fabric.
Special sewing machine presser feet to sew hems professionally
With rolled hem presser foot, you can hem lightweight and some mediumweight fabrics without pre-ironing hem edges. I find it quite difficult to use (it curls my fabric too easily) but if you don't have a serger then it can be a useful option for sewing curved hems. Here is a very nice video "How to Use a Rolled Hem Presser Foot: by Babs at Fiery Phoenix"
6. Blind hem presser foot
I have a detailed tutorial and a YouTube video on using the blind hem foot. Check it out – Blind hem foot: How to sew an invisible hem with a sewing machine
It makes sewing beautiful curved hems so much quicker!
This foot has a very easy to adjust guide that is set to follow the fold of the hem. Sew slowly to make sure that the guide travels along the fold. Practice using this foot on scraps several times before you stitch the actual garment.
7.
Adjustable Bias Binder (or Binding) Presser Foot
It fits sewing machines that use snap-on presser feet. Adjustable to fit bias tapes in different widths, from 5mm to 20 mm. There is no need to use pins or baste the bias strips.
You can read a full tutorial from So sew easy.com about the foot here: "How to use the binding foot".
8. Flexible Curve Ruler
If you need to draw a curved edge when making a pattern then you can use Flexible Curve Ruler.
This one is made from vinyl that will not discolor with age and is exceptionally flexible. With it you can draw a perfectly contoured curve. It is also great for measuring curved seams and adjust quickly from one shape to another.
Cutting tools in sewing curved hems
9. Pinking shears
If you are using facing to sew curved edges you usually have to clip the seam allowance with a snip every 1/2 inch. But you can do it easier if you just use pinking shears.
You know, the simplest little technique can make your project look very professional.
When we sew a facing to a curved edge we need to cut small notches in the fabric approximately every 2 inches to remove bulk from the insides of seams and keep curved hems and edges flat and even. Notches are those little triangles on the seam allowances that look like V's.
If you turn the facing right side out without those notches, you will have too much fabric in there jamming it up.
Usually we cut these notches in the fabric with sharp small scissors, but now I learned to cut them differently.
It's a time-consuming job to cut many of them at once when following the curved lines. It's also really easy to accidentally cut past a notch and break your stitches.
But cutting notches can be done in a simpler way just by using pinking shears.
Sewing notions useful for sewing curved hems and edges
10.  Iron-on hem tape
You can use strips of iron-on hem tape that sticks to fabric and securely bonds the fabric. Let me tell you how to use iron-on hem tape. 
Most often we use these strips for hem repair, but we also can easily apply temporary hem tape with the steam iron before stitching the curved hem or for joining trims and laces.
It works only for non-sheer fabrics that can be steam pressed. Don't go beyond the hem or you will make your iron dirty (the strip will melt not on the fabric but on the iron).
Also, at very high temperatures the melted adhesive can penetrate to the right side of the fabric. The trick with the fusible web is to make the width of the hem not bigger then the width of the web. Otherwise you may get some distortion of the hem.
The fusible web can also create some hard area in the hem and make the hem stiff for some fabrics. So always test on scrap fabric before applying.
11
. 
Premium Invisible thread for sewing curved hems.
Once I bought an invisible thread in a dollar store and broke my Janome sewing machine with it while putting the thread on the bobbin. So my bobbin winder got broken.
But the invisible thread from Sulky or other sewing brand names is really good – it is soft and strong.  It's just ideal for hems. It doesn't tangle, snarl or break. And the bobbin thread flows easily. But I still put the thread on the bobbin manually (just in case).
12. Quilter's Tips
Quilter's Tips are some fingertip grips that are great not only for quilting but everyday sewing also.
They are made from a soft flexible plastic so you are still able to feel your work. These quilter's tips are good for pulling a needle and also good to protect your fingers from hot steam when you apply a fusible web for example.
14. Hemming clips
NO MORE CROOKED HEMS. Measure and pin in one easy step.
SLIDE-ON CLIPS. Stainless steel clips glide onto fabric, no jabbing necessary.
HOLDS HEM WHILE YOU SEW. Suitable for machine and hand sewing.
GRADUATED MEASUREMENTS. Measures hems up to 3 inches wide.
SET OF 12. Plenty of clips to hem any skirt, pants or shorts.
These are great quality and very easy to read. They make hemming curved hems so much easier! It is like having extra set of hands! But don't use these on thin or stretchy fabric. They are best for heavier fabric like wool, denim, fleece, drapery and upholstery. Also they really comes in handy to keep the fabric steady while you hand sew.
15. Lead weights
Sometimes you will need to add some weights to a curved hem for balance.
These weights are especially useful when you make an evening or wedding gowns with a train or a long circle skirt from heavy fabric. They can also work to keep your dress down in gusts of wind and are not noticeable at all. Place them inside the hem fold.
Did you find this tutorial helpful? If so, save this pin (see below) on your sewing board so you can come to this tutorial later when sewing a curved hem and follow me on Pinterest for more tips, tutorials, and inspiration!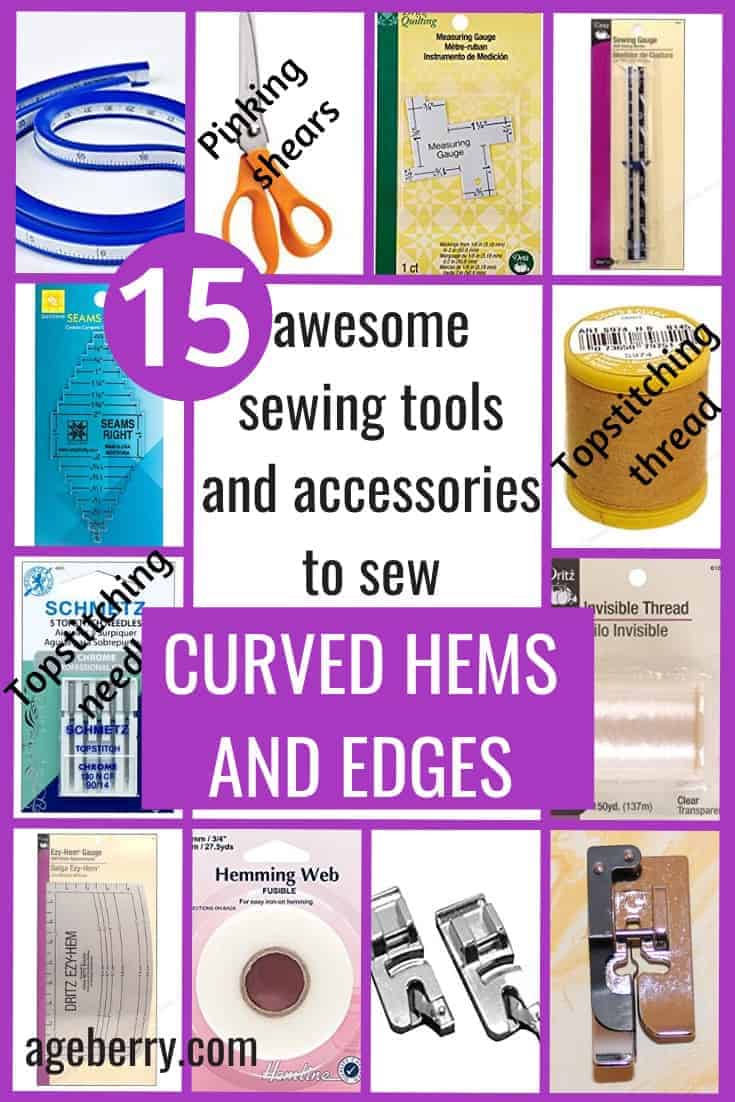 So these are some great hemming tools to help you in sewing curved hems.
I would be glad if you find this information useful and share your thoughts in the comments below – what do you like / what do you use?
You can follow me on Facebook, Instagram and Pinterest
Ready to take the next step in your sewing journey? Check out more step-by-step tutorials from my blog and don't forget to share !