The other day when my 8-year-old granddaughter was sewing lines on scrap fabric, she asked me, "Is sewing hard?"
Is sewing hard? "Hard" is a relative word. Press the foot pedal and the machine does its magic. Nothing is required except to guide the material through. The sewing machine, no matter how basic or top of the line, does all the work. To answer her question, I said, "No, sewing is not hard. You are sewing."
Then she stopped me cold with the next question. I had to think about how to answer it. "Is learning to sew hard?" I gave her an honest answer. "I'm still learning." Her eyes popped open as wide as they would go, and her jaw dropped to her belly button. I guess she thought at my age, I couldn't learn anymore. Good thing she's cute.
She raised an interesting question about sewing, though. I am not old. My body, on the other hand, has been around for 66 years, but I am not old. I have been sewing since I was eight. So, is it difficult to learn how to sew? And what keeps me sewing?
Note: Some of the links on this page are affiliate links. This means I will receive a commission if you order a product through one of my links. I only recommend products I believe in and use myself.
Sewing can be daunting, overwhelming, and confusing. There are many steps of preparation before you sit at your sewing machine. Pattern, layout, marking, cutting, interfacing, thread, needle, stitch length, presser foot, seam finish, pressing, topstitching, closures, and hem, all of which can be learned.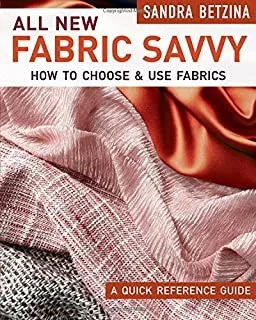 The best books I have in my sewing library, an excellent reference, and my go-to books, are titled Fabric Savvy and More Fabric Savvy, both by Sandra Betzina. And in the image, you see her current book, it is the third in this series.
According to Amazon, I already bought this, though I can't find it. I need to reorder this because I want it.
The preparation list above came from her books. She tells you everything you need to know about how to sew different fabrics. Her current book removes some fabrics from her previous book, but in the newest book, she adds new fabric types such as scuba knit, single-knit, ethnic fabrics, laminated, Minky, and oilcloth, to name a few.
To answer my granddaughter's question is it hard to learn to sew, I told her, "When you —
"Grandma, what is this?" "It's chalk to mark fabrics."
"You still use chalk?" "Yes." "Continuing on," I said, "when you were a baby you didn't even know how to turn over, let alone crawl, sit up, stand up, walk, or run. Each new growth period required you to experiment. You would try, you would fail, you would try again. You kept failing until you mastered each step before starting the next step. Sewing is just like that."
"Grandma, what's this?" "That's called a binding foot." Funny, normally curious, she didn't ask what the presser foot did. But then she's eight.
Yes, I used the word fail. I like that F.A.I.L stands for First Attempt In Learning. Embrace your fails. Learn from them. Laugh at them. Just never give up. Just dust yourself and try again. It is a step forward.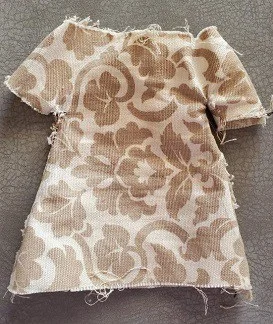 This is my first fail. I was nine, not far from my granddaughter's current age. Dollie's poor arms fell off when I took her out of storage. It makes the dress look better with arms. Yeah, really.
So why have I stayed with sewing for 59 years? Dollie's dress was designed by me. I felt very proud. Dollie has been wearing it for decades, traveling from California to Ohio to Arizona then back to California. I made it. I designed the dress. I engineered the pattern and cut the fabric, even if the fabric design is going in the wrong direction. I became her wardrobe consultant, not a very good one, though. I became a mathematician, even if one of the underarm seams is too small. I became an artist. And all of this is something that I took control of and created. And it felt awesome!! I still get that feeling when I finish any sewing project. I will never fail. I will either win or learn. All experts in sewing started out making a Dollie dress. I am on the right path.
"Grandma, what is this?" "It's a ruffler. It makes ruffles so I don't have to."
The secret to success is perseverance. I created a few tricks to keep me focused when I have trouble getting through a step. The first one is to pretend that you are teaching someone. It forces you to focus as you work through the issue.
The second one is to stop what you are working on and pick up an easier piece of the project. Start sewing and stop sewing in the middle, leaving the needle in the fabric and the presser foot down, and begin it the next day when your head is clearer. This starts the new sewing day off with a positive attitude, reinforcing your skills, and ready to tackle that issue that once stumped you. Perseverance. I know all about perseverance.
"Grandma?" "Grandma?"
"I'm sorry. What?"
"Grandma, what's this?"
"That," I said, "is frustration in a physical form."
"But what is it?"
"It's called a seam ripper."
---
---
For all of you who were wondering about the books, here are the three versions of the book I like very much. I recommend, if you can, buy the latest one, either the electronic format or the hardcover version, paperbacks have a nasty tendency of wearing out and I have a feeling you would like to keep this around for a longer time. But if you happen to have an earlier version, the newer ones might still be useful.
---