Healthy living seems to be a very hot subject right now, not only in North America but all over the world. We are bombarded with genetically modified foods, meat, and milk from cows and poultry that are fed a hormone-rich diet, our food is grown using a lot of pesticides. And we wonder why cancer is one of the sicknesses that advances, despite our best efforts to control it?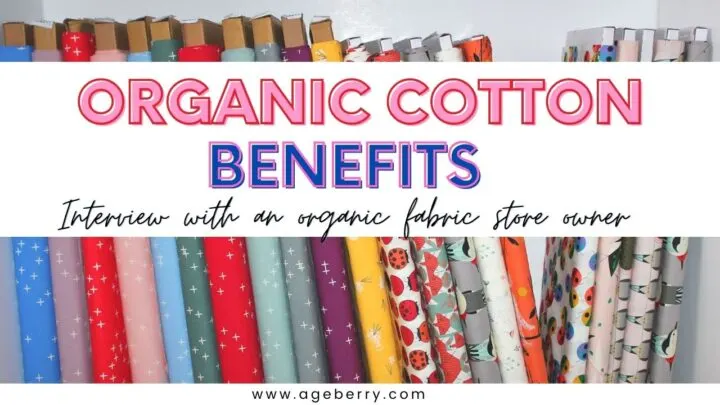 The organic fabric is certainly a hot subject too, especially fabric used for clothes that touch the skin, and even more importantly, used for clothes for our young ones. So I started to research the subject.
Old is New: Natural and Organic Fibers
I started sewing more than 30 years ago ( I will NOT say how many more! ) and at that time there were a lot fewer types of fabric on the market for a person like me. The fabric was much more expensive but also there was a plus: natural fibers were more frequent, in fact, polyester ( which was considered cool, new, chic, etc. ) was quite rare and more expensive.
Well, this is no longer the case, artificial fibers are all over the place and the prices are extremely reasonable if you shop around. Natural fibers are rarer and rarer and are becoming quite expensive again, especially high-quality fibers.
But in my opinion, if you can afford it, using natural fibers is the only way you should sew, and I have written an article about the benefits of using natural fibers.
An argument for organic vs. non-organic
I have seen in my family people with allergies to nylon and polyester and this is probably only the tip of the iceberg. My mother-in-law had such allergies and during the time I have known her these were becoming more and more pronounced.
But also an interesting thing happened: she started having mild allergies to cotton garments, especially the ones that come in contact with the skin for a longer period of time, like a nightgown. I didn't really give too much attention to this until I realized that the cotton itself, natural as it is, might be farmed in an unsafe manner.
In the interest of productivity, it is probably saturated with fertilizers and other chemicals to combat diseases. I have read somewhere that cotton accounts for almost 18% of the worldwide insecticide sales – WOW! So I started researching ORGANIC fibers, something unheard of even 10 years ago.
Many people, me included, are just now waking up to the reality that in the process of making our life easier we have actually done harm to our environment and in the end to ourselves – perhaps it is time to take steps and reverse this?
Are we killing ourselves while making our lives easier? Knowing this ( and other studies ) and given the choice, what would you use for the garments that come in close contact with your child's skin? Something grew with plenty of harmful substances, something I have myself SEEN giving rashes to people in my family, or something clean? True, not many people have the choice, or better said, HAD – in the era of the Internet things change rapidly.
Organic Certification USDA Certified vs. GOTS certified
What does it mean "Organic Fabric"? What are the standards? In the USA, "USDA Certified Organic" labels are frequently applied to foodstuff, but I have not seen them applied to a piece of fabric.
Nevertheless, according to some, there is a definition for this: "The U.S. Department of Agriculture (USDA) and the Federal Trade Commission require that any article of clothing or fabric advertised as "organic" be made with fibers from USDA-certified organic crops, such as cotton or flax (used to make linen), but the regulation pretty much ends there."
However, there is a more strict international standard GOTS ( Global Organic Textile Standard ) developed by OTA ( Organic Trade Association ) which is recognized by USDA as an authority in the field.
This standard addresses not only the fibers but also the full manufacturing process: from harvesting of the raw materials, through environmentally and socially responsible manufacturing up to labeling. I have found a very interesting article on this issue here: USDA Certified Organic Cotton vs GOTS Certified Organic Cotton. The actual standard is described on the OTA Global Organic Textile Standard (GOTS) page.
Recently I had the opportunity to meet and talk to Teresa Flores, owner of an online organic fabric store https://seworganicfabric.com/. She is from Spokane, WA which is not surprising, the Pacific NW has always been at the forefront of the movement toward natural/organic/healthy/sustainable alternatives.
Her store is not large, she has been in business for a relatively short period – less than six years – but she believes in what she is doing. All images below are from Teresa's store, including the garments, pillows, and quilts which are made locally using organic fabric that is also sold in the store.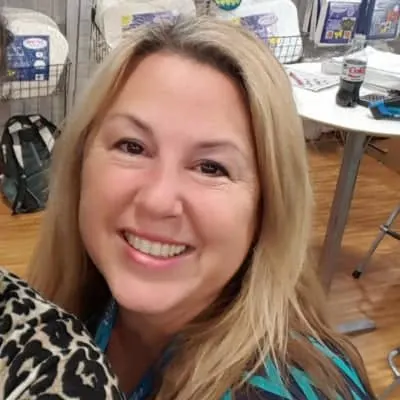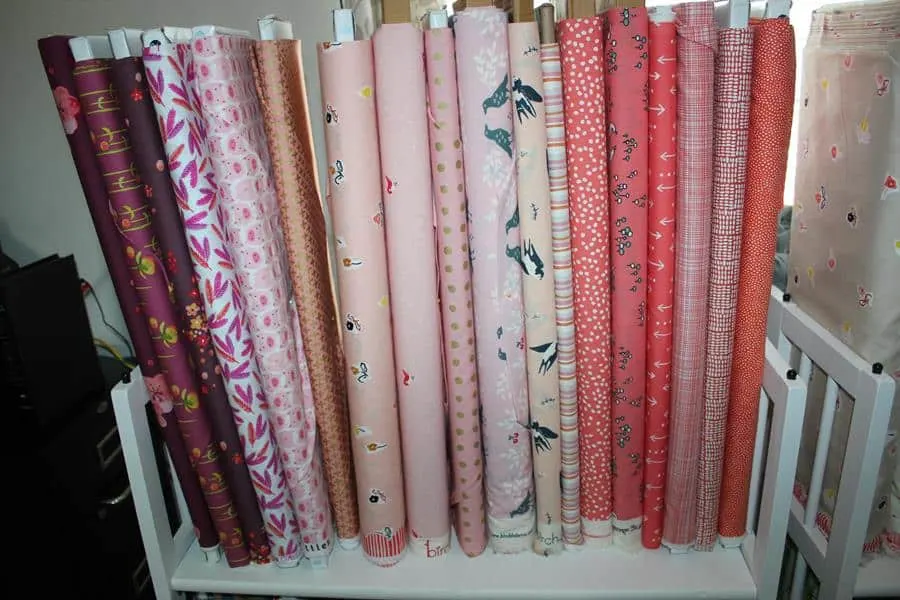 Olga: Hi Teresa, we finally meet in person, we live literally at opposite corners of the country!
( Teresa's answers to my questions are in the italic script )
Teresa: I am glad you could visit, I am always looking to make new friends and to see new perspectives in the art of sewing.
– Why did you choose to sell organic fabric?
– We believe that organic is better; feels better on the skin and is healthier. When we started 6 years ago we realized that there are a lot of fabric shops with the same fabrics.
We wanted to do something different, something better for us and the environment. The opportunity to educate the quilting and sewing communities about organic fabric also inspired us.
– Do people buy organic? Do you have their feedback?
– People definitely buy organic fabric. In addition to our regular website, we opened an Etsy shop at the end of 2017 because we knew that people used that platform when looking for our fabrics. In our Etsy shop, you can find smaller cuts and ends of bolts.
We have found that a lot of people use organic fabric for apparel making, especially for babies and children. A lot of our customers also buy our fabric to make items for their own shops. During live events is when most people tell us their stories about why they use organic fabric.
Besides the new grand-baby on the way, allergies come up time and time again. Just last weekend, a quilter told us that she can no longer go into a quilt shop because of the reaction she gets. Someone else had to shut down their long arm business because of the dust from the "normal" fabrics but since the organic fabric hasn't been treated with any chemicals they don't have the same reaction when using organic.
There are others that just want organic – they use it for making napkins, tea towels, and pillowcases, all of the things that touch their skin. One of my customers just made linen bread covers. She put them up for sale and sold them out in just a few hours.
So yes, we see a market out there, and more importantly, it is growing as people become more and more aware of the problems created by the intensive methods of modern agriculture.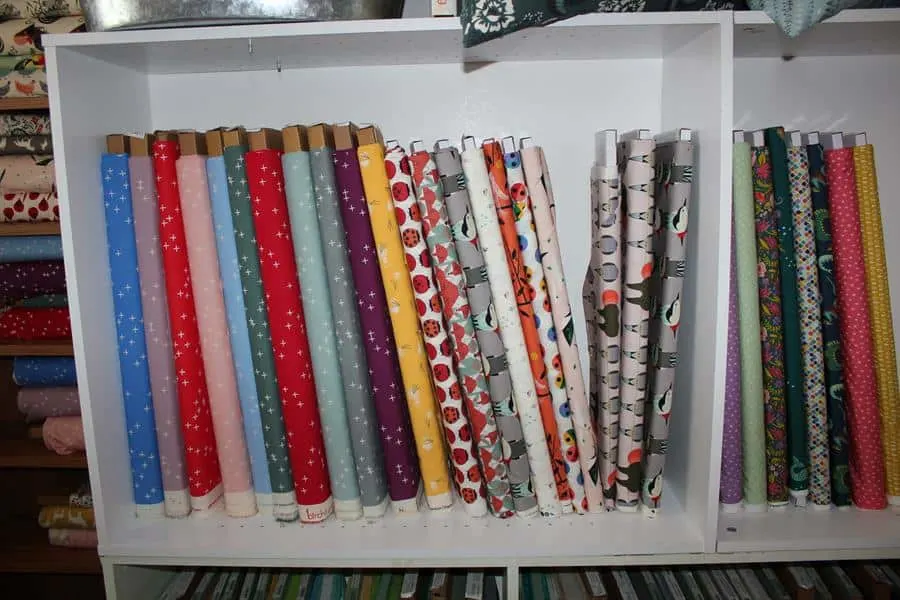 – Why organic fabric is better?
– Organic fabric is better in several ways.
It is better for people and it's also better for the environment. People come up to us all the time when we are at a show and ask us to tell them about organic fabric. I tell them to think about the organic apple that they are already buying at the store. What do you expect from that apple? Non-GMO seeds, no harmful pesticides used when it is growing, etc.
The same is true for growing organic cotton. In addition, without using harmful chemicals, this is better for the farmers in general, they and their families are the first to come in contact with the harmful pesticides and insecticides. Also, the dyes used are low impact (on the environment).
In the end, not only us, but the environment is also better for it and everyone, especially people with allergies and textile sensitivities, and babies can benefit from using organic. We have a long road ahead of us, undoing as much as possible the harm done in the last 60 years but I believe if we want to have a future on this planet, we have to start somewhere. Yes, these are big words, and we believe in them 100%.
– What do you think about polyester?
– We don't carry any synthetic fabrics at all. Only organic cotton and now linen (flax). But in my opinion, ( and it is only an opinion, don't sue me ! ) polyester might ( stress MIGHT ) have its place for a car cover, certainly not for touching sensitive human skin. ( for a more in-depth point of view on polyester, please read Olga's article "The chemicals we wear everywhere" )

– How did you start the store?
– My mom used to quilt and sew all the time when I was younger. When my dad passed away, she packed up her sewing room and decided that she wasn't going to sew anymore. I have always wanted a home-based business so that I could stay home with my kids. It wasn't an option when I lived in Los Angeles but when I moved to Spokane things changed.
We are a good match, me and my mom: I know more about the business side and my mom is way more creative and knows infinitely more about quilting and sewing. We saw this as an opportunity to combine our strengths and decided to open an online fabric shop.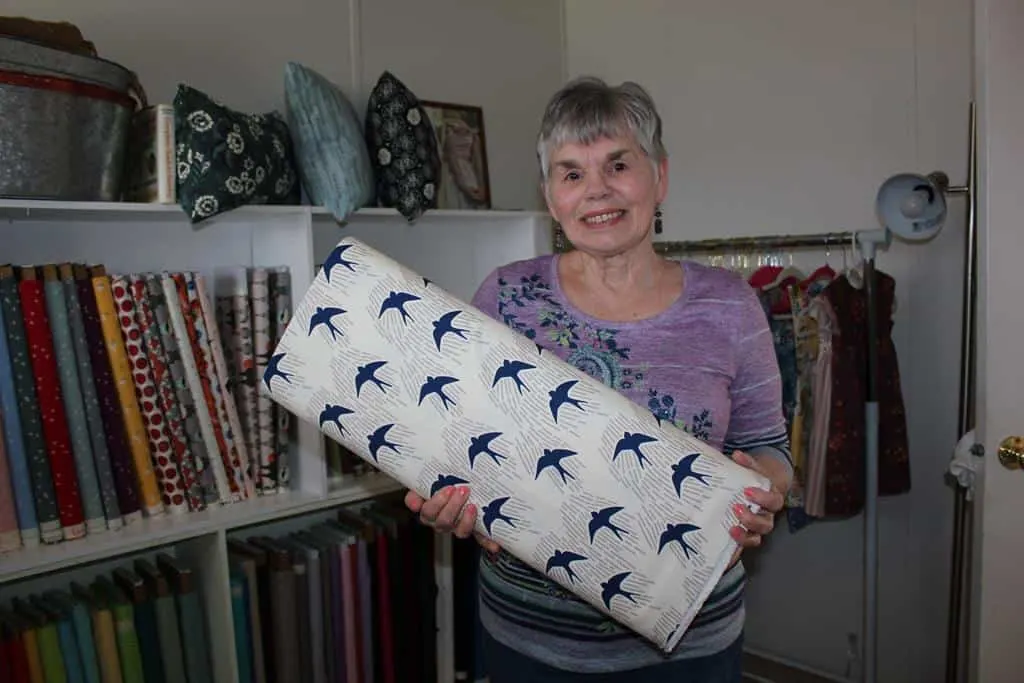 – Do people buy organic fabric for quilting or clothes? Or both?
– Definitely both. We have not been in business too long but we already see trends, for example since I've added in more apparel fabrics I've noticed that most people purchase those online. Our local events bring people who both quilt and sew and they purchase mainly woven fabric. Sometimes the fabric sells not necessarily because it is organic, but because it is pretty: for example, one of our manufacturers, Birch Fabrics, has the rights to print designs from famous American Modernist artist Charley Harper. He is mostly known for his wildlife prints and has a huge following. It's not unusual for people to purchase yardage from entire collections just because they love it that much.
– You mentioned babies; why is it better to use organic for babies?
– Baby skin is 3 times as thin as an adult's so chemicals are more easily absorbed into their skin. Besides the babies growing, all chemicals will certainly affect their growth to a much greater extent than – say – a 50-year-old person. Doesn't it make sense to want to wrap them up in only organic fabric?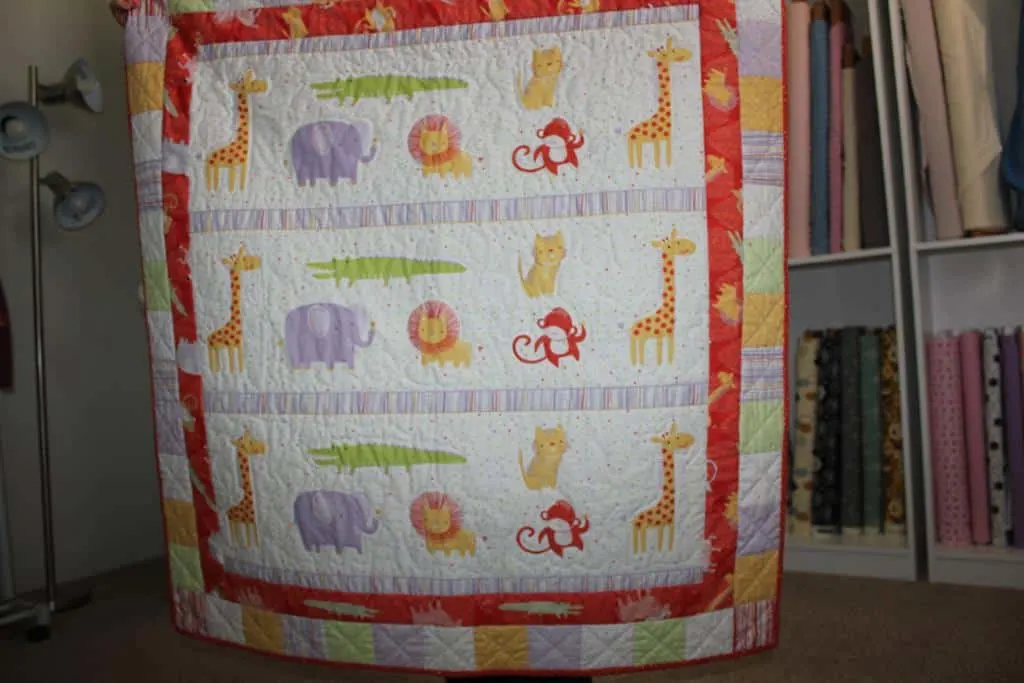 – Is the fabric certified organic? How do you know that it's organic?
– The fabric that we carry is GOTS certified. It has to pass certification at 6 different levels. There are also fabrics that technically are organic, or claimed organic, but not certified; we don't carry those. Why?
Think about planting an apple tree in your yard and using all of the steps to make an organic apple. Yes, it's organic but since you didn't pay to get your soil tested, you couldn't sell it as an organic apple, which makes sense – what if there was some toxic spill there before? Certification for organic fabric is a must in our opinion.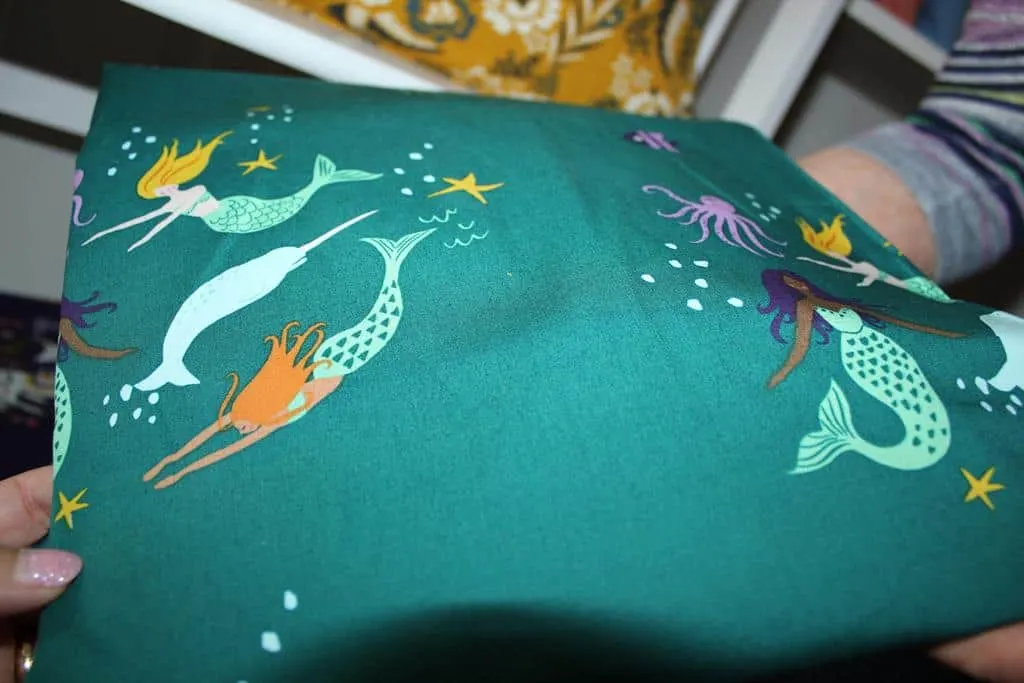 – What kind of fabrics do you sell? Do you sell both woven and knits?
– Yes! Woven plus both interlock and jersey knits. And linen and batiste and double gauze voile and canvas and barkcloth and flannel…even Sherpa. We really love having the variety to offer people. It really depends on what is being offered by our manufacturers each year and how quickly the fabrics sell out.
– We speak mostly about cotton. Do you sell only organic cotton? What about linen, wool, silk?
– Linen has just been introduced to our available fabrics and we are starting to carry linen. Both wool and silk can be certified organic as well but our manufacturers do not carry either of these fabrics at this time. Let's speak again in a couple of years, I am sure the future will see the sector growing.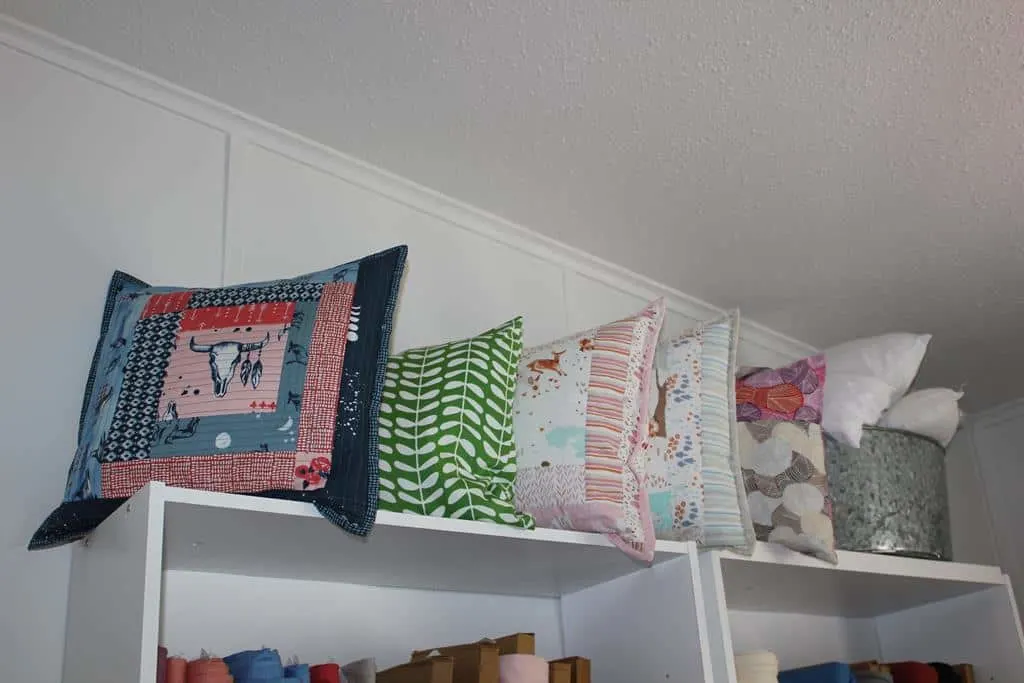 – Is all-natural fabric also organic?
– Organic really comes from the overall process – from the seed to the final processing. Think about the apple tree analogy, the same applies to the fabric. Yes, wool is natural, but if you feed the herd artificial growth hormones and let them graze grass saturated with pesticides, that is a no-no. As I mentioned before, certification is key.
-Teresa, thank you for taking the time to talk to me, I really enjoyed visiting your store and your beautiful city.
–Thank you!
Did you find this tutorial helpful? If so, save this pin (see below) on your sewing board so you can come to this tutorial later when you want to read more about organic cotton fabric benefits and follow me on Pinterest for more tips, tutorials, and inspiration!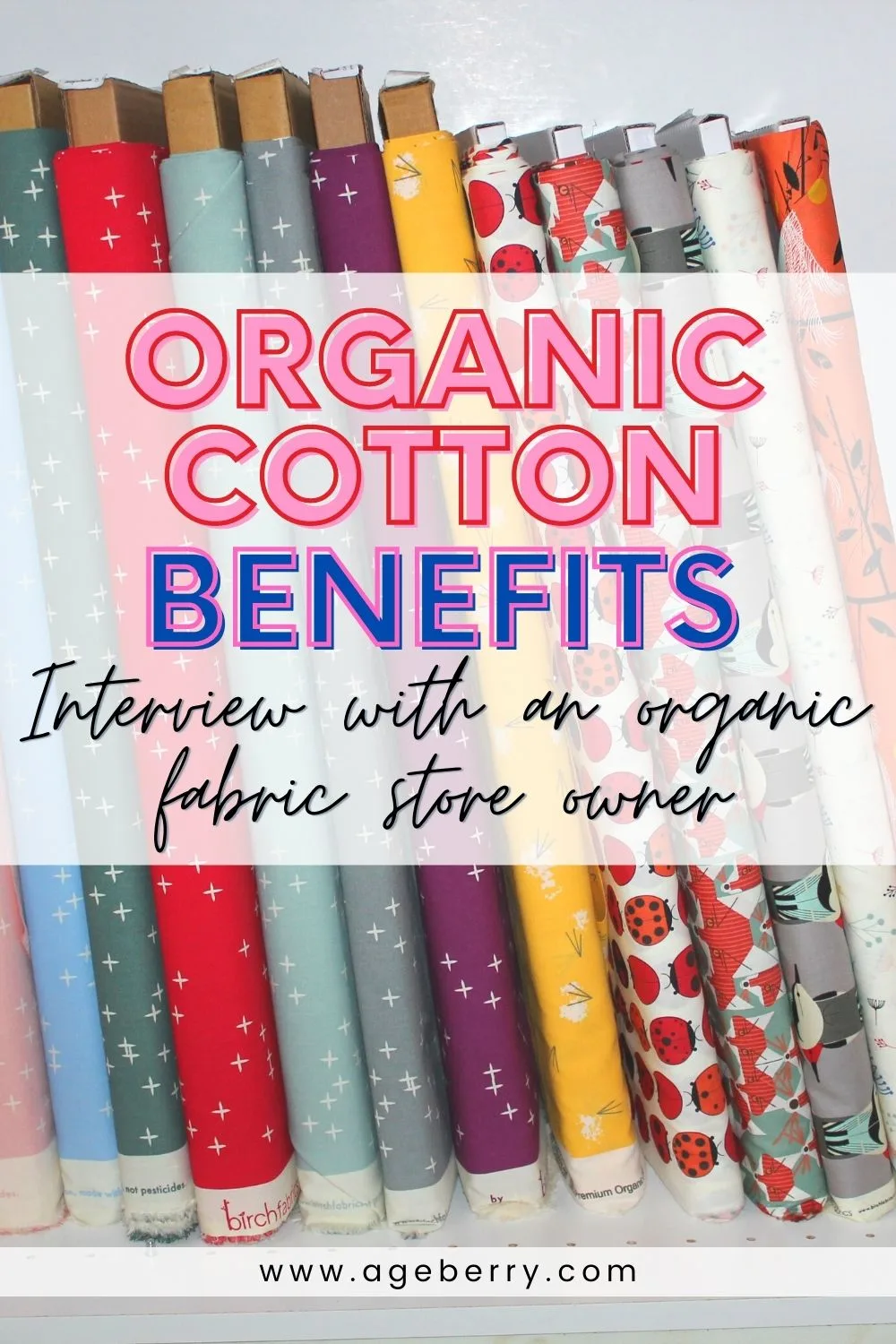 ---