As the weather turns cooler and the days get shorter, I (and many other people) start to make that mental shift from summertime and shorts, to fall, sweaters, and the holidays.
I don't know about you, but when I think about fall, my mind immediately goes to falling leaves and pumpkins. Why pumpkins? Most obviously, it's probably because pumpkins are in season in the fall. In a time when other crops are dying off and no longer producing, pumpkins and other gourds are going strong.
Another reason, perhaps, is that due to their fall harvest time, pumpkins have come to symbolize abundance, growth, and prosperity. And finally…they're beautiful! Pumpkins are most commonly depicted as large bright orange globe-looking gourds.
However, they also come in many different colors including red, yellow, white, tan, green, and even blue. Don't believe me? It's true – the one blue pumpkin I had was my favorite of all time (so far)!
The variety of bold, beautiful colors and shapes coupled with the fact that pumpkins are plentiful this time of year makes them a prime object to use for decorating our homes (inside and out!) each fall.
For example, I usually pick 3-4 pumpkins each fall season in a variety of colors and shapes to display on my porch. Then I add in a wreath, possibly a scarecrow or some maze, and a bale of hay. The possibilities for bold and beautiful fall displays are endless for anyone who loves to decorate!
DIY Fabric Pumpkins
Up until now, I've talked about real pumpkins, and they're fun to decorate in their own way. However, in the last few years, there has been an explosion of fake pumpkins. I'm sure you've seen some of them because they are everywhere this time of year: fake carvable pumpkins, ceramic pumpkins and jack-o-lanterns, fabric pumpkins, and more.
So why bother with fabric or other fake pumpkins if there are enough real pumpkins? When it comes to using them for decor, I think there are several reasons:
They last longer – Real pumpkins will rot and go bad if you have a cold snap. Fake pumpkins are immune to this.
Variety of textures and patterns – Fabric pumpkins present a real opportunity to play with different textures and patterns of pumpkins which makes them even more fun in home decor.
Ability to take liberties with the colors – While the natural colors are fun to play around with, why not create purple pumpkins? Teal pumpkins? Even black pumpkins?
How Do You Make a Fabric Pumpkin?
As with most craft and sewing projects, there's a specific order that you need to follow in order to make your own fabric pumpkin. Basically, in order to make a fabric pumpkin, you need to:
Choose the fabric that you want to use – Will you use a solid color or a fabric with a texture or a pattern on it? This is a good time to gather any other supplies you might need as well.
Choose your pumpkin pattern – You need to select the pattern for your craft to guide you through the project.
Sew your fabric pumpkin – Once you have the pattern you will follow and your fabric and supplies, it's time to put it all together and create your pumpkin.
Choose your seasonal decor – This is where you can be creative and choose how you want to display your completed fabric pumpkins.
Easy Fabric Pumpkins – Beautiful Examples
So how do you make fake pumpkins from fabric? Let's take a look at a few examples of DIY fabric pumpkins to get a better idea.
Three Different Sizes
This tutorial from Made to Sew gives very detailed instructions for making simple yet adorable fabric pumpkins. The detail of the ridges on the pumpkins is created with embroidery floss. With dimensions provided for making 3 different sizes, you can either make one size, two sizes, or have fun with all three sizes. In coordinating colors, of course.
Elegant Yet Simple
Martha Stewart provides a very simple pattern that's perfect for beginners. The finished product looks elegant and amazingly lifelike thanks to the silk fabric that's used in natural-looking hues. Follow the simple 5-step tutorial provided (with images!) and you'll have finished fabric pumpkins in just minutes. This tutorial also provides dimensions for different size options.
Upcycled Fabric Pumpkin
My favorite part about this design (and there are several things I like about it) is that you can turn old coats, shirts, or sweaters into beautiful pumpkins you'll be thrilled to display. This pattern from HGTV comes together quickly without the need for a sewing machine. My second favorite part of this pattern is that you hot glue pieces of twigs for the stems. The pumpkins look so amazing!
Go Bold
Here's a terrific example of going bold with the colors of your fabric pumpkins. While these aren't natural pumpkin colors or patterns, these three fabric pumpkins come together in a very fun – and Fall-like – way. This pattern from Scattered Thoughts of a Crafty Mom also has 3 different sizes (are you seeing a pattern?) and uses twigs for stems and faux leaves. Go bold like this example, or go rustic with your fabric choices and use twine for the ridges. Any way you make them, they'll be gorgeous.
Decidedly Chic
Making use of whites and textures, these three pumpkins are subtle, understated, and chic. Each of the three sizes comes together quickly and easily and is then tied off with jute twine for a rustic and beautiful stem. You can choose to follow a similar theme with your colors and textures, or you can use fun flannels for your fabrics. No matter which way you go, you can't go wrong with this pattern from Confessions of a Serial DIYer.
More Advanced Fabric Pumpkin
If you have more intermediate sewing skills and an embroidery machine, you may enjoy this fabric pumpkin of mine. This more "complicated" pattern uses machine embroidery eye-catching detail to something as ordinary as a pumpkin. While there is more work to this pattern than the previous patterns I've shown you, it's not particularly difficult to make. I provide an in-depth tutorial to guide you through the project step-by-step.
Scrap Fabric Pumpkins
This fabric pumpkin design from Apple Green Cottage makes use of scrap pieces of fabric that you likely have leftover from other projects. These pumpkins immediately catch my eye because they are like quick little quilts, which I love. The included tutorial has instructions (and images!) for every small step of the process to keep you on track. The rolled burlap for a stem maybe my favorite part!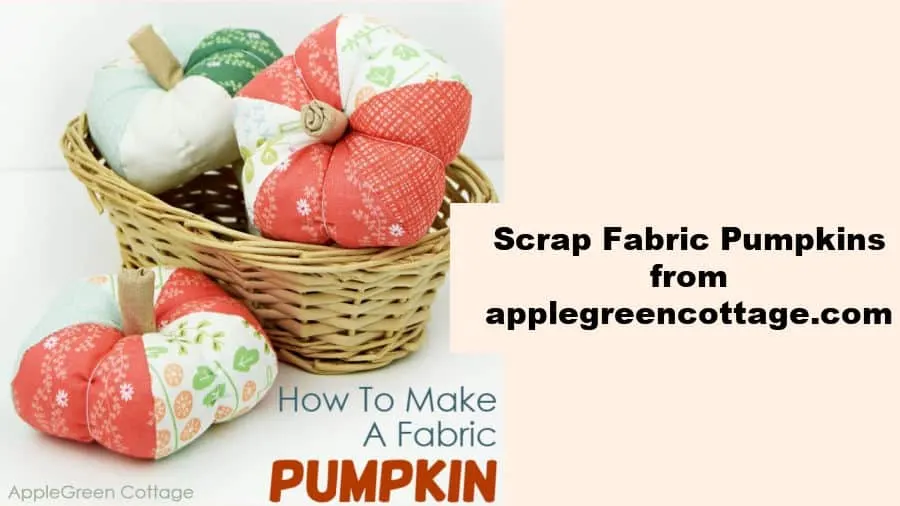 Plaid Fabric Pumpkins
I don't know why, but plaid of any color combination just looks very fall-like to me. This fabric pumpkin pattern from The Jolly Jabber is similar to other patterns I've highlighted in this post but looks rustic and cozy at the same time. The stem is rolled up and felt hot glued to the body of the pumpkin to top off a quick and easy project. This one is ideal for all sewing abilities and is fun from start to finish.
Velvet Pumpkins
How do you make a velvet pumpkin out of fabric? It's easier than you probably think! Check out these tutorials to see for yourself.
Hand Sewn Version
Jann From Newton Custom Interiors provides a video tutorial for making velvet pumpkins. This hand-sewn project tutorial is ideal for people who learn best by watching crafts in action. Try your hand at making velvet pumpkins – they take less than 15 minutes from start to finish!
Paper Mache Version
I love the creativity behind this pattern from Abbi Kirsten Collections. Instead of sewing the entire pumpkin and filling it with pillow stuffing, a paper mache pumpkin provides the base of this design. In under 10 minutes, you'll have a beautiful DIY fabric pumpkin.
Free Pattern for Pumpkins
In each of the examples I have shown, you have patterns available for their pumpkins. However, this is one from Positively Splendid that you won't want to miss. You'll find templates for 3 different sizes of pumpkins that have very little sewing involved. With cinnamon sticks for the stems, felt for leaves, and tied off with a pretty ribbon, these pumpkins smell amazing and are out-of-this-world adorable.
No-Sew Fabric Pumpkins
There are a couple of pumpkin patterns that I've highlighted already which involve no sewing. Since no-sew projects are in high demand, here are a few more I've found that you may enjoy.
Four Different Ways to Make Fabric Pumpkins
Simple Made Pretty gathered not one…not two…but four different no-sew methods for making fabric pumpkins. You're going to want to check it out because who knew you could make simple fabric pumpkins in so many different ways? Method #1 surprised me while method #4 is probably my personal favorite.
How To Make Fabric Pumpkins With Real Stems
As you have seen with the previous tutorials today, there are several different ways to craft the stem of your fabric pumpkin from cork caps to rolled felt and everything in between. She Holds Dearly shows you how to make beautiful velvet pumpkins with real stems. The effect is easy to craft and stunning to look at.
Fabric Pumpkins For Sale
Sometimes it just doesn't matter how much we want to DIY our fabric pumpkins, we just do not have the time that particular year. If that's you this year, it's ok to purchase your pumpkins. Find some that you love and support small business owners by buying their products. Here are a couple of examples.
White Chenille Rustic Farmhouse Style – With a simple white and brown color scheme that highlights the texture of the fabric, these pumpkins are gorgeous and affordable.
Crocheted Pumpkins – With so much to talk about regarding fabric pumpkins, I didn't even get the chance to cover crocheted or sweater pumpkins. I'm a texture-driven person, so I'm always drawn to these natural-looking pumpkins.
100% Sewn Fabric Pumpkins – Most of the tutorials I showed you today include non-sewn elements for the stems. Every element of these beautiful fabric pumpkins is sewn if you prefer that look.
Fabric Pumpkin Craft
How Do You Cover a Pumpkin With Fabric?
As much as I would like to be able to say there is one single way to do it, I can't. That's because the answer to this question will depend on the type of pumpkin that you want to cover with fabric. The YouTube video using a paper mache pumpkin above shows one way, and this tutorial from Unoriginal Mom shows another way.
How Do You Make Stuffed Pumpkin Decorations?
Almost every tutorial I have shared today shows you how to make sewn and no-sewn versions of stuffed pumpkins. The Spruce Crafts also provides an easy-to-follow stuffed pillow pattern.
---
---
---
Fabric pumpkins can be crafts that are as easy – or as intricate – as you prefer them to be. But the one thing that stays the same no matter the design: you can personalize them through fabric choices, pattern options, and accessories (stems, leaves, etc) any way you want to.
I hope you loved seeing all the different ideas and options for making fabric pumpkins as much as I did!
Did you find this tutorial helpful? If so, save this pin (see below) on your sewing board so you can come to this article later when you are ready to make a fabric pumpkin, and follow me on Pinterest for more tips, tutorials, and inspiration!
---