Picture this: you have a perfect fitting brown skirt in your wardrobe, and you've just stumbled upon the most beautiful green silk fabric. The question on your mind is, "Do green and brown fabrics make a good match?"
The answer to this question isn't a simple one, and I would say "It depends!" Ultimately as with so much in fashion, many might disagree, but it's clear that the possibility of making a beautiful piece of clothing or an eye-catching outfit from green and brown is there.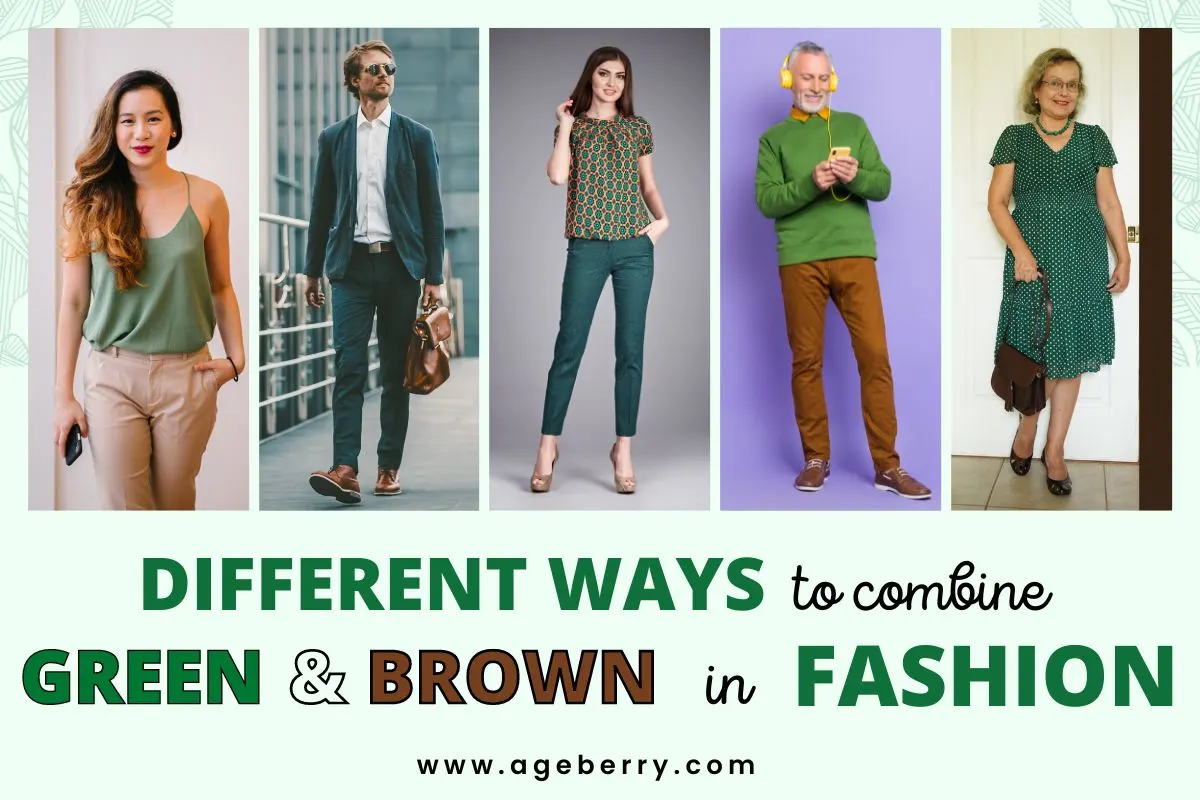 A few months ago, I was in New York City, and of course I visited my favorite fabric stores. As I was perusing the aisles, my eyes fell upon a stunning 100% silk fabric in a beautiful shade of green. What made it even more special was that it was knit silk – something I don't see often. Without a second thought, I knew I had to have it.
As I continued to browse, I came across another 100% silk fabric in a light brown shade. It wasn't knit like the teal fabric, but it was on sale for just $15 per yard. I couldn't resist and ended up buying it as well.
As I made my way home, I couldn't help but wonder if these two shades – green and brown – would go well together. And I think they really do match. What do you think?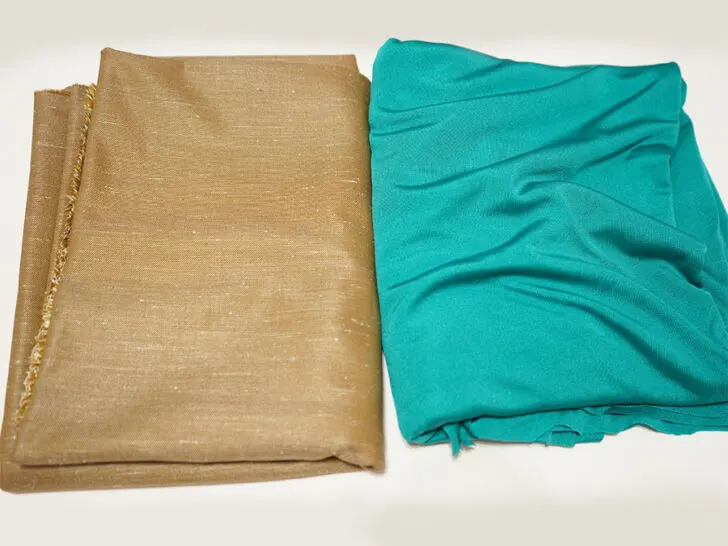 Look around, this color combination is everywhere in nature, and I think we can all agree that trees don't look too shabby with their green and brown combo. So today I'll be diving into this color combination and showing you how to create the perfect green and brown outfits that will make heads turn (hopefully, ha-ha).
Understanding Color Theory in Fashion
Before we can really dive into how to put green and brown outfits together we need to take a moment to look at the why. Why might these two colors — or the shades within these colors — go well together, or not? So let's take a look at some basic elements of color theory, or why certain color combinations go well together and others are a disaster.
Color Wheel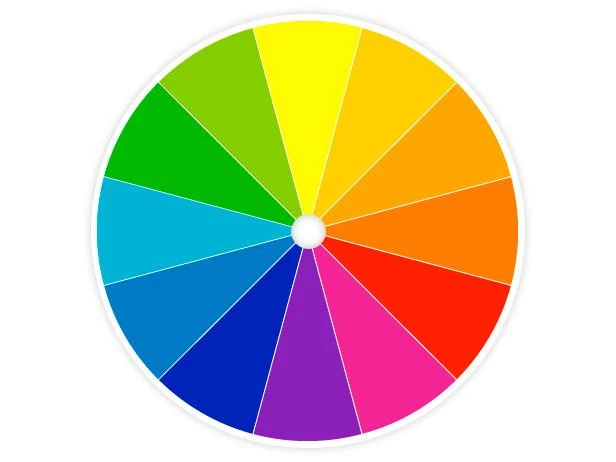 The color wheel is an essential place to start in color theory as it shows the relationships between colors. The color wheel shows primary colors (red, blue, and yellow), secondary colors (green, orange, and purple), and tertiary colors (yellow-green, blue-green, blue-purple, red-purple, red-orange, and yellow-orange).
How the colors sit in relationship to one another on the color wheel can give us a good starting point with their relationship and how well they might go together (or not).
Complementary Colors
Complementary colors (also called contrasting colors) are high contrasting colors that sit opposite from each other on the color wheel. How these colors do together is there in the name — I guess they complement each other, or complete each other. Think about green's complementary color, red — Christmas colors, this combination of colors is bold and eye-catching.
Brown actually does not exist on the color wheel so it can't have a complementary color. We can still, though, look at a very dark orange to understand what might complement brown, which is a light blue.
Neutral Colors
Ok, so we've covered complementary colors and learned that green and brown do not complement each other. So how can we make this color combo work? By understanding neutrals.
Neutral colors are colors that do not appear on the color wheel — black, white, gray, and yes – brown. Neutral colors get along (fairly) well with most other colors and are often used as a base in fashion.
And here is the point where color theory would marry brown, as the neutral, with green, the secondary color.
Shades of Greens And Browns
Of course there are many shades of greens and browns. So while we understand that neutral brown can go nicely with green, it absolutely depends on which shade of both colors we are talking about.
Let's look at some of the different types of greens and browns and which ones go best together.
The reality is, while not infinite, the number of different shades any one color has is huge. Take green, for example, this article outlines 134 different shades of green. That's a whole lot of possibilities! And there are actually 128 shades of brown.
But let's start here with just a few different greens and how they might work in a piece of clothing or as an outfit with a brown.
When it comes to combining green and brown in your clothing, not all shades of these colors are going to work nicely together.
Note: Some of the links on this page are affiliate links. This means I will receive a commission if you order a product through one of my links. I only recommend products I believe in and use myself.
Some Shades of Green That Match Brown Well
Laurel green: this shade of green is very light and muted. It is an earthy greenish-gray shade and it can be a very calming color. Pairing it with brown, you'll want to reach for something that is also light and muted so the tones don't overpower one another. For example, this delicate laurel green tank makes a nice light brown and green outfit with these khaki bottoms. What do you think?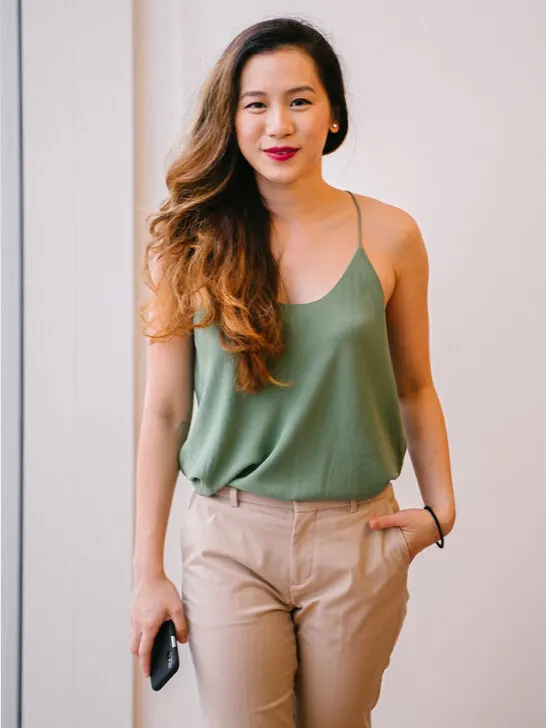 Forest green: think about the color of the needles on an evergreen tree in winter. This is a deep, wintery green. For a forest green and brown outfit, look for a brown that is a milk chocolate color, or the color of coffee after you add a bit of creamer on top. This coupling makes for a great winter outfit, for example in the image above, these deep brown bottoms go very nicely with the forest green puffer jacket.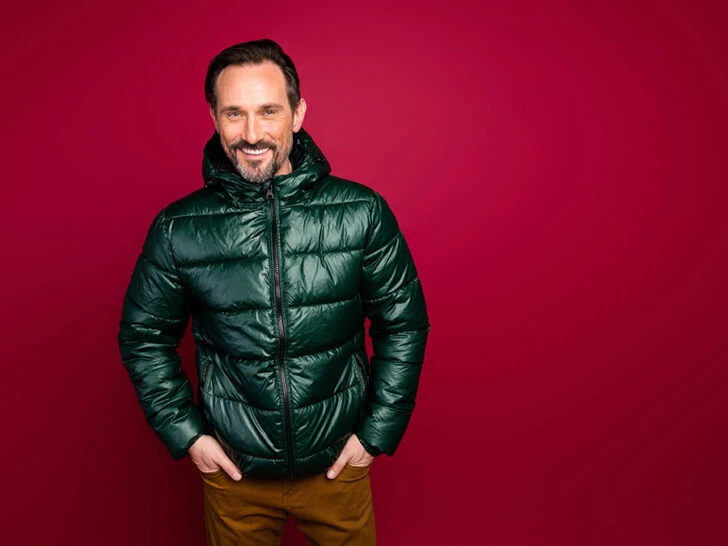 Grass green: this is a green that is bright but cool. Think of healthy, fresh cut grass. A lime green and brown outfit can prove to be tricky, but if you're looking for the boldness of a bright color, this is a slightly calmer option while still being fresh and exciting.
When pairing this type of green with a brown, think of the color of coffee beans, it's a sort of rich but neutral brown. Check out this really fresh, but ultimately very basic outfit, where the grass green sweater is paired with a clean, bright brown pair of pants and then a slightly darker shade of brown shoes.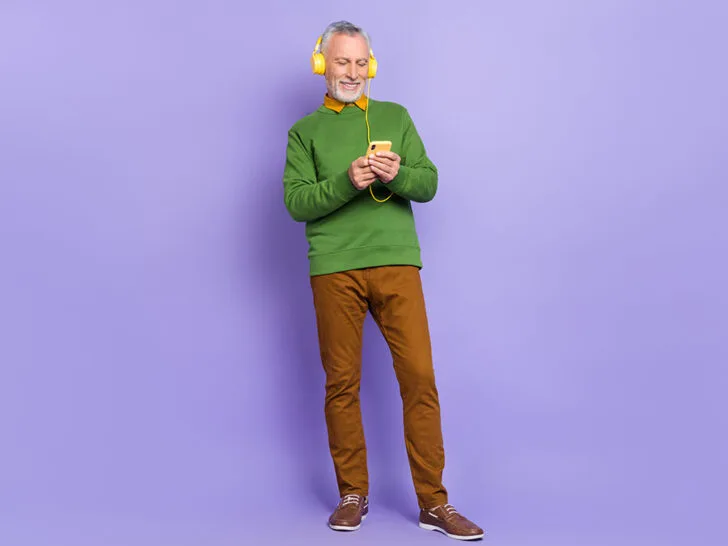 ✅ Related article: Sweater vs Sweatshirt: Which is the Best Choice for Your Outfit?
By the way, brown jeans can be a bit harder to find than other colors. I did some research and found a great option on Amazon with 4.4 stars and around 5000 reviews. You can check them out here – JUNBAOSS Men's Slim Fit Stretch Jeans
Some Shades Of Brown That Go Well With Green
Caramel brown: those sweets sitting out on your grandma's coffee table are exactly what this brown looks like. It's a deep, rich, warm color which you might find yourself surrounded by if you're sitting at a whiskey bar. This soft caramel brown jacket is beautifully thrown over a deep teal set for a lovely dark combo.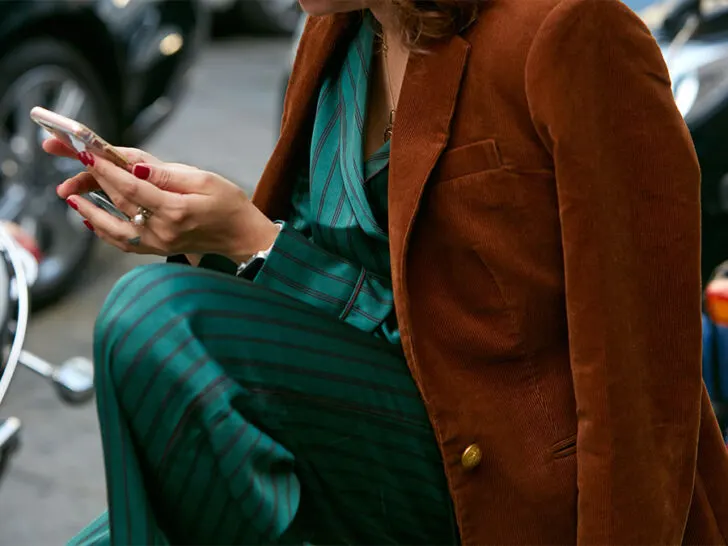 Chocolate: A chocolate shade of brown is a rich, deep brown color that resembles the color of chocolate. It is a warm and inviting color that can range from a lighter, milk chocolate shade to a darker, more intense shade of dark chocolate. The color is often associated with indulgence, comfort, and luxury, and is commonly used in fashion.
To showcase the beautiful combination of green and chocolate brown in an outfit, I decided to make an image of myself wearing it. I made the top from a luxurious velvet fabric, while the skirt was made from a soft and comfortable cotton material. I even have a tutorial on how to make this half circle skirt without a pattern, making it an easy DIY project for anyone to try.
Now, I must admit, I am not a model, nor am I a skilled photographer. But I wanted to share this outfit with others so they could see how well these two colors complement each other.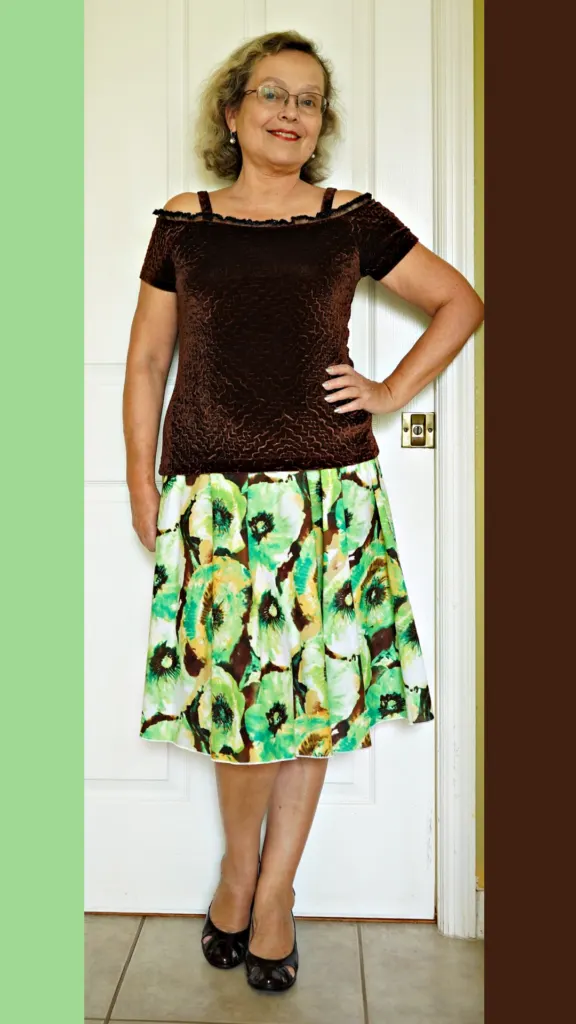 Copper: shiny like a penny, copper is another red brown tone. Copper is a versatile color as it combines brights and darks so can go from day to night or from summer to winter. This outfit accessories the deep jungle green of the dress with the lovely brightness of the copper bag.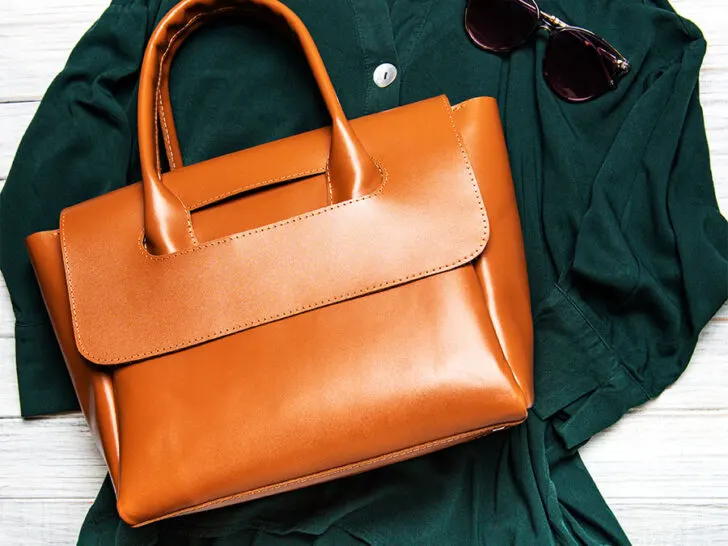 If you're in the market for a brown bag, I highly recommend the Over Earth Soft Leather Handbag, which you can find on Amazon. This bag has received over 600 good reviews and has a rating of 4.4 stars, making it a well-loved choice. Made from soft leather, this bag is both stylish and practical, with enough room to fit your essentials. Its copper brown color makes it easy to pair with a variety of outfits.
Where to Wear Green and Brown: Ideas and Inspiration
The green and brown color combination is quite versatile. Depending on the shades you choose the outfit can be great for daytime or nighttime. It can be dressed up or down, and you can even move it from summer into winter and back again. Let's look more at what an outfit for different settings might look like.
An Office Meeting
For this professional setting, opt for darker shades like this suit which is a dark forest green. Pair that with a deep oak brown — leather often suits this pairing — like this gorgeous leather briefcase, or a similar colored pair of loafers. This is very much the calm colors of a big tree deep in the forest. It's great for a professional setting where you want to look good but still not draw too much attention to yourself.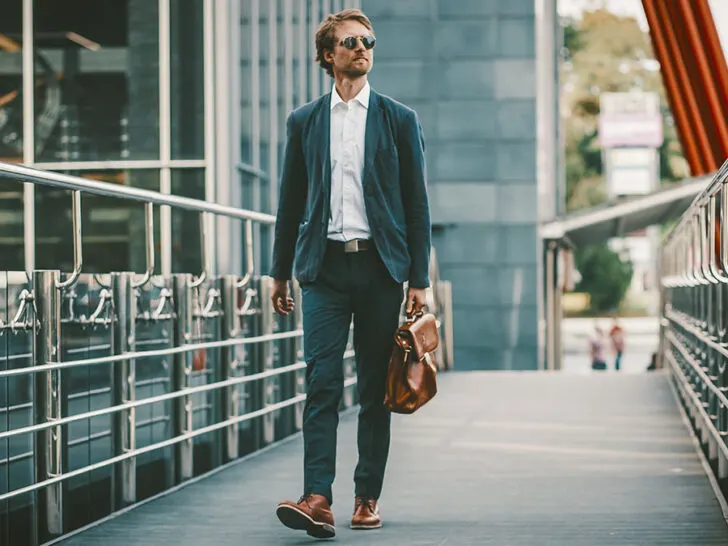 If you're looking to buy a stylish dark green suit, a MYS Men's 3 Piece Slim Fit Suit Set is a great choice. You can find it on Amazon. This suit has received more than 15,000 good reviews.
Casual Brunch
Much of what we've talked about up to this point has been green and brown separates, put together to make an outfit. But the two colors can also work nicely together in a single piece. When combined into a patterned piece like this blouse, the brown works to mute and calm the boldness of the green, making it a great option for a playful occasion like brunch. As in this outfit, you can complete the rest of the look with more green and brown, but stick with solids as a backdrop to the patterned top.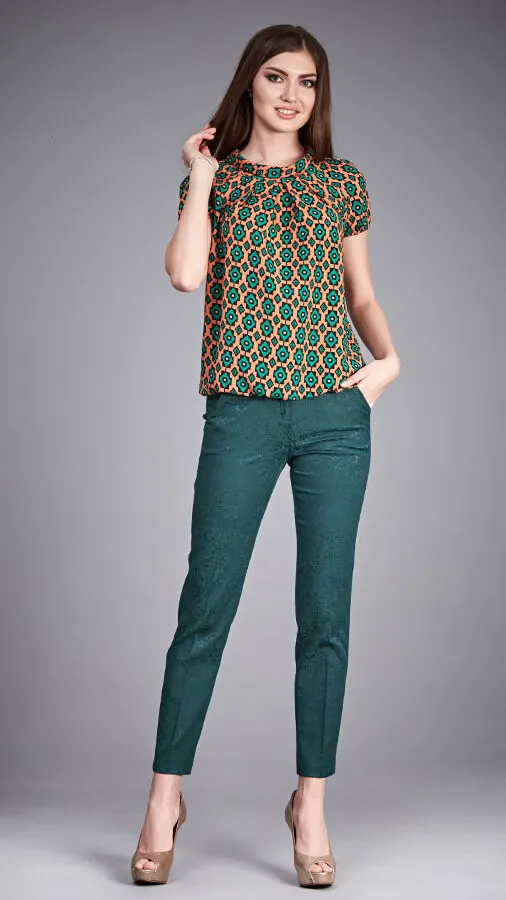 Social Events
Green and brown can be great choices for social events such as parties, weddings, or dinners. For example, a forest green dress paired with brown heels and a brown purse can create a beautiful and elegant look. This combination of green and brown gives off a natural and earthy vibe that can be perfect for outdoor weddings or garden parties.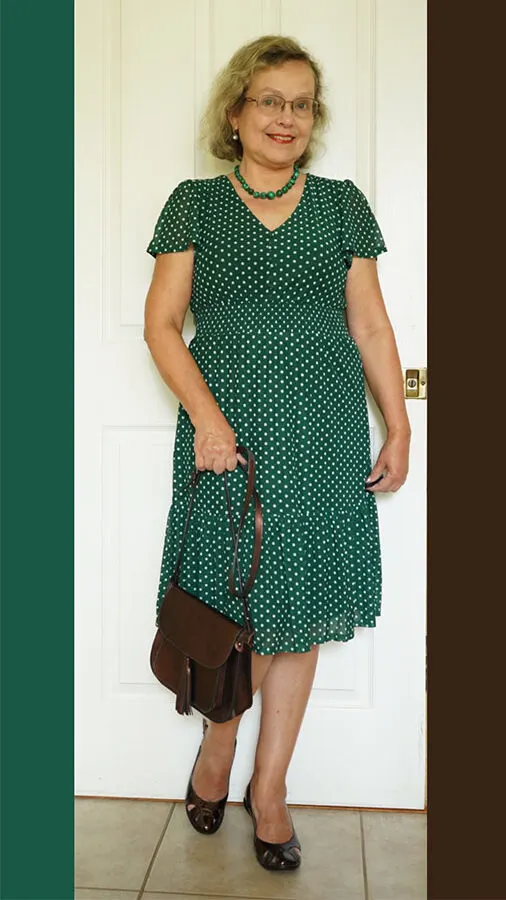 When it comes to the shade of green, you can choose anything from a bright and bold green to a more muted or pastel green, depending on the occasion and your personal style. For a more formal event, a darker shade of green can create a more refined look, while a lighter shade of green can be perfect for a daytime event.
Brown accessories (well, green too) add warmth and texture to your outfit. Brown heels or sandals can be a great choice for a summer wedding, while a brown purse or clutch can add a pop of color and contrast to your outfit.
Just experiment with different shades and combinations of green and brown to find the perfect outfit for your next event.
Outdoors
Green and brown are perfect for outdoor activities such as hiking, camping, or simply going for a walk in nature. These colors blend in with the natural surroundings and give off a relaxed, laid-back vibe.
If you're just going for a walk in nature, you might want to consider wearing a pair of brown capris, which can provide plenty of pockets for storing essentials. Pairing them with a green t-shirt or hoodie can create a cohesive and comfortable look that's perfect for a day on the trails. And a pair of green lightweight laced shoes can be the perfect complement to your outfit.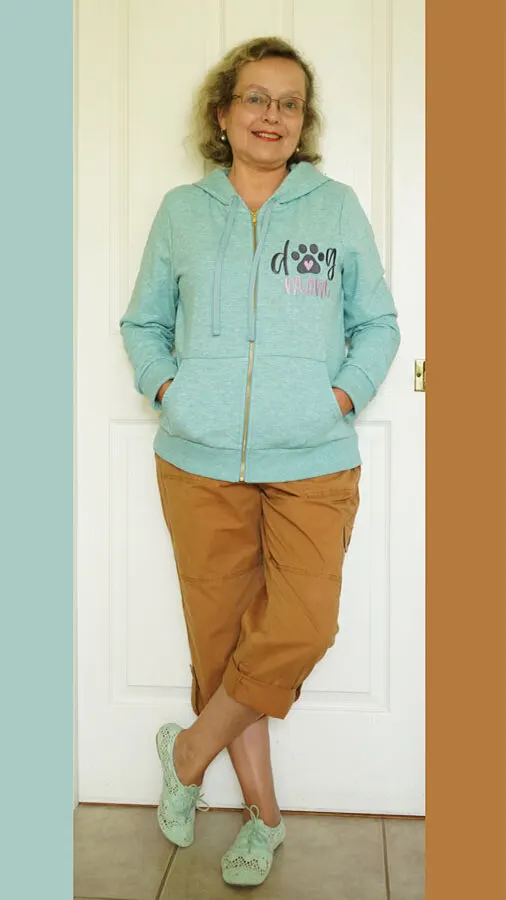 ✅ Related article: How to Embroider a Hoodie: a Complete Guide
If you're camping, a green jacket or hoodie and brown cargo pants can be a great choice for staying warm and cozy around the campfire.
You can mix and match different greens and browns to create a look that's perfect for your outdoor adventure.
More Green And Brown Outfit Ideas
Are you sold yet? Clearly the possibilities with this combination of different browns and greens are endless. So let's look at some more outfit inspiration for men and women.
Green and Brown Outfits For Women: What Are Some Options?
#1. Pair a green top with brown pants or a skirt. Depending on the tones, fabrics, and structure of the pieces you reach for, this outfit could be more sophisticated and suit the office or a night out, or it could be more casual for an easy day running errands.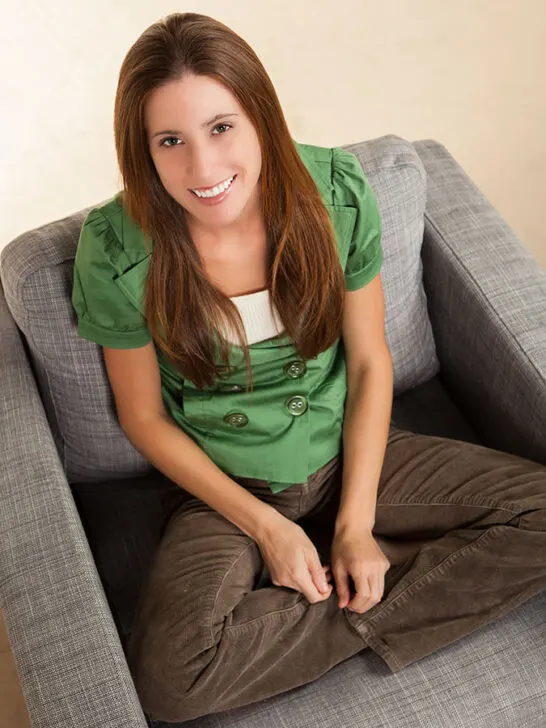 #2. Accessorize with green. Start your outfit with the main piece in brown. Whether that's a brown jacket, a brown dress, or another staple brown piece you have in your wardrobe, then liven the outfit up by adding in green pops of color. Those could be with a scarf, a belt, or some fun green shoes. The smaller bits of green will add an interesting visual element to the overall outfit.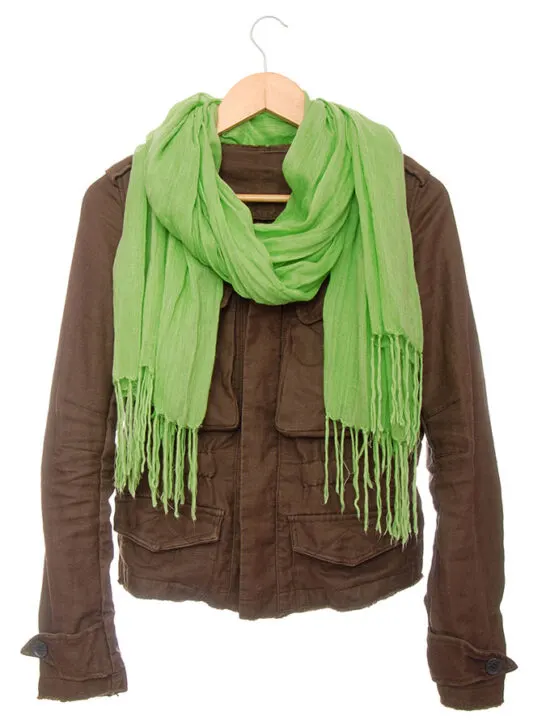 #3. Use prints and patterns that combine green and brown. It is a great way to add some personality and fun to your wardrobe. You don't have to limit yourself to solid colors when it comes to these two hues. In fact, greens and browns often combine nicely together within a pattern.
For example, I personally love green and brown prints and have made a few garments with these prints myself. In this image, you can see a tunic that I made from 100% silk charmeuse. The fabric is so nice and feels great on my skin. I love wearing natural silk because it's so comfortable and pleasant to wear.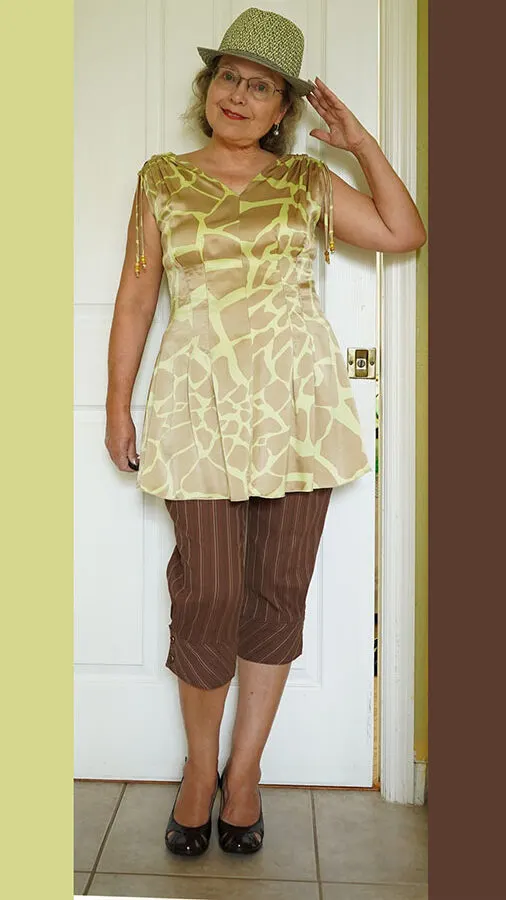 ✅ Related article: Great benefits of silk fabric
In this image, you can see a dress that I made with a geometric green and brown print. It's a one-shoulder dress made from soft 100% cotton fabric. I love how comfortable and easy to wear this dress is, and it's perfect for the Florida weather.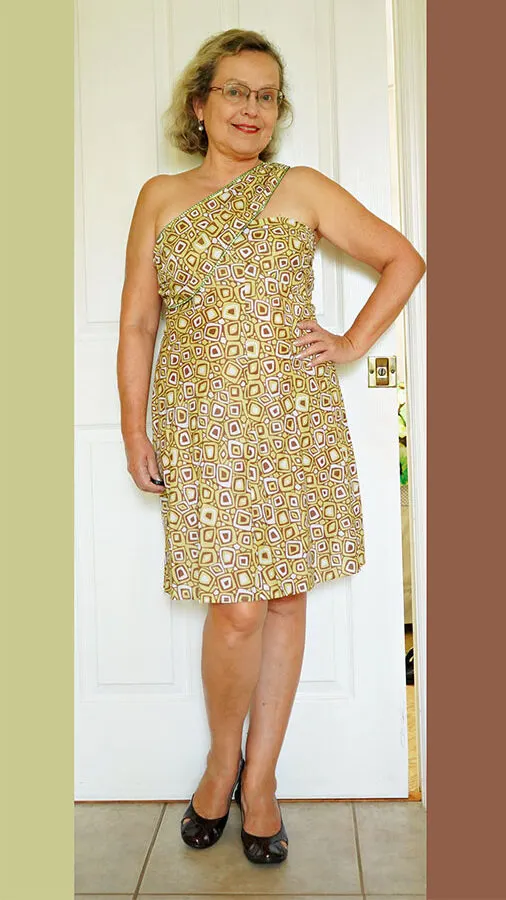 A classic option is plaid.
This cozy jacket for winter combines green and brown together on a white background, integrating black as well.
Another pattern which combines green and brown nicely is a floral print — since, of course, nature has always done this color combination well! This floral dress is a really nice formal piece for a summer occasion.

Women's Plus Size Satin Spaghetti Strap Dress Floral Green 2XL
By the way, plus-size women can be and are beautiful, as this model shows us!
Green and Brown Outfits for Women: General Tips
#1. Start with neutrals: If you're new to combining colors, or just new to combining these specific colors, start with the most neutral shades. For example, for an olive green and brown outfit try to pair a beige top with olive green pants. Or how about trying a tan skirt with a forest green sweater?
#2. Use patterns to add interest: Patterns can be a great way to combine brown and green. Look for prints that include both colors, such as florals, plaid, or stripes.
#3. Add other colors: If you don't want to go all out green and brown with your whole outfit, you can add other colors too. One easy way to do this is by adding other colors to your outfit through accessories such as belts, scarves, bags, shoes, or even stud earrings.
However, it's important to choose colors that compliment green and brown well. So how do you know which colors to choose? One helpful tool that I use is a free phone app called Color Palette Designer by Brilliant Seasons. This app allows you to create palettes with green and brown, making it easy to see which colors work well together.
Here are a few examples of palettes that I've created using this app.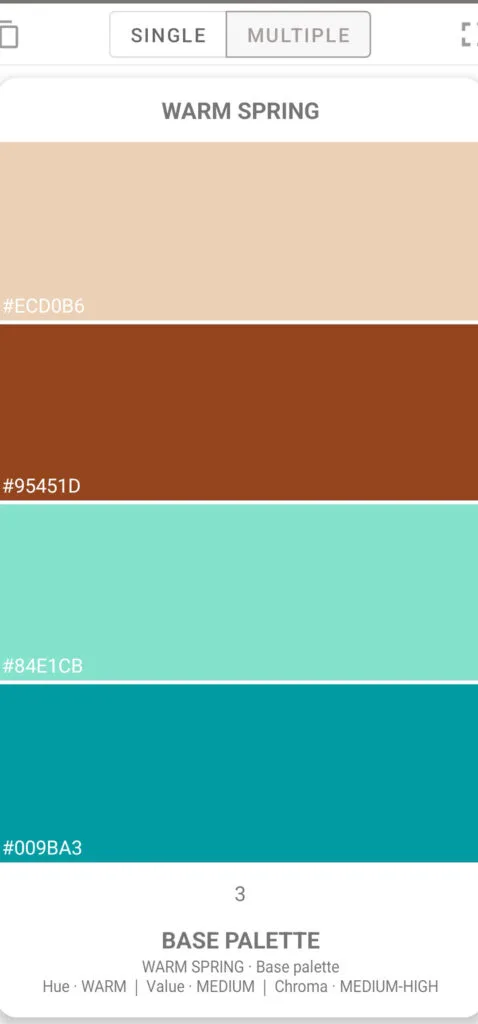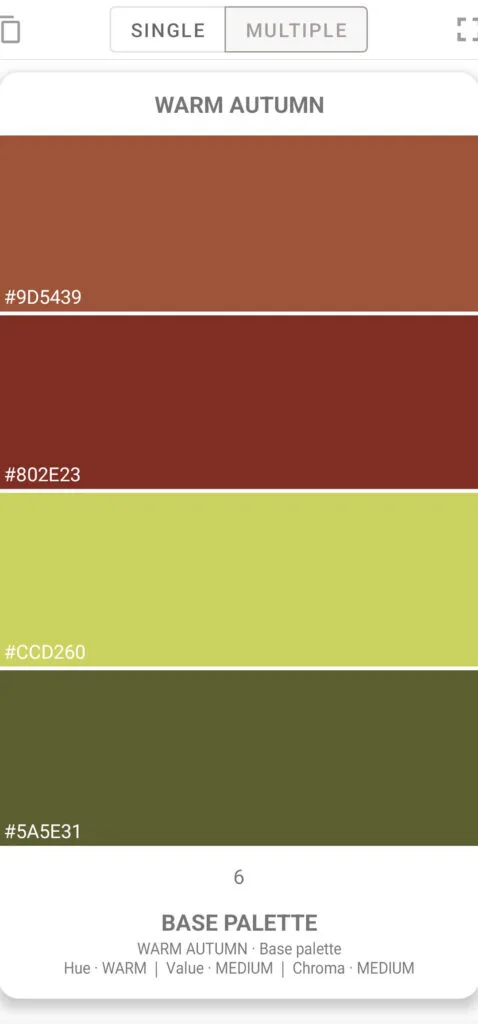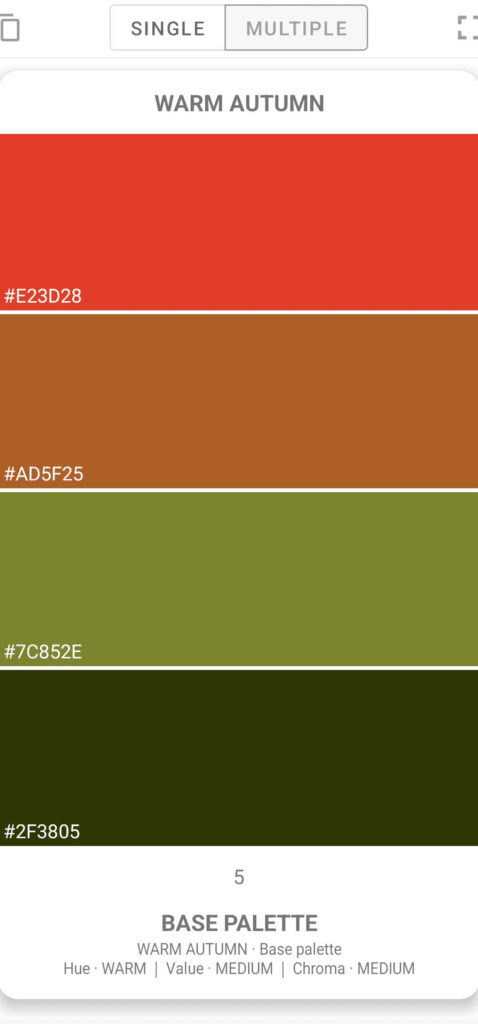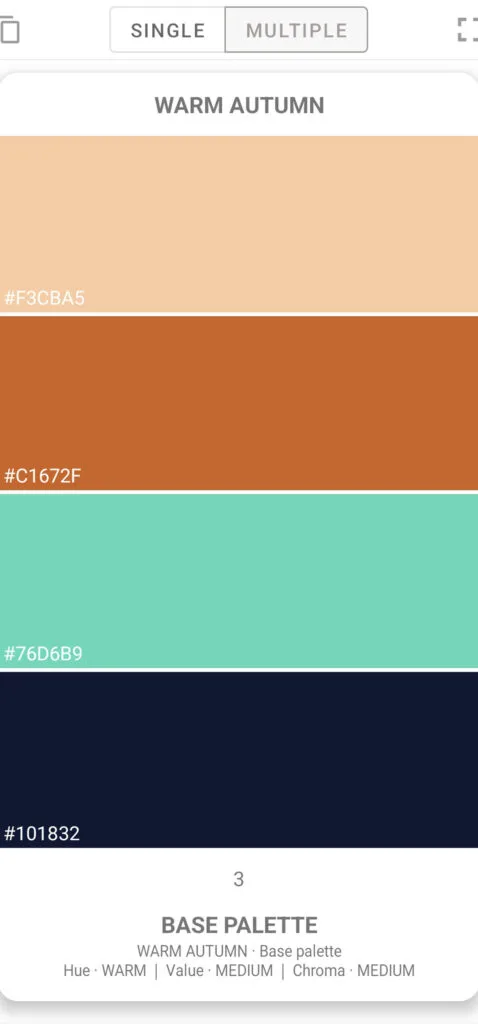 Green and Brown Outfit For Men: What Are Some Options?
#1. Wear a green shirt with brown pants or shorts. Brown bottoms, often khakis, are a staple for many men's outfits. You can also opt for deeper, richer browns. Matching these types of pants with green tops creates a casual look that is versatile and perfect for weekends or a day out.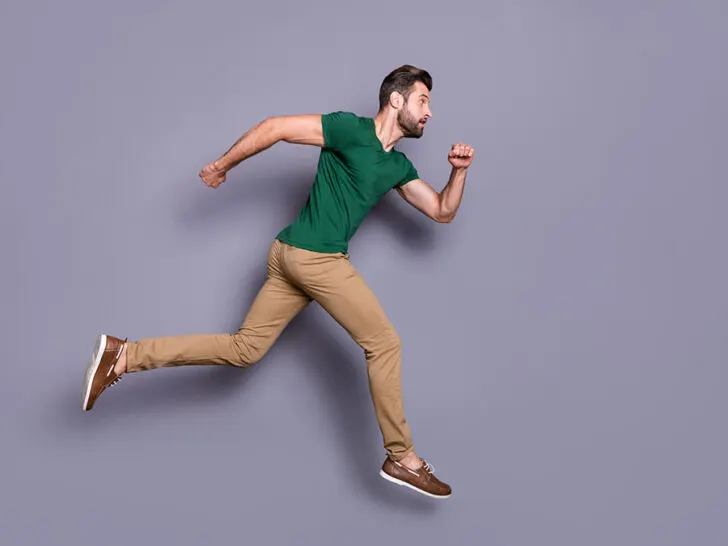 #2. Opt for a brown jacket with a green sweater. Brown jackets are generally a really nice staple piece to have in a wardrobe. If you pair one with a solid green shirt, or even a sweater, you'll have a very nature-inspired look that is perfect for changing seasons as the weather cools off. You could also add in more brown with tan, beige, or khaki bottoms.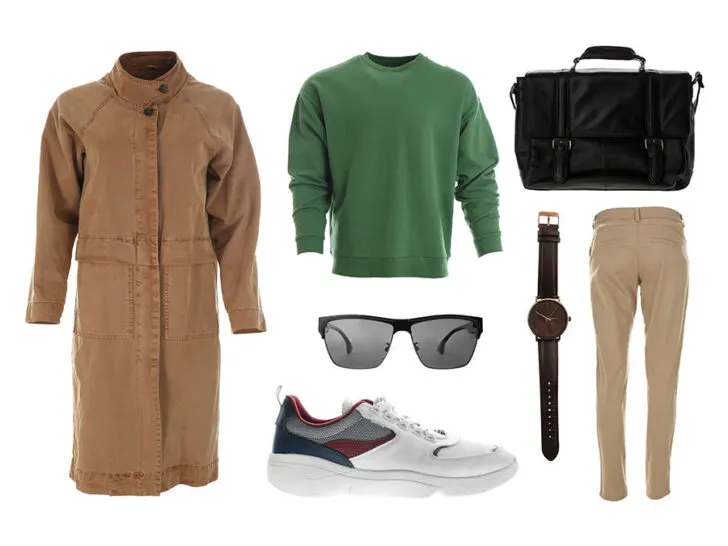 #3. Look for patterns that combine green and brown. Plaid is a classic pattern which combines these two colors well. But it is far from the only one, this striped shirt combines green and brown along with red and blue.
Or for a more basic striped pattern, this shirt sticks to a few colors.
You can also find playful green and brown patterns on ties like this diagonal striped one.

Dark Green Stripe Tie Necktie and Pocket Square with Tie Clip
Green and Brown Outfits for Men: General Tips
#1. Stick to earth tones: This color match begins in nature, so take inspiration from that. When looking at browns, think of those that match the color of dirt or soil. These will go nicely with greens that match the color of leaves on trees and plants.
#2. Mix and match shades: As you get more comfortable with this combination, don't be afraid to mix and match shades. A light green shirt can go nicely with pants in a rich, dark brown. Or vice versa, make the brown a light khaki color and then reach for a deep forest green.
#3. Add texture: Adding texture to your outfit can add another layer of interest. Corduroys are a really nice way to do this and they very often come in gorgeous brown tones. Leather is another beautiful, classic texture which shows up in a huge array of different brown shades and hues. For texture in green, look for wool sweaters or scarves or a classic tweed jacket.
Green and Brown Outfits: What Not to Do When Combining These Colors
While green and brown can be a great combination in fashion, there are a few things to keep in mind to avoid a fashion faux pas.
#1. For example, some shades of green and brown don't really match. I would avoid pairing a bright or neon green with a bright brown, as this can create a jarring and unbalanced look. Instead, opt for a muted or pastel green with a lighter shade of brown to create a more balanced outfit.
While I like lime green I find it hard to combine with browns. It is a vibrant and bold color that can be challenging to pair with other colors, especially browns. But it might be good if you pair lime green with lighter shades of brown, such as beige or tan. This can create a warm and earthy look that's perfect for spring or summer.
#2. Also, I try to avoid mixing too many patterns or textures when wearing green and brown together. While a subtle pattern or texture can add some depth and interest to your outfit, too many competing patterns or textures can create a busy and overwhelming look. Look at this image – I think it's not a good example of combining green and brown in an outfit. By the way, the shade of brown you see in this image is called maroon. It is a beautiful color, a brown mixed with a red creating a deep, rich tone.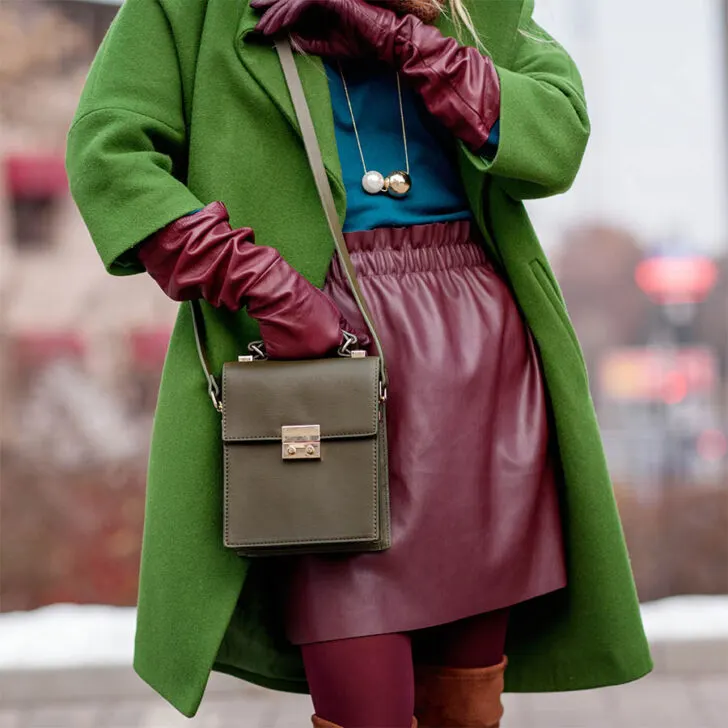 #3. Also, consider the occasion and setting when wearing green and brown together. While this combination can be great for many occasions, it may not be the best choice for more formal or professional settings.
#4. Sometimes I have trouble deciding how to pair green and brown in an outfit.
I recently bought a pair of sandals that are both green and brown, and I absolutely love them. They're not only stylish but also incredibly comfortable. However, I'm having trouble figuring out what to wear them with. They're certainly unusual for shoes, and I'm not sure how to incorporate them into my outfits.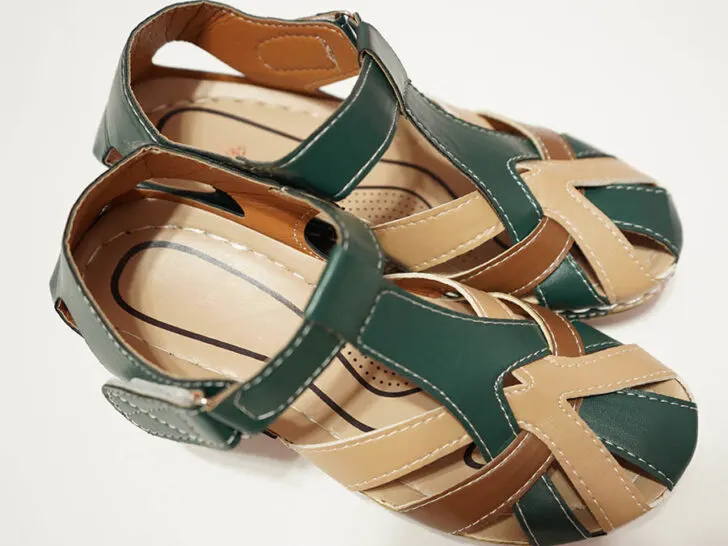 I tried pairing them with the circle skirt I made, but I quickly realized that they don't go well together. As you can see from the image I took, the green and brown sandals clash with the colors and patterns of the circle skirt.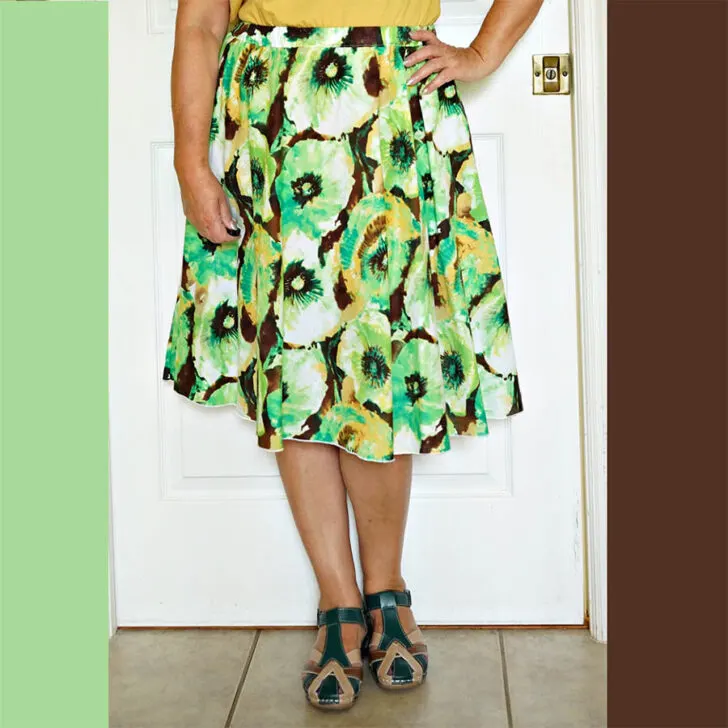 After some thought and experimentation, I've come up with this idea – keeping the rest of my outfit simple and neutral, allowing the green and brown sandals to stand out.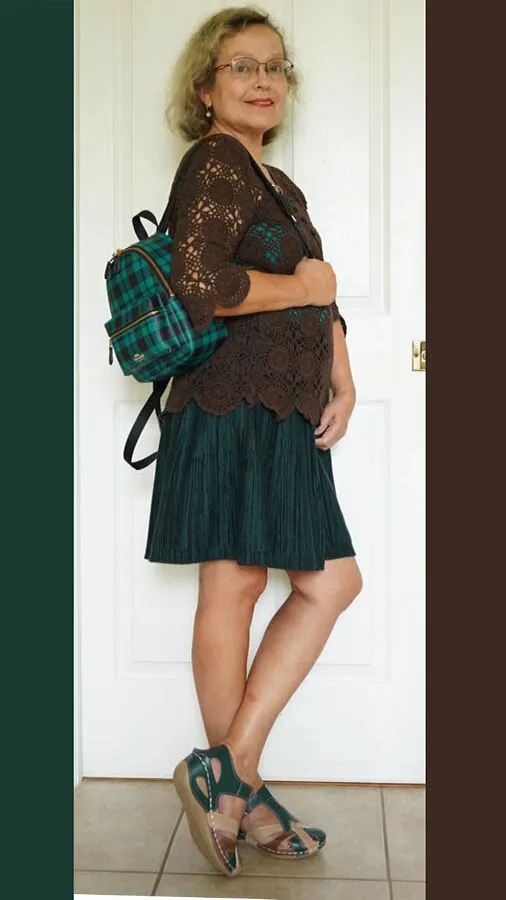 ---
As you can see, green and brown together is more than possible. The two colors have many different options and playing around with the different ways they work together can add a lot of new interest to your outfits and your wardrobe. From summer to winter, light to dark, there is an outfit just waiting to be thrown together.
---
If you're interested in more outfit inspiration, check out my post How To Choose Flattering Clothes For A Big Stomach where you can find tips on styles, silhouettes and pieces to draw attention away from your stomach area. Browse different looks and find what works best for your body type.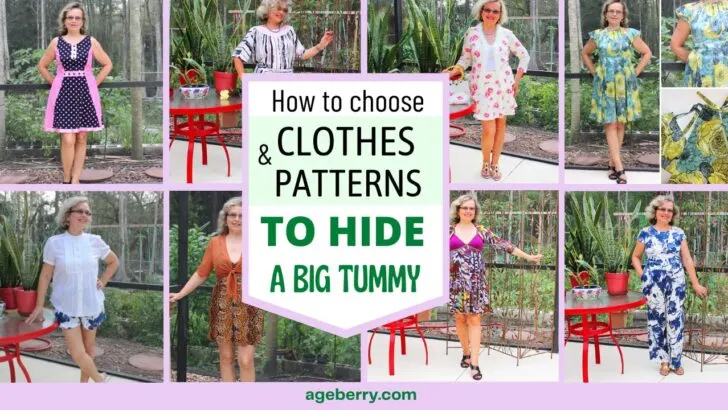 Did you find this guide helpful? If so, save this pin (see below) on your sewing board so you can come to the article later when you need this information on combining green and brown in an outfit, and follow me on Pinterest for more tips, tutorials, and inspiration!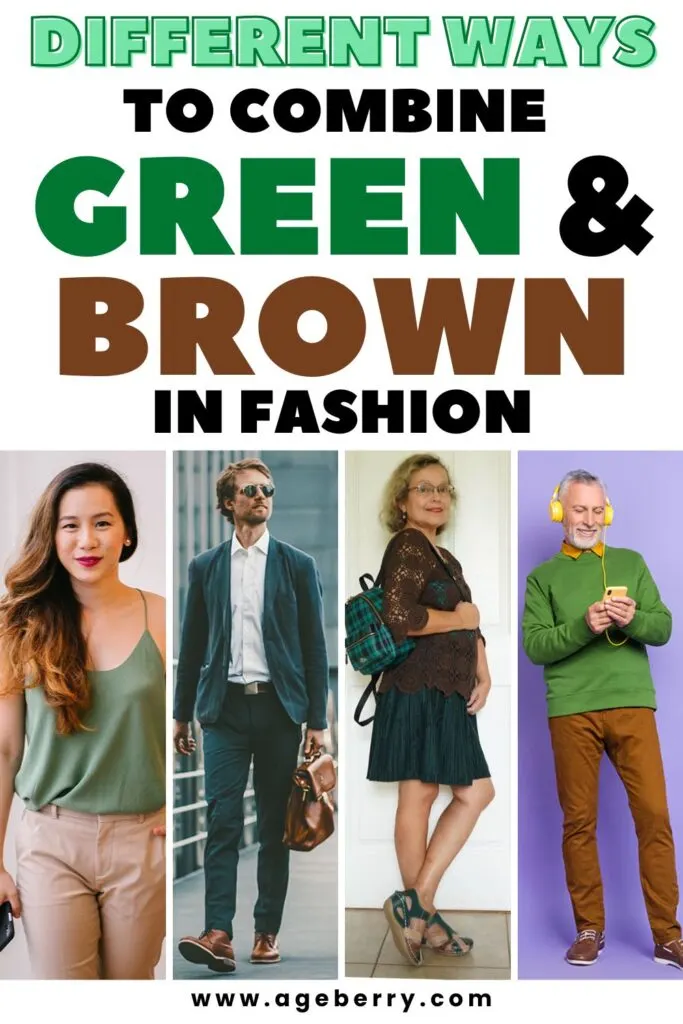 ---