I'm at Joann Fabric looking at the new pattern catalogs – Vogue, McCalls, Simplicity. So many interesting new patterns! I love them all, really. But I know not all of them will be suitable for my body type, which is far from a model's. I am petite (so I guess one-third of these patterns go right out the window), my top is one size smaller than my bottom (so I need both sizes included in the envelope, which doesn't always happen), and I really need dresses that hide a belly bulge (how did that happen to me? I didn't have a tummy when I was younger!).
So, the question is: how to choose a pattern that will fit your body? And not only fit, but also hide your flaws. Do you have the same problems? I used to ask myself this question all the time, and over the years I accumulated some knowledge as a sewist and a shopper and have decided to write this article to include everything I learned regarding how to choose the right patterns for you. Make use of these tips, and you'll be well on your way to a perfect wardrobe.
If you like to sew, try to develop not only your technical sewing skills but also that mysterious, elusive talent called 'design sense'.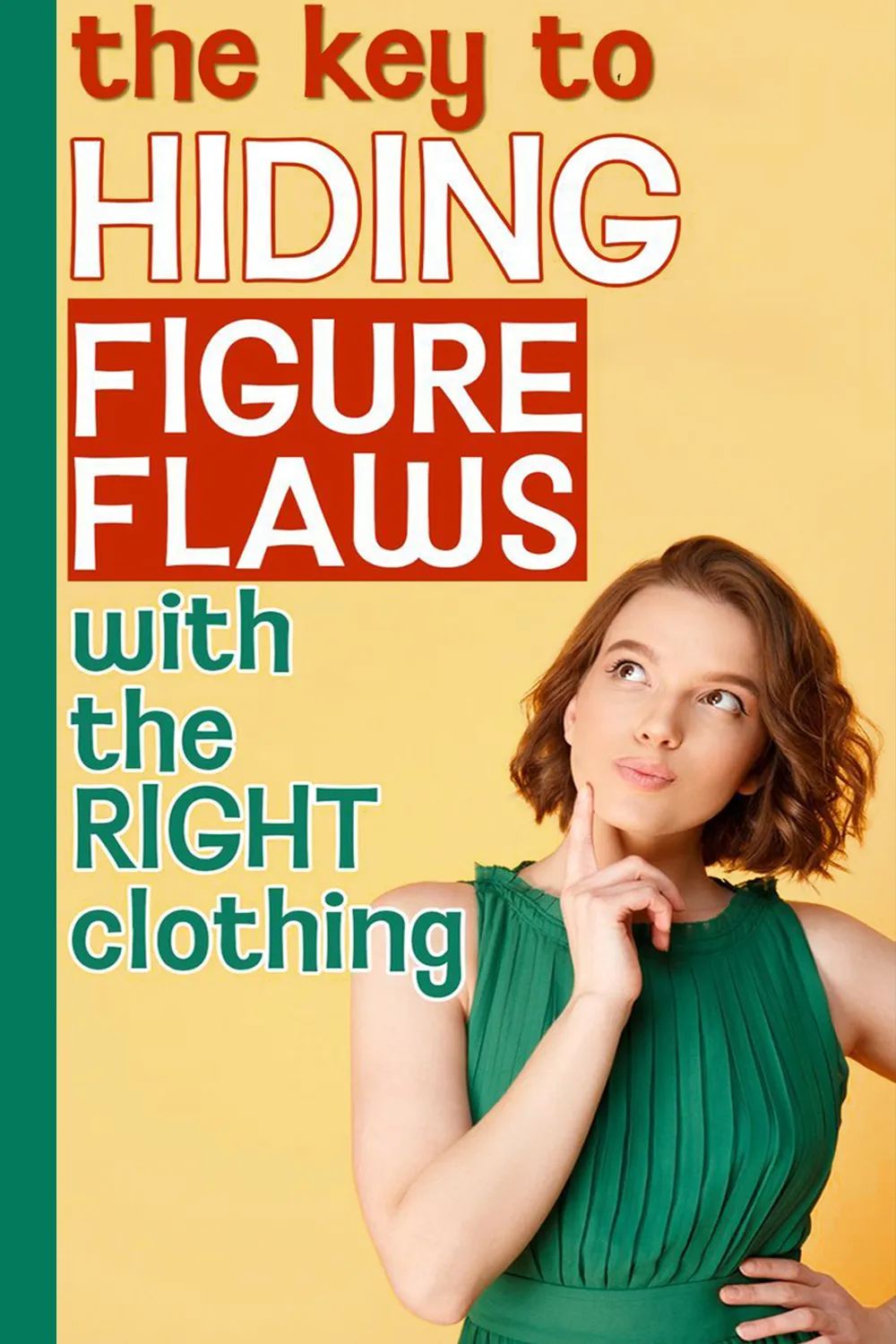 How often we see women with model-like looks in movies, fashion magazines, and pattern catalogs, and how rarely we meet them on the street. Even when looking in the mirror, each of us notices her flaws more than once. I wonder, is there a single person in the world who would be satisfied with her figure?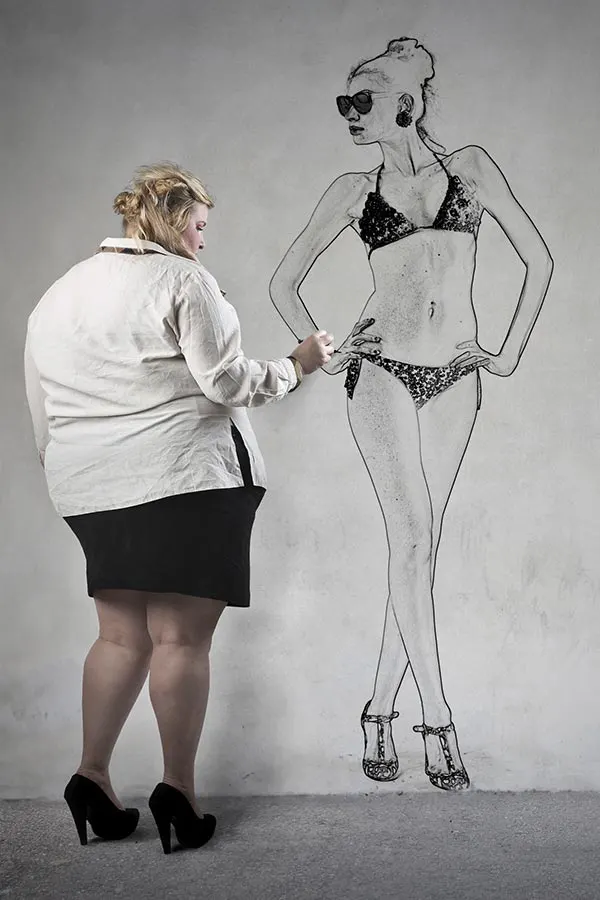 To determine which patterns, styles, and fabrics are best for you, first, take your measurements and then, in a full-length mirror, evaluate your silhouette in the front, back, and your profile. Comparing your measurements with model types, you will surely see that your measurements do not correspond to so-called "standard" sizes. But don't worry: that's because these sizes aren't "standard" for real women at all. Most people aren't a size zero
When we look in the mirror and notice our shortcomings, there are only one of two things to be done: get rid of some of them, or just hide figure flaws with clothes. A diet or extra hours in the gym can be a good solution to minimize the belly bulge, for example, but most "problems" either can't be solved at all (like a petite height, wide hips, or short legs) or are solved solely by surgery (like small breasts). Since surgery is burdened with a large number of risks and problems, most don't consider this option at all.
So, let's see how we can select the most appropriate outfits (and patterns) that can emphasize our style, be fashionable, hide any figure flaws and give us confidence and peace of mind.

Oh, keep in mind: these rules aren't set in stone, simply some realistic ideas of what to consider when you go pattern, fabric, or even clothes hunting.

This guide is turning out quite long so I decided to publish it on separate pages of my Ageberry blog. Here is a table of content if you want to jump around.
How to look taller

How to look shorter

How to accentuate smaller breasts

Minimizing attention on your large breasts

How to hide a big tummy

Narrowing wide shoulders

Broadening sloped shoulders

Hiding bigger arms

How to look slimmer

Disguising flabby upper arms

Building a waist

Balancing large buttocks and wider hips

Slimming the thighs

Handling a less curvy body

Highlighting curvier figures

How to hide bow legs, plump, or too-thin legs

How to hide flat buttocks

How to lengthen a neck

If you want to learn how to hide a belly bulge with clothes, and visually change the shape of the body; how to choose a beautiful dress, a fashionable skirt, a stylish blouse, comfortable trousers, and a flattering swimsuit to look perfect in any situation check out my other article "How to choose clothes and patterns to give the appearance of a flatter stomach".
That article is the second guide in my series about hiding figure flaws with clothes. Useful tips and a selection of photos will help you create a stylish image and forget about your shortcomings, no matter your shape or size.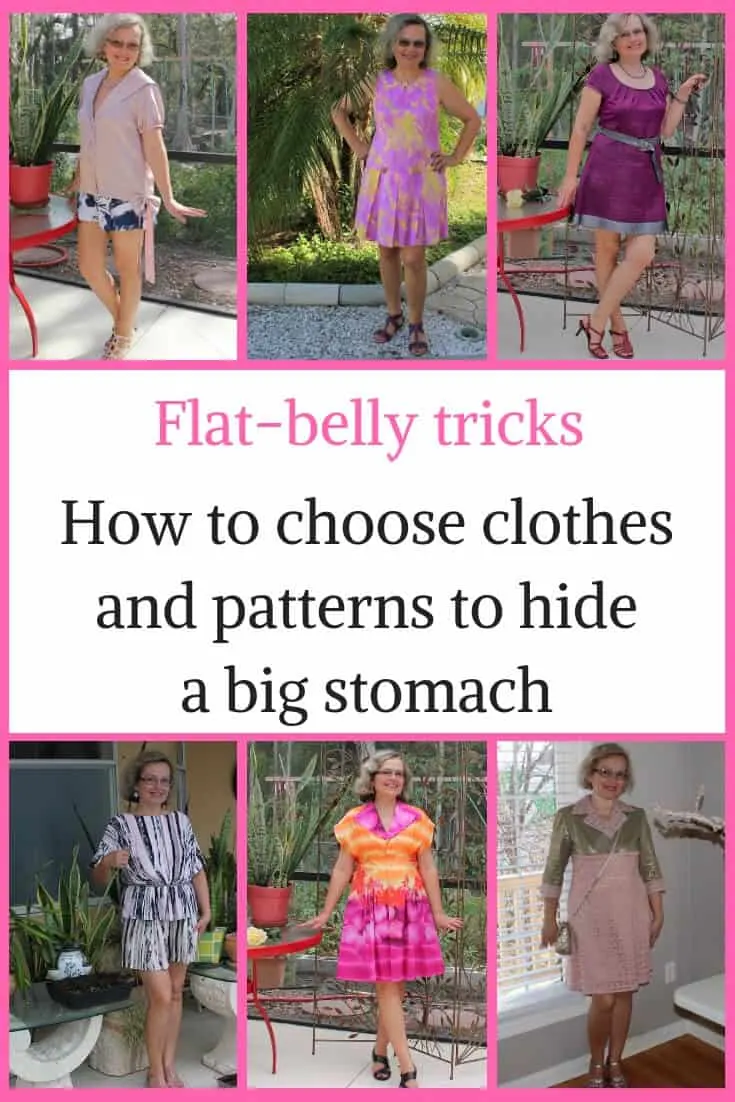 Let's get started, shall we?
How to look taller (and hide short legs)
Obviously, not everyone is born with long legs. In any case, if you want to hide this using more than high heels, use the following techniques.

Avoid fabrics with horizontal stripes and motifs (they visually "cut" your figure, making it even shorter) as well as horizontal lines in clothes that cut your figure in half: wide belts, any decorative seams, and inserts of the horizontal direction.

Play around with vertical lines by using vertically striped fabrics.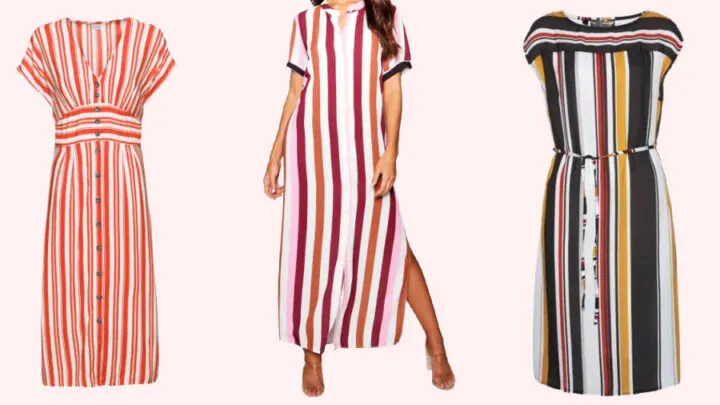 Avoid a large number of different colors in one look (not more than three). Find colors that blend together to avoid abrupt divisions between your upper and lower body.

Make use of "empire waist" dresses and tops – clothes with a high waistline – as this will make your legs visually longer.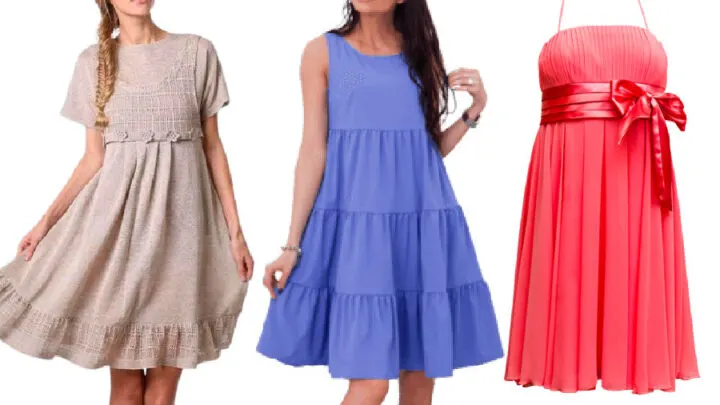 Stay away from large prints and voluminous fabric textures – the simpler the lines, the more flattering you will look.

Forget about massive accessories and layering. A large number of layers in clothes will make you look like cabbage and because of this, even relatively tall ladies look much shorter.

Pantyhose and shoes should match the color of the skirt or pants – this will visually lengthen the legs.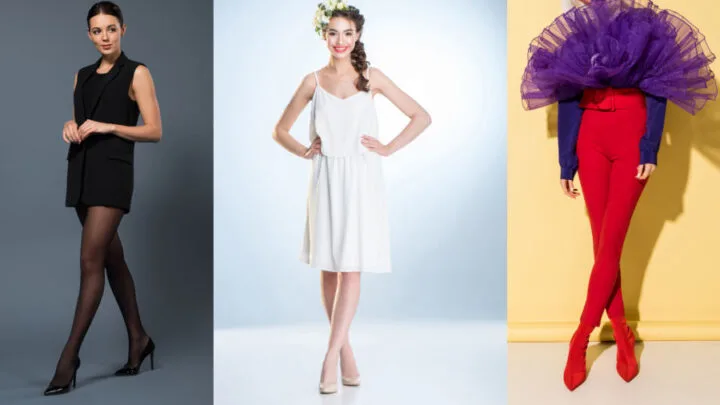 Try to wear clothes that have the simplest cut, straight lines, and monochrome colors, combined with elegant accessories.

When wearing a jacket, do not fasten it with all of the buttons – only one button. Or just pick a style with a single button (that will visually lengthen the figure).

Use a shorter jacket to complete your outfits.

Avoid wearing cropped pants.

Avoid low-rise skirts and trousers – they will make you look even shorter.

All of this will allow you to look as flattering as possible and at the same time visually increase your height.
How to look shorter
I don't think there are many women that don't want to look tall. But I even know some of them personally. So follow the advice here.

Don't wear clothes with vertical lines and small prints – they will make you visually taller. Use fabrics with horizontal lines and large prints.

You can wear wide belts and make decorative seams and inserts in the horizontal direction.
In a dress ensemble, use several colors in contrasting shades – this will helps break the upper and lower body.

Make use of flared skirts to shorten the body.

Wear low-waist skirts, jeans, and pants or cropped pants – this will shorten legs.

Don't use small accessories – larger options will look better with your figure.

Make sure to reveal the neckline (i.e. turned-up collars, low-cut collars, deep V-necklines).

Disregard tight clothing or high collars.
How to hide small breasts
Most women in the modern world seek to visually increase the size of their breasts with the help of clothes (not scalpels and implants!). You can choose one of the 2 strategies – shift the emphasis to the neck or to something else that nature has given you, or hide the true size altogether.
First of all, it's worth talking about underwear. Glory to the designers for giving the world the push-up bra! Using this, one or even two sizes to your natural size are guaranteed to be added. The cups are designed so that they slightly raise and close the breast. But choose a bra that exactly fits your breast size (too-large bras will not look better, but will only emphasize the problem).
Use the magic of color – it will help to place accents correctly. In a dress ensemble, choose a solid dark bottom and a bright top.
Make use of fabrics with large prints that will make the breast area wider. Horizontal lines also have such a miraculous effect in keeping the bustline looking bigger and wider.
No less important is the texture of the fabrics. The additional volume for the upper part will be given by dense lace, fabrics with large knitting patterns, and velvet.
Wear tops with patch pockets, ruffles, and bright embroidery to build volume near the bustline.
Gathered yokes will help your breasts look bigger, but don't make use of anything that gathers, and/or has ruching near the waist seam.

Don't use halter necklines.

Multi-layering skillfully disguises small breast sizes. But just make sure that the layers closest to your skin are the most fitted so you can avoid any extra bulk or wrinkling as you put on more layers. For example, wear a sleeveless top and a chiffon blouse. The latter can be tied under the breast, which will create light drapes and volume in the breast area.

Pay attention to loose tops and flowing blouses, which will give your breasts more visual fullness.
Avoid wearing narrow fitted jackets, blouses, and dresses.

Divert attention from small breasts by using accessories and jewelry. The goal is to put on something that is less focused on the bustline. Accessories are not directly related to breast size, but they have their own use. Additional volume in the neckline will be given by scarves and shawls. Earrings, necklaces, brooches, etc. will distract attention from the problem area.
Wear push-up bras. Check out this very helpful article on the best push-up bras.
Eliminate Attention on Your Large Breasts
Trying to hide large breasts is, perhaps, much less common, but this is also worth talking about. One of the eternal female paradoxes: all small women dream of bigger breasts, while large-breasted women often dream of reducing their size a little. The problem, in this case, is the exact opposite of the previous one.

So, forget about light blouses with jabot and ruffles, as well as other clothes where complex details or whole constructions are found in the upper part. In this case, dark shades and fitted tops are best. Dark colors visually reduce the volume, while bright ones increase it. Therefore, it is possible to balance a figure well by combining a dark top/blouse and a light skirt/pants.

Make use of wide-open necklines to help create space near the bustline. The best are V-shaped or square necklines because they visually lengthen the neck.

Always wear looser tops and emphasize the waistline to keep the eye downwards.

Aim to wear fitted jackets with tiny lapels.

Wear wrap tops and dresses to help accentuate the waistline.
Avoid tight-fitting tops with thin spaghetti straps – summer tops on wide straps, from fairly dense knitwear, are much better.

Abandon fashionable prints on the tops in order not to make breasts look even larger.

It's good to divert attention to other parts of the body, highlighting them with bright colors. This may be shoes, pants/skirts, jewelry on the hands, a print on the back, etc.

Additional volume on the hips, for example, in the form of peplum, perfectly balances bigger breasts. Such an outfit will also emphasize the waist. 50s-style dresses with an A-line skirt are also suitable for girls with big breasts.

Use tightly woven fabric that keeps its shape. It helps to create the necessary silhouette and support the breast. It's especially suitable for jackets, trousers, skirts, dresses, and outerwear.

Try a classic and even a little "masculine" style of clothes: clear lines, plain fabrics, trouser suits.

No matter what you believe your problem areas are, the most important thing is keeping comfortable and confident in your clothes. Follow these simple guidelines to make the most of your look!
If you would be so kind, please share this guide via Pinterest or Facebook if you find it useful – we all know how much time sewists spend over there, lol.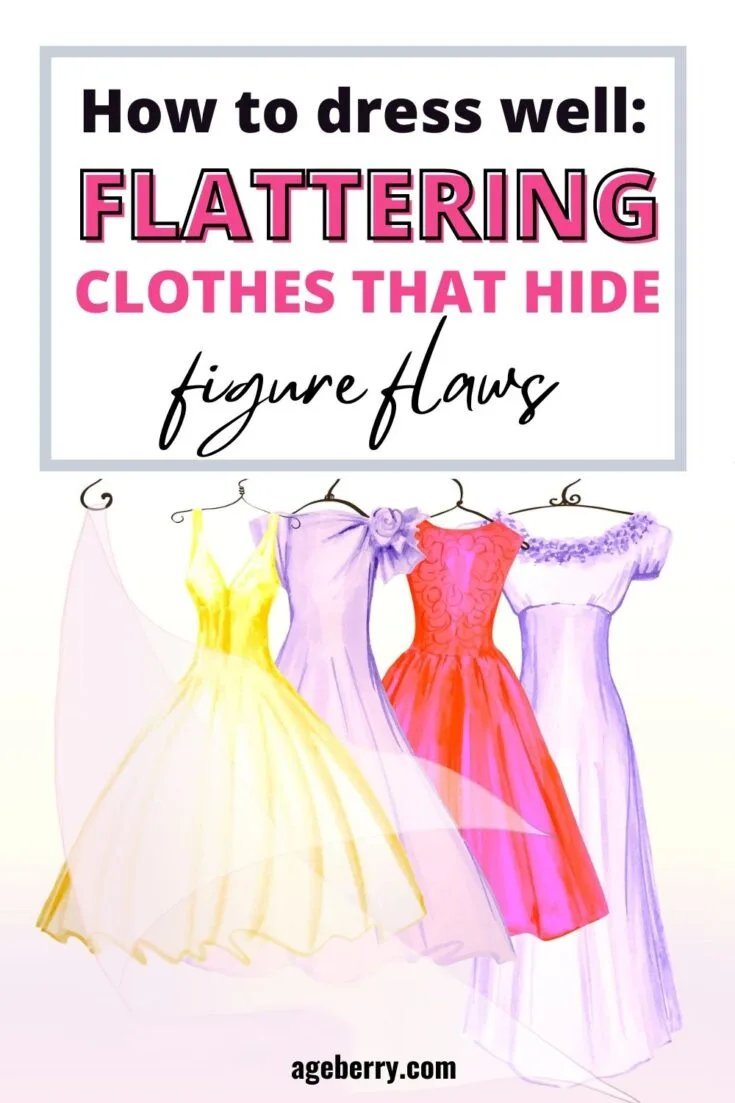 ---