Mechanical vs computerized sewing machines: which type is better? Learn about the differences between these two types of machines and which one is better for you.
Ever since their invention, computerized sewing machines have changed the landscape of the sewing machine market. Although they make many certain tasks easier, they also come with a few cons, that have sparked an intense debate over which is better.
After all, do you really need to buy a computerized machine if your mechanical one still works just fine?
Part of the debate over these two types of machines rests in the idea that "newer is better." You will always find people who want the latest (and greatest) technology. At the same time, there will always be those people who say that newer isn't necessarily better.
Mechanical vs computerized sewing machines: which is better? Let's try to find out!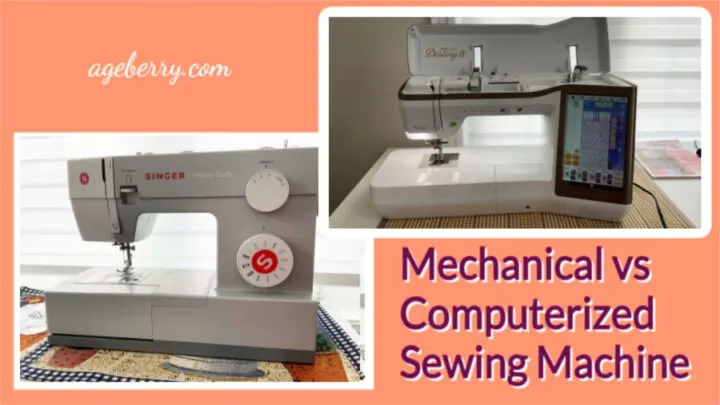 Note: Some of the links on this page are affiliate links. This means I will receive a commission if you order a product through one of my links. I only recommend products I believe in and use myself.
What is a mechanical sewing machine?
Most sewists think of mechanical sewing machines as traditional sewing machines. These machines are designed with all sewing experience levels in mind but are more basic than computerized machine models.
Their defining characteristic is that they're simpler to operate. They don't have a digital display from which to select features since there is no central computer system. Instead, they rely on the user to manipulate manual dials and knobs to control their functions and adjust settings.
They may seem more basic (and they really are), but that doesn't mean they're outdated. Mechanical sewing machines employ the latest sewing technology, with some models even having a few automatic features (such as automatic needle threaders).
For example, Singer 4423 heavy duty sewing machine is a mechanical high-quality machine with some automatic features. It's among the most popular sewing machines on Amazon and has thousands of 5 star reviews to back up its great reputation! Durable metal interior frame provides stability. The Singer 4423 can handle a variety of heavyweight fabrics.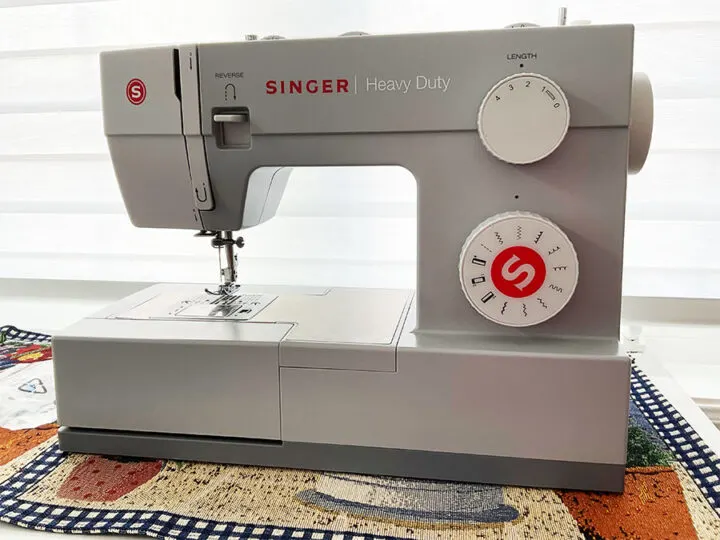 What is a computerized sewing machine?
A computerized (also called a digital) sewing machine is a powerful computer that has software inside that allows you to control various machine components and functions and usually has a digital LCD control panel on the machine.
Computerized machines are designed to automatically perform more complex sewing tasks for you (such as one step automatic buttonholes, many different types of stitches to sew all kinds of fabric, built-in embroidery designs, etc.), but learning how to use one can be daunting for beginners and less-than-tech-savvy sewists.
Because of the versatility of computer control, these machines also can perform many more functions than non-computerized ones.
In addition, most modern computerized sewing machines come with USB ports so you can easily transfer embroidery designs and other data to and from your computer.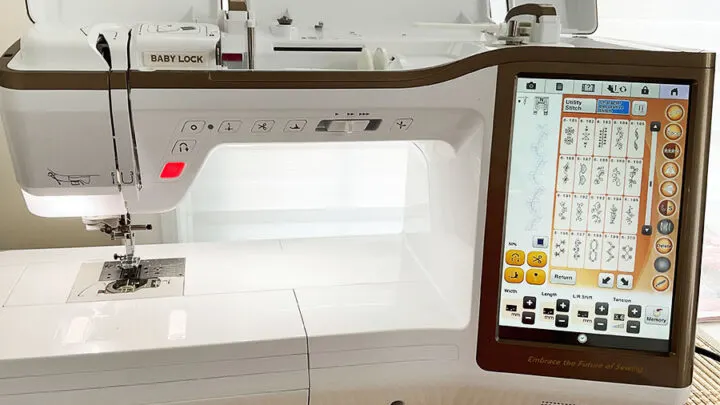 What computerized sewing machine do I recommend?
The Brother SE600 sewing and embroidery machine is a great choice for beginners and experts alike. This computerized machine comes with 80 built-in embroidery designs, 103 sewing stitches,10 styles of automatic buttonholes. The large LCD screen allows users to preview their designs before stitching.
The Brother SE600 Sewing and Embroidery Machine is the best seller on Amazon and has a few thousands of 5 star reviews.
NOTE: some people use the terms 'electronic' and 'automatic' interchangeably with 'computerized,' but these terms don't all mean the same thing. An automatic sewing machine may be computerized, while an electronic sewing machine doesn't always have a computer inside but may have some simple electronic circuits.
What is the difference between a mechanical and a computerized sewing machine?
If we compare these two types of machines on a basic level, they do the same thing with varying levels of input from the sewist. Both machines will sew garments, perform quilting tasks, and more. The differences appear when you compare their features and functionality.
Ease of Use
Even though computerized machines are meant to make sewing tasks easier for the user, they can be hard to learn because they have so many buttons, so many functions, hundreds of different stitches, etc. Mechanical machines are simpler to use with fewer choices to choose from.
They're easier to use and provide a variety of stitches with just one or two buttons, while computerized ones can take up all your time trying to figure out where everything goes on their complicated user interface!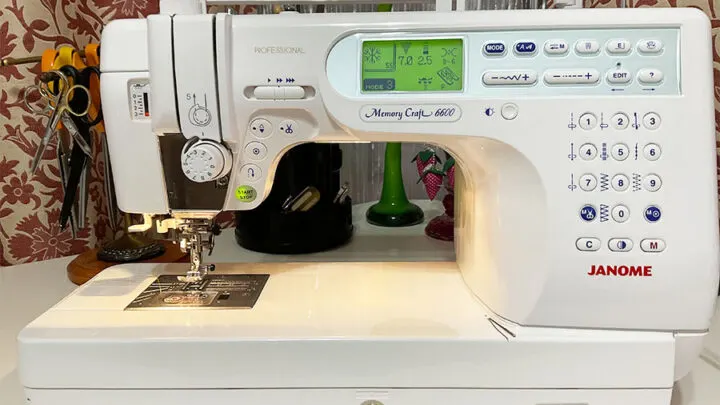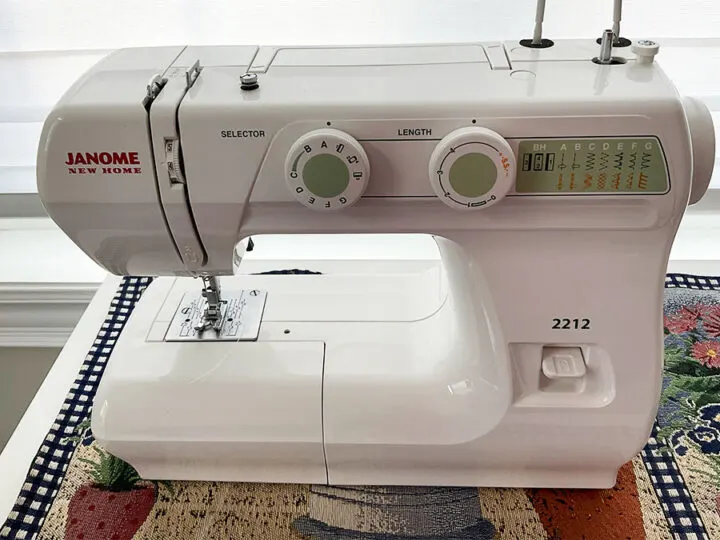 Features
Computerized sewing machines offer a huge variety of features to help save time and improve efficiency. Some of the features you can find include automatic tension adjustment, automatic needle threader, automatic presser foot lowering, thread cutter, automatic reinforcement stitching, automatic fabric sensor system, basting, multi-directional sewing, and more.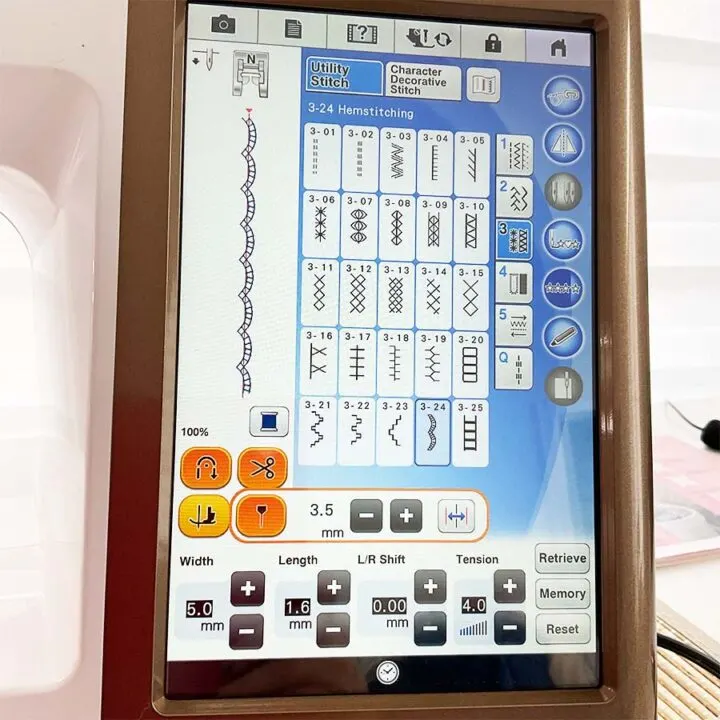 Quality of Final Product
Computerized machines include features that are designed to help you produce higher quality products in less time, such as precise stitching, adjusting the tension according to the fabric, recommending the best stitch type, etc. Yes, the new computerized machines can even tell you which stitch type is best suited for a particular fabric, so it's not just your imagination that makes these projects look perfect.
Puckered stitches? Crooked seams? Jammed fabric? Broken or shredded threads? No buttonholes? I don't have these problems with my computerized machines.
Versatility
Computerized sewing machines can be your best friend when it comes to doing all sorts of tasks. You'll have no problem working with different fabrics, stitching multiple layers together while also quilting or embroidering on top.
Maintenance
Mechanical sewing machines take the prize here because they're easier to maintain since they lack motherboards and other electronic parts.
Mechanical machines require regular oiling by the owner but my computeried machines shouldn't be oiled (that's what their manuals say). Computerized machines should be serviced by technicians in a shop.
I was curious to see what is inside my Janome New Home 2212 machine so I took it apart. As you can see, the electric part is limited to the motor and lightbulb, the rest is a combination of axles, wheels and levers that transmit the movement from the motor to the needle and bobbin.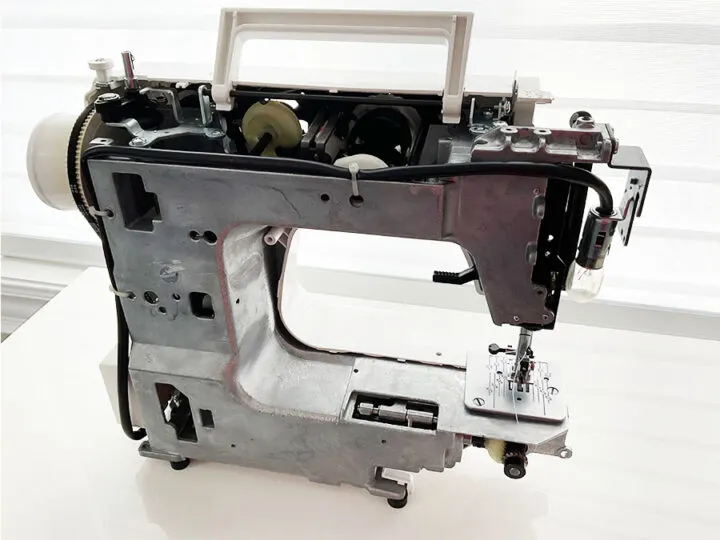 The machine is about 10 years old and has not seen much use. I bought it just as a reserve in an emergency and I used it very little so the inside is clean. But on older, used machines the inside would be full of dust and pieces of material. The grease applied at the factory on some parts is still visible.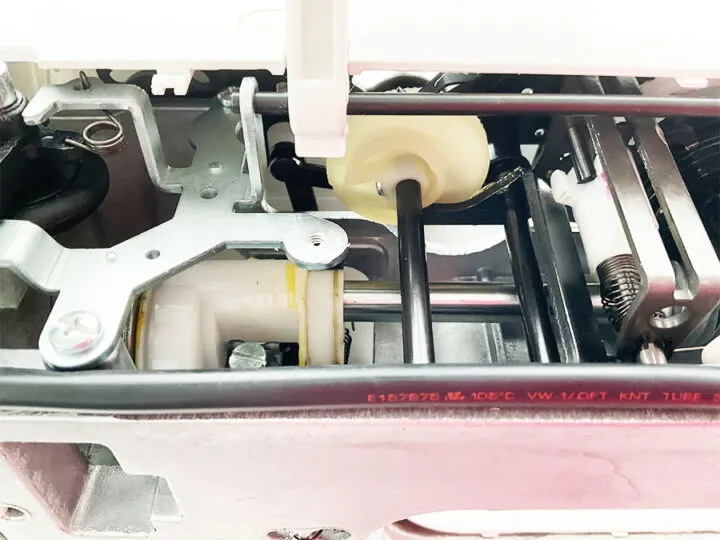 Being a decade old this machine still has most of the parts made out of metal. It's also relatively heavy and because of that, it does not vibrate much when sewing. However, there are parts made out of plastic and I would expect in heavy use those to wear out relatively quickly.
I can only hope my machine will not be like Humpty Dumpty and I can put it back together again!
For this reason, I don't dare take apart one of my computerized machines, I really can't afford to risk them!
Long-Lasting
Computerized machines probably won't last as long as mechanical ones simply because the technology will become outdated. However, motherboards have been known to stop working as well and after a couple of years, the manufacturers will no longer make the chips and components needed to repair them.
It is not unusual to see mechanical machines that are 100 years old (see my article The story of us: continuity and progress for an example); I predict that very few if any of the computerized ones will last 100 years.
Price
You get what you pay for. If you want more features, you will pay more for their technology and convenience.
How do you decide which type of sewing machine is best for you?
Every sewist has different needs in a sewing machine. With so many options available, it's more important to first focus on your expectations and needs.
Once you determine what you need, it'll make choosing a type of machine (and a model) much easier. Consider factors such as:
Types of projects you plan to sew
Your goals with sewing, including the types of tasks you want to learn in the future
Your budget
What are the benefits of owning a mechanical sewing machine?
For many sewists, there are plenty of reasons to buy a mechanical sewing machine and stick with it rather than "upgrading" to a computerized model. Here are a few pros:
Simple – Working on these machines isn't complicated, which makes it easier for beginners and older or not tech-savvy users.
Well-known – Mechanical sewing machines are familiar and comfortable for many sewists because that's what sewists have learned on for decades. Although new machines have updated features, the basics are the same.
Easy to maintain – Without the presence of computers and other electrical components that computerized sewing machines have, machines require only basic maintenance.
Cost – Mechanical sewing machines are cheaper than their technologically advanced counterparts. Buying a top-level mechanical machine is usually cheaper than buying the lowest model of the computerized variety.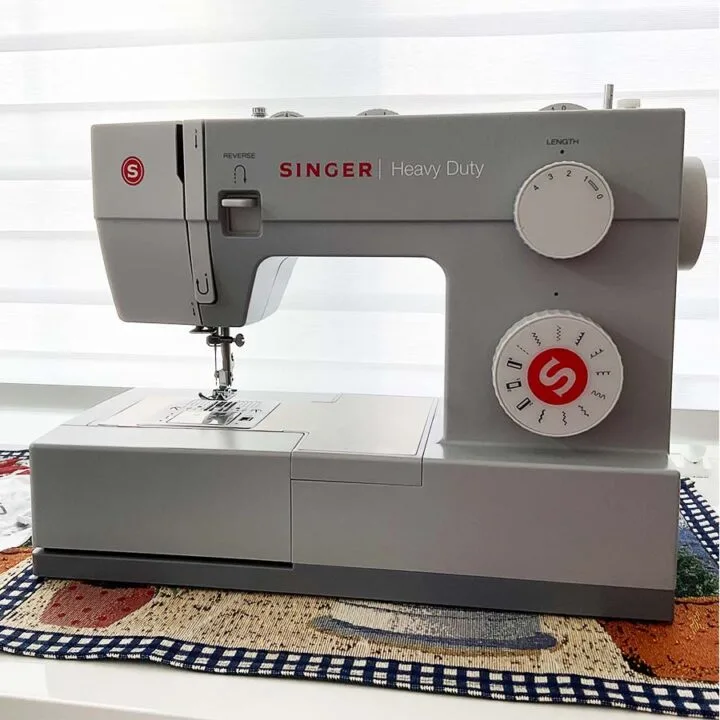 What are the benefits of owning a computerized sewing machine?
It would be easy to take the "if it isn't broken, don't fix it" mentality when comparing a mechanical sewing machine to a computerized version. But computerized sewing machines have benefits!
Here are some of the pros:
Helpful features – These machines are packed with advanced features that are designed to help make sewing easier and save you time. Features such as the automatic needle threader, locking stitch, and automatic tension help you complete these tasks more efficiently.
Precision – Computerized machines include features (such as suggesting the best stitch or tension) that help improve the quality of your work.
Variety – Effortlessly switch between sewing garments to embroidery to quilting or work with multiple layers on a computerized sewing machine.
Tons of stitch options – Some models have dozens of stitches while others have hundreds programmed into the machine.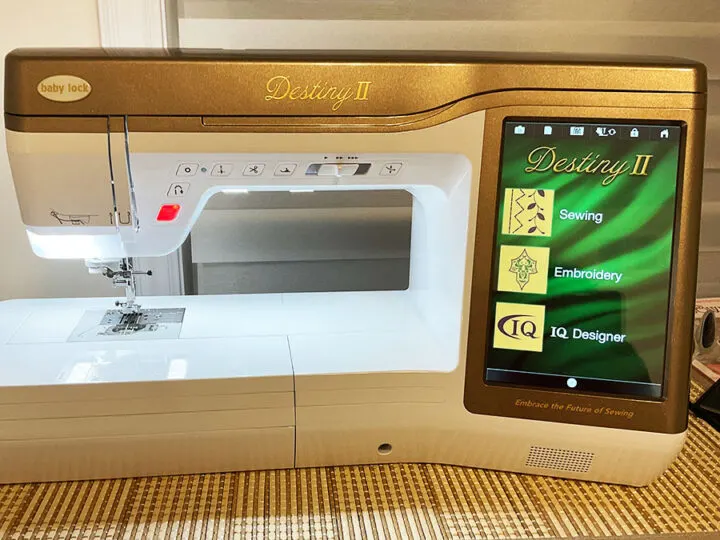 The Cons of Mechanical vs Computerized Sewing Machines
Both types of machines have drawbacks, and here are a few of them for each machine.
Drawbacks of Mechanical Sewing Machines
Require more from the sewist – Computerized sewing machines have many automatic features to make the work more hands-off for you. Mechanical machines require you to be more involved with settings and tasks.
Fewer stitch options – Sewing machines with more technology are able to offer many more stitch options, while mechanical machines only offer a small fraction of that.
Takes more time – Because computerized machines do so many tasks automatically, they end up saving you quite a bit of time over the course of a single project. Mechanical machines require you to do more tasks manually.
Drawbacks of Computerized Sewing Machines
Can be overwhelming – Computerized machines have SO many options that it can be overwhelming for new sewists.
Become outdated – Although your machine will likely still be working after 10 or 15 years, the rapid pace of technological advancements will make computerized machines that old seem like "dinosaurs." You'll need a new machine to update your technology.
Cost – You'll pay more for a computerized sewing machine no matter which model you buy. However, if you need more advanced or specialized features, you'll pay even more.
Can cause you to waste money – Many models have tons of features (such as hundreds of built-in stitches) that you will never use, so you end up paying for features you don't need.
Let me expand a little on the "can be overwhelming" statement. An example: look at the number of stitches available on a computerized machine. One of the later models of Janome (Memory Craft 14000) promises 400 stitches, and even the low priced Singer 9960 promises over 600 stitches. Here is how my stitch diagram for the Janome MC-6600 looks like, and that is already old technology, made about 10 years ago: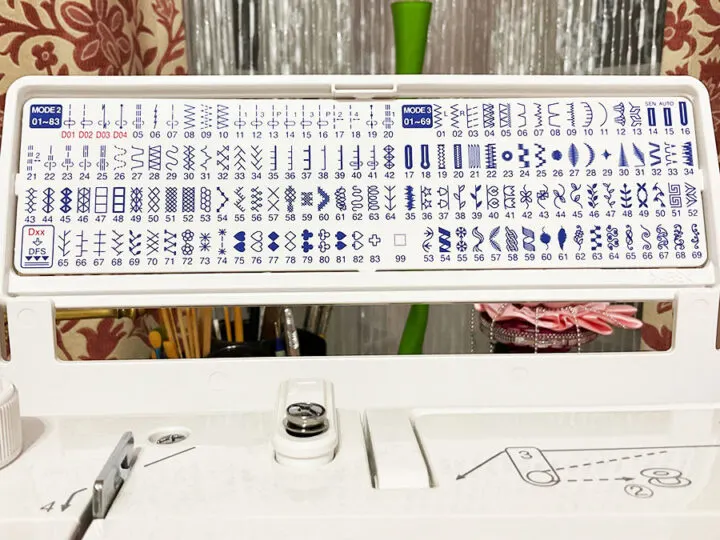 How many of these stitches will you use? Probably less than 10%, unless you are looking for a specific item and you search actively for it. On my Janome 6600, which I like very much (see my review here), I probably didn't use more than 20 of the stitches available. And my 6600P only has 163 stitches!
Also, I still have many buttons on my Janome 6600 that I have never used. I don't even remember what they are for.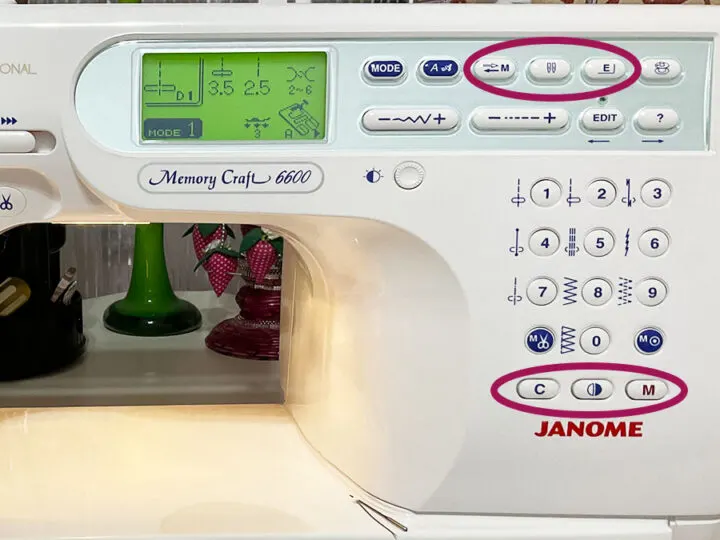 Which machine is better for beginners?
This question isn't as easy to answer as it may seem because it's really going to come down to what you want to learn and how willing you are to learn.
I think learning on a mechanical machine means you learn more about sewing. However, people who find it overwhelming to learn all the ins and outs of sewing may find a computerized model to be more helpful because it performs so many tasks automatically.
My advice is: if you are a beginner but you do have a machine, learn first to use the machine you have NOW. In time, you will learn of its limitations, good and bad parts. Start by reading the manual, but then start sewing. You will only learn by doing. Look for a new machine only after you find out that the machine you have has limitations you can't live with.
Also, no matter what kind of machine you have, make sure it is working well, it is well adjusted and you are using good quality needles and thread.
Mechanical vs Computerized Sewing Machines FAQs
Here are some questions I see readers frequently ask about the differences between these types of machines.
What does computerized sewing machine mean?
A computerized sewing machine is a machine that makes use of advanced electronics and software to control its various functions. These machines are typically more expensive than mechanical sewing machines, but they offer a number of advantages in terms of speed, precision, and features.

Computerized sewing machines usually come with a hundreds of built-in stitch patterns which can be selected with the push of a button. This allows you to sew much faster and more easily than with a regular machine. In addition, computerized machines often have features like automatic threading and needle positioning, which can save you a lot of time and frustration.

If you're looking for a high-quality, versatile sewing machine that will make your life easier , then a computerized model is definitely worth considering.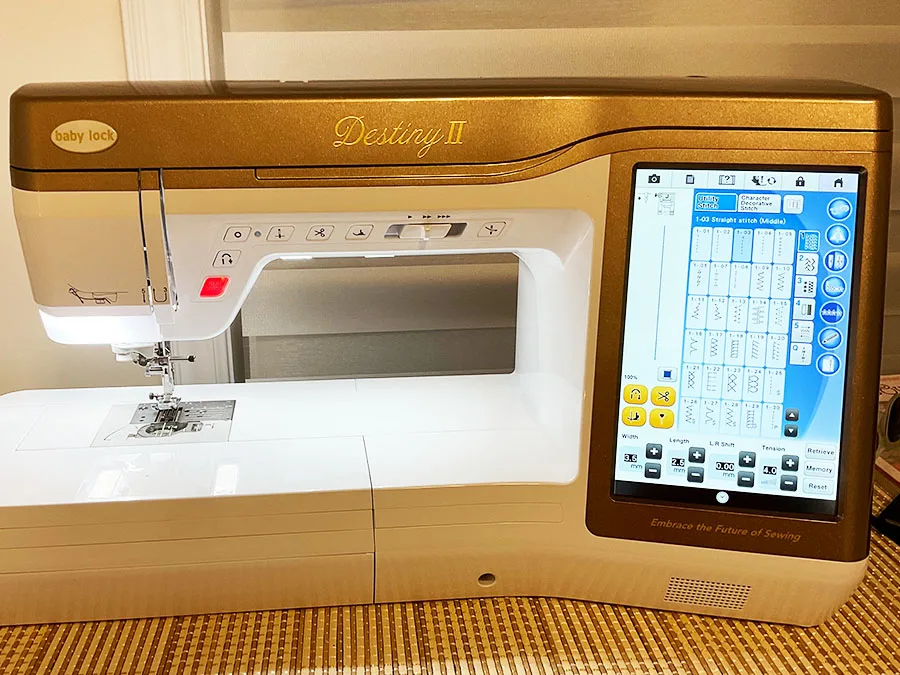 What is the difference between electronic and computerized sewing machines?
A short answer would be "All computerized machines are electronic, but not all electronic ones have a computer inside". An electronic machine is essentially a cross between a mechanical and an automatic sewing machine. Electronic models cost less and are faster and more precise than mechanical machines but lack many automatic features and stitch options.
Is a computerized sewing machine good for beginners?
It depends. A computerized sewing machine is definitely more complicated to use than a regular sewing machine, and if you're a beginner it might take some time to learn how to use all the features. However, once you know how to use all the features it can be a lot of fun to sew with and can save you a lot of time.

So overall, I would say that a computerized sewing machine is good for beginners if they have the time to learn how to use it. But if they're looking for something that's going to be really easy to use right out of the box, then I would recommend sticking with a mechanical sewing machine.

There will be people who argue that computerized machines are better for beginners and others who will argue the opposite. I believe it really comes down to each individual's willingness to learn tech as they also learn how to sew.

I think, the best machine to start learning is the one you already have; just make sure it works well.

Do computerized sewing machines sew for you?
Yes, to a degree. You can select the pattern and stitch style you want on the monitor then let your machine get to work. Even if you let your machine do all the stitching, you'll still need to input information first so that it knows what to do for your project.

In general, as the price of a sewing machine goes up, it usually can do more and more unattended tasks. For top level machines you can program the machine to do a lot of things on its own but you still need to program it.

Which is better: a computerized or mechanical sewing machine?
Both types of machines have distinct advantages and disadvantages. The answer of which is better really lies with you: what features you want in a machine, how much you want to do manually, and your budget.
How long do computerized sewing machines last?
I would say that you could confidently get 5-10 years out of a computerized machine. Maybe as many as 15 years, depending on how you use it. However, after that, you'll likely want to update your technology.

As an example, my Janome MC-6600 is 8 years old (I bought it new) and with regular care it still goes strong without any issues. But it is already surpassed in functionality by newer models.

What's the difference between mechanical and electronic sewing machines?
Mechanical sewing machines are the more traditional type of machine, using a system of gears and levers to operate. Electronic sewing machines, on the other hand, have some electronic components inside them that help control the needle and stitching speed.

Typically, electronic sewing machines are going to be more expensive than their mechanical counterparts. They also usually have more features and stitches that you can select from. Another thing to note is that electronic machines typically sew faster than mechanical ones. These features can make your sewing experience much simpler and more enjoyable.
Are mechanical sewing machines good?
Yes! Many people (including beginner sewists) choose to continue using mechanical machines rather than computerized machines for several reasons. Having a more hands-on approach with sewing and cost are two big reasons to use mechanical sewing machines.

A very important factor is that many sewists are reluctant to upgrade because they already know their older mechanical machines well. The subjective factor is also very important when we talk about "good">: there is no single machine that will please everyone.
What is the screen on a sewing machine?
The screen on a sewing machine typically refers to the LCD display that allows users to see all the stitches and settings in one place. For example, it will display the current stitch type, stitch length, tension, etc. and these settings can be changed with just a few adjustments on the screen.

Other important displays may include the needle position, stitch density, the presser foot suitable for that stitch, etc. Newer machines may also have general computer screens that show additional functions beyond those available on a traditional computerized machine. These can include tutorials or even simple Internet connection options. Some models also come with touch screens that make selection even easier.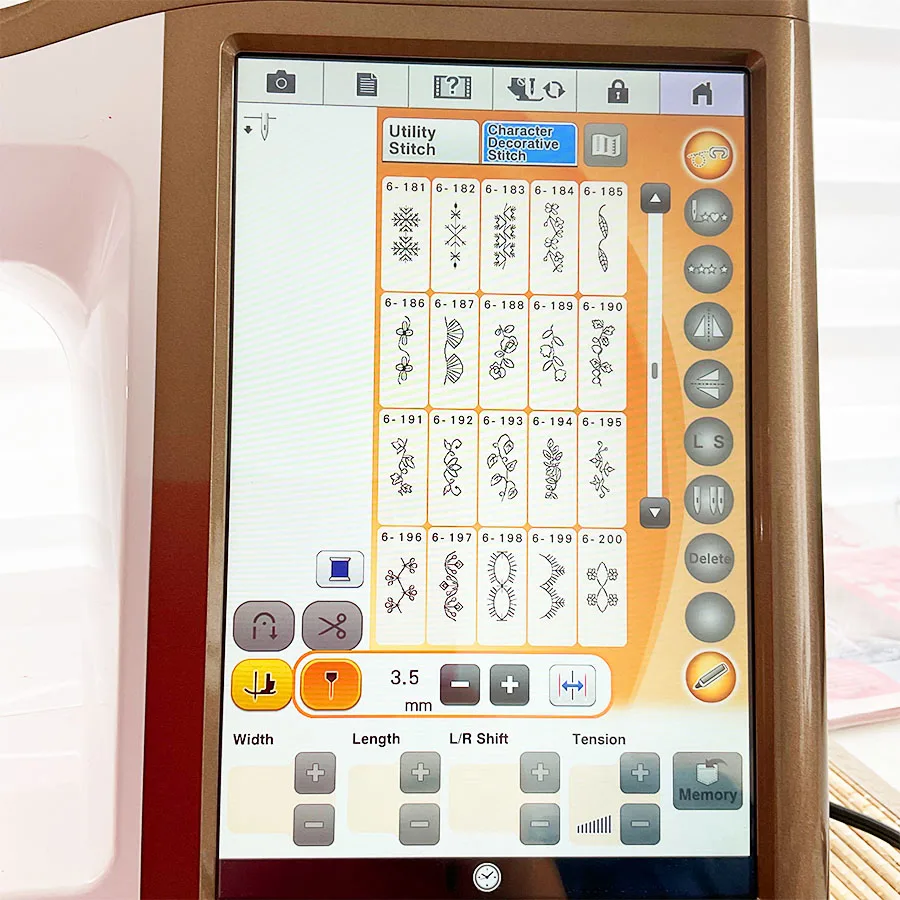 How much does a computerized sewing machine cost?
There is a huge amount of variety in the cost of computerized sewing machines because the biggest determining factor centers around the features on the machine.

If you want a more basic model with fewer options, you can find one for around $250 or $300. More advanced machines can cost $2,000 or more. I have seen machines for home use priced at $15000 or more. An average is probably around $500-$600.
Mechanical vs Computerized Sewing Machines: Which is Better?
I hope that after reading this comparison between the two types of machines, you have a better understanding of the differences. Ultimately, with any type of machine you choose, you'll need to balance out features, cost, and how much work you want to do.
Nobody can say with certainty which machine is best. What this article attempted to do is set out a number of comparison terms to help determine which kind of machine is better for you.
What do people who own sewing machines say?
I have received by email a number of comments with actual owners' opinions on this subject. As expected, opinions are both ways, some like the mechanical ones, some like the newer computerized machines. Here is what people say:
Sage:
I have a 30 year old, basic Singer. Still works great. My main machine is a Viking Eden Rose 250C, and it also is very dependable – but the tuneups are very expensive. I can get the Singer serviced for only $50, but it only has a couple of stitch functions. You have to know what you actually need and will use.
Joanne:
I have two mechanical machines. One is a New Home with lots of attachments that my mother used to sew curtains – her mother worked in a garment factory, I still have some of the original needles and bobbin thread that she brought home from work. I had to replace the power cord but the machine is still good, built very strong, around 1930-1940? not a bit of plastic on it. Looks like the attached photo but mine has the original portable case and is in much better condition. It will last forever.
The other is the New Home basic machine that I bought used on eBay (we discussed in emails a while ago). Most of it is plastic; no case. I bought it because I needed zigzag. It has 4 step buttonhole and 10 stitches but no variable stitch length. I use it all the time. It's small, moveable, works fine.
I have no need for a computerized machine. If I ever bought another machine it would be a serger, used.
Elaine:
I have a 1970s machine with all the cams, and whilst I have spent more on servicing over the years than the machine cost, I still love it. I also have a Bernina and a Husqvarna, both a few years old now.
I think which is best depends on what you are sewing. For sewing woven cotton fabric I prefer the old mechanical machine, but it doesn't handle modern fabrics well. The computerised machines handle synthetics and blends better and the Husqvarna does automatic buttonholes, as opposed to fiddling round with cams and levers on a mechanical machine.
I always feel a bit more as if I am in the driver's seat with a mechanical machine. Not to say that I don't like the others, and I think overlockers (sergers) are the best invention ever.
Bottom line – if you can afford both types you will be able to sew just about anything.
Carla:
I don't care for the mechanical machines at all.
Judy:
Last year I bought myself a mechanical machine I really like it. Didn't sell my computerized one but I like the new one because it's SO Much simpler—I don't have to get my instruction book out😁 It does everything I want to do. Both have a needle threader which I love. New one is a Bernette.
Debi:
I learned to sew on a mechanical machine which I used for many years! I eventually even purchased a used industrial machine with knee-lift and simple straight stitch, which I LOVED! I still regret selling that machine! Then I bought a computerized Singer machine. I hated the process of programming to make buttonholes!
My career changed … and my (lack of) available time along with lack of passion for my computerized Singer contributed to too many years absence from something I loved in my sewing. Then I retired…
I purchased a new Singer mechanical machine, and my Singer computer machine is back in its case and not in use. My passion is resumed! Our "spare bedroom" has been returned to being my dedicated "sewing room" and I am back to doing what I LOVE, with my mechanical machine and my old Simplicity 3-cone serger. I definitely prefer my mechanical sewing machine. It works perfectly for what I enjoy sewing and how I use it.
Ellen:
Yes the computerized machines do so many fancy things, but exactly how much of that fancy do we actually use? Me, very little! I have my grandmother's Featherweight… forward, backward, that's it! And it does it flawlessly just about every single time. And I can fix almost anything that goes awry myself. In 1984 I purchased a computerized machine, a Viking 990. Right away I realized it's limitations, lack of flexibility. Everything was set with no customization. Frustrating. And then a few years later the computer card failed… a very, very expensive repair. I recently purchased a Pfaff Quilt Expression 720. Better than the old 990. Things are more adjustable and easier to program. I needed a larger work area for free motion quilting. It's not perfect but overall it's fine. Still love the Featherweight!
Did you find this tutorial helpful? If so, save this pin (see below) on your sewing board so you can come to this tutorial later when you are need this information on mechanical vs. computerized sewing machines, and follow me on Pinterest for more tips, tutorials, and inspiration!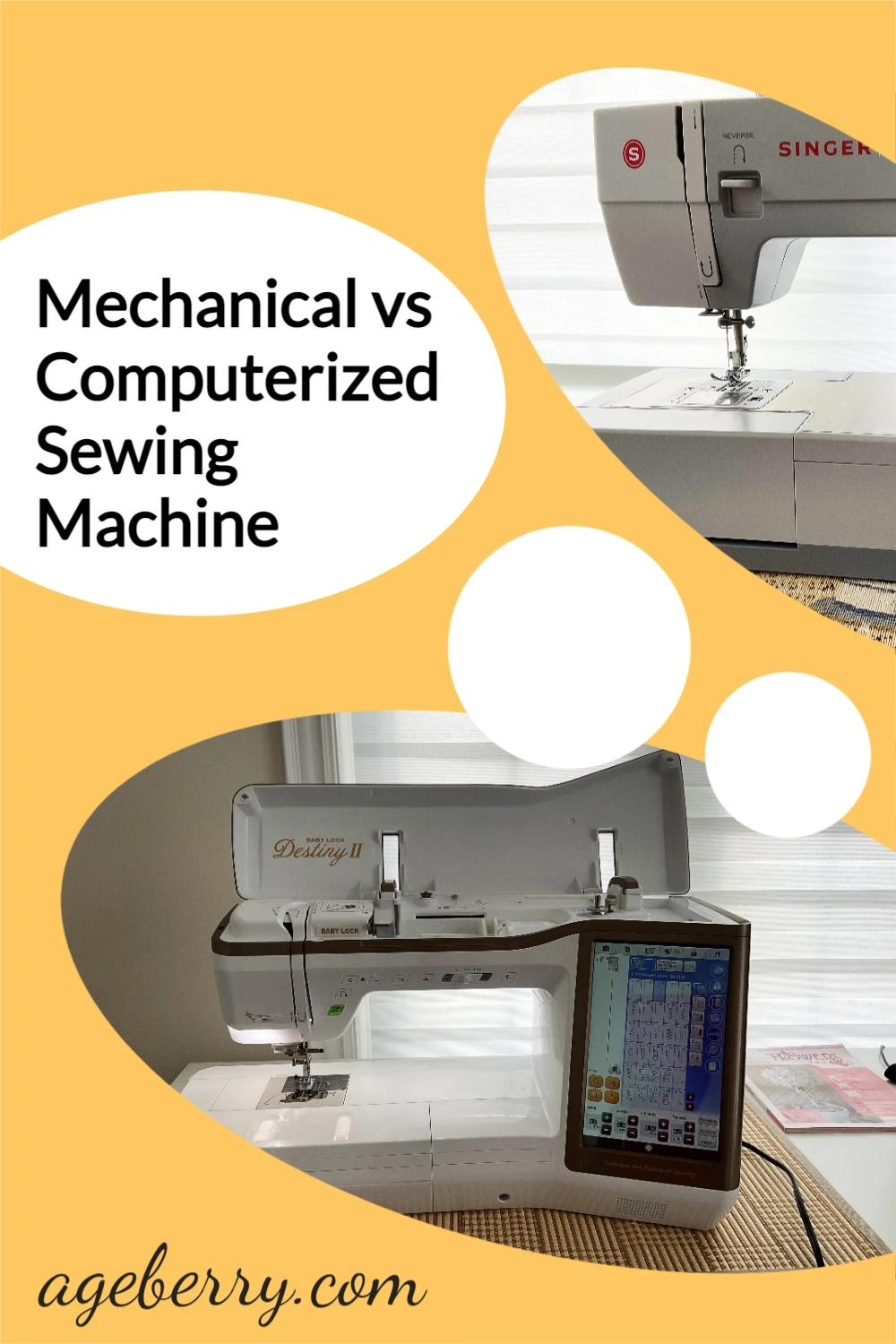 ---