Headbands have made a major comeback in recent years, and it's easy to see why: they are versatile, stylish, and a great way to keep your hair out of your face. As a popular fashion accessory, headbands offer a simple way to elevate your look while also showcasing your individual style. In this article, we'll discuss various ways you can wear a headband to find the perfect match for your personal aesthetic.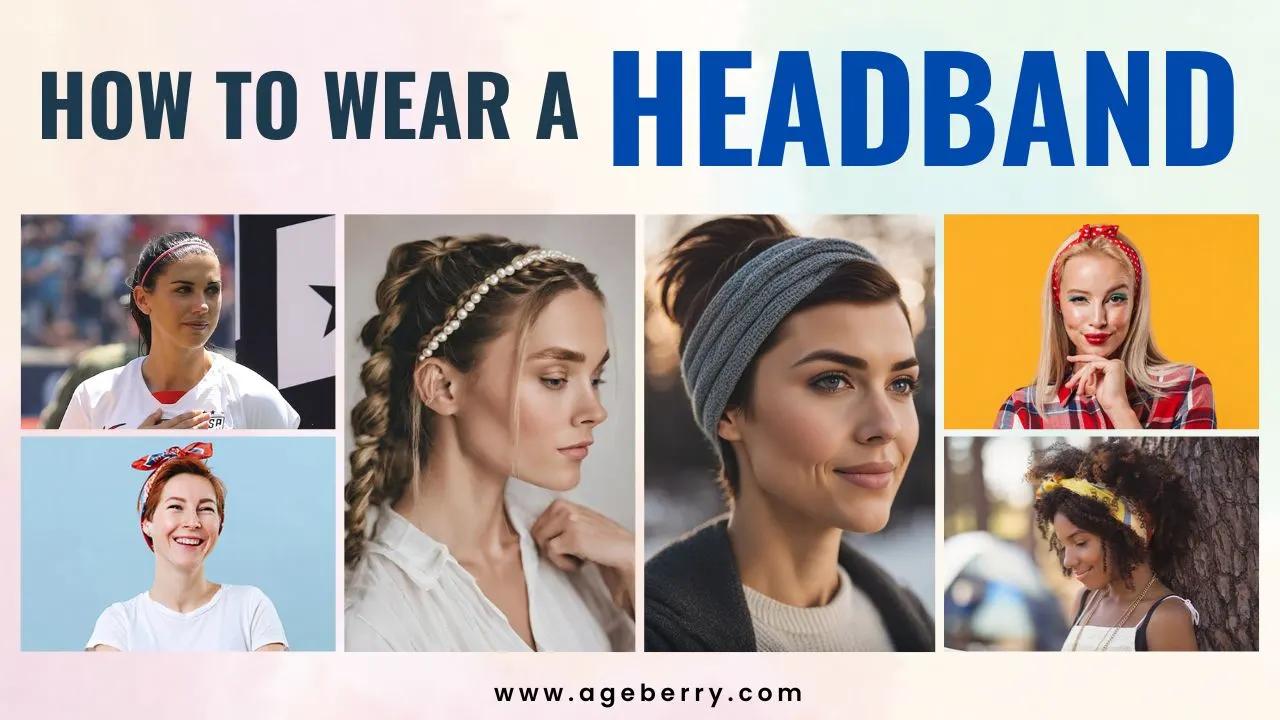 Different Types of Headbands and How to Style Them
Whether you've got a simple stretchy headband, or an embellished one, or a piece that makes a bold statement enough for its own Instagram account (ha-ha), there are enough varieties of headbands out there to stock a whole accessories store. Let's look at some of the most common and popular types and ways you might want to wear and style those.
Fabric Headbands
Basic fabric headbands are simple, classic, and common. They can be as easy as finding a strip of fabric and wrapping it around your head to pull your hair back. But fabric headbands can be as complicated and elegant as a high-quality beaded fabric wrapped around a shaped band.
Note: Some of the links on this page are affiliate links. This means I will receive a commission if you order a product through one of my links. I only recommend products I believe in and use myself.
How To Wear A Fabric Headband
Fabric headbands can be worn in many different ways. You can leave your hair down and pull the headband over your head, stopping once it covers just the top of your hair like in this photo. This can be a really simple way to keep bouncy waves in place while also adding another dimension to the look.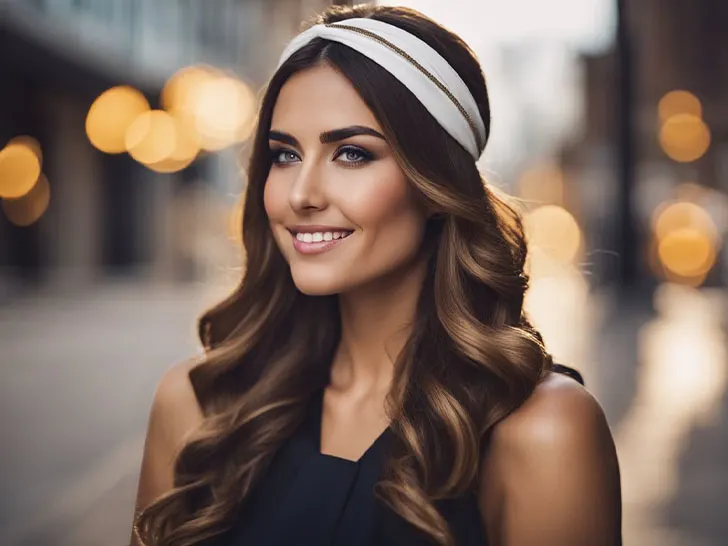 You can also give your hair a bit more height by pulling the headband fully over your head and getting all the hair through like you see in the image below (this headband is from Target). You'd then pull the headband back up so all of your hair is kept pushed back, away from your face. This look can also be great with an updo like a simple ponytail or a high bun.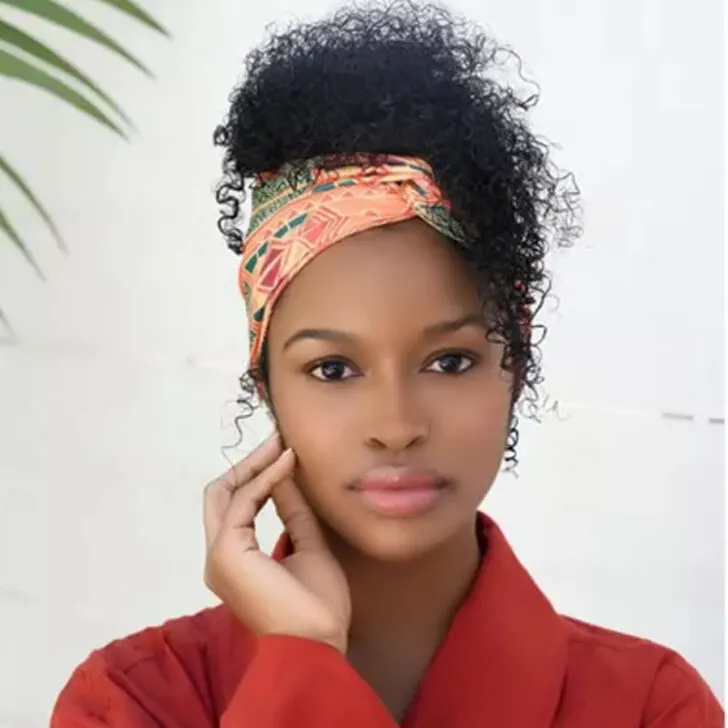 Tips For Styling A Fabric Headband
#1. Coordinate a headband with your outfit
When thinking about how to wear a fabric headband, consider the rest of your outfit. What colors and patterns does it already have? Match or contrast those colors for a trendy look.
#2. Use a headband to style your hair
You can use the headband as part of the style of your hair, or you could use it to keep a styled hairdo in place. A fabric headband can also be handy to push back loose strands or even secure bangs.
#3. Consider your hair color and the look you want to achieve
The goal is for the headband to complement, not clash with your hair.
When choosing a headband, consider the look you want to achieve. A black or neutral-colored headband (you can buy at Macy's) is a classic choice that pairs well with most outfits.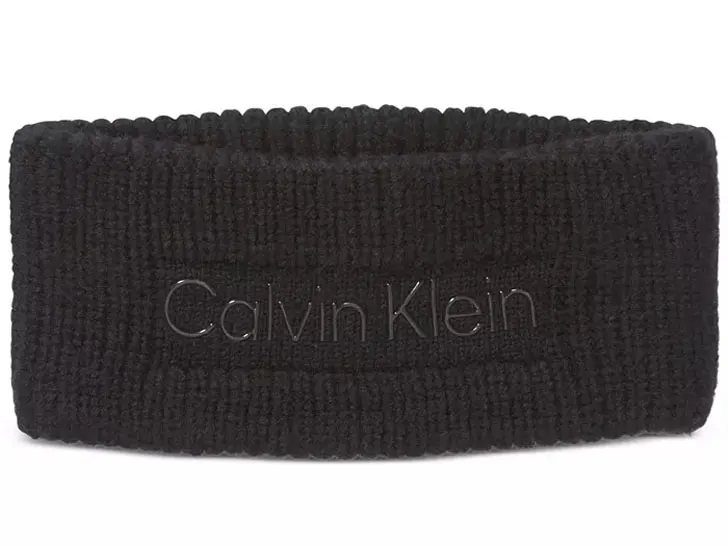 If you're feeling more adventurous, opt for a headband with bold colors or patterns to make a statement. Don't forget that different textures, such as this braided velvet headband, can also elevate your overall look.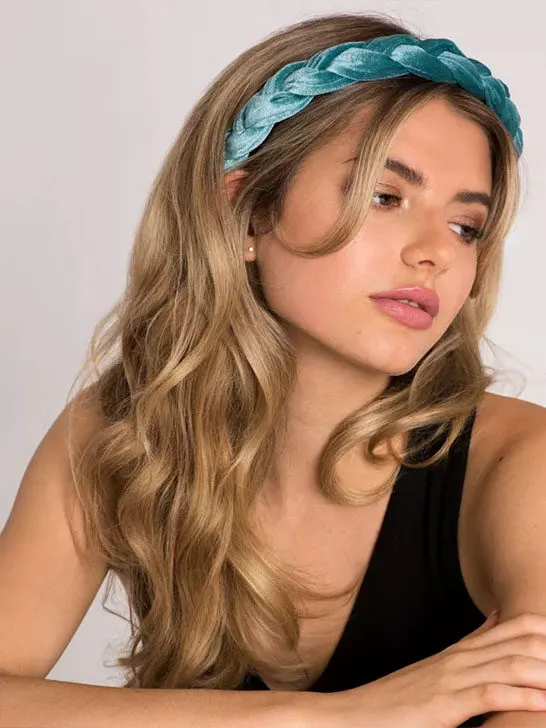 Headbands are not limited to solid colors; there's a world of possibilities in terms of prints. For example, a leopard print headband can bring a chic and trendy touch to your hairstyle. Pair it with a simple, monochromatic outfit, and you'll instantly add glamour to your look.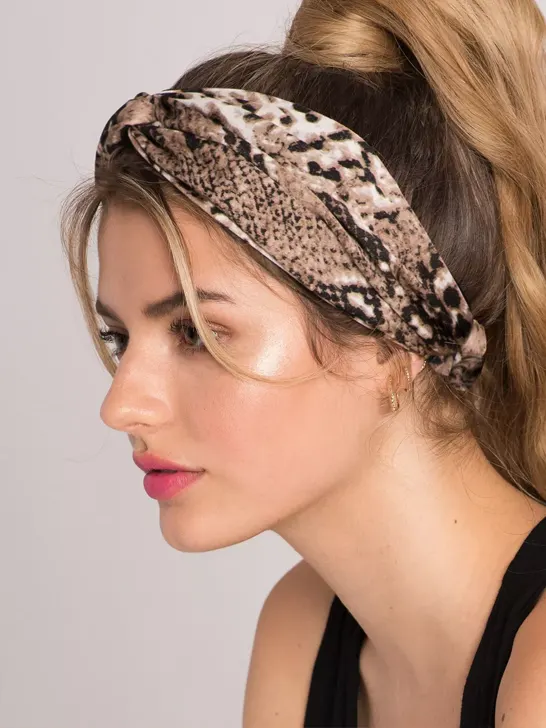 #4. Incorporate headbands into your daily outfits
There is no shortage of ways you can incorporate headbands into your daily outfits.
When you're wearing a casual outfit, a headband can pull your look together and add a touch of playfulness. Pair your jeans with a simple top and a fabric headband in an interesting print to add a pop of color.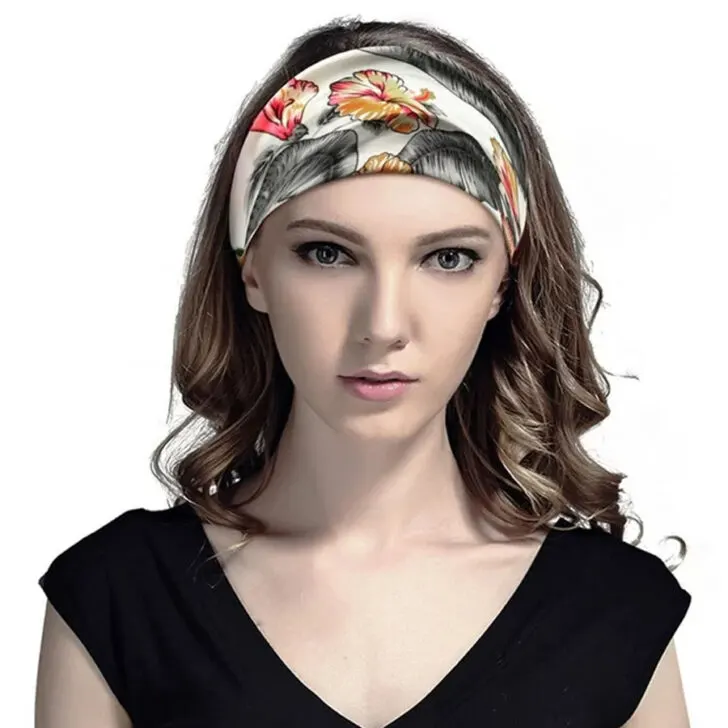 Wearing a headband with work attire can be both stylish and practical. Choose a more understated headband, that won't distract from your overall professional look. Don't go over-the-top with embellishments or loud colors in a professional environment.
DIY Headbands
While there are certainly plenty of headbands available in stores, both in physical stores and online, I personally prefer to make my own headbands.
DIY headbands are easy to sew, even for beginners. With just a few basic materials and some simple sewing techniques, you can create headbands that are just as stylish and unique as any store-bought option. And because you're making them yourself, you can choose the exact materials, colors, and styles that you like best.
Of course, there's nothing wrong with purchasing headbands from stores if that's what you prefer. But for those who enjoy DIY projects, making your own headbands can be a fun way to personalize your accessories.
To get started, check out my two sewing tutorials on DIY headbands. The first tutorial shows you how to make a simple fabric headband with a knot detail from natural silk fabric. The second tutorial teaches you how to create a sport headband. Both tutorials are beginner-friendly and require only basic sewing skills and materials.
To access the tutorials, simply click on the links below.
DIY fabric headbands: a step-by-step tutorial
Sew headband DIY sewing pattern
Knotted Headbands
A fabric headband becomes a knotted one when there is a knot, or maybe a bow, tied in the middle. This can also be a simple twist which adds some dimension and height to your look.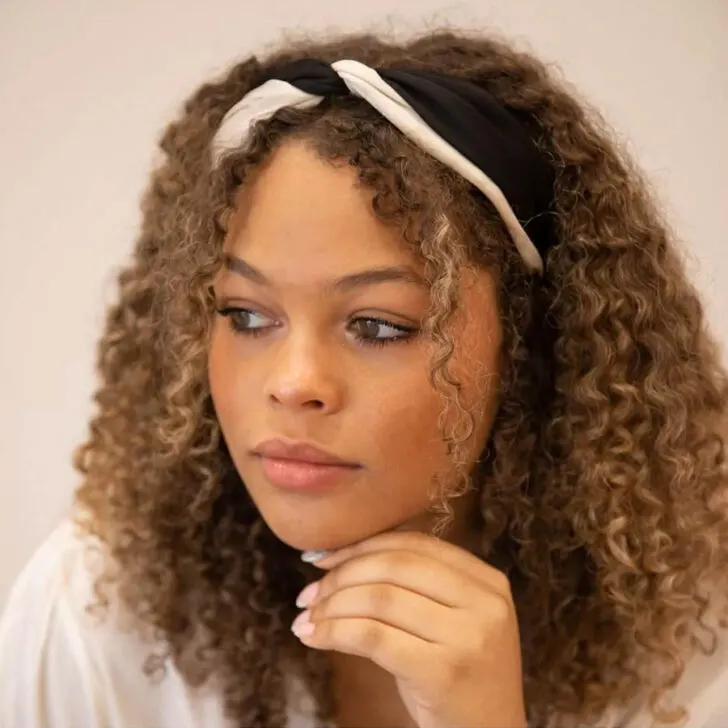 Sporty and Active Headbands
Sporty headbands have some crossover with fabric headbands in that they too usually wrap around your entire head. This helps them stay in place while you're active.
Sports headbands can be wide but they also come in very thin versions. The thin sports headband is popular with professional female athletes such as Women's National Soccer Team forward Alex Morgan. These headbands usually have a rubbery grip on one side to keep them firmly in place while you play a sport or work out at the gym.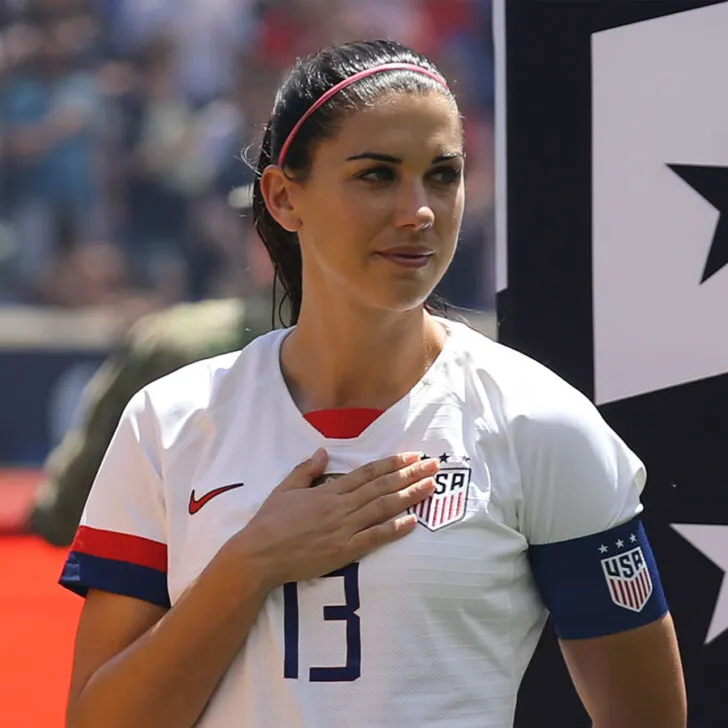 You can buy these headbands on Amazon – this is the link.
If sweat dripping in your eyes is a problem when working out, a sweat-wicking headband is a must. Look for ones made of quick-dry fabrics like polyester or nylon that pull moisture away from your skin.
The QiShang Workout sweatbands on Amazon are a top-rated option with strong sweat absorption and quick drying abilities.
Look for headbands with a snug fit so they stay securely in place during high-intensity exercise. Wider bands generally provide more coverage for larger sweat areas. Reflective details can also help you stay visible on early morning or nighttime runs.
With the right moisture-wicking, quick-dry, and water-resistant materials, a sports headband is a low-cost investment that will keep you comfortable while working out.
How To Wear A Sports Headband
Wearing a sports headband is not only functional, it can also be stylish. You can match it to your workout outfit, opt for one in your favorite team's colors, or find one with a fun design.
While sports headbands are super useful for when you are playing a sport or working out, they can also add a flirty, fun element to a more active, day-to-day outfit.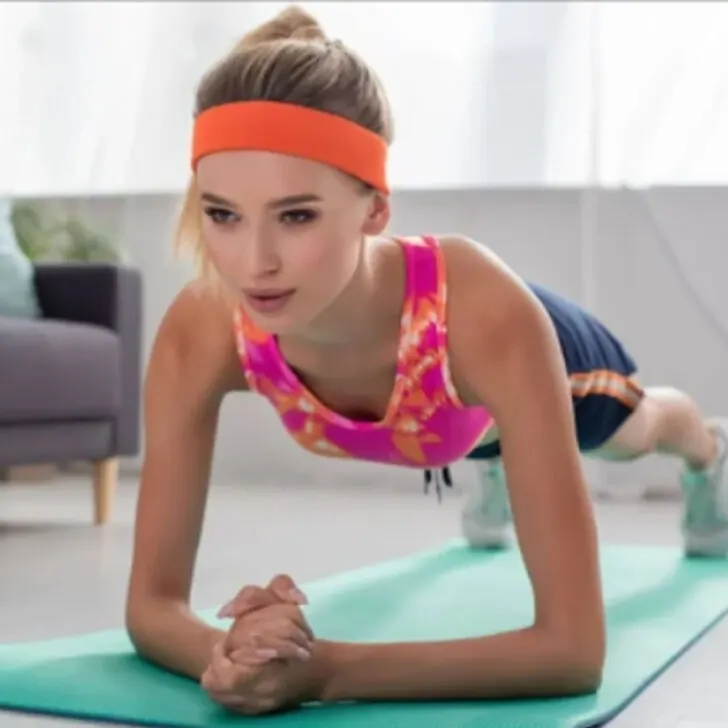 You can also add another element of functionality to a sports headband by using one that has bluetooth built in. Gone are the days of tangled headphone wires getting in the way of your workout. These innovative accessories let you listen to music or take calls while keeping your hands free.
Bluetooth headbands (like the one from Amazon you see in the image below) have small, discreet speakers hidden inside the fabric. They pair easily with your phone like any wireless headphones. They typically have buttons on the side for play/pause, track skip and volume. Some more advanced models even have built-in microphones for hands-free calling.
Comfort is important too, so look for soft, sweat-wicking fabrics and adjustable fit that never feels too tight or loose.
Warm, Winter Headbands
Winter headbands are fashionable and functional. They both provide warmth when the temperatures drop and present an opportunity to add a bit of flair to your winter look. These headbands are typically made from cozy, insulating materials like fleece, fur or wool. You might even reach for a warm headband with a seasonal color or pattern to match the holidays.
How To Wear A Winter Headband
Winter headbands behave similarly to fabric headbands — they usually wrap fully around your head. So you can use them over your ears or under your hair. They can also work nicely with updos as well as with your hair down.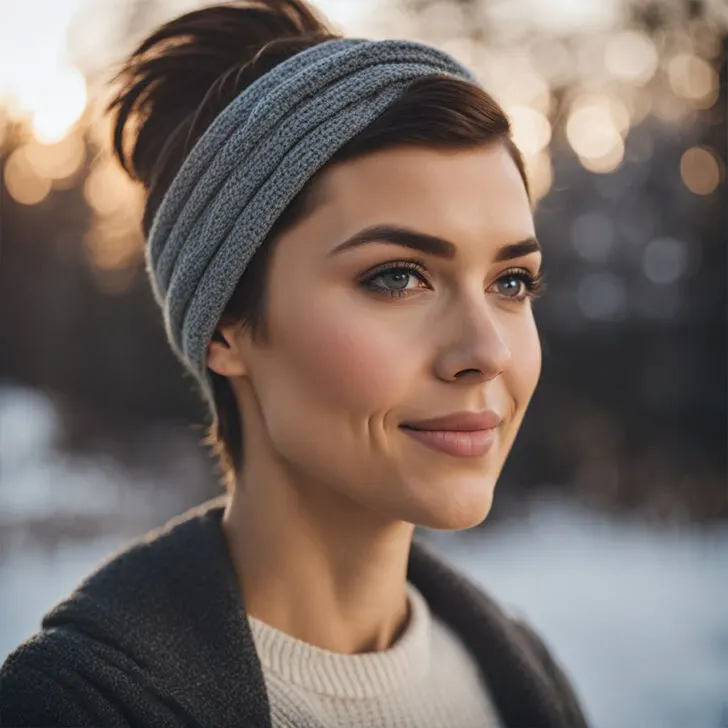 Tips For Styling A Winter Headband
One thing to keep in mind when styling a winter headband is that if you are going from inside to outside you may get hot with a material like wool or fleece.
Winter headbands are often best suited to outdoor activities like cross-country skiing or hiking.
If you do plan to go indoors and know that you will want to remove the headband, this may mess up your hairdo, or cause static. A good way to prevent this is to use a headband that has a velcro closure so you can easily remove it without disturbing your hair.
Or, consider wearing earmuffs which, in terms of style, behave similarly to a headband but the thick fabric is only over your ears, and doesn't wrap around all of your hair.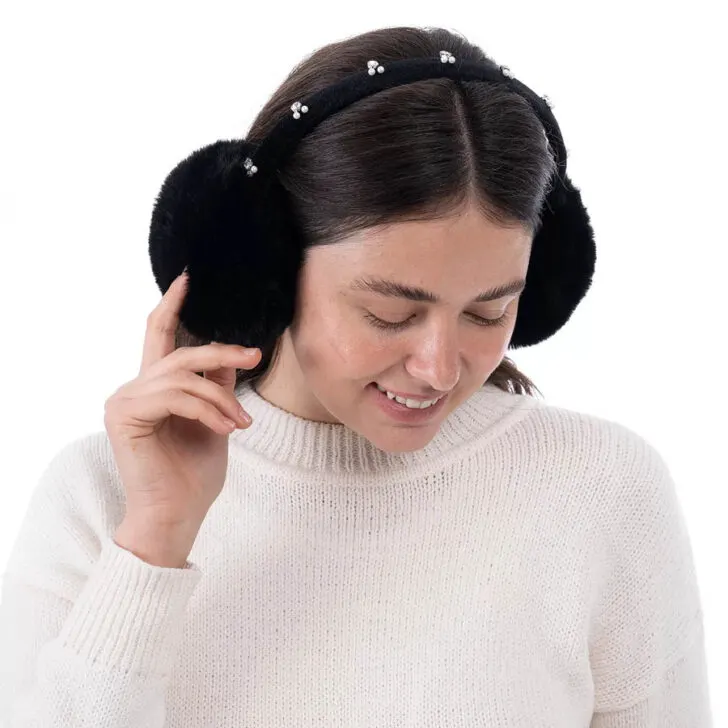 Other Types of Headbands
Beyond these common headband types, there are so many more options. Here are just a few others.
Turban Headband
Turban headbands are like extended fabric headbands. They will cover more of your hair and your head, making them a perfect option for a lazy day. Whether you didn't have time for that hair wash this morning, or your locks just aren't doing what you want them to, a turban headband is a great way to easily cover them up without sacrificing on style.
Lace Headband
Lace headbands are a way to add an element of elegance to any look. They can be made from just a strip of lace fabric, but will always add a soft, feminine look whether worn casually or for special occasions.
For daytime, pair one with a simple outfit like a tee and jeans. Weave the headband through your hair above the forehead.
Lace headbands can really shine when you go out at night. Place one over the top of your head to complement your going-out ensemble. Try wearing it with a lace cami and skirt or little black dress. The intricate detailing will stand out beautifully.
Scarf Headband
The really fun thing about how to wear a headband scarf is that it's one more way you can use that scarf that sits around in your wardrobe. To style a scarf as a headband, you'll more or less follow the same ideas as using a fabric headband, but this time you have the ends of the scar to play around with. You might leave those hanging loose to blend in with the hair hanging down your back, or if you're using a more square scarf you might leave it out like a triangle to cover the back of your hair in a bandana style. You could also use the ends to create a bow or a knot at the top of your head.
Celebrities are often seen sporting different headband styles, and they can be a great source of inspiration. One celebrity who is known for her love of headbands is Chrissy Teigen. A few years ago, she started posting videos on Instagram featuring her "Headband of the Day." Each day, Chrissy would model a different style, from colorful printed fabrics to bejeweled velvet. The series quickly gained popularity as fans looked forward to seeing what unique headband she would debut next. You can read about it and see all images in this article – Chrissy Teigen's Headband of the Day Instagram Segment Is the Fashion Series You Need: See Every Look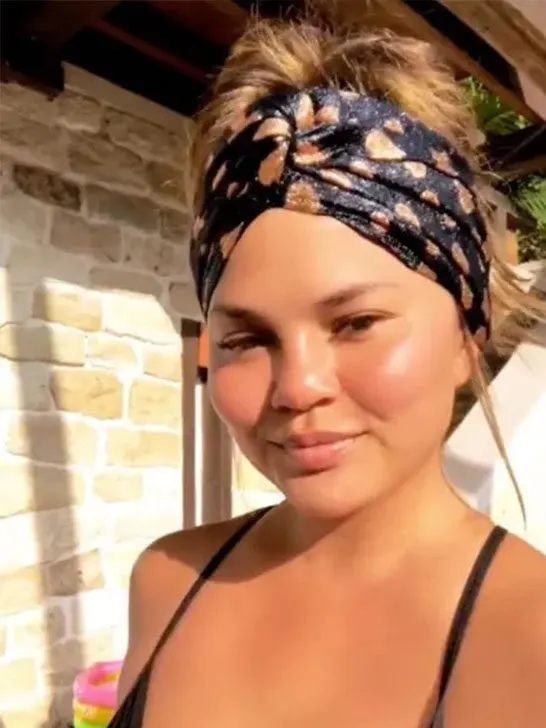 Chrissy has an impressive collection of headbands in every print, material, and width imaginable. She styles them for workouts, lounging at home, running errands, and more. Chrissy Teigen experiments with different silhouettes and ways to wear them in her hair. Her "Headband of the Day" series showed that one accessory can totally transform an outfit and brought increased attention to the versatility of headwear.
How to Wear Headbands with Different Hair Types
Now that we've gone over a few of the different types of headbands, it's time to think about what would work for your specific hair. Your hair's texture and length play a huge role in determining what headband will work best for you and how you should style it. It doesn't matter whether you have short, long, curly, or straight hair you can absolutely pull off a headband. You just need to make sure that headband is working for you, not the other way around.
Controlling Flyaways
Flyaways and baby hairs can be a common issue when wearing a headband. To keep them under control, try using a bit of hairspray or a texturizing spray. Apply the spray to your hairline or any areas where you have flyaways, then use a comb or your fingers to smooth them down.
How To Wear A Headband With Thin Hair
A common complaint from people with straight, thin hair is that their hair lacks volume and can appear flat and lifeless. And what better solution to that problem, than adding in a headband? A headband with embellishments such as beads or jewels or even a simple knot or a bow can add amazing texture and interest to hair that struggles to hold a large shape or a lot of volume.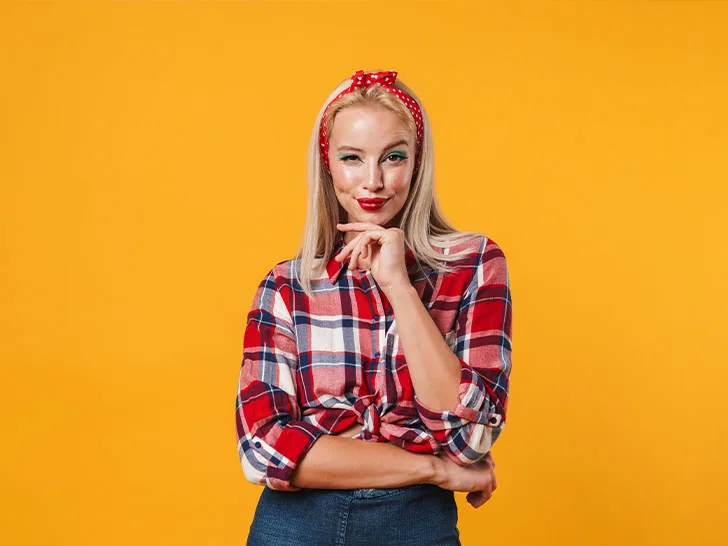 If you can get any texture to stay in your straight hair, aim for loosely tousled waves which can pair really nicely with a boho, beachy headband.
If you struggle to keep your headband in place on your thin hair, opt for headbands with a non-slip grip or velvet lining.
You can also tease the hair at the crown of your head for added texture which should help keep the headband in place.
Bobby pins are also a great way to discreetly secure smaller headbands, ensuring they remain snug all day.
Adding Volume
If you want to add some extra volume to your hair, try using a volumizing mousse or spray. Apply the product to your roots and work it through your hair with your fingers. You can also use a round brush when blow-drying your hair to create extra volume.
How To Wear A Headband With Curly Hair
If you have thick, curly hair, you're going to want to choose a headband that is wider and sturdier and has a tighter grip. This will make sure both it and your hair stay in place throughout the day. Narrow headbands will disrupt your curls and get lost in the styling of thicker hair.
With curls you'll also want to be careful with the material so you don't accidentally cause added frizz in your hair. Cotton and silk are both good fabrics to reach for.
When styling a headband with your curls, think about pulling some of them through to frame your face, while allowing the headband to hold the rest back and in place.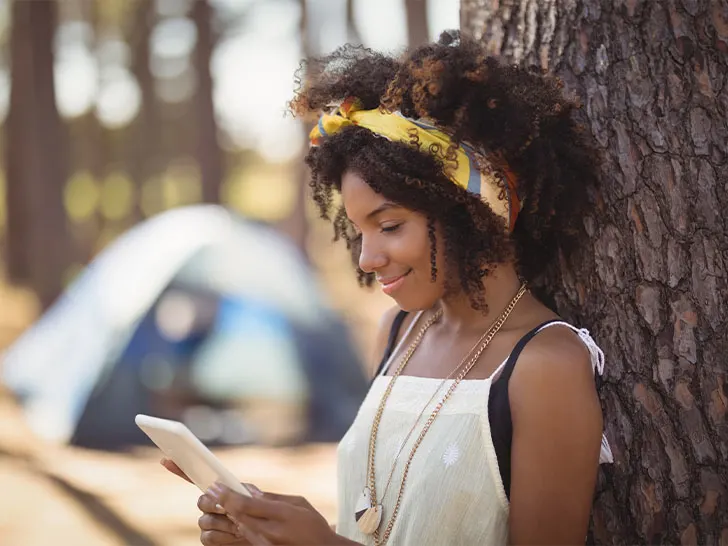 How To Wear Headbands With Different Hairstyles
How To Wear A Headband With Braids
Any type of braids can be dressed up nicely with a headband. Try a French braid or a fishtail braid with a thin or double stranded headband. One with pearls or other embellishments can add so much elegance to your look.
A headband can also look nice with pigtail braids. In this case you may opt for something more sporty or even a thick, floral boho fabric headband for an effortless, chic look.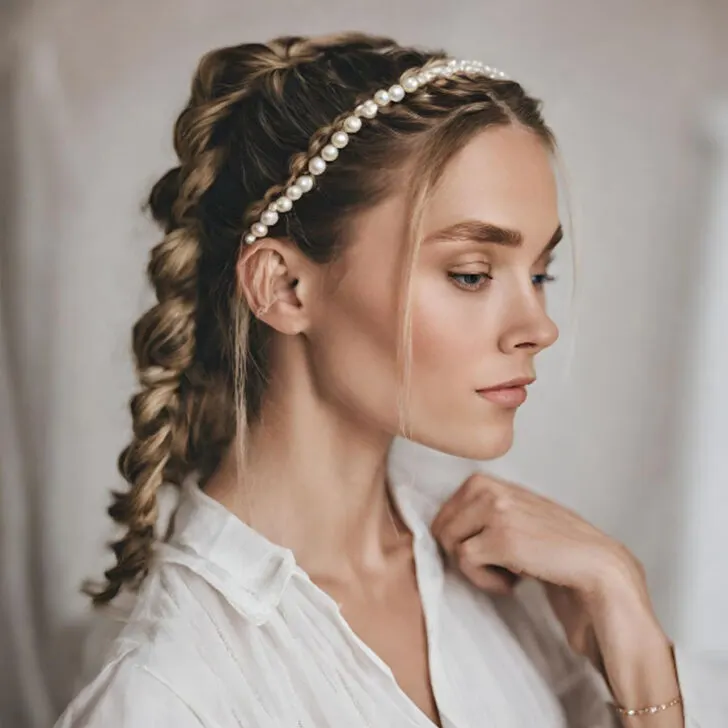 How To Wear A Headband With Updos
Formal updos can look lovely with a headband. The headband can even be integrated into the look by wrapping hair around it and nesting it within the updo. In this case, reach for a thin, delicate headband. Or you might opt for something that is similar to a tiara with a lot of delicate embellishments.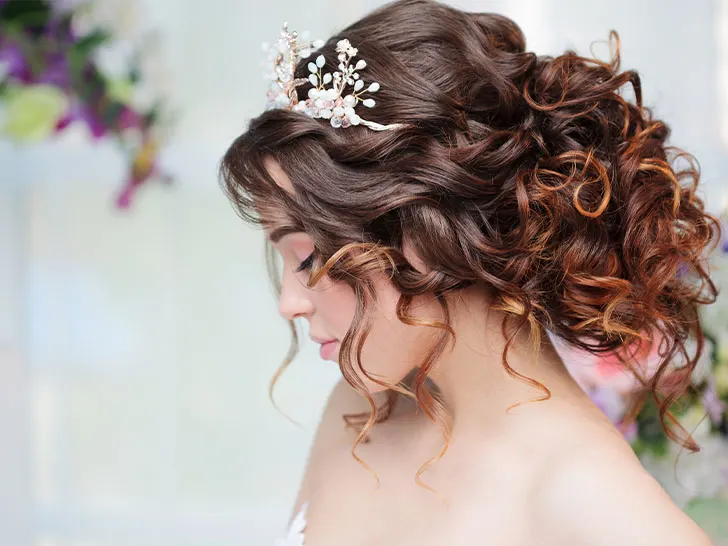 An updo also works well with a flapper-style headband, one with feathers or jewels that dangle down onto your face. In this case the headband should sit horizontally across the front of your forehead just above your eyebrows.
How To Wear A Headband With Short Hair
Whether a pixie cut or a bob, a headband is a great addition to short hair. Short hair can limit your styling options and adding a headband can immediately add a fun, interesting dimension to your style. It's also very easy to build a collection of headbands and switch them out to go with your outfit and your mood.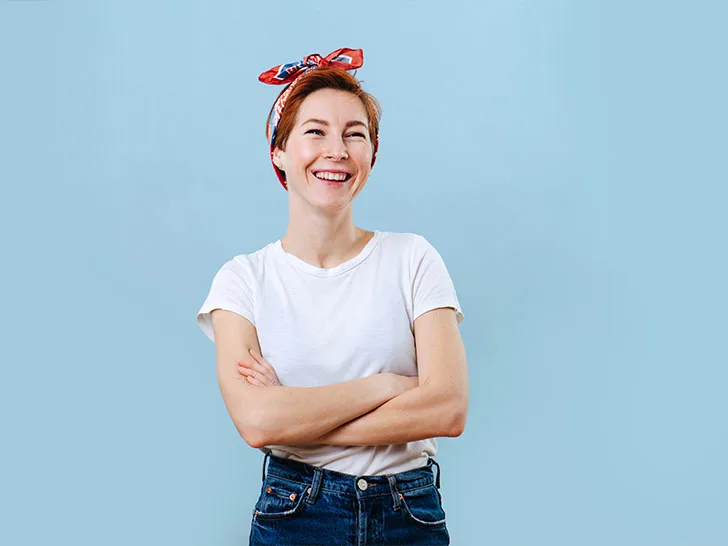 How To Wear A Headband With Bangs
If you have bangs, wearing a headband can be a great way to keep them pulled back and out of your face. But it can also be a nice way to keep them forward and in place and separate from the rest of your hair. In this case, a simple, thin headband goes really nicely for a day-to-day look when separating the two sections of hair.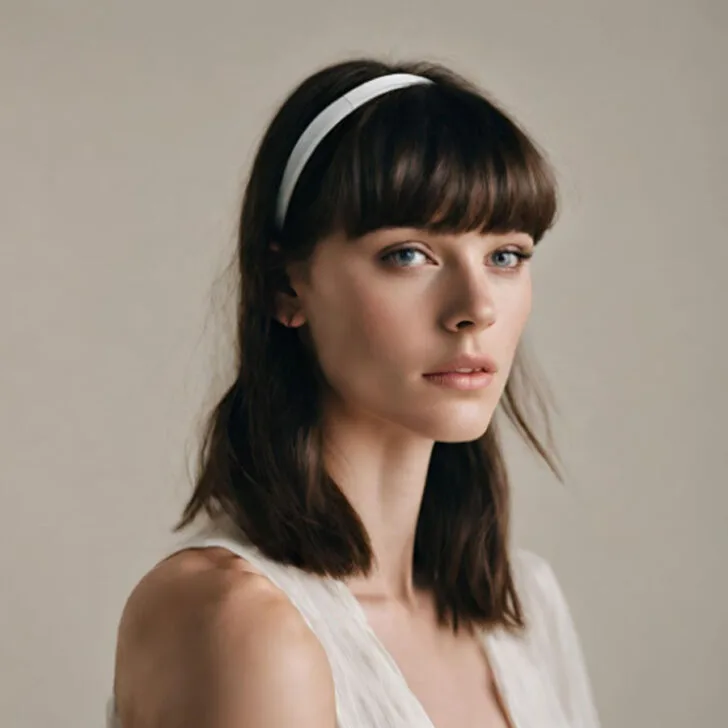 How to Wear a Headband Without Damaging Your Hair
A common concern when wearing a headband is that it will damage your hair. But there are a few things you can do to make sure your headband won't cause any breakage.
First of all, it's important to choose good fabrics. Silk, velvet, or other soft fabrics are gentle on your hair and shouldn't cause breakage. If you need to wear a tight, elastic headband like the ones used for sports, make sure to take them off gently by lifting up, away from your head. Don't pull down when removing, this may cause your hair to catch on the elastic and snap.
You can also keep your headband usage somewhat limited. Try not to wear a headband every single day. If you want or need to wear a headband to sleep, use a thicker one with a soft cotton fabric so it won't damage your hair or cause you discomfort if you move in the night.
---
There's no doubt that headbands are a very versatile accessory for all hair types. Whether you're working out, going to the office, or even getting married, there is an amazing headband out there which is sure to add a beautiful element to your look.
If you found this guide helpful , save this pin (see below) on your fashion board so you can easily come back to it later when you need this information on how to wear a headband. Simply click on the pin below and select "Save" to add it to your board and follow me on Pinterest for more tips, tutorials, and inspiration!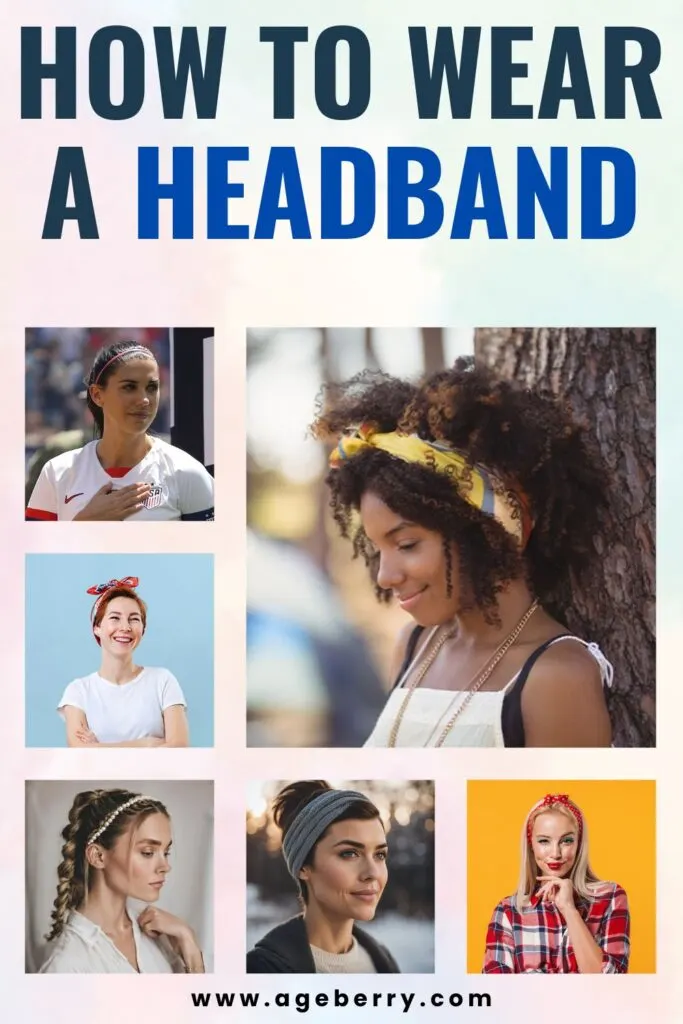 ---