Robes and dressing gowns are the common clothing to wear at home. In this tutorial, I will show you step-by-step how to sew a silk robe – fast, nice, and without a pattern. Just cut and sew. But first, let me say a few words about why I chose to make the robe.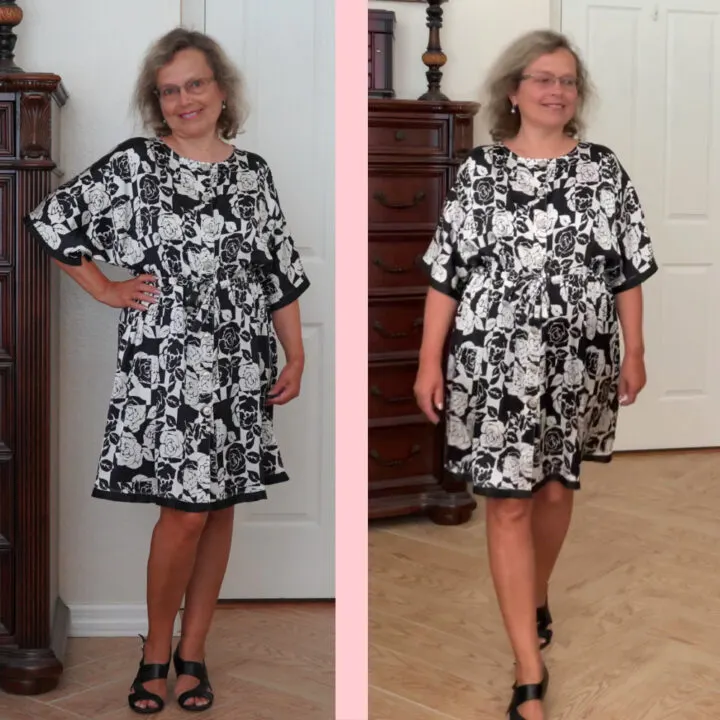 After a hard work day, when you have to sit, walk or stand for hours is not the most comfortable, sometimes even compressive and tightening clothes, you want to feel relaxed and comfortable when you come home. And a practical and elegant silk robe can become your favorite thing to wear at home.
We try to look our best when we go to work, to party, to meet friends, and even to shop. But at home many allow themselves to relax and not bother with the choice of clothing.
What is our regular home outfit? T-shirt and shorts. Of course, they are good if you are cleaning the house or cooking dinner. But isn't it better to change baggy well-worn shorts and an old t-shirt with a few oily spots and put on a silk robe when we are reading a book, or sitting at a computer, or watching TV, or talking to friends or family? Or maybe when you are at home the last thing you care about is how you look? I think a woman in any situation should always look attractive and stylish.
What if you are a housewife or work from home and your husband works in a women's team? In this situation, you especially need to take care of how you look at home. Why? Because during the day your husband is surrounded by well-dressed women (with make-up, manicure, and stylish hairdo also). No matter how strong feelings are, over time a man more and more senses the difference if the wife doesn't care how she looks at home.
It sounds sexist, right? Wrong. It applies (and very much so!) the other way around: the husband also has to take care to groom himself if he values his partner and a long-term, happy relationship. But this article is not about men, is it? So let's come back to our silk robe.
You can buy a silk robe. They are not very expensive and the choice is big. They come in a variety of colors, cuts, lengths, and designs. But what they sell is mostly a thing to wear a few minutes at home – just a lot of lace and always with belts.
I never saw a ready-made silk robe with a very convenient zipper closure for example. Belts are not very comfortable with silk robes – the fabric is very smooth and slippery and always sliding so you have to be on the lookout always because the belt shifts and with it, the dress no longer fits well. But if you sew you can make it exactly as you like meeting all your requirements and desires. As you will see below, it's quite easy to sew a robe, and most importantly – it's useful!
Why do I want to sew a robe from silk fabric? After all, polyester is cheaper and easier to come by. Because it is such a comfortable, breathable, luxurious fabric that it's been considered the "Queen of textiles" for a few thousand years. Silk fabric is extremely soft and pleasant to touch. It doesn't irritate even sensitive skin and you feel like you are hardly wearing anything at all. It caresses your body, it is free of any chemicals and contains only natural substances.
Silk is the most hypoallergenic of all fabrics, helps decrease skin's loss of moisture and because of this promotes rejuvenation of the skin, prevents to some degree effects of aging, and relieves dry, flaky skin conditions by locking moisture in and ensuring it stays on your skin. If you would like to know more about the benefits of silk fabric check out my article "Great benefits of pure silk fabric". I will never make a robe from synthetic fibers!
But do you know what the best answer is? Because we are worth it! Look at the below materials; aren't they gorgeous? Just be aware, that some of them are sold by 1/2 yard.
Note: Some of the links on this page are affiliate links. This means I will receive a commission if you order a product through one of my links. I only recommend products I believe in and use myself.
I like my home clothes to be not only convenient and practical but also elegant. So I have chosen a semi-fitting design with smooth silhouette lines. I want a robe that looks good on any figure, emphasizes the best features, and successfully marks shortcomings. I don't want it too loose or too fitted or too long or with a very open neckline.
I think also that frills, raffles, lace inserts, and all kinds of trims are usually good for home clothes. But everything should be in moderation. Avoid extremes when choosing clothes to wear at home. Extravagant laces attached to every seam, infantile prints, and goods from a sex shop will not be always suitable. In-home clothes, simple, comfortable, and discreet, you can meet sudden guests, neighbors, or an electrician, without fear that they will think that you are prepared for the arrival of someone else. Or for the bedroom.
So, let's now recap what robe I would like to sew and why I can't find it easily for sale in stores.
I want a silk robe but don't want it to cost a fortune
I don't want it just for 10 minutes wear, I want to lounge around my house in it for hours
I want it with a zipper or button closure, not with a belt
I don't want it too short or too long ( I want it to be comfortable, right?)
I want to feel good in it so it has to be roomy enough for lifting, flexing, and waving my arms around
I don't want it a solid color, prints are better because I can wear it without fear that every drop of water can destroy the garment.
I want it with some sleeves to cover my arms but not too long that they become inconvenient
I don't want it completely shapeless and baggy, I want it to have some shape to show off my curves
I want it to be decorated with some trims and buttons but don't want it to have too many of them so it becomes really over decorated
I want to be able to wash it in water not dry cleaned only – who can afford dry cleaning for home clothes?
By the way, if you would like to know how to wash silk clothes at home check out my article "Some secrets of silk fabric care: preparing silk fabric for sewing; washing and ironing silk garments and bedding".
So with all this in mind, what choices do I have to be able to buy one? I think absolutely none.
That's why I can sew a silk robe and I am going to show you how easily you can make one too – even without a pattern. But of course, you will need to have some sewing skills and some essential sewing tools. This project is not intended for a complete beginner.
I am always wondering why some people (who know how to sew) make t-shirts and jeans (for example) at home; it must be a passion I think because you go to any clothing store and there are so many kinds of jeans and t-shirts for any figure (and any color and size you want, really) and they are really cheap (I think if you buy fabric and make them they will be even more expensive). I advise you to make something you can't buy in stores or is very expensive to buy, like this silk robe for example.
In this tutorial, I am going to outline simple steps to create a loose-fitting robe without a pattern. But have in mind this will by no means compete with the complex drafting systems that are available now. I am not an haute couture shop, I am simply an enthusiast and for my purposes, this is faster. I like very much to use commercial patterns and most of my garments were sewn with Burda patterns. But sometimes I like just to cut and sew simple things without any pattern and it works for me really well.
I also published the video tutorial on YouTube, there are two parts. , the links are at the beginning of the article.
The video is about 35 minutes for part 1 and 40 minutes for part 2 and I am showing a VERY detailed process, with every step being described and shown. Part 1 is about cutting the fabric and part 2 is about actual sewing.
Here is part 2 (40 minutes)
Do you make these 15 mistakes with your serger?
Enter your email in the box below to download your free eBook and find out which mistakes you should avoid!
Subscribe to my weekly newsletters with sewing tips and tutorials, free sewing patterns, printable PDFs, and other useful content and you'll find the eBook in your inbox.
Subscriber exclusive offer.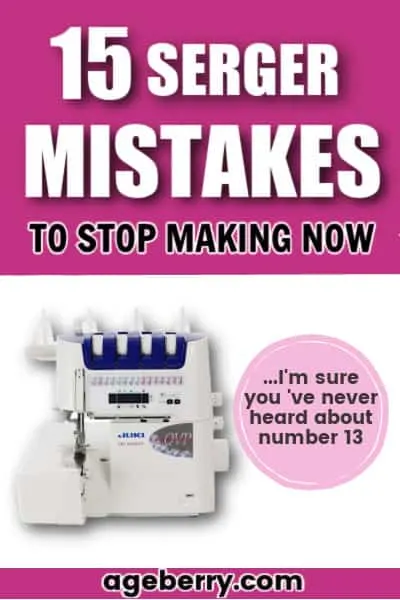 Did you find this tutorial helpful? If so, save this pin (see below) on your sewing board so you can come to this tutorial later when you need this information on making a robe without a pattern, and follow me on Pinterest for more tips, tutorials, and inspiration!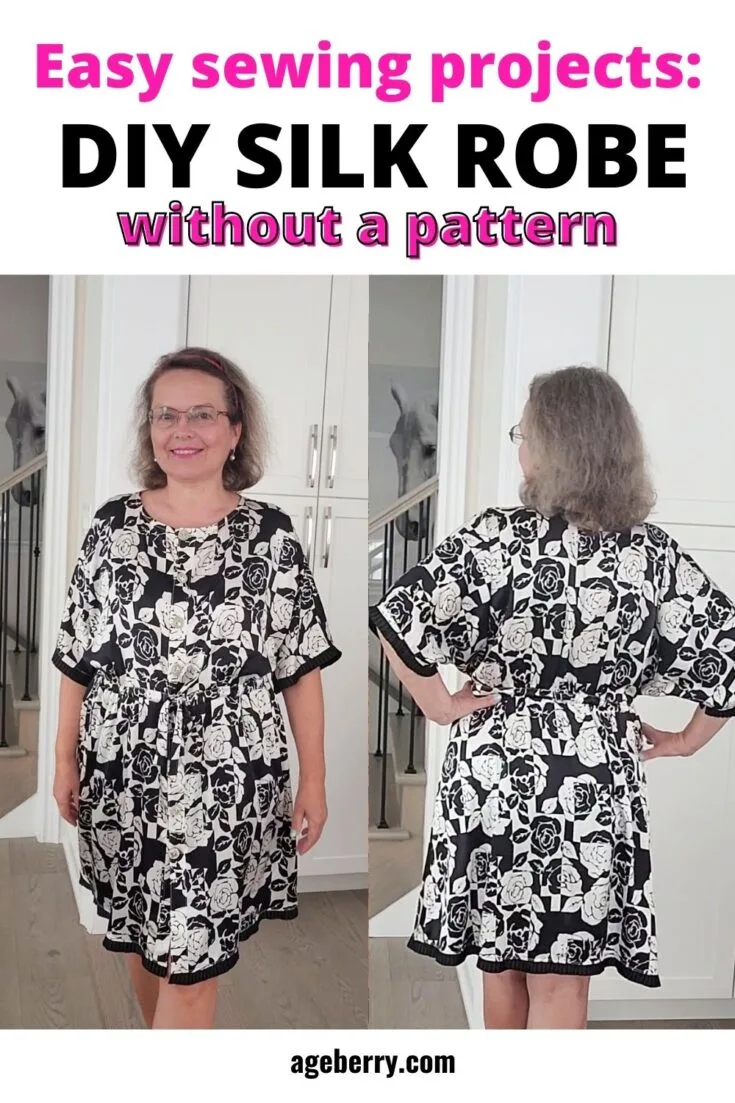 ---