If you've ever sewn with dry cracked hands, you know how bad it is when fabric clings to your skin like velcro. Not only is it uncomfortable, but it can also cause your fabric to tangle or bunch up and make sewing difficult. Sewing is a delicate process that requires precise movements. If your hands are dry and cracked, it can be difficult to grip the fabric and get a precise stitch.
As we age, we lose collagen and elasticity in our skin. This causes our skin to become thinner, making it more susceptible to cracking and sores – two things that are definitely not conducive to sewing. Our skin produces less and less oil, which can lead to dryness, wrinkles, and a loss of elasticity. This is why it's so important to moisturize our skin regularly, and hand cream is an essential part of any skincare routine. In addition to keeping our hands soft and supple, hand cream can also help to seal in moisture and protect our hands from the elements.
There are many different hand creams on the market, but not all of them are created equal. When choosing a hand cream for sewing, you'll want to look for one that is thick enough to provide long-lasting moisture without being too greasy. You'll also want to choose a hand cream with anti-aging properties to help prevent wrinkles and other signs of aging. With those criteria in mind, here are my top 10 picks for the best hand creams for sewists.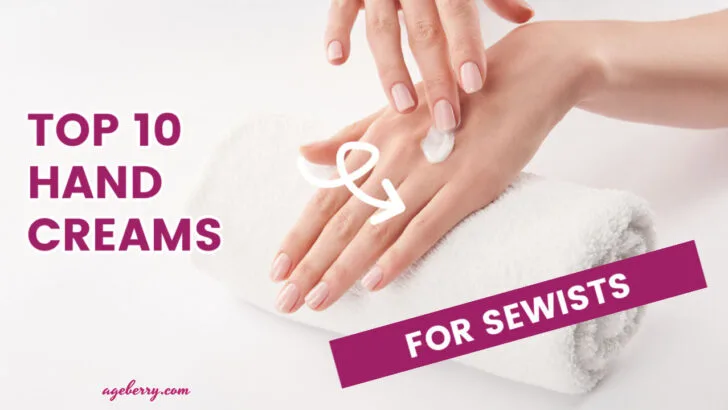 If you're looking for a moisturizer that will leave your skin feeling soft and hydrated all day long, look no further than CeraVe Moisturizing Cream.
This CeraVe can be used as a hand cream but is also good for the face and body. It is fragrance-free, paraben-free, and non-comedogenic, making it suitable for even the most sensitive skin. And because it has been allergy-tested and holds the National Eczema Association Seal of Acceptance, you can be sure that it will be gentle and effective.
This rich, velvety cream is formulated with hyaluronic acid, ceramides and MVE technology to provide 24-hour hydration. The essential ceramides in the formula help to restore and maintain the skin's natural barrier, while hyaluronic acid helps to lock in moisture.
The cream is quickly absorbed by the skin, leaving behind a soft, smooth feel without any greasy or sticky residue. It's also dermatologist-recommended and suitable for use on all skin types, including sensitive skin. It contains no artificial colors or harsh chemicals.
One downside, however, is that the cream does have a slight smell that can be discerned when used. While it is not unpleasant, some may prefer not only a fragrance-free but also a scent-free option.
CeraVe Moisturizing Cream is a unique product that has received an impressive 4.8 out of 5 stars from more than 100,000 reviews. I have never seen a product with that many reviews, so I decided to try it out for myself.
Having dry, cracked hands can be more than just a nuisance - it can be painful and make everyday sewing tasks difficult. If you're looking for a hand cream that will heal and repair your dry, cracked hands, O'Keeffe's Working Hands Hand Cream is an excellent option. It's specifically designed to heal, relieve, and repair extremely dry, cracked hands.
This hand cream is highly concentrated and creates a protective layer on the skin to lock in moisture and keep your hands hydrated. Additionally, it's clinically proven to provide instant relief from Eczema-related itchiness and irritation. Within days of using this hand cream, you'll notice a difference - your hands will be softer and smoother, and the pain from dry, cracked skin will be gone.
O'Keeffe's Working Hands Hand Cream is safe for all skin types and is non-greasy, so it won't interfere with your work. And it's not just for people who work with their hands - it's for anyone who wants to keep their hands healthy and comfortable.
AHAVA's Dead Sea Mineral Hand Cream is a must-have for anyone who wants to keep their hands soft and hydrated. The cream contains minerals from the Dead Sea, which are known for their healing properties.
There's no denying that dead sea minerals are a gift from nature. For centuries, people have known about the beneficial effects of these minerals on the skin. In recent years, however, scientists have been able to pinpoint exactly how they work to improve our skin's well-being. Dead sea minerals are known to help improve cell turnover, increase collagen production, and protect against free radical damage. In other words, they help keep our skin looking young and radiant.
The unique formula contains a blend of minerals and botanicals that work together to moisturize and protect the skin. The cream helps to repair damage caused by dryness and even provides SPF protection against the sun's harmful rays. It also has a light, refreshing scent.
The cream is non-greasy and absorbs quickly into the skin. It is also ideal for anyone who constantly washes their hands or has hands in water.
I recently had the chance to try out the Panier des Sens Hand Creams, and I was impressed with the quality of the products. The cream is not greasy, absorbs well, and really hydrates my skin. I also appreciate the fact that it comes in a variety of fragrances, so I can choose the one that best suits my mood. The box the tubes came in was also very nice. I loved the three fragrance selection. The fragrances are all lovely and relaxing too.
At Panier des Sens hand cream is formulated with natural ingredients that nourish and protect the skin. This olive oil hand cream is enriched with antioxidants that help fight aging skin. Vitamin E helps to delay cell aging and prevents the formation of free radicals. Apply it as often as necessary for lasting softness from your fingertips to your wrists. Dermatologically tested, this hand cream is safe for all skin types.
95% of the total ingredients are from natural origin, so you can feel good about using it.
The Panier des Sens Hand Cream is a luxurious and effective product that can help to improve the look and feel of your skin. The cream helps to soften, moisturize, and deeply nourish the skin. In addition, it can help to reduce the appearance of wrinkles and fine lines. As a result, the Panier des Sens Hand Cream can leave your skin looking and feeling younger and more radiant.
Furthermore, the company is committed to sustainable development and offers eco-friendly formulas that are based on local partnerships and organic farming. Consequently, you can feel good about using a product that is not only effective but also environmentally friendly.
Panier des Sens hand cream is made in France. A reusable tin box with the herbarium design contains 3 hand creams.
Burt's Bees is one of the most popular natural skin care brands on the market, and for good reason. Their products are effective and affordable, and their ultimate care hand cream is no exception.
This hand cream is perfect for those with extremely dry skin, as it is infused with a combination of moisturizing baobab oil, nourishing watermelon seed oil and a natural fruit acid complex to gently exfoliate. The quick-absorbing formula is also clinically shown to provide all-day moisture to even the driest skin, leaving hands soft and fully hydrated.
Plus, it is dermatologist-tested, hypoallergenic and contains no added fragrance. So if you're looking for a natural hand cream that works, look no further than Burt's Bees ultimate care hand cream.
I find that Burt's Bees hand cream works best for me when I use it at night before I go to bed. I know that it is pretty greasy, but it still works great. If you put on too much, your hands will be quite oily and slippery for a couple of hours.
L'Occitane Shea Butter Hand Cream is an extremely effective formula for keeping hands soft and smooth. The rich texture can be applied as often as needed, and protects, nourishes and moisturizes hands without leaving any oily traces. This creamy balm contains 20% Shea Butter, honey, almond extracts and coconut oil, which work together to create a protective barrier against the elements.
In addition, the cream is non-greasy and absorbs quickly, making it ideal for those with busy lifestyles. Whether you're working in the garden or using a sewing machine, this hand cream will keep your skin looking and feeling its best.
If you're looking for a hand cream that will help to repair dry, cracked skin, then you'll want to check out Eucerin Advanced Repair Hand Cream. This hand cream is specifically formulated to help restore moisture to the skin, and it's enriched with natural ingredients. The fast-absorbing, non-greasy formula in this hand cream leaves skin feeling smooth immediately, and it provides long-lasting hydration.
This hand cream is also fragrance-free and dye-free, so it's gentle enough for use as a daily hand cream. To use, simply smooth a small amount of this hand cream onto your hands and massage it into the skin until it's fully absorbed. You'll notice a difference after just one application!
As the saying goes, it's better to be safe than sorry. That's why it's important to always read the safety information on any product you use, including hand cream. This particular hand cream contains Alpha Hydroxy Acid (AHA), which can make your skin more sensitive to the sun.
That means you're more likely to get sunburned if you use this cream and then go out into the sun. To be on the safe side, always wear sunscreen or try to stay out of direct sunlight as much as possible. If you do use this hand cream, be extra careful for at least a week after application. And of course, if you experience any irritation from the cream, discontinue use immediately.
J.R Watkins' nourishing hand cream is a wonderful way to keep your hands soft, smooth, and moisturized. Made with shea butter, cocoa butter, and avocado oil, our hand cream nourishes and hydrates to improve the look and feel of dry, aging, or cracked skin.
This natural moisturizing hand cream is perfect for those with sensitive skin, as it does not contain any irritating parabens, dyes, or phthalates. You will also love the pleasant and refreshing lemon scent that uplifts your spirits with every application.
The hand cream itself is quickly absorbed by the skin without leaving behind any greasy residue. Simply apply liberally before bed.
J.R. Watkins Natural Moisturizing Hand Cream is 100% CRUELTY-FREE. J.R Watkins is proudly certified and recognized by Leaping Bunny as a brand that doesn't test on animals. The hand cream is made in the USA.
GOLD BOND Ultimate Healing Cream is a great choice for those looking for a non-greasy option to help hydrate and nourish dry skin. This body cream contains aloe vera, which is known for its soothing properties, as well as moisturizers and vitamins to help keep skin healthy. It absorbs quickly and provides 24 hours of hydration, making it an ideal choice for those with dry skin.
GOLD BOND Ultimate also offers a variety of other lotions and creams, all designed to provide long-lasting moisture and hydration to your skin. With options for hands, feet, face and body, GOLD BOND Ultimate has a solution to help with everything from hydration to preventing premature aging.
Mrs. Meyer's Clean Day Lavender Hand Lotion is a fast-absorbing, non-greasy hand lotion that leaves your hands feeling soft and nourished with every use. Made with shea butter, almond oil, and other natural ingredients, this lotion provides long-lasting hydration without any sticky residue. The lavender scent is perfect for creating a calming and relaxing atmosphere in your home.
You can also use it as a body lotion or overnight foot treatment by applying it to your feet and wearing socks over top. Mrs. Meyer's Clean Day Lavender Hand Lotion is free of parabens, formaldehyde, and other harsh chemicals, making it safe for even the most sensitive skin. Plus, it's cruelty free so you can feel good about using it knowing that no animals were harmed in its production.
I've tried a lot of different hand creams, and this is one of my favorite so far. It feels cool and refreshing on my hands, and there is no slippery grease at all. No residue on scissors, needles or a rotary cutter.
Did you find this tutorial helpful? If so, save this pin (see below) on your sewing board so you can come to this tutorial later when you need this information on the best hand cream for sewists, and follow me on Pinterest for more tips, tutorials, and inspiration!
---