Once relegated to the sweatiest corners of the gym, headbands for men have made a comeback. These days you see them everywhere from a formal office outfit to a Coachella party look. And, of course, they haven't lost the incredible usefulness they've always had while you're working out or playing sports.
If you're still not sure how to make this fashion accessory work for you, hopefully we can give you a bit of inspo and empower you to play around and see what you feel comfortable with.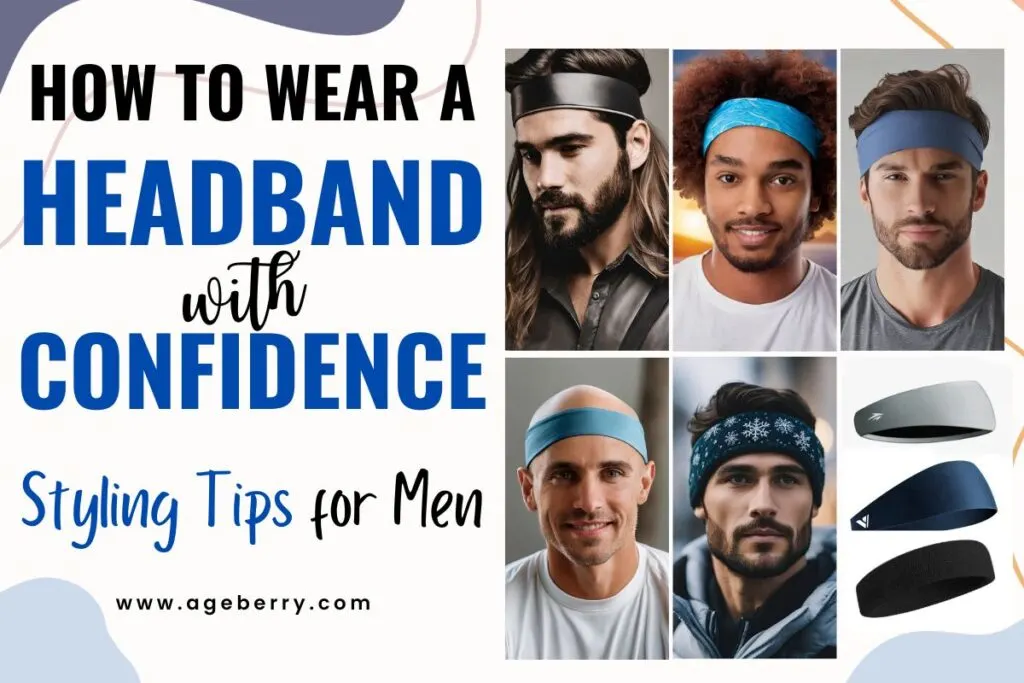 ---
If you are looking for quick tips on how to wear a headband, here is a list of 11 points. If you would like to know more, please read the whole article.
Choose the right type of headband that suits your style and activity.
Make sure the headband fits comfortably on your head and doesn't slide off.
Make sure the headband is not too tight, as it can cause headaches or discomfort.
Make sure the headband is made of breathable material to avoid irritation or skin problems.
Choose a headband that matches your outfit or personal style.
Wear a headband to keep your hair out of your face during physical activities.
Wear a headband to keep your ears warm in cold weather.
Avoid wearing a headband for long periods as it can cause hair breakage or damage.
Avoid wearing a headband that is too loose, as it can slide off during physical activities.
Make sure the headband is clean and dry to avoid bacterial infections or skin irritation. Wash your headband regularly.
Wear a headband during outdoor and indoor activities to stay focused and avoid distractions caused by sweat or hair in your face.
---
Are you considering wearing a headband? If so, here are some reasons why headbands have become a popular accessory for men.
Keeps hair out of face during physical activity or sports.
Absorbs sweat and prevents it from dripping into eyes.
Protects the forehead and ears from the sun or cold weather.
Adds a fashion accessory to an outfit.
Can keep headphones or earbuds in place during exercise or other activities.
Covers up bald spots or receding hairlines.
Keep long hair or bangs out of the face.
Adds a pop of color or pattern to the look.
Shows support for a particular sports team or cause.
Different Types of Headbands for Guys and How to Style Them
There are lots of different types of headbands for men. So whether you've got a few laying around the house, or you're planning a shopping trip, let's look at some ideas of how to style a few different looks.
Note: Some of the links on this page are affiliate links. This means I will receive a commission if you order a product through one of my links. I only recommend products I believe in and use myself.
How to Wear Sports Headbands for Men
One of the most popular types of headbands for men is the sport headband, which is designed specifically for athletic activities. Having sweat in your eyes can seriously mess up your focus on the game, so a good sweat-wicking athletic headband can make you much more comfortable.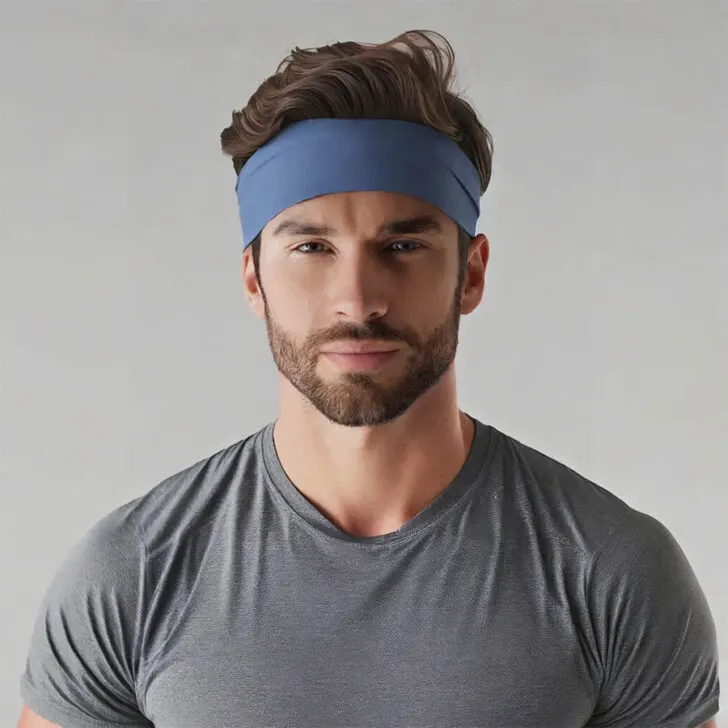 There are several different types of athletic headbands.
Classic cotton headbands
These are made from soft, absorbent cotton and are ideal for moderate to high-intensity exercise. One of the best selling cotton headbands is BEACE Sweatbands Sports Headband for Men & Women – Moisture Wicking Athletic Cotton Terry Cloth Sweatband for Tennis, Basketball, Running, Gym, Working Out.
Moisture-wicking headbands (also called sweatbands)
These are made from synthetic materials – polyester and spandex.
The fabric is designed to pull sweat away from the skin and to the surface of the headband, where it can evaporate more easily. This helps to keep the head dry and comfortable during exercise, while also preventing sweat from dripping into the eyes and causing irritation.
Moisture-wicking headbands are available in a range of colors and styles, and can be worn alone or underneath a hat or helmet for added protection and comfort. Here is one of the best selling ones – Vgogfly Running Headbands for Men.
Cooling headbands
These are made from special materials that help to regulate body temperature and keep the head cool during exercise. The Chill-Its 6634 Cooling Headband designed to wick away sweat and moisture when worn dry, and to provide evaporative cooling relief when worn wet. The headband also features an anti-odor treatment to keep you feeling fresh all day long.
With a UPF 50+ rating, it provides protection against the sun's harmful UV rays, and the reflective accent enhances visibility in low-light conditions. The low-profile design fits comfortably under a hard hat or helmet. The Chill-Its 6634 Cooling Headband is perfect for construction workers, landscapers, roofers, or anyone working in the heat. It can also be used for outdoor recreational activities to reduce the risk of heat stress.
How to Wear a Sports Headband
Sport headbands should be worn snugly but not too tightly around the head. They can be worn alone or underneath a hat or helmet for added protection and comfort.
The best headband to keep sweat out of eyes is usually used by pushing your hair back from your face. This helps make sure that the sweat coming from under your hair doesn't have a chance to sneak past the sweat-wicking fabric and get to your eyes.
Some men like to keep the band laying over the tops of their ears, while others prefer to pull it up so their ears are totally free. Usually it's more comfortable to have the band off of your ears so you don't have any additional pressure there.
Other Uses for Athletic Headbands
Outside of playing sports, there are plenty of other times you might find you're getting a bit sweaty and want to keep it out of your eyes. A less bulky sports headband can work really well if you're working in construction and need to wear a safety helmet — the band can sit underneath, just make sure it doesn't affect the fit.
How to Wear a Bluetooth Headband
The MUSICOZY Bluetooth headband is a device that allows you to listen to music without wearing extra headphones. It also has a built-in microphone. The headband uses Bluetooth 5.2 technology to provide immersive stereo sound and is compatible with many electronic devices.
The headband has a rechargeable lithium battery that can last up to 10 hours on a single charge that takes 1-2 hours. The headband is sweat-absorbent and made of highly elastic and breathable materials. This makes the headband comfortable and stretchy, so it can fit most users easily.
To wear a Bluetooth headband, follow these steps.
Charge the Bluetooth headband before use if it is not already charged.
Pair the Bluetooth headband with your device using the Bluetooth settings on your device.
Put on the headband and adjust it to fit comfortably on your head. Make sure that the speakers are positioned over your ears.
Turn on the Bluetooth on your device and start playing music or audio.
Adjust the volume and other settings using the controls on the headband or your device.
Bandana Headbands for Men
The bandana headband is a classic headband look for men. Bandanas are usually made from soft, comfortable materials like cotton and traditional patterns and colors. That being said, you can also find less traditional headbands — maybe one that is neon pink or even tie dye. Bandanas are versatile little pieces of fabric and they can be fun to play with the different ways they can be used.
One of the most popular bandana headbands on Amazon is Ergodyne Chill Its 6700CT Cooling Bandana, Lined with Evaporative PVA Material for Fast Cooling Relief
How to Wear Bandana Headbands
If you're wondering how to wear a bandana as a headband for guys, there's no one answer, but there are some common ways it's done. You can try folding it diagonally, making a triangle, you'll then want to place the folded edge along your forehead, tying the loose ends at the base of your head, just below your hairline. You can leave the tails of the triangle hanging down over your hair for a laid-back look, or tuck them under for a neater appearance. If you don't want any tails, simply start with the same triangle shape and then fold the bandana over repeatedly until you get to your preferred shape.
Bandanas Headbands for Men with Long Hair
Bandana headbands are really handy if you have long hair. The back part of the triangle can be left out to cover your hair and help keep it from flying into your face or getting messy. Johnny Depp is a great example of a man absolutely rocking the bandana headband look with long hair.
Warm, Winter Headbands
Choosing the right winter headband is important. You want to not only keep your overall outfit in mind, but this is also a very functional accessory which will keep you warm during chilly months. Usually the best winter headbands are made from materials like fleece, wool, or thermal blends, these materials are the best to keep your ears (and head) warm.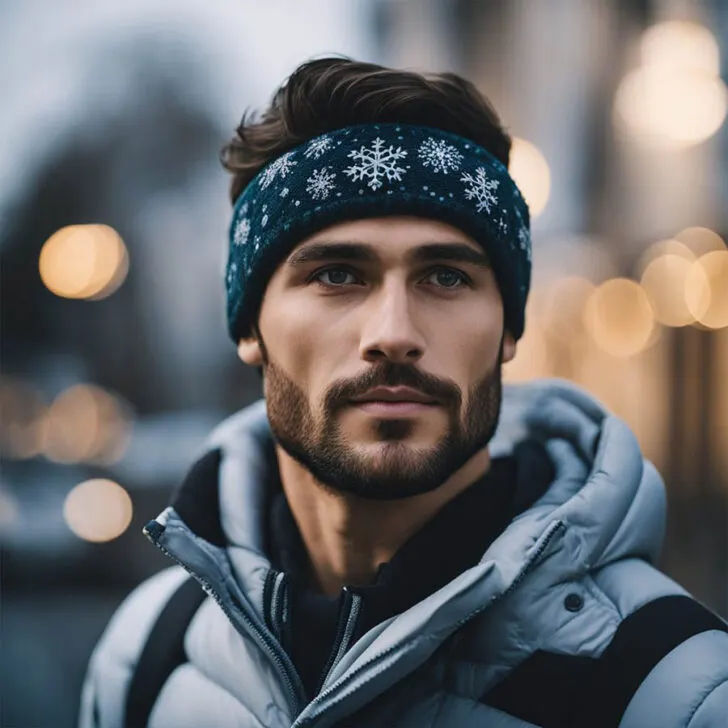 How to wear warm headbands for men
To wear a winter headband for its intended purpose — staying warm, you'll want to have one that's big enough that it fully covers your ears. You can try wearing the headband horizontally across your forehead, but if it gets too warm, pull it up so the front part is covering more of your hair and less of your skin. There are also headbands that are shaped to be wider around your ears and thinner across your forehead.
The headband you choose should fit snugly without being too tight. Think about coordinating colors to match or contrast between your headbands, jackets, and other winter accessories to pull your whole winter look together.
One of the most popular winter headbands for men is Lauzq Winter Headband
This winter headband is made of thick sherpa fleece. It has good elasticity, so it can fit most head sizes. The product is Amazon's choice in Headbands and has excellent feedback.
It can resist temperatures as low as 20℉ and is perfect for outdoor activities in cold weather.
How to Wear LED Lighted Headbands for Men
LED headbands for men are headbands that have LED lights built into them. One of the best selling is this one – Syhood LED Headband.
The built-in rechargeable LED light provides extra visibility at night or in low-light conditions. Also, the light makes the wearer visible in the dark and noticeable by vehicles. LED headbands for men can be used for a variety of activities, including running, cycling, hiking, and outdoor sports.
The LED light has 3 intensity levels and it's detachable, so it can be easily removed when washing the headband.
So don't miss out on this practical yet stylish accessory.
But there are also some cons. The headband is thin and may not provide as much warmth as expected. The light can become uncomfortable after multiple hours of use and may even leave a mark on the forehead.
Other Headbands for Men
There's really no limit to the types of men's headbands out there. You can mix and match different styles with different outfits. From the color to the pattern to the material, shape, embellishments and more, this is your sign to go out and play around with this fun accessory!
Here are a few more types of headbands you might come across.
Bohemian headbands
Bohemian style headbands usually have more patterns and designs and a variety of colors as part of that. They can make an outfit more fun and casual and work really nicely with dreadlocks or very long hair.
Pirate headbands
Pirate-style headbands are typically longer pieces of fabric — almost the length of a scarf. These are then wrapped several times around the head with the tails of the fabric knotted at the back of the head and then left to hang loose down the back. This style is inspired by the classic look of a pirate. It's believed pirates wore headbands for the same reason many men do today — to keep the sweat out of their eyes when they were laboring on the deck of the ship!
Cultural headbands
​​Japanese Culture: In Japan, men have a long tradition of wearing headbands known as "hachimaki" during martial arts training and competitions. These headbands are a symbol of perseverance and courage and they are believed to protect from evil.
For example, this headband – 5Chaos Reversible Warrior Headband. It features a printed dragon motif. The dragon symbolizes the unyielding will and pursuit of dreams, which is the soul of Japan as represented by ancient warriors. This head wrap is versatile and can be used for various events such as karate training, Halloween cosplay, martial arts, costume parties, parades, pageants, and assemblies. It can also be worn while cooking Japanese cuisine, such as sushi and teppanyaki, in a fun and kitschy way.
Native American Culture: Native American tribal headbands are often very intricate including beadwork or feathers.

Non Slip Breathable Sports Sweatband Native Southwestern Design
How to Wear Headbands with different hair types
Do you ever see a man who looks amazing in a headband but think 'nah, I can't pull that off, my hair is totally different'. While that may be true, you can make a headband work in any hair type, you just need to find the right headband! So let's look at different hair types and the headbands that work best.
Headbands for Long-Haired Men
With long hair you may be looking for more function than fashion, wanting to keep your locks in place and away from your face. Simple, thick, understated bands can work really nicely for that, but intricately designed options can also be fun to play around with, adding another level of interest to your long hair. Try our different materials as well: fabric, leather, or even metal accents — the great thing about having long hair is that a bit of headband flair won't overpower it.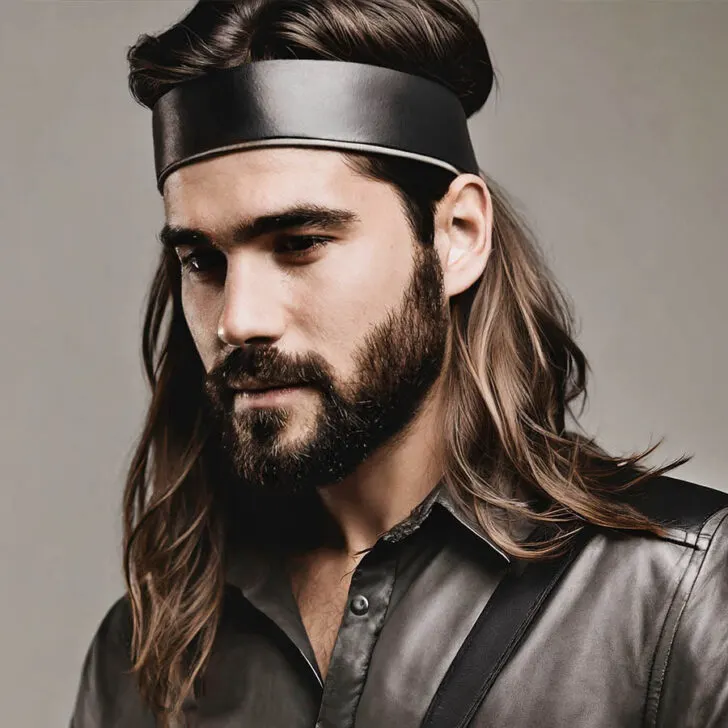 This is a nice explanation of a super easy way to style longer hair with a super simple black men's headband.
Headbands for curly-haired men
If you're always struggling to keep your curly hair under control, a headband may become your new best friend. A popular way to style a headband with curly hair is to use it as sort of a really large hairband for men, bringing all of your hair together at the crown of your head.
There are also excellent plastic headbands sometimes called 'wavy headbands'. The wave shape helps to lock on to curly hair making it and the headband stay in place. It also helps to keep any unruly flyaways in their place.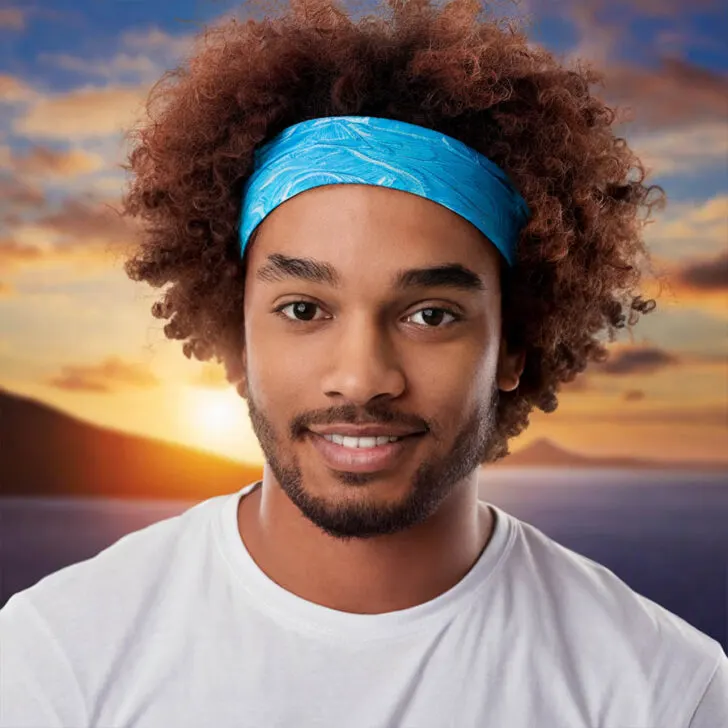 Headbands for bald men
Just because you don't have any hair doesn't mean you can't still have the benefits of a headband! They're not called hairbands after all. It's actually been studied that bald men may in fact sweat even more than men with hair. So all the more reason to find the best headband for sweat. Whether you go for a bandana headband or an athletic one, you're going to want to keep the headband low on your head close to your ears. Without hair to keep it in place, it is more likely to move and slip towards the top of your head.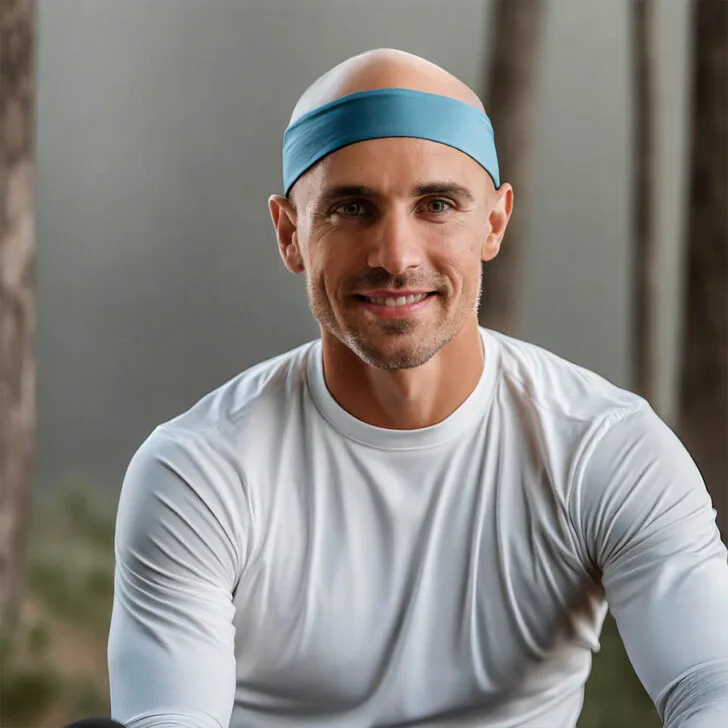 Styling Tips
In addition to the types of headbands to try with your hair, there are also a few overall tips that you may want to keep in mind.
How to Prevent Slippage
A headband slipping to the back of your head can be a common problem. To keep this from happening, make sure the headband isn't too big for you. Unfortunately headbands do get stretched out over time. If this has happened and your favorite headband is now a bit loose, try tossing it in the wash (if it's a washable material) this might help it shrink just a bit and go back to a snug fit. Of course if you've gone for a bandana style you can retie the knot to be tighter and more secure.
Some headbands (especially athletic ones) come with anti-slip features like a rubber grip on the underside. You can also try utilizing bobby pins or a bit of hair spray to keep the headband in place. Headbands will also usually stay better on hair that isn't freshly washed.
Comfort and Fit
In addition to keeping the headband in place, getting the right size for your head will ensure you can wear the headband comfortably. Again, you want a snug fit but not so tight that you find you're developing a headache after a few hours.
Another issue can be pain behind the ears. This happens if your headband is pushing on your ears in an unnatural way. Try to position the headband slightly back from your hairline. If you're using a plastic headband that doesn't wrap fully around your head, angle it so the ends are pointing back, away from your ears, and not into them.
Styling with Men's Headbands
Incorporating Headbands into Everyday Fashion
With all of these different types of headbands, hopefully you're now feeling inspired to wear one beyond the gym. You can color coordinate your headbands with the rest of your outfit, adding an additional subtle but fun element to your look.
The headband market for men is constantly evolving with new features and materials. Modern headbands for men include Bluetooth headbands, which allow for wireless music streaming and phone calls. Some other interesting features may include built-in LED lights, heated headbands, and moisture-wicking or sweat-resistant materials for athletic use. Headbands can be made from a variety of materials, including cotton, spandex, and polyester, but there are also unconventional materials like bamboo and recycled plastic.
Some top brands that are making headbands for men include Nike, Under Armour, Adidas, and New Balance (see images below). These brands offer a range of styles, materials, and features. Some brands are incorporating sustainable materials and eco-friendly practices into their production processes.
Headband Style Inspiration from Celebrities
If you want even more inspo of men wearing headbands, there's no better place to look than to some of your favorite celebrities. A lot of well known men wear headbands as part of their everyday or workout outfits, or even as an accessory to their fancy dress looks.
David Beckham: This famous footballer who doubles as a fashion icon has been known throughout his career for his stylish headbands both on and off the field.
Jaden Smith: This young actor and musician has consistently great fashion. And he has on more than one occasion sported a headband, like the embellished floral piece he wore to Coachella.
Jason Momoa: This actor is famous for his burly bad boy vibes as well as his long hair. He regularly wears a headband, often reaching for a folded bandana style.
Hopefully you're feeling excited for those headbands that have been gathering dust in your closet. Or you're grabbing your car keys to jet off to Target to see what you can find for your next soccer match. Truly, a headband is a great, versatile accessory to add to your wardrobe and your regular rotation. We don't think you're gonna regret giving this one a try!
Did you find this guide helpful? If you did, make sure to save this pin (located below) on your fashion board so that you can easily access the article later whenever you need this information on how to wear a headband for guys. Also, don't forget to follow me on Pinterest for more tips, tutorials, and inspiration related to fashion and sewing.
---