SALE! SALE! SALE! In North America one becomes insensitive after a while to all the hoopla linked to "sales", right? But we have also learned that not all sales are equal! And there is one of them that stands out probably on par with Black Friday: the Amazon Prime Day.
It's a day (or two) when Amazon offers massive discounts on tons of items, usually more than 100,000 items, but they are available only to Prime members ( more about this below ). It's a great time to do your holiday shopping, because you can find some serious deals. This year, the sale runs from July 11-12, and there are going to be some amazing deals on electronics, home goods, fashion, beauty, and more. It happens not only in the USA, but in the UK, Canada, Australia, etc.
If you want to bypass reading this article, the full list of deals for any given day is available at any time here: Amazon Prime Day Deals. The prices are only good for a very limited time and the selection of items changes constantly, so if you see something you like, make sure to click the link and check out the price on Amazon. You'll be pleasantly surprised at the discounts Amazon has to offer. So take advantage of this sale while you can and score some great deals!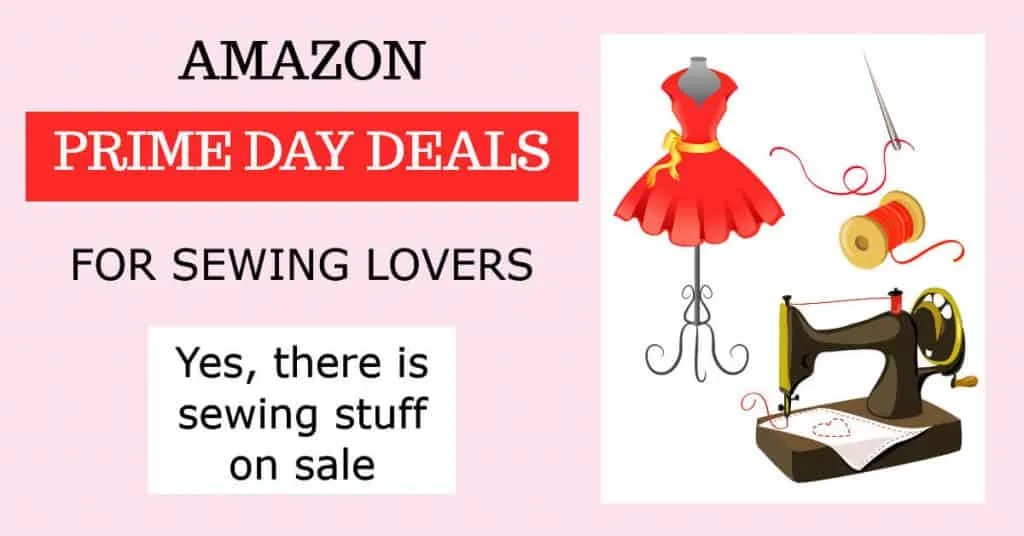 Before this date, if you're looking to do some early holiday shopping, or just want to treat yourself to a few new things, be sure to check out Amazon's Prime Early Access sale.
Today I just bought some bobbin storage rings (4PCS Bobbin Holder Set), and I was amazed at the number of great deals that were available. So I decided to update this post and created a new list with the deals I think you might be interested in. I couldn't include the discounted prices. But if you click on the item you want to check you will see the discount.
————————————————————
If you have been here before and just want to see the Amazon Day deals for 2023, jump to the list directly. If you did not read the below yet, I suggest continue reading, there might be details that you did not know about.
Note: Some of the links on this page are affiliate links. This means I will receive a commission if you order a product through one of my links. I only recommend products I believe in and use myself.
There is a catch: to get started you have to be a member of Amazon Prime to save on Amazon Prime Day deals. You can sign up for a free trial membership if you are not already.
Also I have received information that the Prime Day deals may be available to everyone on that particular date, not only Prime members, so the only issue for non-Prime members would be that they may not receive the free shipping. I can not confirm this, Amazon says that Prime Day is included with Prime membership. But I did receive messages from users who say that even if not Prime members, they can see at least some of the deals.
New members get Prime FREE for 30 days, so you can take advantage of the sale without having to commit to a long-term subscription. And if you do decide to keep your membership after the 30 days are up, you'll still be getting all the benefits of Amazon Prime, including free two-day shipping, exclusive deals, and access to Amazon Prime Video and Music. So why not give it a try? You might just find that Amazon Prime is worth the investment.
Beware that when you sign up, your membership will continue unless you cancel before the renewal date. You have to actually cancel it if you do not want to continue.
For a full list of prime membership benefits please see this page. A short list in the US is free delivery (same day, 1 day, 2 days, whatever). Prime Video, Prime games, Prime music, Amazon photos (I did not try this). You even can get some free eBooks with Prime!
There still is another little-known benefit: Prime Wardrobe. It is a try it before you buy service, you choose up to 8 items, only pay for what you keep, and return the rest. They promise free and easy returns and I have no reason to doubt that. Amazon has renamed this benefit "Prime Try Before you Buy" and the link goes to a description of the program.
There is another less known benefit for Prime members which I fully recommend: the Amazon Prime Store Card. What's so good about this? If approved, you will get 5% cashback on all Amazon purchases, this, in fact, equals a 5% automatic discount on Amazon; that's not small, most cash back cards offer 1%. You will also get a rewards percentage (5% to 15%) on a selection of items. How large is 5%? Let's see: I bought a water conditioning system for my home, a total of about $2000 for all components. 5% is $100. Rhetorical question: was it worth it? More details here.
Please note that each regional Amazon business has its own Prime membership, conditions, and benefits. If you are an Amazon.com (US) prime member, like me, your benefits do not travel outside the US, and that is true for other countries too.
Hint: for Canadian Prime Members, the benefit seems to extend to the Amazon US site! All you need is a US shipping address and it seems you DO get free shipping to that address. Snowbirds, pay attention!
I was reluctant at first to become a Prime member but finally, in 2018 I relented and I did it. Well, it turned out that my online shopping with Amazon has changed dramatically. I no longer need to wait for a full cart to order, and I found myself ordering a bag of tea for $7 (I wanted a special tea, and I did not find it at my supermarket), other time a tin of peanuts (ok, 3 tins) for $8 because they were on sale, etc. A box of pencils for $6 – you get the idea. The Prime membership has saved me many trips to the supermarket.
And you know what? Many of these items come within one or two days of delivery! I ordered some batteries for my camera around noon on Tuesday, and I got them before noon on Wednesday!
In time I decided to become more "frugal" and while I still order one item if that is all I need, Amazon (in the US) offers a service where they can bundle all such items and deliver them all at once, once per week, on the so-called "Amazon Day". For me that day is on Monday (my choice). Or I also can choose to allow Amazon to deliver at their leisure, whenever they have a delivery in the neighborhood (they tell you when that will happen), which saves delivery trips and in the end fuel; not that I am worried about Amazon costs! That is their business. But if I don't need the item immediately, it probably helps to save gas and lower carbon emissions.
I am not happy AT ALL about the increase in price of the Prime membership two years ago. But I am not happy about the increase in price for gas, milk, electricity and other things. What can you do.
But let's get down to business. This year Prime Day is July 11-12 and Amazon already has on its site so-called "advance deals". Each day these are different so check the current offering directly through this link.
The list is updated often during the sale, so come back here often! Beware though, Amazon will make some products available in limited quantities, others will only be on sale for certain periods of time during this interval.
This year, like last year, Amazon issues coupons for some items. They have a lot of coupons for (usually) 20% – 30% off for Prime members here: Amazon coupons. The articles range from peanuts to toys and go through garden equipment, food, personal care, and electronics.
Remember: you need to be a Prime member to see the Prime Day deals: Amazon Prime
Here is a collection of useful search links for the current sale. Please note that the lists are UPDATED during the day as new items are placed on sale and others are removed.
In the market for vacuums? Pressure cookers? Various items for home? Here are today's deals!
Do you like Apple devices? I like them too, and Amazon has some pretty good deals on some Apple devices.
If you are looking for an entry level sewing machine, the ones below look like a very good choice to me. With over 93% of 5 and 4-star reviews, they seem to be among the best-reviewed machines on Amazon, and the price is definitely interesting! More sewing machines below. Please bear in mind though that these are entry level sewing machines.
I found out long ago that Amazon has some excellent deals on cell phones and – very important – you can trust that you buy the real article. I bought every year some phone from Amazon, usually at a deep discount. This year they also have good deals on cell phones! My husband likes these:
Or perhaps you are in the market for a laptop? My husband likes the ones below:
This year I also see something new: deals by invitation. The deals are in the Amazon list at incredible prices, for example this: Amazon Fire TV 43″ Omni Series 4K UHD smart TV shows for me at $99 if you are invited. How does the invitation work? Amazon says this:
Request an invitation. Prime members get exclusive access to invite-only deals.
Check your email. Check for email invites on Prime Day.
Buy if invited. On Prime Day, you'll get an email notification with a unique link that's valid throughout the Prime Day event.
I think I will register for this TV, as my eyesight goes not so good with experience (Not age! Never age!), I might need a bigger computer monitor.
Good luck!
Here is a selection of current and previous deals
I bought myself either the exact article shown below or a similar one.
---
---
---
---
---
---
---
---
---
---
---
---
---