Amazon Prime Day deals for sewing and craft lovers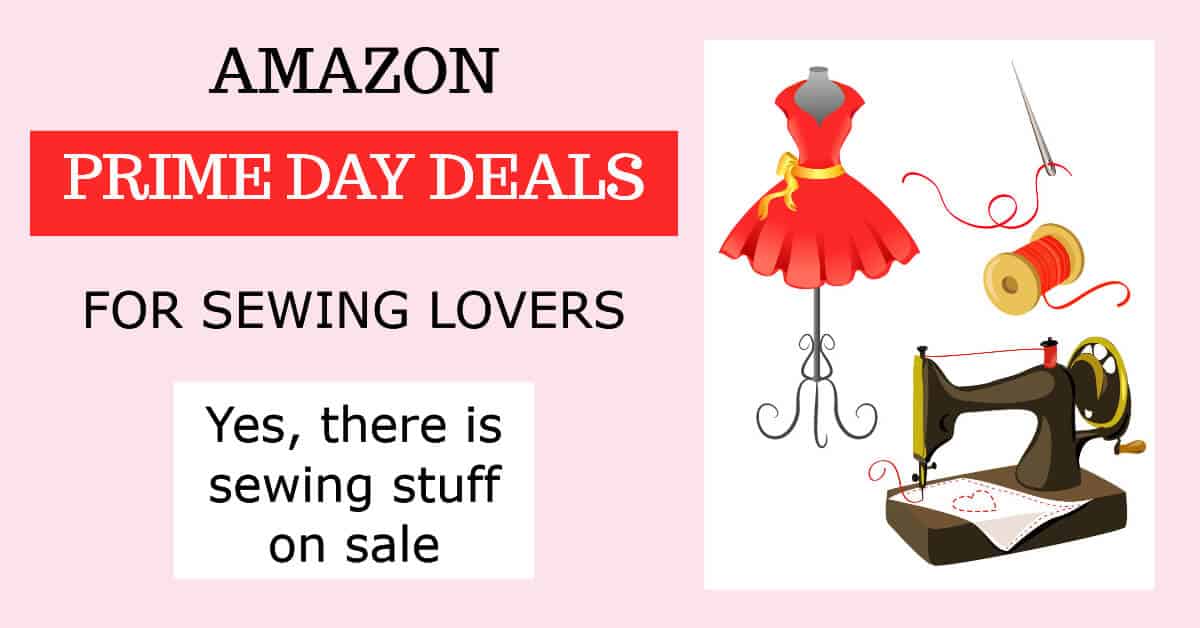 Note: Some of the links on this page are affiliate links. This means I will receive a commission if you order a product through one of my links. I only recommend products I believe in and use myself. 
SALE! SALE! SALE!   In North America one becomes insensitive after a while to all the hoopla linked to "sales", right?
But we have also learned that not all sales are equal! And there is one of them that stands out probably on par with Black Friday:
the Amazon Prime Day.
Do you know what it is? If you didn't hear about Prime Day before, it's a once-a-year HUGE sale at Amazon — usually more than 100,000 items get put on sale but they are available only to Prime members ( more about this below ). 
To get started you have to be a member of Amazon Prime to save on Amazon Prime Day deals.  If you are not already you can sign up for a free trial membership.
 Sign up here for a Free Trial Amazon Prime Membership
so you can take advantage of all the sewing deals!
Here are some of the benefits of being an Amazon Prime Member.
Prime delivery.  Do you buy from Amazon, and who doesn't ? 1 or 2-day shipping is free for most items sold by Amazon and there are exclusive deals available only to Prime members. But the fast free shipping is only the icing on the cake! There are many other great benefits.
Prime wardrobe – try it before you buy, choose up to 8 items, only pay for what you keep,  free and easy returns.
Prime video. Do you watch TV/movies? There is a huge library of shows/movies available for free to Prime members.
Prime music. Do you listen to music? Streaming is free for Prime members from the large Amazon library.
Prime reading.  Do you read? Many  Kindle books are free for Prime members!
Amazon photos – unlimited full-resolution photo storage with Prime plus custom print.
The full list of Prime benefits is on the sign-up page. And the best of all? You can get a 30-day free trial, after all, what do you have to lose?
There is another less known benefit for Prime members which I fully recommend: the Amazon Prime Store Card. What's so good about this? If approved, you will get 5% cashback on all Amazon purchases, this, in fact, equals a 5% automatic discount on Amazon; that's not small, most cashback cards offer 1%. You will also get a larger cashback percentage on a selection of items, for example as I write this the offer is 25% cashback on select Kindle e-readers. How large is 5%?  Let's see: last year I bought a water conditioning system for my home, a total of about $2000. 5% is $100. Rhetorical question: was it worth? More details here.
What does Prime Day mean for us, sewing enthusiasts? Probably a lot of savings on items we would buy anyway. Last year's sale included 
Singer Futura Embroidery/Sewing machine
Brother 4 thread serger
Fiskars scissors
42 Piece Presser Foot Set
24 Color Thread Set
Cricut machines and accessories ( mats, blades, etc.)
And a lot of accessories that I myself use daily. This year? I will update the list as soon as it's made available, so come back here often!
Each year the list of sales is different and it's not made public until very close to the start of the event but if it's anything like past years there is something for everyone.
This year ( 2019 ) the Prime Day starts at 12 am PST (3 am EST ) July 15 and lasts for July 15 and 16.
Here are some of my favorite things to shop on Amazon. Let's hope they will be on sale on Prime Day!