I open my closet door and meticulously evaluate my wardrobe. It would seem there is everything. Or is there? I want some updates! And I will begin by sewing a winter coat.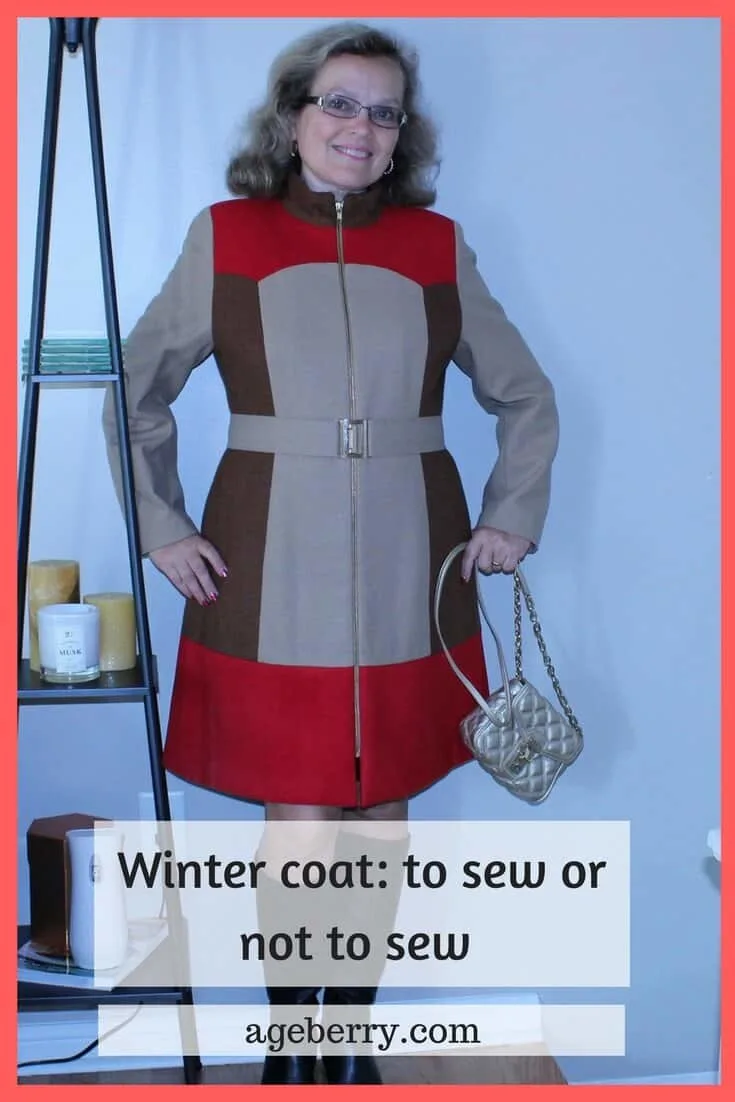 The more coats I have in my wardrobe, the better: a coat for cold dry weather and for the rain, for cool windy weather and cold sunny days, for festive winter events and everyday wear, for going to the office and for shopping trips, long and short, light and dark, warm and not so warm, etc. I can't imagine wearing the same coat every day. A real fashionista must certainly have several different coats. It makes winter more interesting if you have a few coats to choose from. I don't want to take outerwear only as something created for the sake of keeping me warm in cold weather. I want to look stylish always.
This is not a coat sewing tutorial; this is only an argument why sewing a winter coat is something you should consider. Coat-making is not easy and not fast either but the results can make the process worth pursuing. From my experience, I can say that once you mastered how to sew a coat, there is little that will surprise you in sewing.
Note: Some of the links on this page are affiliate links. This means I will receive a commission if you order a product through one of my links. I only recommend products I believe in and use myself.
Why would I sew a coat if I can buy it?
♦ Making your own winter jacket or wool coat is rewarding: I want something different, a coat that nobody has, something fashionable, exquisite, and unique. And often all I can get in stores are black, brown or grey ones. Not that I don't like a black coat. But I want something more interesting. There is energy and vitality in bright colors and I am very into colorful winter wear.
♦ I can buy a regular coat for $100-200, but if I want something of better quality like this Gucci coat, I will have to pay a lot, and probably it still will be too long in sleeves. No way I will pay $3600 for a coat even if it is Gucci. I guess a good quality coat is one of those garments where sewing actually makes financial sense. Every year famous fashion designers present new collections of coats that delight the public. You can see coats with classic silhouettes or unusual ultra-modern models from the big fashion houses like Chanel, Prada, Gucci, etc. But they cost a fortune!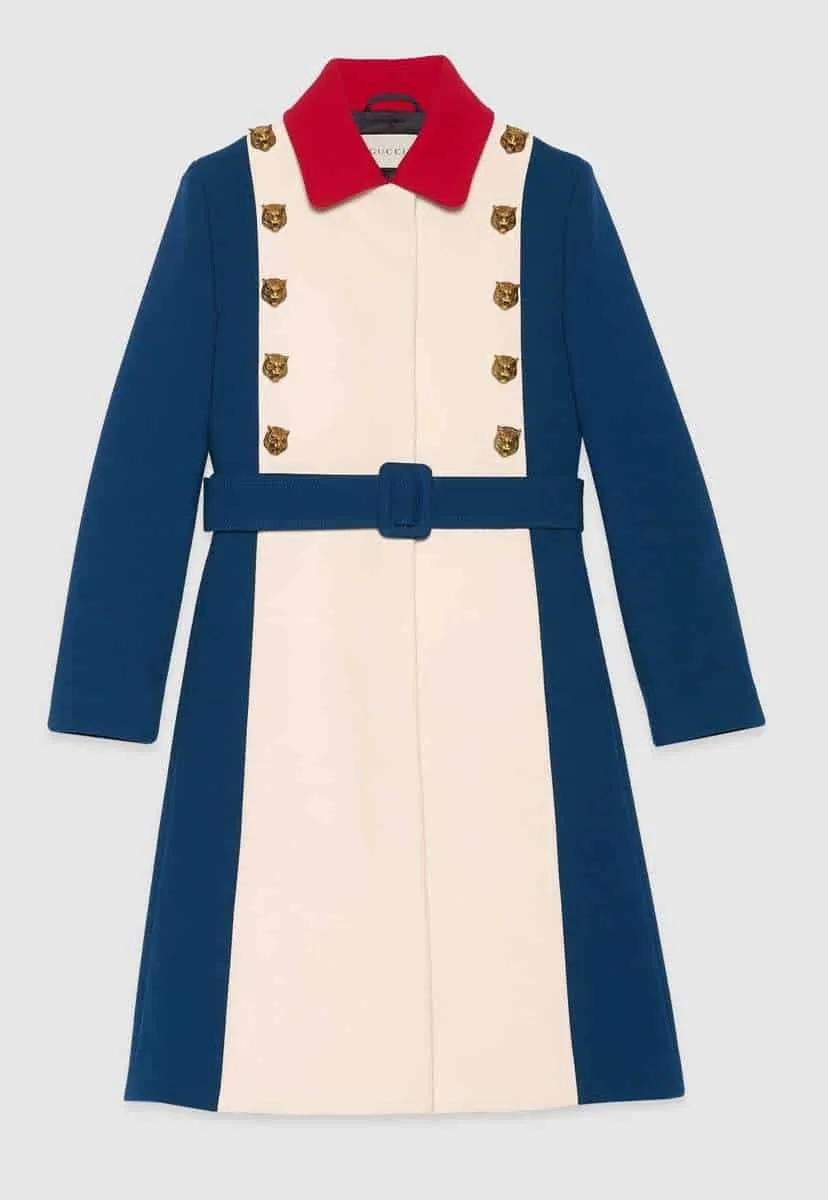 ♦ I want 100% pure wool fabric (and again I have to pay more for it). If you buy a coat, be prepared that it is made from a cheap poor quality fabric with low wool content or completely of synthetic fibers, which will not keep you as warm as the real wool fabric would. I want to make a coat from a fabric that I just adore. You may check out this fantastic online store to find perfect pure wool fabric for acceptable prices.
Feel free to purchase an extra piece of this gorgeous wool fabric for your stash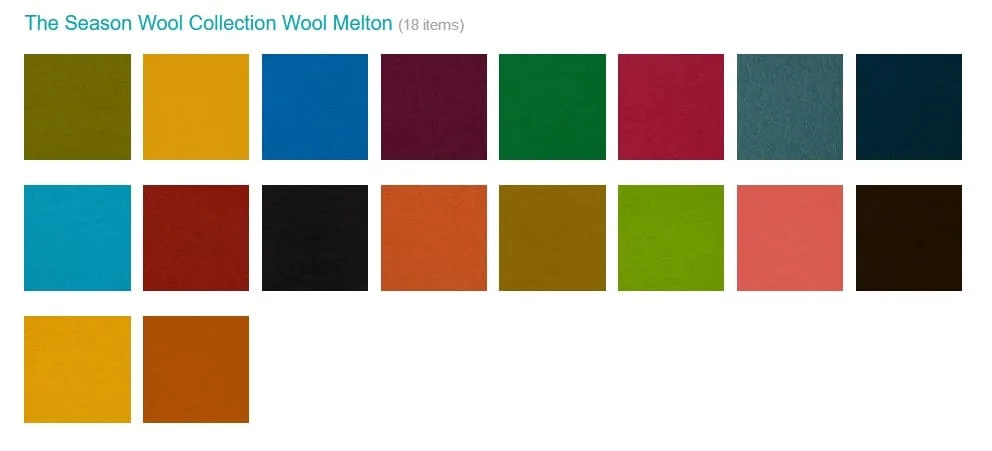 ♦ I want a coat that fits my figure, which is not always easy. I am short, so most coats I tried in stores have too-long sleeves, which I have to alter anyway (so why not make the winter coat "from scratch"?) Also, many coats I tried on are too baggy at the waist, too large in the shoulder area, or too narrow in the hips, never minding other fit issues.

So, what are the most common problems you may face sewing your own winter coat?
The work is extensive. It takes a lot of time to sew a coat. This time investment may be really daunting especially if you have a full-time job. Sewing a coat is kind of a big deal. You can whip up a skirt or a dress in a day, not so a coat.
The fabric you want to use may be too expensive. Sometimes I see very nice coat fabric for $50-60 per yard and the average price is $20-30 per yard. Even if I bought the fabric- will I actually be brave enough to start sewing? Will I finish the project or will I lose interest somewhere in the middle and my coat will stay unfinished until it goes out of fashion in a few years?
The result may be not what you expected and you are unhappy with the fit. You can't have a guarantee that in the end you will love and wear your coat. You spent all that time and money and in the end, it turned out awful.
The coat may look "homemade" and not professional. Sewing the coat we are aiming for bespoke tailoring quality and don't want our coats to look like homemade Halloween costumes. There are many little details that would make a coat look professional. And if we don't put an extra effort into those details people will see that the coat was homemade, and not because it's different but because it looks lumpy, ill-fitting, and … unprofessional.
You may have trouble with how your sewing machine handles the think coat fabric. Sometimes you will have to sew 4 layers of thick coat fabric going under the foot of your home sewing machine (for example when you sew a facing to a collar)
You may have a hard time finding a suitable pattern also.
What are some steps in this coat-sewing adventure? How to make a winter jacket?
There are so many details in sewing a coat and it feels sometimes a little intimidating but once you start it is not as bad as you thought it is going to be. If you know basic sewing techniques and have some sewing skills you will get it right. Sewing a coat is not very different from a jacket but be ready to laboriously work on your masterpiece.

Preparing the wool coat fabric properly
I would advise you to check this site: https://www.thesewingdirectory.co.uk/preparing-wool-fabric-for-sewing/

Cutting the thick wool fabric
To my surprise, I didn't find really good information about cutting coat fabric. So I made some videos about the scissors I use. I have electric scissors: corded Brother (I guess they are vintage now) and cordless Singer. They save my hands from getting achy when I have to cut thick fabric. They are sharp, and efficient and go through the heavy fabric with ease even though they are a bit loud. However, they are not really good for tricky tight cuts.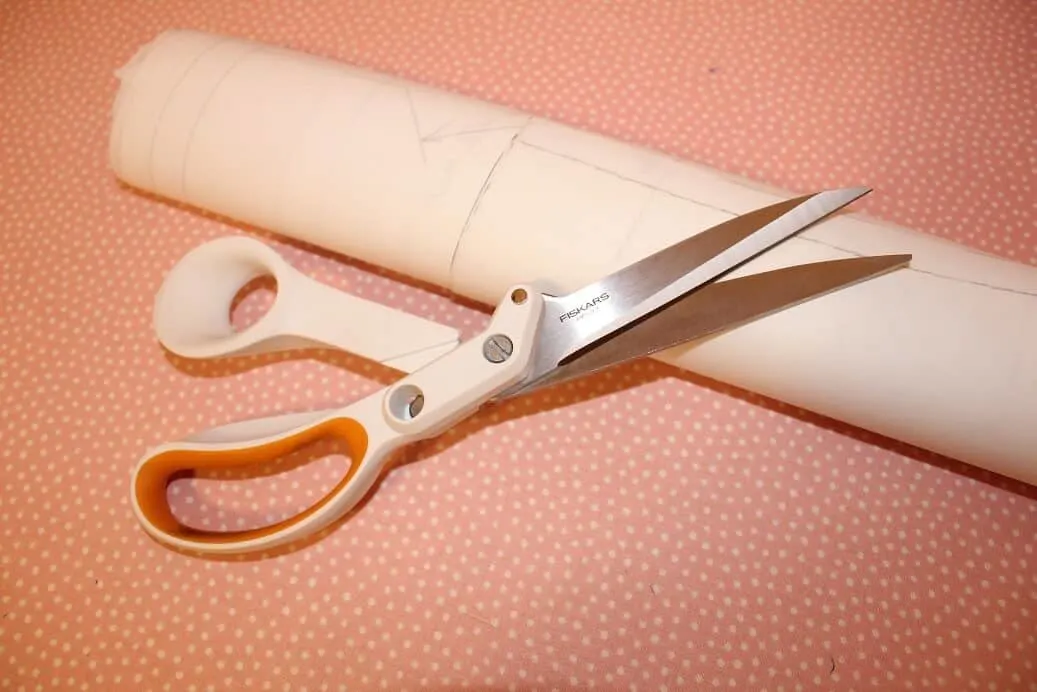 So I use also regular handheld scissors that cut thick coat fabric with ease: Fiskars Amplify.
3. Using stronger threads and thicker needles, prepare your sewing machine for sewing thick wool coat fabric. Check this post: https://weallsew.com/tips-sewing-bulky-fabrics/
4. Pressing the seams. I found the perfect guide here: https://sewguide.com/how-to-press-for-sewing/
6. Sewing a collar (http://www.threadsmagazine.com/2010/09/09/how-to-sew-a-notched-jacket-lapel )
7. Making different kinds of fastening (like buttons, zippers, snaps) (https://closetcasepatterns.com/sew-perfect-buttonholes/ )
8. Getting the lining ( https://seekatesew.com/bagged-lining-tutorial/ )
9. Making a hem (I recently published a guide "How to sew a curved hem")
I admit that the coat is a challenge to sew. But I also enjoyed the process and my coats did come fairly well.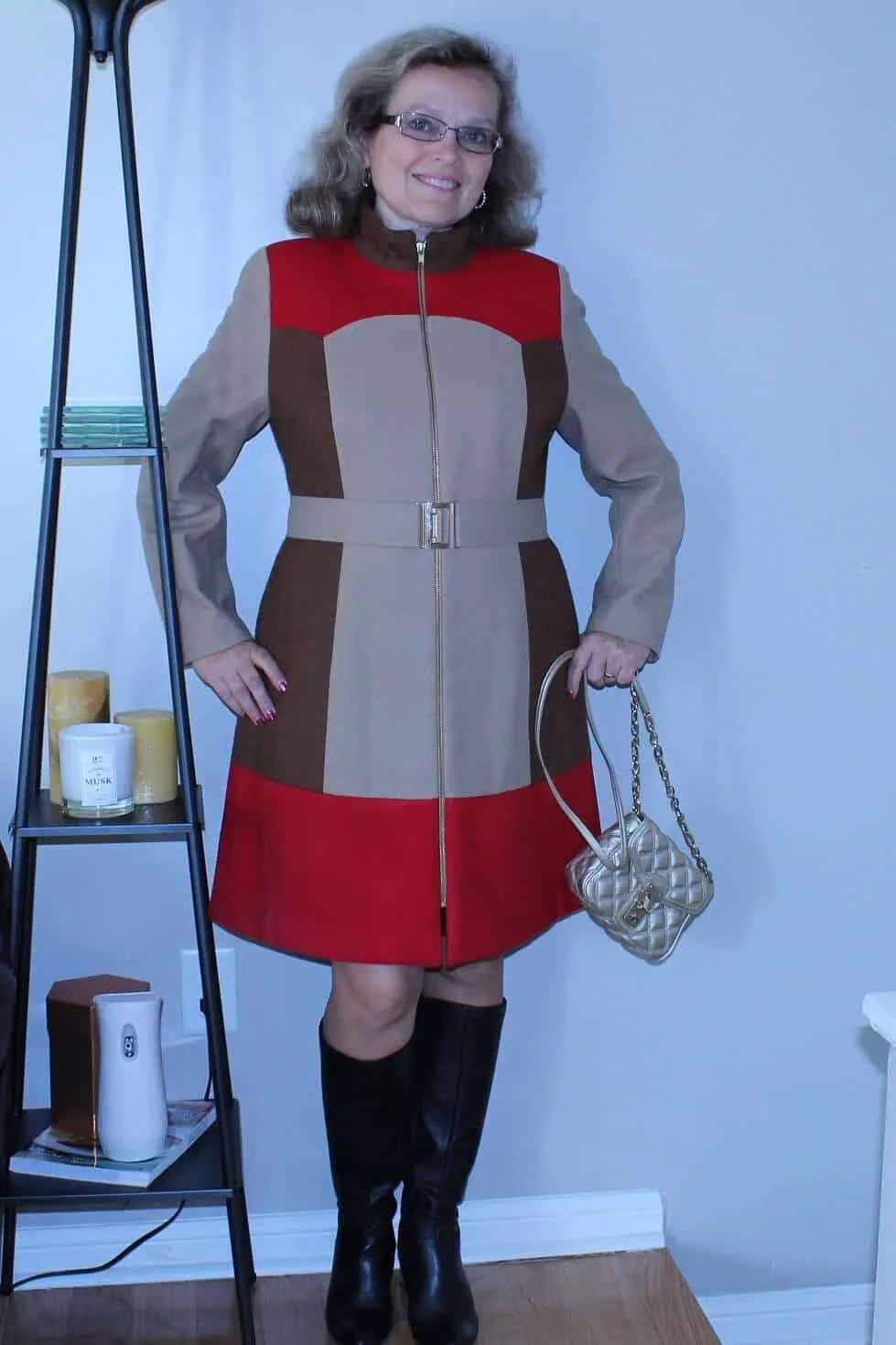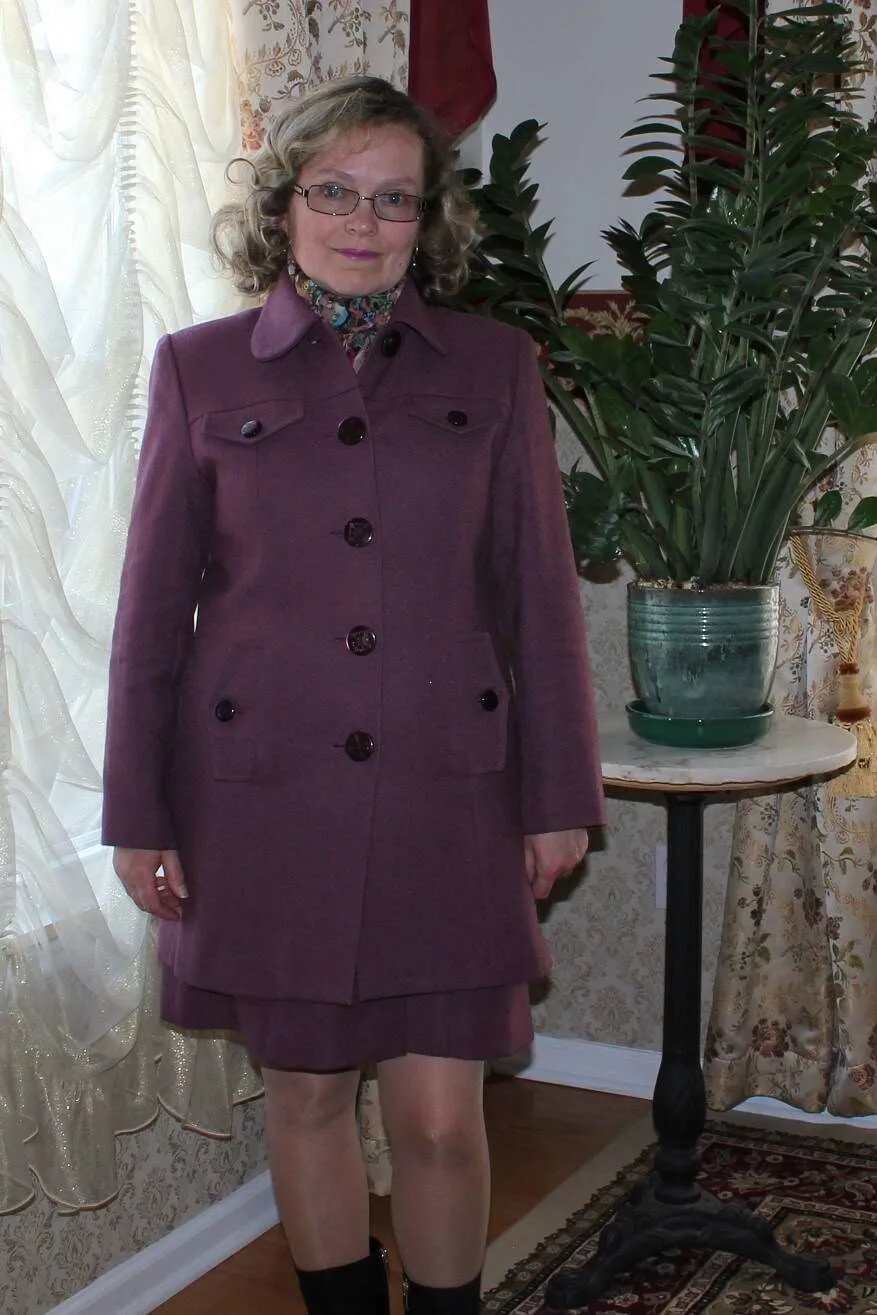 ---