A must have for the summer!
My new printable eBook – step-by-step tutorial with everything you need to make this dress flattering on any figure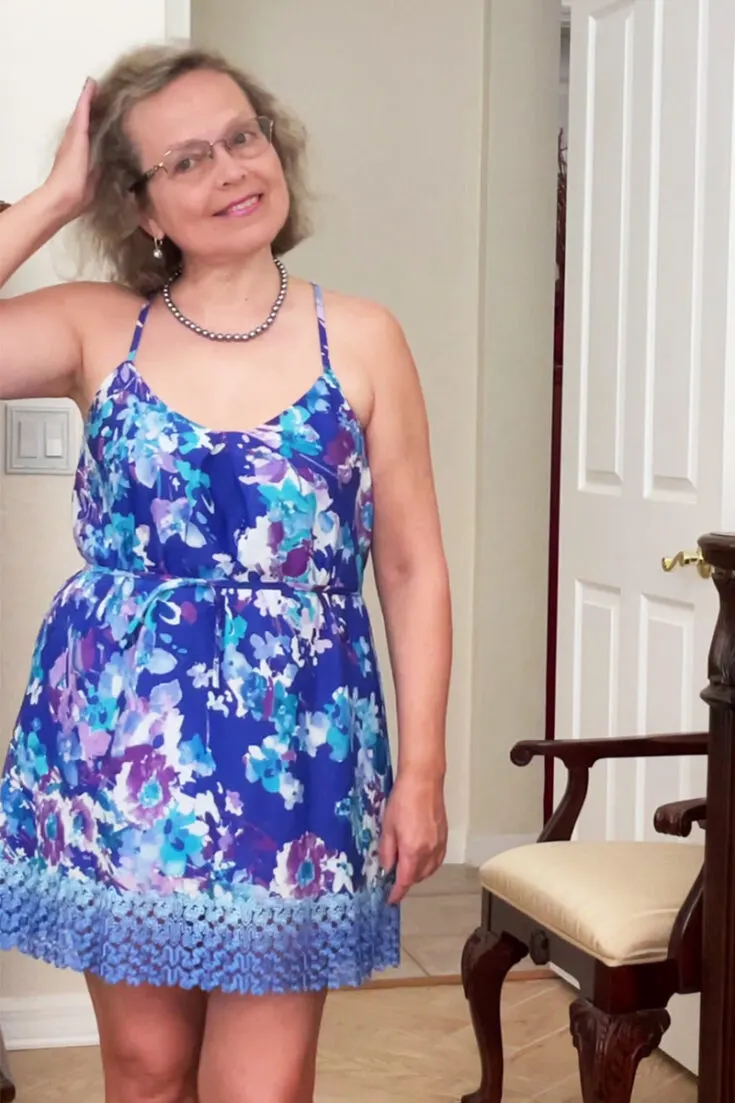 Want to finally make a great summer dress that FITS? Are you ready to de-stress with a new sewing project?
If you are ready to feel fabulous in your clothes again you are going to love my new eBook!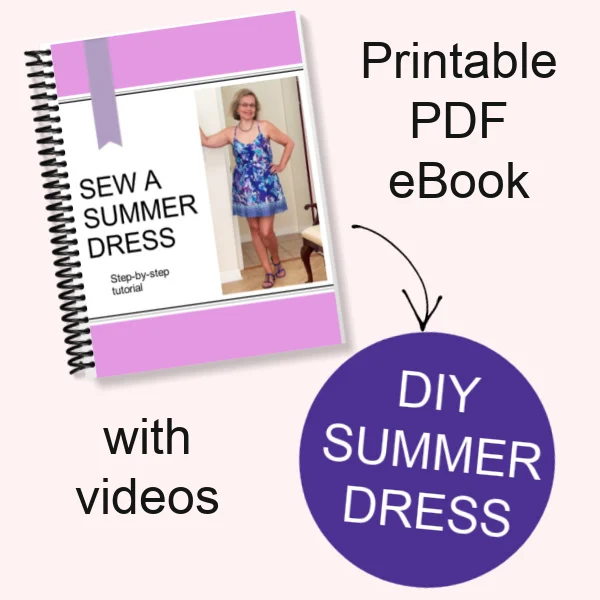 Just imagine…
If you could spend your evenings sewing a nice dress and relaxing your mind instead of watching stressful news or scrolling your phone
If you spent your days making your own sewing projects instead of watching what others are making
If you could transform fabric and threads into a beautiful dress that you love to wear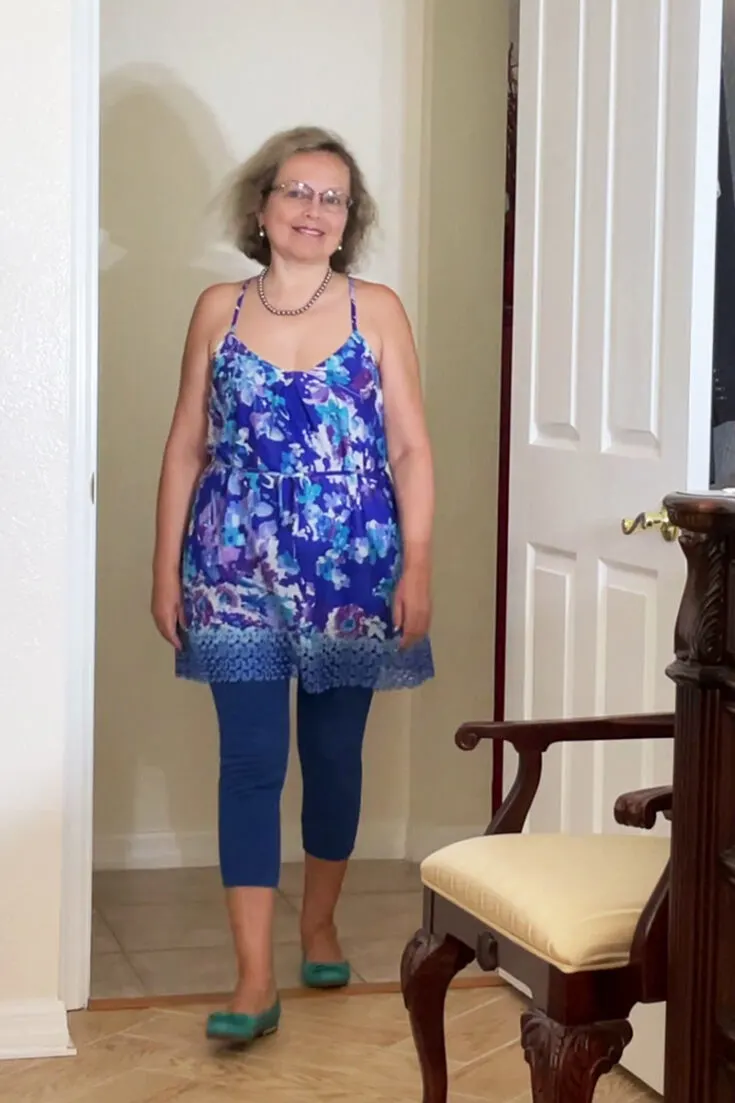 You know YOU WANT to…
LOVE how you feel in the clothes
Feel HAPPY when you put a dress on
Feel FABULOUS without spending a bunch of time sewing it.
Does making your own pattern feel like a pipe dream? It doesn't have to be!
One pattern to sew, so many options for embellishing and wearing! A must have for the summer!
This quick to sew dress drapes beautifully to hug the figure because it's cut on the bias. The lightweight printed fabric makes this dress incredibly light and right for hot days. Small pleats in front and a smooth look behind add absolute comfort.
Flattering on any figure this style is a welcome breeze to put you in the mood to travel (finally!)
Wear it as easily for a shopping trip as you would at the pool. Transform it for an evening drink by styling it with jewellery and a pair of high heels.
You can make this uncomplicated dress a versatile wardrobe addition. Sew it to your liking and to fit your mood.
You don't need to buy a commercial pattern. I thought in the beginning that I would draw the pattern for printing, but then I realized that the pattern creation is not complicated and it is better to draw the pattern directly using your measurements. I will show you how to make an easy pattern.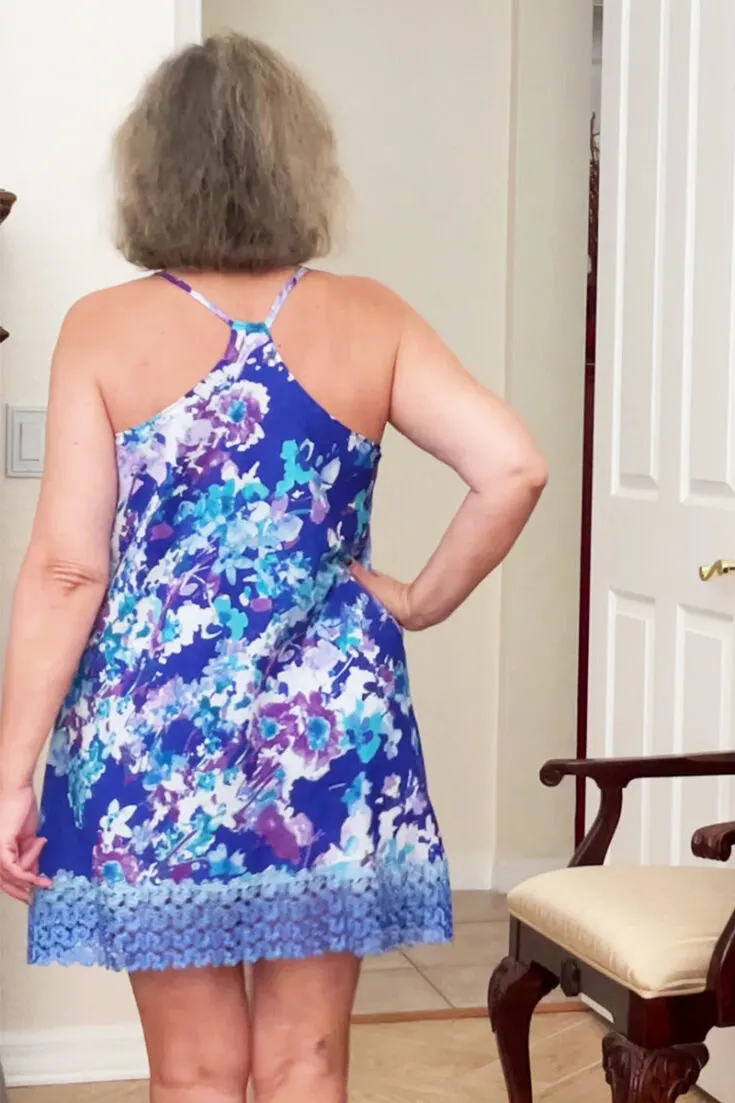 This eBook with images and videos is covering the following steps:
What is the best fabric to use for a bias cut dress, how to prepare the fabric for the project
What you will need for making the dress
How to make a pattern for the dress
How to cut fabric on the bias for the dress
How to sew the dress ( how to make spaghetti straps, how to sew a lining, how to hem the dress, how to embellish it )
This pattern is good for any size, from XS to XL.
I am using a serger (and a regular sewing machine) while making the dress. It's not absolutely necessary for you to have a serger to sew the dress but if you want the dress to be professionally finished you really need a serger.
Maybe I made this dress a little too short but I live in Florida and it's hot all the time so I like to have as much open skin as possible. But if you sew the dress yourself you can make it as long (or as short) as you like.
And look – I can wear the dress with leggings and then it will be a tunic!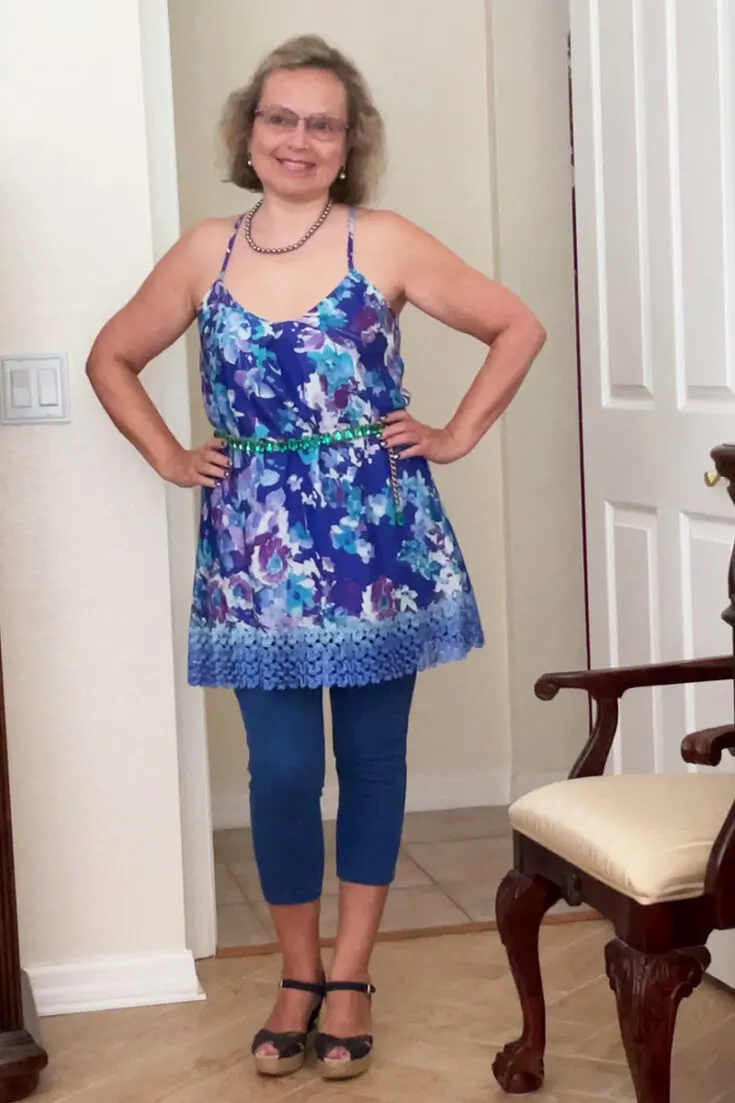 You can see a short video clip about this dress below.
---