If you like sewing you have to deal with seam puckering on a regular basis. Are you wondering why some of your projects get nice seams and others have these unsightly puckers? I remember when I first started sewing I was often upset because these puckered seams were a big problem for me. I didn't want the beautiful garments that I tried to sew to look homemade.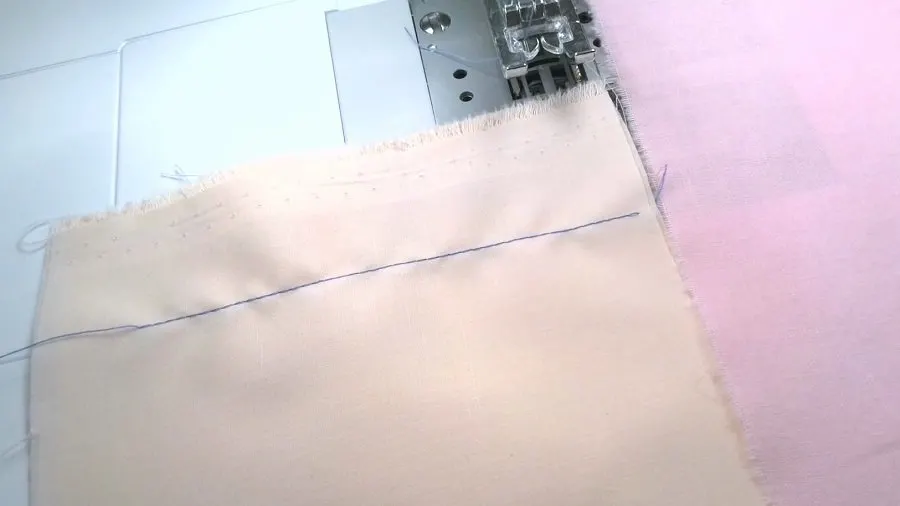 Learning how to sew seams without puckering will help you, in many ways, to become a better sewist.
---
Let's say you have decided to sew a skirt.
You have beautiful fabric and a pattern and after you baste it and try it on you are completely satisfied with how it looks on you. But as soon as you started to sew all the seams, you got disappointed because there are lots of puckers in the seams and the skirt just doesn't look good. So, what are you going to do? Rip and sew, rip and sew until you're totally stressed out? Or try to google for solutions for 2 hours and give up in the end because there are no clear steps and easy to understand instructions?
Or you have decided to sew a Christmas gift – and seams pucker. You put in all that time and effort to sew a beautiful gift only for it to look … well, homemade. And you have no idea what settings to change to make them look good.
You have to admit that puckered seams ruin the joy of sewing and costs you time and money.
Online sewing groups are filled with desperate pleas for help in avoiding this common pitfall. Log on any day of the week, and you'll find frustrated, costume-making moms and big-hearted quilters everywhere who share a single sewing mistake — seam puckering in their projects.
Whether you're stitching up a table runner for the holidays, or you're trying to design your own wedding dress, puckered seams are a universal problem for many who sew, especially when learning new techniques and working with fabrics not yet mastered. Here are a few of the more poignant pleas we've found hidden among the cheerful banter in our favorite online groups:
How to Fix a Puckered Quilt?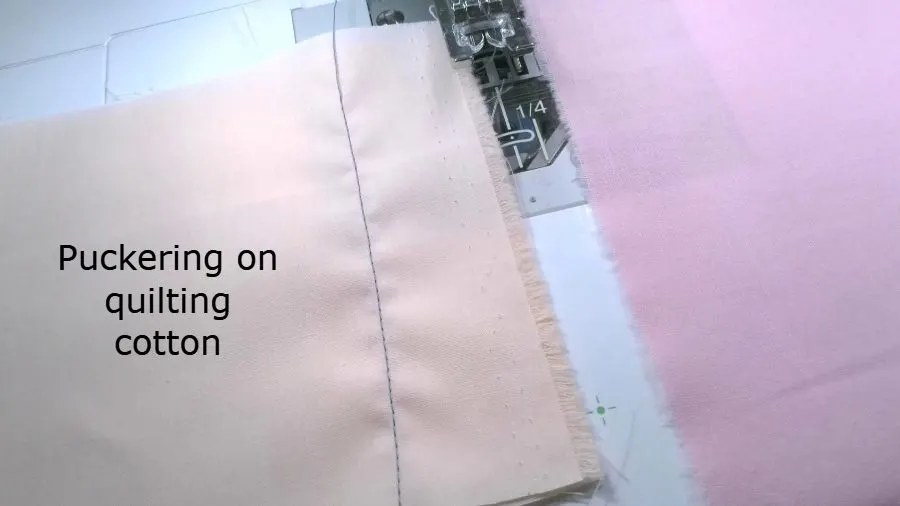 This is a question I got from one of my readers:
"This is my first attempt at making a quilt, and I'm getting a puckered seam. It's not crazy-puckered, like the ones that happen when my machine is threaded wrong, but it's enough to bother me. I'm just wondering if it's something that I need to fix before I continue piecing, or if it's faint enough not to show in my finished product? This is my first time using muslin, and I think I may have skimped on the weight. I ordered it online, and it was thinner than I expected. Now I have this weird puckering in my fabric, and I'm worried about continuing on with it. Should I just start over with heavier fabric? I don't want to have to figure out how to fix a puckered quilt later. I've made my share of sewing mistakes in smaller projects like potholders and placemats, but this was supposed to be a quilt for my mom, and I want it to look nice. Advice anyone?"
How to Sew Sheer Fabric Without Puckering?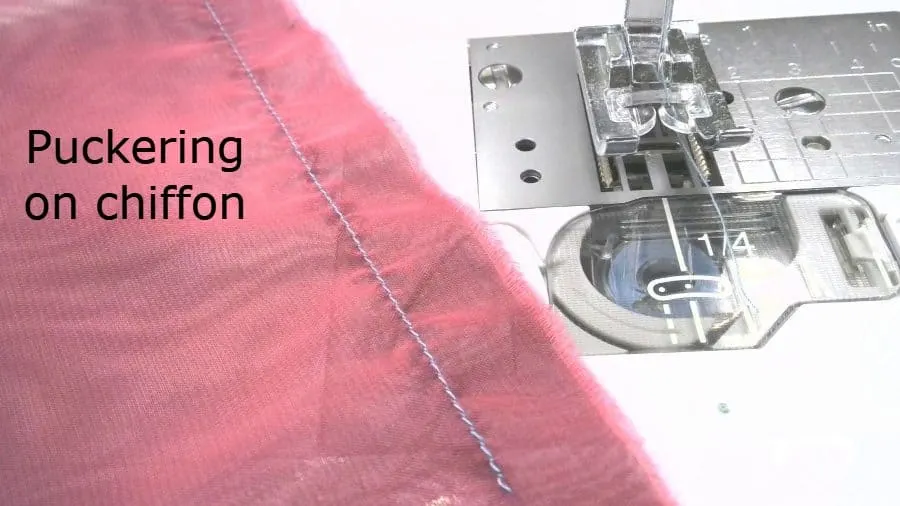 This is another question from one of my subscribers:
"Okay, so this is what's happening and I don't know why. Hoping someone can help. I'm making my daughter a Red Queen costume for Halloween, and the skirt of the dress is supposed to be done in red chiffon. I've made plenty of clothing, but never worked with chiffon before. Anyone know how to sew sheer fabric without puckering? Is it just the weight of the fabric? Should it look this way? I'm having trouble finishing this because of the seam puckering. It's just ugly. I showed this to my hubby, and he said it looked fine. Am I being too picky? To me, this looks like a puckered seam, and I even worry about the stability of the dress. My daughter is 10 — old enough to still be embarrassed if her costume fails halfway through the night. Who knows how to fix puckered fabric?"
Sewing (Badly) with Silk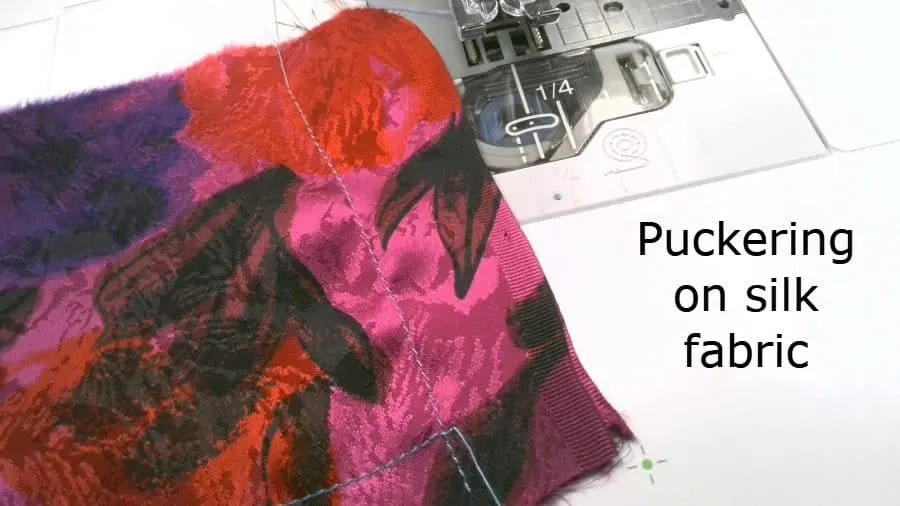 I have a few sewing tutorials on how to sew with natural silk fabric and this is one of the questions I received from my readers about puckering on silk fabric:
"My frustration level is at its max right now because I'm working with silk, and it's just not cooperating. I found an easy kimono tutorial online, and it looked foolproof, so I thought I'd try it. Well, it's not foolproof. I paid a good bit of money for real silk fabric, was super-careful to measure twice and cut once. But now I'm ruining the entire thing because, apparently, I don't know how to sew silk without puckering. Any experienced sewists out there who can help? Am I using the wrong thread? Wrong needle? What am I doing wrong? In the picture, the seam puckering is visible, but it's not too terrible. In other places, though, it's much worse. Around the curves where arm branches off from the body is the worst, but I'm too embarrassed to post those pics. Can anyone advise me on how to fix this puckering seam? Also, the one in the picture. What am I doing wrong?"
Sketchy, Stretchy Situation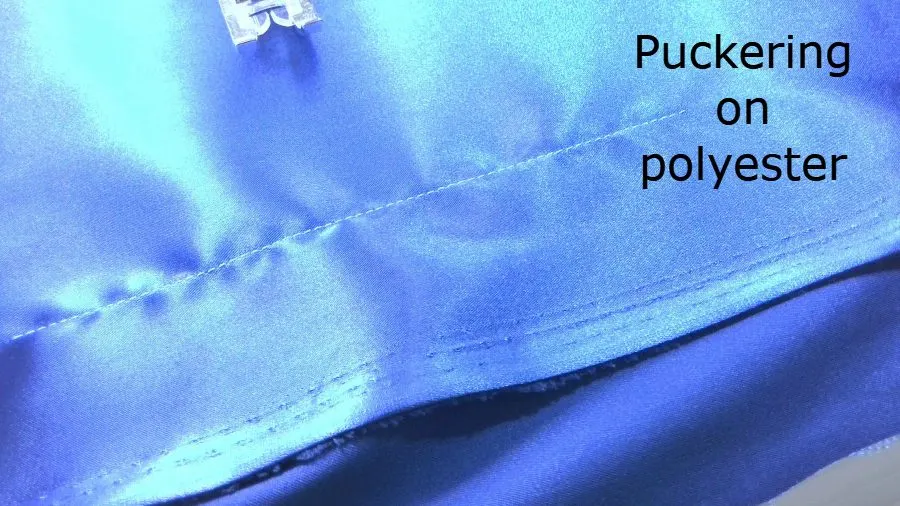 And here is another problem with seam puckering:
"Anyone know what's going on with my puckered seam in this picture? The fabric is polyester. The thread is cotton. I've checked and double-checked how the machine is threaded. I've adjusted the tension, but nothing seems to help. Anyone know how to sew stretchy fabric without puckering? The only thing I can figure is that I'm forcing it through the machine too quickly, but I've experimented on different pieces of scrap, and they all look the same regardless of how I manipulate the fabric while sewing. Am I just destined for fabric puckering when sewing polyester? I'm so frustrated I'm thinking of just scrapping this entire project and chalking it up to a failed life lesson. But there's a part of me that really wants to divide and conquer. If anyone can help me figure out how to avoid this type of puckered seam in the future, I'd be grateful."
What's Going On With Those Puckered Seams?
So, here's the truth about seam puckering — it's happened to all of us at one time or another. There could be a variety of reasons, including:
Machine tension
Machine needle
Fabric weight
Thread weight
Machine foot
Operator error
Malfunctioning machine
Malfunctioning feed dogs
It could be the technique you're using, or it could be the material from which your thread is made. It could be fabric bunching while sewing or other common sewing mistakes. Each occurrence of puckered seams differs from the last, and even the most experienced sewists are not exempt. In fact, a simple Google search yields a wealth of questions regarding this too-common phenomenon:
How do you hem without puckering?
Why is my embroidery puckering?
How to sew velvet without puckering?
How to sew sheer fabric without puckering?
How to fix a puckered quilt?
That last one is a real heartbreaker because it means a sewist somewhere pieced an entire quilt that was too puckered to fit on the long-arm quilting machine. This situation is heartbreak defined, and there's no pleasant way to fix it short of ripping out seams and starting over. Puckered seams should be addressed and fixed in the moment. Otherwise, the problem escalates as you progress through your project. It can affect how well your points align if you're a quilter. If you sew apparel, it can affect the appearance and stability of your garments.
---
So, do yourself a favor and check out this course before you spend all the time trying to figure out how to fix the problem. Even if you are an experienced sewist you might find something in the course you didn't think of doing on your own.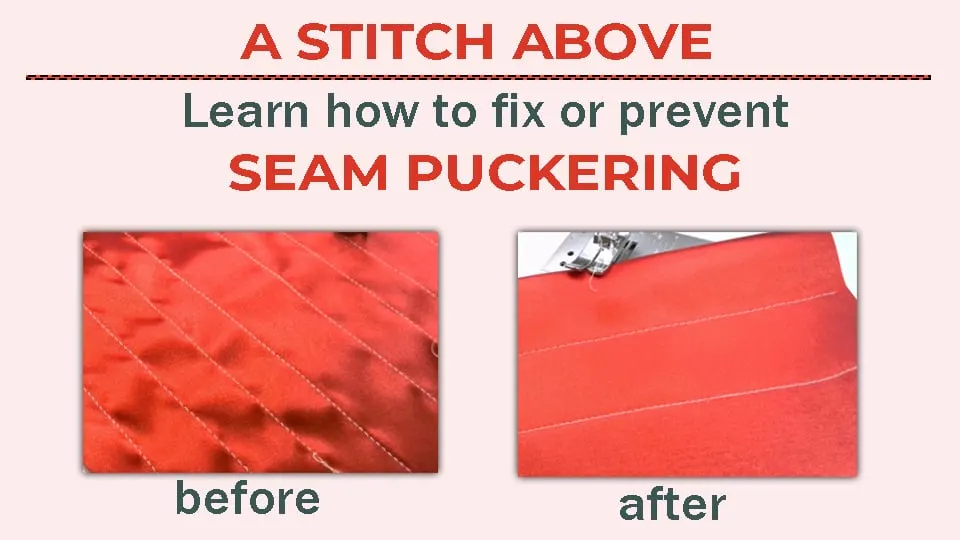 The course will make your life easier, and your sewing so much better. We are not born knowing how to sew and we all have problems and make mistakes. The purpose of this course is to help you to solve the problem of seam puckering.
I am going to teach you how to fix or prevent seam puckering. Not only will I be teaching you everything step by step in video lessons, but I will also give you worksheets (called PRINTABLES) so you can implement everything when you need it.
You can download this set of 5 printables from my RESOURCE LIBRARY.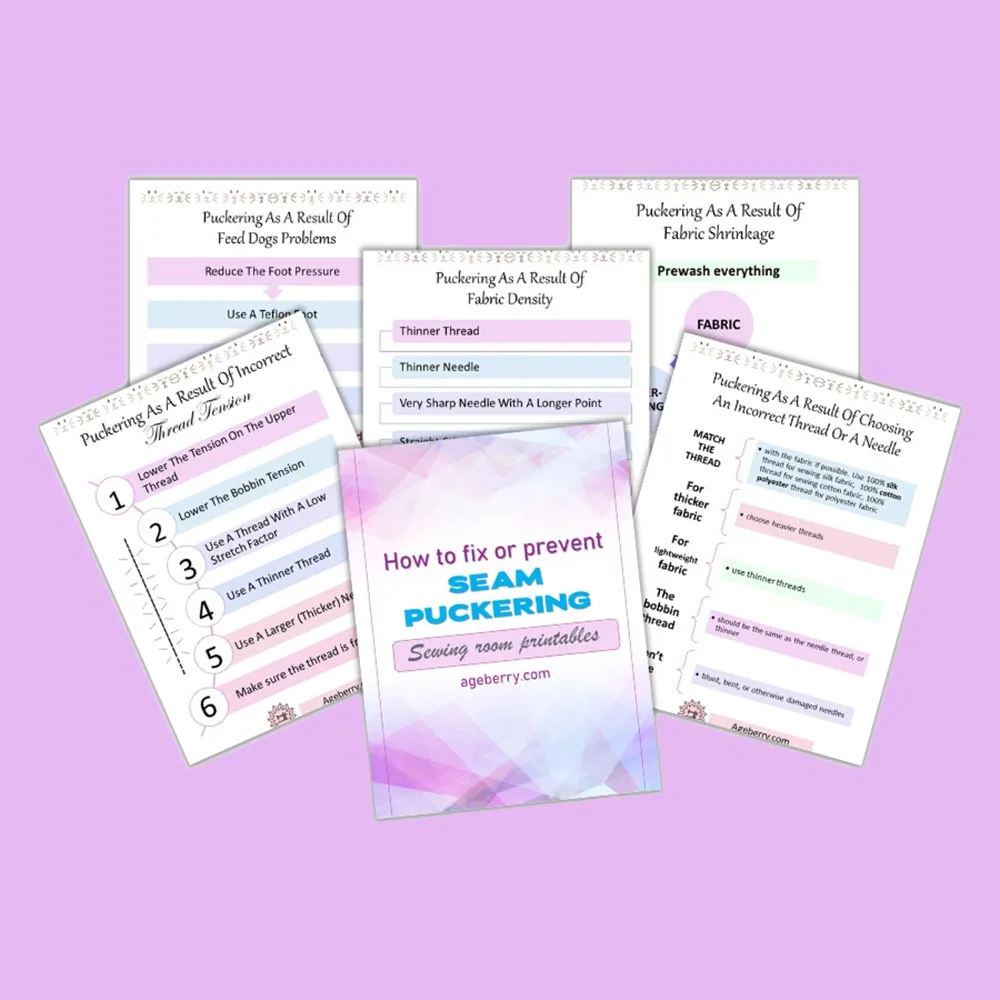 The course will help you to identify the reasons for seam puckering and offer step by step solutions for each of them. You will learn what is seam puckering, how to fix it and how to avoid it.
There are 8 video lessons that will help you to find the best ways to stop seam puckering for good.
1. Puckering as a result of incorrect thread tension
2. Puckering as a result of fabric density
3. Puckering as a result of choosing an incorrect thread or a needle
4. Puckering as a result of feed dogs problems
5. Puckering as a result of fabric shrinkage
6. Puckering as a result of mismatched pattern lines
7. Puckering in curved seams
8. Can pressing with a hot iron help to remove puckering?
Below the videos you will see also written explanations. And if you want to print the instructions there is also an e-book you can download.
It has complete instructions on what are the different types of seam puckering, how to find out the reasons for puckers on your fabric, how to eliminate seam puckering.
And the best part? You can learn everything at your own pace and you can access it any time, re-play videos whenever you want, and re-download PDF files if you need.
What people are saying about the course
Anne G. from Maryland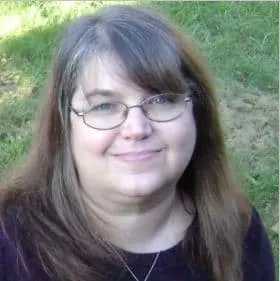 I can't emphasize enough how helpful I found this course to be. I began piecing quilt tops in the 1980s with my mother and grandmother when I was in high school, but then I set sewing aside to attend college, get a job, and start a family. I only recently picked it back up, thinking I was an old pro. But after completing a few projects, I realized I still had a lot to learn. That's when I began looking for simple online courses to help me improve my art.
Olga Balasa's course on seam puckering was revolutionary for me. I hadn't even realized my seams were the problem until I saw her examples and realized that those "wavy' seams weren't supposed to look that way. I always stuck firmly to piecing quilts because any time I tried to work with more delicate fabrics, chaos ensued.
After taking this course, I feel confident that I can try working with fabric other than quilting cotton. Olga goes into much detail regarding all the different ways of fixing puckered seams. You always hear that the tension is wrong, but now I know just how many things could contribute to my imperfect seams, including the needles and threads used and even the needle plate. I had no idea you could even change out your needle plate. My inherited sewing machine came without a manual, so I had no clue what it could do. Now I'm excited to shop for things like specialty feet and needle plates just to see how much better my work can be.
Olga's course is all about refining your technique and having the right tools on hand for the right job. Sewing will forever be easier and more satisfying for me after taking this course. I highly recommend it.
Also, aside from offering solid advice, the course is put together in a way that's easy to digest. You learn about the instructor and her expertise in the beginning, so you know you're learning from someone who's well situated to teach. The course continues using an easy checklist and offers a resource page with links to buy the various tools mentioned. At the end of the course, there's the option to print out the material covered in a convenient PDF, so you can keep a copy close by. I put mine in a binder next to my sewing table for quick and easy reference.
If you struggle with the way your finished sewing projects turn out, I recommend taking a second long look at your seams. This course is quite the eye-opener. Never again will I purchase thread because it's cheap or use hodge-podge thread in my bobbins. Sewing for me is all about enjoyment. But sewing well is all about finesse. This course will help you fine-tune your seams and step up your game. Five stars all around.
Tania G.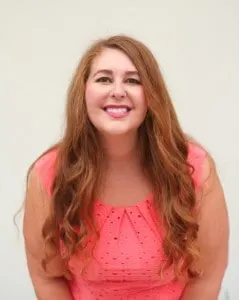 This course is for anyone who has ever encountered difficulties with annoying puckering when sewing. In the course videos, Olga takes time to explain every step in a logical way; she even draws diagrams to help the viewer understand important details. When watching the videos, you'll be able to tell that Olga has a talent for teaching and sewing. She has combined her professional experience as a teacher (15 years!) with her passion for sewing. Thank you, Olga!
For a limited time, I'm offering the course for just $19 $14
Want to remember these instructions? If so, save this pin (see below) on your sewing board so you can come to this tutorial later when you need to fix or prevent seam puckering and follow me on Pinterest for more tips, tutorials, and inspiration!