A STITCH ABOVE
Learn how to fix or prevent seam puckering
Do you like to sew? Are you wondering why some of your projects get nice seams and others have these unsightly puckers?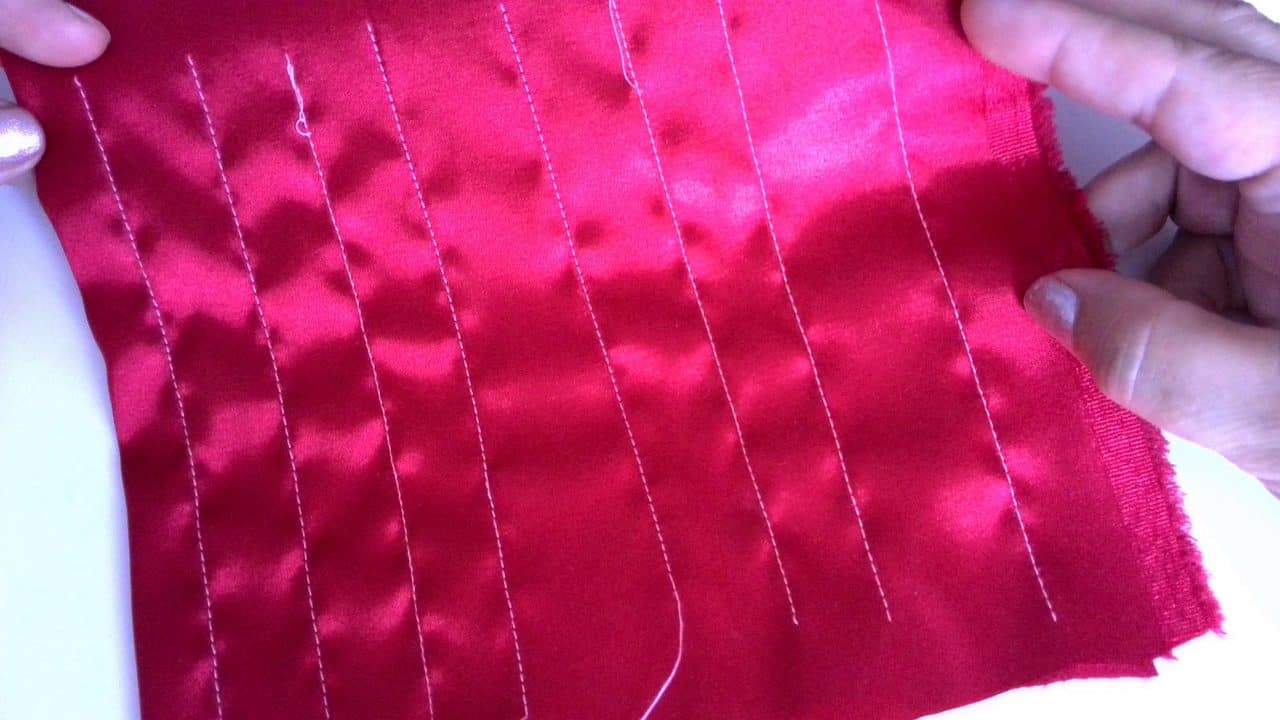 Learning how to sew seams without puckering will help you, in many ways, to become a better sewist. 
Let's say you have decided to sew a skirt. 
You have beautiful fabric and a pattern and after you baste it and try it on you are completely satisfied with how it looks on you. But as soon as you started to sew all the seams, you got disappointed because there are lots of puckers in the seams and the skirt just doesn't look good. So, what are you going to do? Rip and sew, rip and sew until you're totally stressed out? Or try to google for solutions for 2 hours and give up in the end because there are no clear steps and easy to understand instructions? 
Or you decided to sew a Christmas gift – and seams pucker. You put in all that time and effort to sew a beautiful gift only for it to look … well, homemade. And you have no idea what settings to change to make them look good.  
You have to admit that puckering seams ruin the joy of sewing and costs you time and money. 
So, do yourself a favor and check out this course before you spend all the time trying to figure out how to fix the problem.  Even if you are an experienced sewist you might find something in the course you didn't think of doing on your own.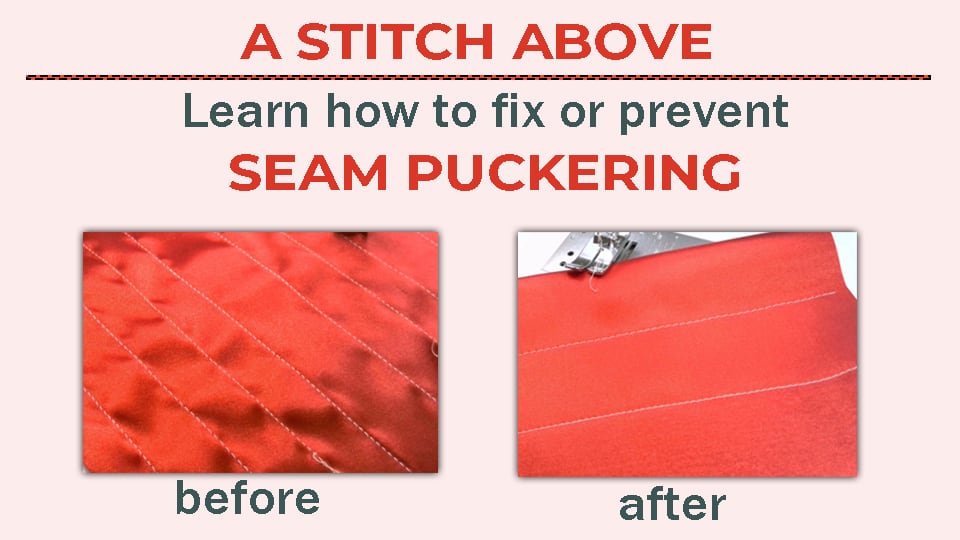 The course will make your life easier, and your sewing so much better. We are not born knowing how to sew and we all have problems and make mistakes. The purpose of this course is to help you to solve the problem of seam puckering. 
I am going to teach you how to fix or prevent seam puckering. Not only will I be teaching you everything step by step in video lessons, but I will also give you worksheets (called PRINTABLES) so you can implement everything when you need it. They are included with the course.

You can also purchase separately these printables from my Etsy shop.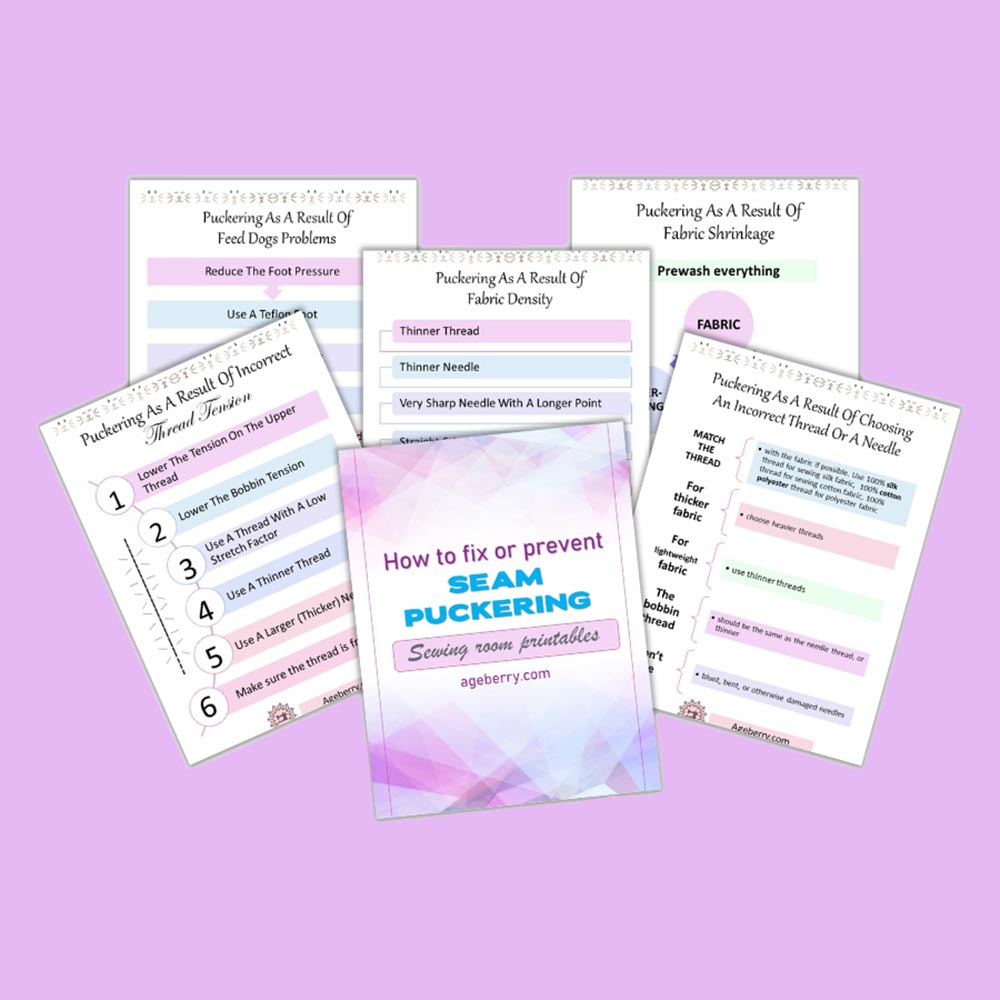 The course will help you to identify the reasons for seam puckering and offer step by step solutions for each of them. You will learn what is seam puckering, how to fix it and how to avoid it.
There are 8 video lessons that will help you to find the best ways to stop seam puckering for good. 
1. Puckering as a result of incorrect thread tension
2. Puckering as a result of fabric density
3. Puckering as a result of choosing an incorrect thread or a needle
4. Puckering as a result of feed dogs problems
5. Puckering as a result of fabric shrinkage
6. Puckering as a result of mismatched pattern lines
7. Puckering in curved seams
8. Can pressing with a hot iron help to remove puckering?
Below the videos you will see also written explanations. And if you want to print the instructions there is also an e-book you can download. 
It has complete instructions on what are the different types of seam puckering, how to find out the reasons for puckers on your fabric, how to eliminate seam puckering. 
And the best part?  You can learn everything at your own pace and you can access it any time, re-play videos whenever you want, and re-download PDF files if you need it.