Learn all about how to store sewing patterns in today's post. From useful and creative sewing pattern storage ideas to sewing pattern organization apps, you're sure to find a new system that works for you.
Do you have stacks and stacks of sewing patterns that you don't know how to organize or store, too? I know exactly what that's like!
I have the same problem. Every time I see my stacks, piles, and other sewing patterns in disarray, I am in disbelief. How did it get to this point?
The clutter drives me crazy. My patterns (especially the PDFs) are not organized, and I can't find what I want without wasting too much time searching through the disarray. I'm guessing that if you're reading this, your sewing pattern clutter has gotten out of control too. It happens to all us great sewists—we get so excited to try out a new pattern or two, and then can't even find them a few weeks later!
It's time to learn some great sewing pattern storage ideas in order to choose one that seems like the best fit. All of our sewing areas are different from each other, so having a large variety of ideas to choose from will allow you to find the method that is most effective for you and your space. Check them out!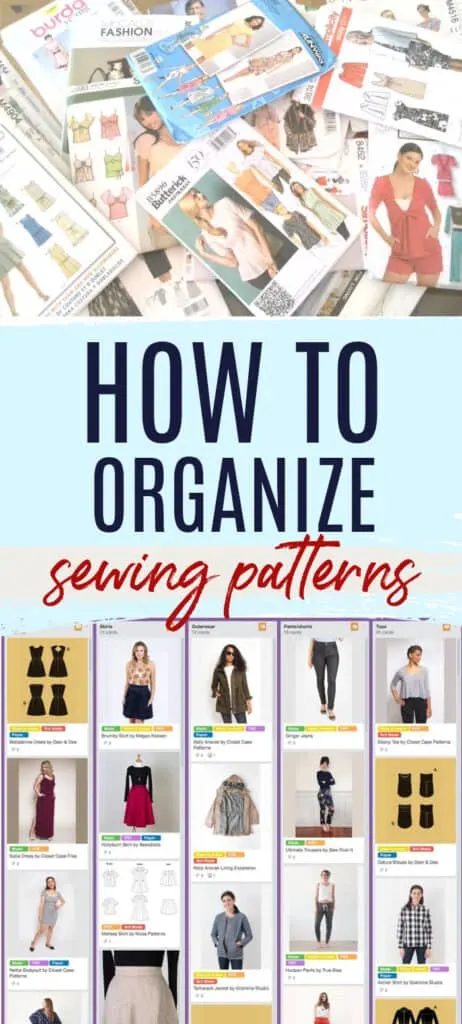 If you have ever found yourself wondering how to store sewing patterns (as anyone who frequently sews would wonder at some point), you will not want to miss these ideas.
I collected a large variety of methods so you can find the one that works for you, and I'm even dividing these ideas up into how to organize different types of sewing patterns.
How to Organize Store-Bought Sewing Patterns
The little packets that hold store-bought patterns (such as McCall's or Simplicity) are an odd size, which makes them challenging to store well. They don't work in binders, are too thick for file folders, and are too small to go in large bins without being lost in the sea of patterns.
Now storing your store-purchased sewing patterns is a breeze with these ideas.
1. Dedicate Drawers
Anita By Design shows how well the right drawer can hold those odd-sized sewing patterns from the store. She is even able to store them standing up so that she can look through the patterns and quickly find the exact pattern she wants.
First, she sorted through her huge collection of patterns and pulled out any that she didn't want to keep anymore.
Next, she organized her patterns according to these categories:
Pants
Dresses
Skirts
Workout
Sleepwear
Outerwear
Accessories
Home Decor
Then, she separated out the big brands from the rest and organized each brand by numerical order. The large brands stayed together in groups while the other brands were mixed together but still stored in numerical order for quick searchability.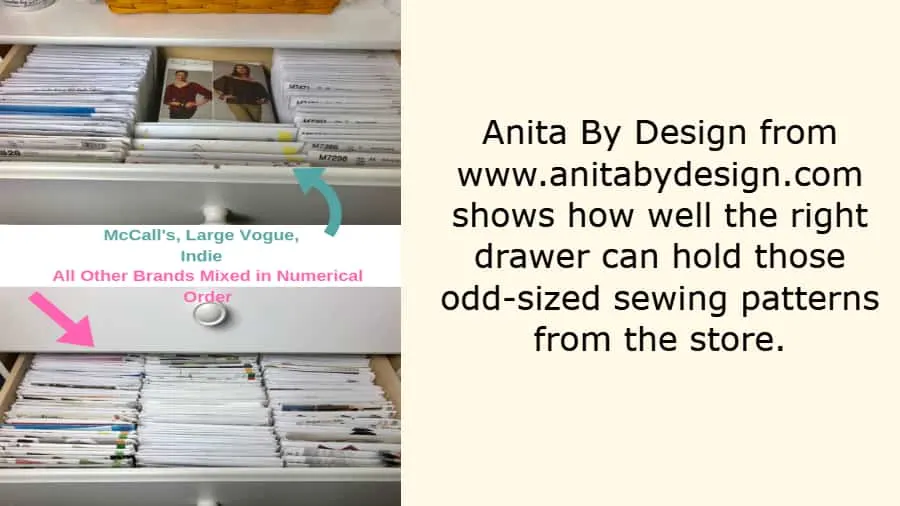 2. Utilize Comic Book Storage
Another way to tackle storing those odd-sized sewing patterns you purchase from stores is to use comic book storage as Sarai Mitnick from Colette did.

To use this method, purchase:
comic book protection sleeves
backing boards
dividers
comic book storage boxes
Each of these items is an important cog in the wheel of effectively storing those odd-sized packets. Here's how the method comes together:
Put a backing board into a protection sleeve. Then add your sewing patterns. Put the sleeved patterns into the comic book storage boxes, which are conveniently the exact size you need. Use dividers to separate categories.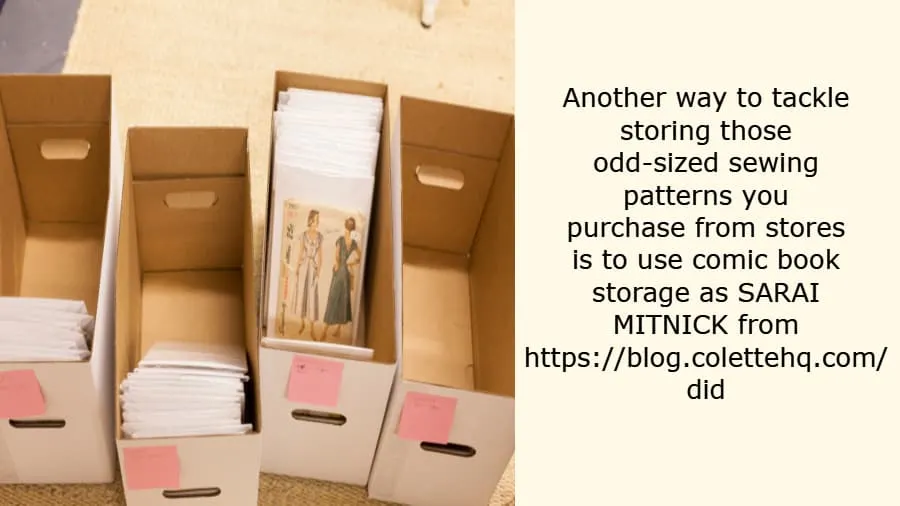 3. Bankers Boxes
This method from Mimi G Style is not only neat and orderly but also holds a lot of patterns. There's also a way to modify it for binders if you prefer that to bankers boxes.
4. Gallon-Size Plastic Bags
This video from Clothes Pin Dolls shows how to use plastic bags to keep pattern pieces together and easy to find.
5. DIY Folders
Weekends With G shows you how to make your own storage folder for store-bought patterns out of a pocket envelope and a sheet protector.
6. Trolley/Cart
Rebecca Keppel has an interesting video on craft cart organization and while the video does not directly address patterns (her interest is mostly crafts) it is easy to see how in the space created one could store pattern folders.
Traced Pattern or Magazine Sewing Pattern Storage
Traced patterns can be easier to store than store-bought packets simply due to their shape and size. It's also easy, however, to lose part of all of your traced patterns if they aren't stored effectively.
If you don't have hundreds or thousands of sewing patterns, Ellie and Mac Patterns shows us a space-efficient method like this one that may be just what you need.
7. Binders
This method from Style Sew Me combines the use of a binder for holding the pattern cover envelopes with large plastic bins for holding the actual patterns and instructions within sewing pattern storage bags.
Storing PDF Patterns
When was the last time you lost a document in the midst of a pile of other documents? Doing that is detrimental when it comes to your sewing patterns!
8. Rolling Rack
In this example from Grainline Studio, large sleeves hold the PDF patterns and then hang from a rolling rack. Use dividers to separate categories. Simple, easy, and effective.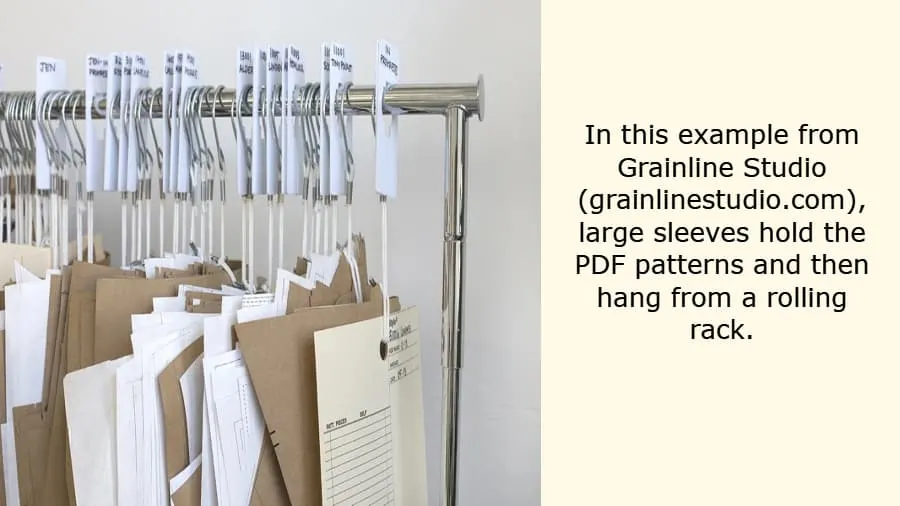 9. Paper Towel Tube
This method from Melly Sews prevents you from needing to fold (and crease) your patterns. Simply roll them up small enough to fit into the paper towel tube, then label the tube by writing directly on it. The video also includes two more sewing pattern storage ideas for PDF patterns.
Sewing Pattern Organization Apps
There are now several ways to organize your sewing patterns online or through apps as a way to have all your patterns together in one place. Because we might get patterns from several different avenues now, storing multiple sizes of patterns can be challenging, and that's where the apps excel.
Check out a few examples of how these sewers use apps to organize their sewing patterns.
10. Evernote
Jasika Nicole investigated several different online versions of pattern storage and eventually decided to go with Evernote for its ability to:
Categorize patterns
Have a clear image of the pattern envelope readily available
Tag patterns with additional helpful categories (like "summer", or "vintage")
Easily search for the desired pattern by tags or sewing company names
Add notes for individual patterns
Access the app/pattern from multiple devices
A note about using Evernote: the basic subscription only gives you enough storage space to hold up to 10 sewing patterns. However, the paid subscription plan ($3.99/mo) allows much more storage.
Even though you need to pay, the nice thing is that once you have added items to Evernote, you can go back from the paid plan to the free plan without losing anything that you added.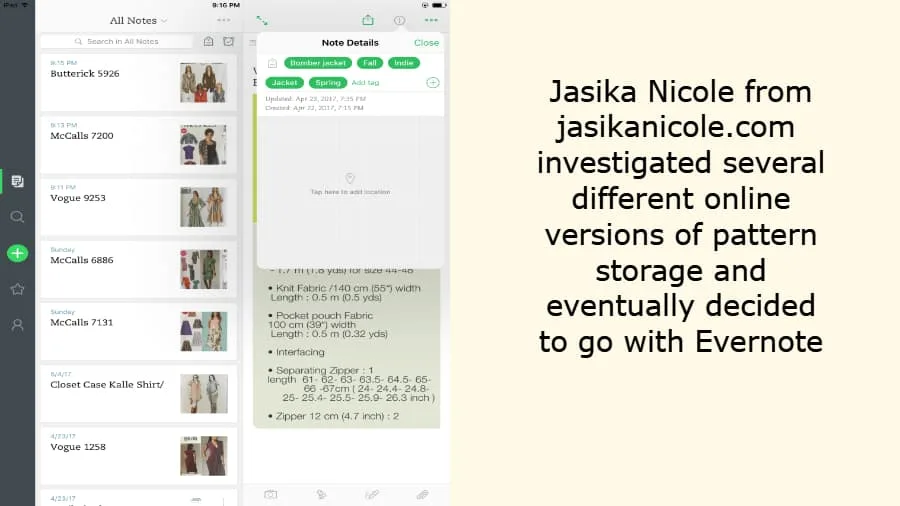 11. Tap Forms
Colette found success using the Tap Forms app, which allows you to create databases, called "forms", for anything that you want to organize.
In each database you have, you are able to set up any searchable fields you want for each item. You are able to later use the search function to find what you want by using these fields. You can also add pictures for each item.
Note: Tap Forms does have a cost: it's $16.99.
12. Trello
Helen's Closet Patterns began using Trello to organize and store sewing patterns. Trello is a free app designed to keep you organized through the creation of "boards", "lists", and "cards".
Here are the benefits of using Trello:
The app is free but there are add-ons you can purchase.
It has a mobile version (for iTunes & Android) as well as a desktop version
The mobile and desktop versions automatically sync with each other
User-friendly and easy to use
Items can easily be added, linked to other items, archived, or moved around.
A great search function that can search and filter by tags
Add as many photos and attachments as you like.
Here's how to use Trello for your storage needs:
Create a board for your pattern collection (you can have multiple boards for other items like fabric collection, etc)
Categorize patterns (ex: pants, dresses, tops, coats, etc) by lists.
Each list has cards for each pattern where you can store notes, photo attachments, links, and more.
For a review of Trello from a beginner's experience, I found a very interesting tutorial: Trello Tutorial: A Beginner's Guide to Project Management Basics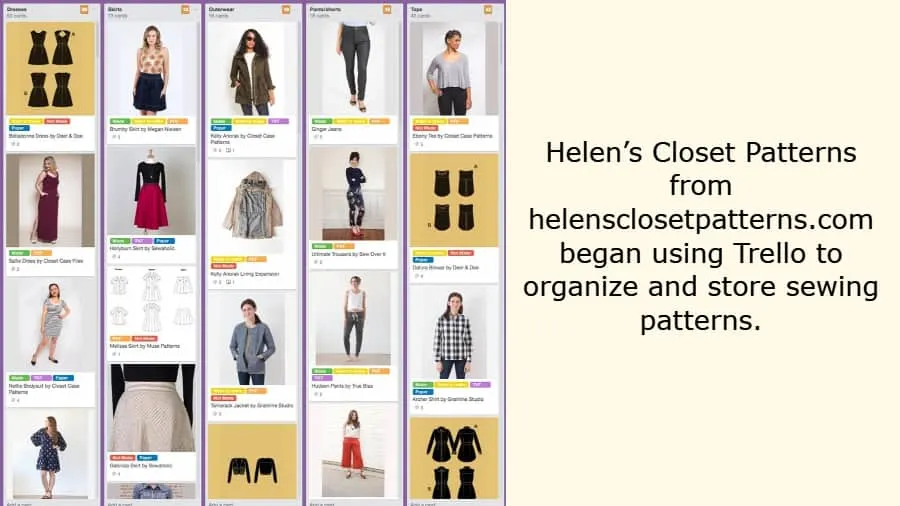 13. Dropbox or other cloud storage systems
Dropbox is another great way to store your sewing patterns digitally and provides the ability to access them from multiple devices. It is a paid product at roughly $99/year.
Dropbox uses a folder system for your storage and organization needs. You can use that system to organize files into sewing project categories
According to Grainline Studio, an advantage of using the Dropbox system is that you can open your files in UPAD, which allows you to write notes on your patterns for safekeeping and then save them as a backup in Dropbox for safekeeping. That article is no longer available, but the Dropbox system is alive and well and can be used.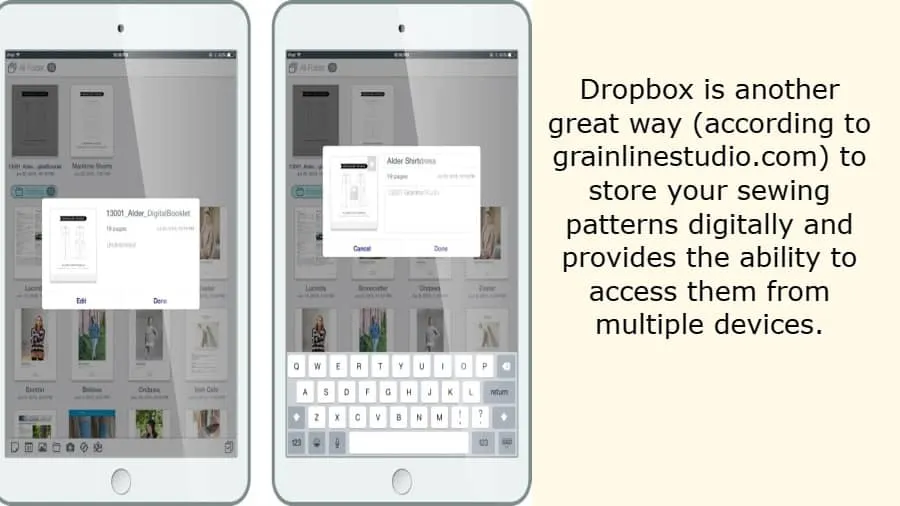 I suspect you could use other similar cloud storage systems, like Google drive, for example. All these cloud storage systems offer retrieval (and archival) from any device connected to them, anywhere in the world. So if you live in Seattle and want to share a design with your daughter in Florida, you can easily do it.
With all that technology offers today, staying organized and storing your sewing patterns in space-efficient ways has never been easier.
I hope these sewing pattern storage ideas inspired you to organize and store your own sewing patterns. Whether you prefer to use sewing pattern storage boxes or folders, or you want to try out a sewing pattern organization app, this list has an idea to help.
Choose a method that works to take care of your patterns and make them easy to find so that you can quickly grab what you want – when you want it.
Like organization? Need to create a sewing room? Already have a sewing room and you are looking for new ideas? Try explore the articles on sewing room organization here:
Want to remember this guide? Post this pin to your favorite Pinterest board so that you can find the instructions later.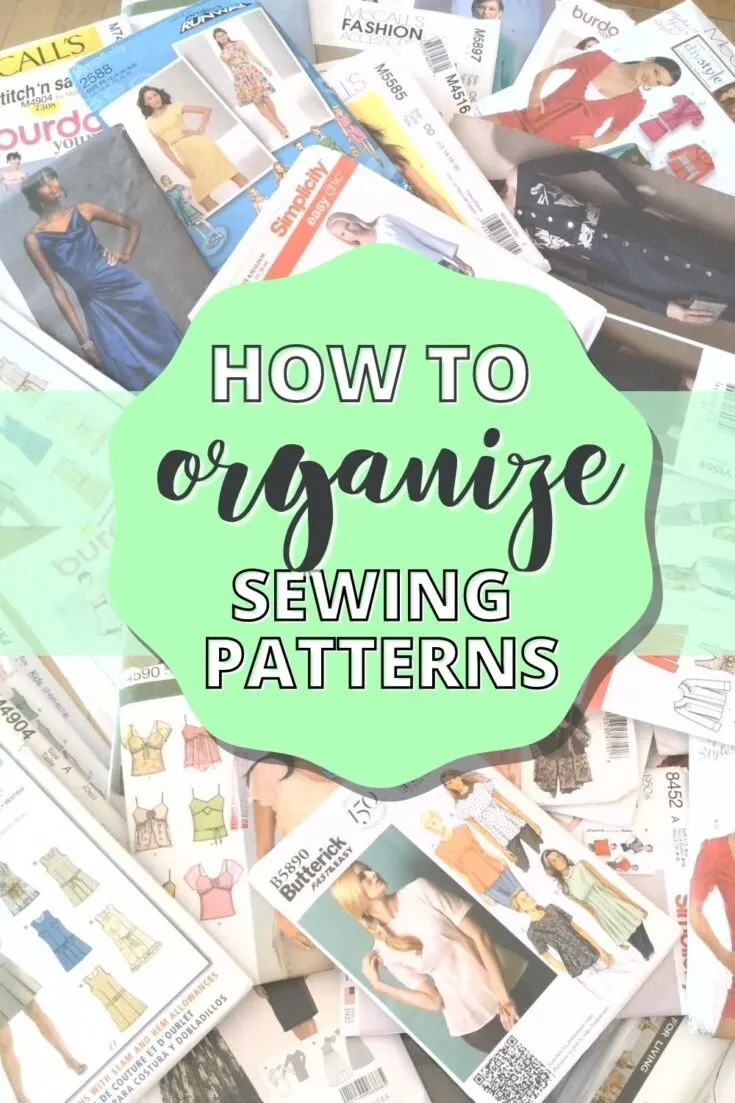 Like sewing tips? I have other popular tutorials on my site that might be interesting for you. Check them out below.
---